13 Vegan Cheese Products So Delicious, You Won't Know the Difference
Even non-vegans will enjoy these delicious, non-dairy cheeses.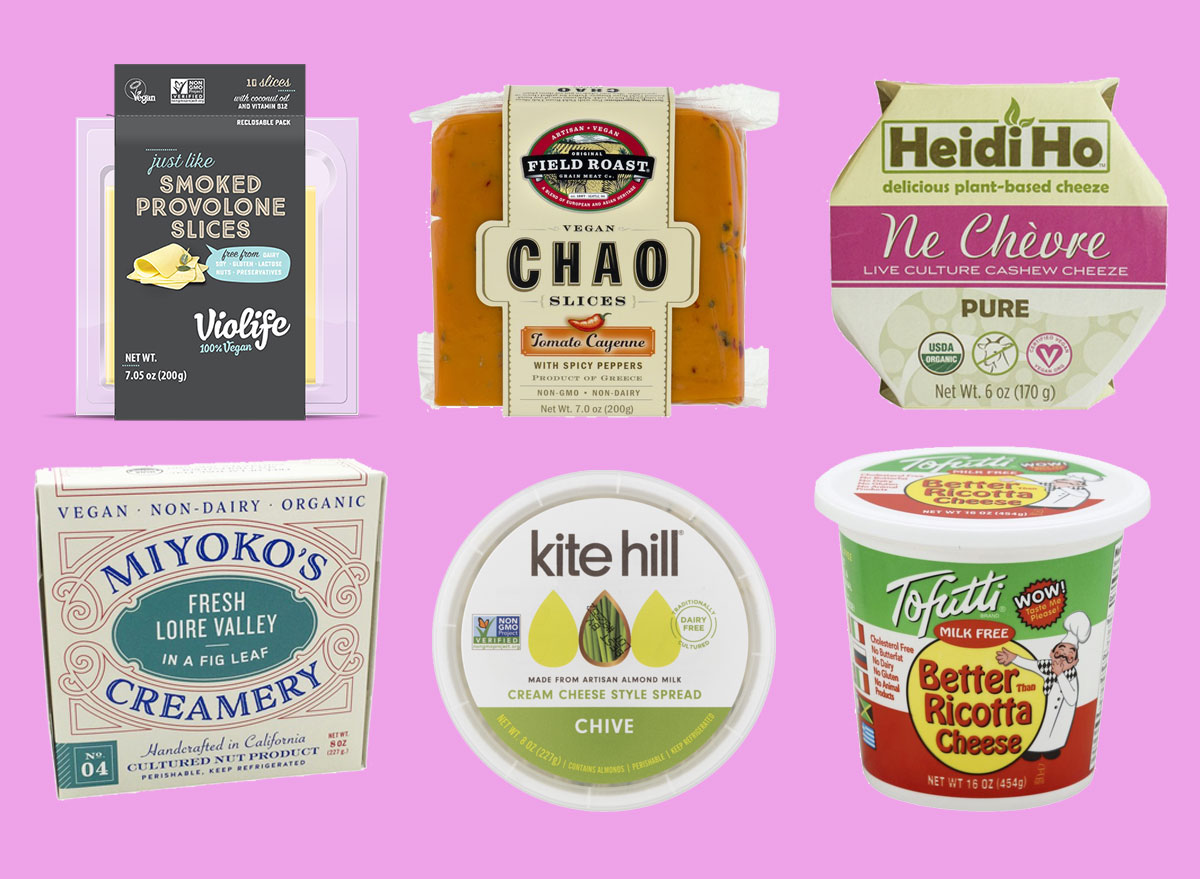 Ask anyone who's vegan or lactose intolerant what the hardest thing about giving up dairy is, and they'll likely tell you, with no hesitation—cheese. Because let's be real, what's a plate of penne, a pile of nachos, or a slice of brick oven pie without the cheese? Luckily for anyone who's ditched the dairy for dietary or health reasons, vegan, non-dairy cheese has seriously stepped up their game in recent years.
Scan your local grocery store and you'll likely find a wide array of options—from mozzarella that's made for melting, tangy chèvre, sharp cheddar, and creamy brie. Some products are made from nuts, while others are soy-based. A number of these dairy-free cheeses even pack some of the same nutritional perks of real cheese, like calcium and probiotics.
But not all vegan cheese is created equal, of course. Whereas some fall short of our ooey-gooey expectations, others have the potential to even win over non-vegans. Here are 13 vegan cheese options that rival the real thing. You'll look at non-dairy cheese in a whole new way.
Treeline Soft French-Style Nut Cheese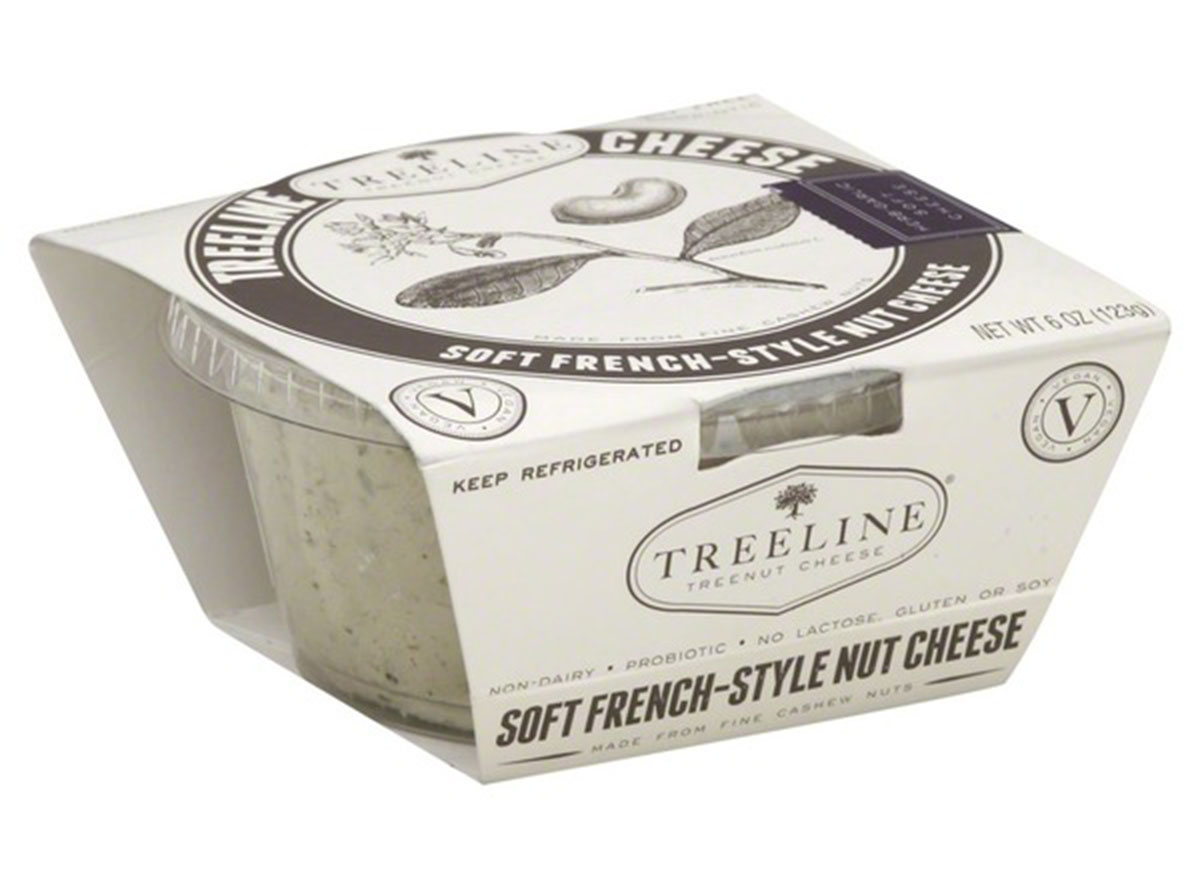 This Hudson Valley-based vegan creamery prides itself on making cheeses that measure up to the best of France and Italy. Their products are made from rich cashew nuts and are aged and cultured like traditional dairy cheese for a remarkably authentic taste. Choose from a range of artisanal flavors, like Scallion, Herb-Garlic, Green Peppercorn, and Chipotle Serrano Pepper. As for how to serve them—they make a stellar spread for crusty bread.
Violife Just Like Smoked Provolone Vegan Cheese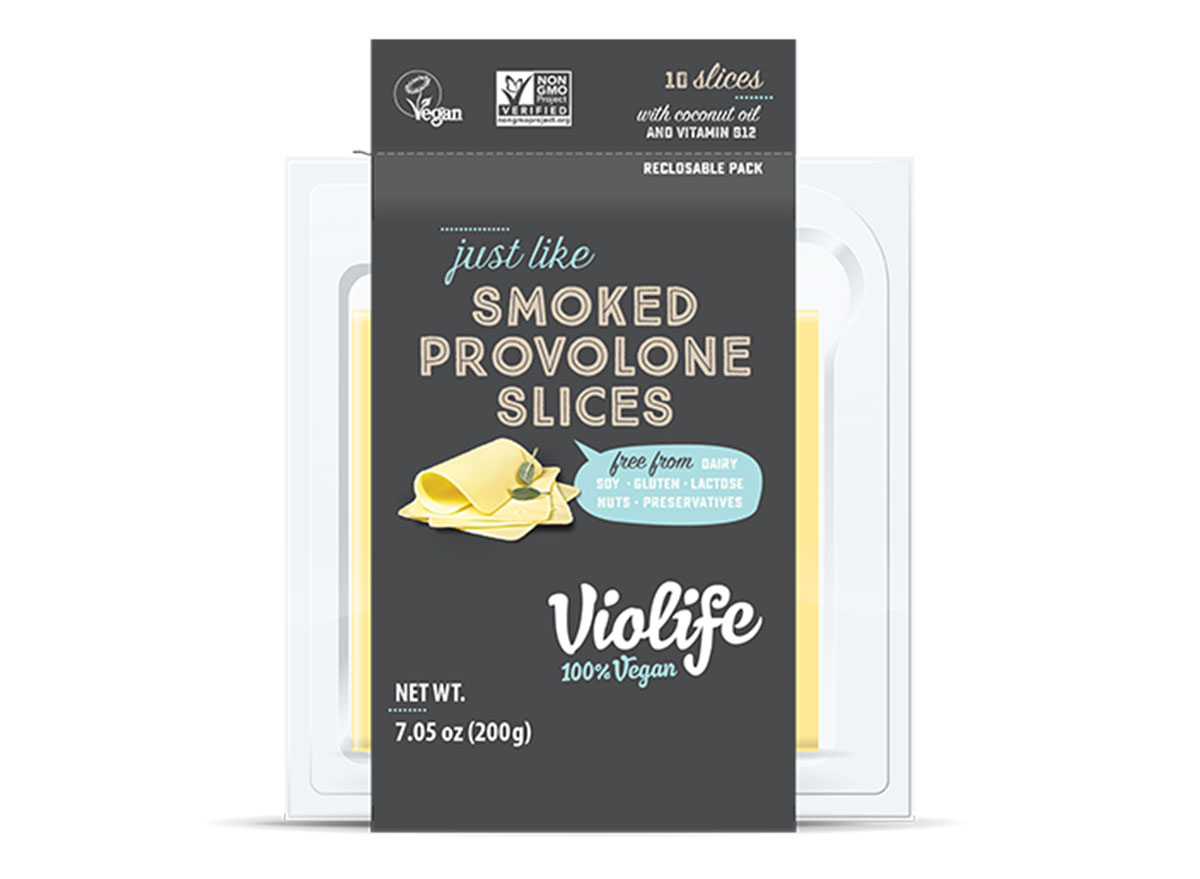 If you have a nut allergy, take note of this line, which is also free from gluten, lactose, and GMOs. But what makes the company's provolone stand out is that it manages to achieve that subtle smoky taste the cheese is known for. Add it to a panini or a vegan burger to boost the flavor. And don't forget to scope out the rest of Violife's lineup, including the Just Like Feta, Just Like Mature Cheddar, and Just Like Parmesan Wedge.
Sprout and Kernel Herb Nut Cheese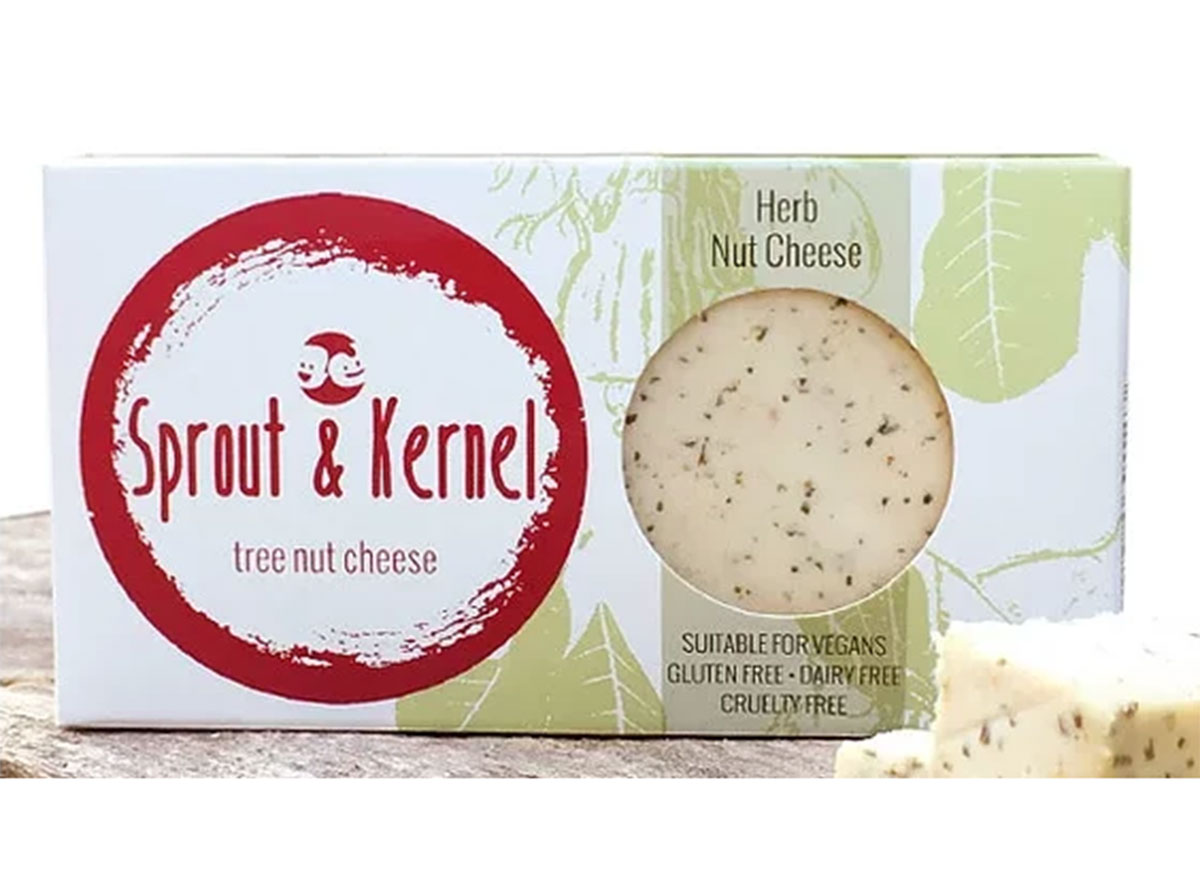 Sprout & Kernel is an Australian-owned family business, and because the couple behind it is vegan, they're especially passionate about making tasty vegan cheese for everyone to enjoy, regardless of dietary restrictions. What truly sets their line apart is that they blend their cheeses with rejuvelac, a natural probiotic made from buckwheat, which promotes beneficial bacteria in the gut. It helps to reduce inflammation in the body while enhancing the production of important vitamins and enzymes. Made from a blend of cashews and coconut oil, their herb nut non-dairy cheese packs a powerhouse of zesty seasoning, so it's flavorful enough to stand on its own with a plate of crackers.
Daiya Mozzarella Style Shreds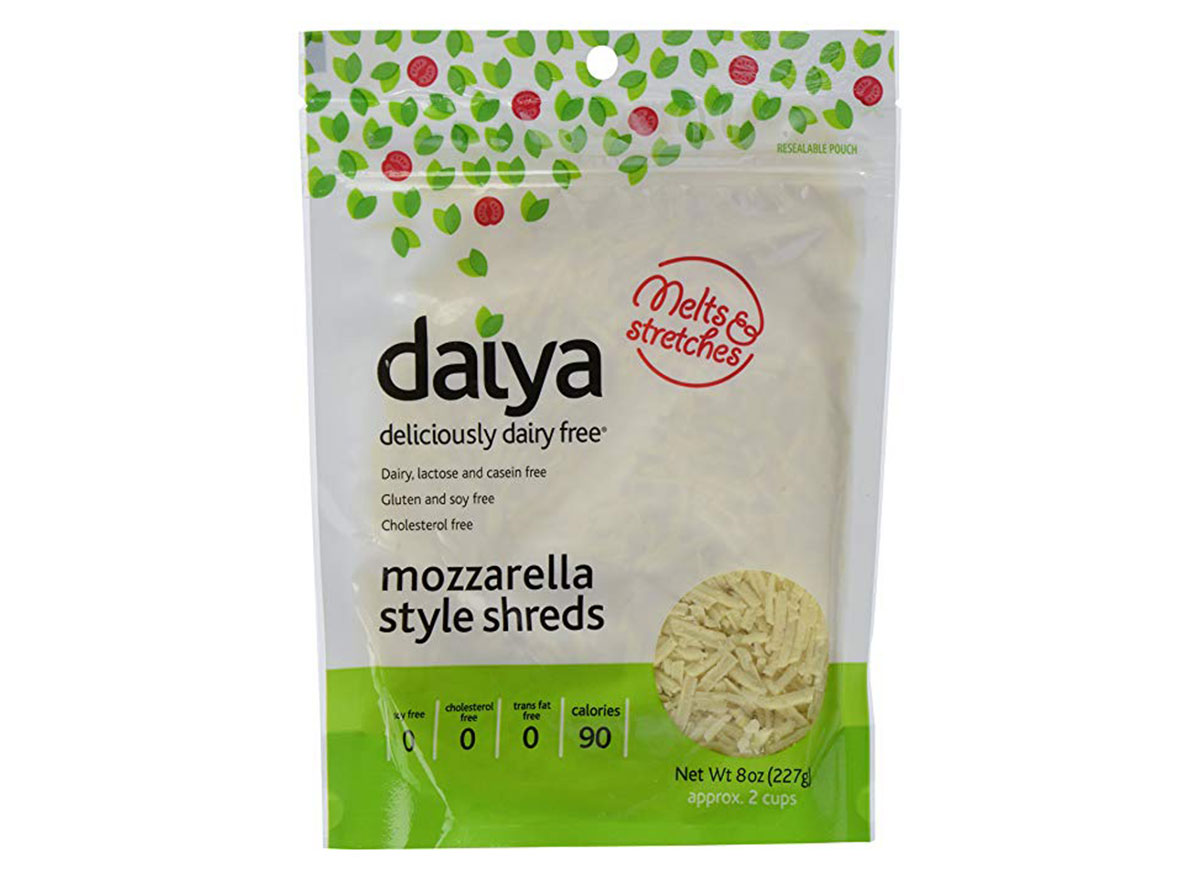 Of all the dairy-free cheese brands, Daiya is definitely one of the easiest to find—and with good reason. It's built up a loyal following for producing plant-based products that can even win over non-vegans. This mozzarella alternative is made from tapioca starch, plant oil, and potato protein, and remarkably, it has the ability to bubble and melt just like the real stuff. Still skeptical? Load it onto veggie lasagna or eggplant parmesan and see for yourself.
Follow Your Heart Vegan Parmesan Shredded Cheese Alternative
Due to the aging process, parmesan has a distinctively funky taste to it—which is somewhat challenging to emulate in a vegan cheese product. The fermented chickpea miso paste in this vegan alternative not only lends a salty punch, but it also serves as an impressive dupe for that flavor. It's the perfect pick for any Italian dish—so add a hefty sprinkle to Caesar salad or homemade pizza. As an added bonus, it's chock-full of bone-strengthening calcium.
Tofutti Better Than Ricotta Cheese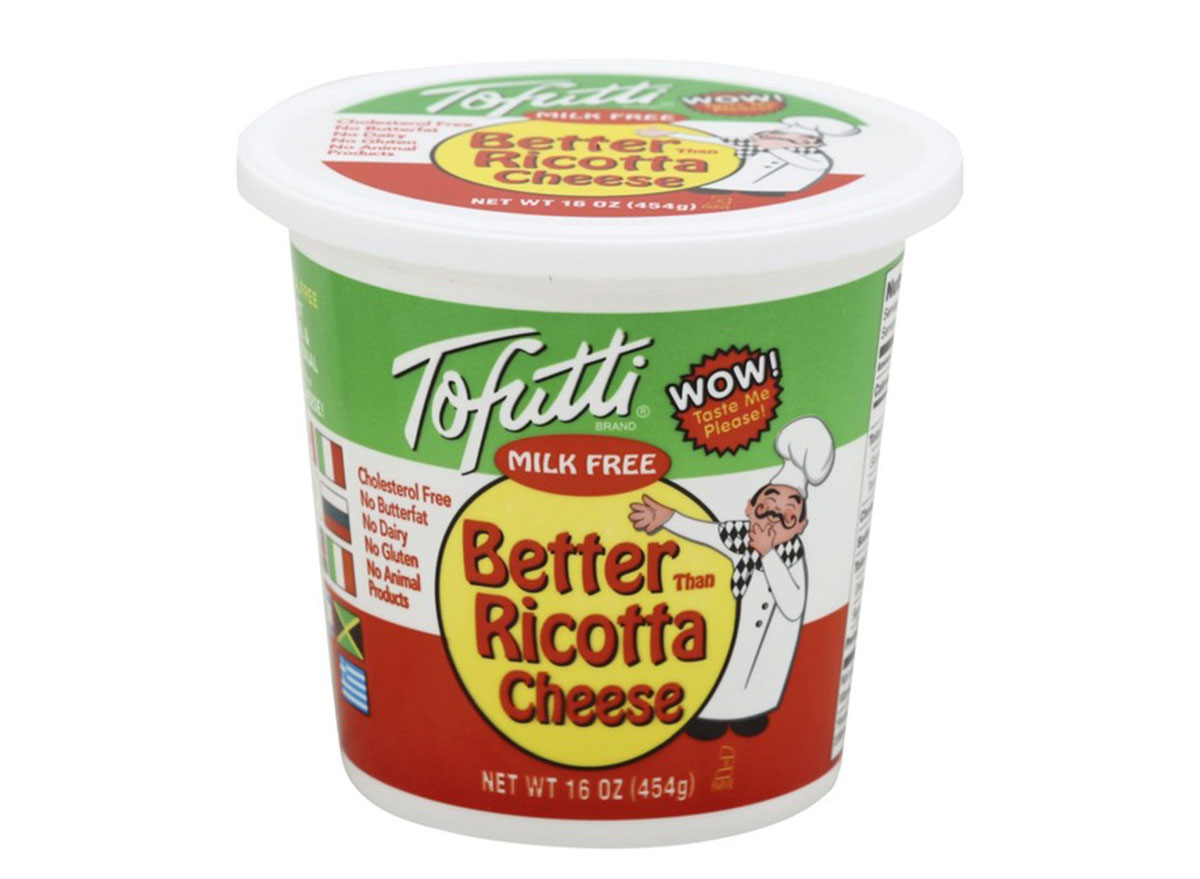 If you've ever cooked with tofu, you may have noticed that it looks just like ricotta cheese once it's been mashed up. Not only does Tofutti's product have almost the same consistency of ricotta, but it emulates the taste as well. With just a touch of sweetness, the flavor is subtle and versatile enough to include in everything from ravioli and calzones to lemon ricotta pancakes and vegan cheesecake.
Kite Hill Cream Cheese Style Spread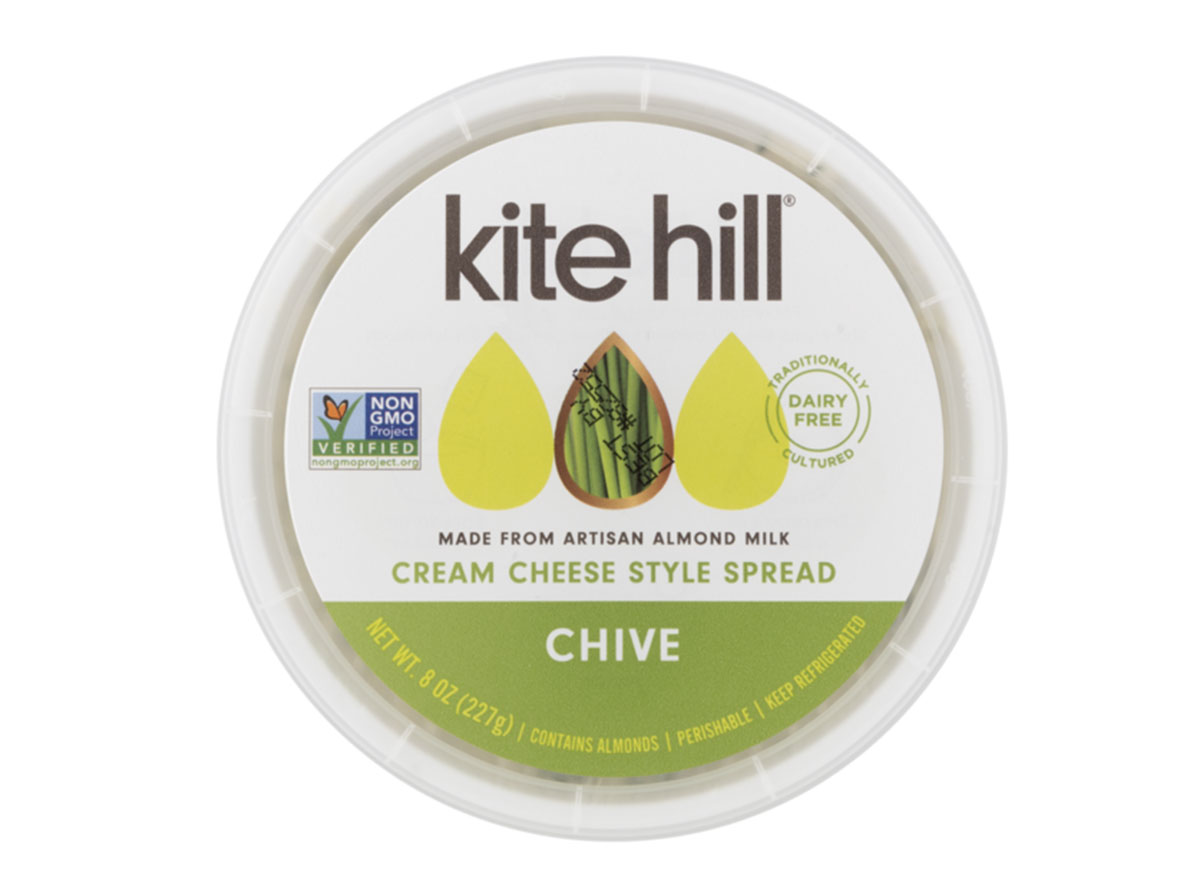 6254a4d1642c605c54bf1cab17d50f1e
Who says you have to give up your beloved schmear? This velvety cream cheese alternative, which is made from artisanal almond milk, is rich enough to suffice. With a slight tang and a hint of white pepper, the chive flavor is definitely a fan favorite—but the jalapeño variety is another crowd-pleaser as well. Use it in place of sour cream in a crudités dip, or spread it right onto a toasted bagel.
Thrive Market Vegan Parmesan-Style Cheese Alternative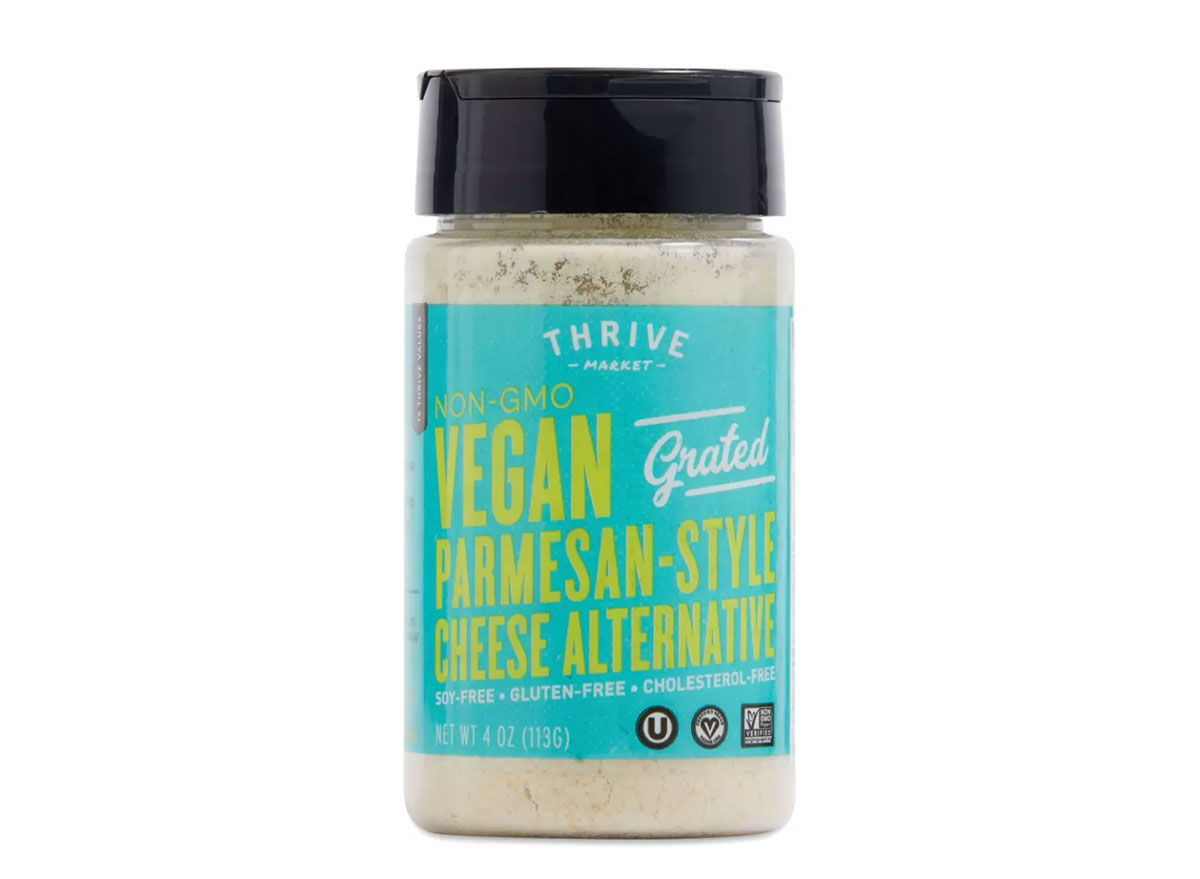 Fans say this dairy-free cheese alternative can mimic the sharp, nutty flavor of parmesan, thanks to the nutritional yeast, among other plant-based ingredients. One reviewer says, "Put this on my boyfriend's spaghetti and he didn't even notice!" How's that for a solid endorsement? Enjoy it on everything from popcorn to roasted veggies—or, if you're feeling brave, consider whipping up a vegan fettuccine alfredo.
Follow Your Heart Cheddar Shreds
There's nothing like a dose of sharp, salty slab cheddar to kick a basic sandwich up a notch. Luckily, this shredded alternative captures the flavor of mild cheddar nicely—plus, it melts like a dream, making it an excellent choice when you're craving mac and cheese. Not only is it free of dairy, GMOs, cholesterol, and gluten, but it also doesn't have any casein—which makes it safe for those who are allergic to the milk protein.
Miyokos Vegan Roadhouse Cheese Spread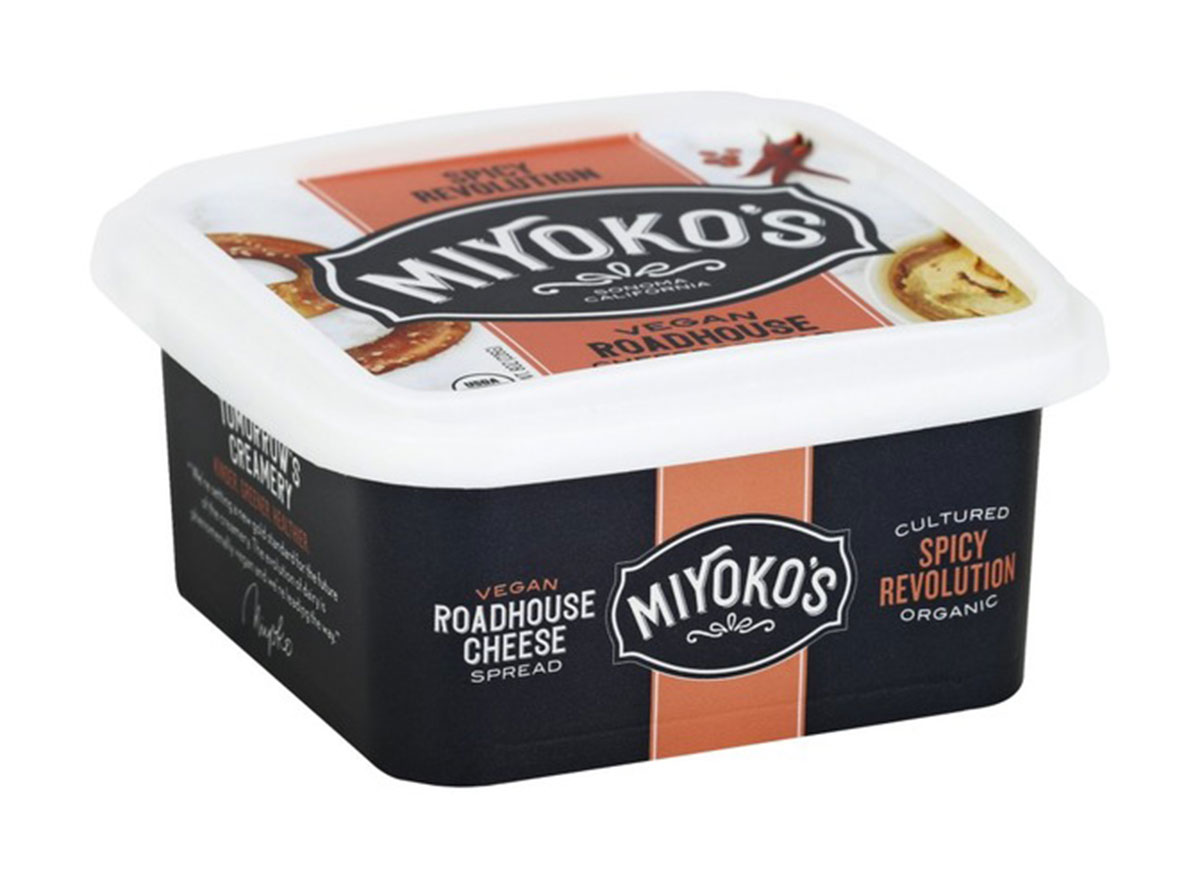 Miyoko Schinner, the award-winning celebrity chef behind this company, wrote Artisan Vegan Cheese—a book that played a role in inspiring the vegan cheese movement. So it should come as no surprise that this line has garnered a ton of praise for its faux fromage. Cashews, coconut oil, and rice miso make up the base for this addictive dairy-free cheese spread, and it comes in a range of crave-worthy flavors, including Garlic Chive, and Cheers to Cheddah, which begs for a warm pretzel and a cold beer. Spicy Revolution, meanwhile, can give any sandwich an instant kick, thanks to the organic chiles it's made with.
Heidi Ho Ne Chèvre
If you revel in the tangy taste and creamy texture of goat cheese, reach for this vegan cheese alternative. The richness of Heidi Ho's cheeses come from buttery organic cashews and nutritional yeast. Purists will love the plain variety, but the Black Lava Version boasts a layer of smoky black salt and crushed hazelnuts for a boost of flavor and crunch. It's also worth mentioning that this dairy-free chèvre contains live cultures and a solid dose of protein to boot. Try it on crostini or a baguette with a dab of olive tapenade or vegan pesto.
Field Roast Chao Creamery Vegan Slices — Tomato Cayenne
Don't let the bright orange color scare you—the flavor of this coconut-based cheese alternative is sure to win you over. Not only does it melt effortlessly, but the fermented tofu lends a satisfying umami bite. While Chao Creamery's vegan slices come in Creamy Original and Garden Herb flavors as well, this variety stands out. Made with a blend of tomato, cayenne pepper, and red and green dried bell peppers, it's got just enough subtle heat for a veggie burger or a spicy take on grilled cheese.
Miyoko's Creamery Fresh Loire Valley Cheese in Fig Leaf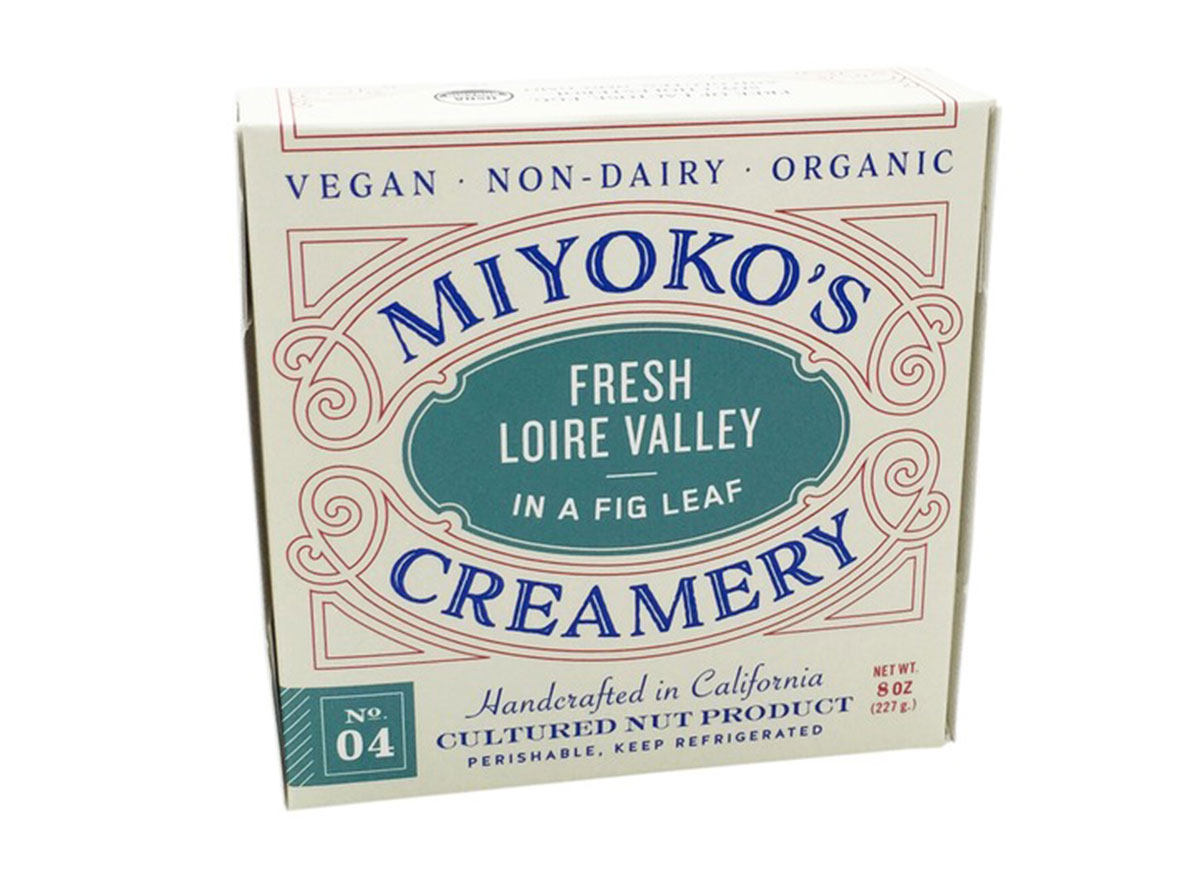 As far as vegan cheeses go, this one takes the cake when it comes to complex flavor: the soft cashew-based wheel is wrapped in fig leaves that have been cured in organic wine from Northern California. It's the perfect pick for a vegan charcuterie board, alongside nuts, seeded crackers, and dried fruit. Best of all, just like traditional dairy cheese, it gets sharper with age.
Rebecca Strong
Rebecca Strong is a Boston-based freelance health/wellness, lifestyle, and travel writer.
Read more about Rebecca