This Vintage, 1960s-Era Delivery Person Is Making a Comeback
It's genius, if you think about it!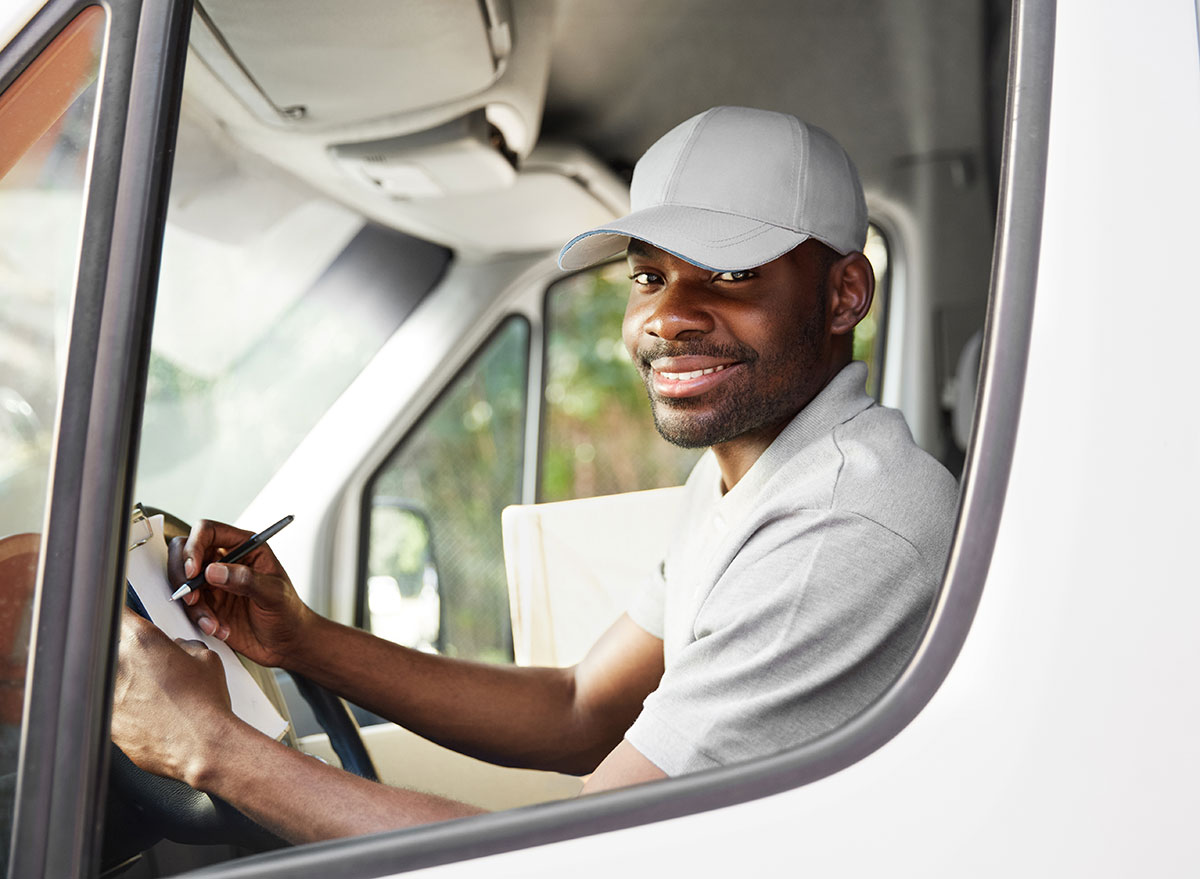 When the pandemic started to ripple through communities in early March, many households scrambled to figure out their game plan. Who would make the grocery store run? Should we consider ordering online? How long will we be stuck at home? How do we ensure we receive fresh goods?
As we all navigated these questions and others, some found themselves returning to an old fashioned way of receiving one staple: milk. In the 1960s, most people received their weekly supply of liquid vitamin D via a milkman. If you're not familiar with how it works: the milkman (or woman) picks up fresh goods from nearby farms in glass bottles. They deliver these to various homes along their route. Customers use them and then return the glass bottles at their next pick-up time.
The milkman makes a comeback.
Across the United States, the need for a milkman wasn't exactly high in the past many decades, especially since many can take a quick drive or walk to a grocery store and find any variety of milk they need. Recently, the United Kingdom saw an uptick in milk bottle service once they hunkered down on plastic laws. And though this practice is still prevalent in some rural parts of Europe, during the pandemic, it's made a global comeback.6254a4d1642c605c54bf1cab17d50f1e
Just ask Angie Rondolet, owner of the milk delivery service, Cow Belle in Lehigh Valley, Pennsylvania. She started her company in 2016 after noticing her friends and family's increasing desire to incorporate organic and farm-fresh foods into their meals. Because she's located in a part of the state where everything is spread far apart, they had to drive dozens of miles to support local.
That's where the opportunity hit her: what if you could have milk on your doorstep when you needed it?
While convenience is a top benefit, Rondolet says the freshness, the quality, and the assurance can't be beaten. You know the animals are treated fairly, and you can give back to farmers nearby without leaving your home. "Many people enjoy the nostalgia and the friendly relationships we develop. In fact, the friendships are my favorite part," she says. "I especially love when the kids thank me or draw little pictures. It's so sweet."
These days, she has many more customers. She estimated her business grew 300% within weeks of the arrival of COVID-19. Since many grocery stores limited how much milk one person could purchase, families were left scrambling for other options.
In addition to securing new customers, Rondolet's past clients upgraded their orders. Considering Cow Belle also offers meats, eggs, butter, yogurt, and other fresh options, it's likely not a surprise that business continues to boom.
"Many of the customers who joined the service say they'll stick with us even after the pandemic," she said. "Home milk delivery isn't just the past anymore—it's also the future."
How to find a milk delivery near you
If you're interested in milk delivery services in your area, check out some of these options:
Local farms: Depending on your location, you may be within the service areas. It's worth a phone call to see about their frequency and rates.
Delivery service apps: During the pandemic, many restaurants offer grocery staples and takeout items. These include yeast, flour, and other essentials, like milk.
Community involvement: Even if a farm isn't covering your zip code, consider chatting with your neighbors. If you can encourage a sizeable number of households to sign-up, many delivery services will consider adding the stop to their routes.
For more food news, be sure to sign up for our newsletter.