This New Service Lets You Make Famous Restaurant Dishes At Home
It's another clever way for customers to keep their beloved restaurants in business.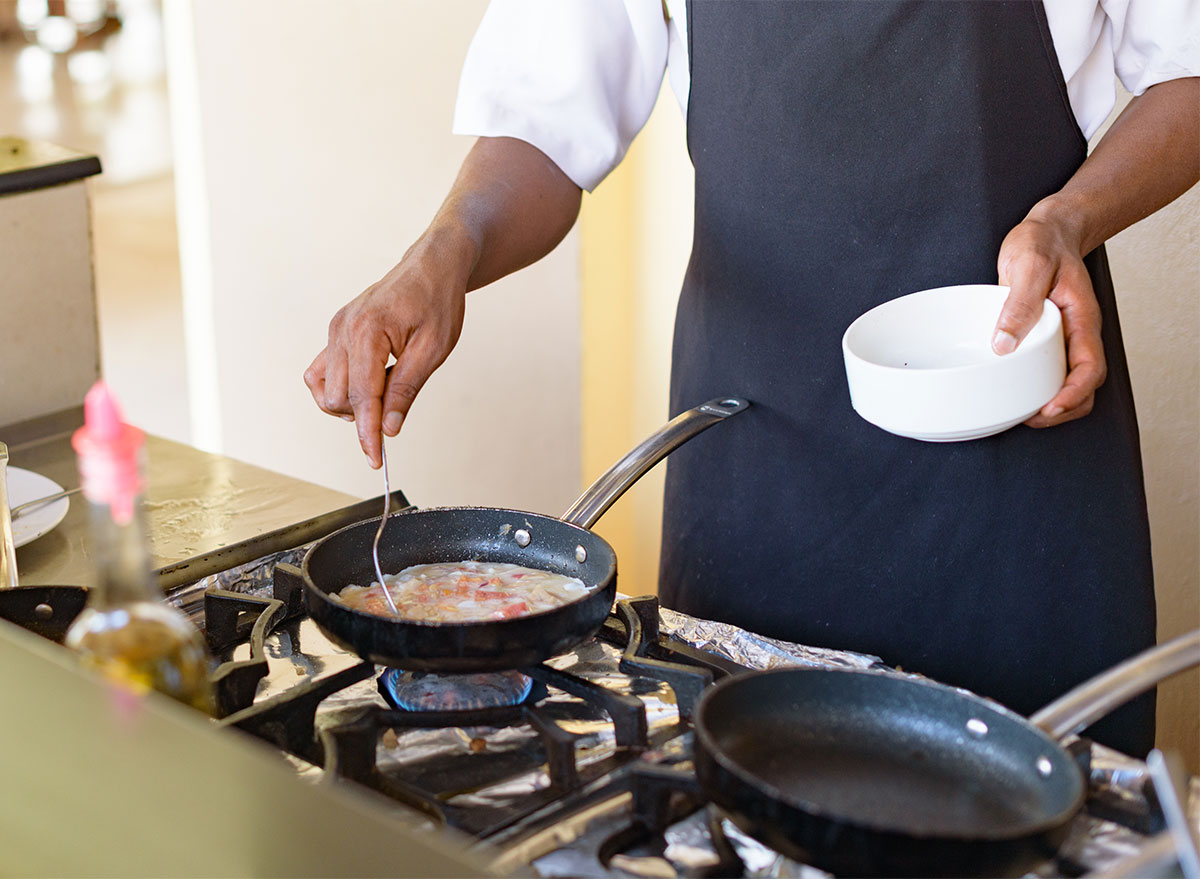 In the last 10 years, the New York City restaurant scene has doubled, giving hungry New Yorkers thousands of new eateries to explore. Companies like Baldor Specialty Foods are part of the industry, delivering palettes of quality ingredients to chefs to cook in their establishments. But when the city was faced with a pandemic, many of those restaurants closed up shop, some even saying goodbye for good. Baldor needed to get creative, which is why they decided to launch a Restaurant Series where customers can make famous restaurant dishes at home.
"We were sitting on $10 million of food with no customers to sell it to," says Ben Walker, vice president of marketing and sales at Baldor. "We have 3 warehouses, over 2,000 employees, and over 400 trucks to deliver over 100,000 packages of food a day. We started to obviously be severely concerned not knowing the severity of the situation."
With restaurants closing up shop, Baldor had to get crafty.
When the pandemic caused restaurants to close up shop, Baldor found themselves looking at a significant decrease in business. 80% of their current revenue stream comes from their food service, while the other 20% comes from retail. They had to think of a new way to not only make money, but also use up the food shipped to them.
Then people started buying groceries in bulk.
"When we started to see the panic purchasing begin, people started reaching out to us—friends and family—to see if they could get food," says Walker. "We started to do that very slowly and quietly, and then these conversations carried into the board room. We had nothing to lose, so we said 'let's go for it.'"6254a4d1642c605c54bf1cab17d50f1e
After their first week, Baldor had well over 1,000 home deliveries going out a day. Customers raved about the chef-driven ingredients being mailed to their homes, and Baldor was happy to use up the ingredients being shipped to them. Especially since they are a company focused on eliminating as much food waste as possible.
But as the weather started to get warmer and restaurants started to open back up, the interest in their home delivery services shifted. With Baldor down 60% in their foodservice business compared to last year, they needed to get creative. That's where the idea for the restaurant meal kits came to play.
"We all need to reinvent ourselves through this, we're all looking for multiple revenue streams," says Walker. "With us we have the home deliveries as a new revenue stream, and we're looking at retail more closely, and foodservice won't be the same. We're asking our restaurants to do the same, and they know they need to."
There are 5 restaurant meal kits to choose from.
Now through their home delivery service, customers have the option to buy meal kits from New York City's most favorite restaurants. According to their press release, customers can order the following meal kits to make at home.
ShackBurger Kit from Shake Shack
Pasta Tastings and Meatballs from Hearth Restaurant
Lobster Roll and Lobster Spaghetti from Jeffery's Grocery
Four-Course Slow-cooked Shortrib or Citrus Chicken Dinners from Crown Shy
BBQ Feasts from Hill Country Barbecue
Even though Baldor only offers five restaurant meal kits right now, there are plans to expand what's available. Less then a day after announcing their Restaurant Series to the public, Baldor was inundated with requests to offer meal kits from other restaurants in the area.
"We're creating a formal onboarding and proposal that we're asking for our restaurants to help us with," says Walker. "We want to be fair to all of our restaurants and give everyone an opportunity to be involved, [but] it wouldn't make sense to put 100 people on the platform tomorrow because then you're just watering down the success of everybody. So we're going to take it slow, one restaurant at a time."
For more coronavirus news, be sure to sign up for our newsletter.
Where Baldor delivers to
Even though Baldor Specialty Foods is a New York City-based establishment, they are equipped to deliver to homes within a 60-mile radius. This includes Long Island, the Catskills, Philadelphia, at least 75% of New Jersey, and even part of the Berkshires.
The coverage of this area may seem small, but Baldor already has plans for expansion. Because of their warehouses in Boston and Washington D.C., Baldor can take special requests and distribute to homes within a radius of these cities as well. When you look at it on the map, Baldor is able to cover a wide range of landmass up and down the Eastern seaboard.
Baldor is also in preliminary talks to bring the Restaurant Series to local restaurants in other cities as well, particularly in Boston, which is their second-largest market after New York. If things go well, Baldor is even considering bringing the series to D.C., Philadelphia, Rhode Island, and Portland, Maine.
To deliver the products, Baldor is relying on the same trucks and drivers they used for their food delivery services. But now, they are making home deliveries.
"We're utilizing the same trucks that deliver to pick up these products bring them back to home base and then distribute them to our thousands of home delivery customers," says Walker. "So it's a great 360-degree system that should be scaleable and great for everybody, and we're excited to see where this goes, and we're excited to bring that New York City dining experience to home customers."
Along with ordering takeout and delivery, customers can continue to support their favorite eateries by ordering meal kits through companies like Baldor. Plus, it even helps Baldor to stay in business, support the restaurants they work with, and not waste any of the food shipped to them from all around the world.
"We all love and appreciate restaurants and we want them there," says Walker. "And if we don't support them now, they aren't going to be there tomorrow."
UPDATE: Since launching the Restaurant Series, Baldor has added options to order meal kits from Momofuko, ABC Kitchen, and Russ & Daughters.