15 Ways to Lose Weight with Lemons
They may be sour, but they can shrink your waist. Worth it? We think so.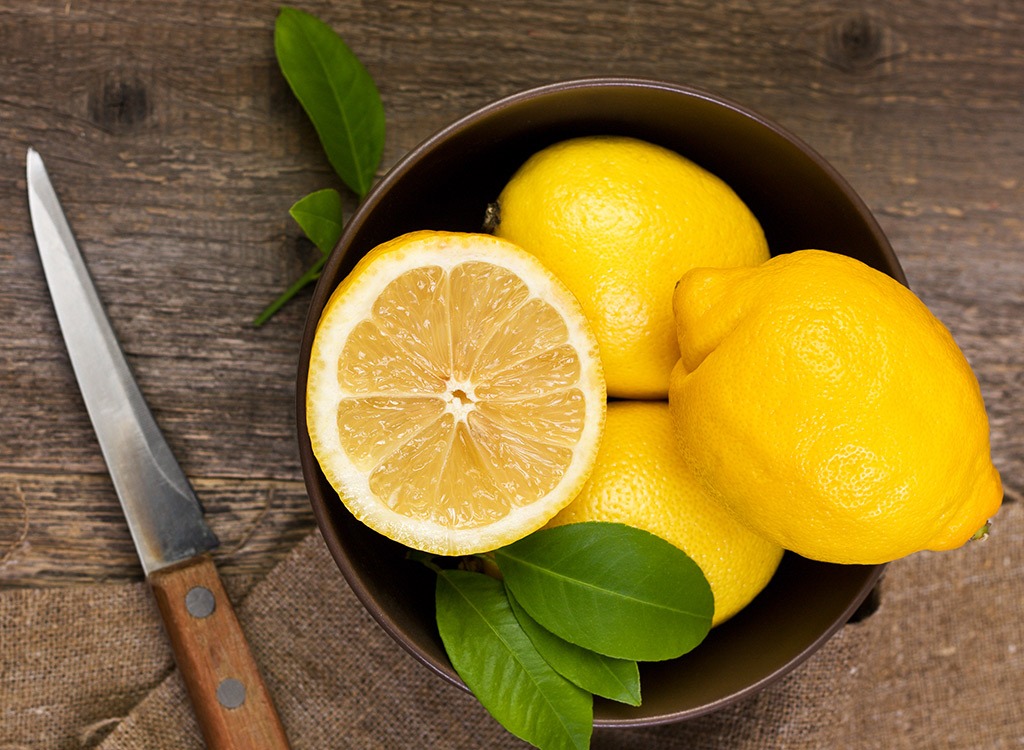 Because you can't exactly peel and eat it whole, sometimes lemons are an overlooked fruit. Though the yellow orb doesn't have the crisp bite of an apple or the sweet flavor of a strawberry, it does have powerful belly-flattening effects, making it a winner in our eyes.
Why Lemons Are a Great Weight Loss Food
Just one lemon contains half a day's worth of vitamin C, a nutrient that's been shown to slash levels of cortisol, a stress hormone that triggers hunger and fat storage.
But that's not all — lemons are rich in polyphenols that Japanese researchers say may ward off fat accumulation and weight gain.
The peel is also a potent source of pectin, a soluble fiber that's been proven to help people feel fuller, longer. Participants who ate just 5 grams of pectin experienced more satiety, according to a study published in the Journal of the American College of Nutrition. Impressive, right?
Plus, at most grocery stores you can nab two or three lemons for a couple of bucks, making the fruit one of cheapest weight-loss foods of all time.
How to Lose Weight With Lemon
But what should you do with all those lemons once you bring them home? Read on to discover some of the tastiest, most creative ways for how to lose weight with lemon. And if you're looking for even more ways to trim your waistline, don't miss these ways to lose 5 inches of belly fat.
Make Detox Water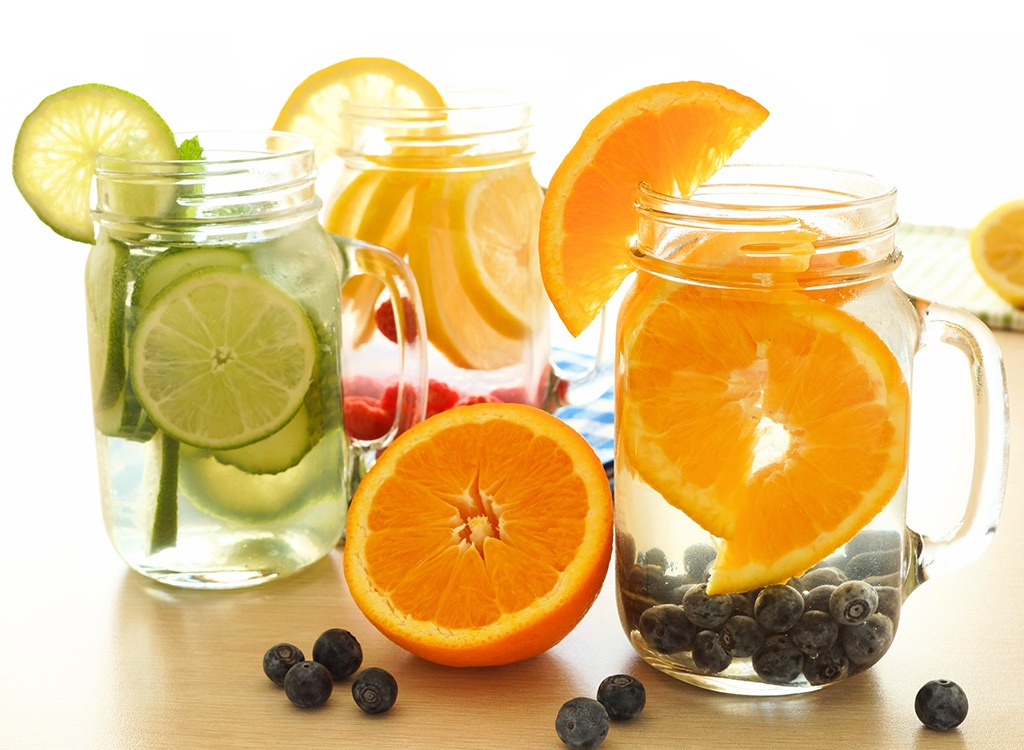 Here at Eat This, Not That!, we're big fans of detox water. Not only does a detox water like lemon water add some zing to your daily dose of H2O, if you make a batch with lemon, you can also reap some major health benefits. A European Journal of Pharmacology study found that an antioxidant in lemon peel, D-limonene, may have a therapeutic effect on metabolic disorders in mice with high-fat-diet-induced obesity. You'll also get a bit of vitamin C from the juices that seep into the water. We like to blend lemons with orange and lime slices, but there are countless ways to make a batch. Check out these best detox waters for some inspiration.
Put It In Your Tea
In a recent 12-week study, participants who combined a daily habit of 4 to 5 cups of green tea each day with a 25-minute sweat session lost an average of two more pounds than the non-tea-drinking exercisers. But sipping green tea won't just help you trim down, it can help keep you healthy, too.
Polyphenols in green tea block a "signaling molecule" called VEGF that triggers heart disease and cancer, according to a 2015 study from the Institute of Food Research. Although that sounds like a win, when you sip tea, a significant percentage of the polyphenol antioxidants break down before they reach your bloodstream. But researchers at Purdue University discovered that adding lemon juice to the equation helped preserve the polyphenols. Sounds like a great reason to squeeze some in, if you ask us!
Use it to Flavor Roasted Veggies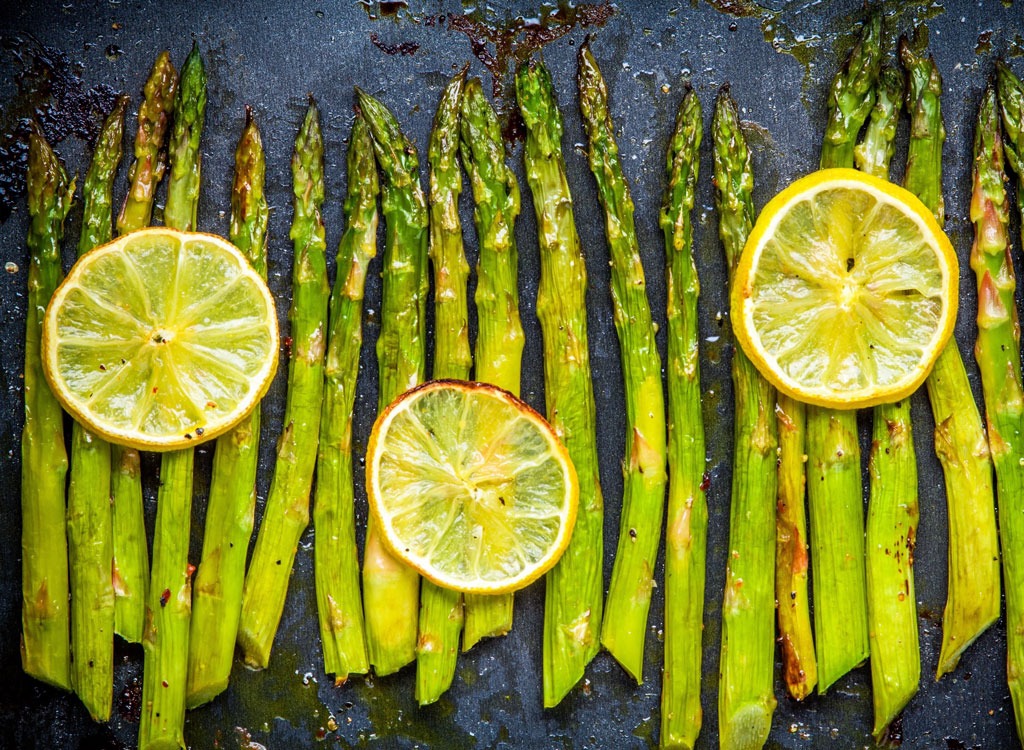 Because vegetables are packed with filling fiber and health-boosting nutrients, adding more to your diet is one of the easiest ways to improve your health and lose weight. But not everyone loves the taste. One of the lowest-calorie ways to add flavor to vegetables is by roasting them. Lay your veggie of choice on a baking tray, drizzle them with olive oil, salt, and pepper and bake at 400°F for about 30 minutes. Once the tray is out of the oven, squeeze on some lemon juice for added flavor. Don't add the juice before the veggies go in the oven—high temps can damage vitamin C.
Make a Homemade Dressing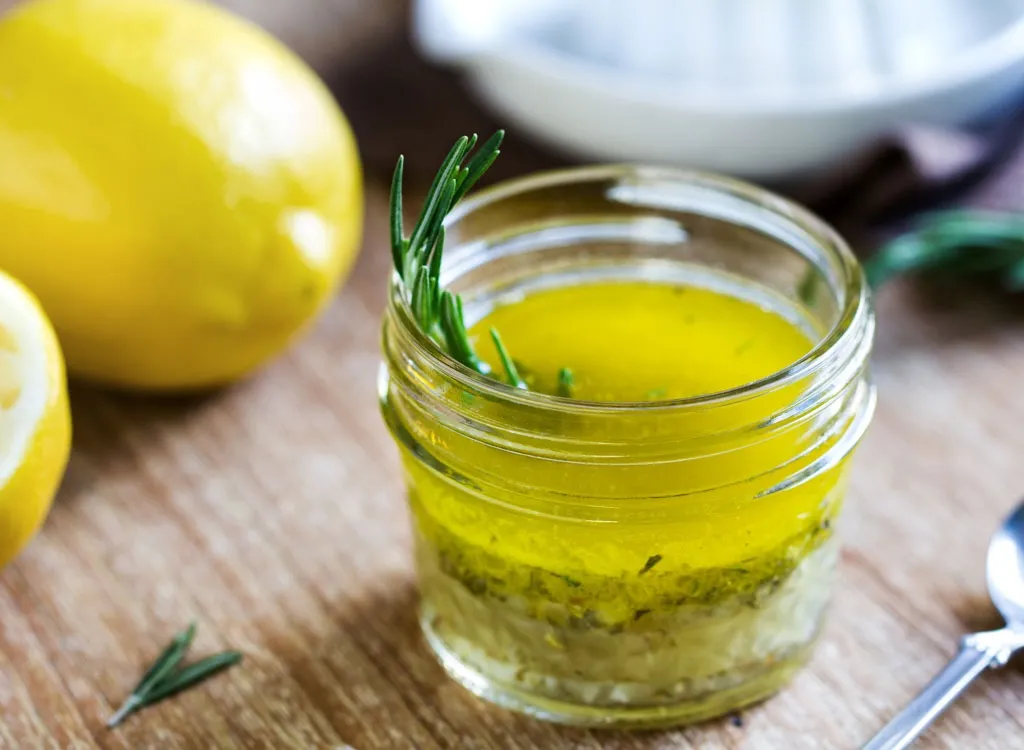 Ditch those chemical- and sugar-filled bottled dressings that can slow your weight-loss progress, and make a fresh batch with slimming lemon instead. To make our go-to lemon dressing, combine 1 tablespoon plus 2 teaspoons of fresh lemon juice, 1 teaspoon of finely grated lemon zest, 1 tablespoon of honey, 1/4 teaspoon dried thyme, 1/4 cup extra-virgin olive oil, and salt and pepper, to taste. Super-simple! For even more ways to whip up a nutritious dressing, check out these healthy salad dressing tips.
Scrub Out Pesticides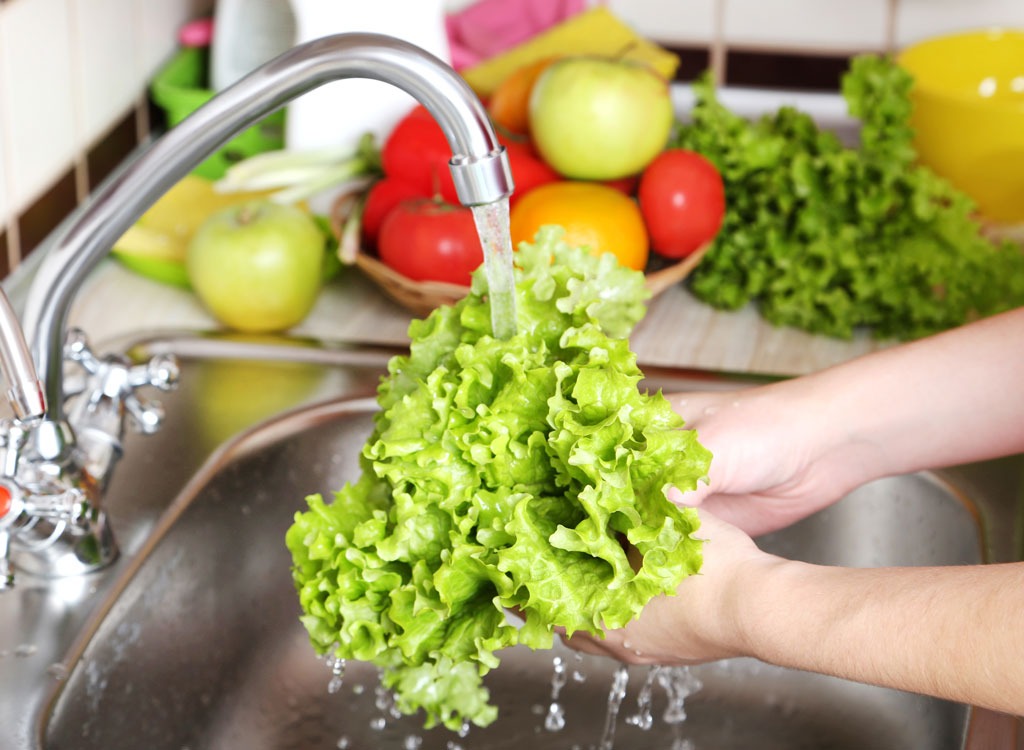 Studies show that chemicals in pesticides called organochlorines can mess with the body's energy-burning process. In fact, Canadian researchers found that dieters who ate the most toxins experienced a greater-than-normal dip in metabolism and had a harder time losing weight.
If you can afford to, it's best to buy organic fruits and veggies—especially when you're eating the skins. If you'd rather hold on your shekels then spend them on pricy produce, though, vow to wash your food thoroughly before digging in. For an extra-deep cleaning, slice a lemon and squeeze a tablespoon of juice into a spray bottle filled with water. Then, spray the mixture onto your fruits and veggies before giving them a good scrub. The lemon juice will act as a natural disinfectant.
Skip the Lemonade Stand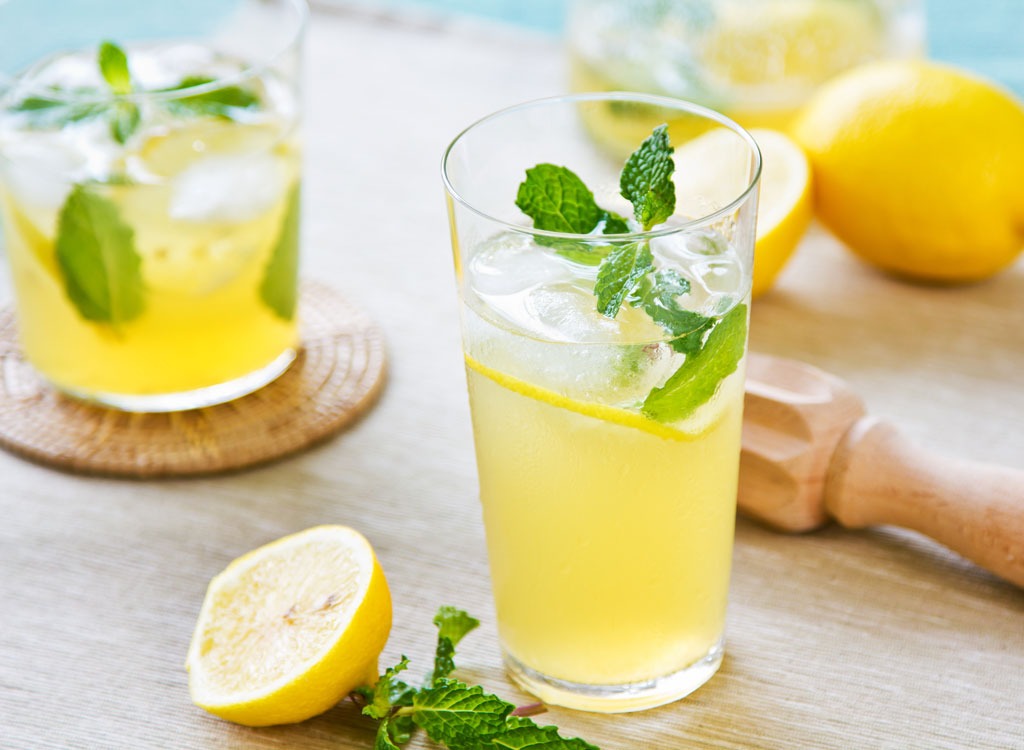 Next time a craving for lemonade strikes on a hot day, resist the urge to head to your neighborhood stand. Just one 8-ounce glass of the yellow drink can pack up to 25 grams of sugar, which is 50 percent of the day's recommended intake.6254a4d1642c605c54bf1cab17d50f1e
Make Last-Minute Zoodles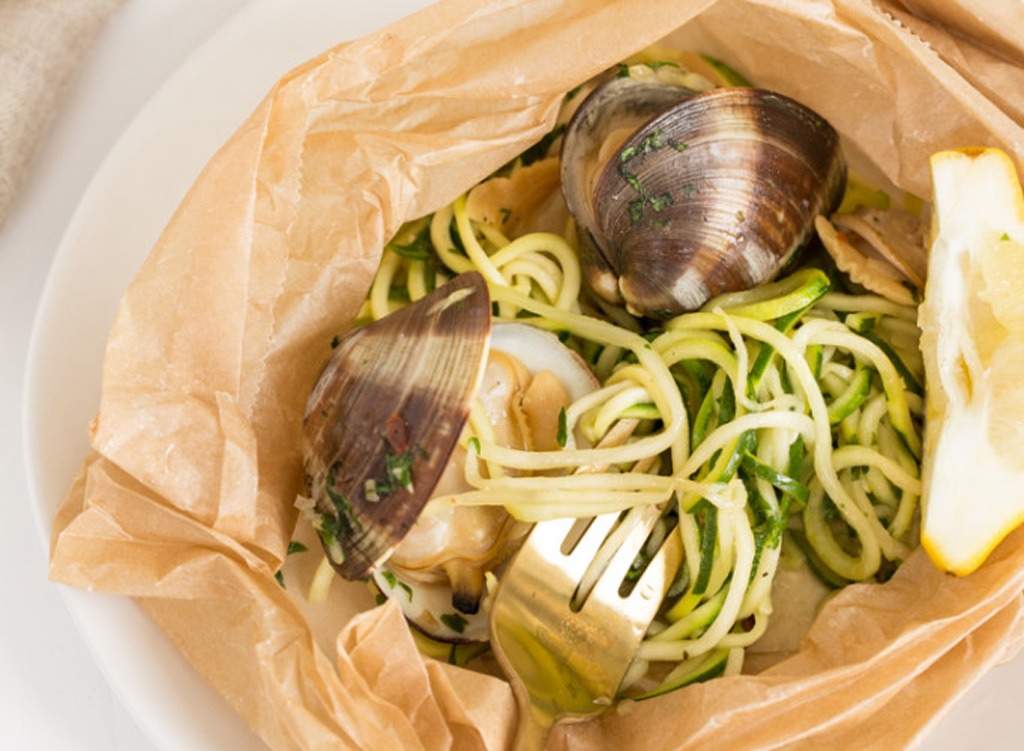 Looking for a new, delicious twist on low-carb zoodles? If you have a lemon lying around and some basic culinary odds and ends, we've got you covered.
After you've spiralized your squash, combine the zest and juice of one lemon with four tablespoons of extra virgin olive oil, red chilli pepper flakes, and one finely chopped garlic clove.
Mix the flavored oil with your cooked zoodles and serve with grated parmesan and a handful of spinach or arugula. For even more delicious ways to eat your veggies, don't miss these spiralizer recipes
Flavor & Tenderize Your Meat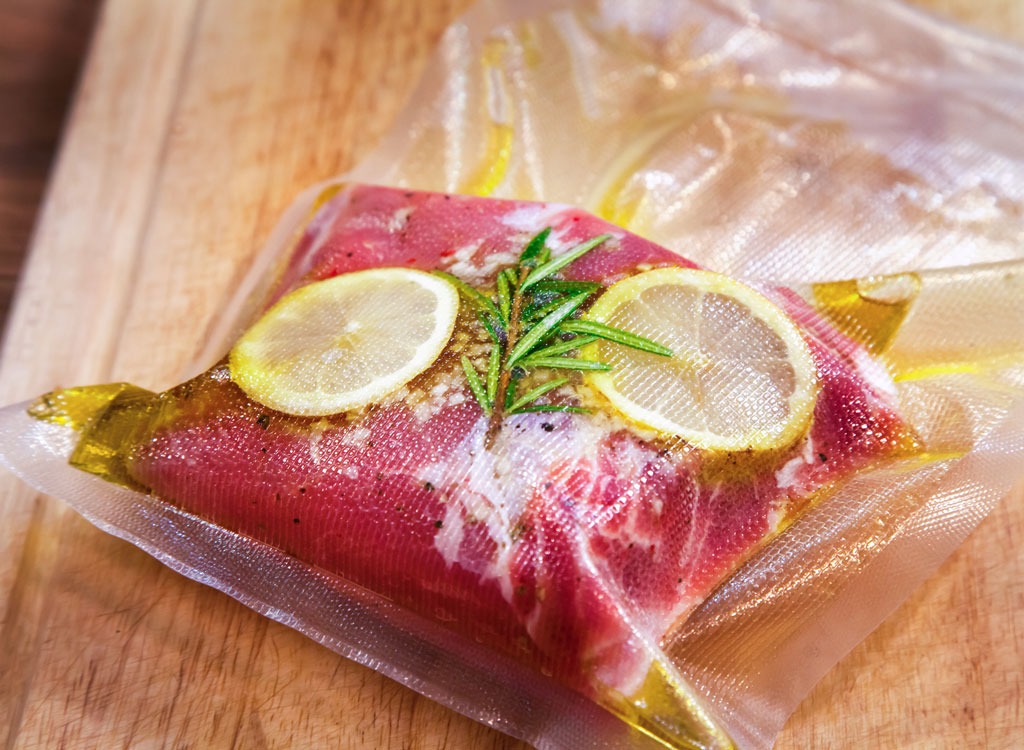 Not only can lemon juice can be used as a marinade, because it's so acidic, it's also a great meat tenderizer. Use it to soften tougher cuts of meat.
Make Healthier Desserts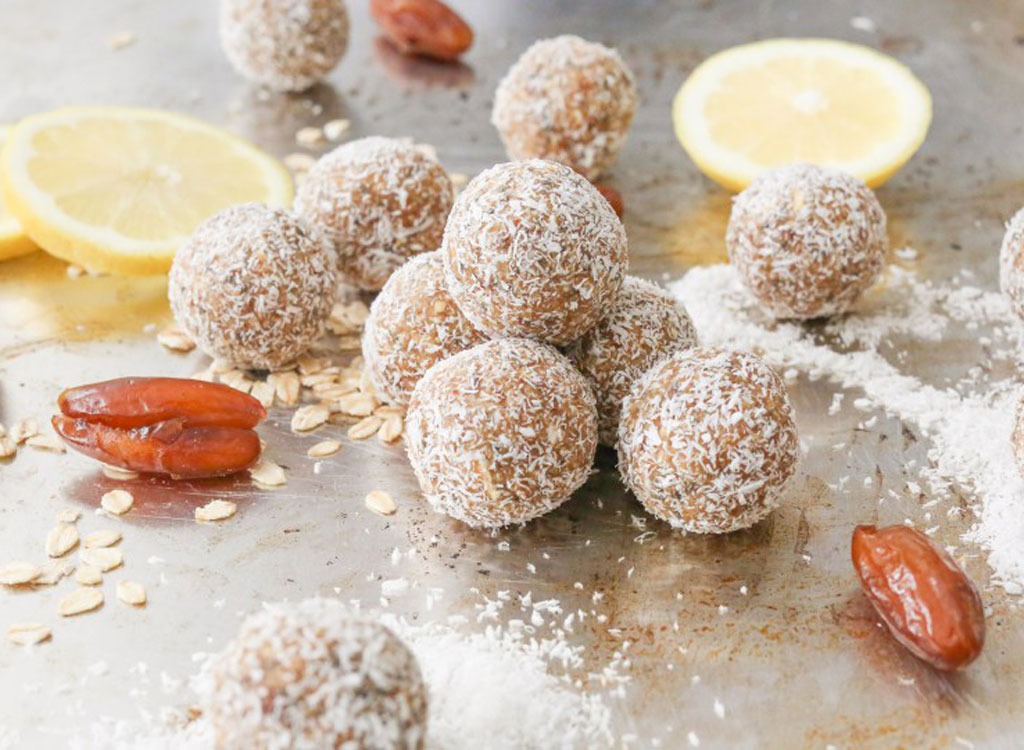 Sometimes you just want a bite of something sweet that won't throw you too off course with your diet. We've been there ourselves, and we totally get it. The recipe pictured above from Domesticate Me calls on dates, oats, unsweetened coconut, lemon and other tasty, wholesome ingredients so you can have your dessert and stay slim too.
Amp Up Your Oats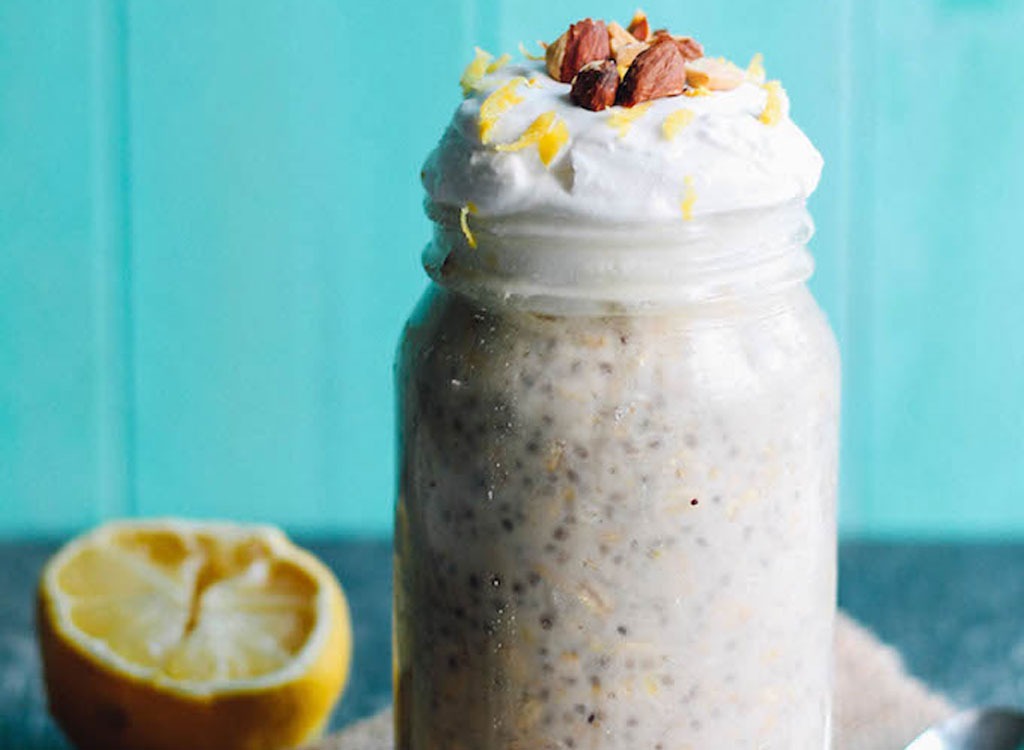 Looking for another way to eat more lemon? Add them to your overnight oats! We love the recipe pictured above by Destination Delish. Lemon cream pie-inspired overnight oats!? Um, yes, please!
Prevent Browning
Hate how pears, potatoes, and apples turn brown after you slice them? Dunk the slices into a bowl of cold lemon water to prevent their color from changing. Any hack that will inspire you to eat more fruits and veggies is one we'll give our stamp of approval.
Revive Limp Lettuce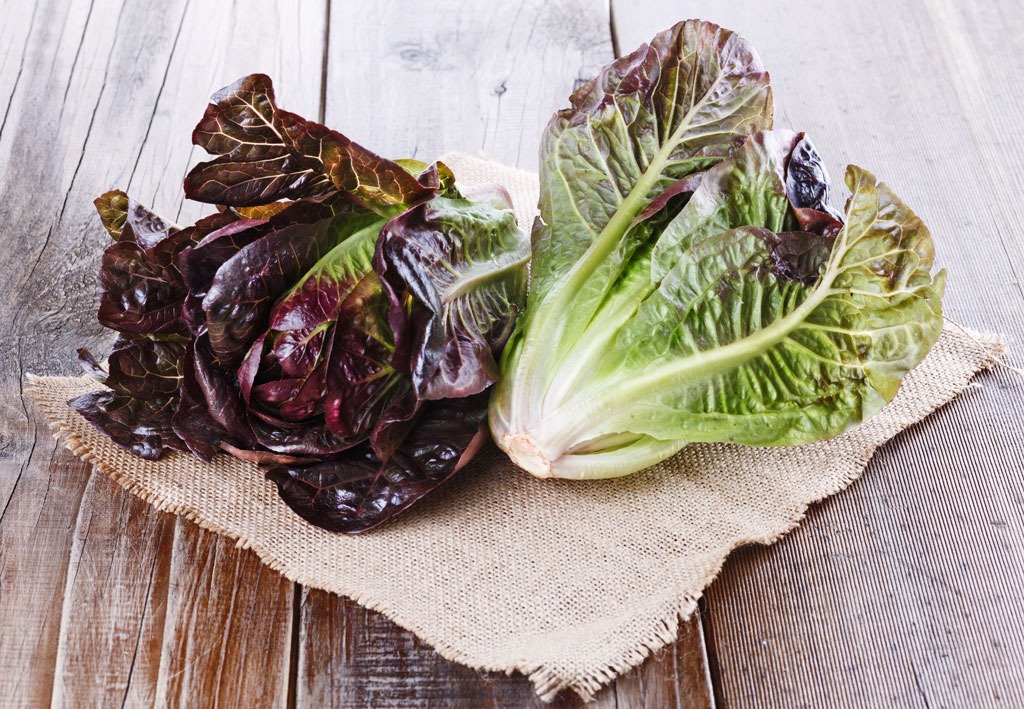 There's nothing more annoying than buying healthy food and having it turn bad before you get a chance to eat it. Next time your lettuce looks a bit limp, grab a bowl, a lemon and water and try to revive it.
Simply add the juice of half a lemon to a bowl of cold water, toss in the soggy leaves, and refrigerate it for an hour. After you've dried off the leaves, they should be crisp and ready to eat. For more creative uses for your favorite yellow fruit, don't miss these amazing uses for lemon.
Make Fancy Ice Cubes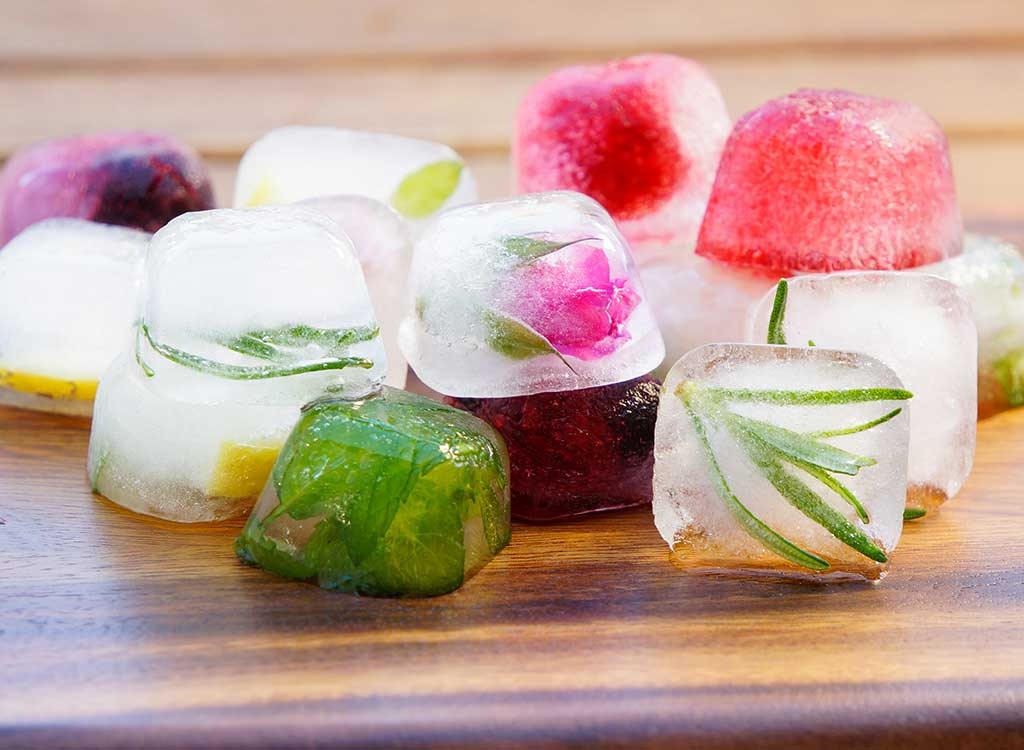 If detox water isn't your thing, amp up the taste of your drink by adding lemon and other fruits and herbs to your ice cube tray. As the ice begins to melt, the additions will slowly but surely add flavor to your beverage.
Season Your Food Smarter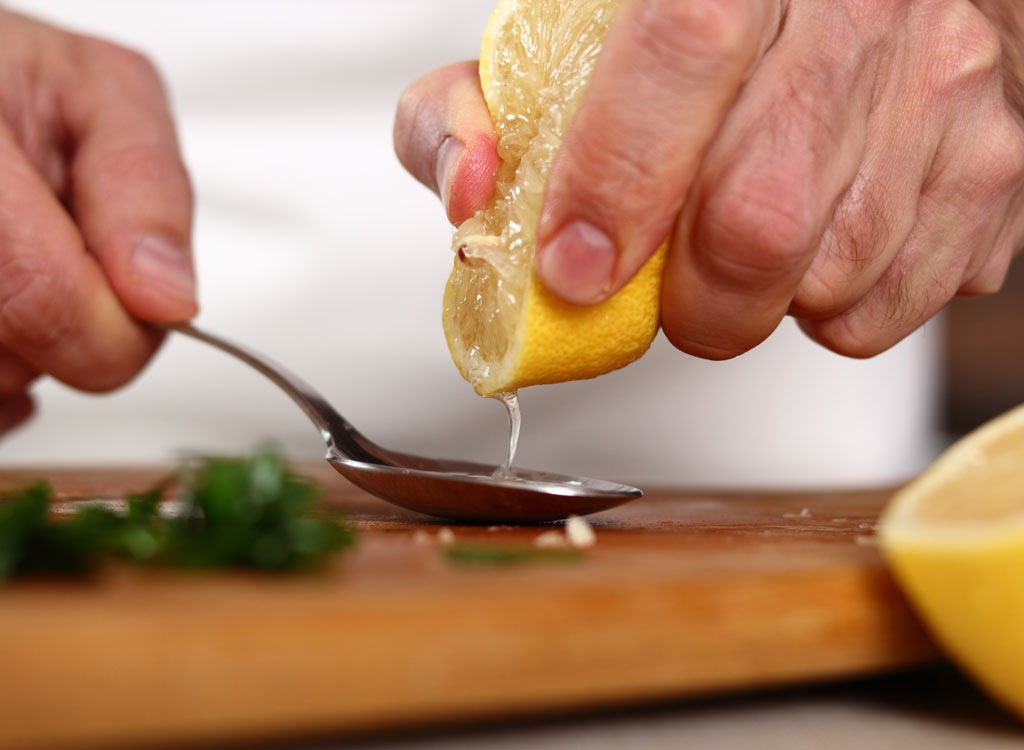 Instead of enhancing the flavor of your food with fats and salt, use lemon. From meats and veggies to desserts and beyond, the fruit can add flavor to just about any dish. For even more ways to eat your way to a trimmer you, don't miss these foods that melt love handles.
Make Brown Rice More Appetizing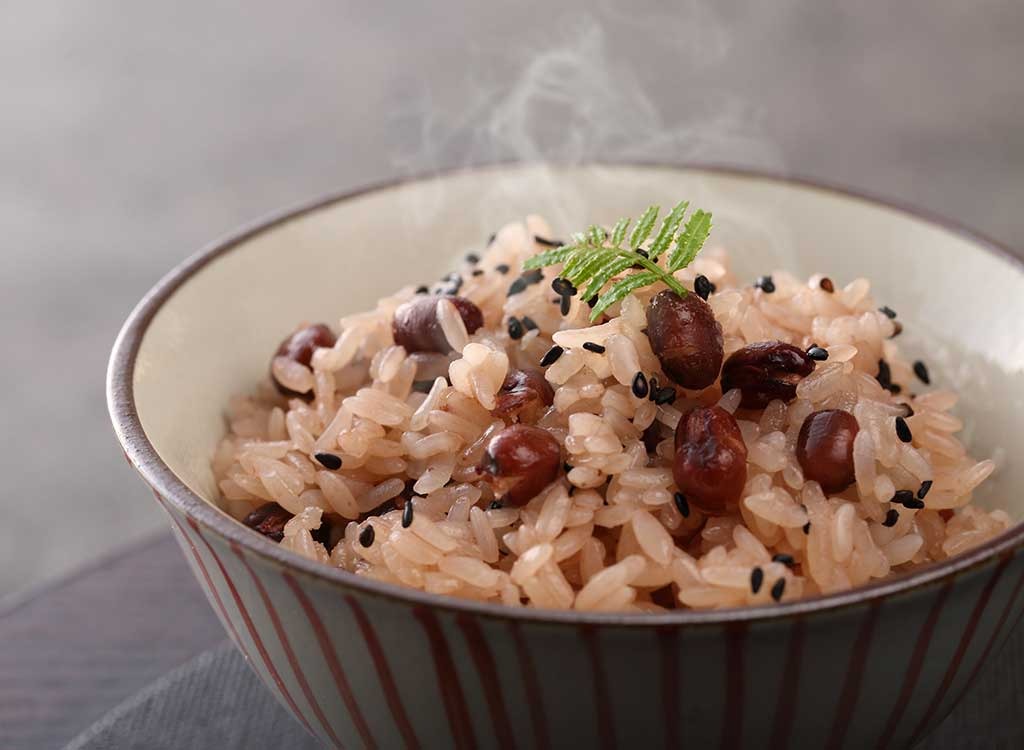 If you're one of the many dieters who relies on brown rice for your daily dose of healthy carbs, you know all well how clumpy and unappetizing the starch can sometimes become. For fluffier, tastier rice, try adding some lemon juice to the cooking water.
Make a Healthier Cocktail
Ditch sugary calorie-dense mixers and make a fresh lemon drop cocktail instead. Here's how to make three drinks: Combine 1 cup of vodka with 1/4th cup of freshly squeezed lemon juice and ¼ cup sugar in a cocktail shaker. Shake up the mixture and pour in three martini glasses. If you're feeling extra-fancy, serve each one with a lemon slice.