A Day in the Life: What a Peloton Instructor Eats
Top yoga instructor Kristin McGee gives us a look into her go-to foods for breakfast, lunch, and dinner.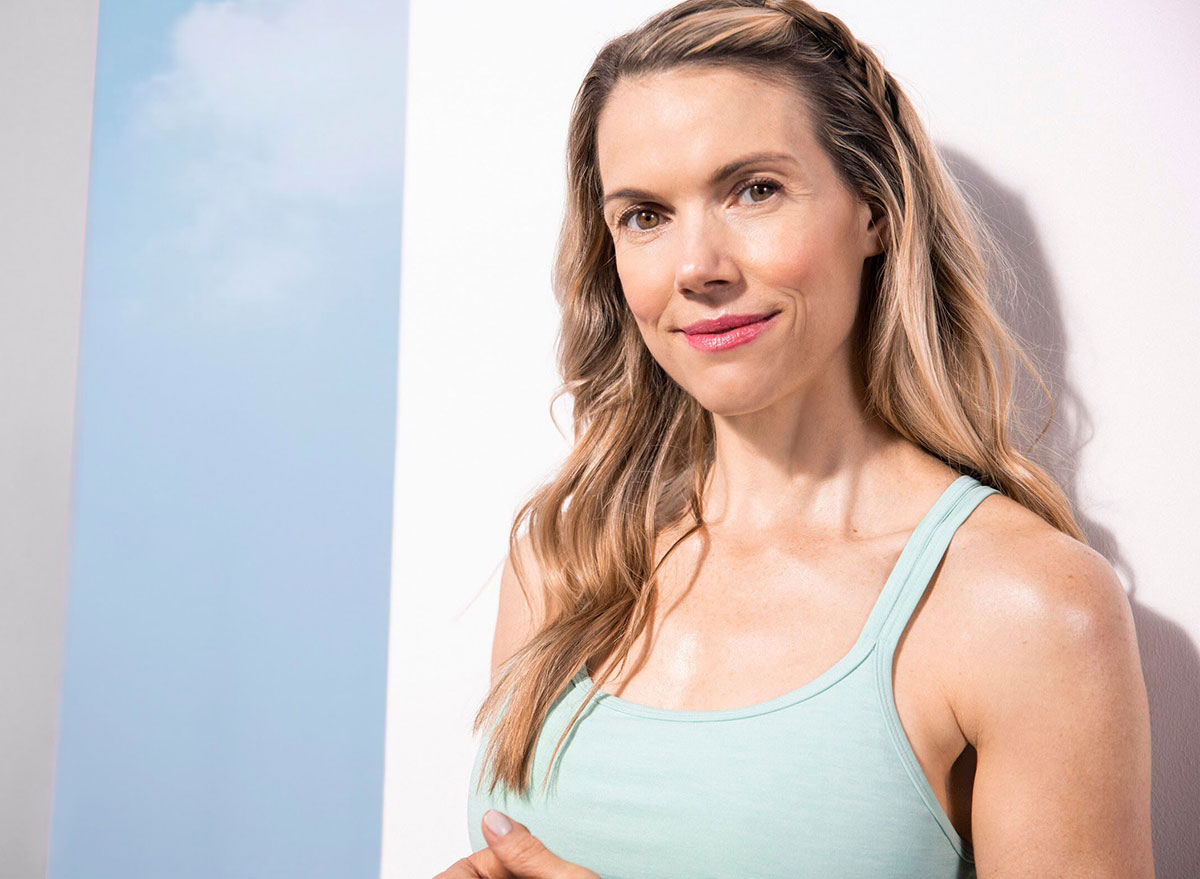 Here at Eat This, Not That!, we get exclusive access to tons of celeb-level nutritionists, wellness experts, doctors, and healthy eating influencers. (We know, we're very lucky.) We've learned from them dozens of ways to make overnight oats, what healthy snacks they can't live without, and what foods you should eat every day. But that left us wondering: what do these top-of-the-line experts do on a daily basis to stay healthy and happy? Well, we asked them!
Here, Kristin McGee, a Peloton yoga instructor, shares a peek into her life and what she eats in a day.
I always try and listen to my body and eat a well-rounded diet with everything in moderation. I tend to alternate between a few go-tos to make my life easier, especially when it comes to breakfast and lunch—I like to have some of my favorites on hand. Dinners I get a bit more flexible with and vary them more often.
Breakfast
Today I woke up and had my favorite Greek yogurt parfait. I layer walnuts, flax seeds, and a little bit of Fiber One with strawberries, blueberries, and organic plain Greek yogurt. I sprinkle it with cinnamon and have a cup (or two) of black coffee on the side. Having protein in the morning to keep me fueled through to lunch is a must.
If I'm not having Greek yogurt, I love organic eggs with spinach and a side of avocado toast and blueberries. If I'm out the door really early to teach a morning class at Peloton, I might make a protein shake with chia seeds, protein powder (I like Orgain or Be Well), frozen blueberries, spinach, avocado, and almond milk, or something along those lines. I don't want to be weighed down, but I also need something in my belly before teaching live yoga classes.
Lunch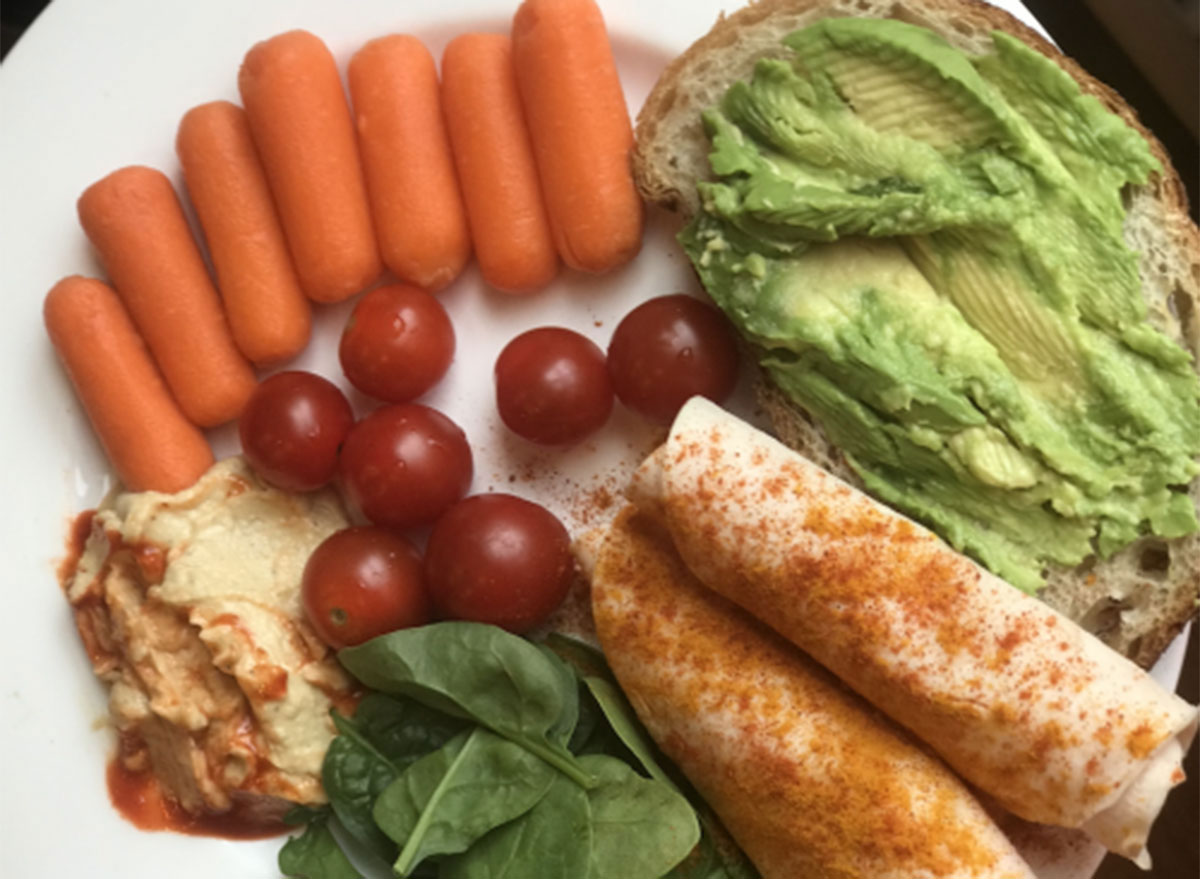 6254a4d1642c605c54bf1cab17d50f1e
Next up, I have my open-faced turkey sandwich. I like to roll up 3 to 4 Applegate Farm Organic Turkey Slices and sprinkle them with turmeric, cayenne, and black pepper. Serve them with baby carrots, cherry tomatoes, and HOPE hummus, and a piece of good organic peasant bread with mashed avocado and sea salt. I often also have a Health-Ade kombucha at lunch. If I'm not having turkey, I'll make a big salad with a piece of grilled salmon or chicken on it or sometimes a chicken or tuna salad from Fresh Direct.
Snack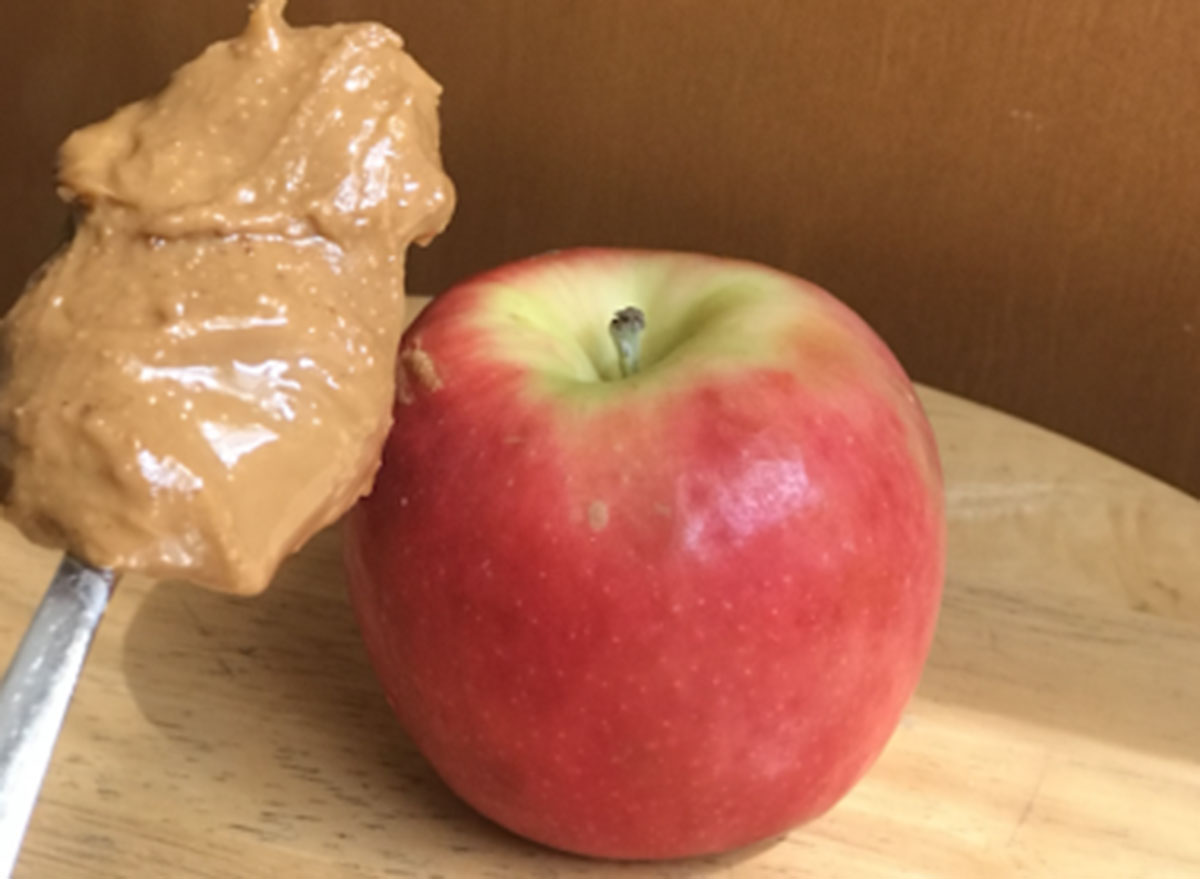 Snack time hits around 3 or 4 p.m., and I usually always have a spoonful of peanut butter with an apple. If I'm on the go, I may throw a protein bar (my favorite as of late is RAW REV, although I also like Bulletproof Collagen bars and Naturally Clean Eats) in my bag or grab a quick protein shake. I seriously love nut butters, though, and find they provide the perfect amount of healthy fat, protein, and carbs to keep me feeling energized and not hungry until dinner.
Dinner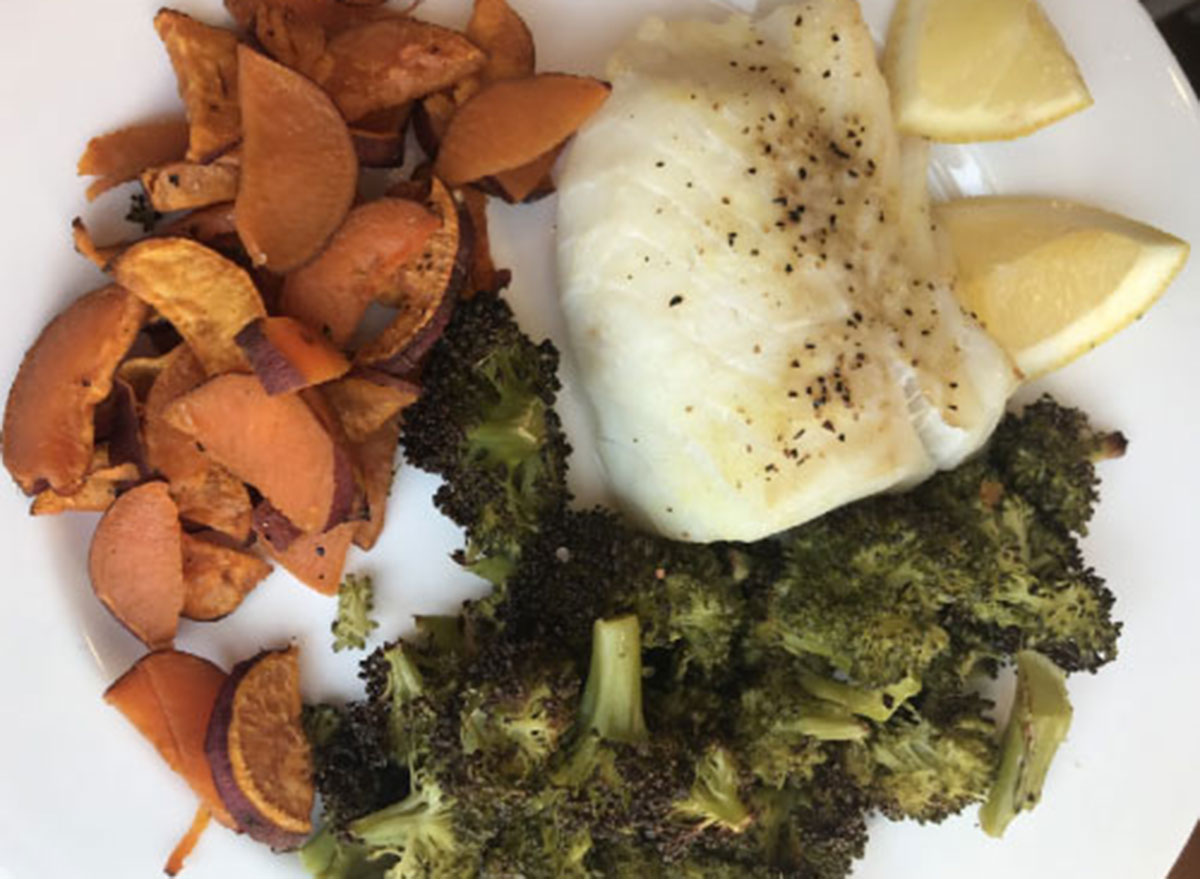 Dinner is often a piece of fish with roasted sweet potatoes and a green veggie, such as broccoli or Brussels sprouts. Tonight I had a piece of cod roasted with a side of sweet potato discs and broccoli. I roast all in the oven at 450 degrees for about 20 to 25 minutes. You can spray olive oil on the veggies and rub a teaspoon on the fish. I salt and pepper all to taste and voilà!
Dessert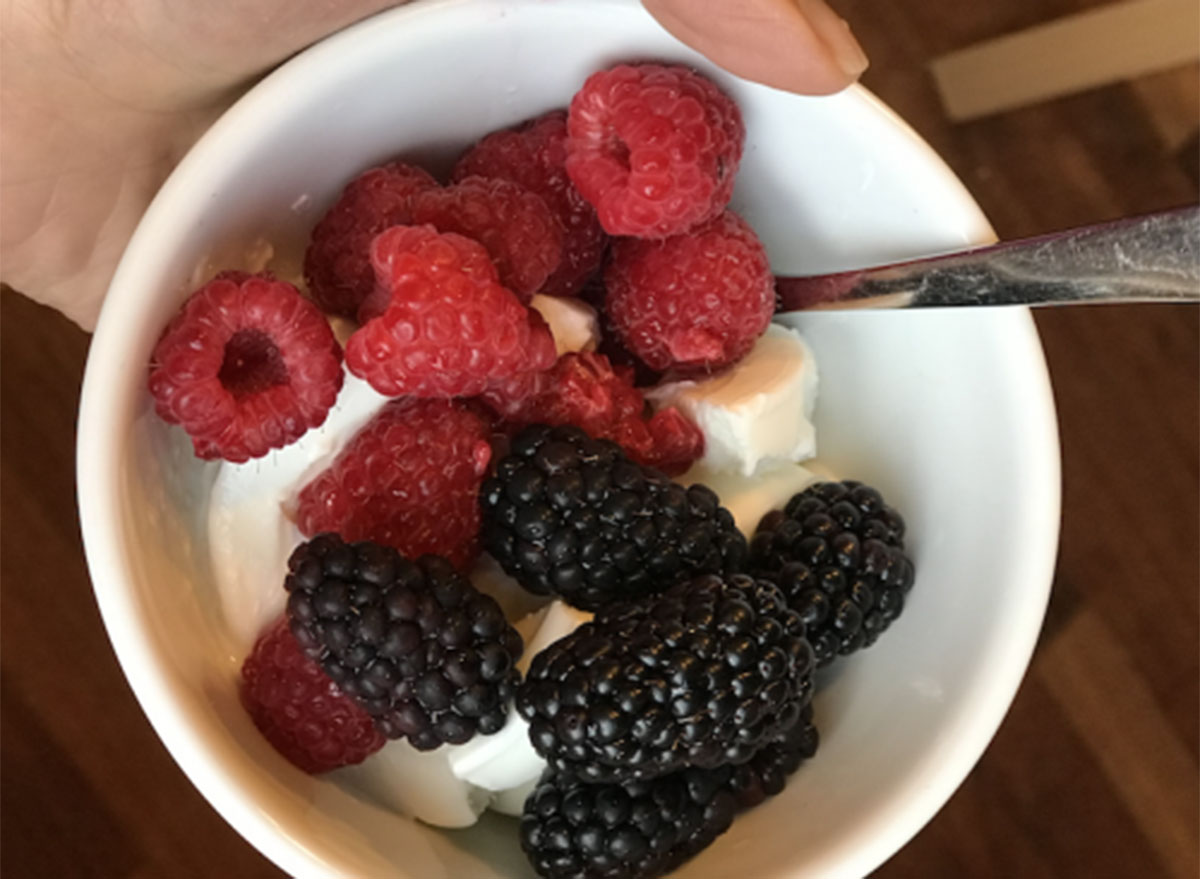 I try and keep things simple; but I also love the way clean eating feels. I don't eat much, if any, processed foods, but I also never pass up dessert! I love to put a Siggi's yogurt in the freezer and chill it, then serve with blackberries and raspberries and usually a small square of dark chocolate. I also enjoy a small glass of red wine on occasion as well.