A Day in the Life: What the CEO of Health-Ade Kombucha Eats
The popular kombucha company's founder Daina Trout gives us a look into what's brewing on her plate.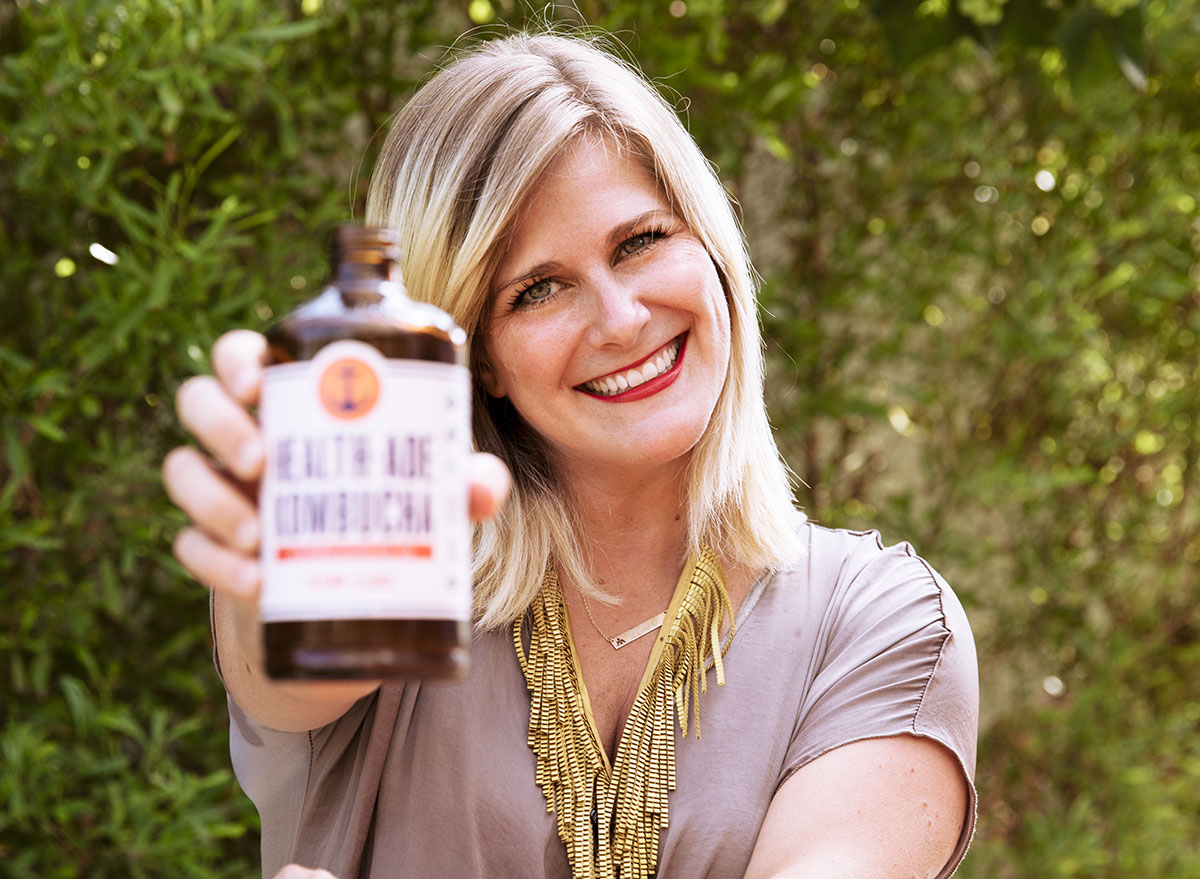 Here at Eat This, Not That!, we get exclusive access to tons of celeb-level nutritionists, wellness experts, doctors, and healthy eating influencers. (We know, we're very lucky.) We've learned from them dozens of ways to make overnight oats, what healthy snacks they can't live without, and what foods you should eat every day. But that left us wondering: what do these top-of-the-line experts do on a daily basis to stay healthy and happy? Well, we asked them!
Here, Daina Trout, CEO and Co-Founder of Health-Ade Kombucha, shares a peek into her life and what she eats in a day.
Breakfast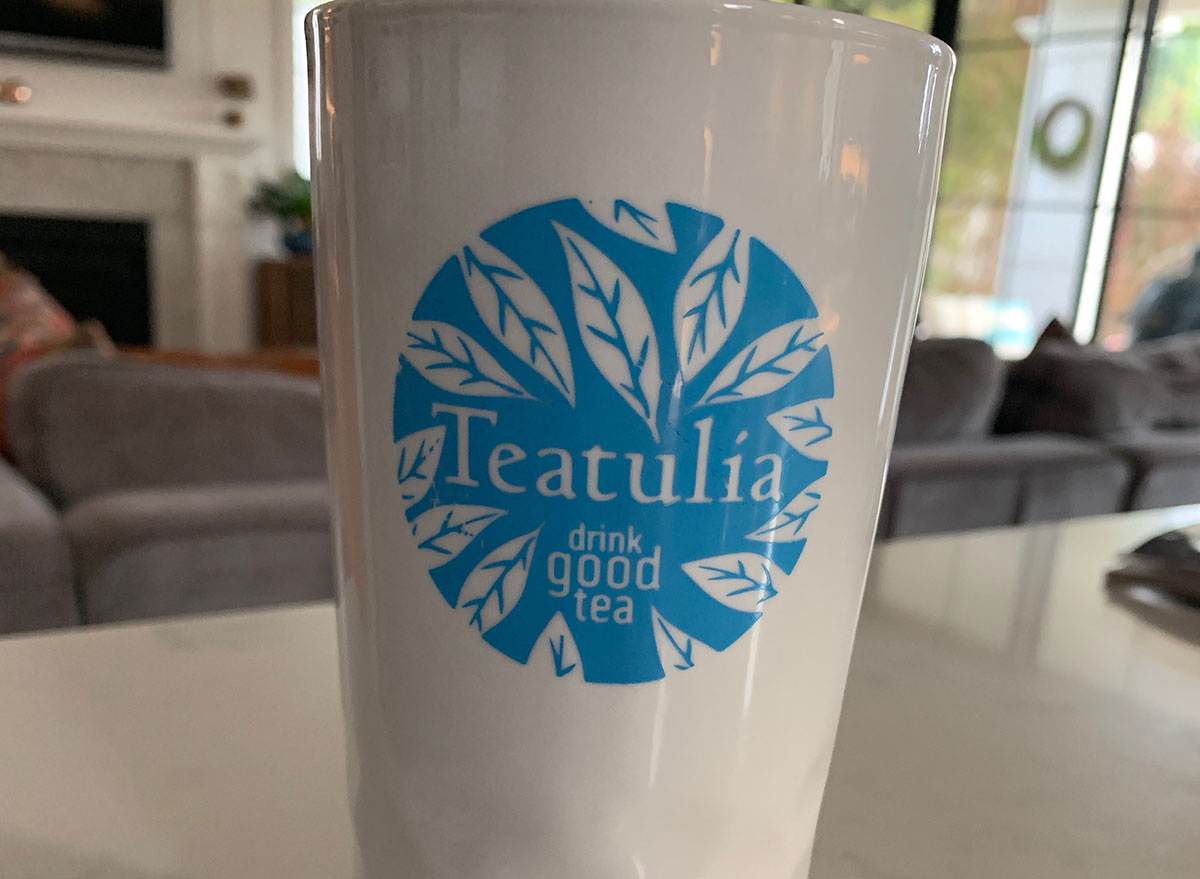 I wake up around 6:30 a.m. every morning if I'm not working out, and 5:45 a.m. if I am. I need about 90 minutes total from when I stop my alarm to when I run out the door, not including a workout. If I don't get something in my belly within 15 minutes after I wake up, I am super nauseated. (Oh the joys of being pregnant!) My usual solution to this is an organic banana.
In addition to having a baby on the way (due in July!), I have a three-year-old boy, Hendricks. While I prep his milk, I multitask and brew some green tea with raw honey for myself. I absolutely love the brand Teatulia. They make sustainably grown teas, which are responsibly sourced from their own certified organic tea garden in Bangladesh. As far as the honey, I use raw and unpasteurized that comes right from the farm!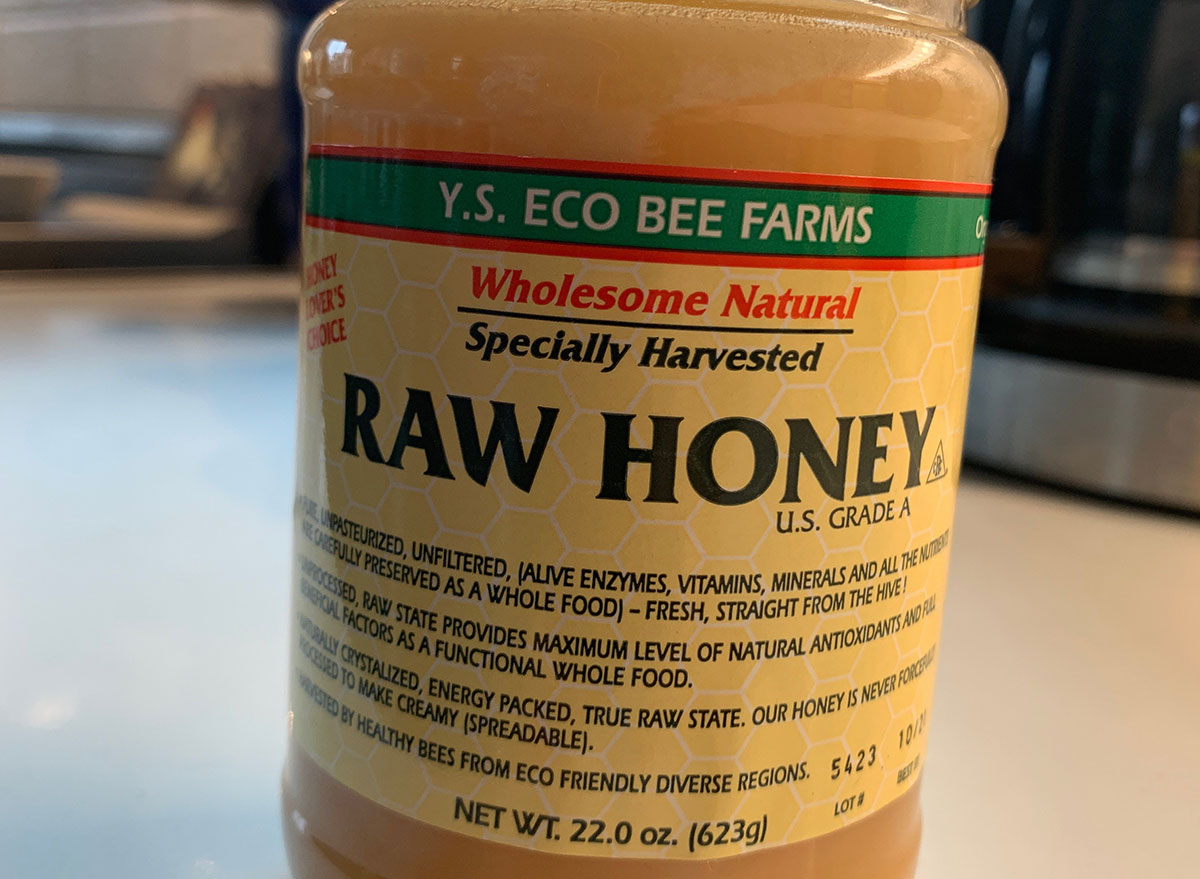 6254a4d1642c605c54bf1cab17d50f1e
As a mom and wife (my husband actually co-founded Health-Ade with me, alongside my best friend!), my mornings are quite hectic, spent helping everyone (including myself) get ready for the day ahead. I've never been able to skip breakfast—especially not right now when eating for two. My meal will vary from day-to-day depending on time and what I have in the fridge, but today I have four mini pancakes with yogurt, carrots, and apples mixed in (I made 40 of these on Sunday so our whole family has healthy snacks). I also drizzle a little bit of pure maple syrup on top. It's just the right amount of fuel I need, and also crave, so it's a win-win!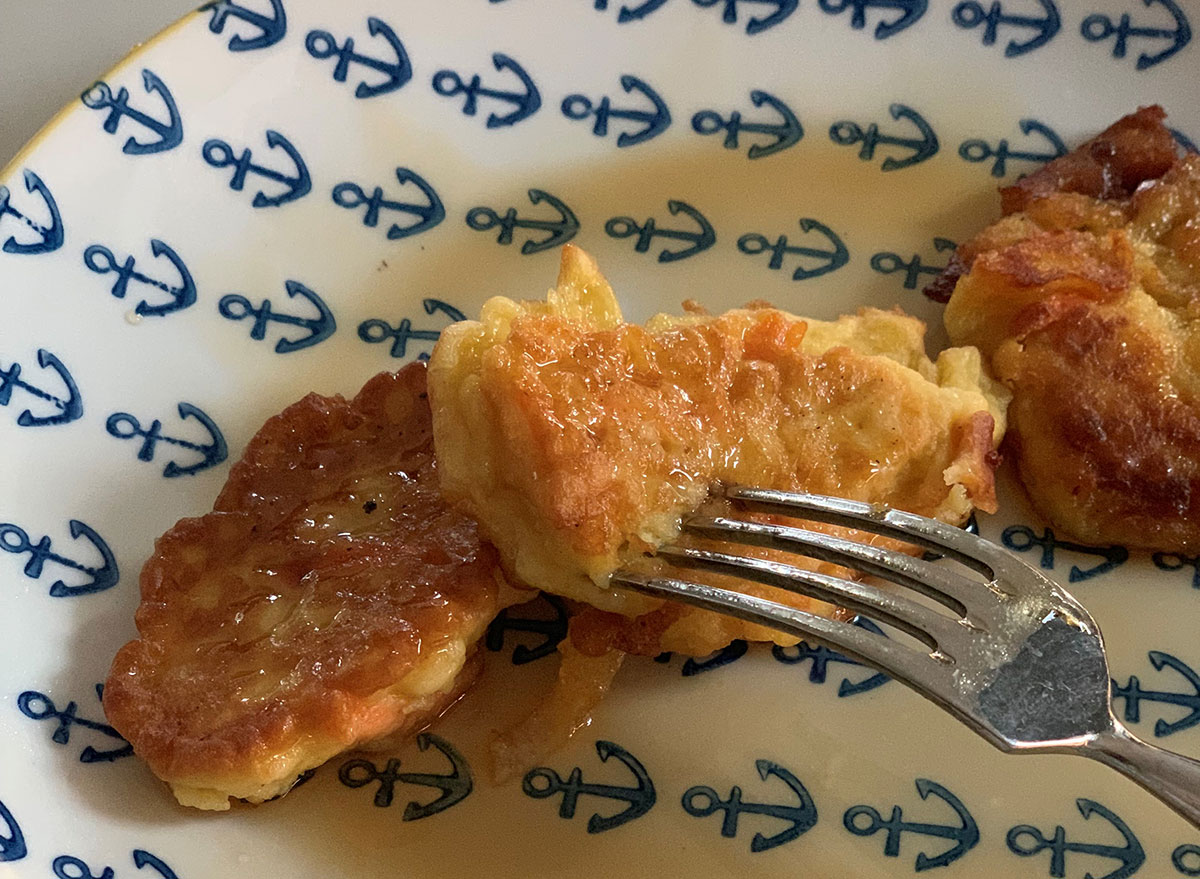 And as an aside, I love starting my day on these anchor patterned plates. To me, anchors represent all things grounding, classic, strong, and hard-working. These are all qualities of Health-Ade—and it's not an accident that an anchor is our logo!
Mid-Morning Snack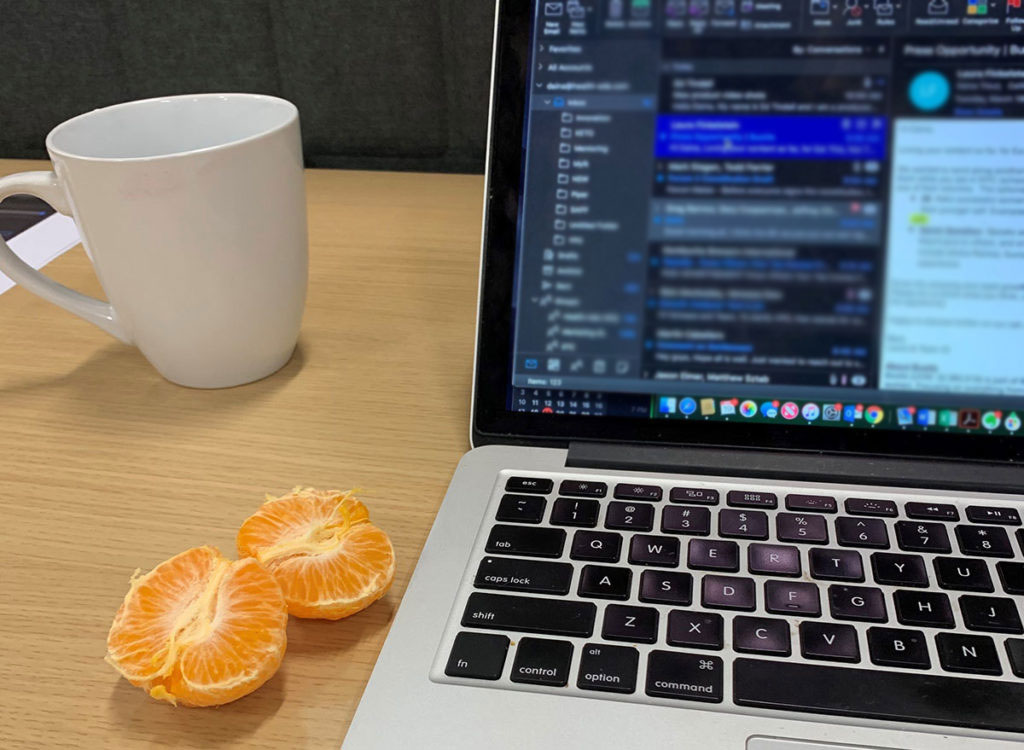 I take my water game seriously—I'm already on my third cup of H2O, and it's barely 10 a.m.! By the end of the day, I'll have about 10 glasses total. As they say, hydration is key.
Accompanying my glasses of water is a tangerine that I eat deskside. It's an easy snack to munch on as I work (no prep required!), and an added bonus is the citrus smell and the fruity aroma it gives off. Who doesn't love this scent!?
Lunch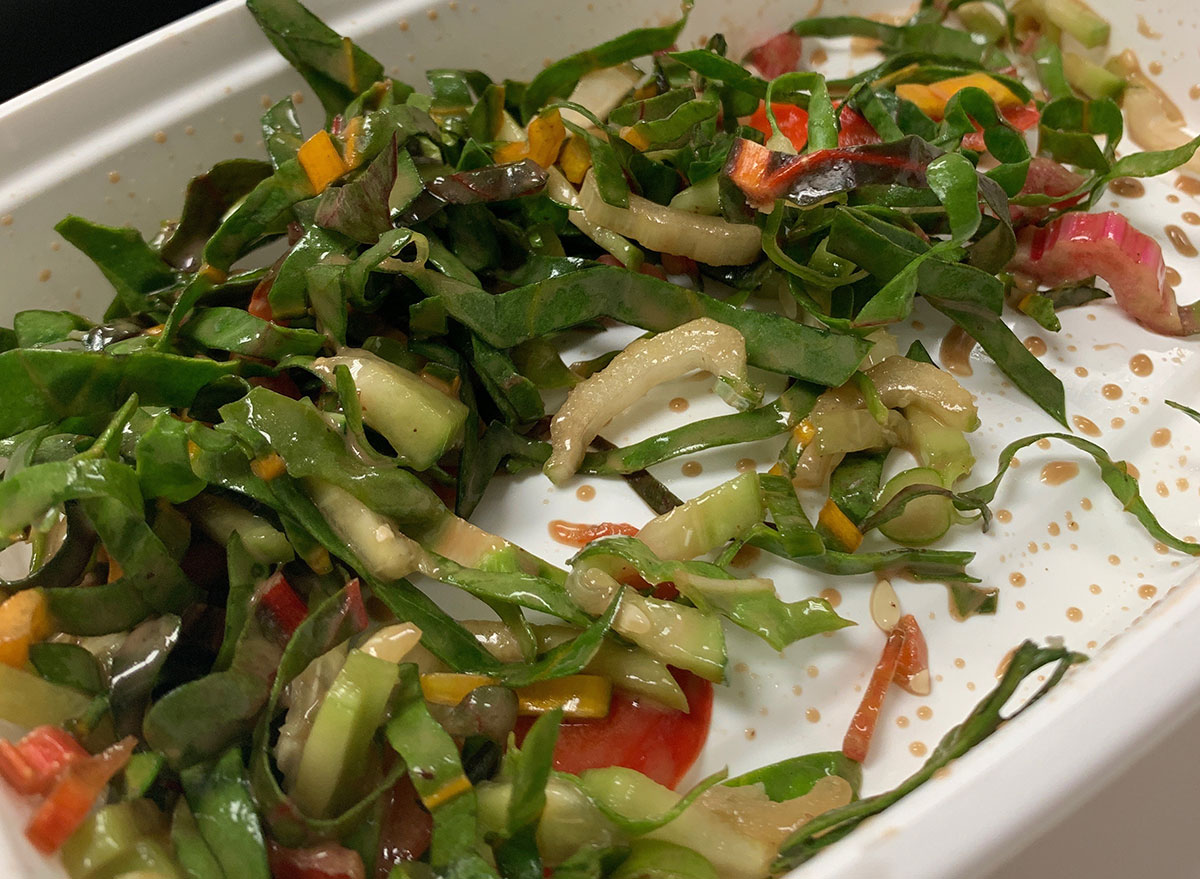 For me, lunchtime usually comes around 12 p.m. I often try to bring from home, which means Sunday is all about meal prep. This Sunday ritual makes the rest of my week that much easier because it takes me about two minutes to ready my lunch when it comes time to eat. This past Sunday, I made a big salad that will last me until Wednesday!
Today's pre-prepped recipe includes spinach and rainbow chard as a base, with cucumbers, bell peppers, and celery. For the dressing, I chose Annie's Balsamic Vinaigrette. It's absolutely delicious, and I find it better tasting than the other pre-bottled dressings. I also added in some grilled chicken sausage that I had leftover from last night's dinner. This pregnancy is making me crave protein at all hours of the day, so before I snapped a photo, I couldn't stop myself from eating the chicken sausage first! #SorryNotSorry
Mid-Afternoon Snack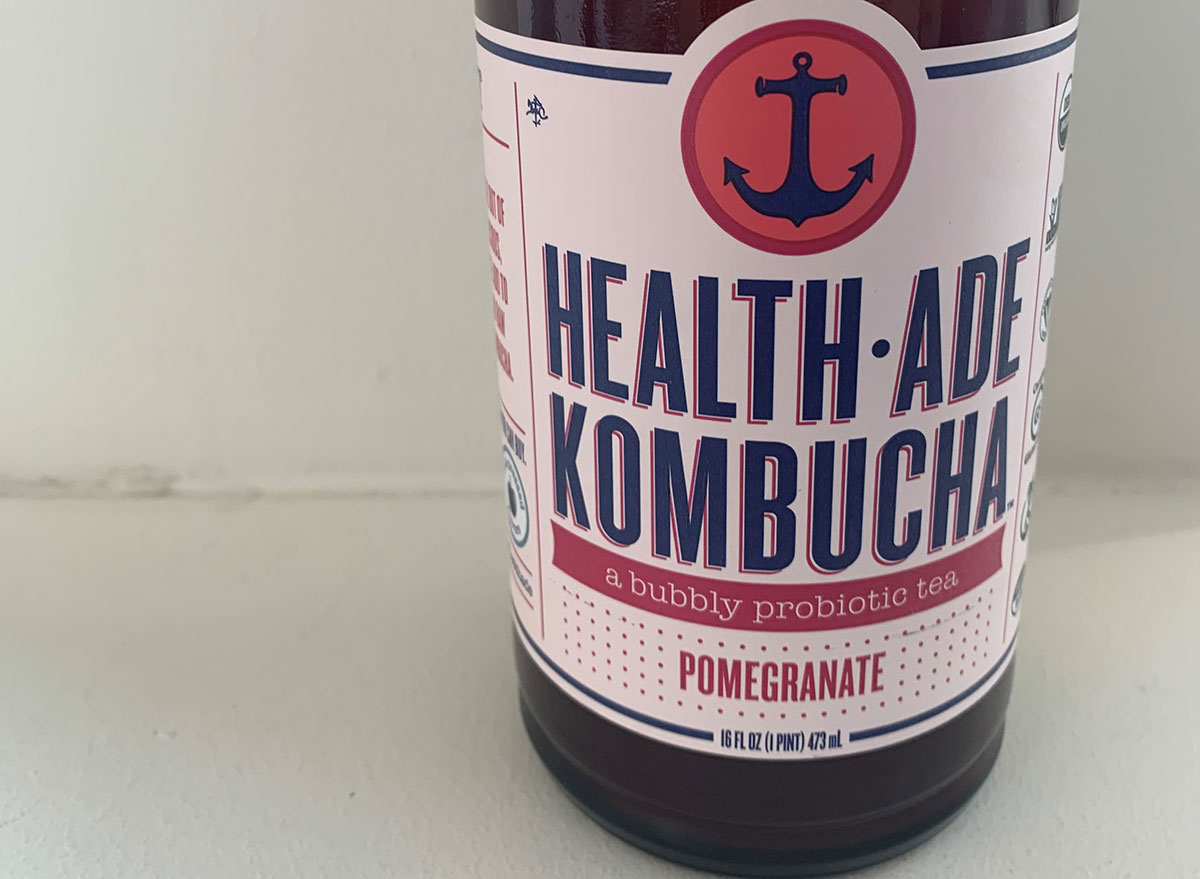 And the tummy grumbles yet again! At this time (3 p.m.), I'm craving something sweet. I know chocolate will do the trick, but lately, I've been carrying organic fruits and nuts around with me for when an urge like this hits. So, instead of chocolate, I reach for an organic pear to see if it does the trick. It's a 50/50 shot, so we'll see!
Now's the time I'm also in the mood for Health-Ade. I think the Pomegranate flavor will complement the pear nicely, so I reach for this one. It's made with organic cold-pressed pomegranate juice to our blend of artisanal base kombucha (a mix of fermented organic black and green tea), and it also helps satisfy my desire for something sweet. Daina—1, Chocolate—0.
Evening Snack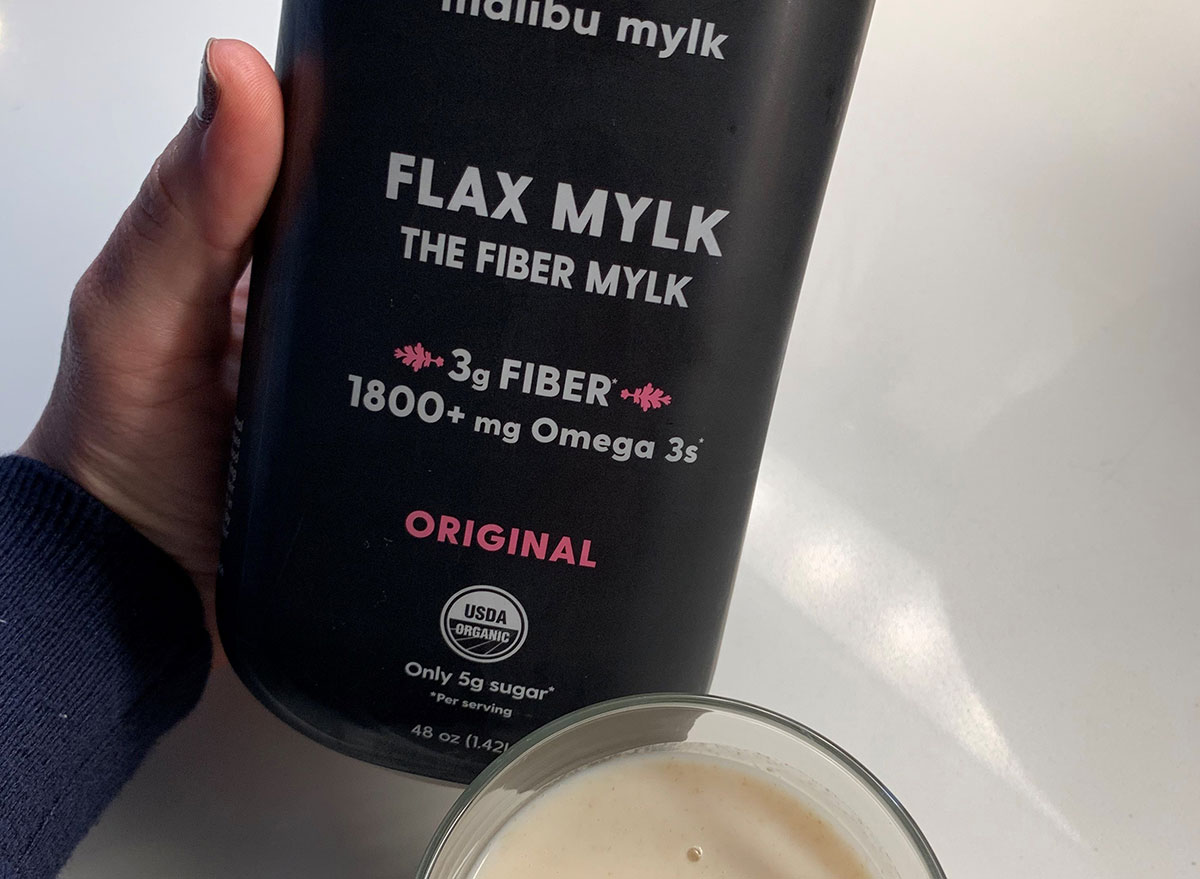 I arrive home at 5:45 p.m. and immediately have a delicious glass of flax milk as my snack before dinner. I'm eating later than usual tonight, as I am meeting up with friends, so this will curb my hunger for now. The flax milk I drink is Malibu Mylk—it's without a doubt the best I've ever tasted. Flax is high in fiber, and therefore aids in digestion—and this brand, in particular, uses clean and sustainable ingredients. It's important to put the best and highest quality ingredients in my body, which is something I fully enforce in the Health-Ade brewing process.
I usually alternate drinking flax milk and almond milk at night. Good Mylk Co makes a delicious almond milk with certified organic sprouted almonds.
Evening Snack (Part 2)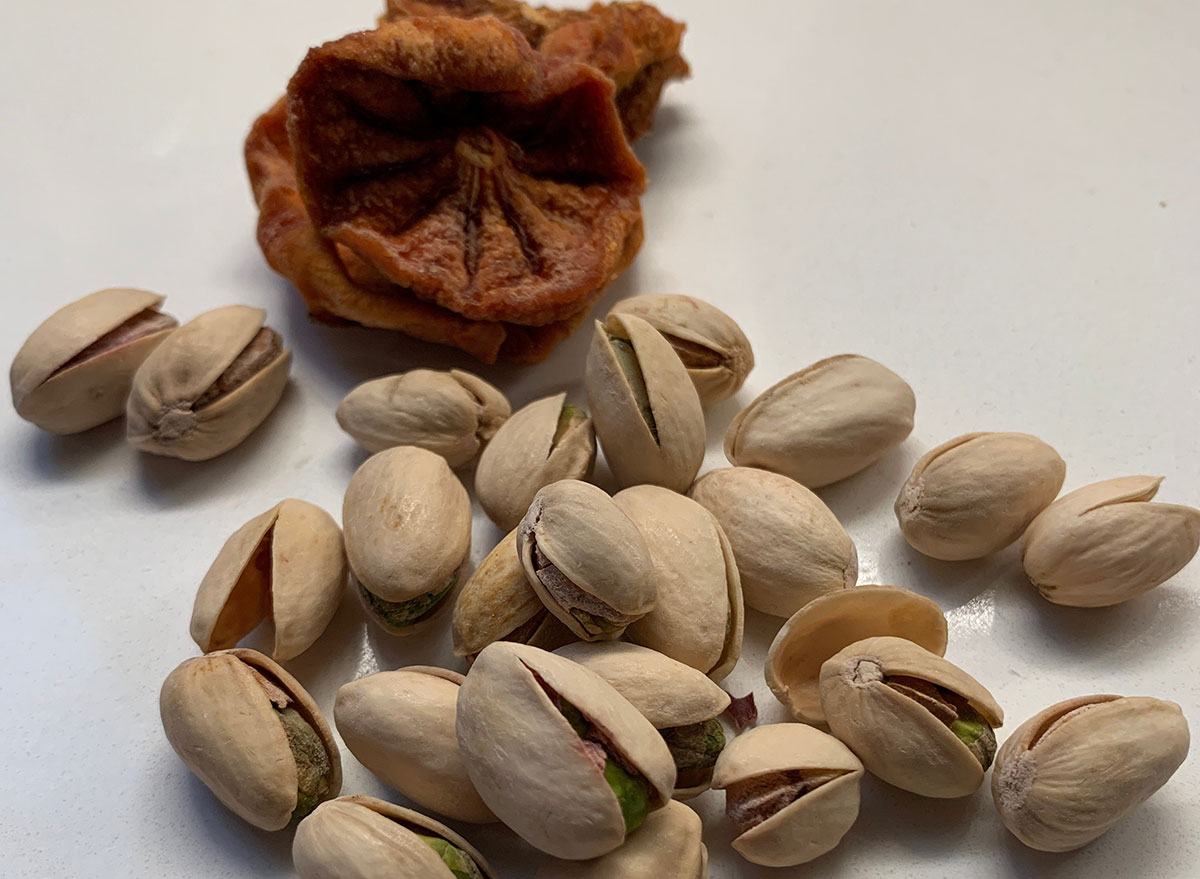 Hello, hunger! To hold me over, I have some dried fruit and pistachios around 6 p.m.
Dinner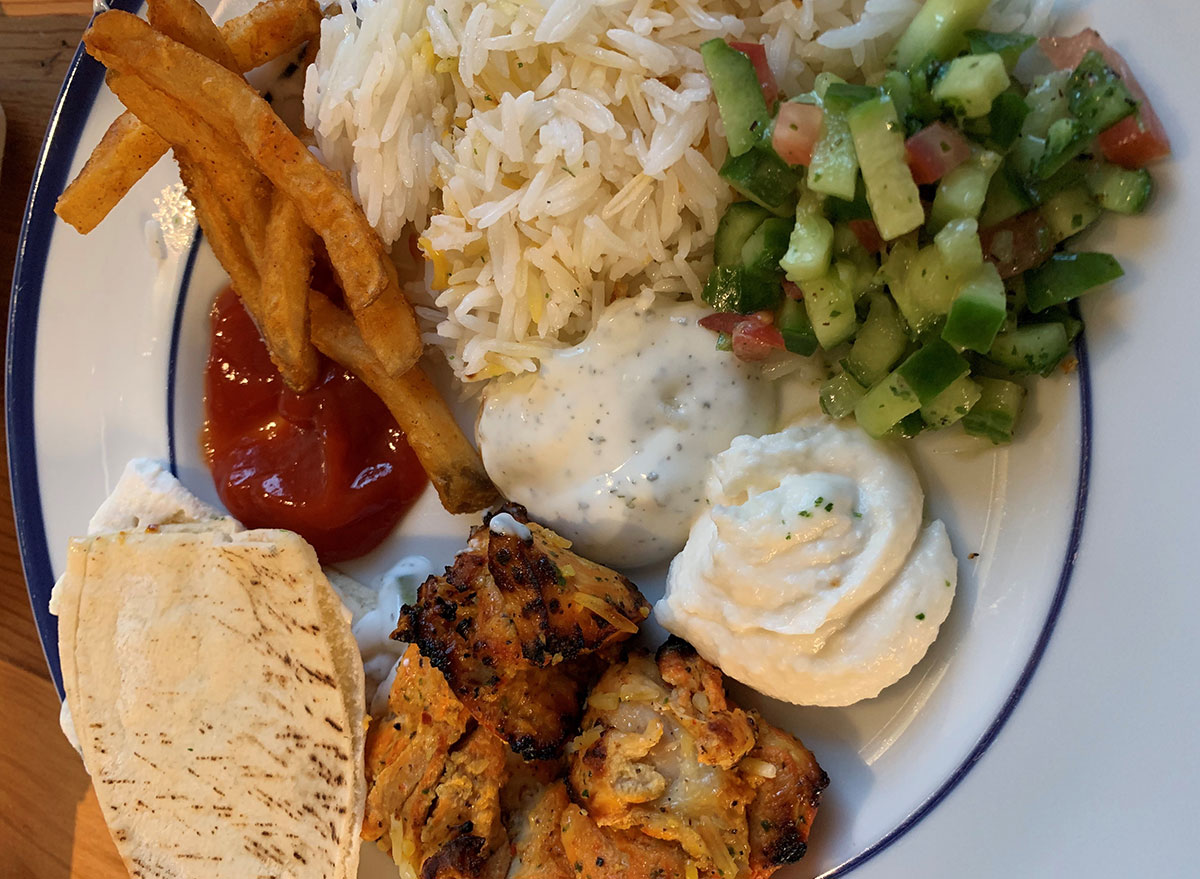 Tonight's dinner is at a friend's house, and we're eating Mediterranean food family-style, which means I can fill my plate with the foods I love the most. Mealtime is around 8 p.m., which is pretty late for me—and let's just say, I'm quite hungry when we all finally sit down.
I choose grilled chicken with a rose and garlic dip, shirazi salad (Persian cucumbers and tomato), basmati rice, pita bread, and tzatziki. And to top it all off, I pile on a couple of French fries. No one ever truly regrets eating just a couple of fries!
Late Evening
When I get home, I drink a tall glass of water with lemon and also have a dried prune. It's important to stay regular, so I picked up a few tricks on how to do this. It's become a nighttime ritual and helps me get a good night's sleep, which on a hectic day like today has been, is not only well-deserved—but needed!