What to Drink Before a Workout for Optimal Fat Loss
They're all affordable, easy to find, and super healthy!
Staying hydrated with plenty of water before, during, and after a workout is a no-brainer. But did you know there are other beverages you can sip on prior to setting foot in the gym that can help you make the most of your sweat session?
Whether these drinks engage your muscles, balance your electrolytes, or give you a boost of energy, you won't want to leave home without them. That's because when you properly nourish your body before a workout, you set yourself up for more effective weight loss down the line. You can't drive a car without gas, right?
For all the information on exactly what to drink before you head off to yoga or lift some weights, we consulted with Jim White, RD, ACSM, dietitian, personal trainer, and owner of Jim White Fitness & Nutrition Studios. Below, Jim recommends what to pack in your gym bag before you work up a sweat.
Whey Protein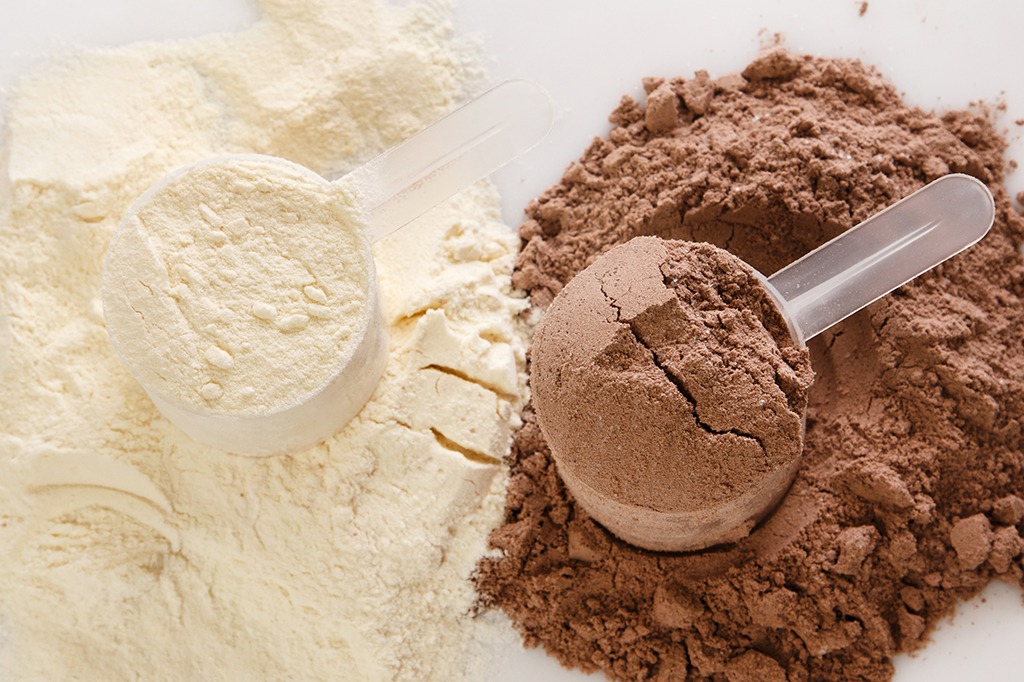 Whey protein, one of the two proteins found in milk, may be beneficial both pre- and post workout because it supplies your muscles with the amino acids they need to repair and grow. According to a study published in the journal Sports Medicine, researchers found that whey protein in combination with resistance training was associated with small extra gains in fat-free mass or lean body mass. As Jim puts it, "A whey protein shake before a workout has shown to increase muscle synthesis." For optimal results, he recommends ingesting 20-25 g of whey protein within an hour before a workout.
Grape Juice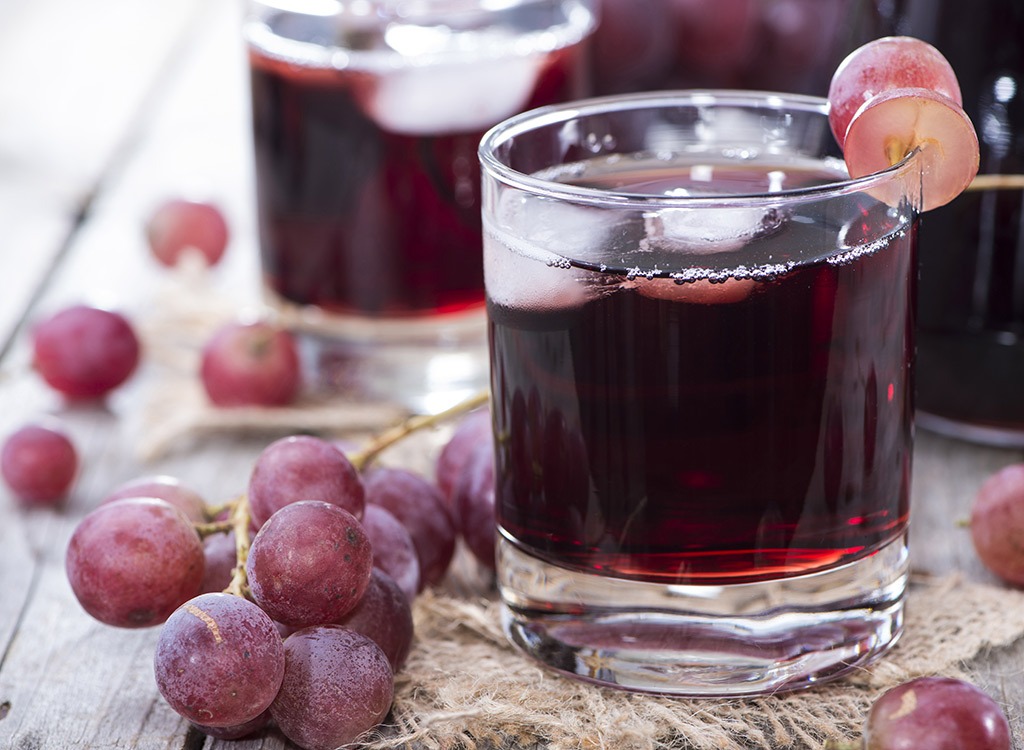 If you're looking for an energy boost prior to hitting the gym, do yourself a favor and grab some grape juice. "Grape juice is made with Concord grapes, making it a healthy beverage choice that delivers fruit nutrients like polyphenol antioxidants and natural sugars to energize your workout," explains Jim.
In fact, research suggests grape juice may help enhance your exercise performance and running routine. In a study published in 2015, researchers recruited 28 recreational runners and split them into two groups. One group was given grape juice, while the other was given a similar control beverage. After about a month of monitored workouts, researchers discovered that the grape juice group took longer to get tired, showed signs of increased antioxidant activity, and exhibited a possible reduction in inflammatory markers when compared to the group that didn't drink grape juice.
Beetroot Juice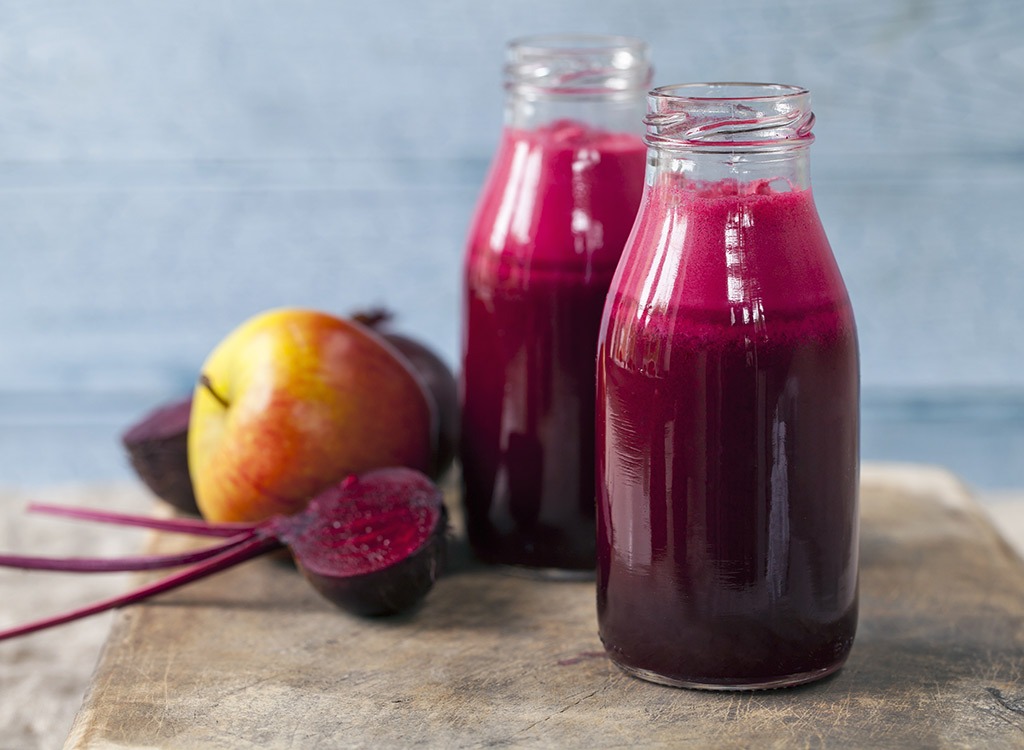 If you're heading to the gym with the hopes of taking part in an extended workout, Jim recommends beetroot juice explaining, "[It] may improve cardiorespiratory performance at the anaerobic threshold."
According to a study in the International Journal of Sports Nutrition and Exercise Metabolism, beetroot can improve exercise performance. Researchers believe this is because beetroot is high in nitrates, which are converted into nitric oxide when consumed and have the ability to lower blood pressure and increase blood flow to the brain.
Coffee
Though some gym goers might find drinking coffee prior to a workout is uncomfortable, Jim is a fan of the pre-sweat caffeine boost. "Research has shown that [drinking caffeine] before exercise can enhance athletic performance," he says, and there appears to be a great deal of evidence to back up that claim. In fact, a study published in the journal Sports Medicine found that while caffeine does not improve maximal oxygen capacity directly, it could permit you to train at a greater power output and/or to train longer.
Coconut Water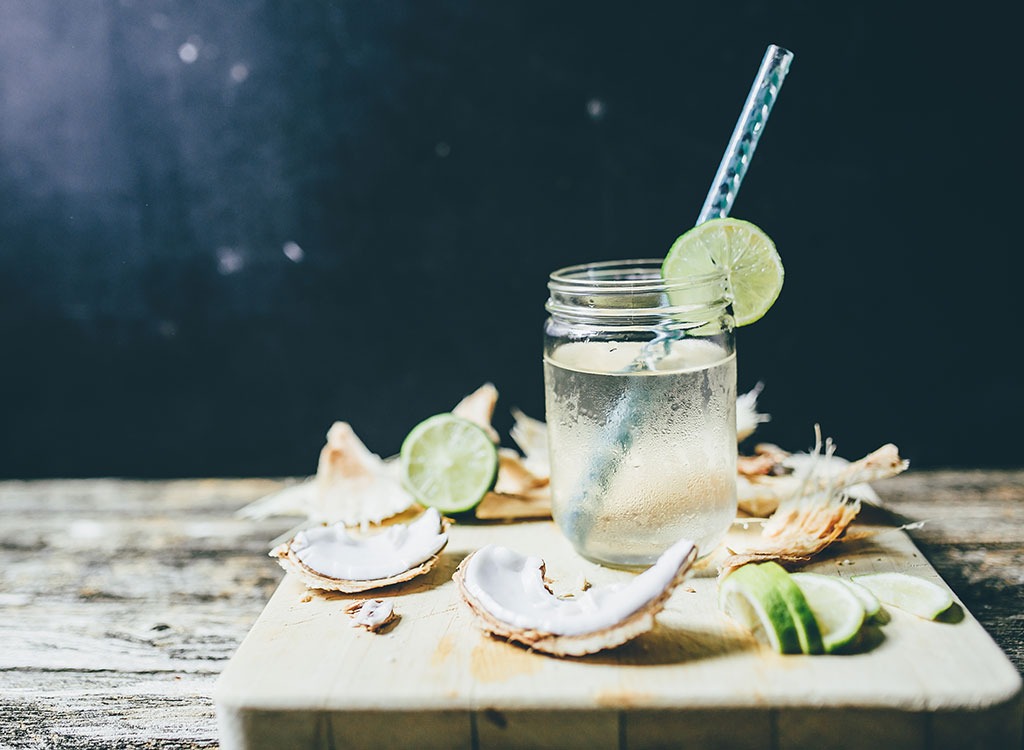 6254a4d1642c605c54bf1cab17d50f1e
Coconut water is as trendy as ever, and as it turns out it's also an ideal workout buddy because it helps keep your body in check as you prepare to work up a sweat." Coconut water is a hydrating beverage that would be beneficial to consume before a workout," Jim says. "As we sweat we lose electrolytes, but by being hydrated before exercising you're more likely to stay within an electrolyte balance, even with an intense workout." Translation: Reach for that coconut water before spin class and you'll feel great once it's all over. We're partial to Harmless Harvest Organic Coconut Water. This refrigerated, raw coconut water is rich in antioxidants—that's why it's pink!
Disclaimer: Jim White is a spokesman for Welch's, Nestlé, and the National Beef Council.