Eat This, Not That! At The 20 Most Popular Fast Food Joints
People don't just love to eat, they love talking, tweeting and posting status updates about food—especially the greasy grub from fast food joints.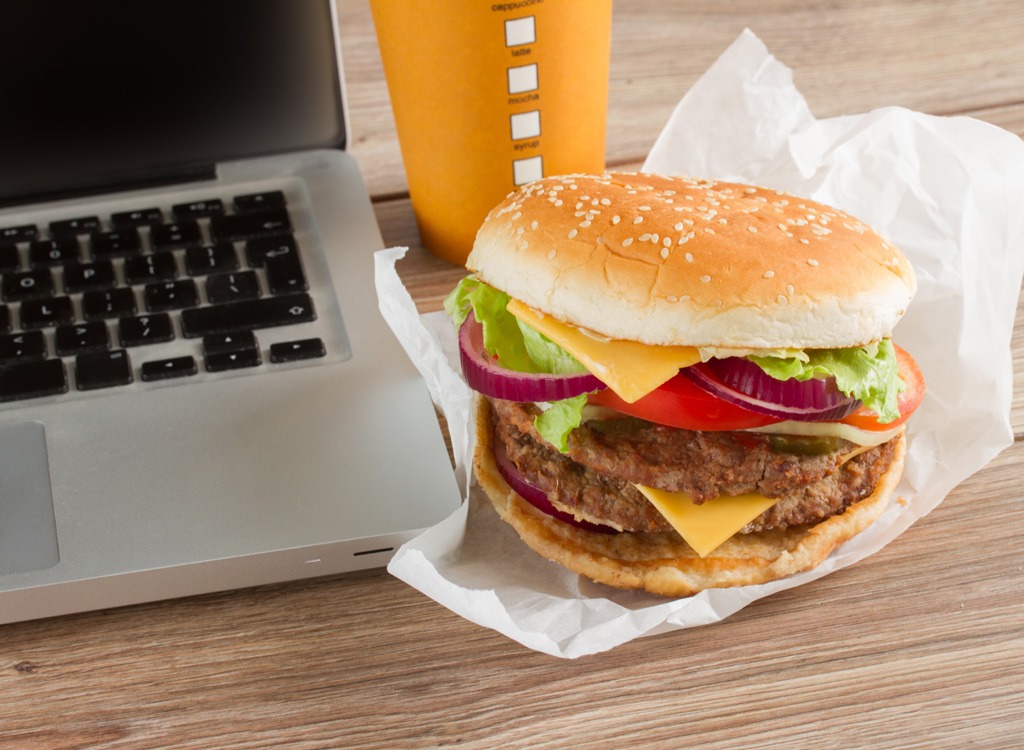 In fact, people chat about dining and food more than they discuss media and entertainment, according to social influence research firm The Keller Fay Group, an Engagement Labs company. And when you stop and think about how celeb-obsessed our culture is, that's saying a lot! To find out which fast food joints are the most popular on Facebook and Twitter, Engagement Labs dug into six months of data metrics related to brand responsiveness, engagement and online conversations.
Read ahead to check out the rankings and learn which dish at each eatery reigns supreme in terms of nutrition and rapid weight loss.
First, the Most Popular Chains on Facebook!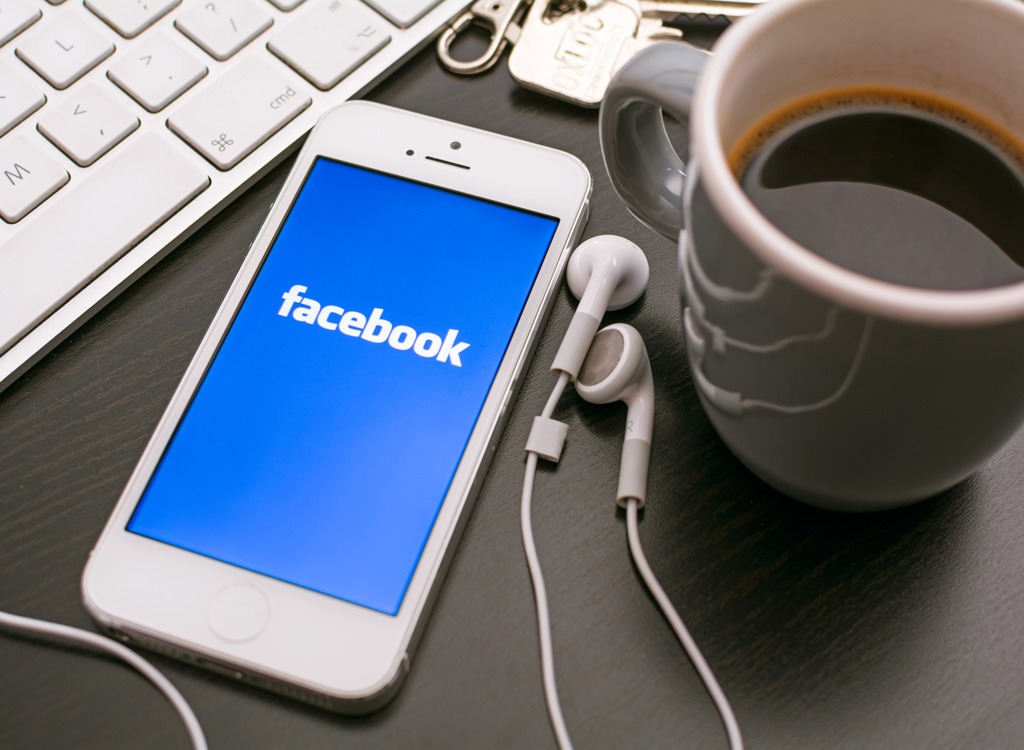 More than 500 million people have Facebook accounts, and every single person has to eat to survive. That said, it's no surprise there's a lot of chatter about fast food on the social network. Read on to discover the most liked, shared and written about eateries on Facebook.
Not only does Chipotle have die-hard fans, it's been in the news a lot this past year, so we were surprised that it ranked low on the list. But that doesn't change the fact that the burrito joint has a ton of healthy options. Here's our go-to pick for weight loss:
Eat This!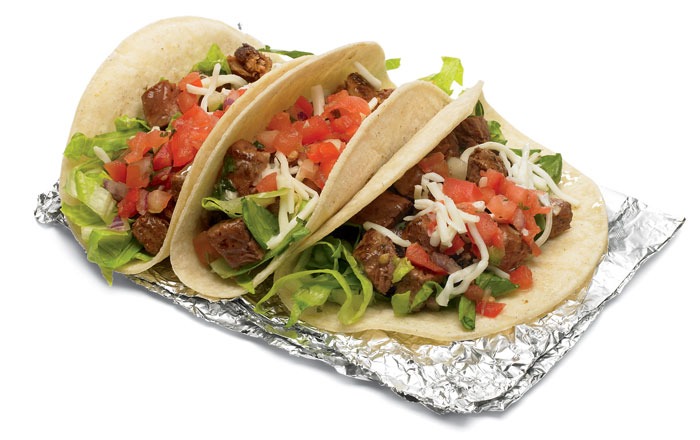 Soft Corn Tortilla Tacos with Steak, Cheese, Lettuce, and Fresh Tomato Salsa
525 calories, 14 g fat, 7 g saturated fat, 1,040 mg sodium
Unlike most chains, Chipotle offers soft corn tortillas; three taco-sized corn wraps have no fat, 6 g fiber, and just 210 calories. That means twice the fiber and none of the fat found in the flour variety.
Not That!
Burrito with Steak, Black Beans, Cilantro-Lime Rice, Cheese, Sour Cream, and Roasted Chili-Corn Salsa
1,090 calories, 40 g fat, 15 g saturated fat, 2,195 mg sodium
After years of telling people to avoid the meal-wrecking chips (570 calories), flour burrito tortillas (300 calories), and vinaigrette (270 calories), we have a challenge for Chipotle: Offer a smaller version of your belly-busting burrito.
According to the report, Jamba Juice's popularity is growing quickly. In fact, in the previous version of the report (which came out in April) the smoothie shop didn't even rank. It's always best for your waistline to whip up a smoothie at home, but if you find yourself at Jamba, the options below are the best and worst picks for your belly. Consider yourself warned!
Eat This!
Make It Light Banana Berry Smoothie
240 calories, 0.5 g fat, 0 g saturated fat, 44 g sugar
Make It Light smoothies, like this berry option, have up to half the sugar of the chain's Classic creations. Consider them the smartest options at the most popular smoothie shop in the country. For more ETNT-approved Jamba Juice picks, check out these 4 Jamba Juice Orders Approved By Personal Trainers.
Not That!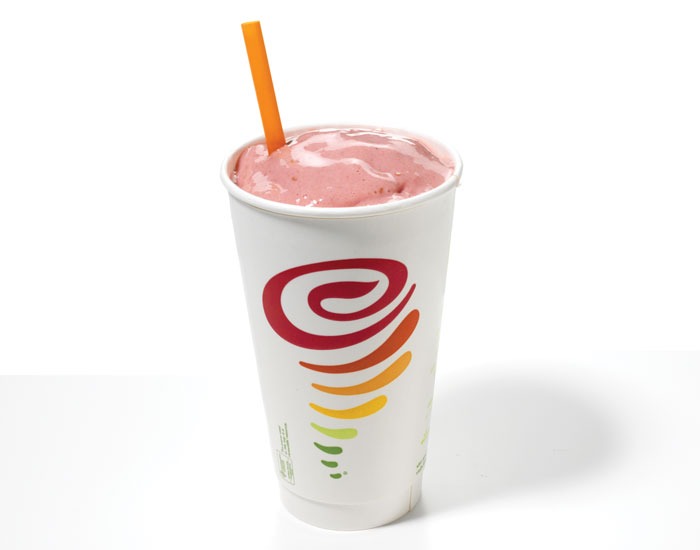 Strawberry Surf Rider
22 oz., 450 calories, 1.5 g fat, 0.5 g saturated fat, 98 g sugar
The fruit in the Surf Rider is mixed with sherbet—no wonder it has more sugar than two McDonald's Hot Fudge Sundaes. And speaking of sugar, check out our exclusive report How Big Sugar Keeps Us Sick and Addicted to find out why it's so difficult to cut back on the stuff.
This is another fast food joint that recently become more popular on Facebook. In Kelly Fay's previous report, the burger joint was nowhere to be found.
Eat This!
Cheeseburger
389 calories, 21 g fat, 7 g saturated fat, 0 g trans fat, 1,151 mg sodium, 39 g carbs, 1 g fiber, 9 g sugar, 15 g protein
This is one of the lowest-calorie menu items you'll find at A&W. Even so, it's filled with sodium, so plan to skip their famous onion rings (not what you want to hear, we know!) which would add an additional 710 milligrams of blood-pressure-raising salt to your tray.
Not That!

Papa Burger
550 calories, 33 g fat, 13 g saturated fat, 0 g trans fat, 1,558 mg sodium, 43 g carbs, 2 g fiber, 12 g sugar, 25 g protein
A prime example of why singles trump doubles at the drive-thru. Double doses of meat and cheese up your burger's calorie load without adding much flavor, while a single patty leaves room for more exciting toppers. Who needs extra beef when you can have bacon?
Eat This!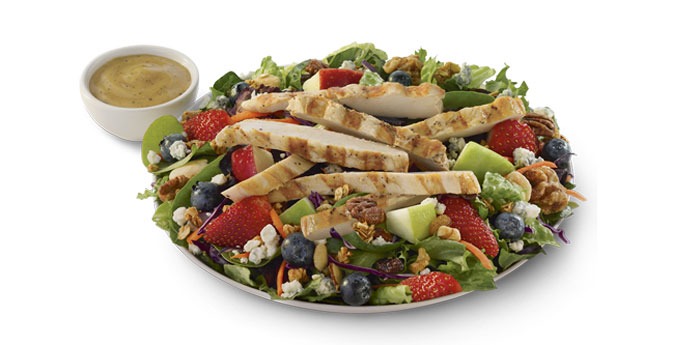 Grilled Market Salad with Zesty Apple Cider Vinaigrette
430 calories, 24 g fat, 5 g saturated fat, 1,030 mg sodium, 33 g carbs, 4 g fiber, 23 g sugar, 23 g protein
"If I were to eat at Chick-fil-A, I'd go for the very colorful Chick-Fil-A Grilled Market Salad with the Zesty Apple Cider Vinaigrette on the side, says registered dietitian nutritionist Michelle Loy.
"This salad features dark leafy greens, which are excellent sources of heart-protective folate and immune system-supportive vitamin A. The berries in the salad also contain disease-fighting antioxidants that help ward off chronic conditions, like cancer, heart disease and Alzheimer's disease. Each serving of salad also boasts a good amount of protein, fiber and fat that will help keep you satisfied."
For more healthy picks from the Southern chicken chain, check out these Personal Trainer-Approved Chick-fil-A Orders.
Not That!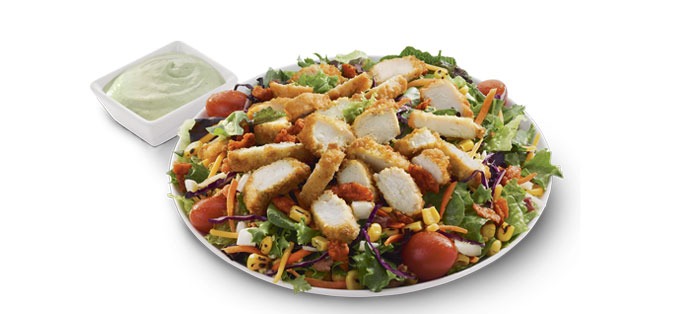 Cobb Salad with Avocado Ranch Dressing
740 calories, 54 g fat, 12 g saturated fat, 1,890 mg sodium, 25 g carbs, 5 g fiber, 8 g sugar, 40 g protein
The Cobb is a prime example of how fast-food chains turn salads into junk food. High-fat toppings like fried chicken and shredded cheese make this salad one of the most caloric entrées on the menu. To ensure your salad is always an "Eat This!" check out these 6 Healthy Salad Recipes and Tips!
Coming in at number 6 is Sonic, home to a tempting lineup of frozen sodas and deep-fried sides. That said, all hope of maintaining a somewhat healthy diet at the chain isn't lost—especially when you stay away from our "Not That!" pick below.
And speaking of soda, check out our exclusive report The Top 50 Sodas—Ranked—especially if you plan to add one to your order!
Eat This!
New York Dog
340 calories, 19 g fat, 7 g saturated fat, 1,170 mg sodium, 30 g carbs, 3 g fiber, 3 g sugar, 13 g protein
Sounds crazy, but corn dogs, 6-inch hot dogs, and Jr. Burgers are your safest options. Just avoid the shakes. Even a 14-ounce cup can stick you with 600 calories!
Not That!
Chicken Club Toaster Sandwich
690 calories, 36 g fat, 10 g saturated fat, 1,540 mg sodium, 58 g carbs, 3 g fiber, 30 g protein
The dangers here are almost too many to count: thick wedges of Texas toast, melted cheese, mayonnaise, bacon, and a greasy breast of batter-fried chicken. This is one of the worst chicken sandwiches in America.
We'd be shocked if Starbucks didn't make this list. The coffeehouse giant is the unofficial laptop mecca of nearly every American city, after all!
Love the brew but hate the line? Find out this stupid-simple way to Cut The Line at Starbucks — And Get Away With It!
Eat This!
Reduced Fat Turkey Bacon Breakfast Sandwich
230 calories, 6 g fat, 2 g saturated fat, 560 mg sodium, 28 g carbs, 2 g fiber, 3 g sugar, 13 g protein
Lean protein from the bacon and egg meets its perfect accompaniment in the relatively low-carb English muffin. That's a powerful nutritional punch for a mere 230 calories.
Not That!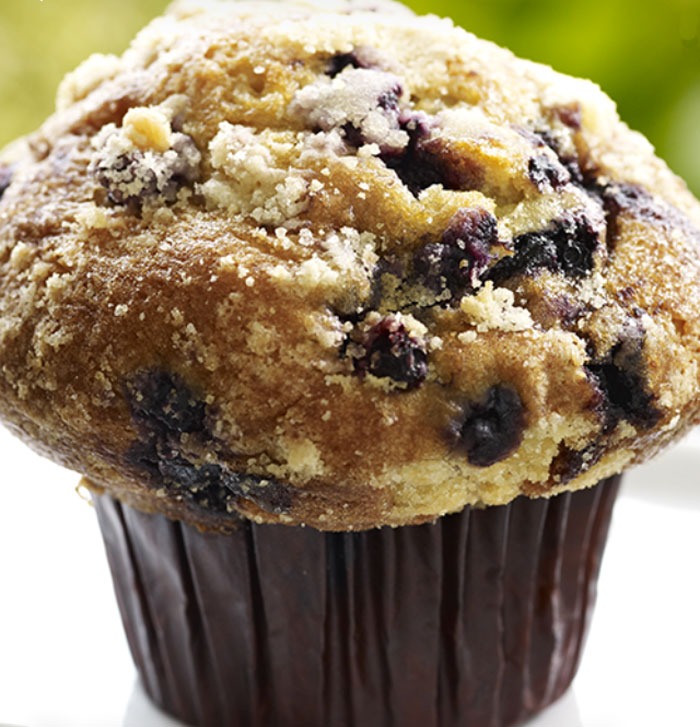 Blueberry Muffin with Yogurt and Honey
380 calories, 16 g fat, 4 g saturated fat, 260 mg sodium 53 g carbs, 1 g fiber, 30 g sugar, 6 g protein
It's time you learned the truth: Muffins are icing-less cupcakes. It doesn't matter what healthy ingredients they boast—blueberries, zucchini, carrots, nuts, bran— they're just flour, eggs, butter, and sugar, and they'll leave you hungry shortly after you eat them. How do we know that? Because this muffin has 30 grams of sugar and just 1 measly gram of fiber.
Everything may or may not be bigger in Texas, but Whataburger is huge. The Lone Star state's answer to McDonald's has a devoted following, and it's on the move, having expanded to over 800 locations nationwide—and it has plenty of people talking—and Facebooking!
Eat This!
Whataburger Jr.
310 calories, 11 g fat, 4 g saturated fat, 750 mg sodium, 37 g carbs, 2 g fiber, 6 g sugar, 14 g protein
This burger may look small in comparison to its higher-cal competition, but it won't leave your tummy rumbling. Packed with 14 grams of satiating protein and a hit of fiber, this is one of the best burgers for your nutritional buck. And if red meat isn't a must, know that the chain offers chicken and fish sandwiches, along with salads, on their Under 530 Calories menu.
Not That!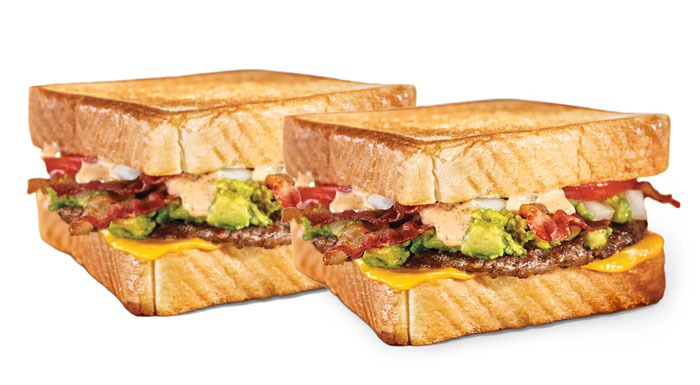 Avocado Bacon Burger
810 calories, 51 g fat, 15 g saturated fat, 1,560 mg sodium, 51 g carbs, 4 g fiber, 7 g sugar, 26 g protein
Sure, it has avocado in it, but don't let that blind you. This sandwich is a nutritional terror in disguise. Made of a beef patty and topped with cheese, avocado, bacon, veggies and creamy pepper sauce, this burger carries nearly half a day's calories!
The King is moving on up—in the social media world, at least. The burger baron didn't make the last round of rankings, but came in strong this go around, stealing the number three spot!
Eat This!

Sausage Breakfast Burrito
290 calories, 17 g fat, 7 g saturated fat, 0 g trans fat, 740 mg sodium, 1 g sugar, 14 g protein
It's ironic that America was shocked when Taco Bell started offering breakfast—when in fact, the most famous breakfast at Burger King is one associated with "south of the border." By replacing a "buttery" croissant, trans-fatty biscuit and or marginal English muffin with a tortilla wrap, this sausage-and-egg delivery system cuts calories in half and keeps the sodium count decent. Bonus points for white onions and peppers. Believe it or not, they're the only vegetables on the BK morning menu, which is why we named this dish the #1 Breakfast at BK! For more healthy A.M. picks, check out our exclusive report: Every Fast Food Breakfast Item—Ranked.
Not That!
Fully Loaded Croissan'wich
640 calories, 42 g fat, 16 g saturated, 1,740 mg sodium, 35 g carbs, N/A fiber, 7 g sugar, 17 g protein
Loaded questions, loaded weapons, getting loaded—the word never leads to good things. Take this "fully loaded" disaster, which wedges three kinds of pork (ham, sausage, bacon) into some eggs and cheese, sandwiched between a croissant. Also hidden inside: More than a day's worth of sodium! That's as much as you'll find in 64 Rold Gold pretzels! Speaking of which, don't miss this list of the 22 Foods You're Eating That Aren't Worth the Calories.
Previously the top-ranked brand on Facebook, Wendy's dropped to second place in the six months since the last analysis.
Eat This!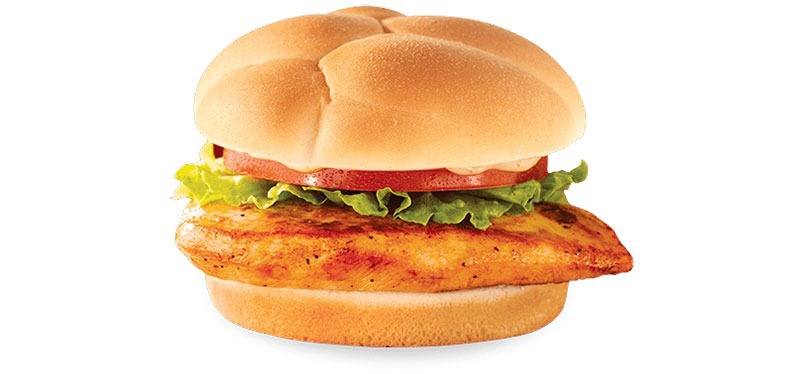 Ultimate Chicken Grill
380 calories, 8 g fat, 1.5 g saturated fat, 980 mg sodium, 42 g carbs, 2 g fiber, 9 g sugar, 35 g protein
If you're craving a chicken sandwich, your best option is the Ultimate Chicken Grill, which has nearly all the protein of the Asiago Ranch Chicken Club with half the calories and one-fifth the fat, thanks to grilled chicken and honey mustard subbed for mayo. For more "Eat This!" options, check out these 9 Diet Expert-Approved Orders at Wendy's.
Not That!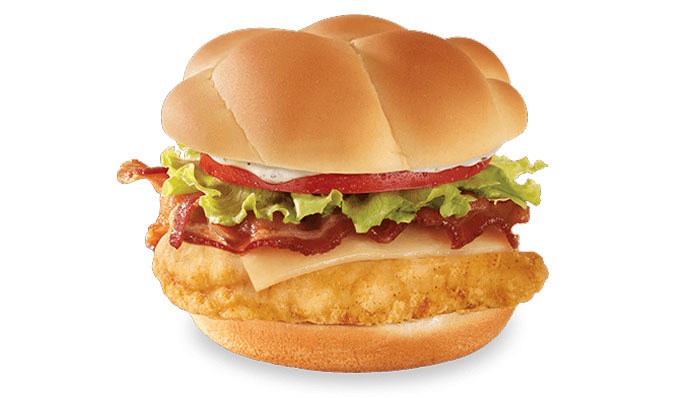 Asiago Ranch Chicken Club Homestyle
670 calories, 32 g fat, 9 g saturated fat, 1,610 mg sodium, 57 g carbs, 3 g fiber, 8 g sugar 38 g protein
Wendy's Asiago Ranch Chicken Club Homestyle is one of the sneaky sandwiches that has seen the deep fryer but evaded the "crispy" label. Then the whole thing is topped with bacon and ranch sauce to boot. That adds up to 140 more calories than a Big Mac! (You can substitute grilled chicken for the deviously named "Homestyle" patty, but that only knocks the calories down to 530.)
Sure, avoiding this dish can help you shed pounds, but so can these 25 Weight Loss Tips From The World's Fittest Men.
And stealing the number one spot is Krispy Kreme! In April, the coffee and donut chain ranked #14, so this a serious jump.
Eat This!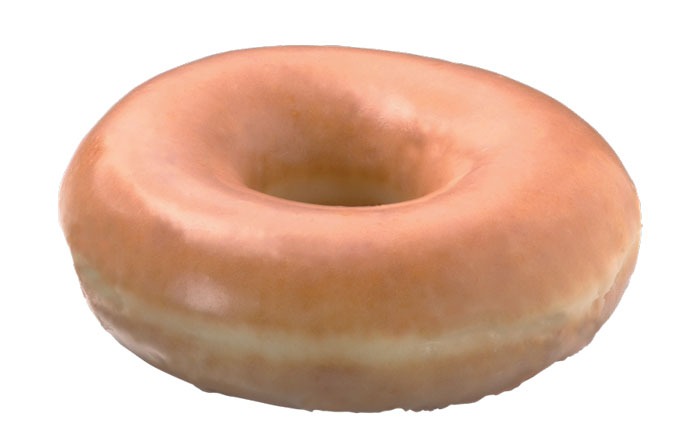 Original Glazed Doughnut
190 calories, 11 g fat, 5 g saturated fat, 75 mg sodium, 21 g carbs, 1 g fiber, 10 g sugar, 2 g protein
If you're coming to Krispy Kreme for health food, you're missing the point. But if you want a quick sugar fix without too much caloric damage, the simplest donuts are the best solution.
Not That!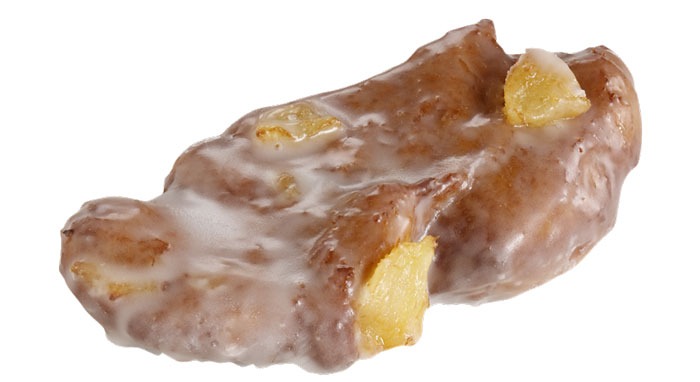 Apple Fritter
390 calories, 20 g fat, 9 g saturated fat, 160 mg sodium, 50 g carbs, 2 g fiber, 28 g sugars, 4 g protein
Don't fritter your time away on this meteorite-shaped lump of sugar and fat. There are far better picks on the menu.
And Now, the Most Tweeted-about Chains!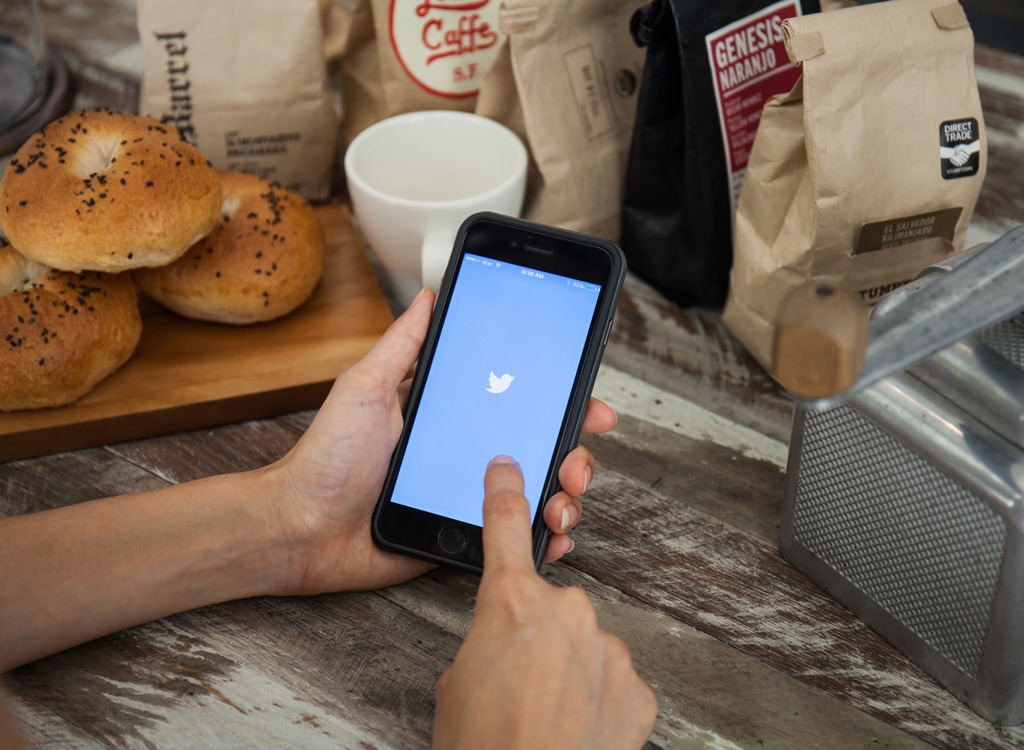 Taco Bell recently became the first fast-food chain to offer meat-free meals certified by the American Vegetarian Association. It's also the 10th most tweeted about fast food chain in America.
Eat This!
The Chicken Soft Taco
160 calories, 5g fat, 2.5 g saturated fat, 480 mg sodium, 16 g carbs, 2 g fiber,1 g sugars, 12 g protein
If you're not into the crunch, the shredded chicken soft taco is just 160 calories, has the lowest amount of fat of any taco (at 5 grams) and offers a belly-filling 12 grams of protein. Downside: The flour tortilla has a moderately high sodium count. But it's still better than any Burrito—keep reading to find out why. And learn which other foods to avoid—and which to enjoy—thanks to Insanity trainer Shaun T, Maria Menounos, Padma Lakshmi and more in these 50 Best-Ever Weight Loss Secrets From Skinny People!
Not That!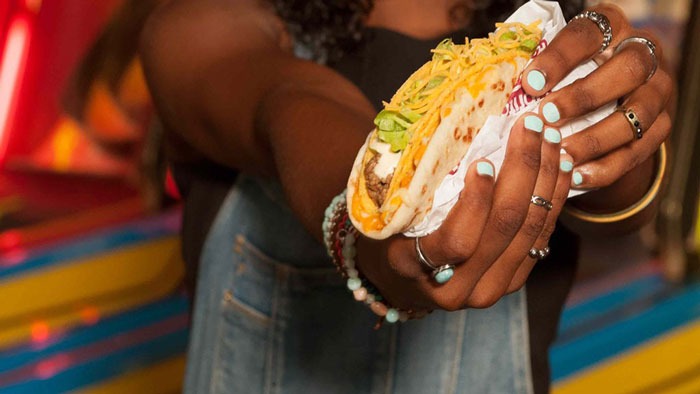 Cheesy Gordita Crunch
*500 calories, 29 g fat, 10 g saturated fat, 1 g trans fat, 880 mg sodium, 41 g carbs, 5 g fiber, 5 g sugars, 20 g protein
Why is this the worst taco at Taco Bell? A mix of cheddar and three other cheeses are layered with seasoned beef, spicy ranch sauce and iceberg lettuce, then sandwiched between a corn shell and flour flatbread. It sounds like two tacos in one and has the sodium count to prove it—swallow one, and you'll get nearly 60 percent of your daily recommended sodium intake! Ironic, for a chain telling you to "Live más."
To find out how all of your favorite Taco Bell dishes stack up, check out our exclusive report The Best & Worst Menu Items at Taco Bell.
Dropping from the second place slot to number 9 is Burger King. According to the report, poor engagement and responsiveness are to blame.
Eat This!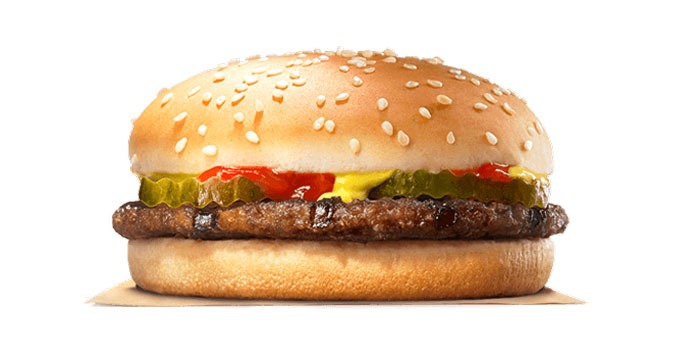 Hamburger
230 calories, 9 g fat, 3 g saturated, 0 g trans fat, 460 mg sodium, 26 g carbs, 1 g fiber, 6 g sugar, 9 g protein
A burger with less than 250 calories and 10 grams of fat is a winner in our eyes. Pair this with a side of apple slices for a well-rounded meal.
To find out how all of the mouthwatering BK dishes stack up nutritionally, check out our exclusive report Every Burger King Menu Ranked.
Not That!
Whopper Sandwich
650 calories, 37 g fat, 11 g saturated, 1.5 g trans fat, 910 mg sodium, 50 g carbs, 2 g fiber, 12 g sugar, 22 g protein
It may be "America's Favorite Burger," but the Whopper is really just a mega-sized sandwich filled with health-harming trans-fat.
Sonic made both social media lists, proving it's a fast food force to be reckoned with.
Eat This!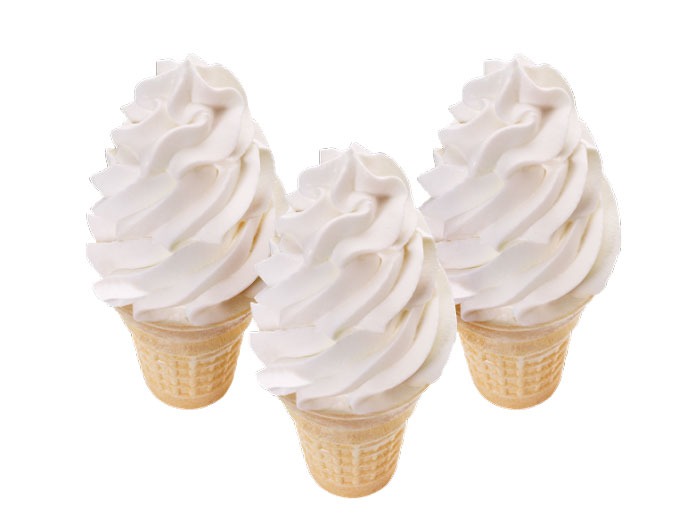 Vanilla Cone
250 calories, 13 g fat, 9 g saturated fat, 150 mg sodium, 31 g carbs, 24 g sugar, 0 g fiber, 4 g protein
If you're craving something sweet, we've got you covered. This is one of the slimmest desserts on Sonic's menu.
Not That!
Vanilla Shake
small, 540 calories, 31 g fat, 23 g saturated fat, 290 mg sodium, 59 g carbs, 0 g fiber, 59 g sugar, 8 g protein
Would you eat three-and-a-half bags of Pretzel M&Ms in one sitting? If not, then stay away from this shake. The two indulgences have an equal amount of sugar. Yes, seriously!
They may cook up mini burgers, but their social media presence is huge.
Eat This!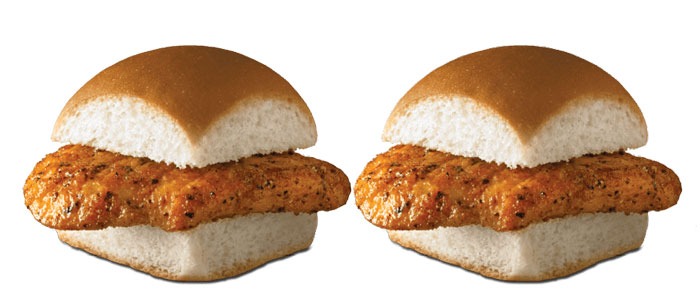 6254a4d1642c605c54bf1cab17d50f1e
*Savory Grilled Chicken Slider, Plain
180 calories, 7 g fat, 1.5 g saturated fat, 570 mg sodium, 13 g carbs, 1 g fiber, 2 g sugar, 15 g protein
Cut yourself off after two of these to ensure you don't break the sugar or sodium bank. If you're still hungry, reach for one of these 50 Snacks With 50 Calories or Less.
Not That!
Chicken Ring Slider
280 calories, 30 g fat, 7 g saturated fat, 460 mg sodium, 16 g carb, 1 g fiber, 2 g sugar, 10 g protein
White Castle's sliders are tiny, so we're not quite sure how they managed to jam in so many calories. But we are sure of one thing: If maintaining your flat belly is a goal, stay far away from these fried and battered sandwiches.
According to the report, Panda Express is the only Chinese-inspired fast food joint with a strong social media presence.
Eat This!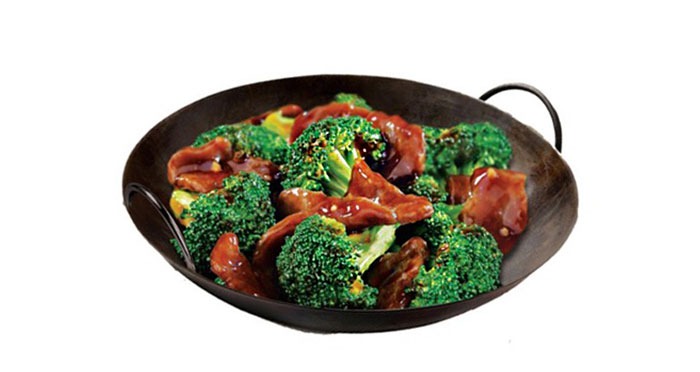 Broccoli Beef with Mixed Vegetables and a Chicken Potsticker
390 calories, 13.5 g fat, 3 g saturated fat, 1,310 mg sodium, 49 g carbs, 8 g fiber, 14 g sugar, 19 g protein*
A Chinese meal that won't break the calorie or sugar bank? This meal is proof that it is possible! Aside from the 15 grams of hunger-busting protein, the broccoli lends this meal a solid hit of immunity-boosting vitamin A and folic acid (a vitamin that helps the body break down, use and create new proteins)—nutrients that aren't commonly found in fast food.
Not That!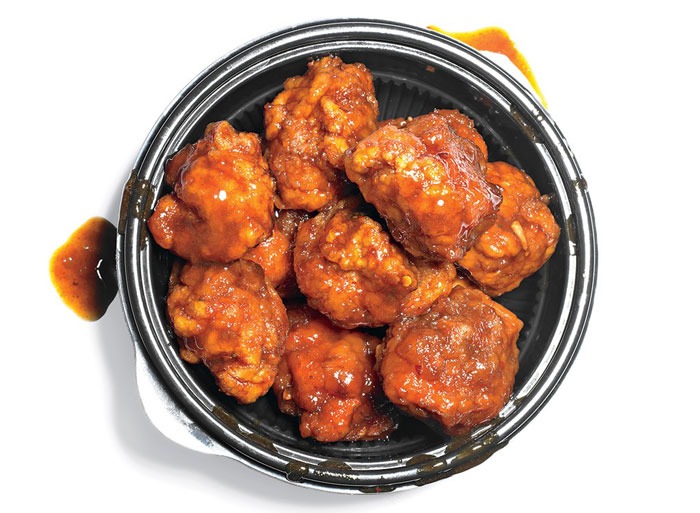 Orange Chicken Entrée with Chow Mein
890 calories, 40 g fat, 7.5 g saturated fat, 1,600 sodium, 110 g carbs, 4 g fiber, 28 g sugar, 27 g protein
Never go all starch when choosing your side. In the meal's case, doing so boosts the carbs count above the 100-gram mark! The Chow Mein contributes more than half of this plate's calories, and the Orange Chicken's crispy breading and sugary sauce finish it off. When a plate of food has 7 times more sugar than fiber, it's a sure sign of a "Not That!"
For more Chinese dishes to steer clear of, check out these 5 Chinese Dishes Chinese People Won't Eat.
Looks like Wendy's Facebook and Twitter game are on point!
Eat This!
Asian Cashew Chicken Salad
"At just under 400 calories and packed with vegetables, this salad is an excellent source of satisfying fiber and protein," says Marisa Moore, RDN. "One word of caution: They often toss in a couple packs of salad dressing. Skip the second one; keep your dressing to no more than one packet."
For more healthy menu picks from the chain check out 9 Diet Expert-Approved Orders at Wendy's.
Not That!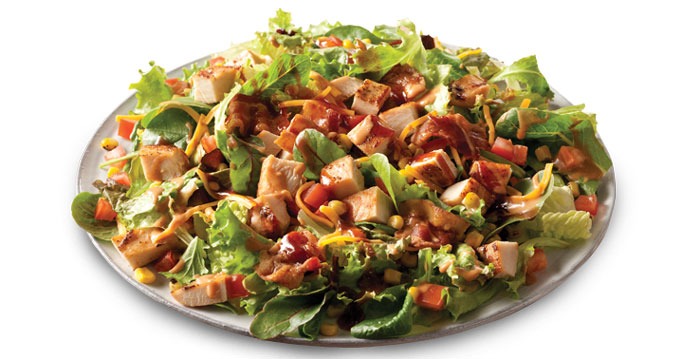 BBQ Ranch Chicken Salad
600 calories, 30 g fat, 9 g saturated fat, 1,560 mg sodium, 44 g carbs, 27 g sugar, 5 g fiber, 42 g protein
Krispy Kreme is another brand that's social media savvy enough to make both lists.
Drink This!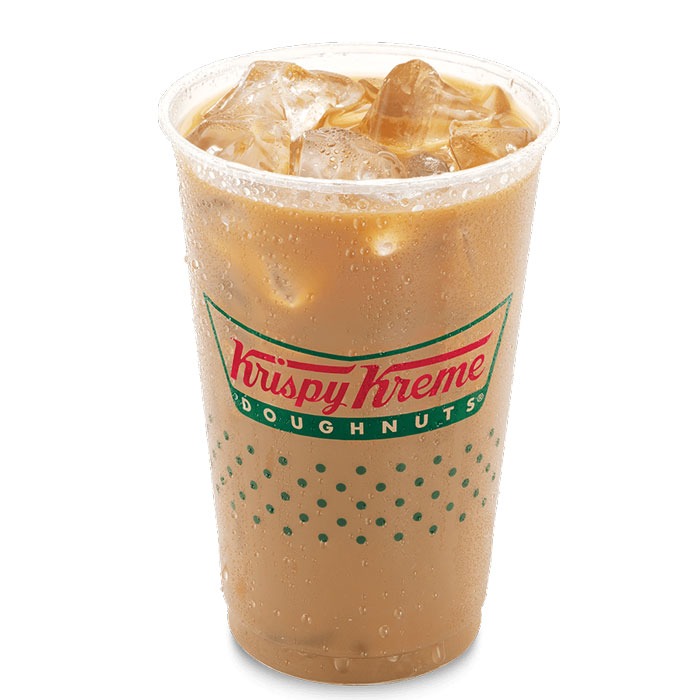 Chocolate Iced Coffee
12 fl. oz., 130 calories, 2 g fat, 1 g saturated fat, 50 mg sodium, 26 g carbs, 2 g fiber, 23 g sugar 3 g protein
Are you one of those people that finds plain ol' iced coffee kind of meh? Me too. But if you're not careful, the flavored varieties can throw your healthy-eating plan off track. Although this isn't the best beverage you can sip, it does provide a hint of chocolate for far fewer calories and sugar than its competition.
Not That!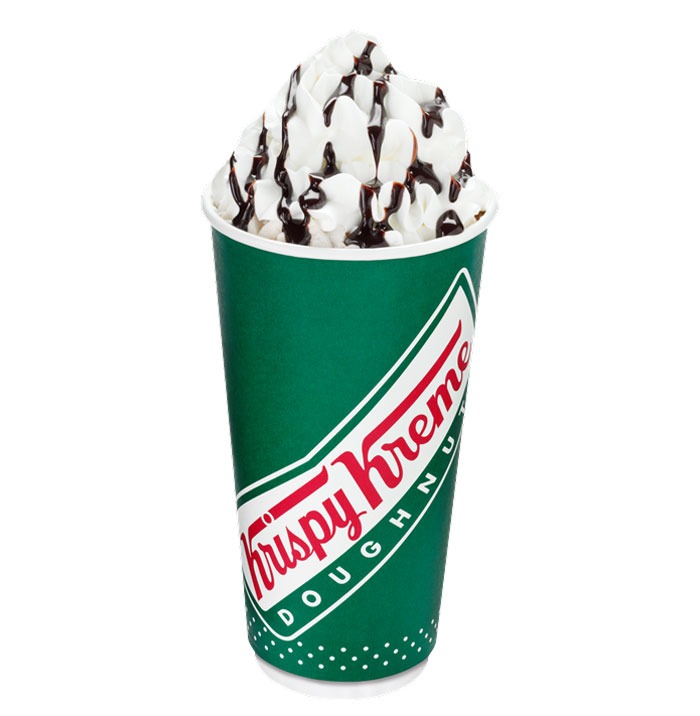 Mocha Latte
12 fl oz, made with 2% milk, 320 calories, 9 g fat, 6 g saturated fat, 150 mg sodium, 51 g carbs, 2 g fiber, 46 g sugar, 10 g protein
Chocolate sauce, espresso, steamed milk and whipped cream join together to create this sugar-filled monstrosity. If you're craving chocolate, stick with the "Eat This" pick above, or, better yet, eat one of these delicious Fat Burning Chocolates.
Chipotle jumped three spots to score the third highest slot on the Twitter list.
Eat This!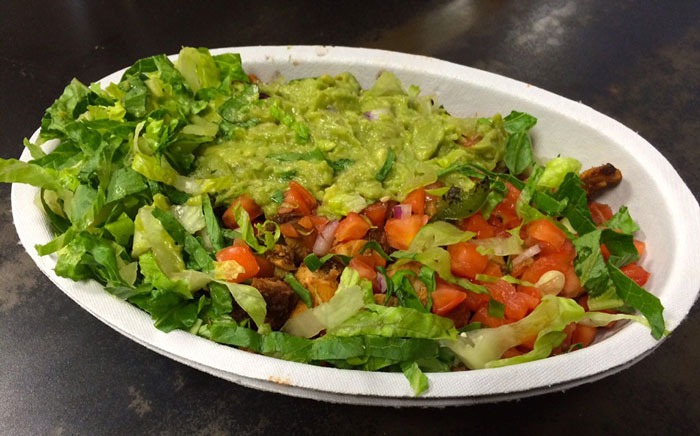 Chicken Burrito Bowl with Black Beans, Fajita vegetables, Tomato salsa, Lettuce and Half-Portion of Guacamole
455 calories, 19.5 g fat, 4.5 g saturated fat, 1,137 mg sodium, 39 g carbs, 17.5 g fiber, 6.5 g sugar, 42 g protein
This dish is nutritionist approved! It doesn't get much better than that! "The beans provide a high-fiber, blood-sugar-balancing source of carbohydrates to give you energy; the chicken is a good source of lean protein; and the fajita veggies add fiber and bulk to the meal, says Stephanie Clarke MS, RD, co-owner of C&J Nutrition. "Adding some guacamole balances out the dish with healthy fats and an awesome taste and texture—just ask for half the typical portion size to keep calories in check!"
Not That!

Crispy Corn Tortillas with Carnitas, White Rice, Cheese and Guacamole
960 calories, 53 g fat, 18.5 g saturated fat, 1,390 mg sodium, 79 g carbs, 13 g fiber, 1.5 g sugar, 37.5 g protein
Chick-fil-A is makin' moves on the social media front, with appearances on both the Twitter and Facebook lists.
Eat This!

Sausage Breakfast Burrito
500 calories, 28 g fat, 11 g saturated fat, 910 mg sodium, 40 g carbs, 2 g fiber, 3 g sugar, 22 g protein
If sausage is what you crave in the morning, this is the best pick for your waistline. Just look at the Sausage Platter below—it packs over 810 calories. Opting for the eat on-the-go version isn't exactly "healthy," but is the smarter pick.
Not That!

Chick-fil-A Sausage Platter
810 calories, 54 g fat, 20 g saturated fat, 1,850 mg sodium 52 g carbs, 6 g sugar, 2 g fiber, 28 g protein
Any morning that beginning with an 810-calorie meal with more fat than two Big Macs is a recipe for disaster. In fact, the platter will have you doubled over with as much total fat as 11 slices of Domino's cheese pizza. Stay away from this meal at all costs.
Stealing the number one spot is Pizza Hut, America's favorite wing and stuffed-crust fast food joint.
Eat This!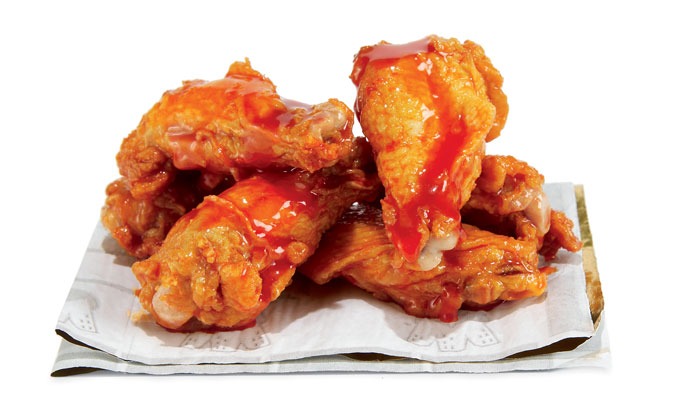 All American Traditional Hot Wings
320 calories, 20 g fat, 6 g saturated, 1,160 mg sodium
We know, it's called Pizza Hut. But we have a point here: You could eat an entire plateful of wings and still not reach the calorie count of a single slice of most of the Hut's specialty pies. We'd rather have the wings.
Not That!
Meat Lover's Pizza
1 slice, 14" large pan pizza, 470 calories 28 g fat, 10 g saturated, 1,150 mg sodium
You can love meat without taking in half a day's saturated fat with one slice of pizza. Specialty pizzas are an excuse to go crazy with a ton of high-fat toppings that do virtually nothing for flavor and increase your calorie load considerably. At Pizza Hut, don't be a Lover, be a fighter.
Image Credit: Twin Design / Shutterstock.com // GongTo / Shutterstock.com // James R. Martin / Shutterstock.com