What It's Like to Shop at America's Worst Costco
This New York City location is a goldmine for the company, but a nightmare for shoppers.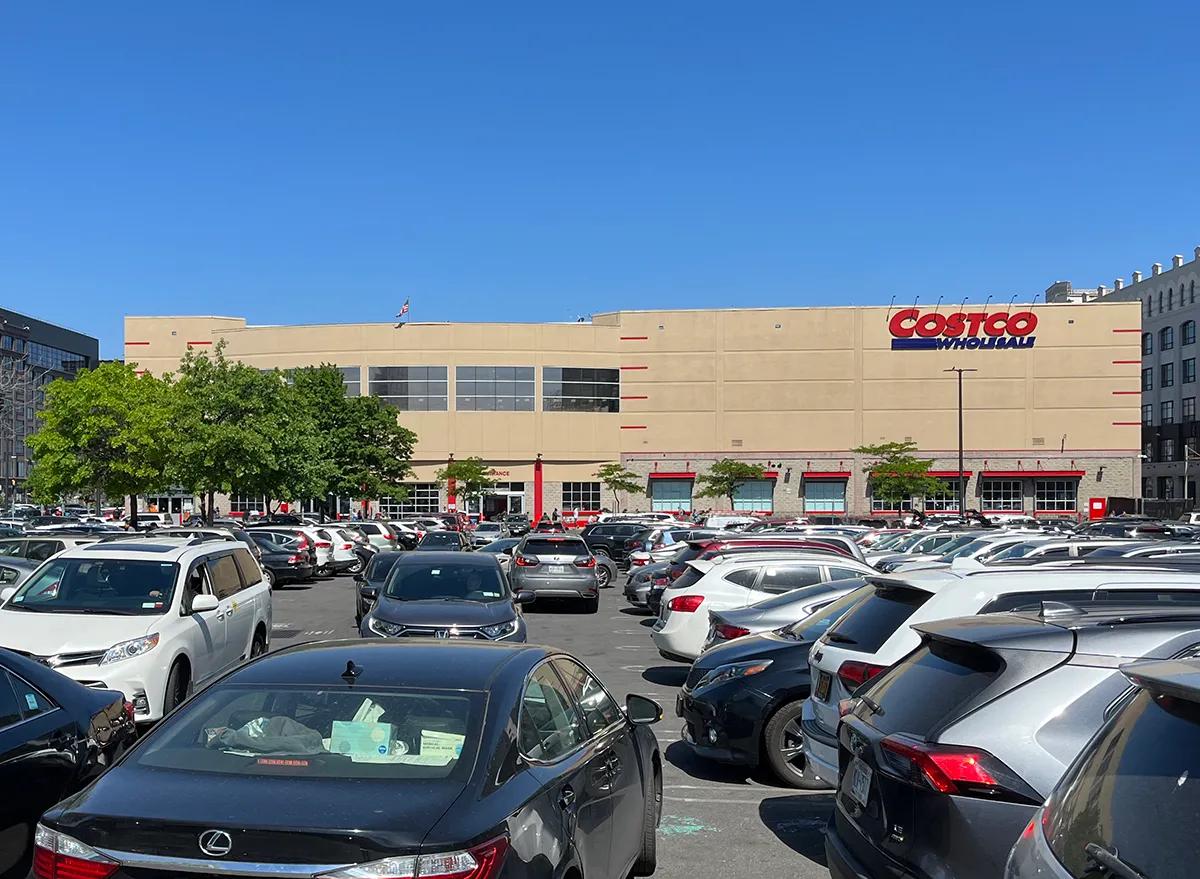 If you ever miss the crowds and stress of holiday shopping, and wish to relive the experience all year long, there's this place you should check out in Brooklyn, N.Y. It's called Costco.
"This is nuts," says an exasperated shopper standing behind me, looking stunned from whatever ordeal she just went through in the parking lot. She and her friend are visiting from the West Coast, where she suggests that shopping at America's leading warehouse club is a lot more laid-back, especially in terms of parking. "In California, you just park and go," she tells me.
California, in fact, has the most Costco locations of any state: 133 massive warehouses to serve a population of 39 million. That's roughly one Costco for every 300,000 people. In Brooklyn, home to over 2.5 million New Yorkers, there is only a single location.
And by the looks of it, the whole borough has all shown up here on this Monday morning. The parking lot is nearly impassable with all the idling cars waiting for spaces to open up. The line to the returns desk stretches out the door. The food court is standing room only.
I'm surveying this chaotic scene while waiting for my turn at the membership desk—probably the least crowded place in the entire building (considering the madness all around, that's understandable)—and wondering what I'm getting myself into.
It's my very first day as a Brooklyn Costco shopper. Granted, it's January 2, a federal holiday when many people are off work, so crowds should be expected. But, as I would learn over the next several months, it's usually this busy at Costco in Brooklyn. We're talking weekends, weekdays—any day, really.
On another random Monday many weeks later, a store greeter with a hand counter informs me that 453 people had entered the store within just the first half-hour of opening that day. He tells me the Brooklyn warehouse is the busiest Costco on the East Coast, if not the entire country.
That's obviously great news for Costco, but for the club's Brooklyn-based members, it's a headache, to say the least.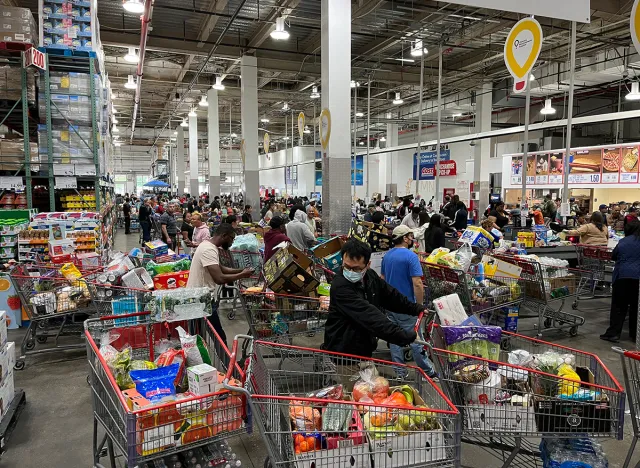 Opened in 1996, the Brooklyn Costco is a pioneering retail store, both for the Sunset Park area where it is located and for the popular wholesale club in general. The relatively modest-sized, 143,000-square-foot warehouse is Costco's first U.S. store with two floors, according to Supermarket News. Electronics, household essentials, pharmacy, and food court are located on the ground floor. All the groceries are situated on the second level, up a flight of massive escalators and conveyors for the club's clunky oversized shopping carts.
Costco took a big risk back then, betting on this former industrial zone and the mostly low-income population that surrounded it. But it paid-off handsomely for the company. Brooklyn soon became a boomtown, with a rising influx of new, increasingly more affluent residents, and rapid real-estate development. An enormous complex of fashionable upscale eateries, retail shops, and offices has since sprung up around the Brooklyn Costco, but the warehouse itself still retains its original hard-scrabble edge: the place feels gritty, the staff is gruff, and the vibe is almost always manic.
You won't hear Costco execs complaining. The Brooklyn warehouse turned a profit in just its first year, and within a decade, became one of the company's highest-grossing locations in the nation, generating upwards of $150 million in 2005, according to The New York Times. It was so successful that Costco reportedly considered opening another location in Brooklyn.6254a4d1642c605c54bf1cab17d50f1e
Unfortunately for shoppers, that second Brooklyn store never materialized. So, local members are left to either deal with the only nerve-rattling, insanely overcrowded warehouse they've got, or drive far out of their way for a less hair-raising warehouse run in neighboring Staten Island, Queens, or New Jersey.
"Brooklyn is a living HELL," wrote one shopper on Reddit, where Costco members often flock to rant and rave about their warehouse experiences. "I will now drive an extra 30 mins to avoid that store. Even though they pack a lot of stuff into that store, the lines are horrible. Very difficult to get a parking space. Extremely cranky Costco employees. The people that shop there are worse." Added another, "Sometimes it's like Hunger Games the way people come at you with their carts."
Even among the other Costco stores in always-bustling New York City, Brooklyn is "the worst," according to one member, who complained about the two-level layout in particular. "I distinctly remember a time when a bunch of people were trying on shoes near the escalator and that caused a major traffic jam." Another piled on, "Brooklyn sucks, I only walk there as parking is a nightmare and the food court has like 10 seats."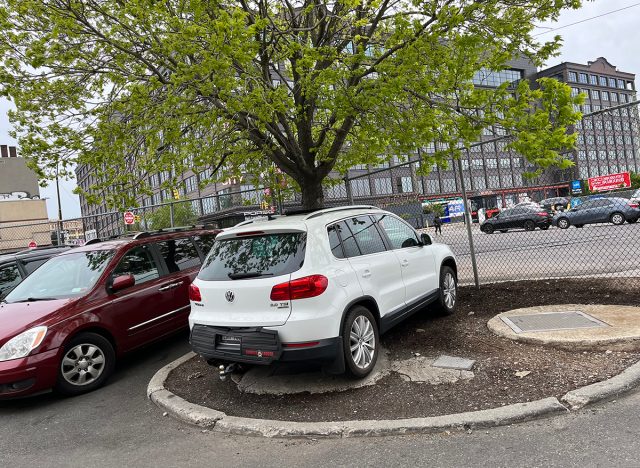 Parking is certainly a problem. By my count, there are a total of 491 spaces for cars in that lot, and in my experience, they're usually all full by the time the store opens at 9 a.m. each day. Often, you'll see a line of cars parked in the fire lane, despite signage clearly stating "no parking." You'll also commonly see cars parked on top of the surrounding landscaping. It's a very noisy lot, with near-constant honking and shouting between drivers competing over limited spaces. I've also seen idling drivers hop out to help departing shoppers load up their cars, just to expedite the turnover process.
The escalator area is another point of dysfunction. Despite multiple staffers on hand to help shoppers properly get their carts on and off the conveyor, the machinery often gets stuck or breaks down under the strain of all those overloaded carts, causing bottlenecks and flaring tempers.
Then, you get to the checkout and food court area, where lines often back up to the other end of the store. Good luck trying to get your hands on laundry detergent when the whole aisle is gridlocked with bumper-to-bumper shopping carts. The food court's limited seating is usually fully occupied, too, leaving hungry shoppers to huddle around their carts and eat their hot dogs and pizza while hovering over their grocery hauls.
In between these highly congested areas, you'll find plenty of shell-shocked faces, bumping into one another, clinging onto their carts, and tensely muttering amid the hustle for discounted goods. My friend, a longtime Costco member who now times his grocery runs to a very strategic window of time to minimize the stress, colorfully describes it as "where all the wonderful and various people of the borough come to fight, cut-off, compete, and generally disrespect each other."
In April, a FinanceBuzz survey of over 6,000 Costco members nationwide sought to find the "friendliest Costco locations" in the United States. To no one's surprise, Brooklyn failed to make the Top 10. In fact, when I reached out to the pollsters for more info, I found out that Brooklyn ranked 449th. The only real shock is that it didn't come in dead-last at 482nd. As a Brooklyn resident, I demand a recount! It's truly hard to imagine another store being any worse than this.
Costco did not respond to my questions about the Brooklyn warehouse.
Speaking to a frazzled, fellow shopper in parking lot recently, however, provided some context, in very classic New York sort of way.
"It's not just Costco," she tells me. "It's living in this town—everything's a pain in the ass."