Costco vs. Sam's Club: Which Has the Better Food Court Items?
I compared the most popular food court items from both warehouse clubs—here's the verdict.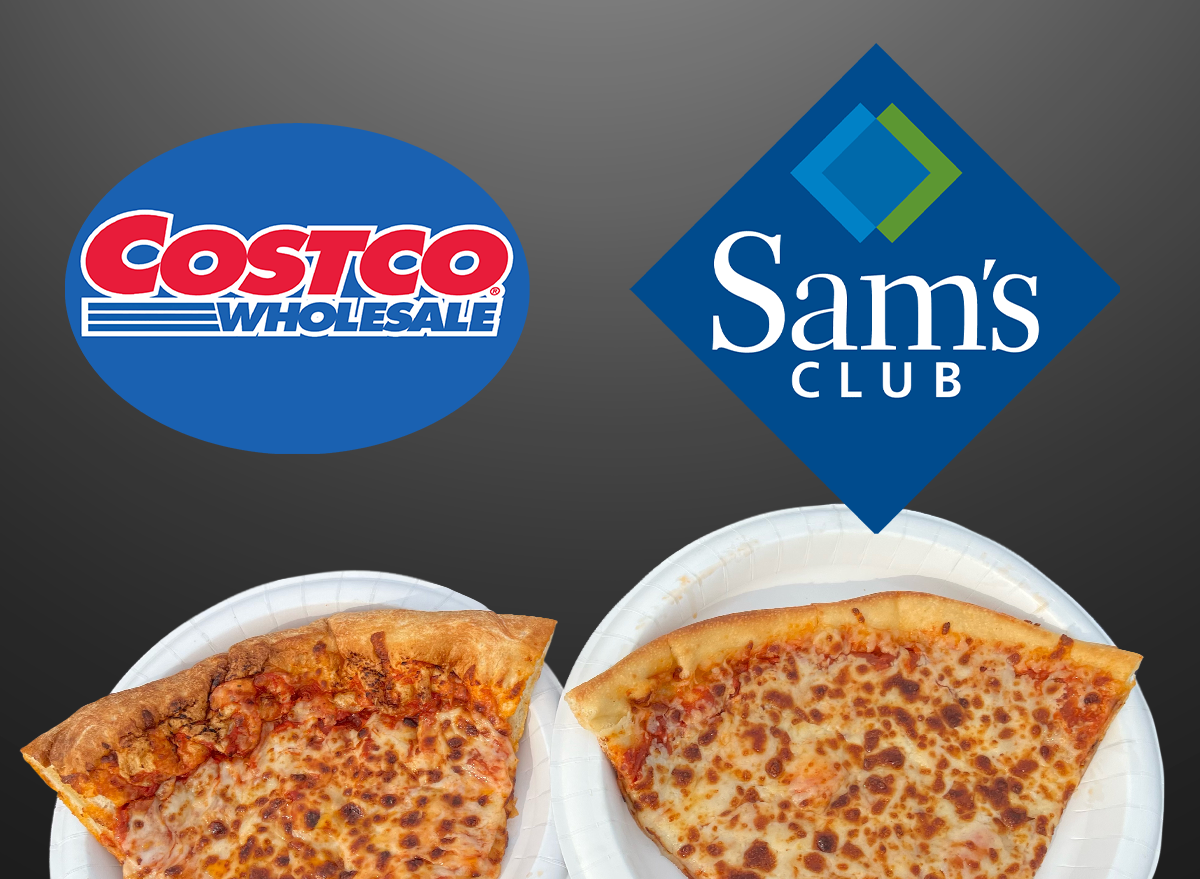 The product recommendations in this post are recommendations by the writer and/or expert(s) interviewed and do not contain affiliate links. Meaning: If you use these links to buy something, we will not earn a commission.
If you ever wanted to check out both of America's largest wholesale clubs in short order, then Edison, N.J., is a good place to go. The local Costco and Sam's Club stores are situated just over one mile apart.
Both locations feature their own freestanding gas stations outside and vast warehouses full of groceries inside. They each also offer refreshments right after checkout in their respective food courts.
The two quick-service food counters lately have become a focal point for a larger debate about which members-only club is the best overall, and both companies have been making moves recently to improve the warehouse dining experience.
Just this month, Costco announced that it's bringing back chopped onions, a much-missed topping for the retailer's legendary $1.50 hot dog, which was noticeably removed during the height of the Covid-19 pandemic. Select Costco locations have reportedly resumed selling another, similarly jettisoned food court item, too: the beloved Chicken Caesar Salad.
Sam's Club, meanwhile, made headlines last December by dropping the price of its own hot dog combo from $1.50 to $1.38, effectively undercutting its chief competitor's best-known food court item. The Walmart-owned club also introduced special limited-time menu items, like a decadent Birthday Cake Sundae to commemorate the retailer's 40th anniversary in business.
While each menu is a little different, several items are remarkably similar, providing easy points of comparison. I recently visited both locations twice to see how each food court stacks up.
Hot Dog Combo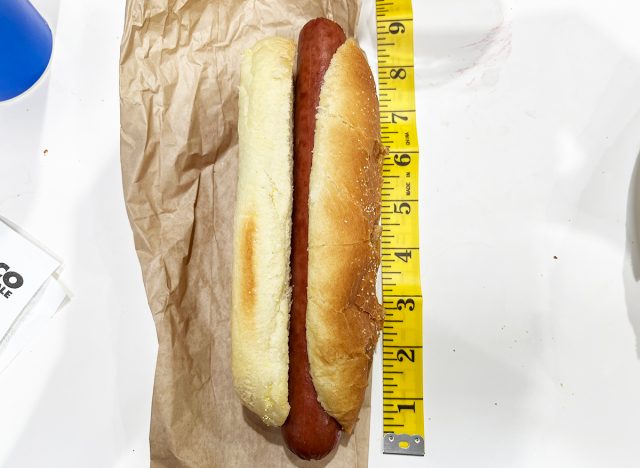 The price of Costco's most famous food court item—the seemingly inflation-proof $1.50 hot dog combo—hasn't changed a single cent since 1985. But the frankfurter itself has undergone some modifications. Costco dropped its original supplier, Hebrew National, and began producing its own Kirkland Signature brand of hot dogs over a decade ago.
The beefy one I tried in Edison measured nearly nine inches long and weighed a hefty 6.7 ounces inside its bun—well over its quarter-pound billing. The reddish dog arrived juicy, smoky and a little chewy. Its soft texture lacked the snap of a more taut casing. I requested chopped onions but this location had none to give out quite yet.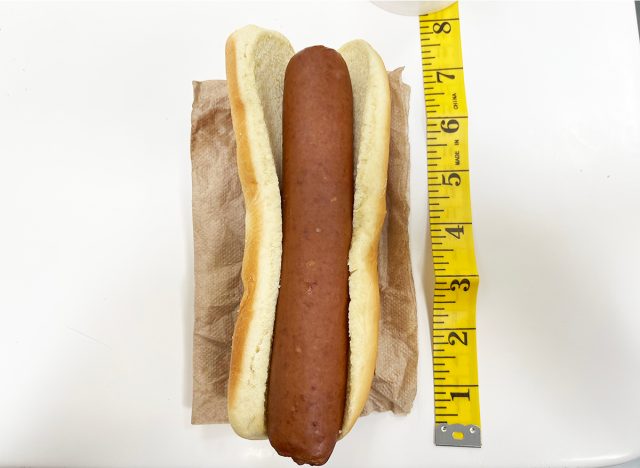 The hot dog at Sam's Club is priced lower than its rival at $1.38. You also seem to get a little less hot dog in return. The Sam's dog in Edison arrived a little shorter at about eight inches long, and weighed a little lighter, too, just over six ounces inside its bun. It is noticeably thicker, though, and more brownish in color. Just as beefy in flavor, but less juicy, the Sam's dog did provide a better snap upon the first bite.
Sam's Club prides itself in offering a wider selection of hot dog toppings than Costco, including chopped onions upon request. However, Edison had none to give when I asked. Single-serving packets of sauerkraut and relish were available from the condiment stand, but no mustard to be found on either of my visits—which is, frankly, unacceptable for a supposed hot dog destination.
Since both retailers also sell packages of these same hot dogs in the store, the nutritional facts are available to anyone who looks. The Kirkland dog is heavier (123 grams vs. 113), higher in calories (370 vs. 330) and fat (31 grams vs. 28) and pretty much everything else on the list. Though both links are advertised as "quarter pound" franks, Costco simply gives you more beef for your buck.
Advantage: Costco.
Pizza
If you're the type who prefers pizza with lots of toppings, then Costco is probably not the food court for you. The club scrapped its popular meat-and-veggies-loaded Combo Pizza during the pandemic and it hasn't returned, much to the dismay of many vocal fans. Nowadays, your choices are just plain cheese and pepperoni. Meanwhile, at Sam's, you can choose either of those, as well as a four-meat option (piling on ham, bacon, and Italian sausage, in addition to pepperoni) and a deluxe slice (featuring onions, mushrooms, and olives, plus meat).6254a4d1642c605c54bf1cab17d50f1e
For the purposes of this comparison, I chose the plain slice at both stores. This reduces the popular foodstuff to its most basic elements: crust, sauce, and cheese. In a lot of ways, the slices at Costco and Sam's looked almost identical, both with beautifully browned cheese on top.
Each slice weighed in at over nine ounces on its respective plate, with Costco edging a little heavier by just a few decimals. They tasted practically the same as well, though the Costco pie also seemed slightly more saucy. The price difference is negligible, too. Costco's slice costs $1.99; Sam's is just one penny less.
The most noticeable difference is the crust. Costco's crust is puffy, soft, and doughy, while Sam's is thinner and crispier. With so much else being nearly equal, the optional toppings really become the deciding factor.
Advantage: Sam's Club
Chicken Bake vs. Pizza Pretzel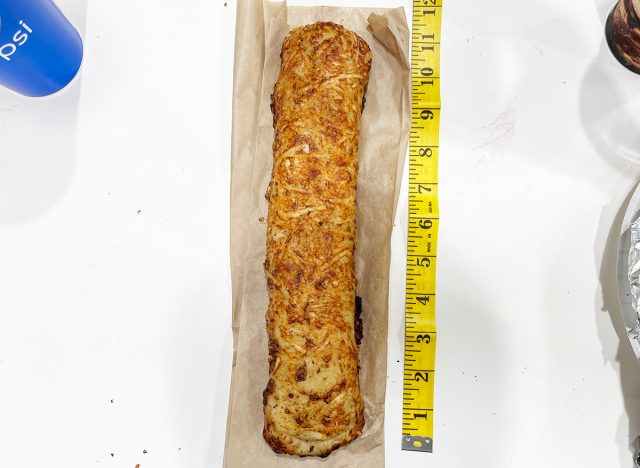 Consider this the wild card category, with each retailer offering its own unique, oven-baked savory creation.
I'll admit I put-off trying Costco's Chicken Bake for a long time because, well, it just sounded boring. Why else would Costco fans want to stick their hot dog in the middle of this glorified Hot Pocket? However, to my surprise, it is probably the most delicious thing on the entire Costco menu. A mixture of bacon, chicken, cheese, and Caesar dressing is rolled up in dough and baked to golden brown. The flavor is tangy and perfectly salty, and overall just really hard to put down. It's also enormous. The one in Edison measured almost one foot long and weighed over 12 ounces. I cut it in half and got two meals for the total price of $3.99.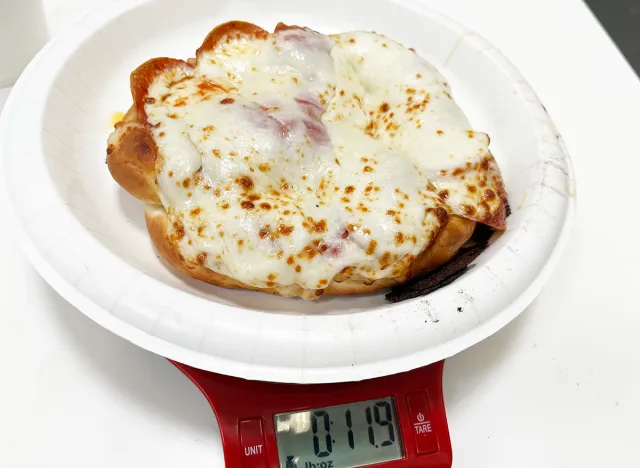 On the flip side, I was pretty psyched to try the Pizza Pretzel at Sam's Club, which cleverly combines two of the retailer's most popular cafe items. A Sam's Club rep tells me it began as a secret menu item back in 2016 before becoming a permanent addition in November 2020. Essentially, Sam's normal pretzel dough is topped with pepperoni and mozzarella cheese, then baked in the pizza oven.
The pretzel part was pretty good: crisp outside, soft and chewy inside. The pizza part was less enthralling. The one I tried in Edison came served with a cup of chilled marinara for dipping, straight from the fridge—basically, the culinary equivalent of a cold shower.
I like pizza and I like pretzels but I think I'll pass on the pizza pretzel from now on.
Advantage: Costco
Sundae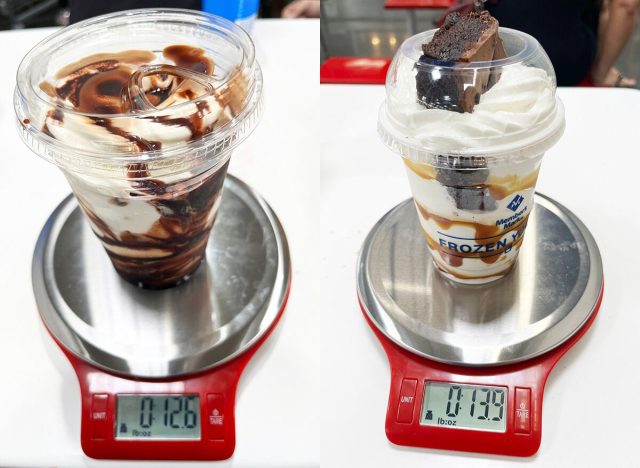 Talk about simple pleasures. Costco's Ice Cream Sundae is about as basic as you can get: just vanilla soft serve ice cream with your choice of topping, chocolate or strawberry. That said, it's pretty substantial. The cup stands five inches tall, and comes filled to the rim with icy, sweet goodness. The entire thing weighed in at over 12 ounces in Edison. It's especially cool and refreshing after all the other carb-heavy food court items—and affordable, too, at just $2.49.
The Brownie Sundae at Sam's Club, however, is a step above. Albeit served in a slightly shorter cup, Sam's version is even more massive, weighing nearly 14 ounces in Edison. The dessert combines frosty vanilla frozen yogurt with a rich caramel sauce and two hulking chunks of soft, chewy fudge brownie from the store's bakery. Oh, and it'll save you some change as well, priced at just $1.58.
Advantage: Sam's Club
The Verdict
While each club has its strengths (and deficiencies), Sam's more decadent dessert and broader selection at the pizza counter puts it on par with its more famous food-court rival. That could change in hurry, however—just as soon as Costco brings back its long-lost Combo Pizza.
Chris Shott
Chris Shott is the Deputy Editor covering restaurants and groceries for Eat This, Not That!
Read more about Chris