The Frozen Fast Foods to Always Leave on Grocery Store Shelves
Whipping up your favorite fast foods at home is a treat, but some one of these options are better left out of your freezer.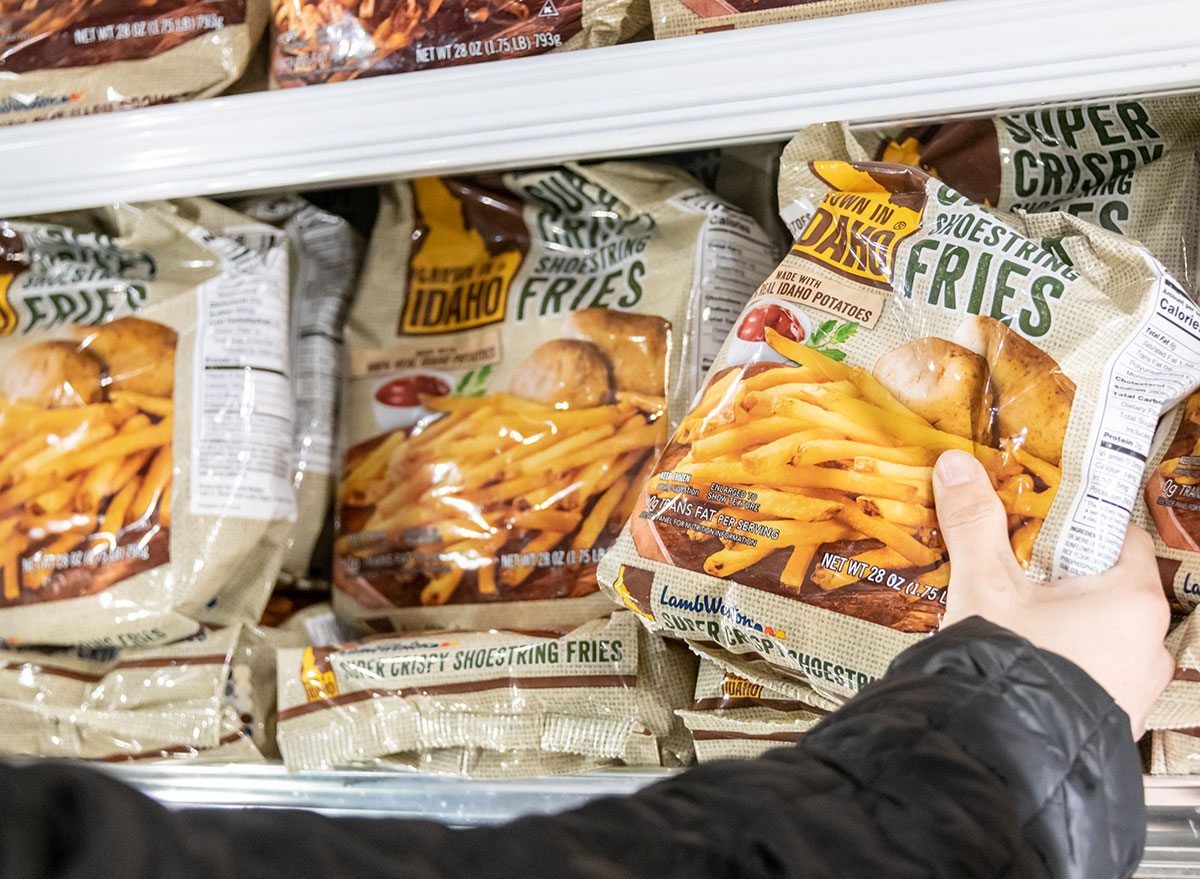 It's safe to say that some foods are what we call comfort foods. You know, the ones that will always taste just as you expect them to each and every time, and that you might turn to as a treat when you need a little pick-me-up. For some people, that means heading to the drive-thru. Others, it means going into their own freezer. And the fact that there are plenty of popular fast-food and chain restaurants that make frozen foods, well, it's the best of both worlds.
But some of these frozen fast foods aren't necessarily the healthiest option you'll find in the grocery store.
So to help you make the best choice next time you're food shopping and want to stock up on frozen food inspired by one of your favorite fast-food spots, here are the frozen fast foods that are better off left on grocery store shelves. For more of what you should stock up on, check out The 7 Healthiest Foods to Eat Right Now.
White Castle Frozen Breakfast Sliders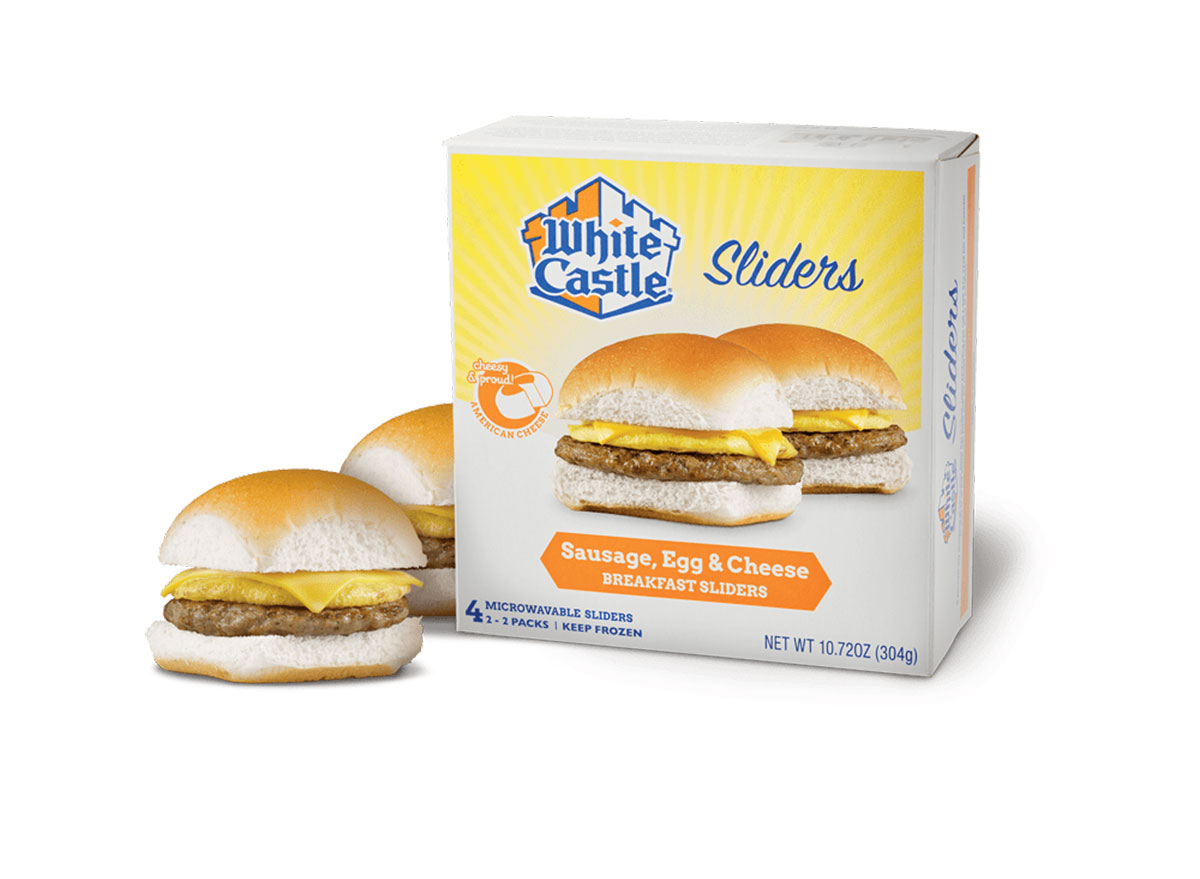 Per serving, 2 sandwiches
: 510 calories, 36 g fat (13 g saturated fat), 1,190 mg sodium, 30 g carbs (1 g fiber, 4 g sugar), 19 g protein
White Castle for breakfast? Sounds too good to be true! Well, these sausage, egg, and cheese sliders aren't necessarily the beacons of all things healthy. The issue here is that one pack comes with two sliders, and they are so small, so it makes sense to eat both. That puts you at more than 1,000 milligrams of sodium at your first meal of the day! According to an American Journal of Clinical Nutrition study, the average frozen meal actually contains 935 milligrams of sodium, which is equivalent to 40% of your daily recommended intake. Big yikes.
If you can eat just one of these and perhaps munch on some fresh fruit along with the one slider, you'll be in much better shape.
Red Robin Frozen Onion Rings
Per serving 3 rings
: 210 calories, 11 g fat (2.5  g saturated fat, g trans fat), 440 mg sodium, 25 g carbs (1 g fiber, 2 g sugar), 3 g protein
If you've ever eaten at a Red Robin, then there's a good chance you've seen the Towering Onion Rings in person. It's a sight, surely. And now you can create your own tower at home! Well, maybe think twice, as only three of these onion rings are clocking in at more than 200 calories and 440 milligrams of sodium.
Looking for more helpful tips? Your ultimate restaurant and supermarket survival guide is here!
Panera Mac and Cheese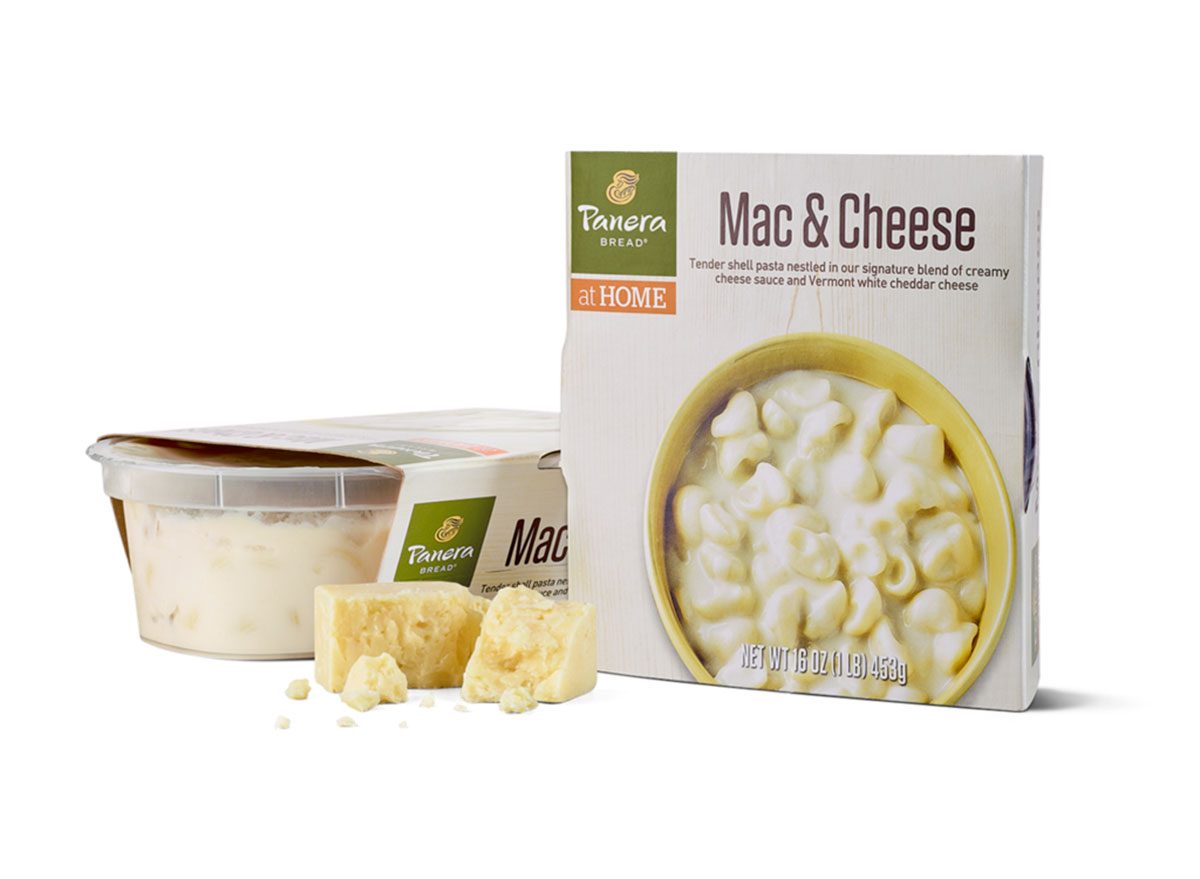 Per container
: 960 calories, 57 g fat (32 g saturated fat, 2.5 g trans fat), 2,210 mg sodium, 76 g carbs (2 g fiber, 15 g sugar), 37 g protein
The Panera Bread mac and cheese is legendary. We will admit that. But the at-home version isn't any healthier for you. One container is packing 2,210 milligrams of sodium. That is nearly your entire daily allotment, as The American Heart Association recommends most adults consume no more than 2,300 milligrams per day. Plus, eating all of this dish will have you consuming more than two grams of heart-harming trans fat. You should always aim to consume zero trans fats.
While this creamy blend of cheeses nestled into pasta might taste great, you're g better off just whipping up a box of Kraft Mac and Cheese instead! If you really want to give it a try, make sure you're splitting this dish with a few friends.
Cinnabon Frosting Filled CinnaPastry
Per pastry
: 450 calories, 23 g fat (10 g saturated fat), 430 mg sodium, 55 g carbs (1 g fiber, 26 g sugar), 7 g protein
No trip to the mall was ever complete with a stop at Cinnabon. Being able to have some of these pastries in your freezer seems like the ultimate treat. Just one of these little guys, though, is high in calories and fat. Plus, it's packing 26 grams of sugar, which is more than you would get if you ate two Original Glazed Krispy Kreme Donuts…
P.F. Chang's Orange Chicken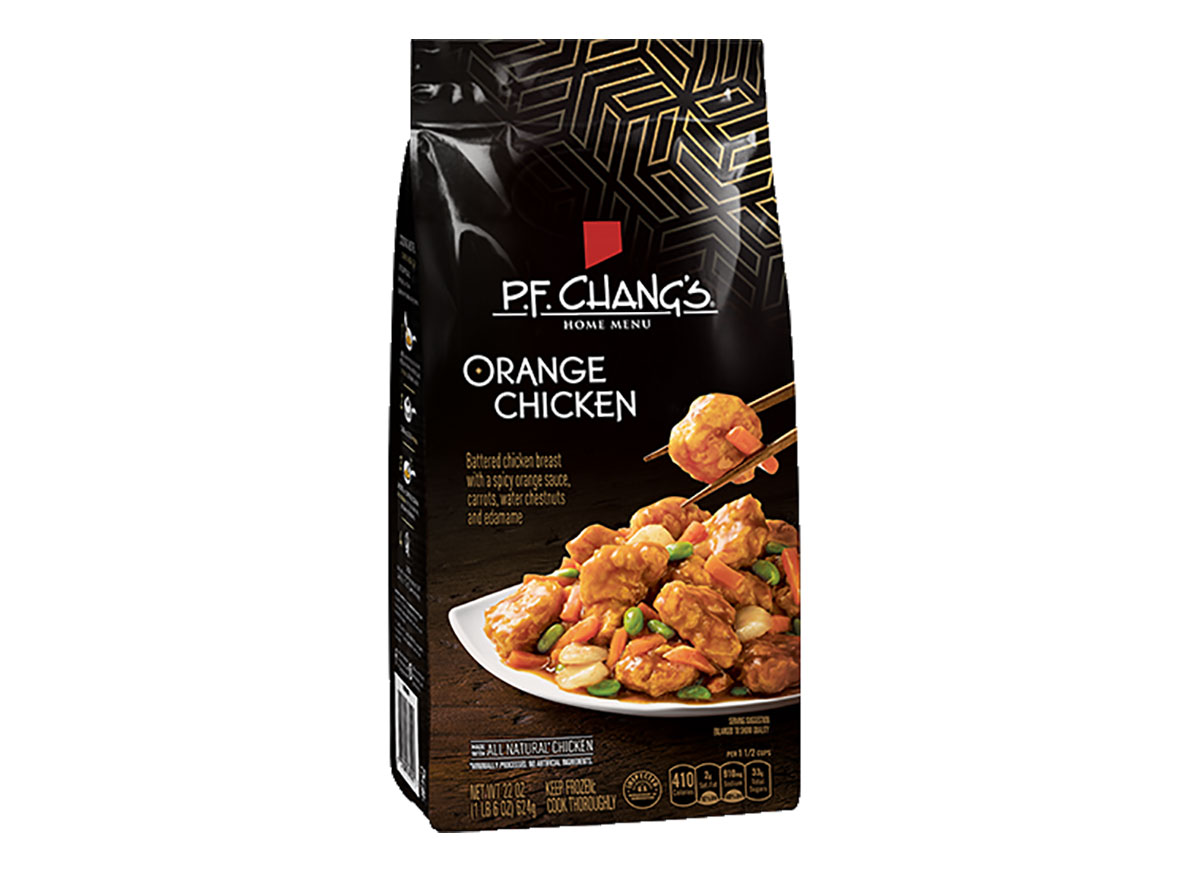 Per serving, 1 1/2 cups
: 420 calories, 15 g fat (2 g saturated fat, g trans fat), 920 mg sodium, 53 g carbs (4 g fiber, 34 g sugar), 17 g protein
Not able to dine at your local P.F. Chang's? The chain does have quite a few frozen options in grocery stores, but one to skip is the orange chicken. Here, chicken is paired with carrots, water chestnuts, and edamame that is all glazed with a spicy orange sauce. One serving of the chicken has more than 900 milligrams of sodium and is packing as much sugar as you would get from 11 Oreo Thin cookies.6254a4d1642c605c54bf1cab17d50f1e
TGI Fridays Frozen Appetizers Buffalo Style Chicken Wings
Per serving of wings with sauce
: 240 calories, 16 g fat (3.5 g saturated fat, 0 g trans fat), 850 mg sodium, 10 g carbs (< 1 g fiber, 0 g sugar), 14 g protein
Frozen appetizers always sound like something you should have in your freezer. Hey, you never know when someone might stop by and you want to offer up a snack! However, the Buffalo-style TGI Fridays wings are yet another high-sodium option. The chain offers up plenty of other frozen options, so maybe go with the spinach artichoke dip instead?
Jennifer Maldonado
Jennifer Maldonado is a senior editor at Eat This, Not That!, specializing in food and health content.
Read more about Jennifer