The Best Dishes to Order at a Steakhouse, According to a Dietitian
We asked an expert to share what she considers to be the best steakhouse orders you can make.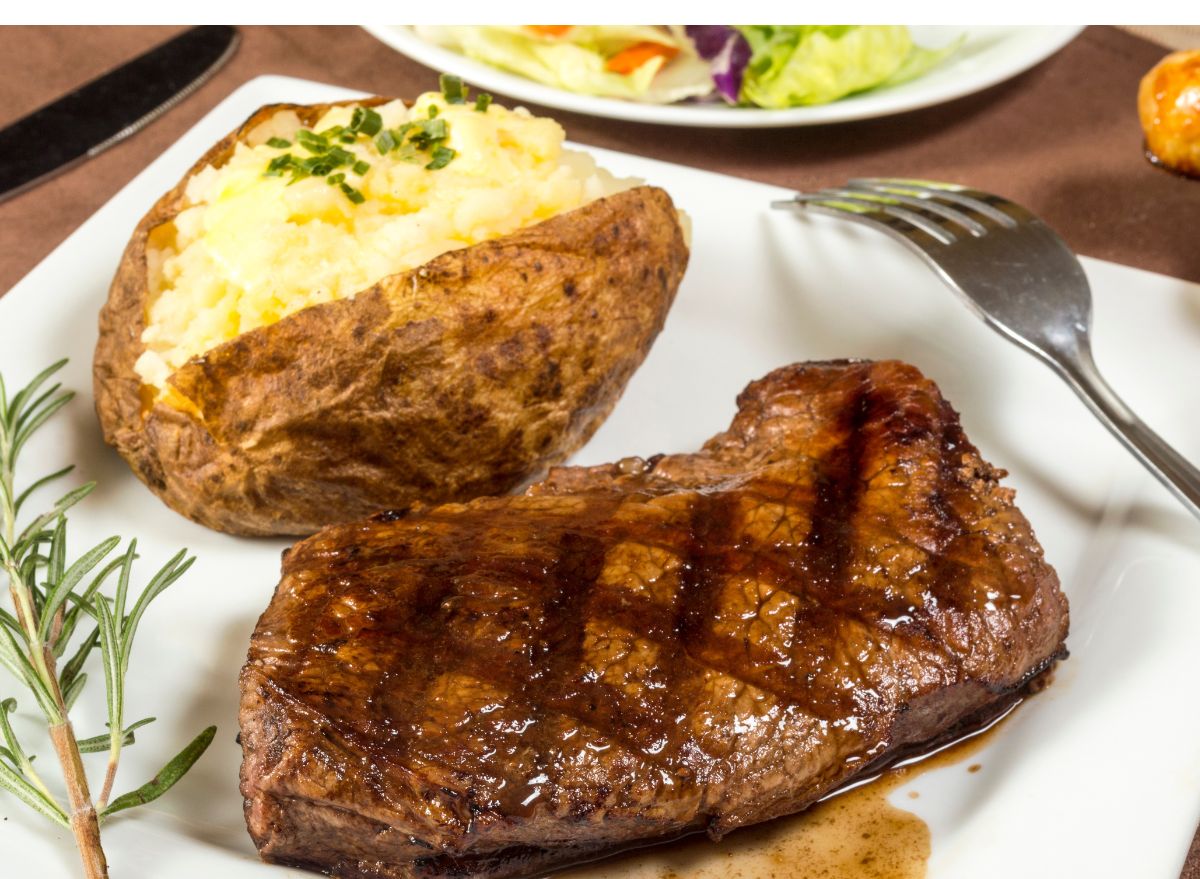 Dining out at a steakhouse always feels like a luxurious experience, especially when the menu provides you with a plethora of delicious meals to choose from. But having all of those options can certainly feel daunting if you're trying to keep your nutrition in mind. However, while the options on that menu may not seem like the healthiest, there are still plenty of meals to choose from that can benefit your health and help you stick to your goals. That's why we wanted to talk with an expert about the best steakhouse orders to make if you're wanting a healthier option.
When it comes to steakhouse dishes that are on the unhealthy side, you may want to look out for extra large steak portions, heavily sauced pasta dishes (especially if it's a cream-based sauce), or fried appetizers and side items. These all have the potential to increase your saturated fat, trans fat, and sodium levels. Thankfully, there are more nutrition-friendly items on most steakhouse menus.
Lauren Manaker, MS, RDN, LDN, CLEC, CPT, a registered dietitian nutritionist and a member of our Medical Expert Board, shares her favorite go-to healthy dishes to order at a steakhouse—from appetizers all the way to dessert. So, whether it's a local steakhouse in your hometown or a night out at your favorite chain, here are the best dishes to order at any steakhouse right now.
Lobster tail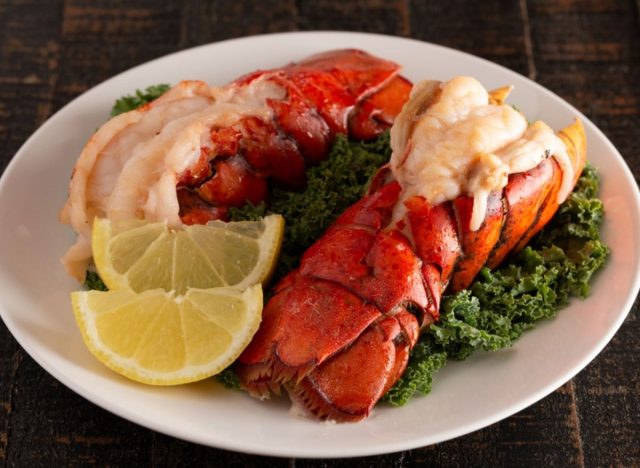 If you've found your way to a steakhouse, chances are you're ready to drop some money and treat yourself. For a luxury item with some added healthy benefit, try ordering the lobster tail.
"Lobster is a decadent treat that is also chock-full of important nutrients like omega-3 fatty acids and vitamin B12," says Manaker.  In fact, one cup of lobster gives you 51% of your daily recommended value of B12, the vitamin responsible for helping to improve brain health and cognitive function.  If you want to ensure the healthiest dish possible, "Go easy on the drawn butter and enjoy the tail with a veggie and a nutrient-dense starch," says Manaker.
Oysters on the half shell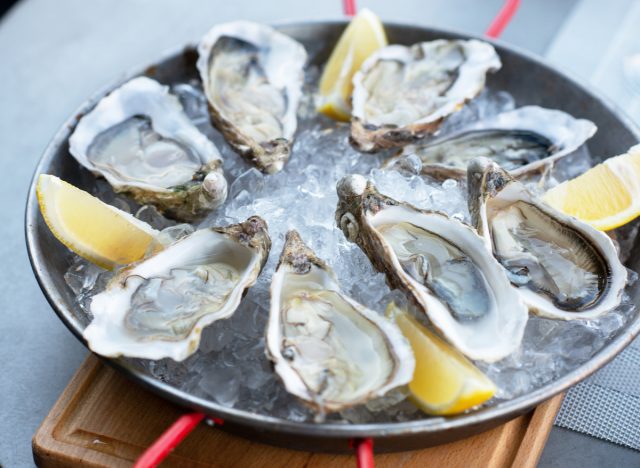 For an appetizer, Manaker recommends going for a signature item—oysters. "A classic app at steak houses, oysters are packed with nutrients like zinc as well as healthy fats," she says. Not only does a 100 gram serving provide 555% of your daily recommended value of zinc, but you'll also get 56% of your daily selenium, 493% of your copper dv, and 538% of your daily B12 needs. Manaker adds that to make this order even healthier, "Skip the fried options and enjoy these natural delicacies."6254a4d1642c605c54bf1cab17d50f1e
Chopped salad
For a salad—whether it before your meal or enjoyed on its own—Manaker says a chopped salad has a lot to offer.
"Steakhouses have surprisingly delicious chopped salads that are chock-full of good-for-you ingredients," she says. "Just make sure that the dressing you choose is a lighter choice (think a vinaigrette) and ask if they can hold the bacon when you order this dish."
Strip steak, baked potato, & steamed veggies.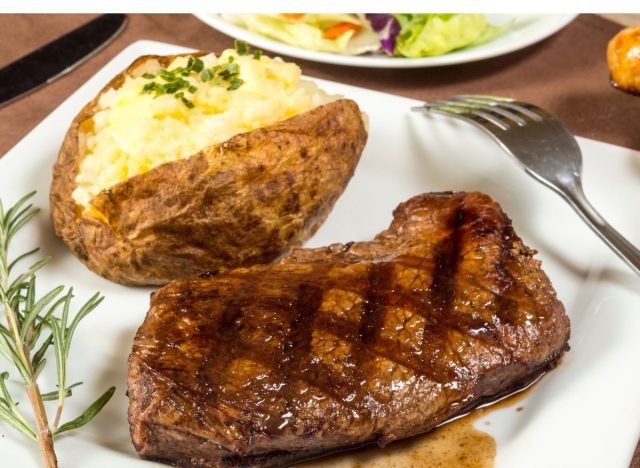 For a main, Manaker recommends enjoying 4 ounces of strip steak with those classic steakhouse sides.
"There is nothing wrong with a balanced meal that contains a reasonable portion of beef, starch, and veggie," she says. "Strip steak is a leaner cut of beef that provides protein, iron, zinc, and a slew of other key nutrients. While the potato provides fiber and vitamin C and the veggies provide even more filling fiber and antioxidants. Just hold the melted butter on the potato and the creamy sauces on the steak, and you should be in great shape! And if the steak spot typically salts their potatoes, request that they refrain when it comes to prepping your spud."
Filet mignon—split with a friend!
For true steak lovers, going to a steakhouse and not getting the filet mignon can feel like an utter travesty. If this resonates with you, Manaker suggests going for it, and sharing with a friend to make it healthier.
"Filet mignons are one of the most delicious things to enjoy at a steak house," she says. "Typically, they are served in 8-ounce portions—about double what is considered to be a serving. Split a filet with a friend and either enjoy your portion with a salad or accompanied by a steamed veggie and half of a baked potato for a classic steakhouse meal."
Grilled shrimp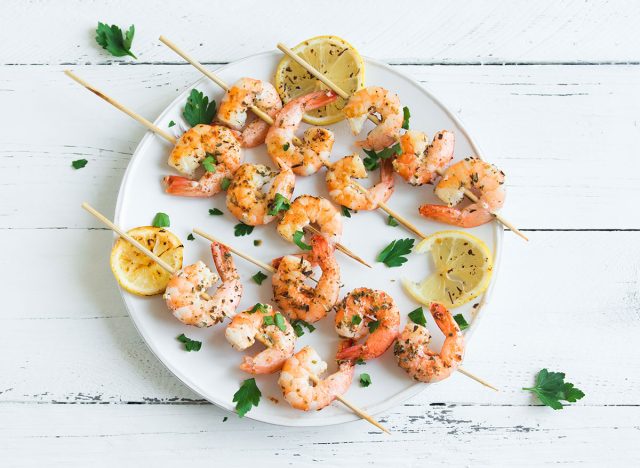 Not in the mood for steak? Go for some kind of grilled lean protein or seafood—like shrimp! Just be sure the fish isn't deep fried or drowning in too much butter and sauce.
"Again, as long as you are skipping the creamy sauce, grilled shrimp can be a healthy dish to enjoy at a steak house," says Manaker. "Typically, this dish is served with rice and veggies. If it isn't just ask for these as a side!"
Manaker also says ordering the shrimp cocktail could be a great option if grilled shrimp isn't available.
Pinot noir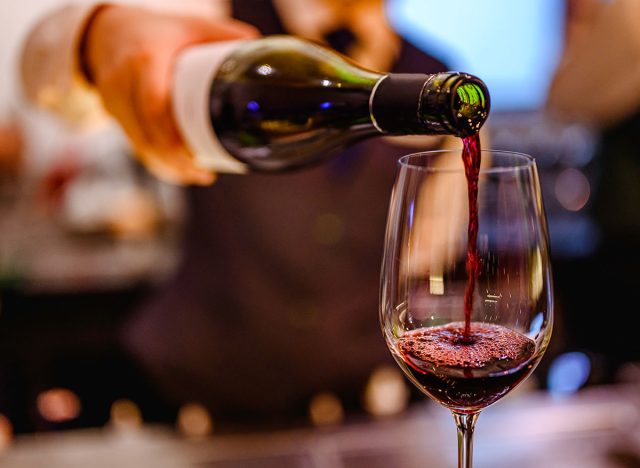 If you plan on ordering a drink, Manaker says to go for a lower-sugar wine like a pinot noir.
"A pinot noir will be a healthier choice than a mixed drink made with sugary mixers," she explains. "You can also sip on vodka with soda water—just make sure the bartender doesn't have a heavy hand!"
Whichever type of drink you decide, you'll want to make sure you consume in moderation if you're trying to stick to a healthy, lighter dinner. This is because research shows that drinking alcohol can make your brain think it's still hungry, which may lead to eating more than you actually need.
Fresh berries with ice cream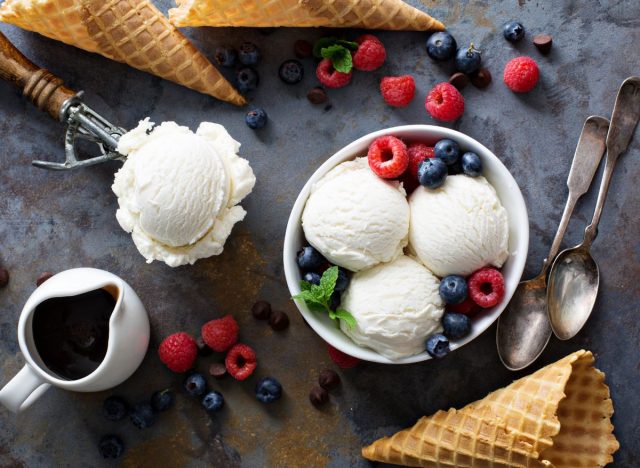 Lastly, for dessert that qualifies as one of the best steakhouse orders you can make, see if the restaurant offers some kind of fruit that you can pair with a scoop of vanilla ice cream, like a handful of fresh berries.
"Think you can't have dessert when you go to a steak house? Think again," says Manaker. "Many spots have delicious fresh berries on the menu, which makes for a satisfying sweet treat. Ask for a small dollop of ice cream to go with your fruit, and you will be totally happy with your meal's finale."
A previous version of this story was published on April 16, 2022. It has been updated to include additional copy and proofreading revisions, as well as updated contextual links.
Sources referenced in this article