Can Eating Yogurt Help You Lose Weight?
An expert shares the scoop on whether or not eating yogurt will support your weight loss efforts.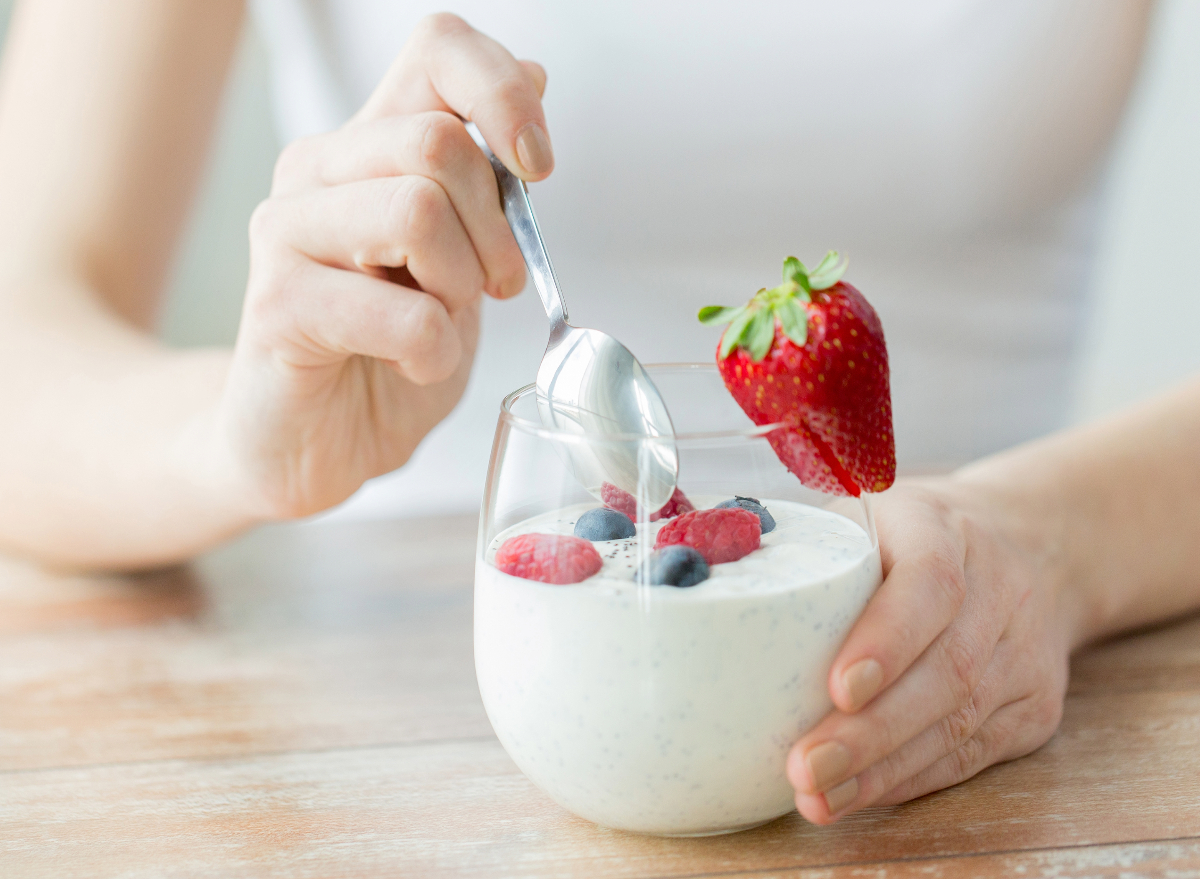 When you're trying to achieve a lower number on the scale, one of your first orders of business is reevaluating your go-to food choices and overall diet. Take yogurt, for example. It's marketed as a "healthy" snack or grab-and-go breakfast, but many varieties contain a sneaky amount of sugar. So, can eating yogurt help you lose weight? Eat This, Not That! spoke with Amy Goodson, MS, RD, CSSD, LD, a registered dietitian and certified specialist in sports dietetics who sits on our Medical Expert Board. Goodson spills the tea on whether or not eating yogurt will support your weight loss efforts. Keep reading to learn all about it, and for more inspiration, be sure to check out Can Eating Oatmeal Help You Lose Weight?
Can eating yogurt help you lose weight?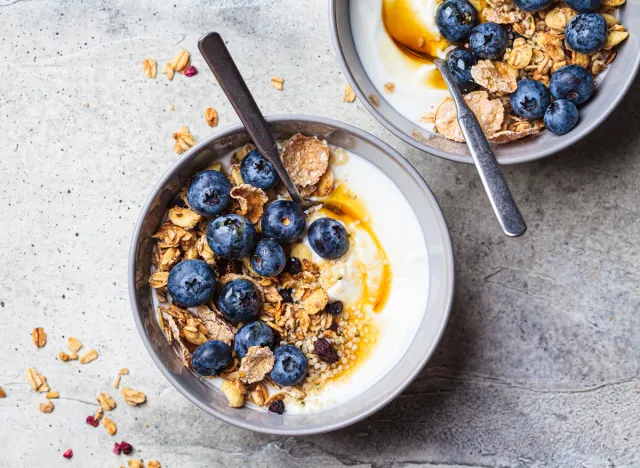 Drumroll, please! Goodson confirms yogurt can be a "helpful addition" to any healthy eating or weight loss regimen because of its impressive nutritional profile. However, it's first crucial to understand how it best fits into your daily lifestyle and diet:
1. Yogurt offers probiotics.
Plenty of yogurt varieties offer "live active cultures," also known as probiotics. "These beneficial bacteria can support a healthy gut microbiome, which has been linked to better weight management and improved digestion," Goodson explains.
2. It's packed with nutrients.
Goodson tells us that yogurt is chock-full of essential nutrients such as vitamin D, calcium, and B vitamins. "Calcium, in particular, may play a role in regulating body weight and fat metabolism," she says.6254a4d1642c605c54bf1cab17d50f1e
3. It's incredibly versatile.
You can enjoy eating yogurt in so many tasty ways, and the possibilities for healthy toppings are endless. Using berries with a drizzle of farm-fresh honey or nuts and seeds to top off your yogurt will only give it an extra nutritional boost. "These additions can increase the fiber content of your breakfast, further promoting satiety," Goodson explains. "At breakfast, yogurt can be a stand-alone parfait, mixed into overnight oats, used as a topping for whole grain pancakes, and mixed into a smoothie."
Here are five ways yogurt can help you lose weight.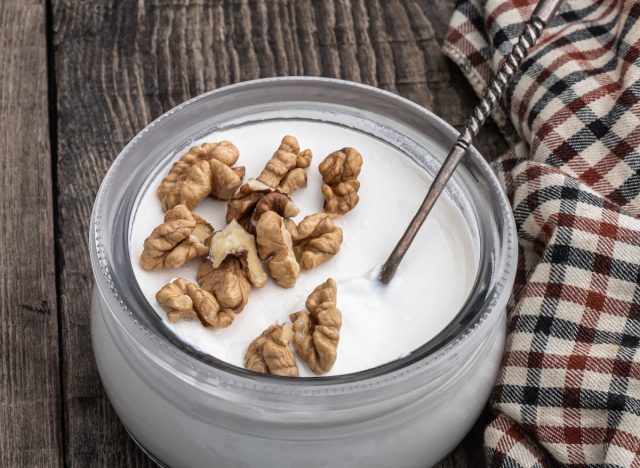 When eating yogurt for weight loss and as part of an all-around healthy diet, Goodson stresses opting for plain, unsweetened yogurt to avoid added sugars. In addition, consider the toppings she previously mentioned (nuts, seeds, or fruit) for added fiber and nutrients.
Yogurt can support your weight loss goals in the below five ways:
1. Yogurt has a high protein content.
Yogurt is an excellent source of high-quality protein, which will leave you feeling fuller for longer, thereby reducing the urge to reach for unhealthy snacks or overeat for your next meal. "Protein is known for its satiating effect," Goodson confirms. "Protein also helps to preserve and build lean muscle mass, which is essential for a healthy metabolism."
2. It's low in calories.
Whether you opt for low-fat or non-fat yogurt, your choice will be pretty low in calories, making it an ideal choice for anyone who's looking to get a handle on their calorie intake while still consuming a filling and enjoyable breakfast or snack.
3. It can help you control your appetite.
This tasty, creamy treat can also help you get a handle on hunger hormones. "The protein and fat in yogurt can help regulate hunger hormones, such as ghrelin and leptin, which can assist in controlling your appetite and reducing the urge to snack on unhealthy, calorie-dense foods," says Goodson.
4. It boosts digestion.
Many yogurt varieties offer live probiotic cultures, which promote "a healthy gut microbiome," Goodson explains. "A balanced gut microbiome has been linked to better digestion and may play a role in weight management."
5. It helps with blood sugar control.
The combo of fat and protein in yogurt can help you get a handle on blood sugar levels, Goodson tells us. This decreases your chance of unexpected energy crashes and the urge to indulge in sugar-filled and calorie-packed foods.
Alexa Mellardo
Alexa is the Mind + Body Deputy Editor of Eat This, Not That!, overseeing the M+B channel and delivering compelling fitness, wellness, and self-care topics to readers.
Read more about Alexa