10 Best Costco Frozen Foods for Weight Loss
Looking to lose weight? Add these frozen foods to your cart on your next Costco run.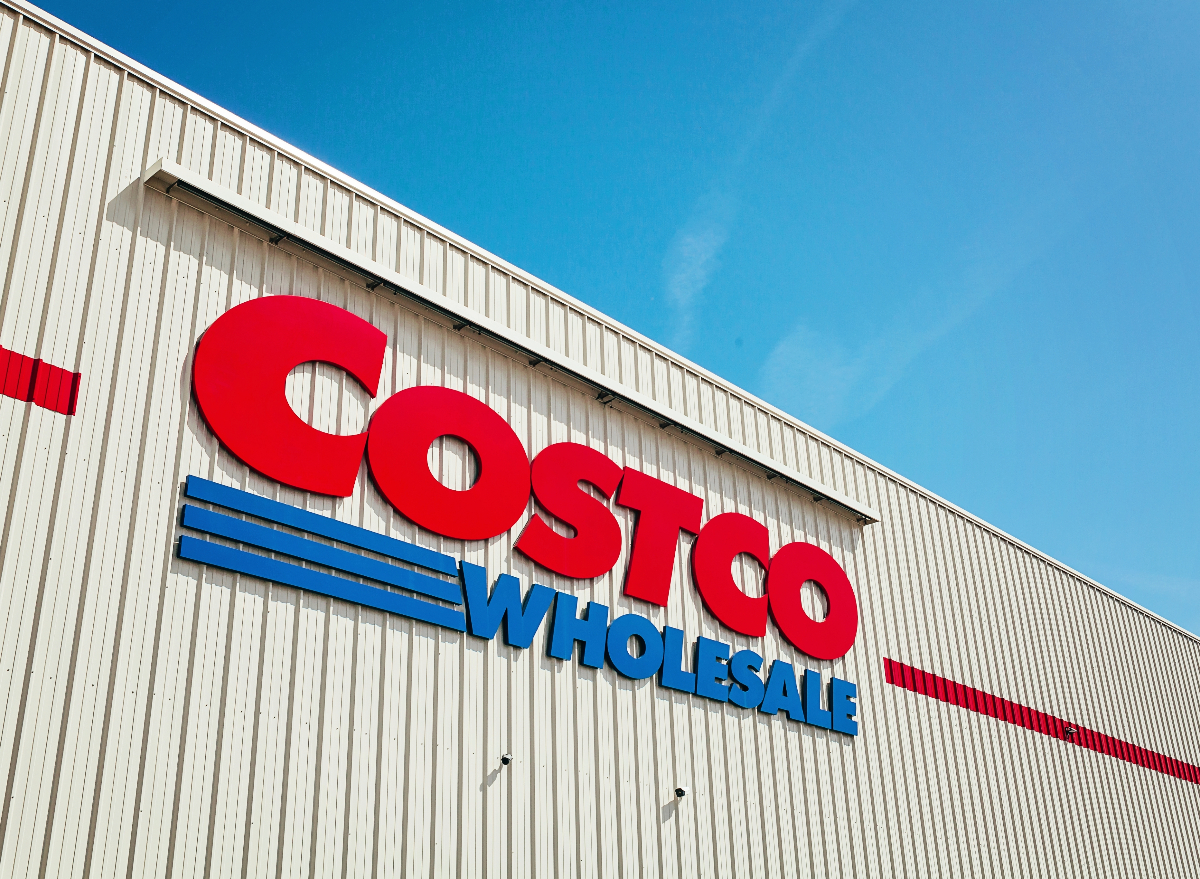 Costco is known for bulk food shopping, ready-to-heat meals, and a wide array of home items. The sheer number of foods available at Costco can be overwhelming to sift through, so we've broken down the 10 best Costco frozen foods for weight loss. Frozen foods can make mealtime more convenient, providing options that are fully cooked and require minimal prep time. This section of the store can also be packed with high-calorie desserts and appetizers, enticing pizzas, and other treats that could make weight loss more challenging.
When weight loss is your goal, there are a few factors that can help you decipher which frozen foods to bring home:
Individually portioned items are helpful. Whether a serving of meat, a sandwich, or an entire meal, single-serving packages can make it easier for you to stick with a reasonable portion.
Limit fried options. While some of these can fit into a weight loss diet, most of them will add excess empty calories without being very filling.
Watch for added sugar. Desserts and entrees are both culprits of added sugar, so take a look at the nutrition facts panel before adding an item to your basket. Savory foods with sauces are an especially sneaky source of sugar to look out for.
When in doubt, when it comes to what to buy in the frozen food section, load up on fruits, veggies, and lean protein. These options are always available, and you can typically find a variety of foods in each category. This can lead to simple meals that keep you full and satisfied without the added sugar, salt, and preservatives found in many frozen items. Here are the 10 best Costco frozen foods for weight loss. Keep reading to learn all about them, and when you're finished, don't miss the 10 Best Trader Joe's Frozen Foods for Weight Loss.
Jimmy Dean Delights English Muffin, Turkey Sausage, Egg White & Cheese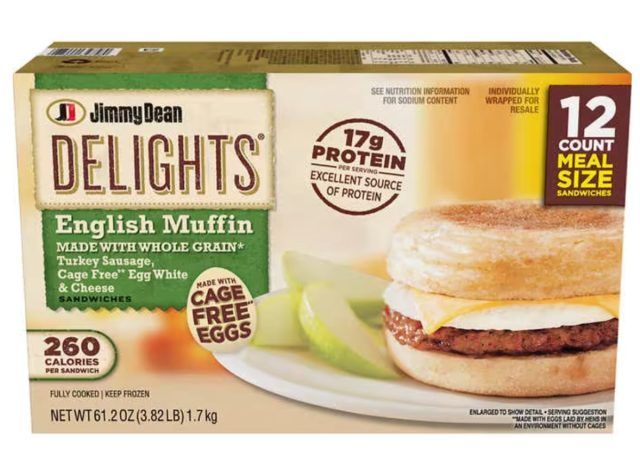 For many, breakfast ends up being an afterthought because of time constraints. This can lead to skipping the meal altogether or grabbing a less nutritious option as you head out the door.
Enter, the Jimmy Dean Delights English Muffin, Turkey Sausage, Egg White & Cheese breakfast sandwich, which kicks off our list of the best Costco frozen foods for weight loss. This frozen "delight" offers a balanced meal of carbs, fat, and protein and even contains 2 grams of fiber. For only 260 calories, this makes for a well-rounded option that can suit your weight loss goals. Pair your sandwich with fruit to boost fiber and nutrients, and consider adding a spread of avocado for some healthy fats.
Frontera Chicken Fajita Bowl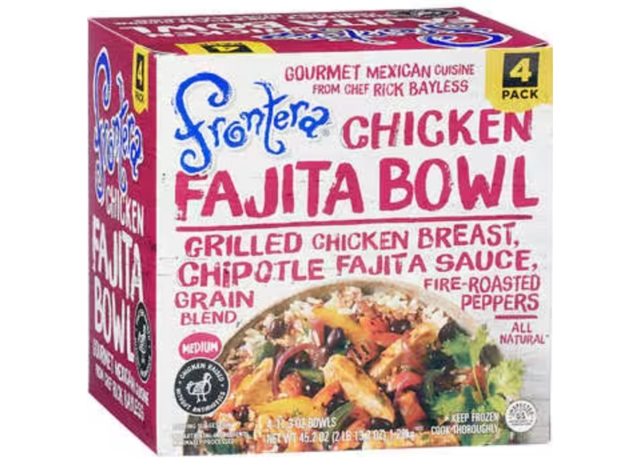 The Frontera Chicken Fajita Bowl combines grilled chicken breast, chipotle fajita sauce, fire-roasted peppers, black beans, and a grain blend to make for a flavorful meal that simply needs to be heated in the microwave. Even better, it packs a mean protein punch and offers 8 grams of fiber. This combination makes for a truly satiating meal that's less than 300 calories. You could incorporate some avocado to boost healthy fats and fiber, or add a dollop of sour cream or Greek yogurt for rich creaminess.
Yucatan Avocado Halves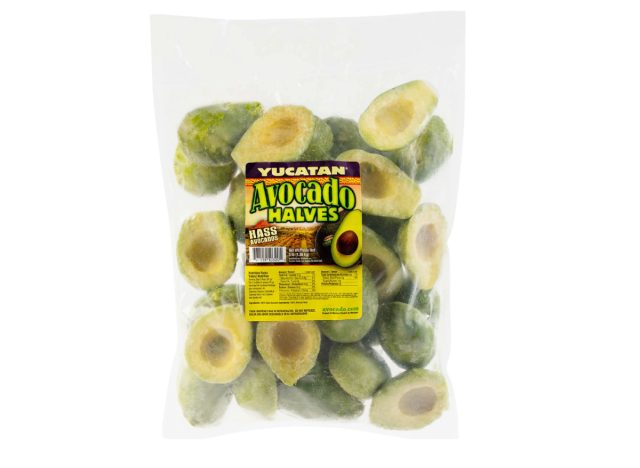 Avocado can easily be incorporated into many types of meals and snacks. Spread it on toast for a hearty breakfast, add it to a smoothie, or top a salad for easy incorporation. These frozen avocado halves make it so easy to keep avocado on hand, and you don't have to worry about your fresh avocado going bad too quickly. Avocado is known for its healthy fat content, which is a filling nutrient, but it also packs fiber. Per serving of these Yucatan Avocado Halves, you'll get 2 grams of satiating fiber, helping to keep you full throughout the day.
Kirkland Signature Three Berry Blend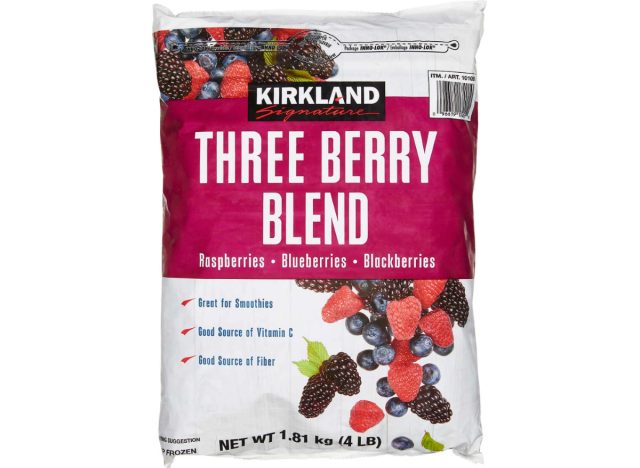 Berries pack tons of vitamins, minerals, and antioxidants and are known for their fiber content. Unfortunately, fresh berries can go bad quickly, leaving you with unused fruit and money wasted. Frozen berries, such as those in the Kirkland Signature Three Berry Blend, are a great alternative that packs nearly the same nutrient profile. Add this frozen three-berry blend directly to a blender for a smoothie, or defrost and incorporate it into your oatmeal. You could even mash your defrosted berries and combine them with chia seeds to make a jam alternative that is lower in sugar and higher in fiber. Win, win!
Sandwich Bros Chicken Melt Flatbread Pocket Sandwiches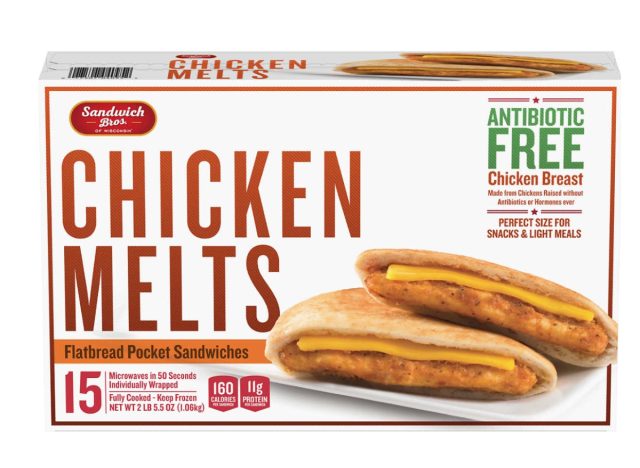 If you are looking for a simple lunch that doesn't require much prep, look no further than Sandwich Bros Chicken Melt Flatbread Pocket Sandwiches. This simple sandwich combines white meat chicken and cheese inside of a pita pocket. The chicken is fully cooked so you can defrost it and enjoy it chilled, or heat it in the microwave for warm sandwich. Each sandwich is only 160 calories and provides 11 grams of protein. This makes for a great stand-alone snack, or combine it with veggies and hummus, along with a portion of fruit, for a well-balanced meal.
Kirkland Signature Stir Fry Vegetable Blend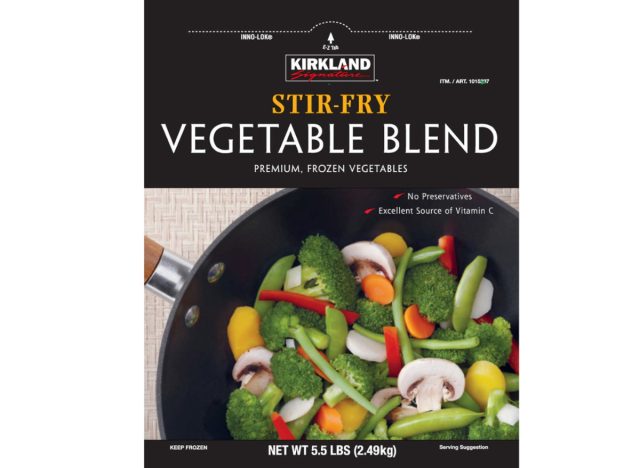 Vegetables are a nutrient-dense food loaded with fiber and micronutrients and contain few calories. This frozen Kirkland Signature Stir Fry Vegetable Blend is a combination of eight vegetables and contains no preservatives. This mix is considered to be an excellent source of vitamin C and can be used in many different ways. Vegetables are a great way to create a full plate of food for few calories, and the fiber content makes for a filling meal. Combine them with cooked protein and soy sauce for traditional stir-fry flavors, add them to your grain bowl, or simply heat them and serve as a side dish with your favorite grilled meat.6254a4d1642c605c54bf1cab17d50f1e
Pierre Signature Grilled Chicken Sandwich
Another option that makes for a quick meal, the Pierre Signature Grilled Chicken Sandwich is served on a sesame seed bun to create a great balance of protein, fat, and carbs. At under 300 calories, these sandwiches allow room to add nutritious toppings to make for a balanced option. Top with avocado to boost fiber and fat, or enjoy with a slice of cheese, sliced tomato, and lettuce for traditional grilled chicken sandwich flavors.
Kirkland Signature Wild Alaskan Sockeye Salmon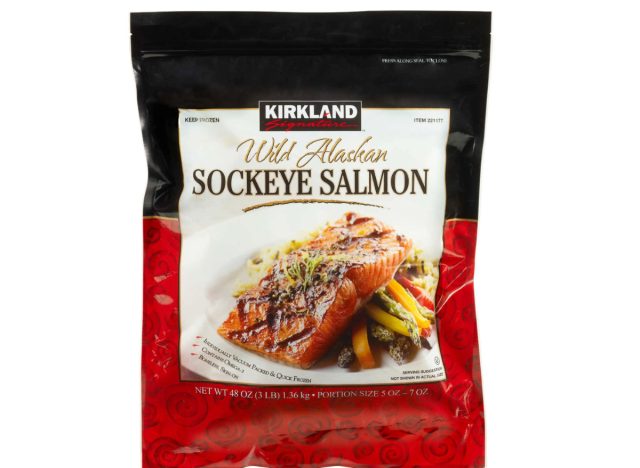 Salmon is a great source of protein and provides essential omega-3 fats. While protein is great for weight loss, the Kirkland Signature Wild Alaskan Sockeye Salmon is especially helpful as the fish comes individually packed in 5 to 7-oz portions. This helps with portion control and allows you to cook only as much as you need for a single meal. If you find yourself wanting a smaller portion, simply split it in half, and save part of the salmon for a later meal. However, a 5-oz portion is a hearty serving of filling protein to keep you full and satisfied.
Impossible Burger Patties Made From Plants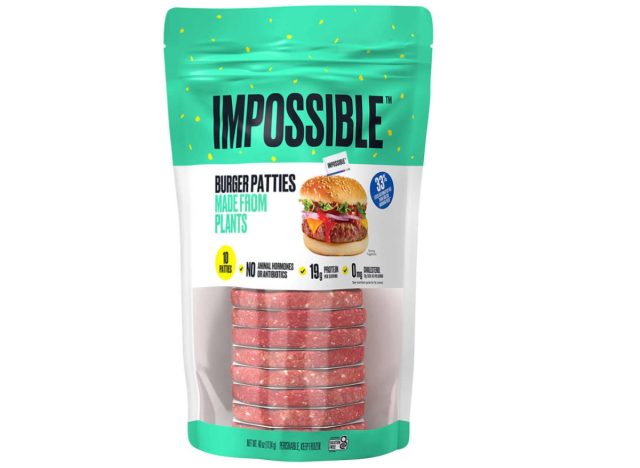 Whether you follow a plant-based diet or simply enjoy the taste of meat alternatives, these Impossible Burger Patties are another great option for weight loss. Each patty provides nearly 20 grams of protein, making for a filling meal. Serve over a bed of lettuce, between a whole grain bun, or open-faced with your toppings of choice for a balanced meal. Compared to meat, these plant-based patties also provide 5 grams of fiber, making them especially filling.
Just Bare Lightly Breaded Chicken Breast Chunks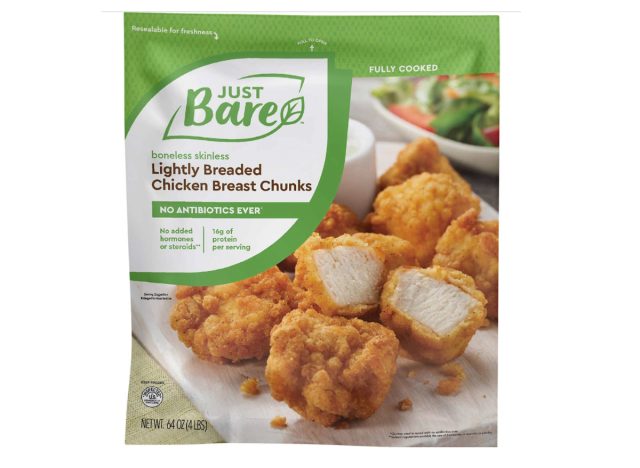 Although breaded chicken is generally higher in calories and fat grams than grilled varieties, these Just Bare Lightly Breaded Chicken Breast Chunks maintain a reasonable nutrition profile. A 3-oz serving is only 160 calories while providing 6 grams of fat and 16 grams of protein. With only 1 gram of added sugar and a reasonable sodium count, these make for a much healthier chicken nugget alternative. These would be great in a salad or served with a handful of raw veggies for a protein-packed snack. Just limit the dipping sauces, as those can be a source of empty calories and sugar.
Melissa Rifkin, MS, RDN, CDN
Melissa is a Connecticut-based registered dietitian with over 15 years of experience, including clinical and outpatient settings, and runs the popular nutrition education Instagram account, Confessionofadietitian.
Read more about Melissa