The Unhealthiest Coffee Drinks in America
These fancy drinks aren't just hard on your wallet, but your waistline, too.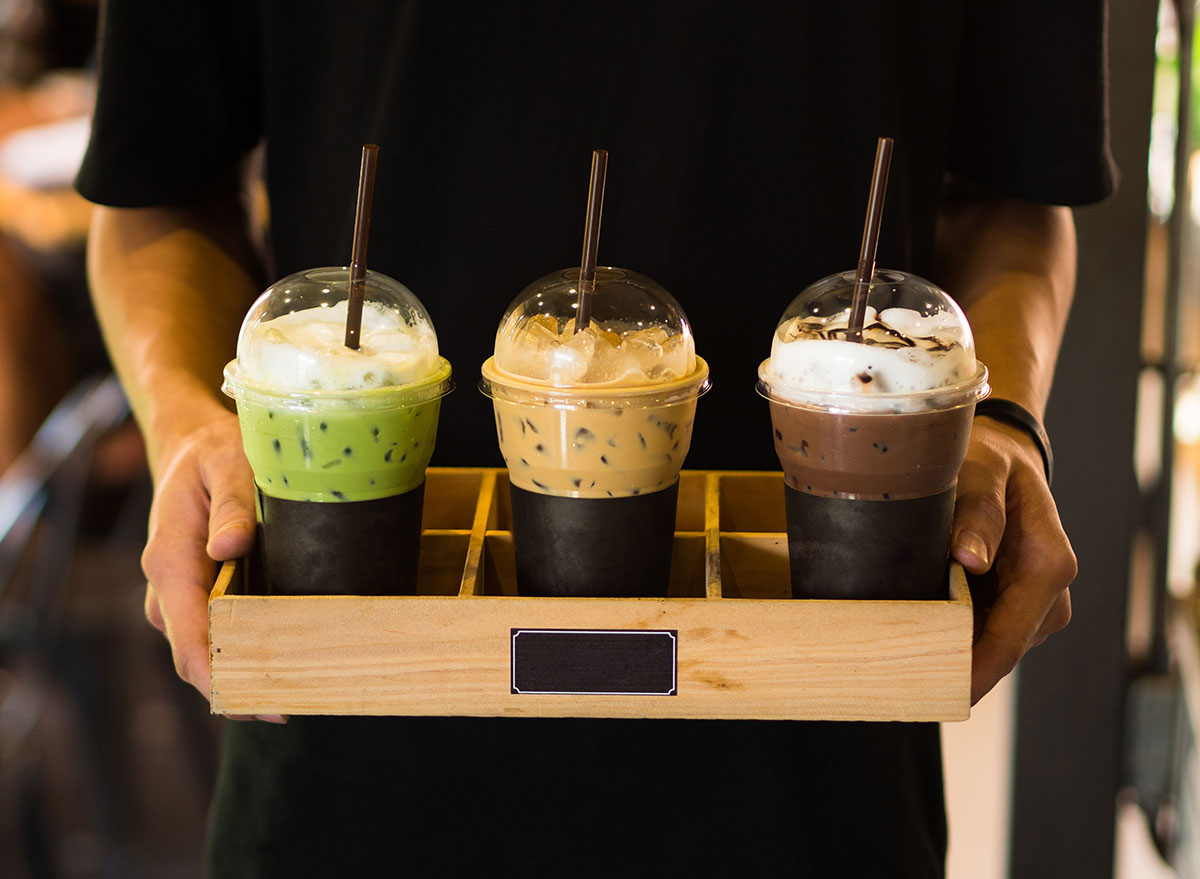 Some days you make the coffee. Other days the coffee makes you.
And let's face it, when you're paying upwards of $4 for a pick-me-up to get you through a rough day, you're not going to order the small black, hold-the-sugar cup 'o joe. Although research shows that drinking coffee can aid rapid weight loss efforts and lower the risk of diabetes and cardiovascular disease, coffee drinks—the sugary ones with fancy names that take longer to order than they do to slurp down—can have the exact opposite effect on your health. In fact, the nutrition stats on some java jams are arguably worse for you than a fast-food meal. Though a greasy burger and fries is hardly the most virtuous lunch choice, the combo is considered a meal, which is more than we can say for an empty-calorie latte you could suck down at a red light.
The good news is you can indulge your need for a bit of caffeinated decadence without totally blowing your diet. You just need to know what sips to avoid and what to drink instead—and here, we reveal just that! Ditch these bad brews and opt for a black coffee you brew at home. You'll be rewarded with the benefits: What Happens To Your Body When You Drink Coffee! And while you're making healthier choices, go ahead and stock up on The 7 Healthiest Foods to Eat Right Now.
Krispy Kreme Frozen Caramel Latte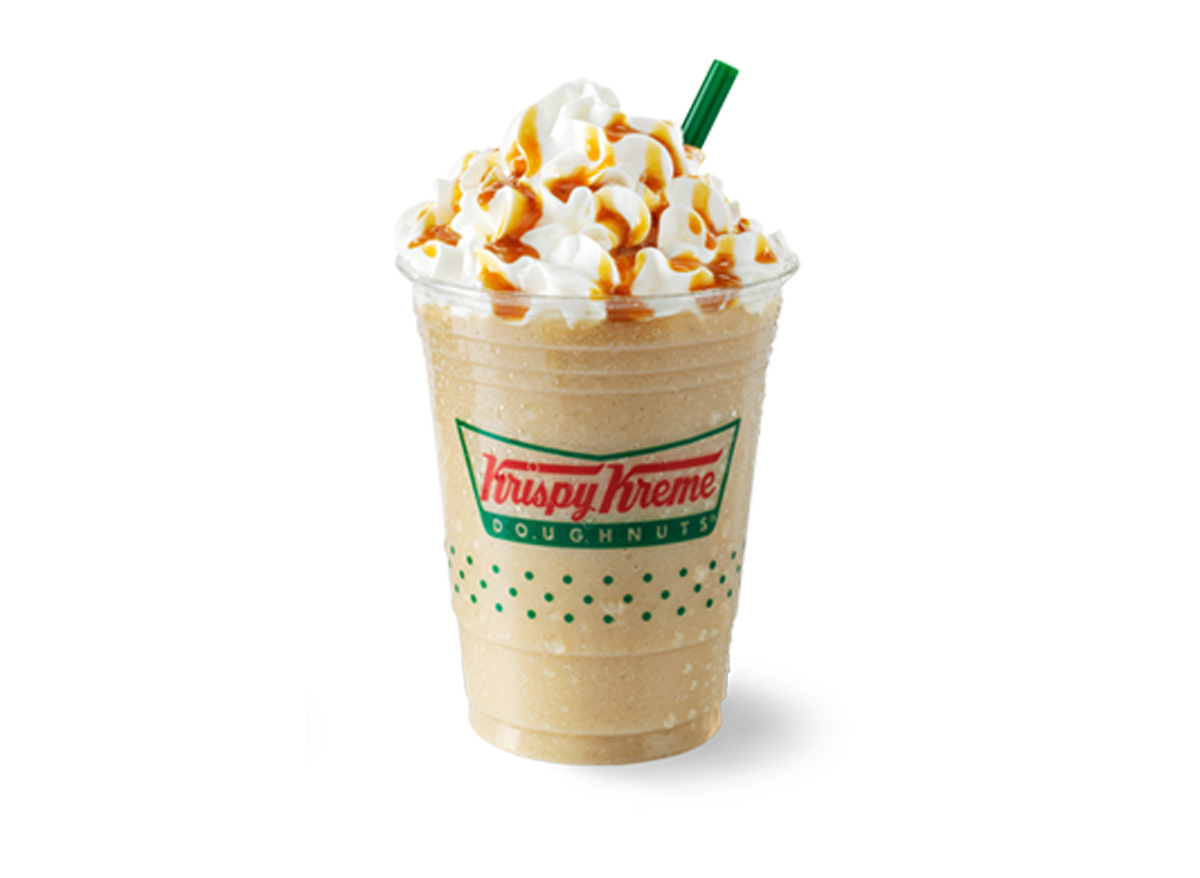 Per regular (12 oz)
: 350 calories, 11 g fat (7 g saturated fat, 0 g trans fat), 250 mg sodium, 58 g carbs (0 g fiber, 48 g sugar), 1 g protein
Krispy Kreme is best known for its calorie-packed donuts, so we weren't too surprised that a 48-gram sugar, small coffee drink also found its way onto their menu. Made with ice, coffee, artificial flavor, high fructose corn syrup, and topped with fat-filled whipped cream, the Frozen Caramel Latte contains as much sugar as 18 of the chain's glazed doughnut holes!
STAY INFORMED: Sign up for our newsletter to get the latest food news delivered straight to your inbox.
Starbucks Cinnamon Dolce Latte with Whole Milk, Whip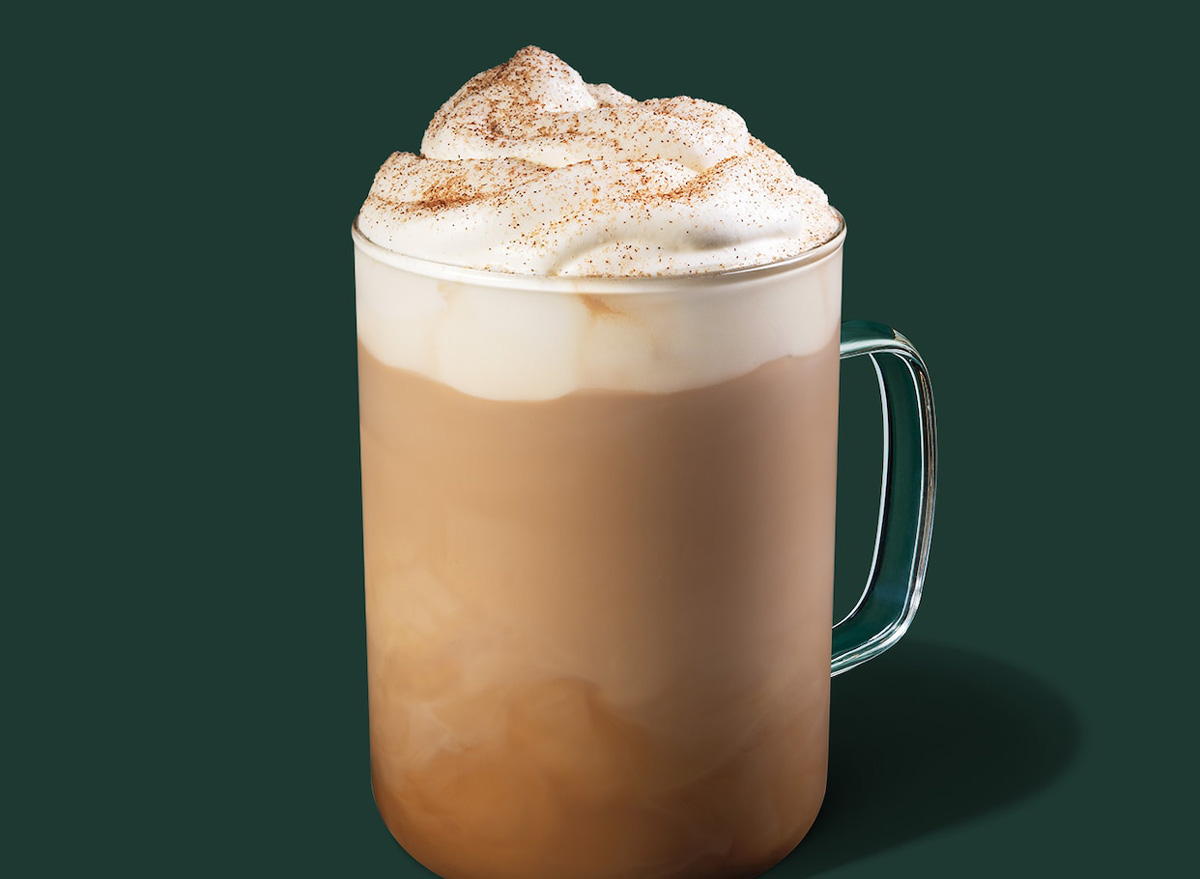 Per venti (20 oz)
: 420 calories, 16 g fat (10 g saturated fat, 0.5 g trans fat), 210 mg sodium, 54 g carbs (0 g fiber, 51 g sugar), 15 g protein
This unhealthy coffee drink has as much sugar as 15 Chips Ahoy cookies—at least you can take it on the run?
6254a4d1642c605c54bf1cab17d50f1e
Per large (20 oz)
: 400 calories, 11 g fat (7 g saturated fat, 0 g trans fat), 160 mg sodium, 64 g carbs (0 g fiber, 61 g sugar), 11 g protein
To begin with, the first ingredient listed for the coffee drink is whole milk—not coffee. The third? Chocolate sauce that features tartaric acid, mono- and diglycerides, and potassium sorbate. This drink contains almost as much sugar as four of Au Bon Pain's Almond Croissants.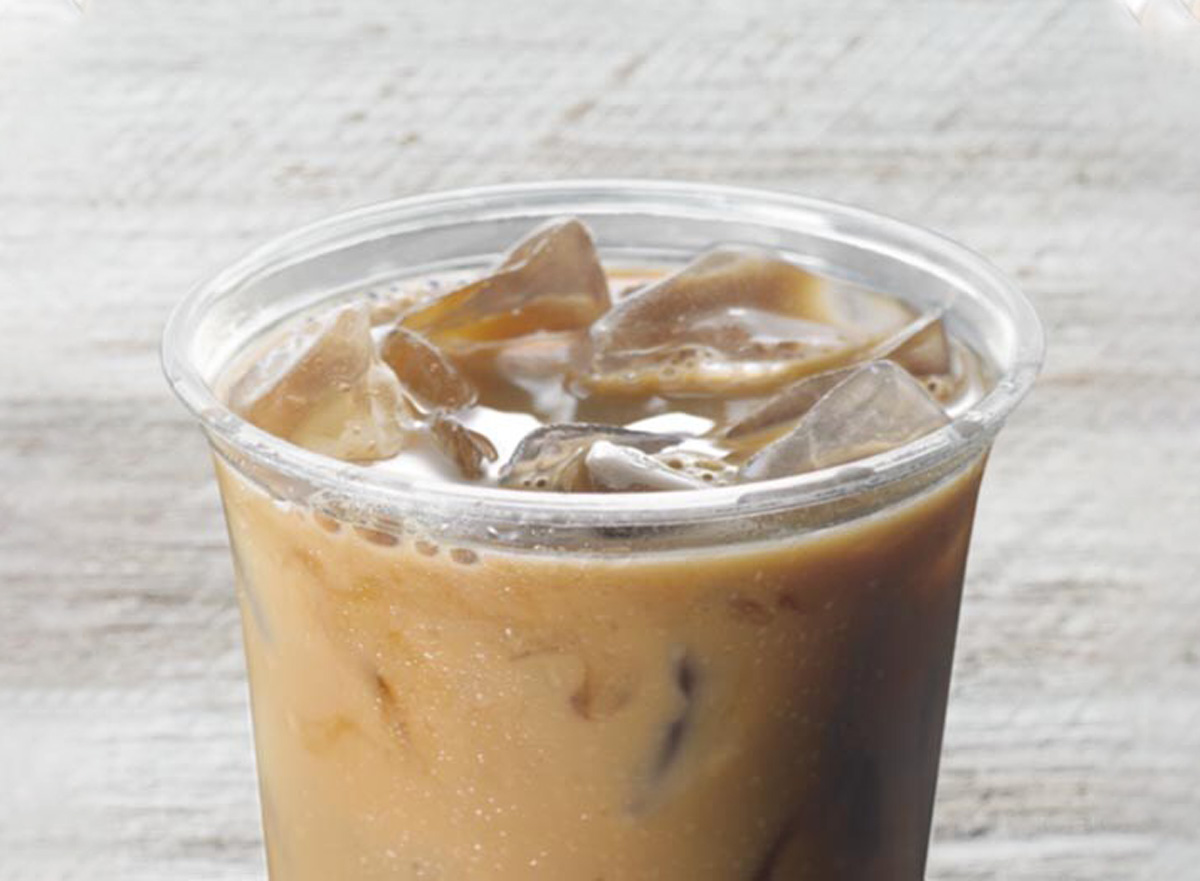 Per large (20 oz)
: 370 calories, 7 g fat (4.5 g saturated fat, 0 g trans fat), 150 mg sodium, 63 g carbs (1 g fiber, 62 g sugar), 12 g protein
Chai is one of the most popular low-calorie tea flavors; however, the same can't be said for this calorie bomb. A cup of this iced coffee drink has almost as much sugar as 7 of Panera's Raspberry Thumbprint cookies.
Starbucks White Chocolate Mocha with Whole Milk, Whipped Cream
Per venti (20 oz)
: 530 calories, 21 g fat (14 g saturated fat, 0.5 g trans fat), 310 mg sodium, 68 g carbs (0 g fiber, 67 g sugar), 19 g protein
How'd you like to start your day with five pastries worth of sugar? That's what you'll be slurping down if you get to the bottom of a venti whole-milk white-chocolate mocha with whipped cream. The "espresso with white chocolate-flavored sauce and steamed milk" beverage packs 620 calories and an astonishing 67 grams of sugar—more than you'll find in five of the coffee chain's chocolate croissants. Big yikes.
Looking to cut back on your sugar consumption? Here's the science-backed way to curb your sweet tooth in 14 days.
Tim Hortons Mocha Iced Capp
Per large (32 oz)
: 590 calories, 12 g fat (10 g saturated fat, 0 g trans fat), 520 mg sodium, 102 g carbs (2 g fiber, 86 g sugar), 20 g protein
Dubbed the "ultimate drink of summer" by the coffee chain that created it, this calorie- and sugar-filled beverage is definitely not something you should sip on if you want to look your best on the beach. Ditch a fair share of the calories and sugar by opting for the Iced Mocha with Cream instead. It serves up a similar creamy texture and refreshing taste without blowing your diet.
McDonald's Caramel Frappe, Whip and Caramel Drizzle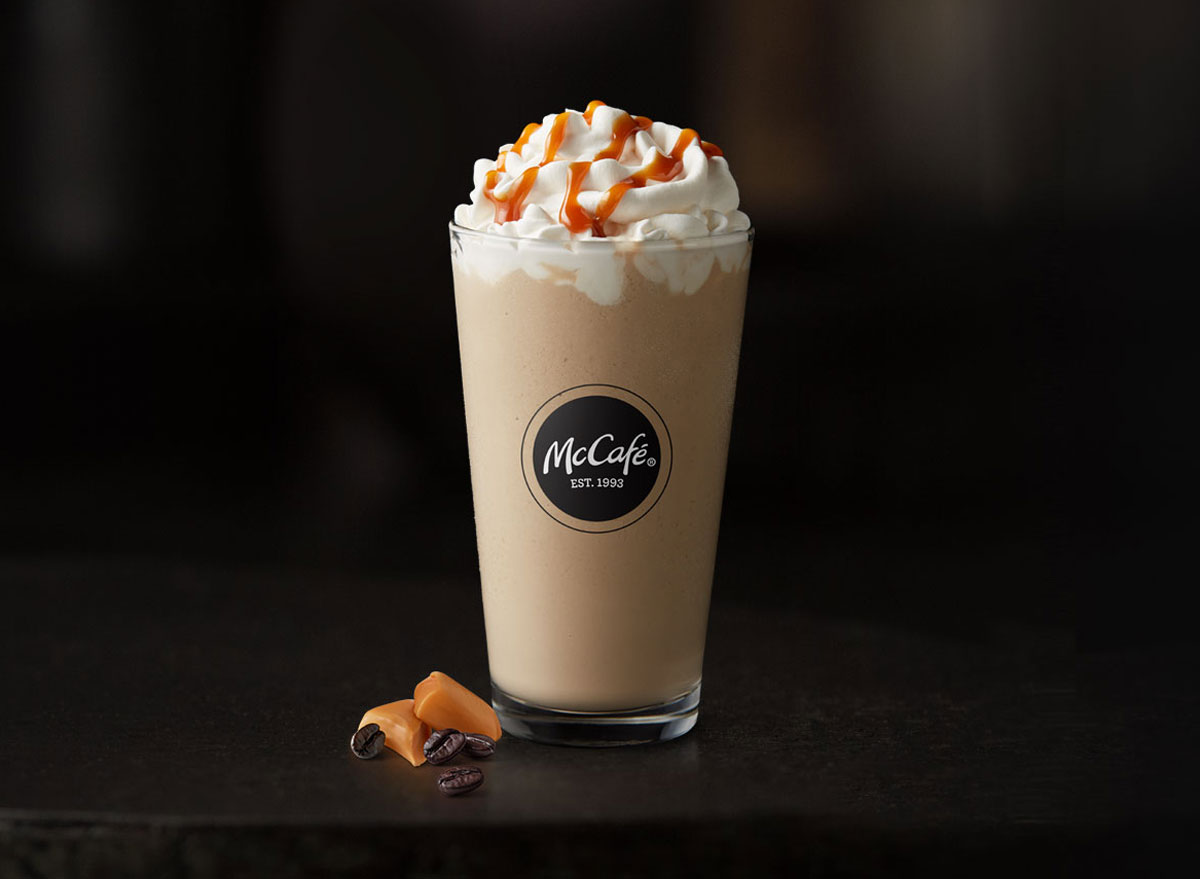 Per large (22 oz): 670 calories, 27 g fat (17 g saturated fat, 1 g trans fat), 200 mg sodium, 96 g carbs (0 g fiber, 89 g sugar) 11 g protein
How do you take your coffee: Cream? Sugar? How about 9 more grams of sugar than a pint of Breyer' Vanilla Caramel Ice Cream. Scrap the frappe and dodge nearly 500 calories by ordering a medium McCafe Iced Coffee with Caramel Syrup instead. Yes, it's a size smaller, but it serves up just as much coffee as a large frappe. Also, take a look at the best drinks on the McCafe menu.
Caribou Turtle Mocha Cooler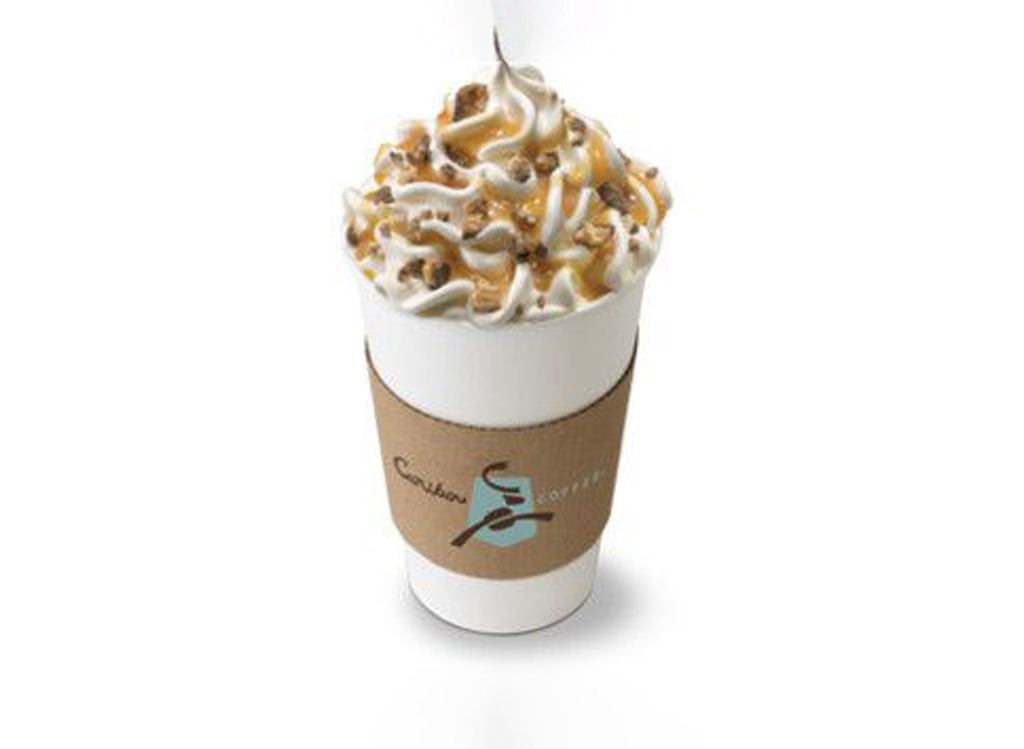 Per large (24 oz)
: 1,070 calories, 35 g fat (23 g saturated fat, 0 g trans fat), 360 mg sodium, 166 g carbs (1 g fiber, 146 g sugar), 8 g protein
Are you really surprised that the ice cream that's traditionally made with chocolate ice cream, toasted pecans, hot fudge, and caramel isn't going to be good for you? Caribou's coffee version serves up more calories than two Big Macs and 146 grams of sugar—or more added sugar than two pints of Ben & Jerry's Peanut Butter Cup ice cream.
Dunkin' Butter Caramel Swirl Frozen Coffee with Whole Milk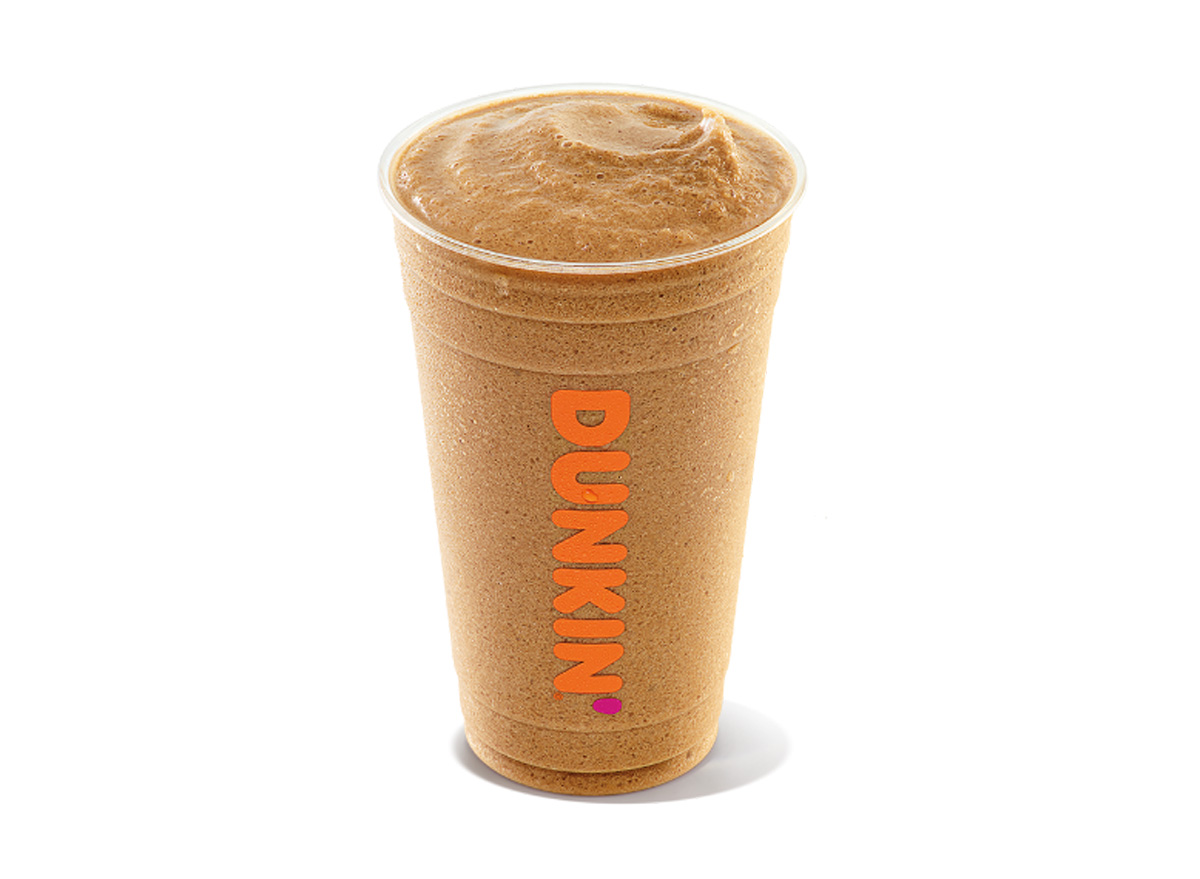 Per large (20 oz)
: 880 calories, 11 g fat (7 g saturated fat), 240 mg sodium, 184 g carbs (0 g fiber, 175 g sugar), 11 g protein
Dunkin' Donuts markets this caffeinated abomination as "caramelicious." More like calorie-licious! The frozen drink packs more sugar than you'll find in 58 of the chain's sugar-raised munchkins, and a mind-numbing 880 calories. In fact, for the same calorie punch, you could order a few DD delights, including a Bacon Egg and Cheese on a Croissant, and a Chocolate-Frosted Donut with Sprinkles—and you'd still have 50 calories to spare! Nearly three cups of cream and sweetened condensed milk turn an innocent frozen coffee into a 20-ounce high-fat dessert. As a general rule, cool it on the caloric Coolattas and indulge in a creamy iced coffee instead. Even if you order a large you'll keep 790 calories, 26 grams of fat, and over 112 grams of sugar out of your cup and off your frame. While we're on the topic of unhealthy coffee… have you seen 7 Things You Should Never Add to Your Coffee?
Eat This, Not That!
Inspired by The New York Times best-selling book series, Eat This, Not That! is a brand that's comprised of an award-winning team of journalists and board-certified experts, doctors, nutritionists, chefs, personal trainers, and dietitians who work together to bring you accurate, timely, informative, and actionable content on food, nutrition, dieting, weight loss, health, wellness, and more.
Read more about Eat This