21 Exciting New & Seasonal Aldi Items You Can Score This Spring
Many of Aldi's limited-time finds are likely to sell out, so get there early to snag them!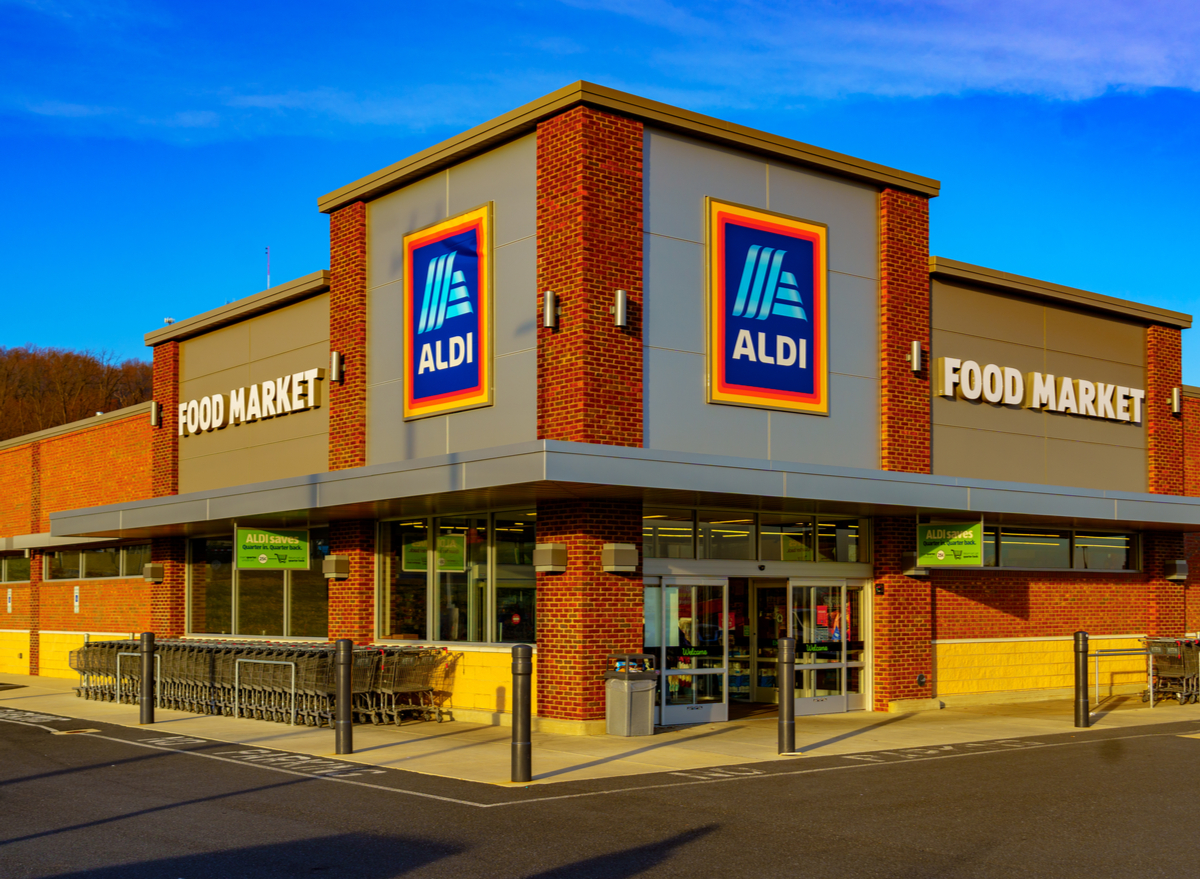 The product recommendations in this post are recommendations by the writer and/or expert(s) interviewed and do not contain affiliate links. Meaning: If you use these links to buy something, we will not earn a commission.
April is fast approaching, and with it comes another month of exclusive finds at Aldi, America's fastest-growing grocery store. 
Fans of the discount grocery chain already know about the "Aldi Finds" section of the store: a weekly, rotating selection of delectable foods and products from the retailer's long list of private-label and national brands, available only for a limited time. 
We've rounded up the items that are bound to pique your interest–both brand-new and returning seasonal finds. But be forewarned: people love their seasonal treats, and many of these items are likely to sell out, so we advise that you get there bright and early to snag them.
Mama Cozzi's Pizza Kitchen Chicken Alfredo Rising Crust Pizza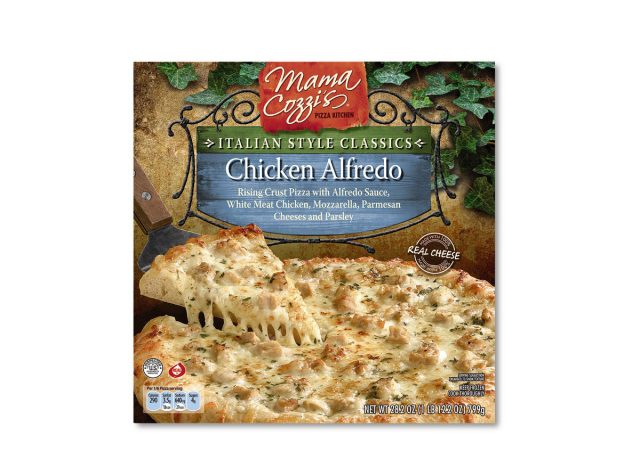 From the Italian-themed private-label brand that never fails to tantalize your taste buds, this take-home frozen pizza from Aldi is built on its signature rising crust and covered in creamy Alfredo, Italian herbs, and bites of chicken. If you like the other flavors, you'll want to try this before it's gone. Pick it up for $5.99 after April 5.
State of Brewing Dragonfruit Imperial Hard Seltzer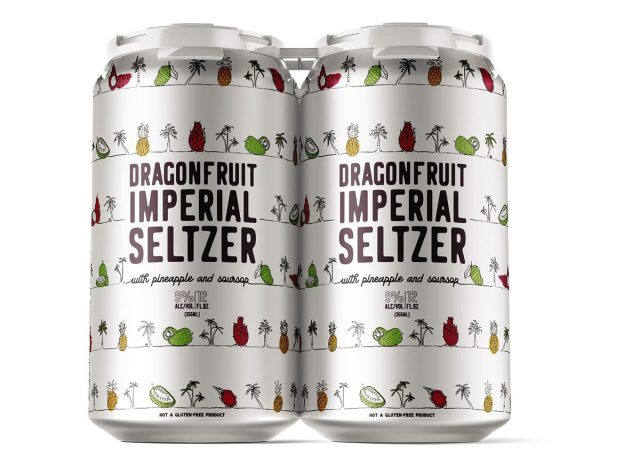 Buzzy seltzers are still trending, and this brand-new fizzy drink with a 9.0% ABV  is uniquely flavored with dragonfruit, pineapple, and soursop to have you anticipating the first sips of summer. According to Aldi, it pairs well with appetizers, cheeses, and dessert, so bring this to your next picnic. Starting April 5, a pack of four 12-ounce cans will be available for $8.99.
Clancy's Milk Chocolate Toffee Pretzels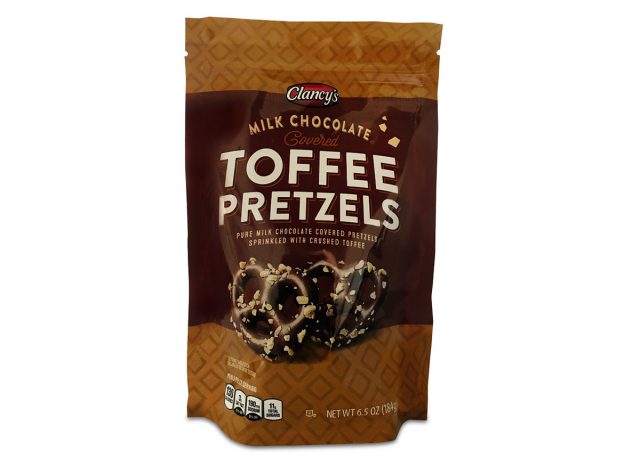 These addictive morsels won't stick on shelves long, even with the week-long timeline of typical Aldi finds. Shoppers found the crunchy, chocolate-covered Toffee Pretzels in March 2021, and they've been obsessed ever since, according to a post by Instagram's @theamazingaldi. "I ate them all. One sitting," one commenter wrote. If you missed them last time, get ready to dash to the aisles on April 5. The Clancy's 6.5-ounce bag will go for $3.29.
Bremer Bistro Soups
Let's face it: spring doesn't arrive all at once, and on those days where the temperature dips down into sweater weather, you'll be glad to have these warm bowls of gourmet-style soup on hand. It comes in two varieties: Broccoli Cheddar and French Onion, which both get positive ratings from online reviewers like Aisle of Shame and Aldi Reviewer. "Bremer Bistro Broccoli Cheddar Soup is a great way to get near-restaurant-quality broccoli cheddar soup in your own kitchen," wrote Aldi Reviewer. "Too bad Aldi only sells it occasionally." Lucky for you, you can scoop this up on April 5 for $4.99 for a two-serving package.
Bake Shop Cheesecake Sampler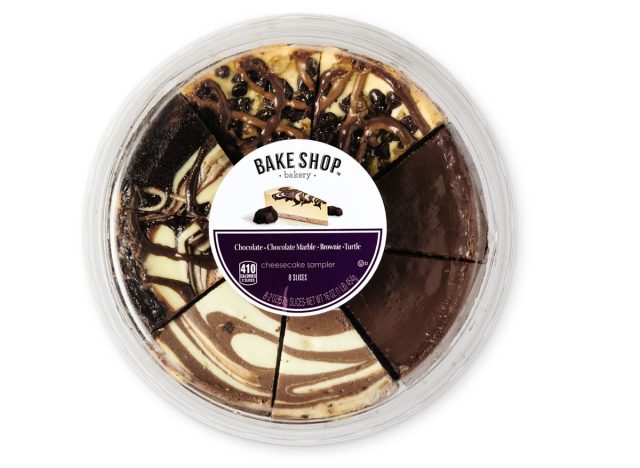 For those events that you want to impress a crowd, here's an easy out: the Aldi bakery's 8-slice sampler of four different kinds of cheesecake. This one definitely caters more to the chocolate lovers, with chocolate, chocolate marble, brownie, and turtle flavors in a one-pound box. At just $5.89, we know it's tempting. You have until the week of April 5 to figure out if you'll indulge.
Simply Nature Organic Pesto
If you've been waiting over a year to add this organic pesto to your cart, it's finally back. The Simply Nature line pops up again with its non-GMO varieties of pesto on April 12. You can choose from the classic green Pesto Alla Genovese or a red tomato-based Pesto Rosso. Or, buy both. Instagram's @aldiforpresident posted the jars of pesto in January 2022, and they received high praise. From one commenter: "Their pestos are top tier. I love to use them as sandwich spreads." Each one is $2.99 for 6.7 ounces of the pasta sauce. 
Simply Nature Fair Trade Organic Tea Blends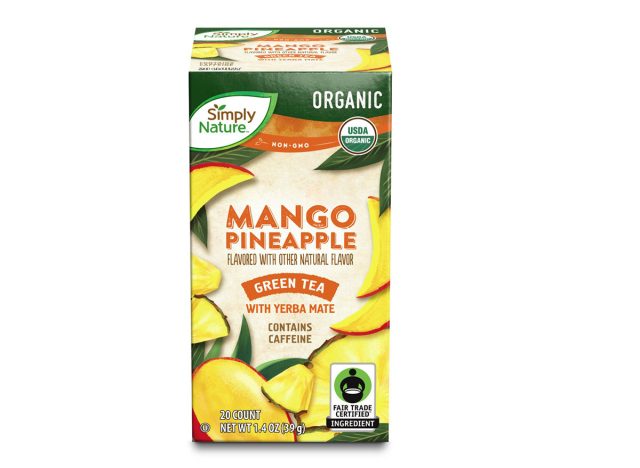 As the days warm up, many will reach for a cold drink to hit the spot. Simply Nature comes out with these all-new blended organic tea bags on April 12, and you can choose from three flavors–Mango Pineapple Green Tea with Yerba Mate, Hibiscus Berry Herbal Tea, Ginger Peach Black Tea–at $3.99 for a 20-bag box.
Season's Choice Harvest Grain Bowls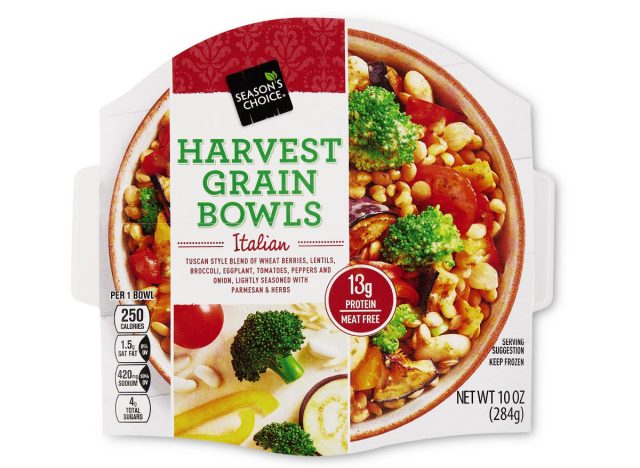 Sometimes you don't know what to eat for dinner, and cooking just isn't on the agenda. These hearty bowls of protein, grains, and veggies might do the trick. You may have seen these earlier this year, as an Aldi Find in January 2023. They'll be back on April 12 for an easy, meatless microwavable office lunch. 
The Italian bowl comes with wheat berries, lentils, broccoli, eggplant, tomatoes, peppers, onions, parmesan, and Italian herbs, and the Southwest bowl has rustic grains, beans, corn, peppers, tomatoes, onions, garlic, lime, and cumin. Both vegetarian options boast 13 grams of protein. For $2.99 per serving, it's worth a try.
Specially Selected Cauliflower or Chickpea Gnocchi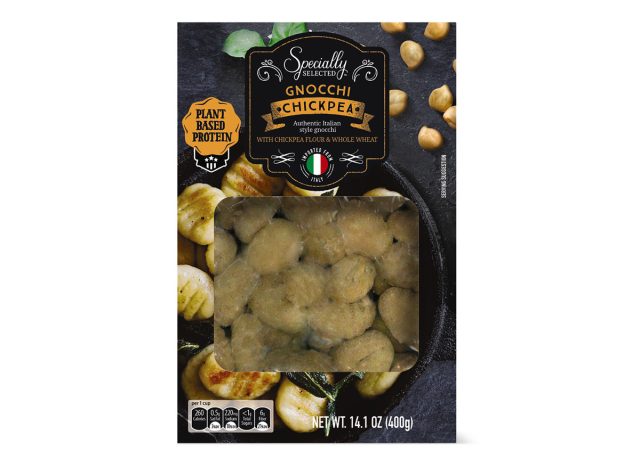 If you were a fan of the vegetable-based gnocchi that comes and goes, it'll be back on April 12. These Italian-style pasta pillows come in gluten-free Cauliflower and plant-based Chickpea. The best part is, it's dietician-approved. For a two-serving package, $2.99 isn't half bad, though people do have mixed reviews on the recommended cooking method. If you don't enjoy the texture after it's been boiled, shoppers on Reddit recommend baking the gnocchi in the oven or throwing them in the air fryer with extra seasoning.
Stonemill Flavored Pink Salt
While the potential health benefits of pink salt are still debated, it's certainly a specialty item that looks good in your kitchen cabinet. Even more exciting: these aren't just any old Himalayan pink salt shakers. The new Stonemill offerings have a kick, blended with spices like herbs, chili, and garlic. Choose your pick on April 12, where you can buy an 8.8-ounce jar for $3.99.
Sundae Shoppe Non-Dairy Cashew Milk Pints
Want ice cream with none of the milk? Vegan dessert lovers, say hello to a new seasonal addition to the Sundae Shoppe repertoire. Try the cashew milk-based Double Caramel, Peanut Butter Chocolate Chip, or Chocolate Brownie for $3.49 per pint, beginning April 12.
Earth Grown Non-Dairy Cookie Sandwich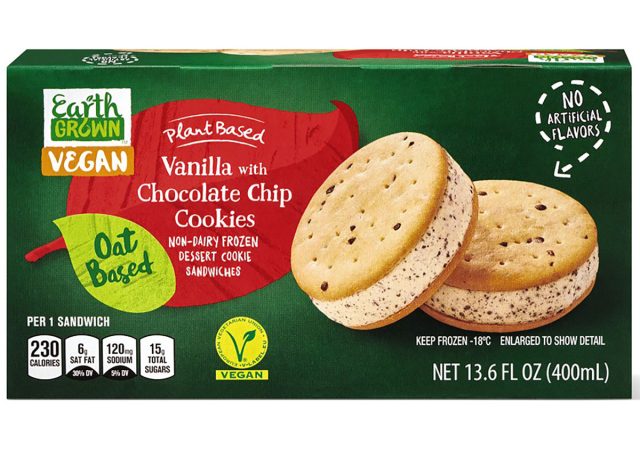 At the height of decadence, Aldi's plant-based brand is bringing back this vegan-approved dessert–a stack of oat milk vanilla ice cream sandwiched between two chocolate chip or cocoa cookies–but only for a week after April 12. They're pretty popular, so we suggest you get your hands on them quick, before this reviewer buys them all: "These are awesome.. my only negative thought…is I'm afraid they will go away…I must make room in my freezer for a hoarding event." A box of four cookie sandwiches goes for $4.29.
Southern Grove Flavored Almonds
This Aldi brand is known for its flavored twists on the heart-healthy snack, so these spiced almonds are really no surprise, but they are more fun to munch on. During the week of April 19, you can pick up a bag of spicy Korean-style Gochujang Almonds or the sweeter Moroccan Spiced Almonds for $5.69.6254a4d1642c605c54bf1cab17d50f1e
liveGfree Gluten-Free Egg Rolls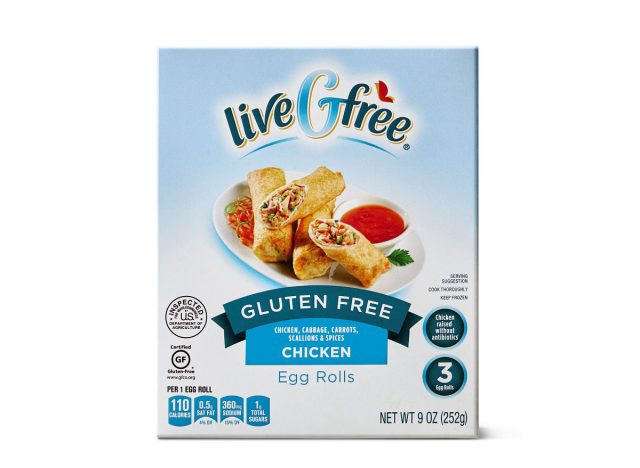 Most egg rolls contain flour, but not when you're getting them from Aldi's gluten-free brand. liveGfree carries all sorts of sans gluten alternatives for the foods you love to eat–like the Chinese-style egg rolls, available once again at Aldi on April 19. The Chicken Egg Rolls are made with poultry, vegetables, and spices. Vegetarians can enjoy Vegetable Egg Rolls with vermicelli instead of meat. A box of three egg rolls sells for $6.49.
Specially Selected Assorted Mini Layer Cakes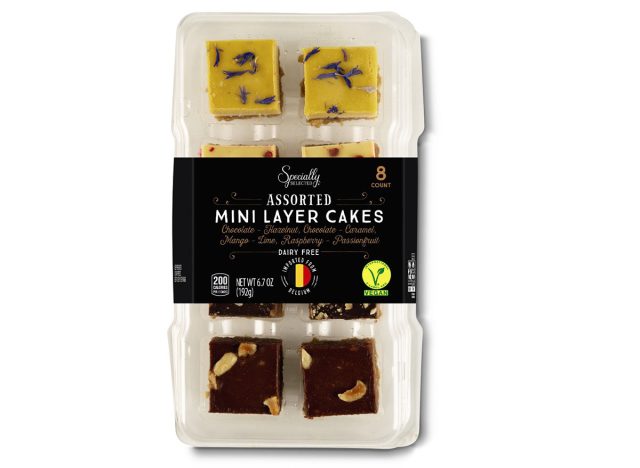 Another one for the plant-based palate, these vegan, square-shaped Belgian layer cakes come in twos: Chocolate Hazelnut, Chocolate Caramel, Mango Lime, and Raspberry Passionfruit. Buy one to try with a friend alongside afternoon tea, or show up to a gathering ready to knock everyone's socks off. The best part? This elegant selection of cakes is $5.49 for an eight-count box, starting April 19.
Sundae Shoppe Chocolate Enrobed Fruit Bars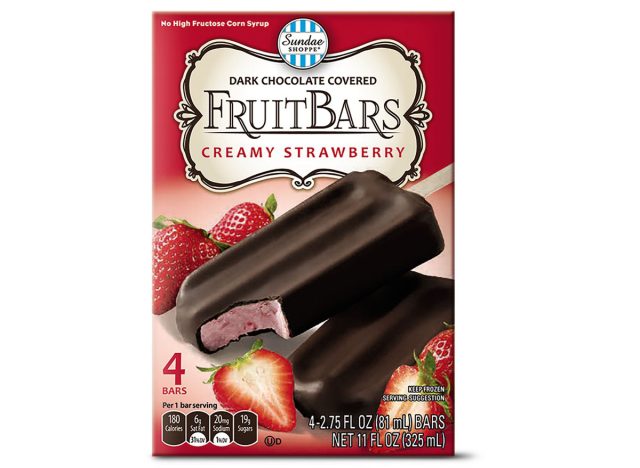 The last time these dark chocolate-covered ice cream bars showed up at Aldi, they gained a small but mighty following. One Reddit thread suggests that shoppers wish that the ice cream was available year-round. "They need to make this a permanent item," a poster wrote. "I had this two years ago and never thought they would bring it back!"
These Sundae Shoppe Fruit Bars are making their long-awaited reappearance on April 19, albeit only for one week. Run to the frozen dessert section and satisfy your sweet tooth with Creamy Strawberry, Creamy Banana, or Creamy Coconut & Chopped Almonds. The four-count box is a steal at $3.59.
liveGfree Gluten-Free Donuts
Since it's usually a delicacy that the gluten-averse have to forgo, the liveGfree Donuts are a rare gem. Without yeast, the fried dessert still manages to be light and airy, according to a blog focused on gluten-free baking. If you're already a fan, get ready to be reunited on April 19. The package of six full-sized doughnuts is $4.99 and comes in glazed and chocolate frosted, so you're bound to find one you prefer.
LesserEvil Space Balls
The snack company LesserEvil has graced the shelves of Walmart and Whole Foods since January, and soon enough, it will arrive at Aldi, bringing "cleaner" snacking to this value supermarket. These gluten-free seasoned corn puffs are made with organic avocado oil and Himalayan salt. Starting April 19, you can get your savory kick with Interstellar Cheddar and settle your sweet craving with Cinnamon Sugar for $2.99.
Sundae Shoppe Strawberries and Cream Rose Cones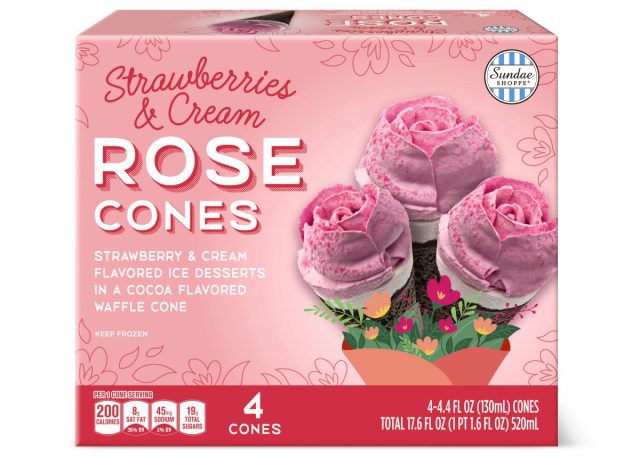 The viral petal-tipped ice cream by Aldi's dessert label is on its way back. On April 26, the Strawberries and Cream Rose Cones may be found in the frozen section. We're hedging our bets because these cute, Insta-worthy treats are hard to come by. 
Beauty blogger Musings of a Muse wrote last year about searching high and low before finally locating a box: "I made my boyfriend drive all over New York trying to locate these Aldi's Rose Ice Cream Cones! They released around Mother's Day and I could not locate them to save my life…Until now!" You can bet others are going to sprint to their nearest Aldi to make sure they don't miss out on this $3.99 deal for four exquisite ice creams–so put it at the top of your list if you're hoping to grab one.
Clancy's Cinnamon Churros
Likened to Taco Bell's cinnamon twists, this snack-slash-dessert is great if you're craving something sweet and crunchy. Fan blog Aldi Things rated it five stars, and the review was met with comments clamoring to bring the seasonal find back to Aldi. "We bought 20 bags and just finished the last one. Wish these were available all year long. 20 bags were not enough," wrote one commenter. Well, wait no longer. You can pick up the three-ounce bag for $1.49 when April 26 rolls around.
Specially Selected Luxury Belgian Cookie Gift Box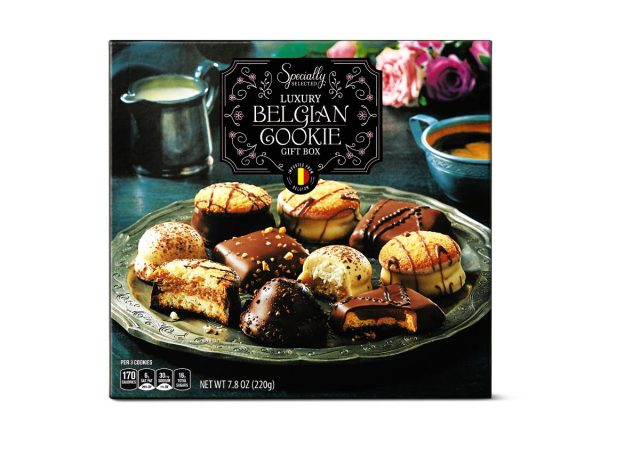 Aldi has a lot of dessert assortments this month, and this Belgian confection selection will be the last–but not least–to arrive in the finds section on April 26. For $7.49, you get to sample six different kinds of imported cookies: Mignardise Vanillais, Ganache Caramel, Perle Noire, Mignardise Café Noir, Ganache Noisette, and Perle Blanche. It's perfect for sharing with friends and family, or even for just treating yourself on a random weeknight.
Sarah Wong
Sarah studied at Northwestern University, where she received a bachelor's degree in computer science and experimented with mixing tech and journalism.
Read more about Sarah