20 Healthy Lunch Ideas That Aren't Avocado Toast
Because avocado toast on your Instagram is so 2014.
We all know that avocado is a fantastic, good-for-you ingredient; it's versatile enough to be sweet or savory, has a fabulous texture, and it's eye-catching on a social media feed. But it's far from the only healthy toast idea. Have you seen the major likes that sweet potato toast has been getting?!
To be clear, we're not saying to ditch your avo-toast or to trade in your avocados for the orange spuds. We're just offering up some other delicious and healthy breakfast, lunch, and snack ideas that taste great, don't need filters to look good, and—most importantly—help boost your body goals! Some still require you to pull out that Ezekiel bread from the freezer, while the other wholesome recipes are totally sans toast.
Canned Salmon Mash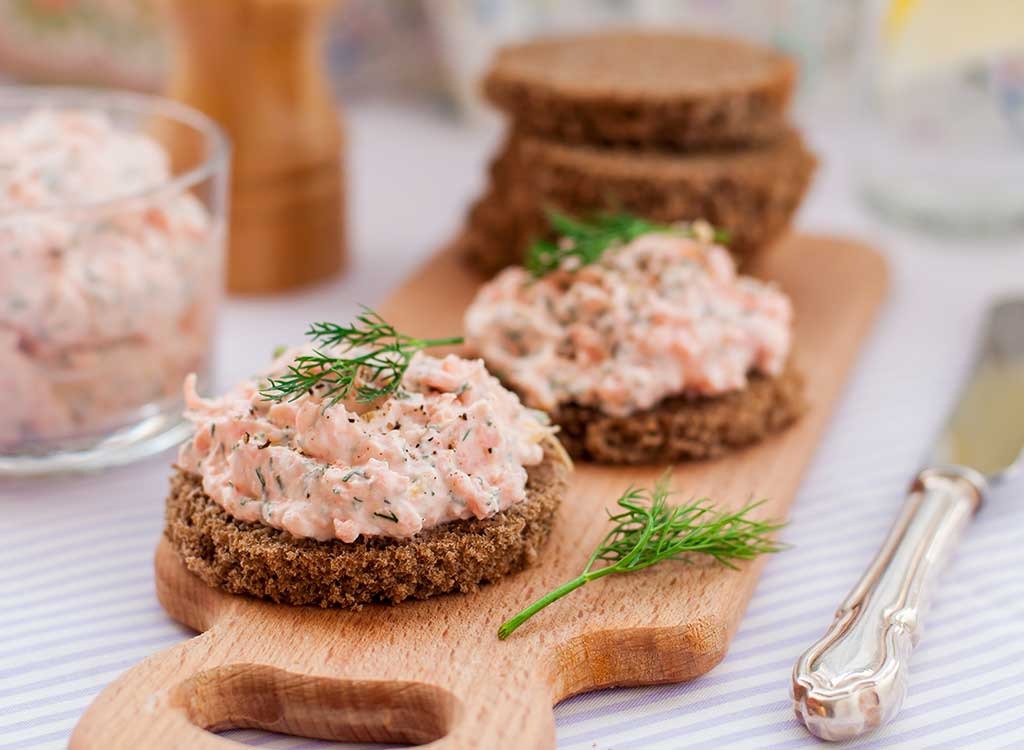 "Mash salmon with onions, spices, salt, and pepper. Stuff the mixture into half of a raw bell pepper," recommends May Tom, resident dietitian at Cal-a-Vie Health Spa. "Salmon contains omega-3 fatty acids that help to relieve depressive symptoms, while DHA is imperative for overall brain health. Meanwhile, the raw bell pepper is a healthy alternative to bread for anyone on a low-carb diet."
Frozen Banana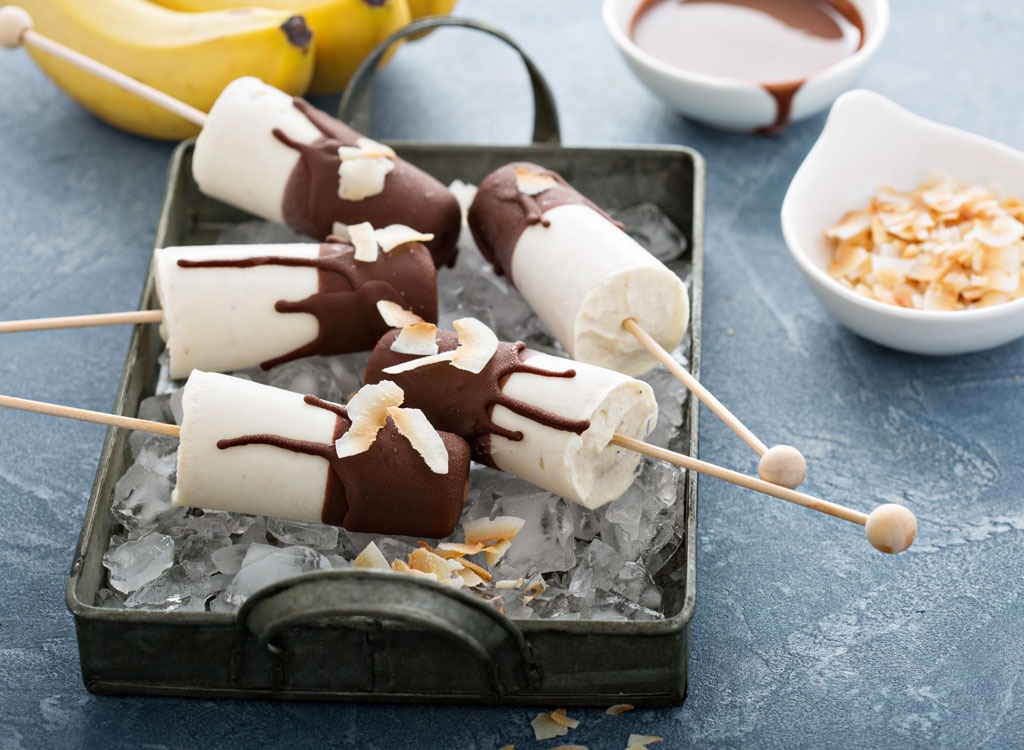 According to Tom, bananas contain a prebiotic fiber called resistant starch that helps feed good bacteria in the gut. "Studies have shown that a healthy microbiome is associated with better mood, so happy gut bacteria makes you happy too!" She recommends rolling a banana in yogurt (ideally fat-free Greek or something with no added sugar) and chopped nuts mix and then freezing it. Next, chop up the banana and layer it on toast or fiber crackers with a thin coating of almond butter. Yum—and fun!
Cucumbers and Fatty Fish
Another way to get your fill of omega-3s is to cut up some slices of cucumber, which will serve as your "bread," and top them with smoked salmon and sprouts. Bonus: Fatty fish is one of the best foods for menopause.
Nut Butter with Energizing Superfoods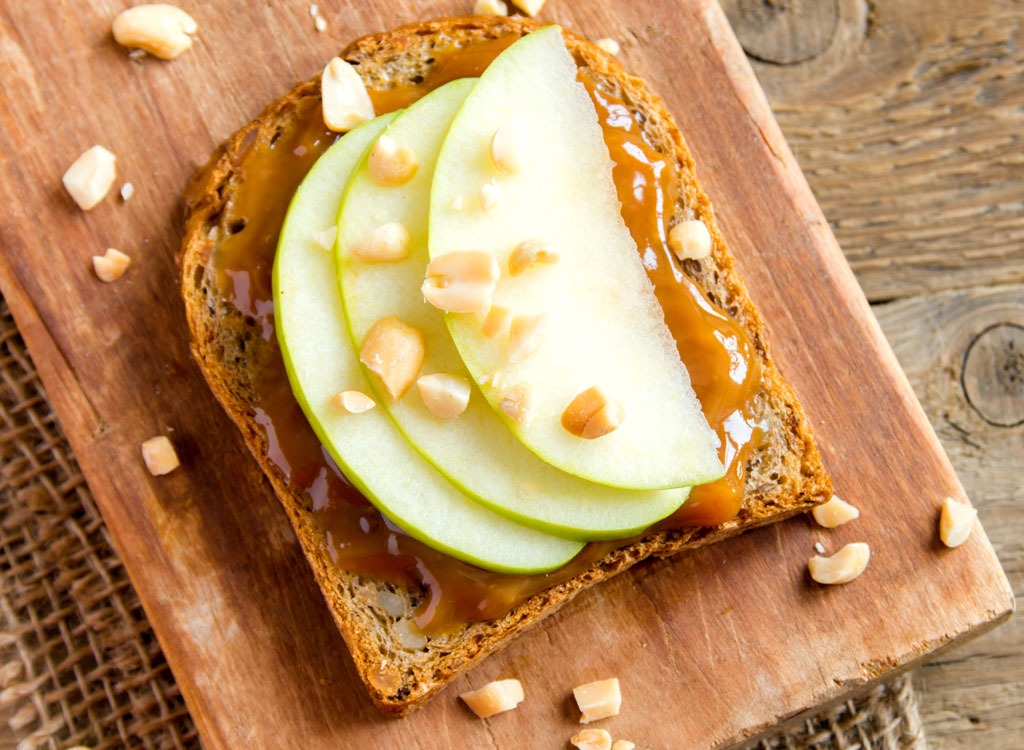 First pick your favorite nut butter—almond, cashew, peanut, etc.—and then sprinkle away! Try a variety of toppings like hemp seeds, chia seeds, dried goji berry, dried mulberries, pepitas, and so on; they will add essential nutrients to your snack, not to mention plenty of visual appeal to any variety of toast.
Raw Vegetables and Hummus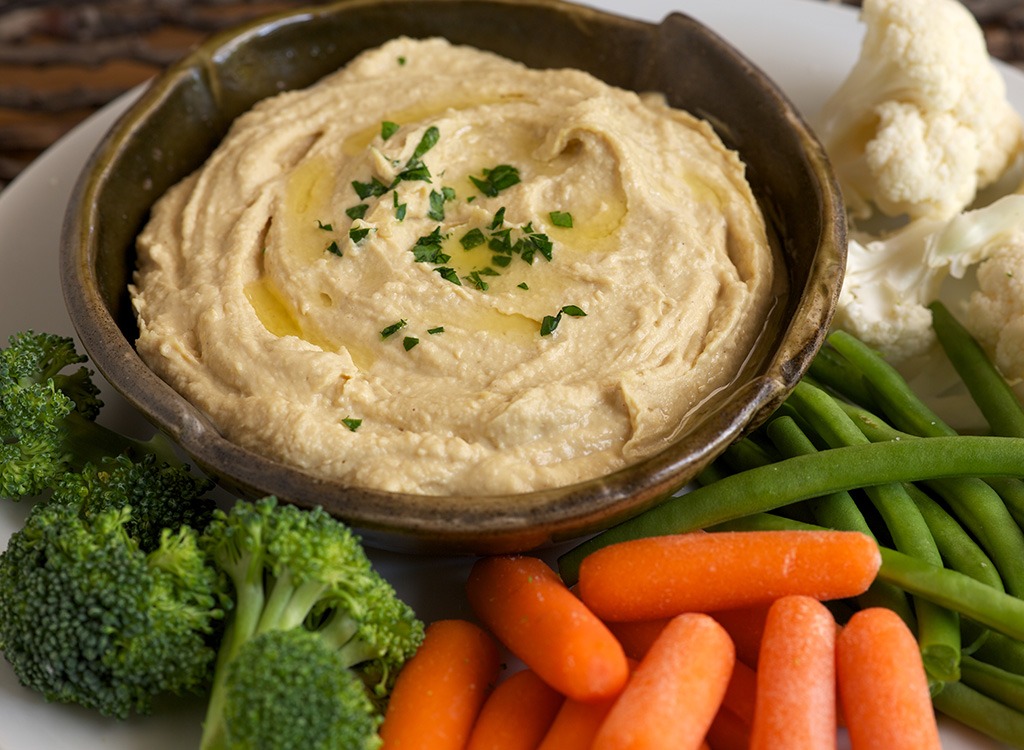 Tom often recommends hummus to her clients because it's rich in healthy fat, protein, and carbs. "Snacks that combine healthy carbs with protein and fat help to stabilize blood sugars and to prolong satiety, which can be very strategic in preventing 'hangry' episodes." She suggests topping your bread or fiber-rich crackers with a layer of hummus and some sliced raw veggies.
Sweet Potato Toast with Cinnamon and Walnuts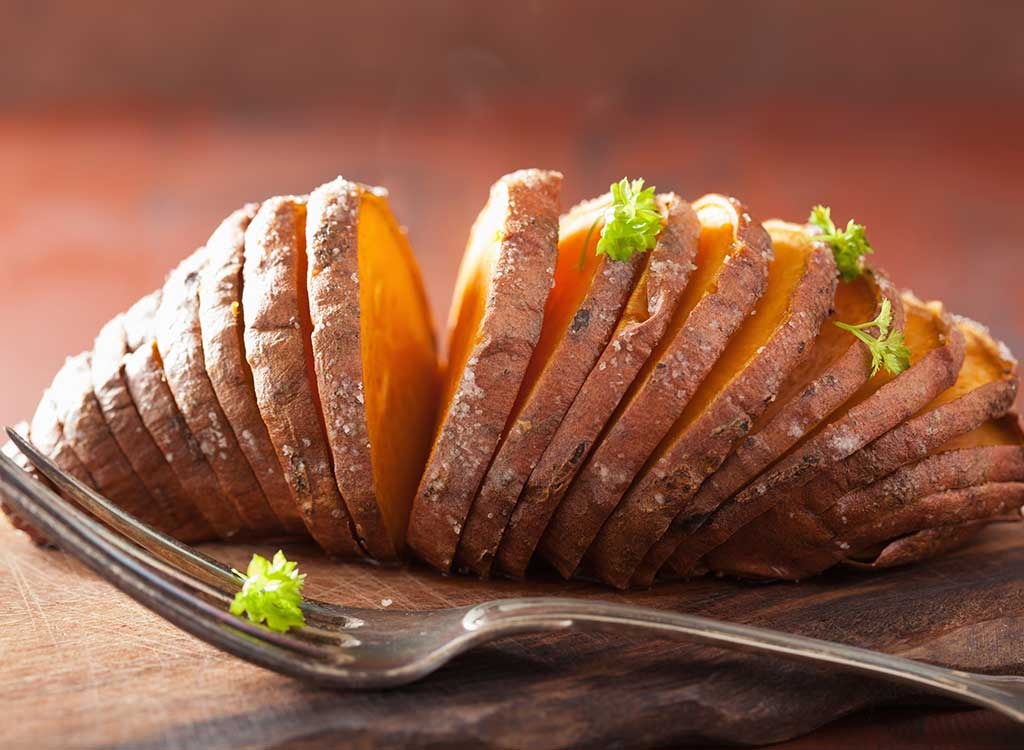 Cut up a sweet potato and pop it in the toaster. Next, sprinkle it with some cinnamon and walnuts. "A sweet potato is a great source of complex carbohydrates, which help raise levels of serotonin, a neurotransmitter that regulates mood," says Tom. "The cinnamon and walnuts will balance blood sugar, too."
Mini Frittata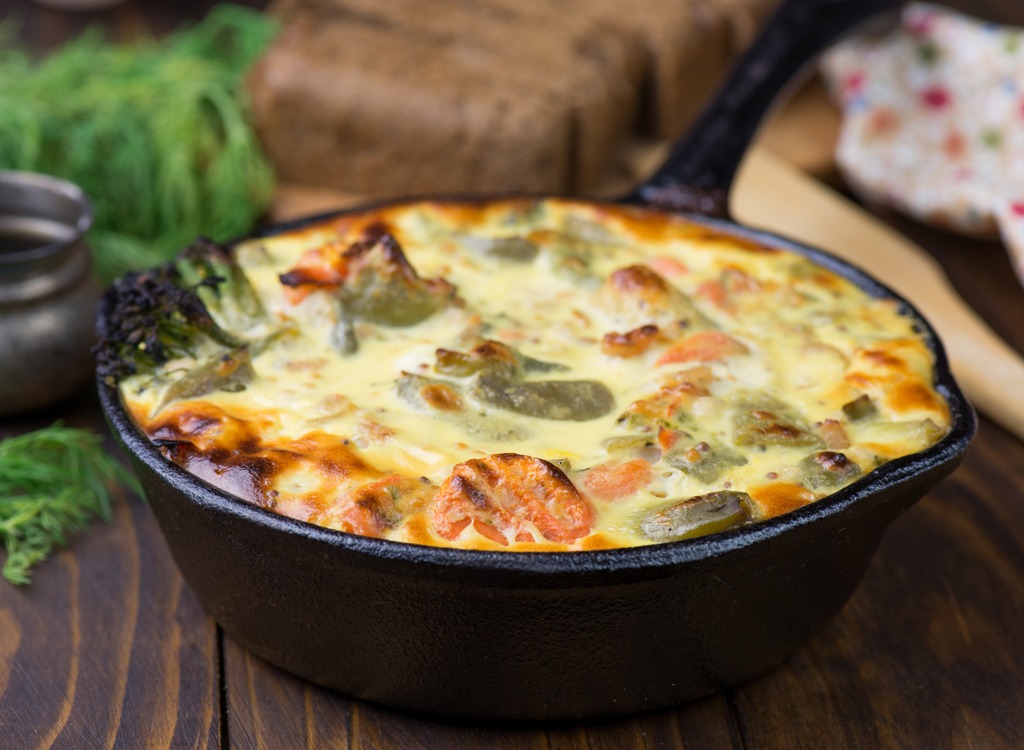 "Eggs are an excellent source of choline, a B vitamin that is a key player in the central nervous system," says Tom. "Studies have shown that people with low choline levels experience more anxiety." Get your fill by whisking eggs with chopped veggies, salt, and pepper. Then bake them in muffin tins to help keep portion sizes controlled.
Cottage or Ricotta Cheese and Berry Preserve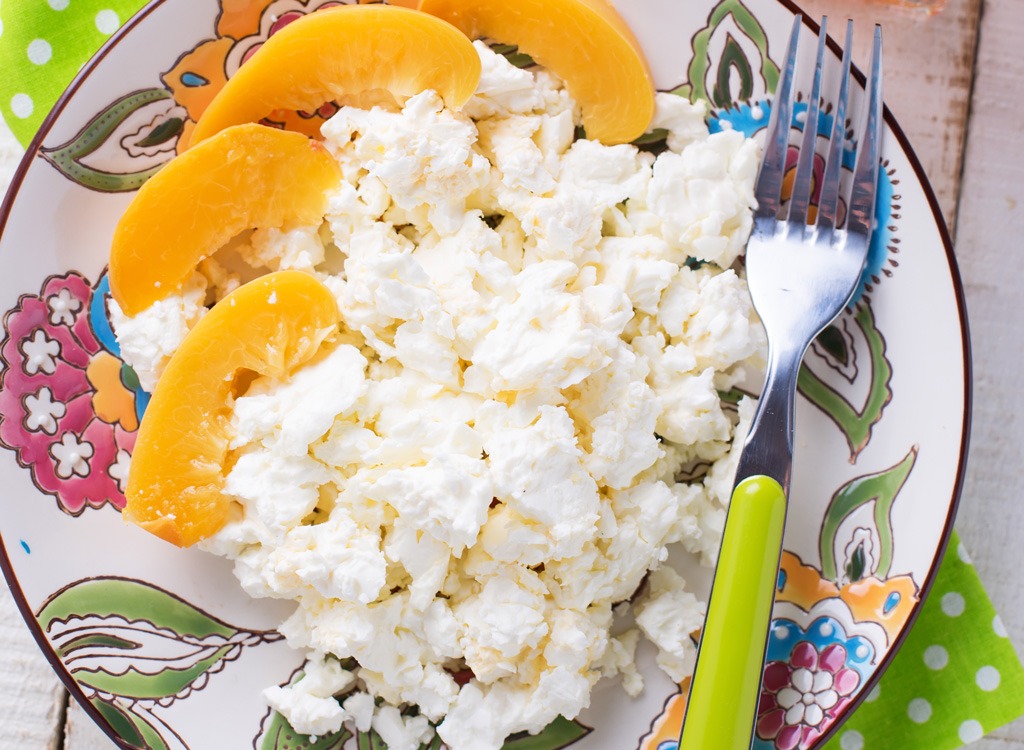 "Cottage cheese and ricotta are two of the highest protein cheeses," says Carolyn Brown, MS, RD, and a nutritionist at Foodtrainers. Add berry preserves to make it a sweet and salty protein breakfast.
Almond Butter, Banana, and Chia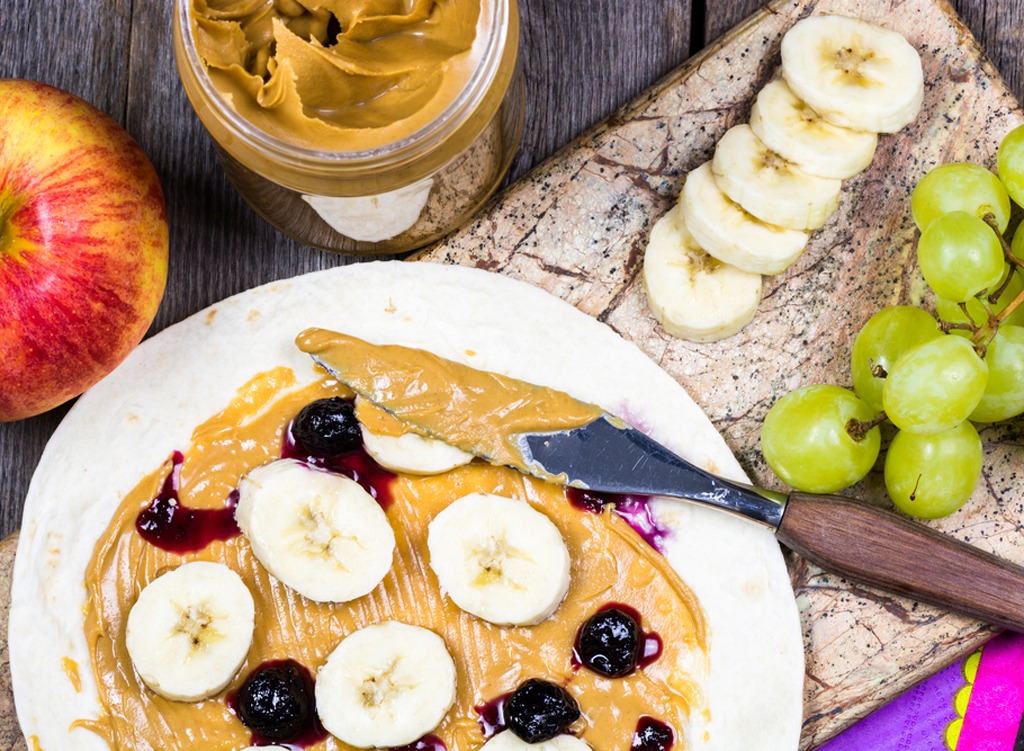 Almond butter has great-for-you fats—and just like peanut butter, it pairs really well with banana. Brown recommends topping your nut butter and banana combo with chia seeds, which will add an extra boost of good-for-you fat and protein that will help keep you feeling full longer.
Ricotta Cheese and Lox
Brown often recommends that her clients snack on a thin spread of ricotta topped with smoked salmon. "It feels like an indulgent weekend breakfast, but it's full of omega-3s and protein, so it's great any day of the week."
Ghee and Cinnamon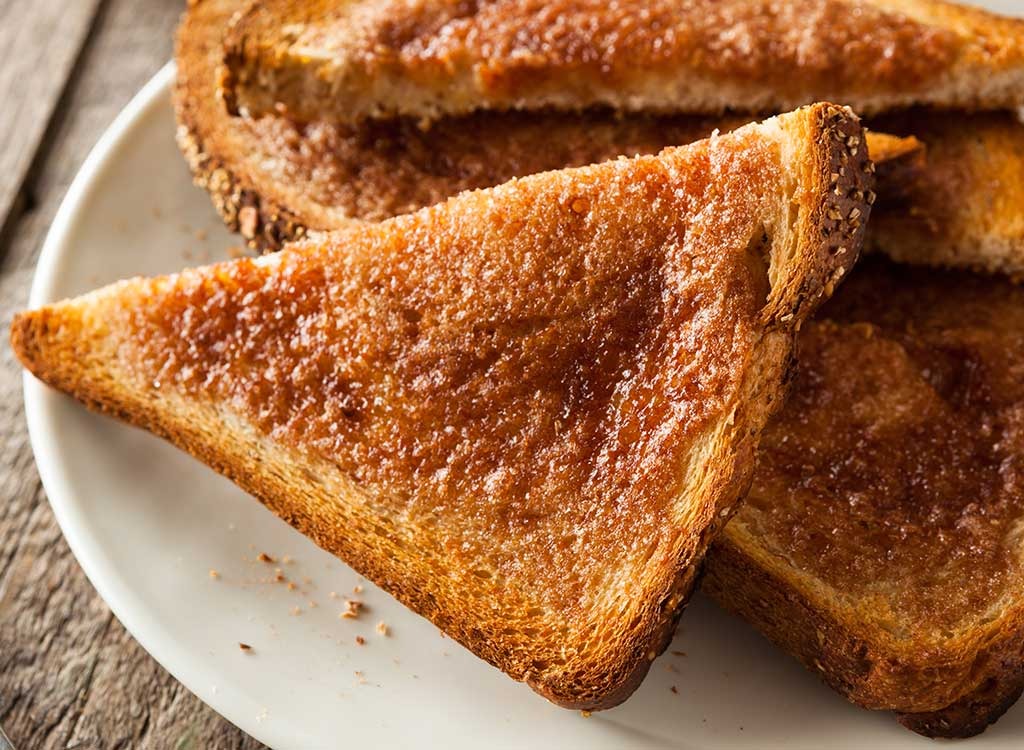 Butter is a combination of butterfat, milk solids, and water; remove the milk solids and water, and you'll be left with ghee aka clarified butter—a butter alternative that helps you cut back on dairy. "These days, it's out with butter and in with ghee," says Brown. "Sprinkle your ghee-layered toast with cinnamon for a sweet and salty breakfast." Cinnamon gives this option extra brownie points because it helps suppress appetite, it can help lower blood sugar levels, and works to reduce the risk for heart disease.
Ricotta, Peach, and Basil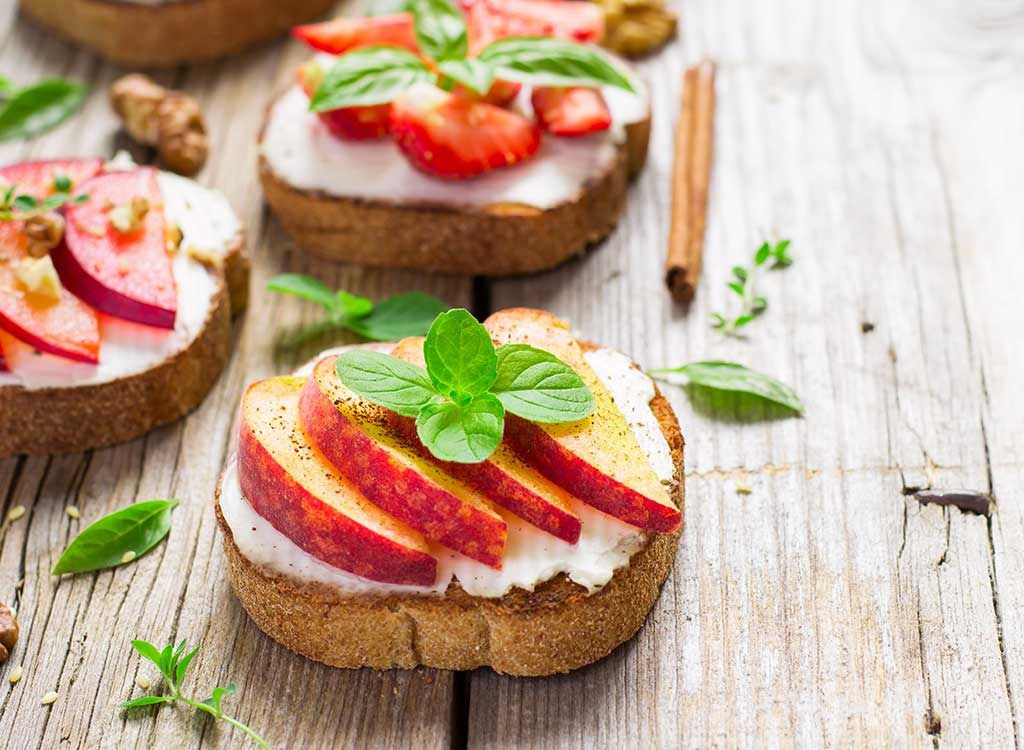 Brown recommends smearing your toast with ¼ cup ricotta, topping with fresh peach slices, and then adding some freshly-torn basil. "It's a unique and delicious flavor combo." Sounds good to us!
Sunbutter and Bee Pollen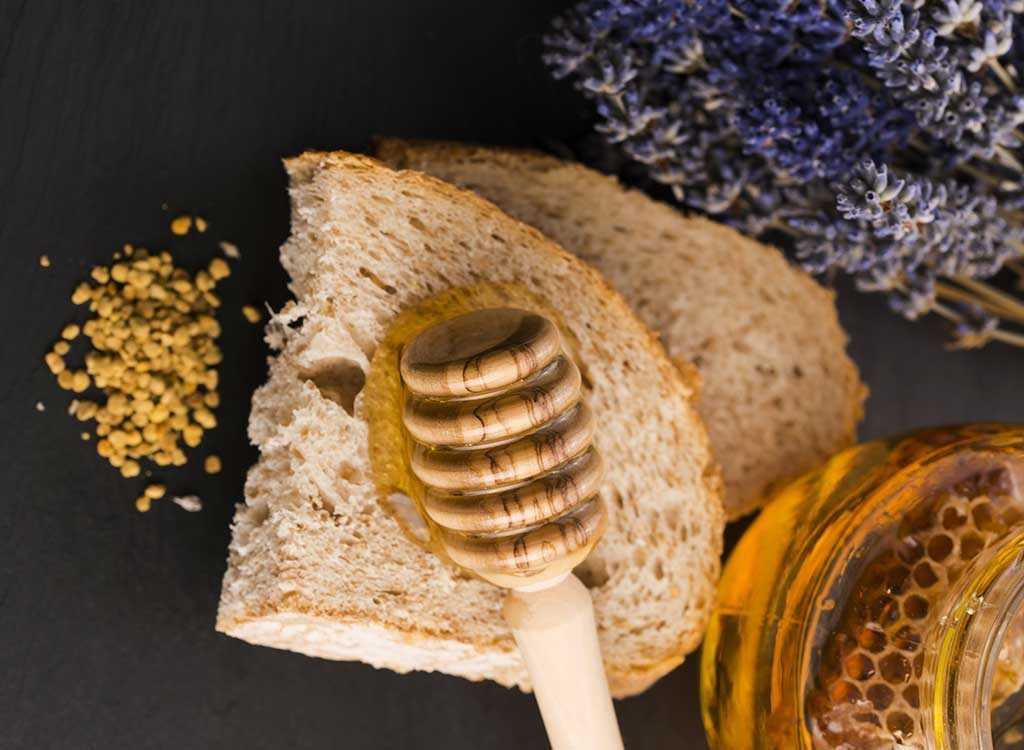 Sunflower seeds help fight belly fat and bee pollen is loaded with B12, making the combination a fantastic option for toast, according to Brown. Bee pollen is also loaded with protein, so this is a great post-workout snack.
Cottage Cheese and Apple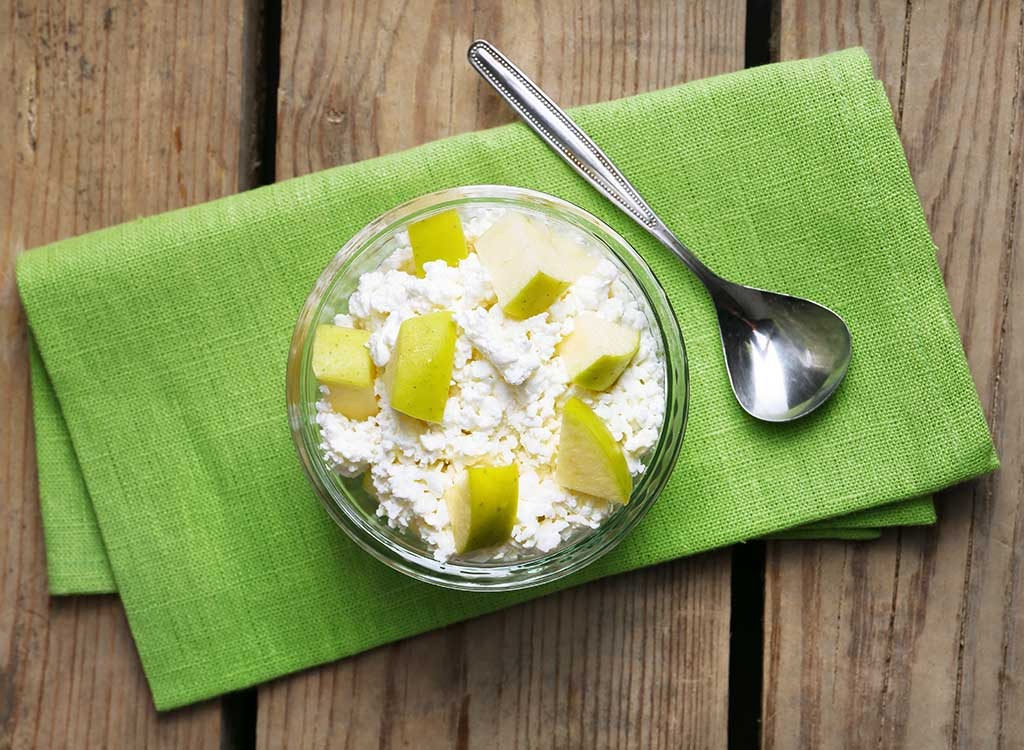 "Cottage cheese is a great source of protein while apple slices add that desirable crunch," says Brown who recommends also sprinkling a little cinnamon for extra flavor and blood sugar benefits.
Hummus and Chili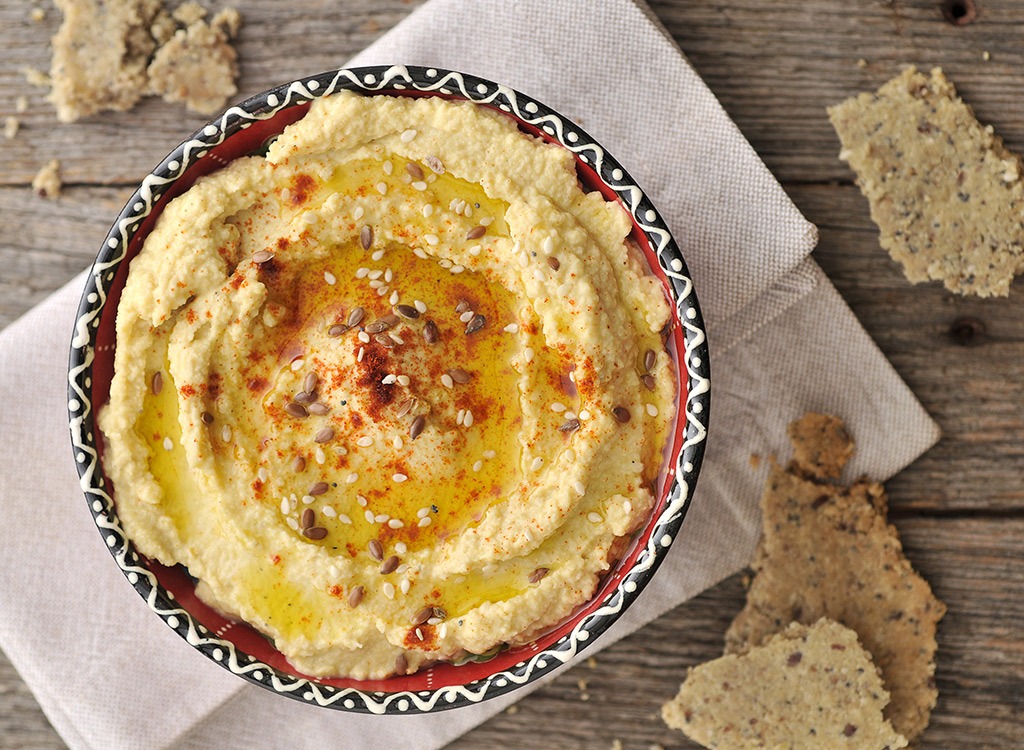 A serving of hummus (bonus points if it's a pretty-colored beet hummus for your Insta feed) topped with chili flakes is not only a delicious combo but Brown says it's a fantastic metabolism booster and appetite suppressant. If foods that give your taste buds a kick sounds like your style, then be sure to check out these spicy recipes that will fire up your metabolism, too!
Chocolate Nut Butter and Strawberries
"I'm a fan of Justin's Chocolate Hazelnut Butter, which goes great with sliced strawberries over toast," says Brown. "You can think of it as a better-for-you version of Nutella." That said, nut butters are high in fat and calories, and strawberries are high in sugar (albeit they're also high in fiber which mitigates blood sugar spikes), so this should still be considered an indulgent avocado toast alternative versus an everyday snack. Yeah, it's healthy, but still eat it in moderation!
Watermelon and Puree
Puree raw peas, broccoli, or asparagus and spread it over your bread. Top it with diced watermelon, feta cheese, and mint. Then sprinkle some lemon zest, and you'll end up with a creamy, crunchy, flavor-packed morning meal loaded with calcium, iron, vitamin A and protein.
Olive Tapenade and Marinated Red Peppers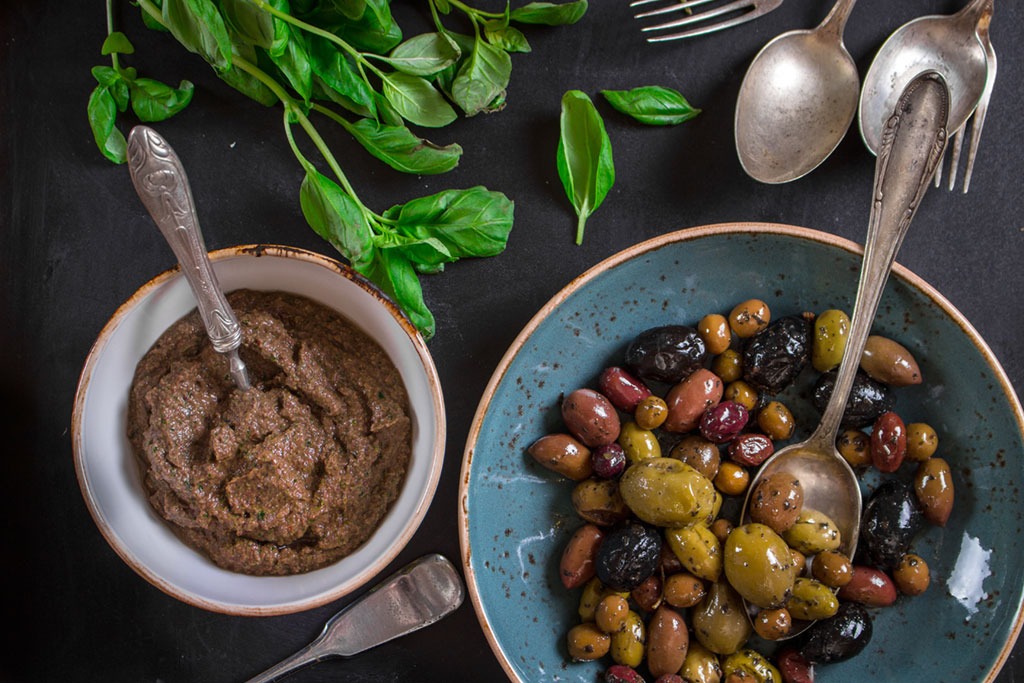 6254a4d1642c605c54bf1cab17d50f1e
Spread olive tapenade on toast and top with sliced, red peppers marinated in olive oil. "Olives are an excellent source of healthy fats and the red peppers are high in vitamin C, potassium, and vitamin A," says Lisa DeFazio, MS, RDN. No wonder they're both on our list of healthiest foods in the world!
Ricotta and Apricot Jam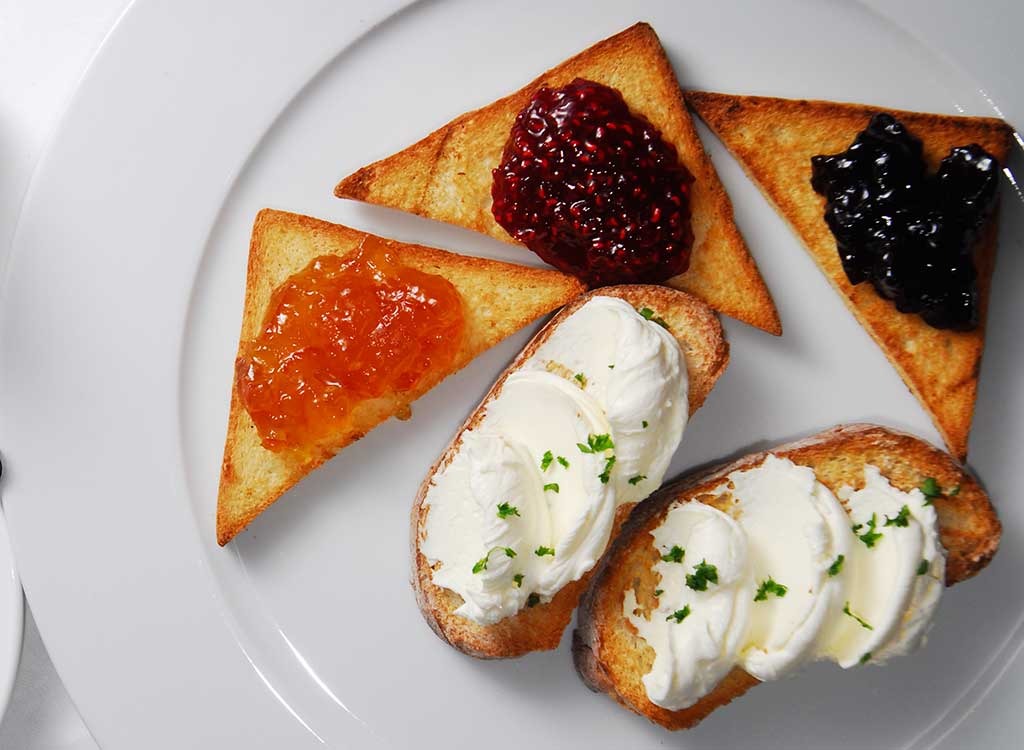 Layer some ricotta cheese on toast and then top it with no-sugar-added apricot jam. DeFazio likes this combination because apricots are high in potassium and the ricotta provides protein and calcium. This is a satisfying post-workout snack or an after-meal mini dessert.
Cottage Cheese Toast with Toppings
"Cottage cheese is something I often recommend for my clients," says DeFazio. "It's loaded with calcium for healthy bones, is high in protein, and is naturally low in fat. Top your toast with plain cottage cheese and sprinkle some chopped pistachios on top." You can also mash a banana (high in potassium) and add that on if you're looking to curb a sweet tooth, or sprinkle raisins and coconut flakes.