7 Bakery Chains That Serve the Freshest Baked Goods
When it comes to stellar baked goods, freshness is key.
The product recommendations in this post are recommendations by the writer and/or expert(s) interviewed and do not contain affiliate links. Meaning: If you use these links to buy something, we will not earn a commission.
People don't technically need pastries or baked goods to get through life, but there's just something about these tantalizing treats that makes the years a little sweeter.
From golden brown, buttery croissants to warm cookies, carb lovers know that it's hard to go wrong with practically any baked good. However, there's just something about a freshly baked pastry or loaf of bread that's completely next level. The superiority of freshly baked goods is especially apparent when you compare them to a subpar baked good crafted to have an unnaturally long shelf life.
If you're lucky enough to live near one, you'll probably find extremely fresh baked goods at your local bakery. But what some carb lovers may not know is that some of the major national bakery chains in the United States are also committed to serving up the freshest bread and pastries.
These types of chains not only make their bakery items every day, but they also bake them on-site so customers always have a hot and fresh treat to bite into. So if you're only seeking out the absolute freshest baked goods, here are the seven bakery chains you should check out.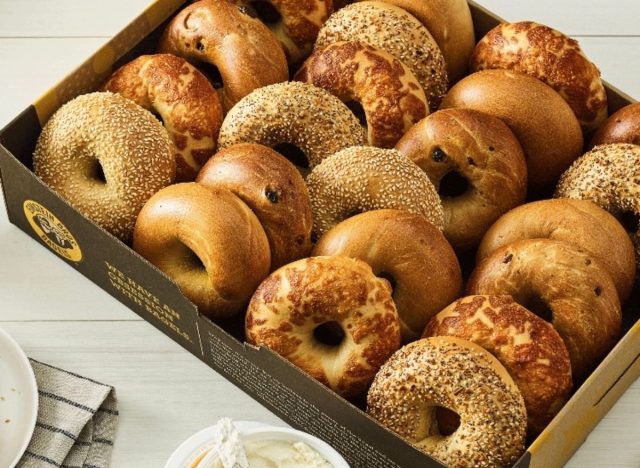 Not only does Einstein Bros. Bagels bake all of their bagels fresh daily on-site, but they have hot bagels coming out of their ovens pretty much all day.
The chain is so dedicated to serving only the freshest bagels, in fact, that bakers arrive at the chain's stores at 2 a.m. every day in order to get started on the first batch, according to the Einstein Bros. website. They'll keep making fresh batches of bagels every four hours in a process overseen by a head baker, who ensures every bagel they serve is up to par.
So whether you head over to Einstein Bros. for breakfast at 7 a.m. or 11 a.m., you can always count on getting something undeniably fresh.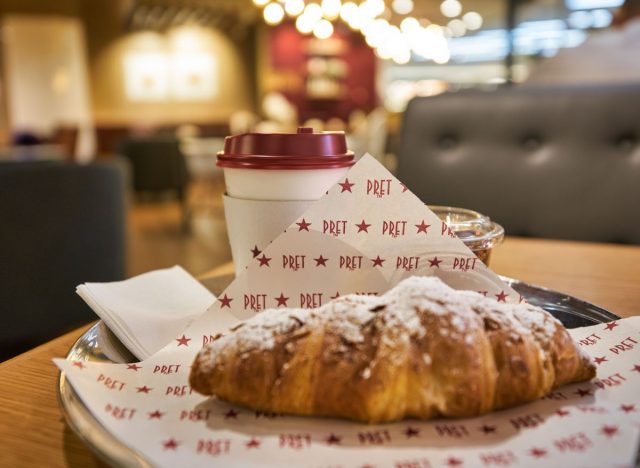 Baked goods and pastries are a key part of the Pret A Manger menu, so it's no surprise that this chain has high standards for those food offerings.
While Pret's bakery items aren't made from scratch at each individual store, they are baked fresh on-site every day. This rules applies to baguettes, croissants, and cookies, according to the chain's website.
Better yet, Pret A Manger doesn't make all of its baked goods at just one set time each day. Bread and pastries come out of the chain's ovens all day, so customers who don't stop by in the mornings won't have to sacrifice on freshness.
Panera Bread puts its in-store ovens to good use by baking up a bounty of fresh bread every day.
The bakery chain operates facilities across the United States that make fresh dough for its restaurants. Once delivered, bakers will proof and bake the dough on-site, giving customers throughout the country access to those hot, fresh loaves.
You can buy Panera's freshly baked items by themselves, of course. But the chain also features its bread in a range of different prepared menu items. The Toasted Baguette sandwiches that Panera debuted in January, for example, are all made with the chain's fresh French baguette.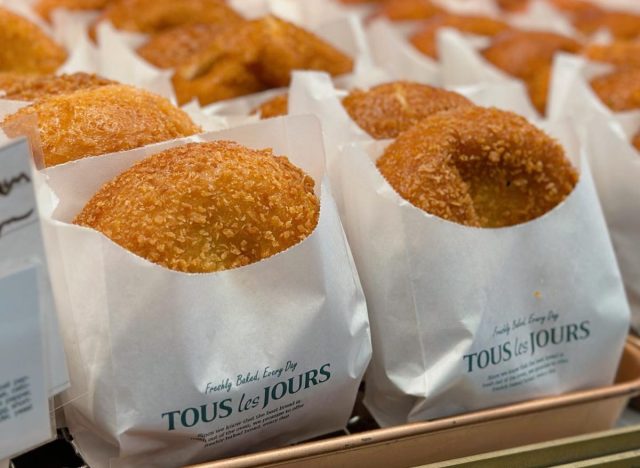 Serving up bread and pastries that are baked fresh every single day is a key part of the business model at Tous les Jours, a South Korean bakery chain with more than 90 locations across the United States. In fact, Tous les Jours means "every day" in French.6254a4d1642c605c54bf1cab17d50f1e
Tous les Jours CEO Tony Ahn told the Franchise Times last year that the chain makes the dough for its French-Asian baked goods, quick-freezes it, and then ships it off to bakeries. Bakers at each store will then start thawing out the dough in the early morning hours and bake it fresh on-site.
"Our philosophy is to bake every day," Ahn said.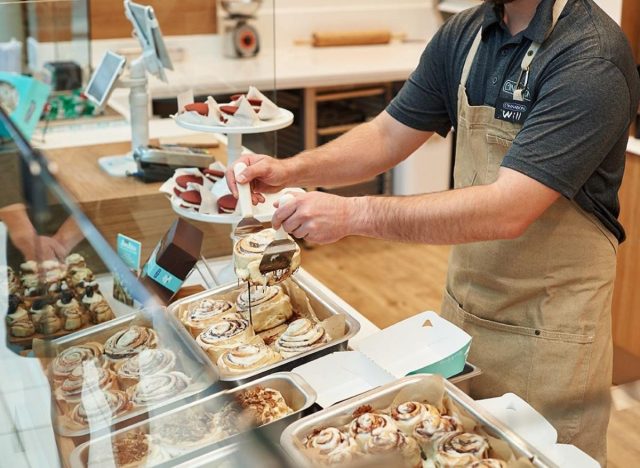 If you've ever smelled the intoxicating scent wafting out of the Cinnabon at your local shopping mall, it probably comes as so surprise that the chain's signature cinnamon rolls are pretty darn fresh.
The chain's former president told the Wall Street Journal back in 2014 that Cinnabon stores bake the rolls at least every 30 minutes (The store's bakers will sometimes even heat sheets of brown sugar and cinnamon just to keep the scent in the air to attract more customers).
The result? A warm, fresh, and often gooey treat that customers have been happily indulging ever since the first Cinnabon store opened in 1985.
Crumbl Cookies has been exploding in popularity—and size—ever since the first shop opened in Utah in 2017.
All of the cookies are baked on-site, per the New York Times. Crumbl workers will then adorn those massive, fan-favorite cookies with indulgent frostings or toppings and serve them up fresh in the chain's signature pink boxes.
Customers can't count on getting the same cookies at Crumbl every week due to its limited, rotating menu. However, they can count on these different cookies always being super fresh.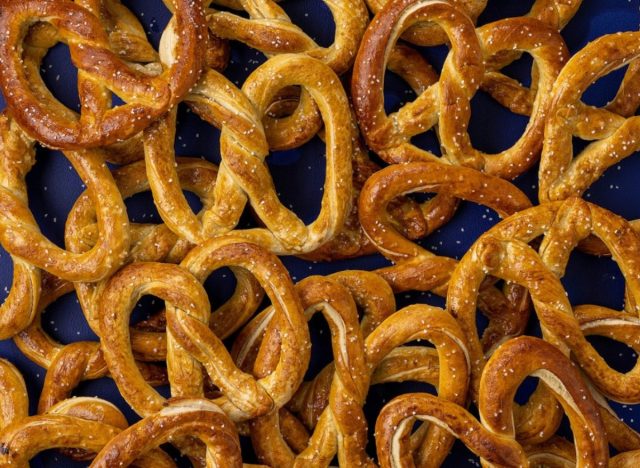 As a chain whose menu revolves around soft pretzels, Auntie Anne's has high standards for the freshness of those signature baked goods. From the classic twisted pretzels to the pretzel nuggets, all of the pretzels are made fresh in stores, according to the Auntie Anne's website.
Customers benefit from this high commitment to freshness because there's no better pretzel than a fresh pretzel. Baking the pretzels fresh also gives customers more opportunities to customize their treat of choice. For example, a guest looking to cut down on their sodium or fat intake can order their pretzel with no salt or without butter.
Zoe Strozewski
Zoe Strozewski is a News Writer for Eat This, Not That! A Chicago native who now lives in New Jersey, she graduated from Kean University in 2020 with a bachelor's degree in journalism.
Read more about Zoe