11 New Cereals In 2023—and Which Ones You Should & Shouldn't Eat
Don't pick up that spoon before getting the full scoop on all the new cereals from our expert dietitian.
The product recommendations in this post are recommendations by the writer and/or expert(s) interviewed and do not contain affiliate links. Meaning: If you use these links to buy something, we will not earn a commission.
There aren't many better ways to start the day than with a bowl of cereal. Splash on some cold milk and perhaps top it with some fresh fruit, and you have a dish that is jam-packed with essential nutrients and is ready to eat in under a minute.
But while most cereals will offer key nutrients like carbs and B-vitamins, some give you more bang for your buck when it comes to fiber, vitamin D, and whole grains. And others can be loaded with added sugars, artificial food dyes, and other ingredients that you are told to limit when you are trying to support our overall health.
2023 has been a big year for new and innovative cereal offerings. Among the new cereal offerings that are popping up on our grocery shelves and virtual shopping carts, some are dynamite when it comes to being a health-supporting option. On the other hand, there are others that are best left for a special occasion and not the best choice as an everyday breakfast, thanks to the nutrients that they may be lacking or the ingredients that make up the product.
If you are a cereal lover and you like to keep up with the new additions to the cereal world, here are some of the newest options that have popped up in 2023 so far.
Best New Cereals
Purely Elizabeth Superfood Cereal with Vitamin D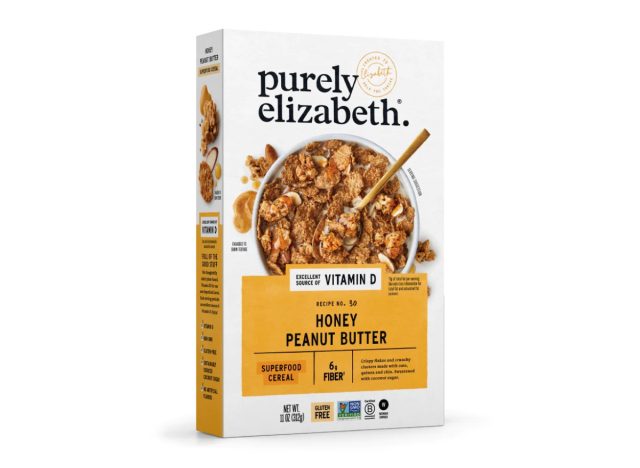 230 calories, 8g fat (4 g saturated fat), 95 mg sodium, 35 g carbs, 3 g fiber, 7 g sugar (incl. 6g added sugar), 6 g fiber, 24 g 5 protein
This gluten-free cereal is made with sorghum, an ancient grain that is a natural source of antioxidants and fiber. Combining the sorghum with other ingredients like certified gluten-free oats, chia seeds, and almonds results in a cereal that contains a whopping six grams of fiber. This cereal also has the added benefit of additional plant-based vitamin D3, which results in a cereal that provides 25% daily value of this important fat-soluble vitamin.
Seven Sundays Oat Protein Cereal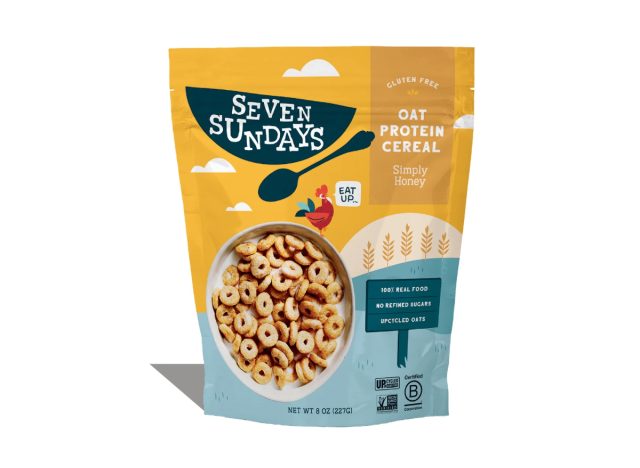 160 calories, 8g fat (4 g saturated fat), 35 mg sodium, 42 g carbs, 3 g fiber, 7 g sugar (incl. 7g added sugar), 5 g protein6254a4d1642c605c54bf1cab17d50f1e
Made with ingredients like upcycled oat protein and upcycled non GMO corn, this cereal is both good for us and good for the planet. Upcycled oats have more protein and fiber than traditional oats, so by virtue, it is packed with important nutrients that promote satiety. It is also free from refined sugars, artificial flavors, and it is gluten-free.
Cheerios Oat Crunch Berries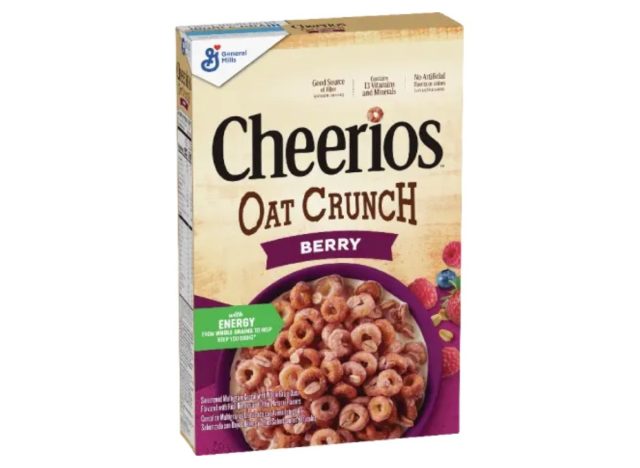 220 calories, 5g fat (0.5 g saturated fat), 220 mg sodium, 25 g carbs, 3 g fiber, 11 g sugar (incl. 7g added sugar), 4 g protein
Cheerios Oat Crunch Berry offers a delicious and nutritious blend of real raspberry, strawberry, and blueberry fruit and other natural flavors that deliver great taste, satisfying crunch, and long-lasting energy. Each serving contains 13 vitamins and minerals, along with 29 grams of whole grains.
Special K High Protein
240 calories, 5g fat (0.5 g saturated fat), 290 mg sodium, 29 g carbs, 3 g fiber, 9 g sugar (incl. 9 g added sugar), 20 g protein
With a whopping 20 grams of protein per serving (26 grams with a 3/4 cup of milk), this cereal will give you more protein than what you would get if you ate three entire eggs. This cereal is made with ingredients like lentil protein and pea protein to pack in the protein. Added B-vitamins and iron give it a boost in the micronutrient department, too.
Three Wishes Marshmallow
130 calories, 2 g fat (0 g saturated fat), 50 mg sodium, 20 g carbs, 3 g fiber, 3 g sugar (incl. 3 g added sugar), 8 g protein
Unlike that "magically delicious" marshmallow cereal of your youth—spoiler alert: the "magic" is sugar—Three Wishes Marshmallow is gluten and grain free, dairy-free, vegan, and with 2.5 times more protein and 75% less sugar than the leading marshmallow cereal.
Kind Breakfast cereal bars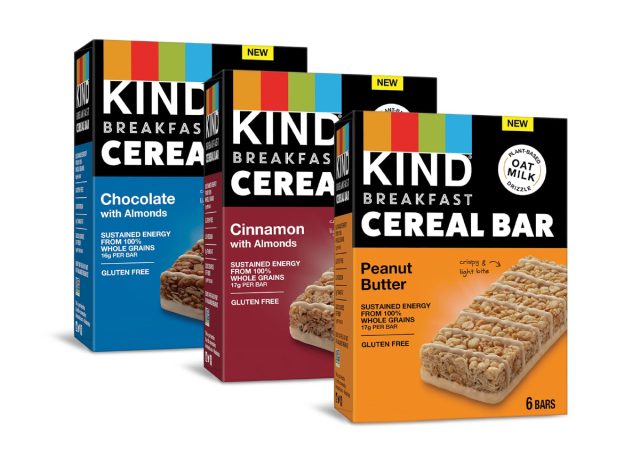 Cinnamon with Almonds: 180 calories, 7 g fat (2.5 g saturated fat), 20 mg sodium, 30 g carbs, 6 g fiber, 9 g sugar (incl. 8 g added sugar), 3 g protein
While these bars aren't true cereal in the classic sense of the word, they make for a great solution for cereal lovers who simply don't have the time to sit down to eat a bowl of the good stuff. Kind Breakfast Cereal Bars are made with whole grain oats and an oat milk drizzle—perfect for an on-the-go cereal option.
Worst New Cereals
Post Sweet Dreams Blueberry Midnight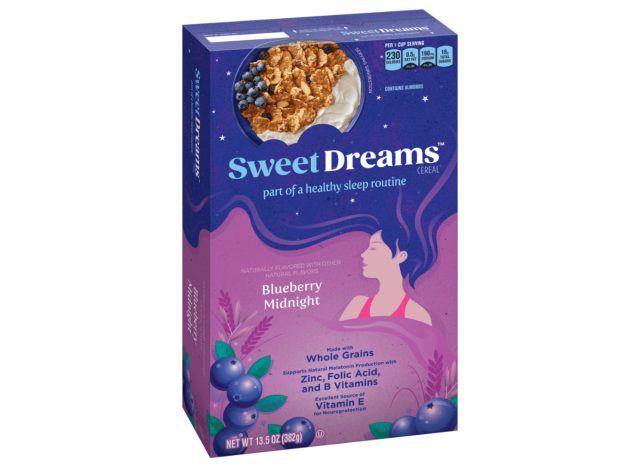 230 calories, 4.5 g fat (0.5 g saturated fat), 190 mg sodium, 46 g carbs, 3 g fiber, 16 g sugar (incl. 13 g added sugar), 5 g protein
This cereal promises to help you get some restful shut-eye. But with 13 grams of added sugar per serving, this may not be the healthiest thing to nosh on before bedtime. If you have trouble sleeping, a cup of cozy chamomile tea may be more in order.
Lucky Charms S'mores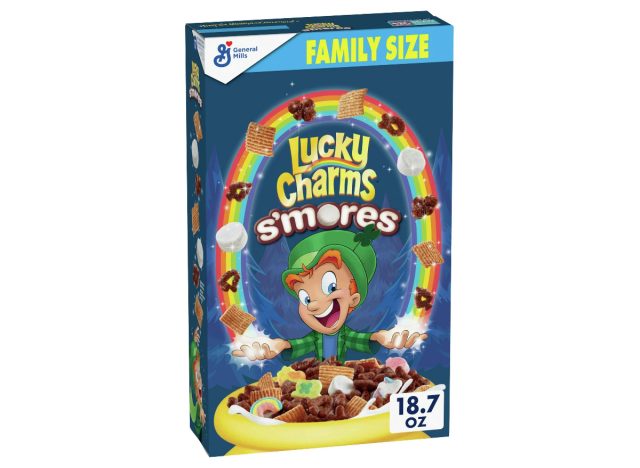 140 calories, 1.5 g fat (0 g saturated fat), 240 mg sodium, 31 g carbs, 2 g fiber, 12 g sugar (incl. 12 g added sugar), 2 g protein
This cereal is fun to eat, thanks to its combo of graham pieces, chocolate cereal, and marshmallow. And it is hardly an "empty calorie" food, as it provides whole grains and 12 vitamins and minerals. But with 12 grams of added sugars, food dyes, and artificial flavors, this cereal is best to be enjoyed on special occasions or as a frozen yogurt topping instead of sprinkles.
Cap'n Crunch Birthday Crunch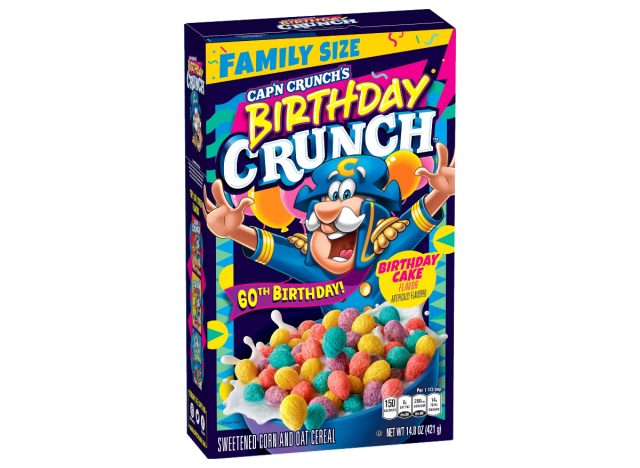 150 calories, 1.5 g fat (0 g saturated fat), 200 mg sodium, 33 g carbs, 1 g fiber, 14 g sugar (incl. 14 g added sugar), 2 g protein
While we are very happy to celebrate the Cap'n's 60th birthday, we can't help but notice that this birthday cake-flavored cereal is loaded with added sugars, artificial flavors, and food dyes. Real-life captains may have a higher chance of seeing their 70th birthday if they swap out sugary and colorful cereal for a better-for-you option once in a while.
Apple Jacks Slime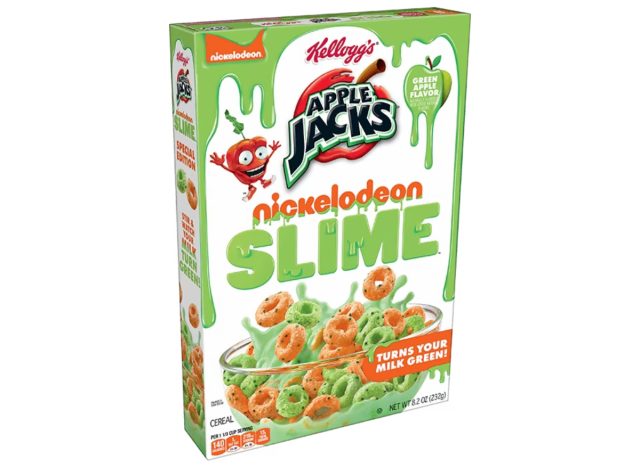 140 calories, 1.5 g fat (1 g saturated fat), 210 mg sodium, 33 g carbs, 3 g fiber, 13 g sugar (incl. 13 g added sugar), 2 g protein
We get it—eating milk that looks like slime is super-cool, if you are a kid. And if you have a kiddo that is slime-obsessed and refuses to eat anything in the morning, this cereal is certainly better than nothing, as it provides vitamins and minerals that many kids don't get enough of every day. But like many of the other sweet newer cereals, this one is made with food dyes and artificial flavors. And it is packed with added sugars, too.
Snoop Cereal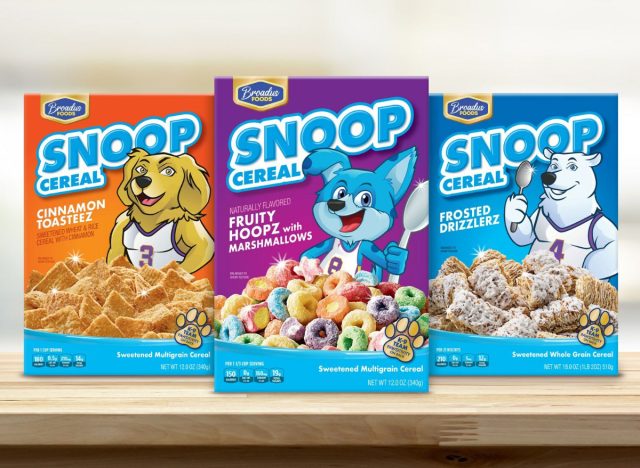 Fruity Hoopz: 150 calories, 0 g fat (0 g saturated fat), 160 mg sodium, 19 g sugar
Is there anything that Snoop Dogg can't do? From jamming out at the Super Bowl to baking a gorgeous cake with Martha Stewart, the hip-hop mogul is one impressive man. More recently, along with Master P, he entered the world of cereal, launching a new line called Snoop Cereal.
These cereals do provide key nutrients in a low-cost vessel, which is an important factor for many families. And with 13% of school-aged kids skipping breakfast, tackling any barrier to eating this meal is certainly a positive factor.
Although the brand has a noble mission—to help tackle homelessness and feed needy families—the cereals themselves are relatively high in added sugar.
Lauren Manaker MS, RDN, LD, CLEC
Lauren Manaker is an award-winning registered dietitian, book author, and recipe developer who has been in practice for almost 20 years.
Read more about Lauren