The #1 Best Breakfast to Eat If You Have Diabetes, Says Dietitian
There are still plenty of delicious options!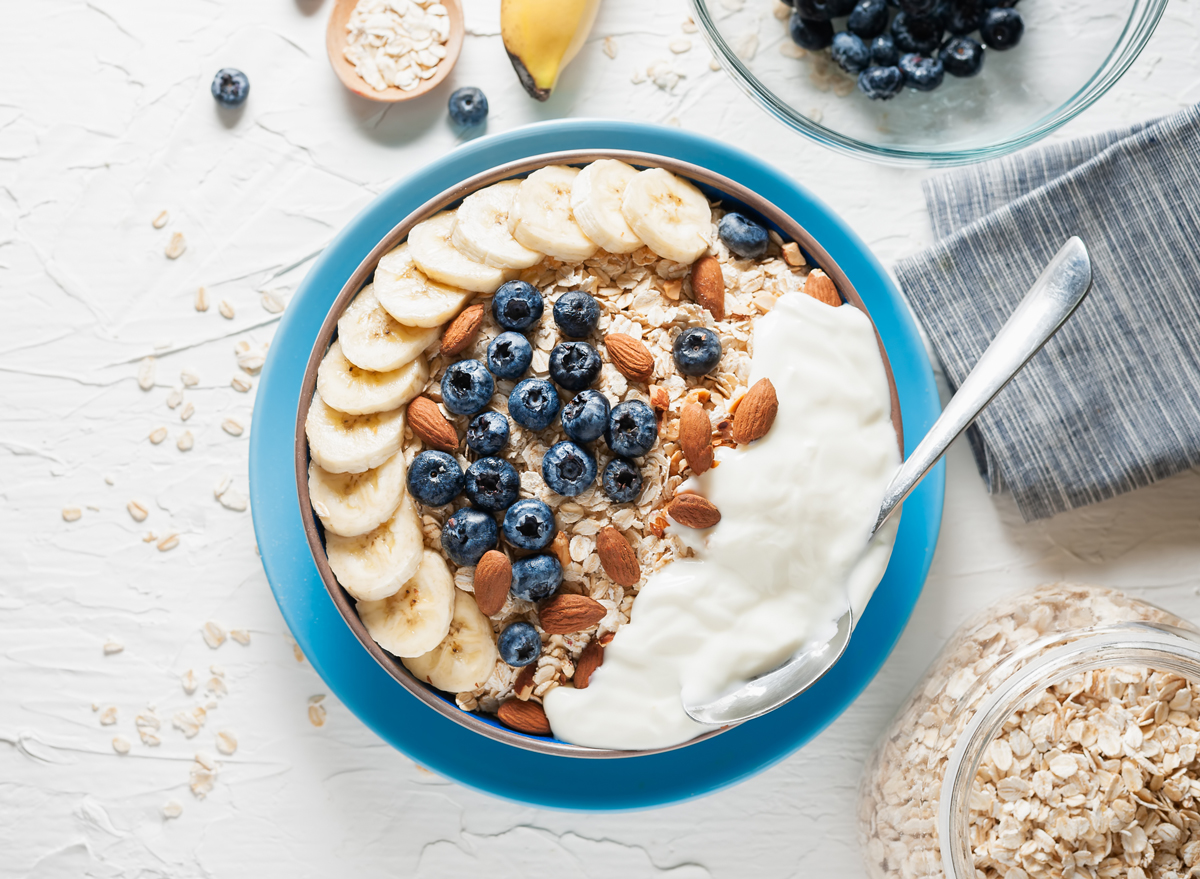 According to the American Diabetes Association, 1.5 million people will be diagnosed with diabetes this year alone. If you're someone who has been newly diagnosed, you most likely have a ton of questions about what your life will look like and what will need to change.
Oftentimes people with diabetes are encouraged to pursue a more active lifestyle, change their diet, and take medicine if needed. But when it comes to finding more healthy ways of eating, it can feel overwhelming trying to choose what's best while still enjoying the foods you love.
According to Mayo Clinic, people with diabetes will benefit from a diet that helps them maintain a healthy weight, manage their blood sugar levels, and keep heart disease risk factors at bay like high blood pressure. To do this, they recommend a diet of "healthy carbohydrates, fiber-rich foods, fish, and 'good' fats."
To learn more about how people can incorporate this healthier diet into their daily breakfast, we talked with Amy Goodson, MS, RD, CSSD, LD, author of The Sports Nutrition Playbook, and a member of our medical expert board.
"If you have diabetes, your breakfast goal is a high fiber carbohydrate and a lean protein," says Goodson.
Goodson believes that the best breakfast for diabetes is one that combines fiber and protein in one meal because "both fiber and protein slow down digestion, meaning they help you get full faster and stay full longer. The slower digestion rate causes a slower release of sugar into the blood, helping to prevent a blood sugar spike after eating."6254a4d1642c605c54bf1cab17d50f1e
With this in mind, Mayo Clinic also warns that diabetes can increase your chance of clogged arteries, so you'll want to avoid saturated fats, trans fats, and extra sodium whenever you can. This includes breakfast foods like sausage, bacon, extra butter or margarine, and highly processed breakfast pastries.
Breakfast ideas with fiber and protein
Goodson says there are plenty of breakfast combinations to try if you're aiming for healthy, fiber-rich carbohydrates and lean protein. Some of her recommendations include:
Oatmeal with peanut butter and berries paired with Greek yogurt
Eggs scrambled with veggies paired with whole-grain toast and avocado
Whole grain waffle topped with Greek yogurt and nuts and berries
Whole grain breakfast wrap with egg, 2% cheese, and veggies with an apple
Smoothie with cow's milk, Greek yogurt, fruit, nut butter, and spinach
With so many endless options to try, having diabetes doesn't mean that your breakfast has to be boring and bland!