We Tasted 5 Fast-Food Chocolate Milkshakes & This Is the Best
See which chocolate milkshake we thought was clearly defined as a "chocolate dream!"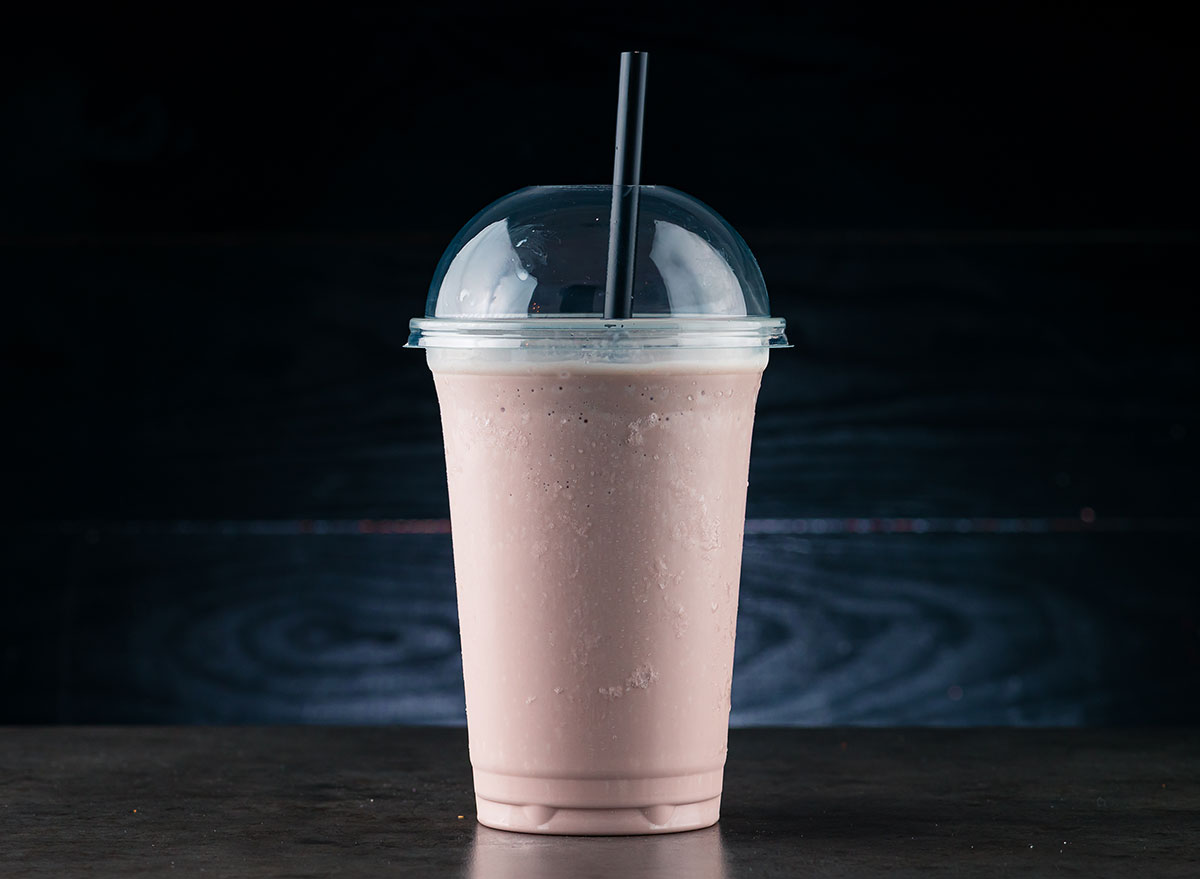 Through thick and thin, scooped with a spoon or sipped through a straw, chocolate milkshakes are a delicious treat. Chocolate is the classic flavor you see in all your favorite 1920s diner movie scenes that just makes you ache for a batch of fries to dip into a shake, with whipped cream and a cherry on top.
Other than the classic diner shake, fast-food places tend to have at least one version of the chocolate milkshake on their menu for people to indulge in. We took it upon ourselves to test five different hot spots where you get yourself a chocolate milkshake.
Our taste test weeded out the best of the best for our chocolate lovers. But if you look closely, some of the more tame flavors might be the ones you love the most.
And if you're looking for something salty to dip into your milkshake, check out: We Tried 7 Fast-Food Fries & These Are the Best!
How we graded them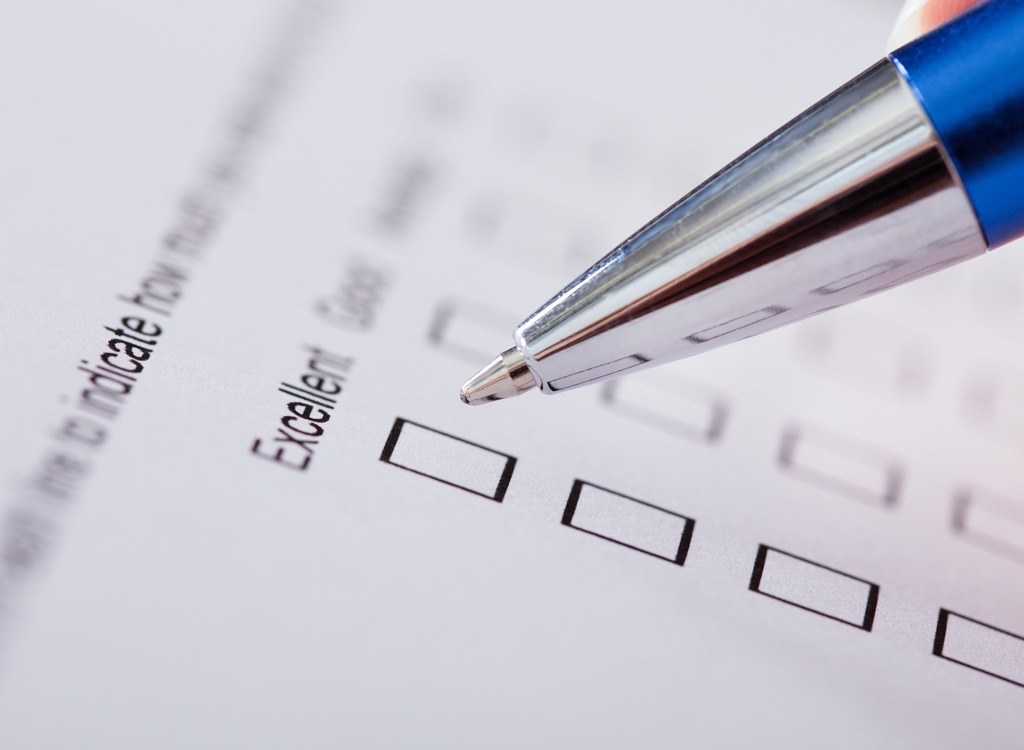 A good chocolate milkshake has a great balance of that rich chocolatey goodness, but it should be creamy enough that it's not just ice cream in a cup.
We didn't include the Wendy's Frosty on our list, because it's more of an ice cream treat than a milkshake, in our opinion. Nonetheless, it wasn't forgotten, as one of our editors finished her taste test with the comment "Overall, I'd rather have a Frosty from Wendy's!"
Now, let's see how these five fast-food chocolate milkshakes stacked up against each other, ranked from worst to best.
Chick-fil-A
6254a4d1642c605c54bf1cab17d50f1e
For the most part, the chocolate milkshake at Chick-fil-A was not our pleasure to sip on. For starters, it didn't transport as well as others. The whipped cream was melty and fell off as opposed to the others, which did fine on the trip to the office in a cooler pack. The flavor and texture, however, were what we judged.
Eat This, Not That! Verdict:
Only one of our tasters enjoyed this chocolate milkshake. She stated, "LOVED this chocolate flavor. A true traditional milkshake." Sadly, she was alone in this as our other tasters were not a fan of this frozen concoction. One editor said it had a "weird consistency," and another said it "tastes artificial." The taste of the chocolate milkshake was the most consistent problem for our tasters. One editor stated that it was "very chocolatey, too sweet for me" and that the texture was "a little grainy." Another said she was "not a fan of the chunky texture."
However, one editor said Chick-fil-A's shake "had a very nostalgic taste." But sadly it "pales in comparison to the rest."
McDonald's
Our editors weren't lovin' the McDonald's chocolate shake either, unfortunately. The appearance was deceiving for some, but for others, it lined right up with their rating.
Eat This, Not That! Verdict:
The overall taste was hit or miss. If you're not a huge chocolate lover and love whipped cream on your frozen treats, you'll love this chocolate milkshake! One editor stated the shake was "extremely milky, less chocolatey." Another said, "creamy, super sweet, and rich whipped cream throughout. So good!" Still, others disagreed and said it had the "weakest chocolate flavor—tastes like there is just chocolate syrup mixed in" and that it was "too milky, not a fan."
If you're not a fan of whipped cream, you won't enjoy this shake because it was on the top and bottom of the filled cup. One editor said, "The whipped cream was bubbly and I felt like it overwhelmed the shake." Another stated that the shake was "worse than I remember and the whipped topping is terrible."
Five Guys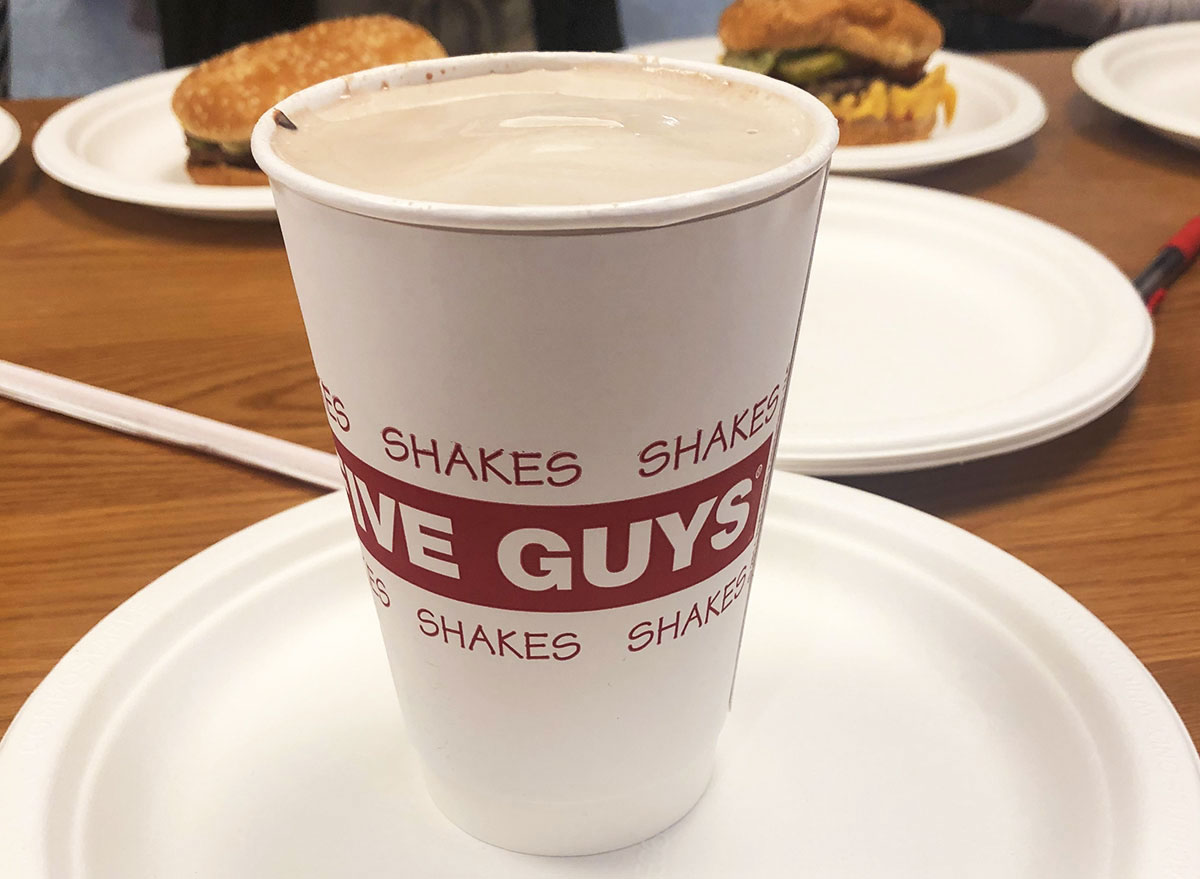 Although this hot spot is known for its burgers and fries, the chocolate shake from Five Guys was surprisingly authentic tasting.
Eat This, Not That! Verdict:
We were split across the board. One editor disliked the treat and said it "tasted artificial. I wouldn't order it." Others thought the lighter chocolate taste was great. One editor said this shake was creamy and delicious and that it "tastes like chocolate soft serve."
Overall, our editors appreciated the authentic taste of the shake. One editor wrote that "you can see the chocolate sauce in it," which made it a "very rich, decadent-tasting treat." Some thought it reminded them of another frozen treat, stating that it "tastes like a Frosty. But it's too icy and has a gross aftertaste."
Some of our chocolate lovers weren't impressed, either. One stated that "this tastes more like a black and white—vanilla with a touch of chocolate. As a chocolate lover, I want more from a 'chocolate shake.'"
Burger King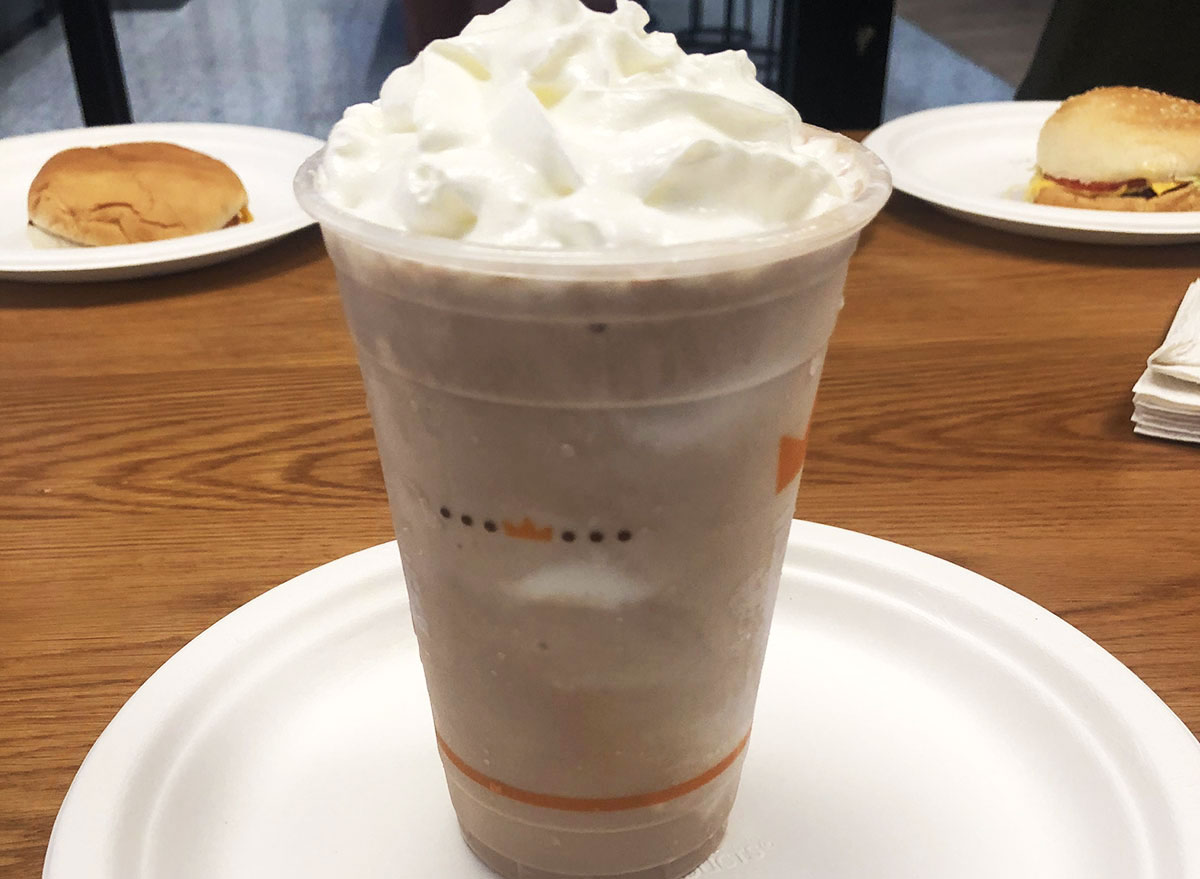 Shocked. That's about what sums up the taste test thoughts after trying Burger King's frozen chocolate treat. One editor called it a "dark horse in the race! Unexpectedly great!"
Eat This, Not That! Verdict:
One editor wrote, "This is nice! Thick and flavorful without being too rich." Another stated, "Loved this one surprisingly, couldn't believe this was Burger King."
Our other shocked editor wrote a note to you all. "Dear reader, I'm embarrassed to tell you how much I liked this shake. Today, I've learned we're all sleeping on Burger King. I am sorry, House of Whopper."
What kept it from being #1? A too-sweet-for-our-taste-buds sweep in the comments. One editor wrote it "tastes like sugar" and that it "almost tastes powdery, like they added in the chocolate flavor."
Shake Shack
Right on the heels of winning our French fry taste test, Shake Shack made its way to the top of our chocolate milkshake taste test. This chocolate milkshake made almost a clean sweep across the board as everyone's favorite. This shake is a chocolate lover's dream.
Eat This, Not That! Verdict:
Our testers raved about the rich flavor and beautiful chocolate color of this frozen treat. "Easily the most decadent and highest quality of chocolate of them all," one editor wrote. "This was the only one that didn't taste artificial."
Another taster stated that "it tastes like dark chocolate that was melted down and then mixed with ice cream." Another editor loved the rich flavor, saying it was "very chocolatey, but in a good way—nice and rich."
The only setback? Most of us couldn't finish it in one sitting! One editor said, "It's thick and dark, but I wouldn't be able to finish the whole thing for sure."
"Sooo chocolatey," another editor wrote. "Tastes like a chocolate bar and the taste coats your mouth."
Shake Shack is known for its burgers, but when it comes to fries and shakes, the fast-food chain reigns supreme in those categories, too. Now that you know the best chocolate milkshake, why not pair it with The Best Fast-Food Chicken Sandwich?
Check out more of our exclusive tastings:
We Tasted 5 Fast-Food Chicken Nuggets & These Are the Best
We Tried the Most Popular Fast-Food Burritos & This Is the Best!
Ann Marie Langrehr
Ann Marie is the Social Media Editor for Eat This, Not That! running the brand's social media accounts.
Read more about Ann Marie