The Best Coffee Creamers for Belly Fat—Ranked!
You don't have to opt for a boring black coffee anymore.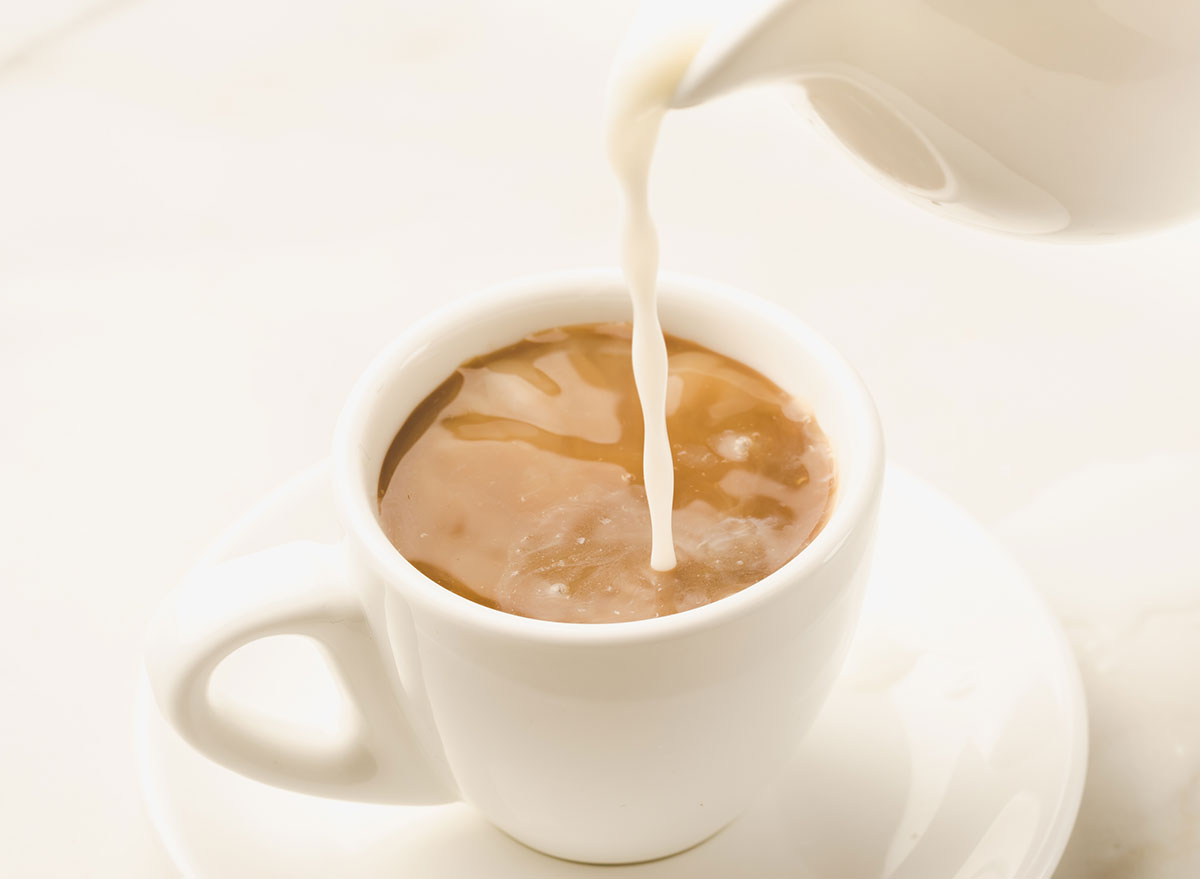 Certainly, fancy coffees can be laden with added sweeteners and heavy cream. If overconsumed, these options can impact your waistline over time. When seeking out a coffee creamer, you'll want to keep in mind the recommended serving size and added sugars in the product. Even healthier alternatives may still have a surprising nutrition label.
If you are looking for an everyday creamer that will still support your weight loss goals without keeping you feeling deprived, we've got you covered! Reserve the higher calories treats for a fun occasion, and focus on these delicious store-bought options the majority of the time instead!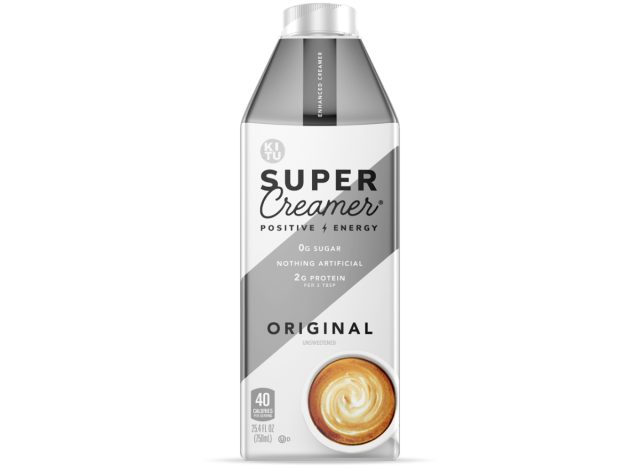 Per 3 TBSP
: 40 calories, 3.5 g fat (2.5 g saturated fat), 0 mg sodium, 0 g carbs (0 g fiber, 0 g sugar), 2 g protein
If sweet coffee creamer isn't your thing, but you have a hard time keeping classic heavy cream or half and half in your fridge, this one is for you! Made with a frothy combination of cream, protein powder, and medium-chain triglycerides (MCT oil), Kitu Supercreamer will have you believing you put the real thing in your coffee.
With only 40 calories in three tablespoons, you'd be hard-pressed to find a more delicious bang for your calorie buck.
Starbucks Zero Sugar Creamer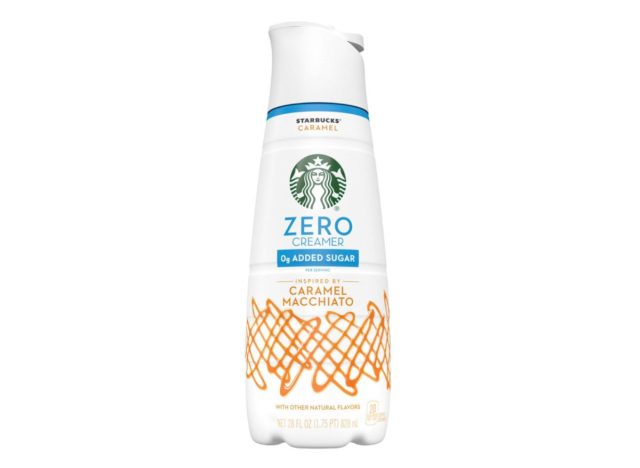 Per 1 TBSP
: 20 calories, 1.5 g fat (1 g saturated fat), 20 mg sodium, 1 g carbs (<1 g sugar), <1 g protein
This ingenious line of creamers offers the comforting taste of Starbucks directly from your fridge at home!6254a4d1642c605c54bf1cab17d50f1e
Starbucks' sugar-free creamer option is only 20 calories per tablespoon. Sweetened with sucralose and thickened with buttermilk, you'll feel like you actually went to Starbucks.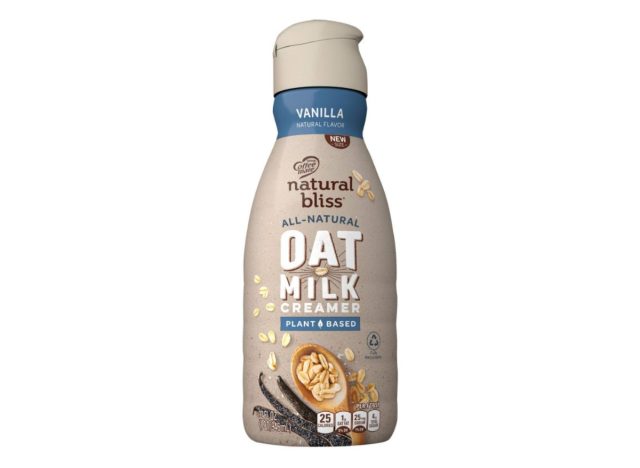 Per 1 TBSP
: 25 calories, 1 g fat (1 g saturated fat), 25 mg sodium, 5 g carbs (4 g sugar), 0 g protein
You wouldn't even know this creamer is dairy-free. Its light, frothy texture means you don't need to use a large serving to feel super satisfied!
If you consider that a traditional oat milk latte has 270 calories and 28 grams of sugar, this creamer looks like a winner! With 25 calories per tablespoon, you'll keep calories significantly lower and feel super satisfied.
Pro tip: if you have a frother at home, oat milk becomes extra creamy and adds a satisfying element to your homemade brew!
Coffee Mate Natural Bliss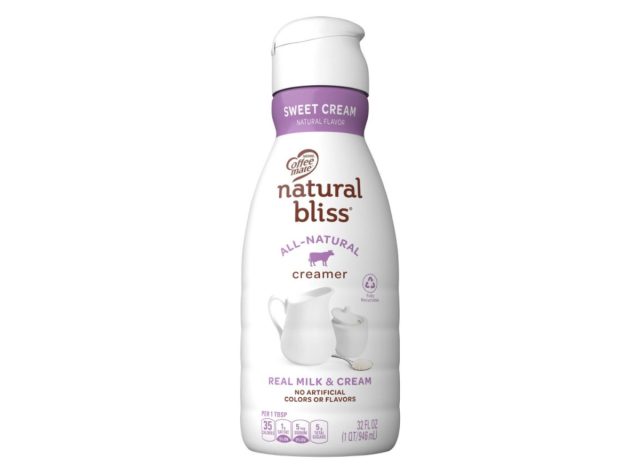 Per 1 TBSP
: 35 calories, 1.5 g fat (1 g saturated fat), 5 mg sodium, 5 g carbs (4 g sugar), 0 g protein
With only 35 calories per tablespoon and simple ingredients, this creamer is a fan favorite with just milk, cream, and sugar.
If you're looking for even more creaminess in your cup of joe, you might consider a super easy, lightly sweetened latte with three simple ingredients: 1/4 cup of 2% milk, 1 tablespoon of Coffee-Mate Natural Bliss, and 8 ounces of freshly brewed coffee.
The milk will add a smooth texture without the extra calories and sugars from too much creamer.
Nutpods Dairy Free Creamer
Per 1 TBSP
: 10 calories, 1 g fat (0 g saturated fat), 0 mg sodium, 0 g carbs (0 g sugar), 0 g protein
Nutpods offers a lighter, nutty taste for your morning wake-up cup. With only 10 calories per tablespoon, this dairy-free creamer is hard to beat. Its main ingredient is coconut cream which helps deliver a super yummy texture.
Their Pumpkin Spice flavor makes a super delicious seasonal coffee that you can easily whip up from home!
Caroline Thomason, RDN
Caroline is a women's health Registered Dietitian and diabetes educator based in Northern Virginia.
Read more about Caroline