10 Best Costco Foods To Buy for Weight Loss
Stock up on these tasty Costco finds that are perfect for weight loss.
Costco is jam-packed with pantry staples as well as unique, seasonal items. While they are known for their inexpensive hot dog and soda meal in the food court, Costco also offers plenty of other items that may be better suited for your weight loss goals. If you are shopping the isles of Costco with weight loss in mind, we have you covered with a list of options to add to your cart. Keep reading to find out 10 of the best Costco foods for weight loss.
All foods can be part of a weight loss diet, but some may aid your progress more than others. Foods that are especially filling, like those with fiber and protein, are great for keeping you satiated between meals and snacks. This can limit overeating and grazing throughout the day, which could lead to excess calorie intake. Produce is another category of food to load up on when you are working toward weight loss. Vegetables are especially low in calories and provide notable fiber content. Costco has a great selection of fresh and frozen fruits and vegetables to choose from. Lastly, choose items with minimal sugar. Whether snack foods, sauces, condiments, or prepared meals, sugar can contribute empty calories to your diet, potentially slowing down your progress.
With these tips in mind, you can better navigate Costco. If more specific recommendations will simplify your shopping trip, read on to learn the 10 best Costco foods for weight loss. And for more grocery shopping inspiration, be sure to check out the 10 Best Costco Frozen Foods for Weight Loss.
Kirkland Signature Organic Peanut Butter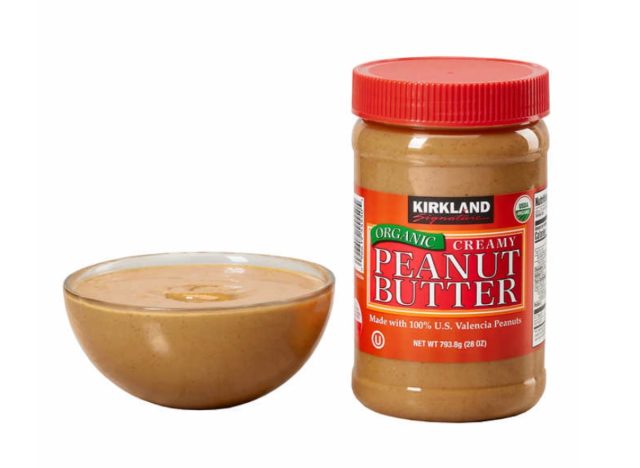 Peanuts are excellent superfoods that offer protein, healthy fats, and fiber. While you can enjoy whole peanuts as part of your meals and snacks, peanut butter offers the same nutritional benefits in a versatile form beloved by many. With zero prep required, peanut butter can be easily incorporated into endless meal options. Spread it on whole grain toast, mix it into oatmeal or a parfait, enjoy it in your homemade energy bites, or add a dollop of it to your fruit smoothie. Kirkland's Signature Organic Peanut Butter is great because it doesn't contain any added sugar, and simply contains two ingredients: dry roasted organic peanuts and sea salt.
Quaker Oats Old Fashioned Oatmeal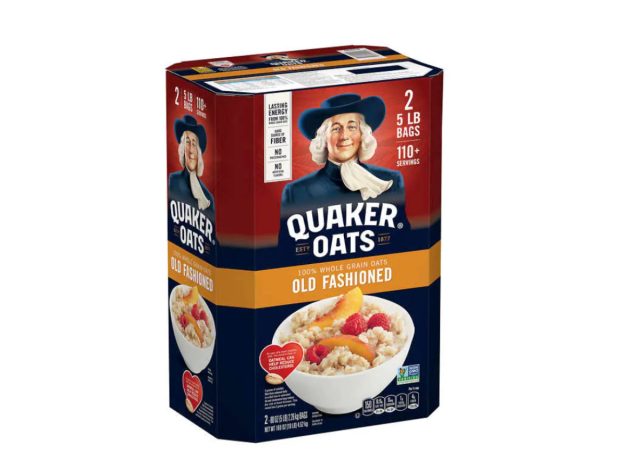 An ingredient that stands alone as a breakfast or can be combined into your favorite baked goods and energy bites, oatmeal is a satiating food that deserves a place in your weight loss diet. With 4 grams of fiber and 5 grams of protein per serving, Quaker Oats Old Fashioned Oatmeal is especially filling and can be enjoyed so many ways. Plain oats are great because they provide no added sugar, and the only ingredient in this option is whole-grain rolled oats. Enjoy a hot bowl of oats with your favorite toppings, combine oats with peanut butter and honey for homemade energy bites, or make your own baked breakfast bars with them for a quick meal you can take out the door.
Seabear Wild Sockeye & King Smoked Salmon Filet Duo
Fish is a great source of protein, and salmon, in particular, provides heart-healthy omega-3 fats. The combination of protein and healthy fats makes salmon an ideal selection. Of course, you can buy a fresh or frozen filet to prepare for dinner, but if you need a more convenient way to eat this nutritious food, smoked salmon is a great option. The Seabear Wild Sockeye & King Smoked Salmon Filet Duo comes fully cooked and ready to incorporate into your meal or snack. Enjoy this smoked salmon with whole-grain toast and mashed avocado for breakfast or layer it over high-fiber crackers for a filling snack.
ParmCrisps Snack Mix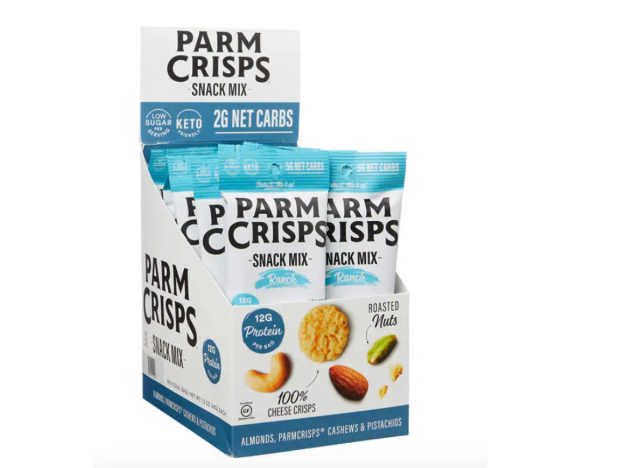 Individually packaged foods are a great choice at Costco. This aids in portion control and makes it easy to stay on track with your goals while on the go. The ParmCrisps Snack Mix contains a combination of almonds, cashews, ParmCrisps, and pistachios for a snack that's rich in healthy fats, fiber, and protein. Each serving provides 250 calories, making for a higher-calorie snack, however, this portion also provides 12 grams of protein and 4 grams of fiber. If this is more calories than you prefer to have in a single snack, simply split the bag across two different snacks to spread the calories.
Crunchmaster Multi-Grain Baked Crackers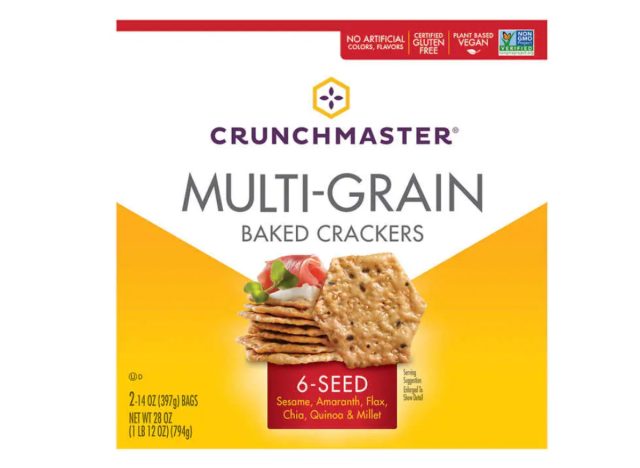 Crackers add a nice crunch and savory flavor to meals, but they can also be packed with calories and provide minimal fiber. Crunchmaster's Multi-Grain Baked Crackers, however, are made with 100% whole grains and provide 2 grams of fiber and 3 grams of protein per serving. With ingredients like sesame, flax, and chia, you'll be getting a few grams of healthy fats, too. This option is also lower in sodium than many other cracker varieties. Create your own Lunchable with crackers, cheese, and lean meat, in addition to a side of fruit or veggies, or enjoy these crackers with a nutrition dip, like hummus or guacamole, for a hearty snack.
Simply Protein Crispy Bars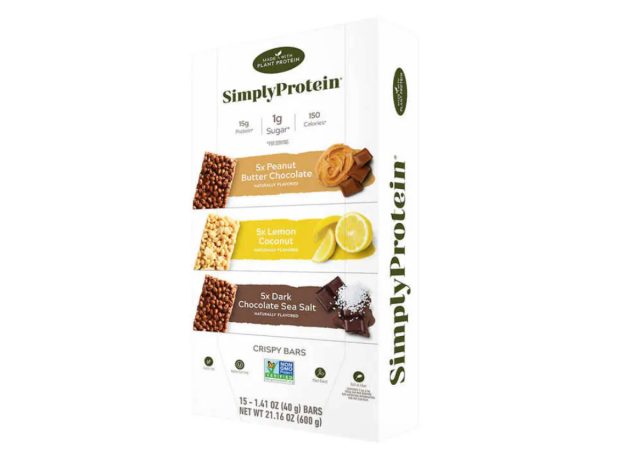 Protein bars make for a convenient meal component and can serve as a stand-alone snack, but not all varieties are created equally. You may be surprised to learn some options provide hundreds of calories with well over 10 grams of sugar. When choosing a protein bar, keep an eye on added sugar content and look for options with fiber. These Simply Protein Crispy Bars provide 150 calories and only 1 gram of added sugar. They also come along with 15 grams of protein and 7 to 8 grams of fiber, making for a filling food. They do contain sugar alcohols which can irritate digestion for some, but others will tolerate it with no problem. Enjoy a crispy bar on its own for a snack, or combine it with a banana and nut butter for a filling, fast breakfast.
Campbell's Simply Chicken Noodle Soup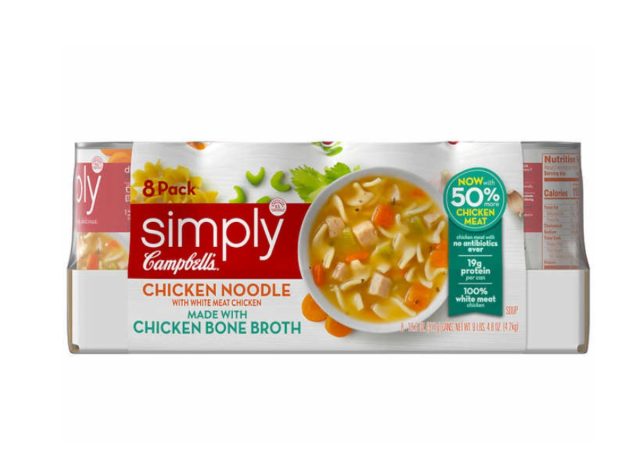 Broth-based soups, like chicken noodle, are generally much lower in calories than stews, chowders, and varieties made with cream. However, many canned soup options can also be low in protein, leading to a less filling meal. However, Campbell's Simply Chicken Noodle Soup provides 19 grams of protein and will only cost you 220 calories. This makes for a meal that requires little work to make and allows room to add additional ingredients. Top off your soup with sliced avocado for a boost of fiber and healthy fats, or serve it alongside raw veggies and hummus for a well-balanced meal.
NuTrail Keto Nut Granola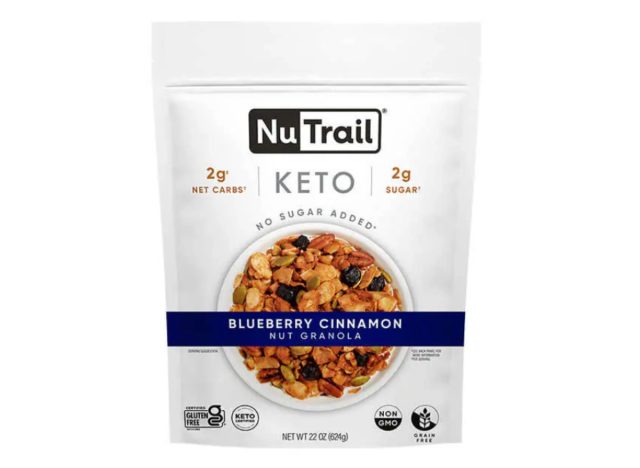 Granola adds a wonderful crunch to yogurt and smoothie bowls and is just as delicious when served with milk. However, the high-calorie count and sugar content of traditional granola may detract from your weight loss goals. NuTrail Nut Granola is grain-free with no added sugar, and NuTrail's Honey Nut flavor provides 4 grams of protein along with 3 grams of fiber. The medley of pecans, sunflower seeds, pumpkin seeds, coconut, and almonds provides healthy fats that can also improve your satiety. Made with simple, clean ingredients, this lower-carb granola is even keto-friendly! Check out the Blueberry Cinnamon flavor also sold at Costco, which offers 5 grams of protein and 4 grams of fiber.6254a4d1642c605c54bf1cab17d50f1e
Kiss My Keto Gummies Tropical Rings
You may be surprised to see candy on this list, but Kiss My Keto Gummies Tropical Rings can satisfy your sweet tooth with less than 1 gram of added sugar per serving! One bag only provides 70 calories and contains a whopping 29 grams of fiber. This is more than many people need in a whole day, so you may want to enjoy less than one serving to not overwhelm your digestive tract. While the majority of your diet should be made up of nutritious foods, this is a great swap for traditional sweets and can aid in reducing sugar from your diet.
Go Raw Sprouted Organic Pumpkin Seeds with Sea Salt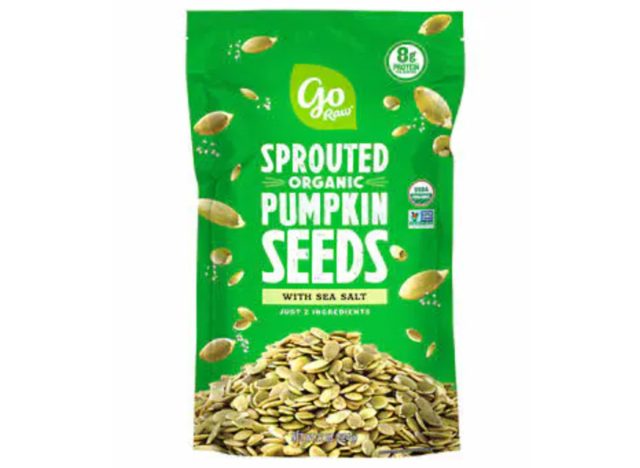 Similar to nuts, seeds are a source of filling fiber and protein, two major keys to weight loss. Not only do these Go Raw Sprouted Organic Pumpkin Seeds with Sea Salt make for a convenient no-prep snack, but they can easily be incorporated into meals for a nutrient boost. For example, add pumpkin seeds to a salad for crunch, healthy fats, and protein, serve them over oatmeal or cereal, or use them as a topping to your yogurt parfait. For snacks, enjoy them on their own or combine them with dried fruit for an on-the-go option.
Melissa Rifkin, MS, RDN, CDN
Melissa is a Connecticut-based registered dietitian with over 15 years of experience, including clinical and outpatient settings, and runs the popular nutrition education Instagram account, Confessionofadietitian.
Read more about Melissa
Sources referenced in this article