10 Best Sam's Club Foods to Buy for Weight Loss
Add these weight loss staples to your shopping cart the next time you're at Sam's Club.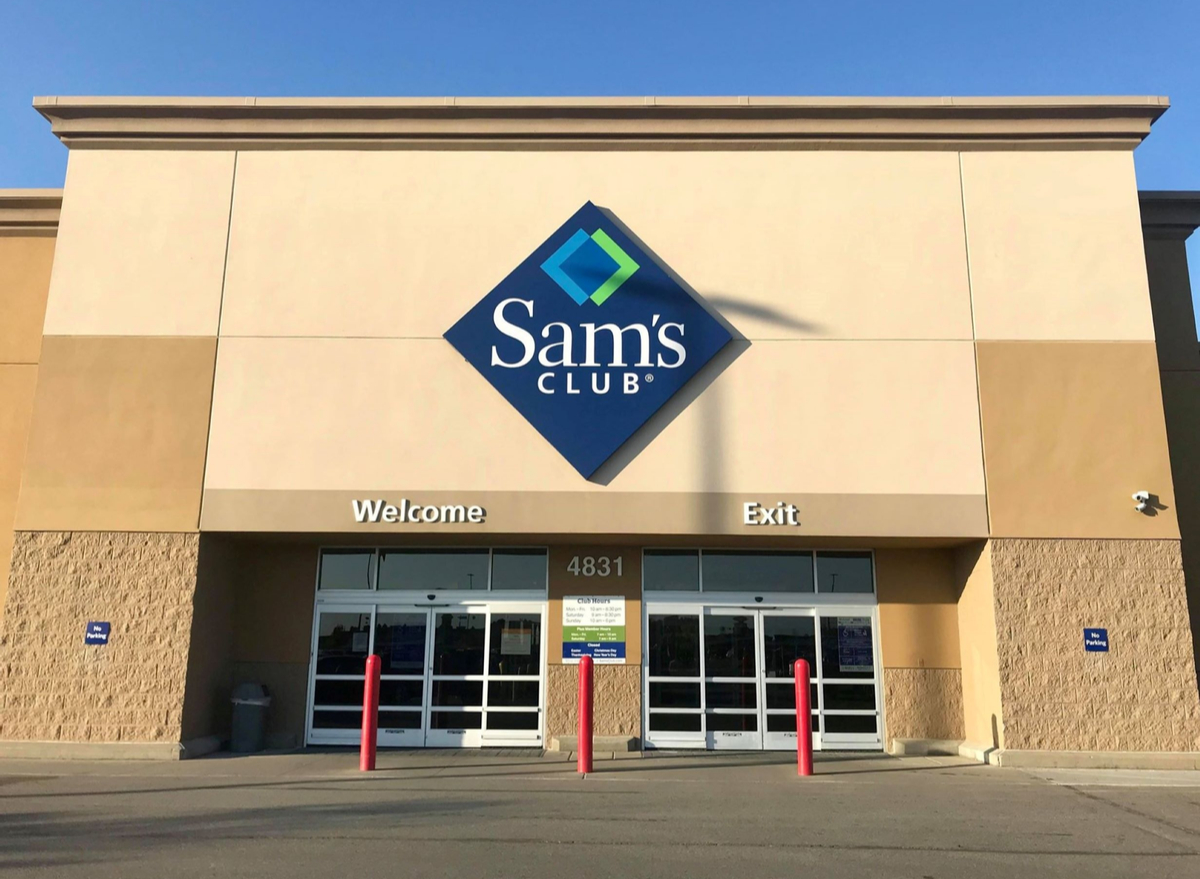 Next time you head to Sam's Club, you'll be pleasantly surprised with the number of foods available to assist you toward your weight loss goals. Of course, fresh fruit and vegetables are always a great selection, along with lean proteins. Outside of these staples, there are plenty of side items, condiments, and snacks you can incorporate into your meal plan. We have 10 of the best Sam's Club foods for weight loss to add to your shopping cart ASAP.
When you buy groceries with weight loss in mind, there are a few factors that can help your decision-making. Especially when buying in bulk, which is the case at Sam's Club, finding individually portioned items can be incredibly helpful with portion control. While this may not be available in all of the foods you are looking for, it is a useful feature to take advantage of. Next, you'll want to look for satiating foods. Foods with protein and fiber are going to be more filling than those that are more carbohydrate-based. Improving your feeling of fullness after meals and snacks can aid in weight loss and allow you to keep your food intake in line with your goals. Lastly, choose food and drinks that have minimal sugar. While some added sugar can be part of a balanced diet, these empty calories may slow your weight loss progress.
Weight loss doesn't have to mean tasteless foods and hours in the kitchen prepping and cooking. Sam's Club has great selections that make eating for weight loss delicious and convenient. Here are the 10 best Sam's Club foods for weight loss. Read on to learn all about them, and when you're finished, don't miss out on 10 Best Trader Joe's Frozen Foods for Weight Loss.
NuTrail Low-Carb Keto Nut Granola
You may be surprised at how much sugar is in common granola options. Not only is sugar a source of empty calories, but research also notes it can promote obesity.
NuTrail's Low-Carb Keto Nut Granola stands above the rest with zero grams of added sugar. You'll also find 3 grams of fiber and 4 grams of protein per serving. Seeds and nuts make up the majority of the ingredients in this granola, allowing it to contribute plenty of healthy fats, too. Serve this granola over Greek yogurt for a well-balanced breakfast or snack, enjoy a serving for a quick snack, or serve it over a smoothie bowl to add some crunch and a nutrient boost.
Member's Mark Classic Hummus Singles
Hummus is a versatile ingredient traditionally made with a base of chickpeas. This makes hummus a stellar source of protein and fiber, and the sesame tahini and oil in most recipes contribute healthy fats.
The Member's Mark Classic Hummus Singles are individually portioned and provide 180 calories per cup. They easily pack into to-go lunches and snacks and can be enjoyed with so many other foods. Use these as a dip with raw veggies, whole grain crackers, or pretzels, or add the hummus to your sandwich or wrap for a flavor and nutrient boost.
Member's Mark Avocado Salsa with Fresh Tomatillos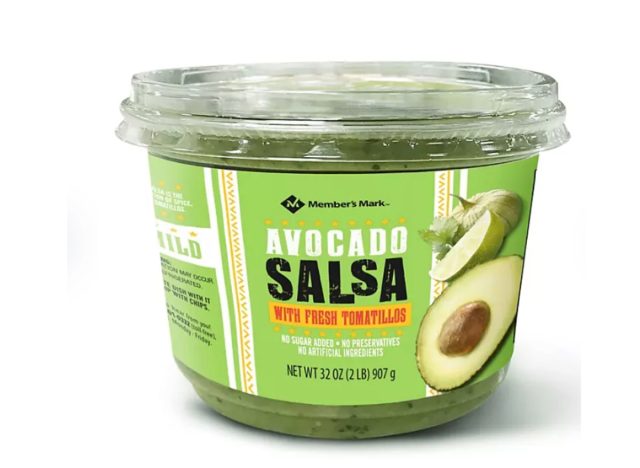 Salsa is traditionally made with red tomato, onions, peppers, and a variety of seasonings. However, Member's Mark Avocado Salsa with Fresh Tomatillos is made with tomatillos and includes avocado. This gives it a rich green color and allows it to pack flavor for few calories. You will get 1 gram of fiber per serving, but the main benefit of incorporating salsa into meals is the flavor boost without too much sodium or a high calorie count. Creamy sauces and condiments can pack over 100 calories per serving, leading to high-calorie meals. This salsa makes a great swap for salad dressing, and you can also use it to top your chicken breast, or enjoy it as a dip with raw veggies.
Seeds of Change Certified Organic Quinoa and Brown Rice with Garlic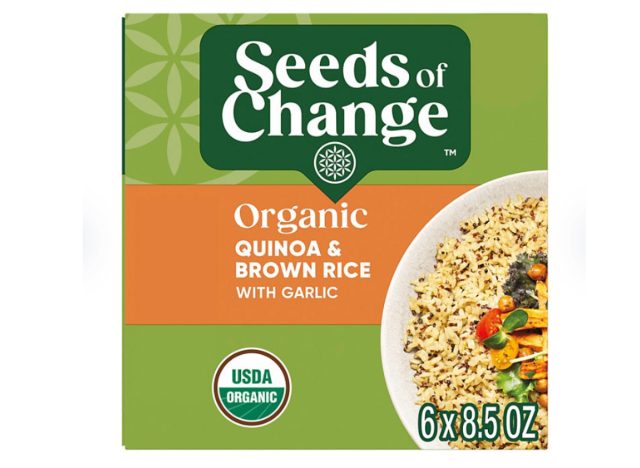 Quinoa provides many important nutrients, including fiber and protein. These filling nutrients allow quinoa to be a great food to incorporate into a weight loss diet. While brown rice contains fewer of these nutrients, it still contributes to satiety. The combination of these grains in this convenient microwaveable pouch provides 5 grams of fiber and 5 grams of protein per cup! You can make this the base of your grain bowl, use it as a protein source in your plant-based eating, or enjoy it as a quick side dish to your favorite meat, fish, or poultry.
Member's Mark Organic Acai Smoothie Bowls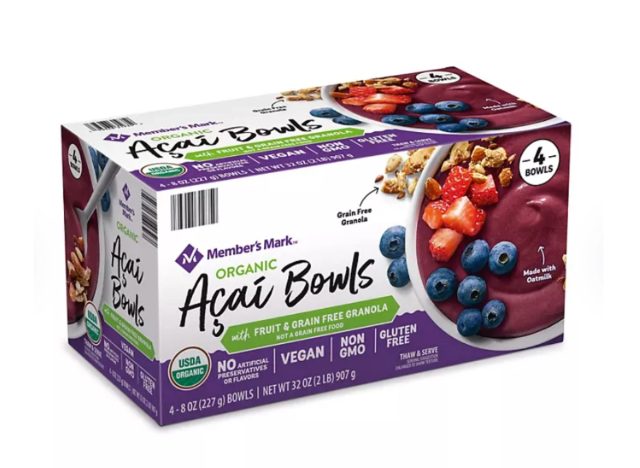 Smoothies are a great way to load up on produce and boost your intake of fiber, vitamins, and minerals. However, keeping all your favorite smoothie ingredients on hand can be a hassle. Member's Mark Organic Acai Smoothie Bowls make a great alternative. Not only are they nutritious with 10 grams of fiber and 7 grams of protein, but all you have to do to enjoy them is simply allow time for them to thaw! Top with nuts, seeds, or granola for some crunch, or blend in your favorite protein powder to boost this filling nutrient.
Country Archer Grass-Fed Beef Jerky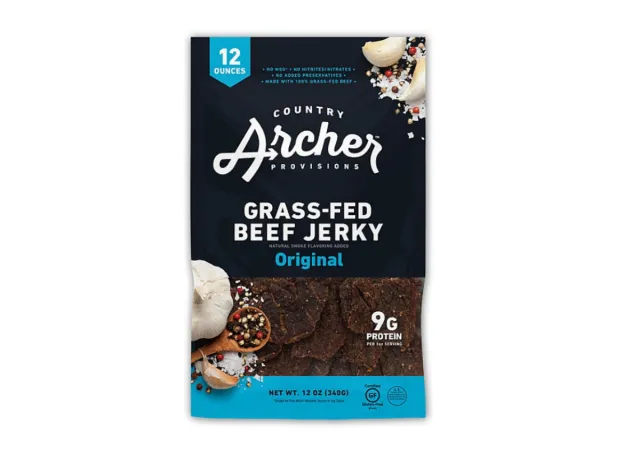 Perhaps one of the easiest on-the-go protein sources is jerky. However, not all jerky is created equally. While some pack a surprising amount of sugar, others contain questionable flavor enhancers and preservatives.
Country Archer Grass-Fed Beef Jerky is a great option for several reasons. Per serving, you'll get 9 grams of protein from 100% grass-fed beef. Even better, this jerky contains no nitrites or nitrates, along with no added preservatives. To make a balanced snack, pair your jerky with a serving of fruit to introduce some fiber, or serve it as the protein source in your bento box for a snacky-style lunch.
Member's Mark Premium Chunk Chicken Breast
When you don't have time to prep and cook chicken for a meal, canned chicken can be a great alternative. Member's Mark Premium Chunk Chicken Breast is incredibly lean, providing only 1.5 grams of fat and 0 grams of saturated fat per serving. The same 3-oz serving provides 19 grams of protein, making for a very filling option. To incorporate canned chicken into meals, start by draining the meat. From here, your options are endless. Add it to homemade quesadillas, top off your salad with it, turn it into a Greek yogurt-based chicken salad, or use it in your favorite pasta and casserole dishes.
SkinnyPop Original Popcorn Snack Bags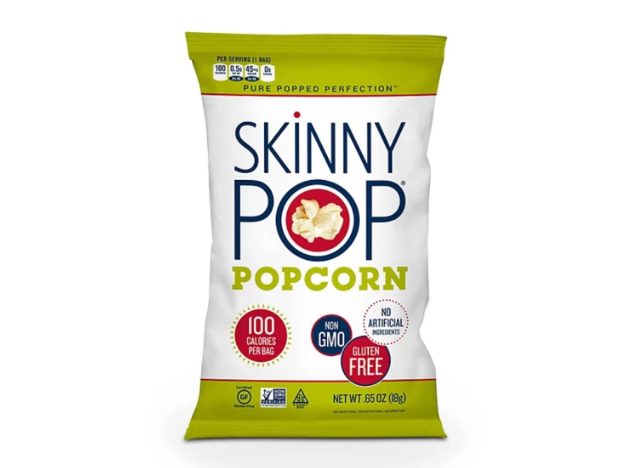 Popcorn doesn't get enough credit for being a rich source of fiber. This makes for a filling snack option, and SkinnyPop's Original Popcorn Snack Bags that are individually portioned keep you at 100 calories per serving with 2 grams of fiber. Pair your popcorn with fruit to introduce produce into your snack, or combine it with a light string cheese for a few grams of protein. Compared to other popcorn options, SkinnyPop creates a savory snack without too much sodium or fat, and no trans fats, making for a much healthier option.
Lahli Morning Protein Bites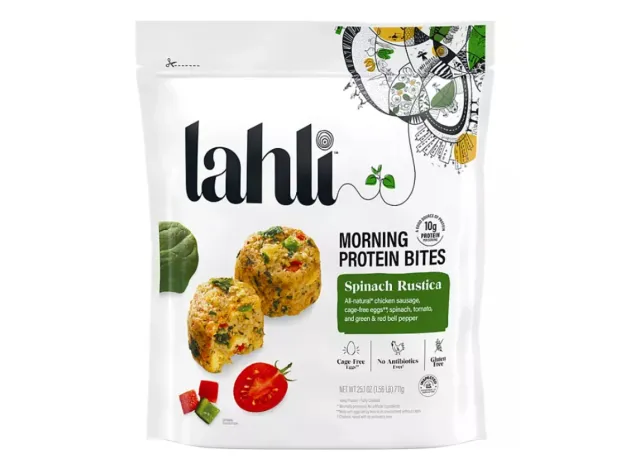 So many adults are looking for a quick breakfast option for their families. While a bowl of cereal or a pastry is tempting for a fast meal, they don't tend to be well-balanced and may hinder your weight loss goals. Start your day by loading up on Lahli's Morning Protein Bites made with chicken sausage and veggies. Each serving provides 130 calories and 10 grams of protein, leaving plenty of room for a slice of toast and fruit. These bites are frozen and only require a short zap in the microwave before serving.6254a4d1642c605c54bf1cab17d50f1e
Rhythm Superfoods Louisiana-Style Hot Sauce Okra & Tomato Crisps
For those who love a spicy, crunchy chip, Rhythm Superfoods Louisiana-Style Hot Sauce Okra & Tomato Crisps are a great alternative. The first two ingredients are okra and tomato which allows these crisps to pack a whopping 5 grams of fiber per serving. For 150 calories, you'll also get 3 grams of protein and a wide array of vitamins and minerals. These cooked veggies are crisped to perfection and seasoned with a blend of hot sauce and spices to make for a flavor-packed snack. Enjoy them on their own, or pair them with a sandwich as a chip alternative.
Melissa Rifkin, MS, RDN, CDN
Melissa is a Connecticut-based registered dietitian with over 15 years of experience, including clinical and outpatient settings, and runs the popular nutrition education Instagram account, Confessionofadietitian.
Read more about Melissa
Sources referenced in this article