7 Fast-Food Restaurants That Serve the Best Cheese Fries
Ooey-goey in all the best ways that America's favorite side should be made.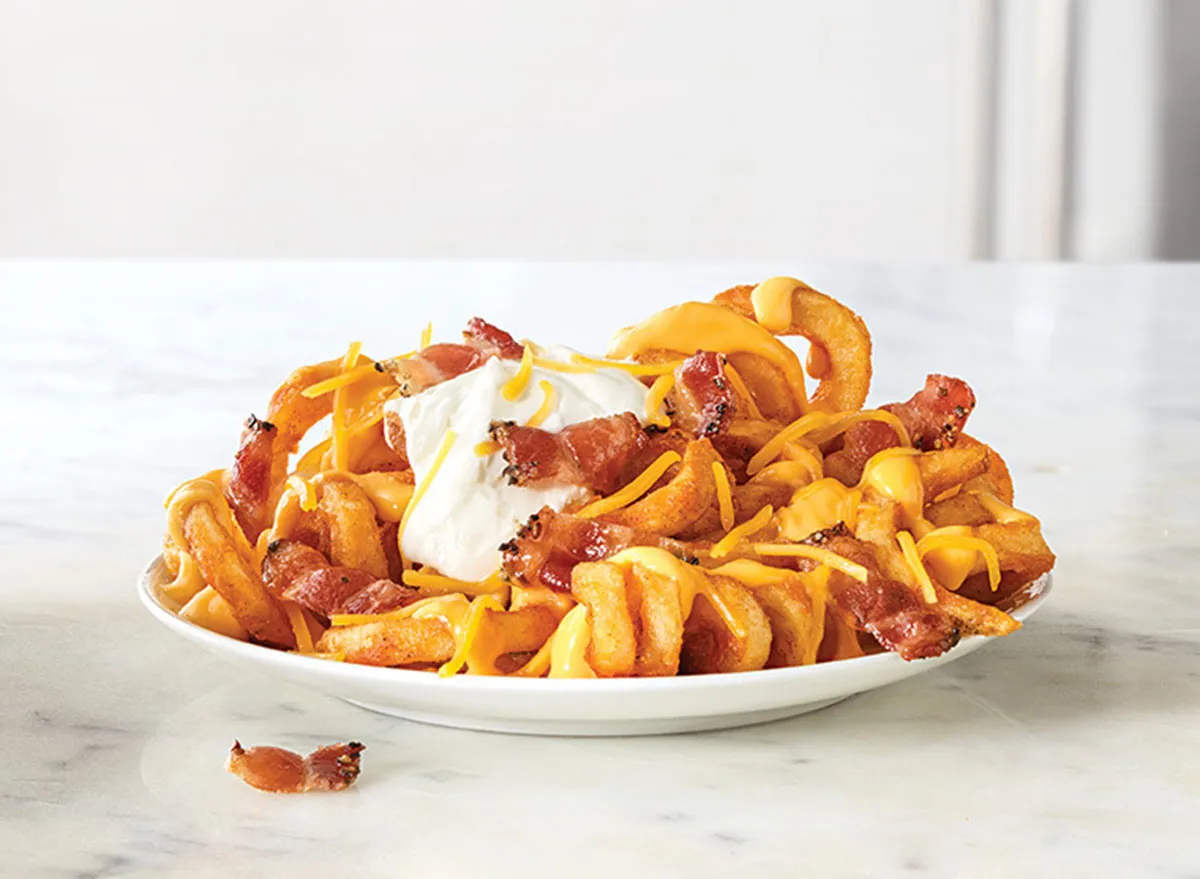 The hunt to identify the provenance of the cheese fry takes one down a strange rabbit hole. Were they first enjoyed in the U.K. in the 1950s, as Kraft's Cheez Whiz entered that market, per Food & Wine? Can they be traced to Texas, the generally accepted birthplace of chili cheese fries, as per Taste Atlas? Or are cheese fries native to Missouri, as posited via Commercial Appeal?
While we'll probably never be able to pinpoint the time and place of the creation of this celebrated side dish, there's one thing for sure, said celebrators rarely including nutritionists and dieticians. What we do know is that today cheese fries are on the menu at fast-food chains across America. And what's more, many fast-food restaurants offer fries loaded up with a lot more than cheese.
We've rounded up seven fast-food spots that serve loaded cheese fries that are fit to be a meal in and of themselves—if only once in a blue moon.
Sonic Drive-In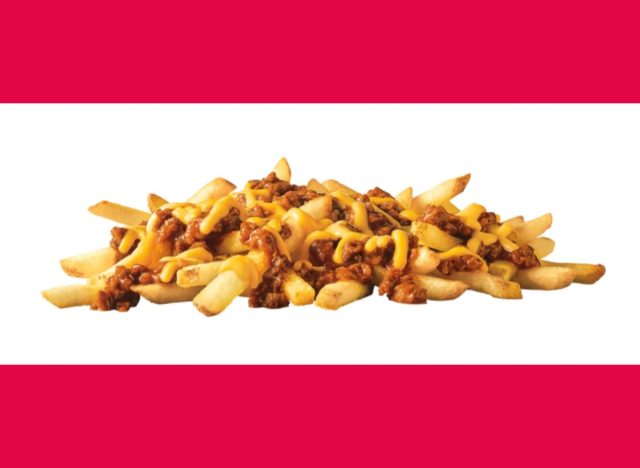 Sonic is known for taking things to 11 with its wacky beverages, desserts, oversized hotdogs, and, indeed, with its fries. Opt for the regular Cheese Fries and you're really just getting an order of French fries with a slice of American cheese melted over them, but when you load up the toppings on the Chili Cheese Fries, you have shredded cheddar cheese, diced onions, jalapeños, and, of course, chili. And you can have them toss on a slice of American cheese if you'd like. (You can also try the chain's Chili Cheese Tots, but try not to think of the nutritional implications as you do.)
Checkers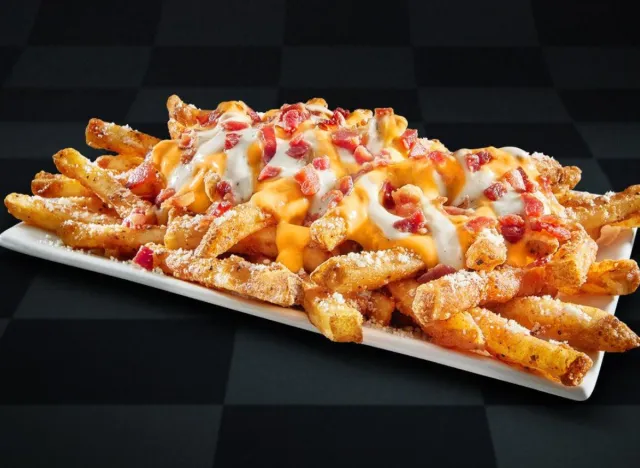 Checkers has Chili Cheese Fries and it also has Fully Loaded Fries—which consist of fries covered in cheese, ranch sauce, and bacon. But if you want to go all out, try the restaurant's magisterial Garlic Parmesan Loaded Fries. The dish consists of Checkers' famed seasoned and breaded fries laden with garlic parmesan sauce, bacon crumbles, and then drenched with melted cheddar cheese. And to top it off, parmesan flakes are sprinkled over all of that.6254a4d1642c605c54bf1cab17d50f1e
Wendy's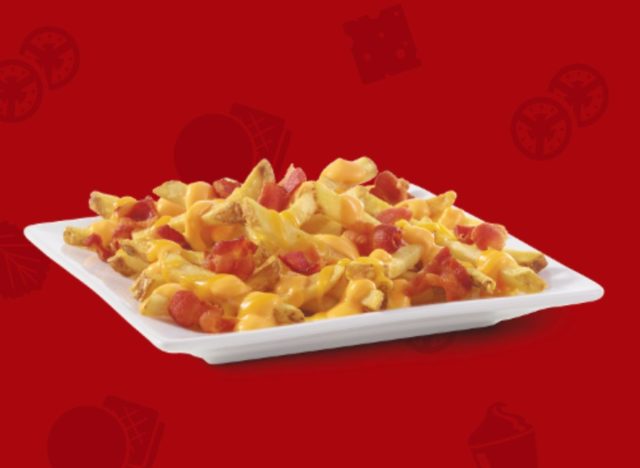 It's a tough call whether to go for Wendy's Baconator Fries or the chain's Pub Fries, as they are very similar sides. The Baconator Fries consist of fries topped with a creamy cheese sauce, applewood smoked bacon, and shredded cheese; the Pub Fries swap the creamy cheese sauce for a beer cheese sauce but are otherwise identical. And the two are within 10 calories of each other (460 for a Baconator order, 470 for Pub) and both have 26 grams of fat and comparable sodium. One thing is clear, though: skip the chain's Chili Cheese Fries, which have 520 calories, 27 grams of fat, and 1,130 milligrams of sodium.
Arby's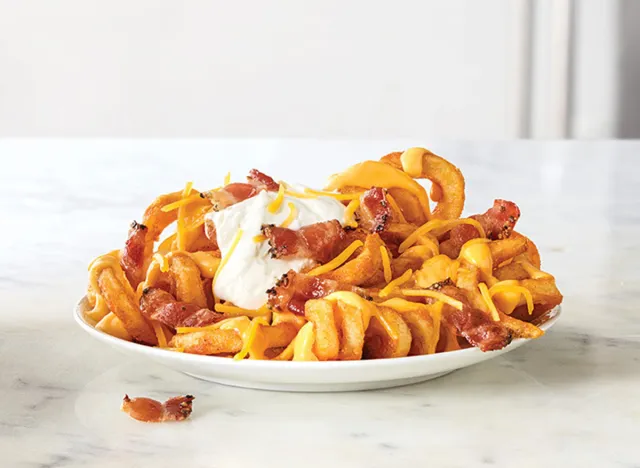 When Arby's uses the term "Loaded Fries," the restaurant chain is not playing around with language. You will get an order of thick, crinkle-cut French fries topped with cheddar sauce, bacon, a "Sweet & Spicy Sauce," and chopped chicken nuggets. This "side" is in fact a 720 calories behemoth with 38 grams of fat and 1,576 milligrams of sodium, so perhaps it's good news that Arby's Loaded Fries are a limited-time menu item.
Del Taco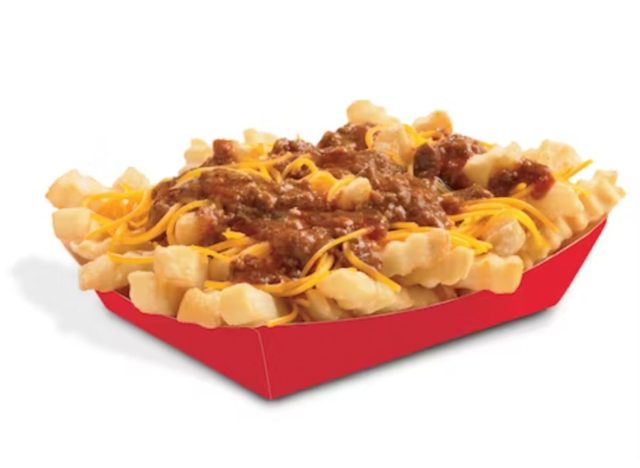 That's right, there's a taco chain that offers loaded cheese fries—and pretty amazing ones at that. Del Taco offers Chili Cheddar Fries, Deluxe Chili Cheddar Fries, Queso Loaded Fries, and the true meal-in-a-basket, Carne Asada Fries. This last menu option consists of thick-cut fries buried under "freshly grilled carne asada, fresh house-grated cheddar cheese, savory secret sauce, fresh house-made guacamole, and fresh diced tomatoes," per the chain's site.
White Castle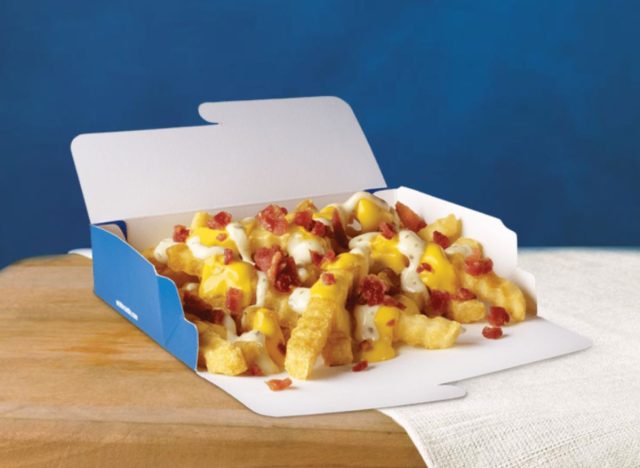 White Castle's Loaded Fries consist of crinkle-cut fries covered in "thick-cut bacon crumbles, melty cheese, and ranch sauce." The ranch is an X-factor here. The fact that they come in a box that folds open for easy access and that minimizes messes is pretty exceptional, though, and makes these fries yet another good reason to go to White Castle.
In-n-Out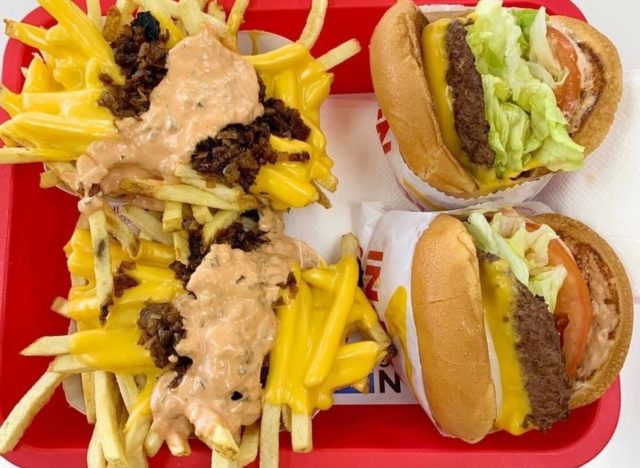 You'll have to turn to In-n-Out's ironically famous "secret" menu to order loaded fries from this West Coast chain, but don't worry, they are very much available. Order Animal-Style Fries from the restaurant and you'll get In-n-Out's freshly chopped and fried fries topped with its unique special sauce, a melted slice of American cheese, and grilled onions, per Insider.
Steven John
Steven John is a freelancer writer for
Eat This, Not That!
based just outside New York City.
Read more about Steven