7 Fast-Food Chains That Serve the Best Wings
Drenched in a savory sauce and full of fantastic flavor (regardless of the bone-in or boneless variety).
If you were to hop into a time machine and travel back to the year 1963, America would look like a different place in very many ways. The Beatles were still a year away from appearing on American TV. There would yet to be that most iconic of cars, the Ford Mustang. There was yet to be a Keanu Reeves. And if you went looking for a chicken wing, you'd probably be out of luck.
Sure, home-cooked chicken wings had been enjoyed as a staple food of Southern cooking for years, according to the National Chicken Council, but it wasn't until 1964 that the now classic Buffalo-style wing was offered.
Wings such as they are known and loved today were first created at Buffalo, New York's Anchor Bar by the establishment's innovative co-owner, Teressa Bellissimo, who fried up a batch of wings that were delivered to her in error, served them with hot sauce, and created an entirely new way to simultaneously enjoy a tasty food while making a greasy mess.
Today, chicken wings are available at bars, restaurants, and in grocery store aisles far and wide. And wings are on the menu at many fast-food chains, too—just not at McDonald's, which tried for years to make Mighty Wings catch on. Other fast-food chains have had more wing success, but which fast-food restaurants have the best wings?
We've rounded up seven of the country's favorite fast-food wings. Make sure you grab plenty of napkins wherever you choose to get yours.
Wingstop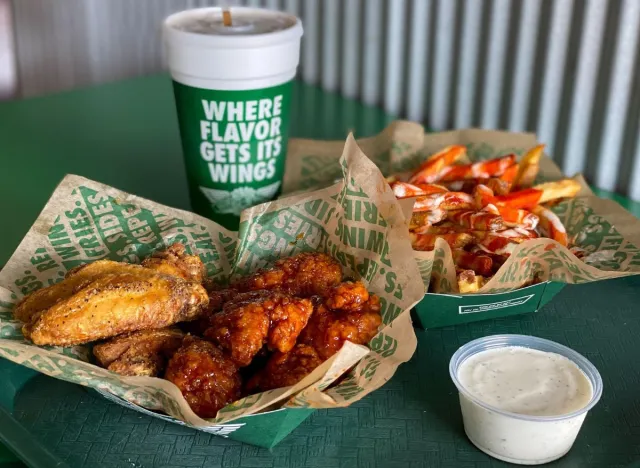 You would hope a place named for chicken wings would have good chicken wings, and Wingstop does. When we asked chefs to name the best chicken wing chain, they overwhelmingly named Wing Stop. They cited the sauce variety, that the wings are always cooked to perfection, the generous portion sizes, and the value for what you get.  
The chain's wings come with a plethora of sauce and rub options. You can choose from more than a dozen sauce and rub varieties at the last check of the Wing Stop menu. Wing Stop prides itself on its sauces saying, "We're not in the wing business. We're in the flavor business."
With over 1,500 locations across the country, chances are there's a Wingstop near you. Plus, don't skip out on their great, hand-cut fries and unique sides.
Smashburger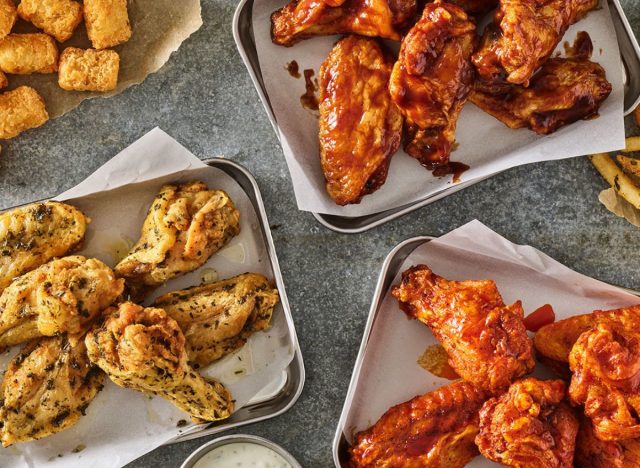 Smashburger only added chicken wings to the menu in 2022, but they have been a welcome addition indeed. Currently, the chain offers five different flavors of wings, if we're counting plain, the rest of which are Buffalo Wings, BBQ Wings, Scorchin' Hot Wings, and Garlic Rosemary. That last flavor is the most unique of the bunch (and the highest in fat), while the other three flavored wings do a fine homage to classic wing taste profiles.
Zaxby's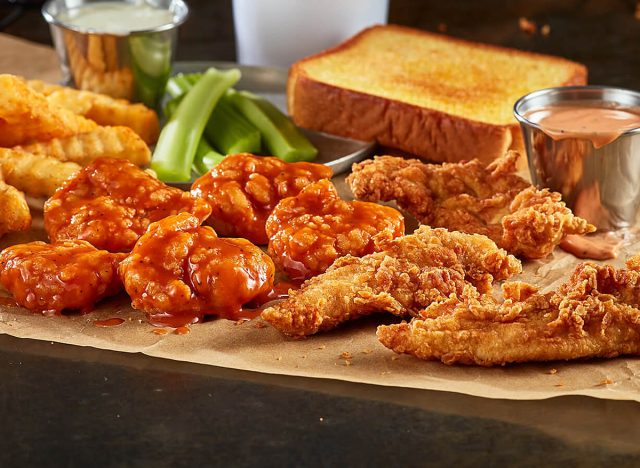 There are about 925 Zaxby's locations in the United States at present, but aside from some locations in Utah, Alaska—and one in Montana—the chain is heavily concentrated in the South. They're worth it, though, and according to multiple sources, the main reason is the sauce. The recipe for the famous and fabled Zax Sauce is not known from start to fish by any one person, according to Zaxby's site. It remains a closely guarded secret to the chain's success. But don't stop at Zax Sauce, there are 12 to try.
Pizza Hut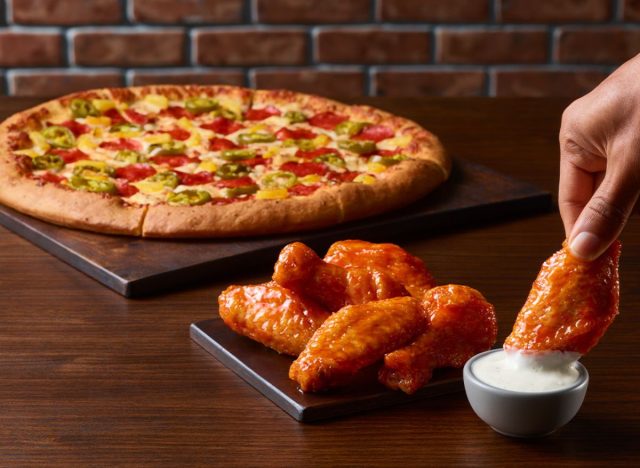 Pizza Hut offers both boneless and traditional wings in order sizes of six, eight, 12, or 36 (that last one will cost you $58.99 at last check!) in 10 flavor profiles. General opinion among internet reviewers is that the chain's wings are decent (one person said it with candor, calling them "Not bad for Pizza Hut," while another went way further, saying "Pizza Hut has the best wings of all the fast food pizza joints in my humble opinion") with the obvious advantage that they will be delivered right to your door.6254a4d1642c605c54bf1cab17d50f1e
KFC
A word of warning: if you want to try KFC's chicken wings, act fast. While they are still on the menu at the time of this writing in some locations, the days of the KFC chicken wing are numbered. Per Today, the chain is soon to undergo a menu "simplification" that will see wings and a few other items removed from the menu. This is a shame, really, as per a 2019 review from Food & Wine that was written when KFC launched its soon-to-be canceled chicken wings, they are surprisingly good.
Domino's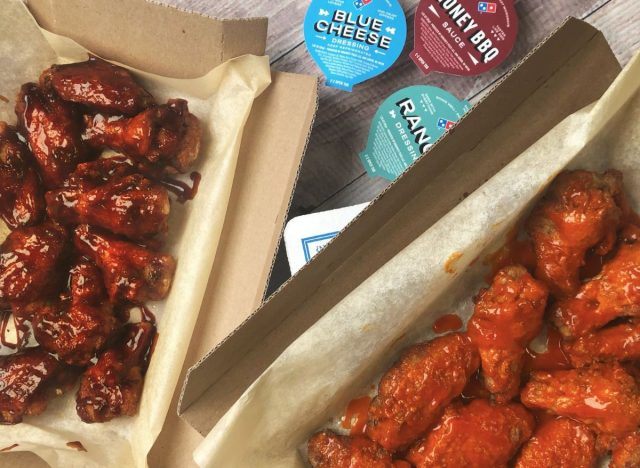 Like Pizza Hut, Domino's chicken wings have the benefit of quick delivery and the general consensus of being "pretty good" if not great, per our assessment of many reviews online. Where the chain's wings win is in terms of price. A 32-piece order, for example, costs $33.99, meaning you are paying $1.06 per wing, whereas for that $58.99 order of 36 wings from Pizza Hut you're paying $1.63 per wing.
Bonchon
To be fair, Bonchon straddles the line between a fast-food and a fast-casual restaurant, but according to Restaurant Business Online, the chain has recently been leaning into the quick service approach more heavily. And when you try the hand-breaded, double-fried, hand-brushed Korean-style chicken wings from the chain, which first appeared in America in 2006, you really won't care about the semantics, you'll care about the crunch.
Steven John
Steven John is a freelancer writer for
Eat This, Not That!
based just outside New York City.
Read more about Steven