8 Fast-Food Restaurants That Serve the Best Pizza
These chains take fresh, never frozen dough and make it into magic.
We're not here to tell you what the best pizza in America is; that's an utterly subjective decision that only you can make. If you'll settle for nothing less than the Neapolitan pizza from legendary Chef Anthony Mangieri's Una Pizza Napoletana, all good. If you pine for the pizza from the Costco food court, you're hardly alone. We can, though, tell you about a number of fast-food pizza chains that serve surprisingly high-quality food.
Pizza chains were not affected as much by the pandemic, according to Restaurant Business, because they were used to the carry-out or delivery business. If anything, they benefitted from it. Recently, though, inflation has taken a chunk of that pie and customers are skipping pizza and eating at home. While pizza may have shifted from necessity to splurge, there are still many chains that are worth every penny.  From pizza restaurants committed to using only fresh ingredients to those that offer all sorts of crust options to those with truly unique pie options on the menu, each of these chains is cooking up some great food.
And they're doing it fast, too: all of the chains on our rundown here offer delivery and/or quick service, so you can enjoy the quality right away.
Domino's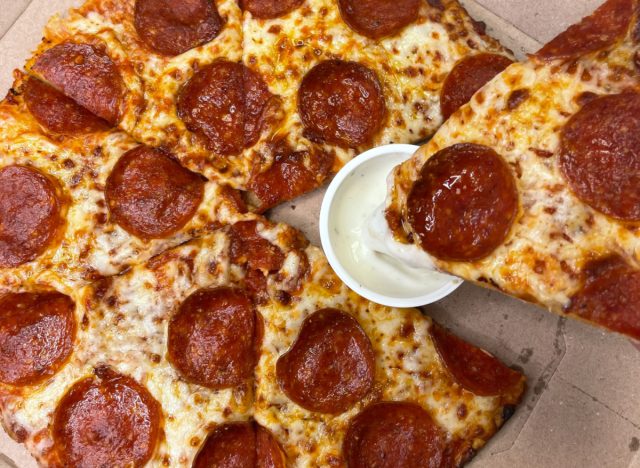 You cannot talk about pizza without talking about Domino's which is the largest pizza chain in the United States with over 6,700 locations. In fact, Domino's operates in 85 countries and delivers more than 1.5 million pizzas each day. And while Domino's feeds a lot of people fast it still uses fresh, never frozen dough for all of its five different crust varieties.
At Domino's, you can opt for hand-tossed, handmade pan, thin crust, gluten-free, or Brooklyn-style pizza. You can also get any of the pizza varieties on the different crusts. When we took to social media to find out the fan-favorite pizza at Domino's and we found that the Hand-Tossed Philly Cheese Steak Pizza from Domino's is a favorite menu item of many. One Reddit post titled "philly is the best pizza dominos has. change my mind" met with multiple supportive comments.
Don't skip the appetizers at Domino's either. The chain's recent launch of Loaded Tots during Super Bowl season helped propel the chain's earnings. We also really loved them, especially the Philly Cheesesteak version.
Jet's Pizza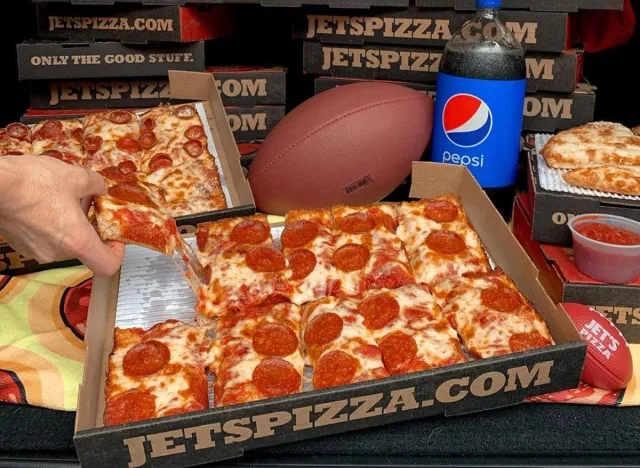 Founded in 1978, Jet's Pizza is best known for its Detroit-style pizzas. And, according to the pizza-loving community over at Reddit, Jet's Pizza is just about the best Detroit-style pizza you can find from any chain far from Detroit itself.
One commenter in the r/doughboys "Subreddit" put it all on the line, saying: "Living in Detroit, they're the one national chain who competes on home turf when people compare 'best Detroit style pizza in Detroit.'" Another poster said: "I was blown away the first time I had them years ago … Stellar pizza. Best crust I've ever had." You can custom-build a four-slice or eight-slice pie from Jet's or try one of the signature offerings, like the BLT, the Super Special, or the All Meaty.
Beyond the shape (and size) of many pizzas from Jet's, the ingredients the chain offers are also a strong selling point. For example, Jet's currently offers a pizza made with three different kinds of pepperoni. Plus, the chain lets you "flavorize" any crust with additions like butter, Cajun spices, sesame seeds, garlic, and more. Plus, it offers multiple types of crust, as well, including cauliflower crust and gluten-free crusts.
If you're looking for one of Jet's 400+ locations look to Michigan, Florida, and Ohio which have the most.
Marco's Pizza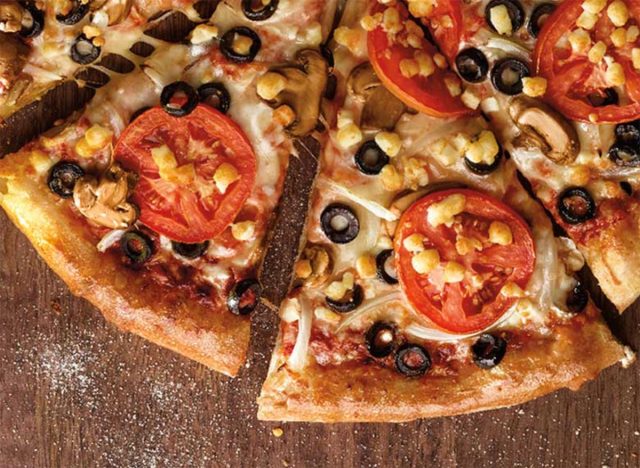 Currently, Marco's is the fifth biggest pizza chain in America in terms of annual sales and has 1,100 stores across 33 states. A big part of the reason Marco's has enjoyed so much esteem of late is the fact that the chain uses very fresh ingredients. That includes pizza dough that is prepared at each restaurant each day, sauces made from scratch, and a broad selection of cheeses and toppings. 6254a4d1642c605c54bf1cab17d50f1e
Marco's Mushroom Pizza is a solid choice for a unique reason when it comes to pizza as a category: the health stats. According to nutritionists, a Mushroom Pizza from Marco's (which requires a bit of basic customization to create) is about as healthy as you can get chain pizza-wise, with an average large slice of said pie containing 490 calories, 18 grams of fat, 940 milligrams of sodium, and 23 grams of protein. So not a health food, per se, but a healthier option than most slices.
One reason for Marco's success goes beyond the pizza: the chain also offers subs, pizza bowls, sides including chicken wings, and four different salads. In case you're wondering, a pizza bowl is essentially all of your favorite pizza toppings and sauce without the crust.
Blaze Pizza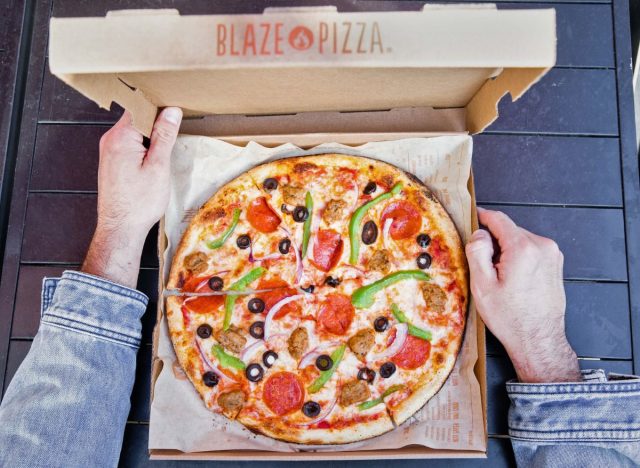 The reason for Blaze's popularity with diners is simple: quality ingredients, a warm atmosphere at the restaurants, and a wide arrange of menu items that appealed to people with varied dietary concerns. The chain carries five specialty crusts and over 35 different toppings for its pizza that are "fast-fired" at extreme heat.
Blaze also pays attention to where it sources its ingredients. The meats it uses have no nitrites and it eschews artificial colors, it even makes all its own salad dressings.
Blaze Pizza was the first chain to offer a keto-friendly pizza crust on a national scale. The Keto Pizza from Blaze Pizza allows even those with varied dietary restrictions to enjoy a great pizza. It comes with a gluten-free crust, sauce, two kinds of mozzarella cheese, bacon, tomatoes, mushrooms, and spinach, and of course, you can customize it further however you want. A single slice of the Keto Pizza has just four grams of carbs, which is great for those avoiding carbohydrates, but note that it also has just 150 calories, so you're probably going to want to eat a few to fill up.
And today, Blaze also offers side salads, cheesy bread sides, and more, such as beer and wine at a number of locations. You can also half pizzas at many Blaze locations, making it a perfect spot when it's just you eating.
Papa Johns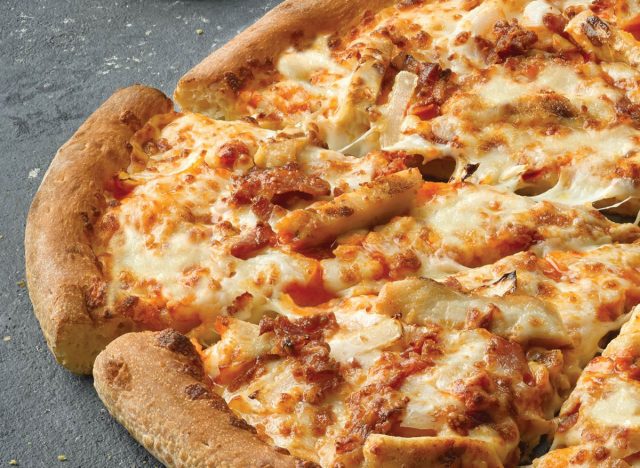 The past few years have not been ideal for Papa Johns—in 2018, the chain's founder and namesake, John Schnatterm, was forced out amidst a controversy. But then, things got better. According to Restaurant Business, in recent years Papa John's leaned into its own slogan from the past: "Better ingredients, better pizza." The chain has always used the freshest ingredients like fresh never-frozen dough, a signature pizza sauce made with vine-ripened tomatoes, and quality cheeses.
The chain's sales were up in 2022 thanks primarily to the introduction of several new premium pizzas, including a New York-style pizza, the chain's hit Epic Stuffed Crust as an option for all custom orders, and the limited-time release of the Shaq-a-roni pizza.
Papa Johns Epic Stuffed Crust pizzas are apparently so good, they helped the company's profits surge during the peak pandemic years, according to Restaurant Business. Along with a few other shorter-lived menu additions, like the now-ended Shaq-A-Roni Pizza, Epic Stuffed Crust pies saw same-store sales rise by more than 11% over the course of 2021. And today, the option to get your pizza made with Epic Stuffed Crust is still very much on the menu.
MOD Pizza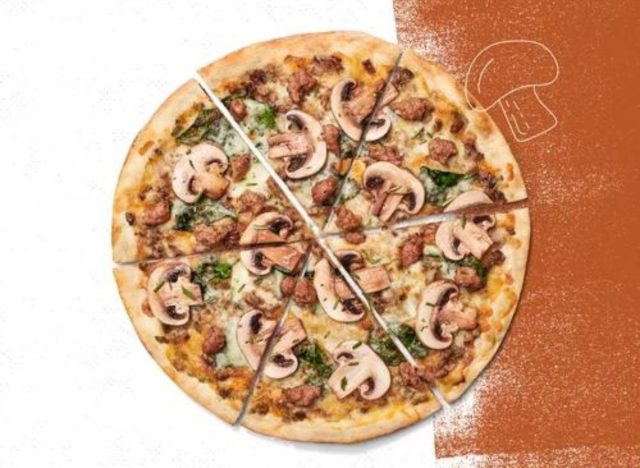 MOD Pizzas could not be made much fresher than they are, because the pizzas are not made until the customer specifies the ingredients they want used in their individual, custom-made pizza. Per the chain's site, "every pizza or salad is made on demand and completely unique," and said orders can be made with any of 40 different toppings, eight finishing sauces, and eight dressings. The pizzas also cook incredibly fast. MOD credits its gas-fired ovens that cook at such high temperatures that it only takes a few minutes
The Calexico Pizza has been called one of the best pizzas on the MOD Pizza menu. It consists of "Mozzarella, gorgonzola, chicken, jalapenos, hot buffalo sauce, [and] red sauce," per MOD's site, and per the review from Mashed: "The Calexico is designed for people who like to keep things spicy… [and] is loaded up with mozzarella and gorgonzola cheese, juicy white-meat chicken chunks, and jalapeños all drizzled with a hot buffalo sauce … You don't realize how much you love gorgonzola cheese paired with heat until you take a bite into this amazing creation."
What's more, the restaurant always uses fresh, locally-sourced ingredients when possible. And that goes for the pizzas, but also for the large, fresh salads the chain offers, which include a Greek, an Italian Chop, a Caesar, a classic Garden, and even a create-your-own option.
Frank Pepe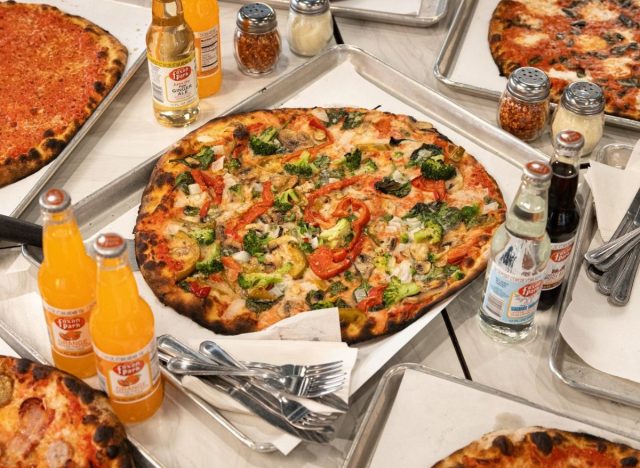 This growing East Coast pizza chain is the descendent, as it were, of a restaurant that was founded in New Haven, Connecticut back in 1925. The iteration known today dates back to the 1960s and now has 12 locations in four states. The chain's popularity can be contributed to two things: a wetter, more slowly-fermenting dough than that found at most chains, and a unique offering of toppings like white clams, broccoli, and shrimp.
There may be only about a dozen Frank Pepe locations as of the time of this writing, and they are concentrated on a relatively narrow stretch of the East Coast, but with such tasty dough and fresh, unique ingredients, the chain is poised to continue its growth.
Zalat Pizza
Watch for this 27-store start-up pizza chain to rapidly spread beyond its native Texas, because its founders are all about a "culture of growth," and that includes "ambitious plans to take the company public." Fortunately, Zalat Pizza is also committed to serving quality food.
The chain's "Mission" page states, among other things, that "at Zalat, we're dedicated to creating a pizza experience like no other [by offering] handcrafted pizzas using the freshest, highest quality ingredients [and] daily-made dough and in-house sauces and toppings."
As for the ingredients you can find there? All the classics, of course, but also unexpected toppings like corn, pickles, teriyaki sauce, and so much more. While you can always construct a pizza from scratch, you may want to consider Zalat's premade pies like the Elote, the Nashville Hot Chicken & Pickles, or the Loaded Notato.
Steven John
Steven John is a freelancer writer for
Eat This, Not That!
based just outside New York City.
Read more about Steven