The Worst Fast-Food Burritos
Some of these menu options are just over-the-top, for all the wrong reasons.
When you're in the mood for a warm tortilla stuffed with rice, beans, cheese, chicken or beef, guacamole, and a little pico de gallo, a burrito hits the spot. It's always best to make one yourself at home, as you can control exactly how much of each ingredient you're including. Sometimes, you just don't have the time for that! Or, you simply don't want to make it yourself—it takes some serious skill, after all. That's where the fast-food burritos come in.
If you got a burrito delivered this year, you are not alone. In 2022, more American ordered burritos for delivery that any other food, including burgers and pizza, according to data released by GrubHub.
Like anything else, there are some options that aren't necessarily the best, as they're highly caloric sodium bombs. You're much better off choosing another menu item! So we rounded up some of the biggest burrito offenders from popular fast-food and fast-casual spots, ranked from bad to the absolute worst. This way, you know what not to order!
Taco Bell Beefy 5-Layer Burrito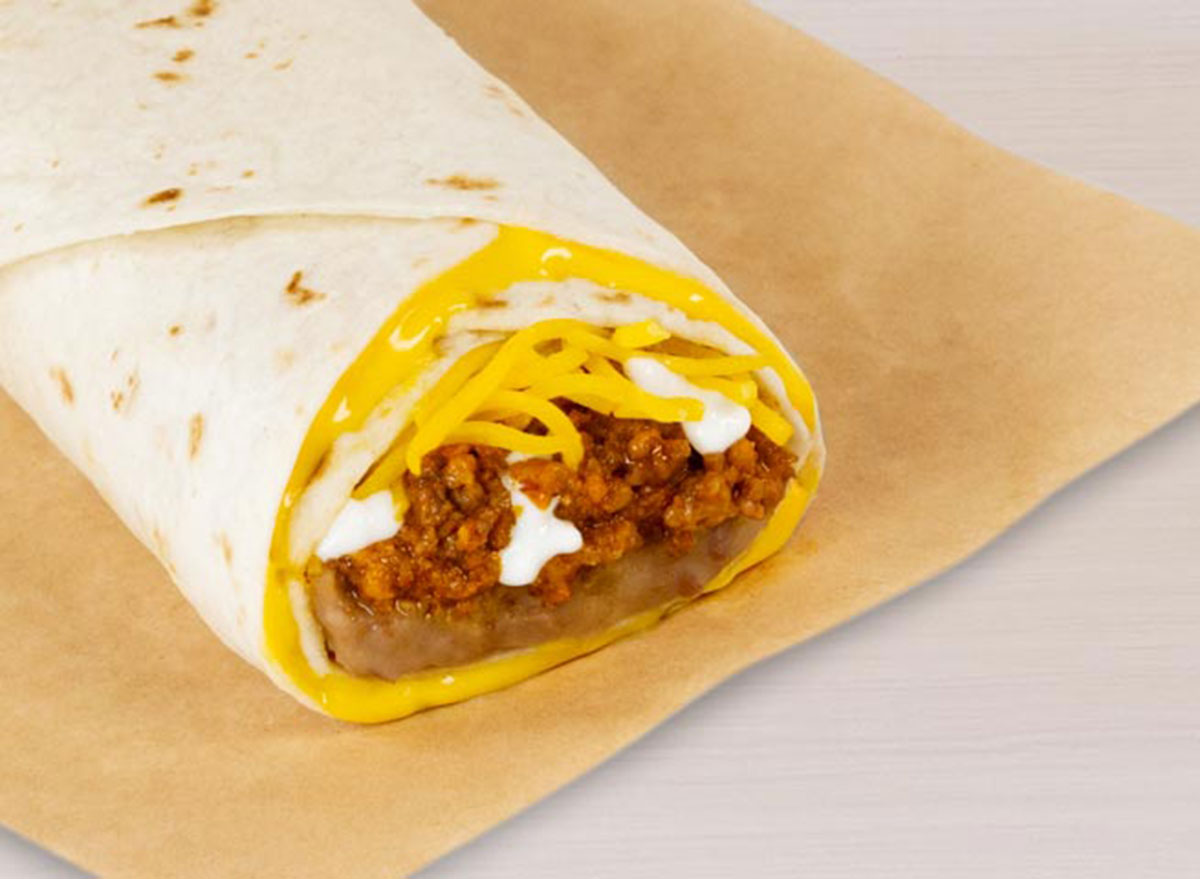 490 calories, 18 g fat (7 g saturated fat, 0 g trans fat), 1,250 mg sodium, 63 g carbs (9 g fiber, 5 g sugar), 18 g protein
The best part about Taco Bell? Everything on the menu is customizable, so you can easily swap components of any menu item. It's actually fairly easy to eat something healthy at Taco Bell! One menu item if you leave as is that isn't necessarily the best option is the Beefy 5-Layer Burrito. Beef, cheese, sour cream, cheese, and nacho cheese are all wrapped up together, resulting in a burrito that has more than 1,200 milligrams of sodium. If you really want to indulge, just make sure this is a rare treat!6254a4d1642c605c54bf1cab17d50f1e
Taco John's Boss Burrito, Beef With Roasted Corn & Pepper Salsa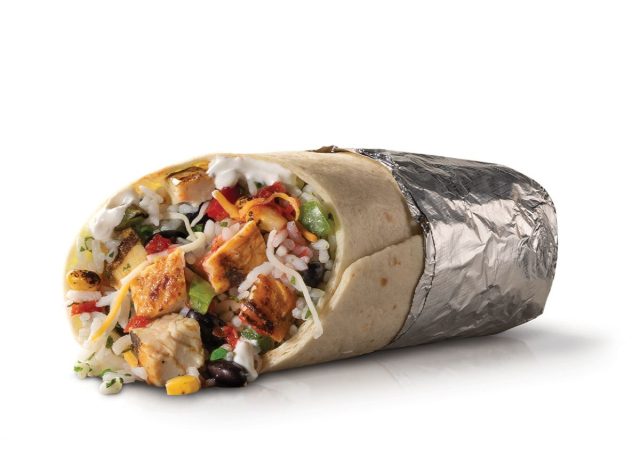 840 calories, 34 g fat (14 g saturated fat, 0.5 g trans fat), 2,210 mg sodium, 109 g carbs (13 g fiber, 8 g sugar), 34 g protein
You probably didn't expect a burrito named Boss to be a lightweight entree, and you'd be right. Taco John's Boss burritos are huge. Each one is stuffed with over a pound of food, according to the website. On the plus side, the beans and corn do add a respectable 13 grams of fiber. If you eat half of this behemoth and save the rest for later, you should be in good shape. Beware, however, even half of this massive wrap have over 1,100 milligrams of sodium.
Sonic Ultimate Meat & Cheese Breakfast Burrito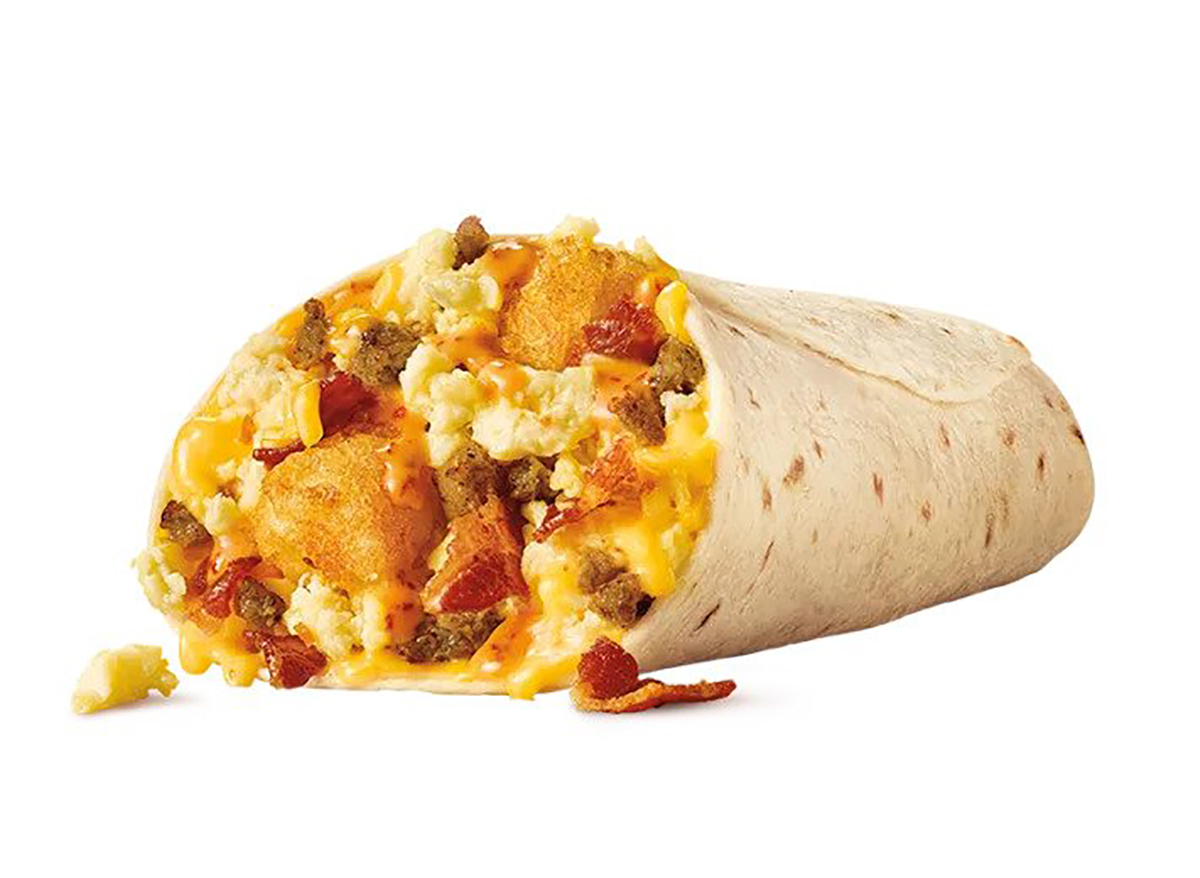 840 calories, 58 g fat (19 g saturated fat, 0.5 g trans fat), 2,020 mg sodium, 47 g carbs (2 g fiber, 1 g sugar), 30 g protein
OK, so we know this is a breakfast burrito. It still counts as a fast-food burrito optionm though! At Sonic, the Ultimate Meat & Cheese Breakfast Burrito is high in fat and even contains 0.5 grams of heart-harming trans fat. Plus, it has more than 2,000 milligrams of sodium. The American Heart Association recommends most adults consume no more than 2,300 milligrams of sodium per day. This one burrito is getting you very close to that daily limit, and that's just at breakfast…
El Pollo Loco Chicken Avocado Burrito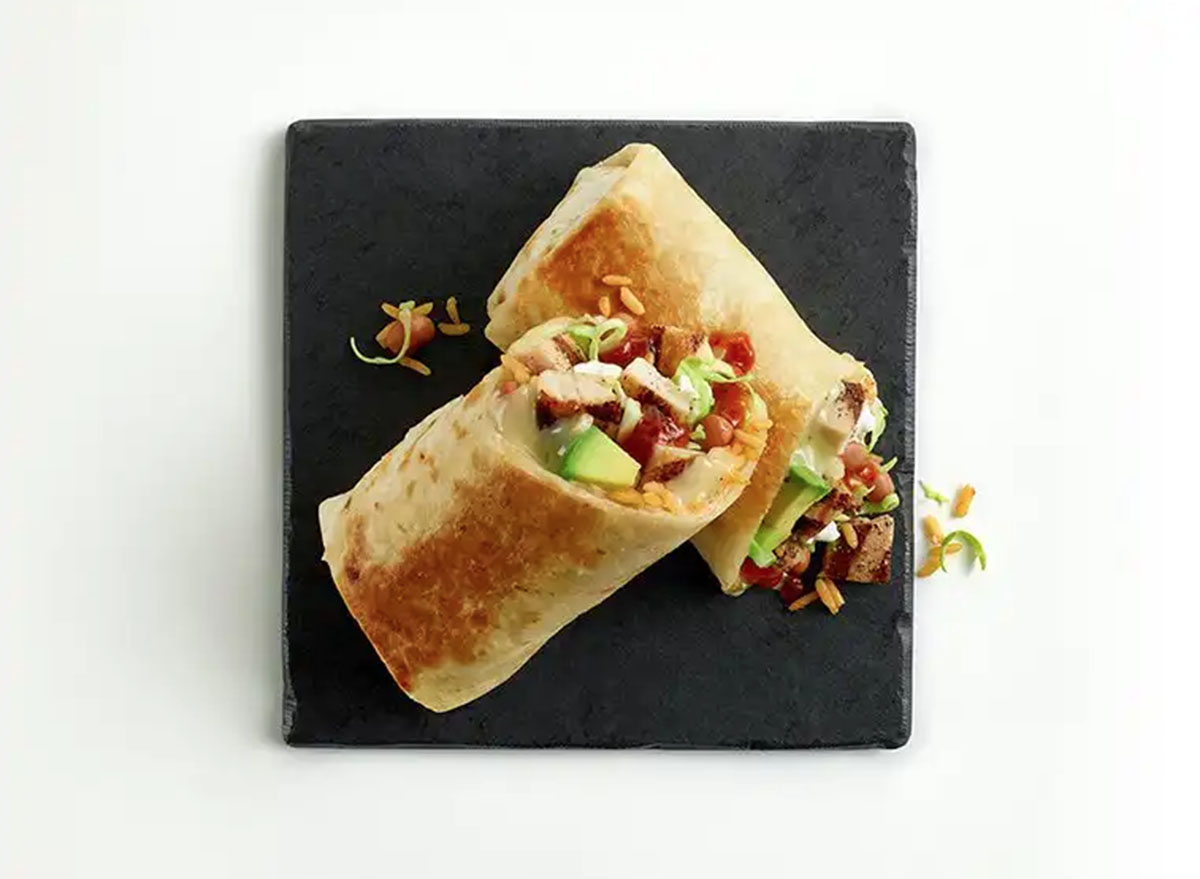 860 calories, 47 g fat (15 g saturated fat, 0.5 g trans fat), 1,940 mg sodium, 70 g carbs (10 g fiber, 5 g sugar), 43 g protein
Chicken and avocado make for a solid combination. You're getting your protein fix from the chicken, and it's no secret how many benefits avocado serves up, including that it's a heart-healthy source of good fat. Somehow, the combo gets a little lost in this El Pollo Loco burrito, as it's loaded up with trans fat and sodium.
Del Taco Epic Loaded Queso Burrito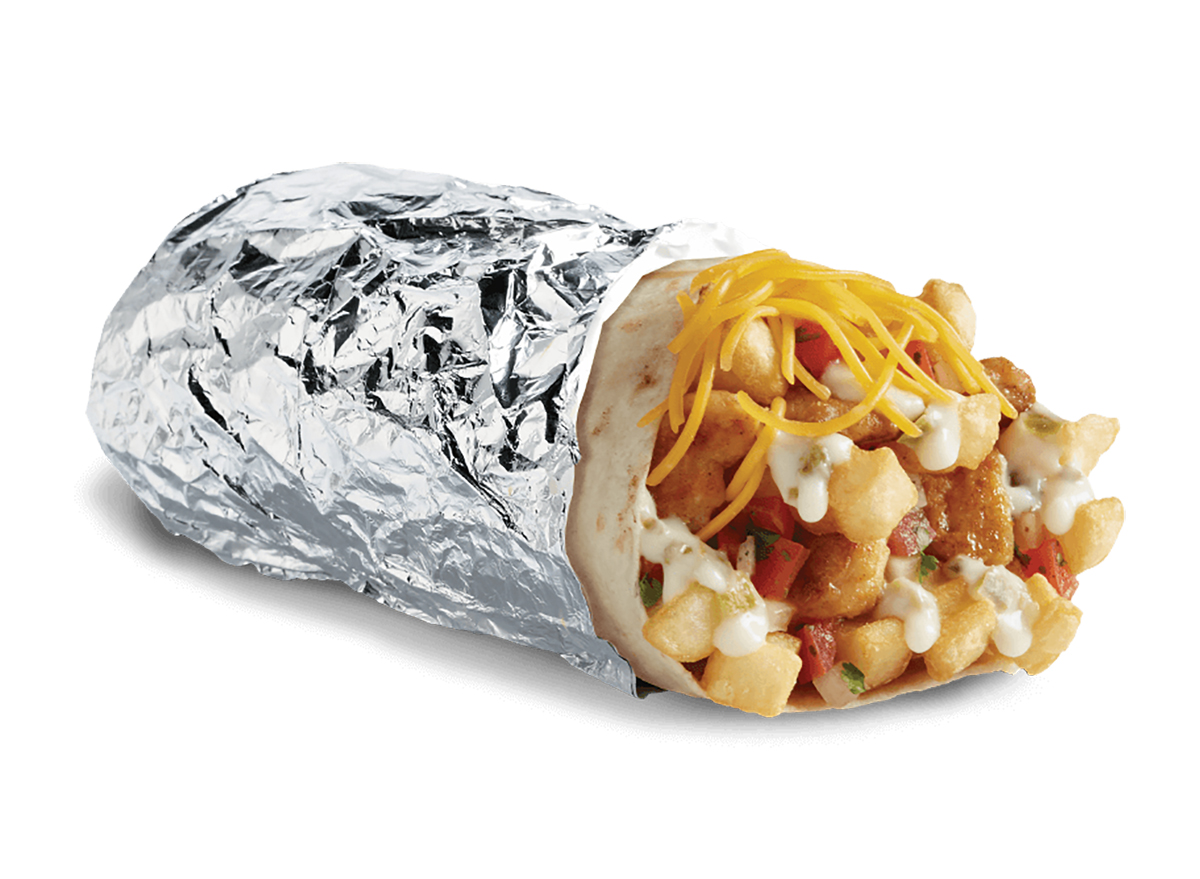 With carne asada
: 910 calories, 44 g fat (20 g saturated fat, 0 g trans fat), 2,950 mg sodium, 76 g carbs (4 g fiber, 5 g sugar), 48 g protein
At Del Taco, the Epic Loaded Queso Burrito is, well, stuffed. Del Taco's famous crinkle-cut fries, creamy queso blanco, grated cheddar cheese, and pico de gallo are all wrapped in a warm, oversized flour tortilla, along with your choice of grilled chicken, carne asada steak, or Beyond meat. The fact that this burrito is packing as much sodium as you would get from 260 Classic Lay's Potato Chips is downright scary! You're better off choosing one of Del Taco's Chicken Rollers as a smaller, yet still satisfying way to get your burrito fix.
Looking for more helpful tips? Your ultimate restaurant and supermarket survival guide is here!
Moe's Southwest Grill Homewrecker Burrito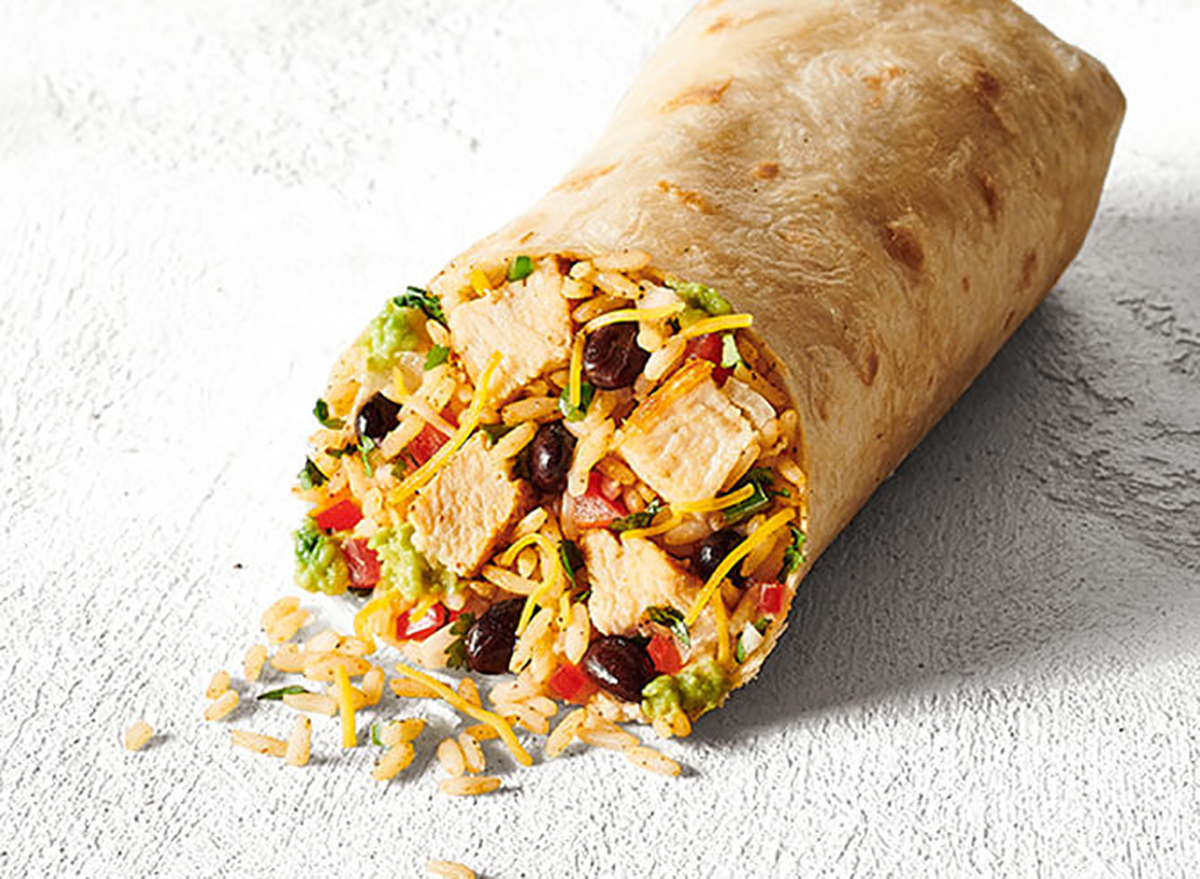 With adobo chicken
: 1,000 calories, 41 g fat (19 g saturated fat, 0 g trans fat), 1,874 mg sodium, 121 g carbs (16 g fiber, 8 g sugar), 51 g protein
The Homewrecker burrito is a classic menu staple at Moe's. It's easy to see why, as it sure is a big burrito! It clocks in at 1,000 calories, which is half of the number of calories most people eat in an entire day. If you can skip the sour cream and cheese, and eat just half of the burrito at a time, you'll be much better off.
Qdoba Chicken Queso Burrito
1,080 calories, 41 g fat (19 g saturated fat, 1 g trans fat), 2,550 mg sodium, 127 g carbs (0 g fiber, 6 g sugar), 51 g protein
The Chicken Queso Burrito is a Qdoba staple, but the fact that it's coming in at more than 1,000 calories is reason to take a pause. The one gram of trans fat is troublesome, along with the sodium here. Remember, it's never a bad idea to split a burrito with a friend!
Baja Fresh Mexican Grill Nacho Burrito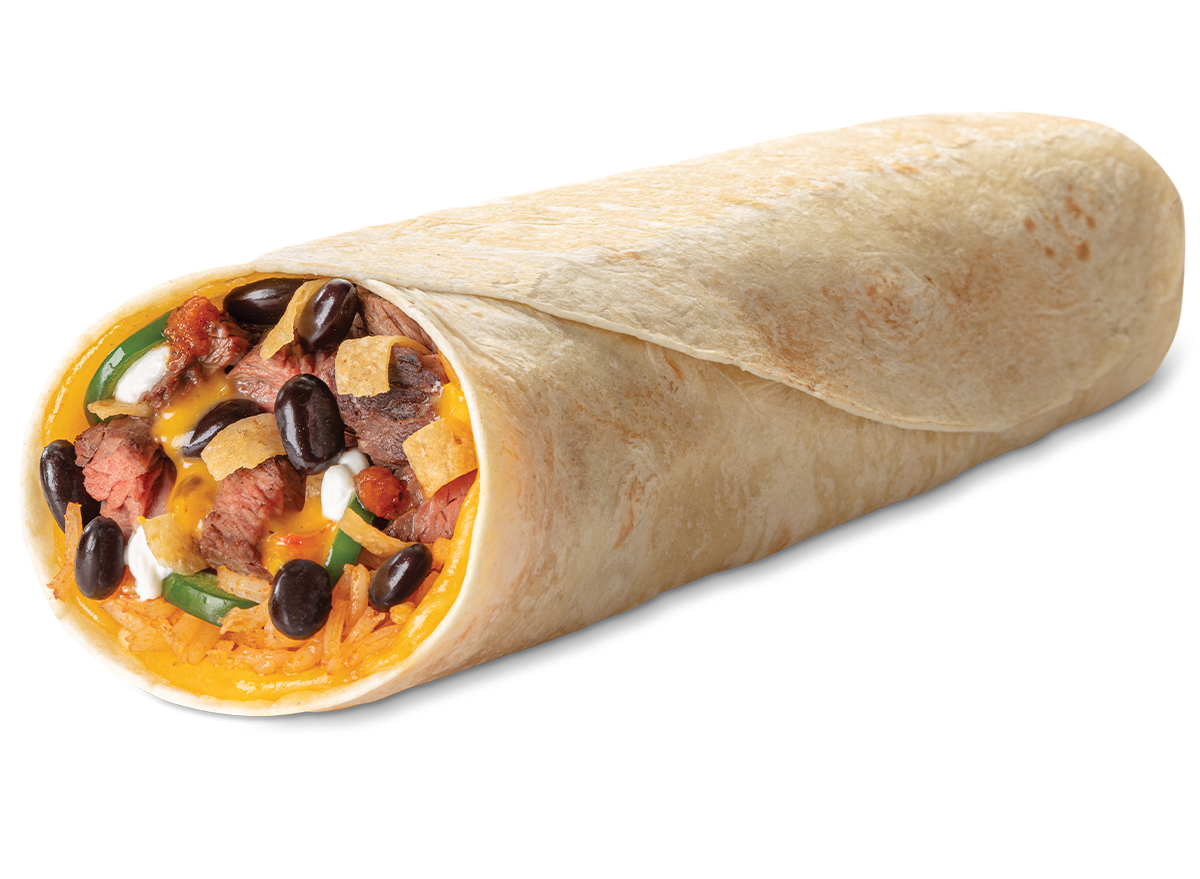 With steak
: 1,190 calories, 55 g fat (23 g saturated fat, 1 g trans fat), 3,130 mg sodium, 108 g carbs (0 g fiber, 7 g sugar), 52 g protein
What's deceiving about this burrito from Baja Fresh is the size. It looks like it would be harmless, as it seems rather small compared to others on this list. If you order the Nacho Burrito with steak, you're looking at an entrée that is packing more than 3,000 milligrams of sodium. That's a whole lot of the salty stuff to be consuming from one dish. Especially since that's without factoring in any side dishes. You know there's a good chance you're going to want to munch on some chips, too.
Chiptole Carnitas Burrito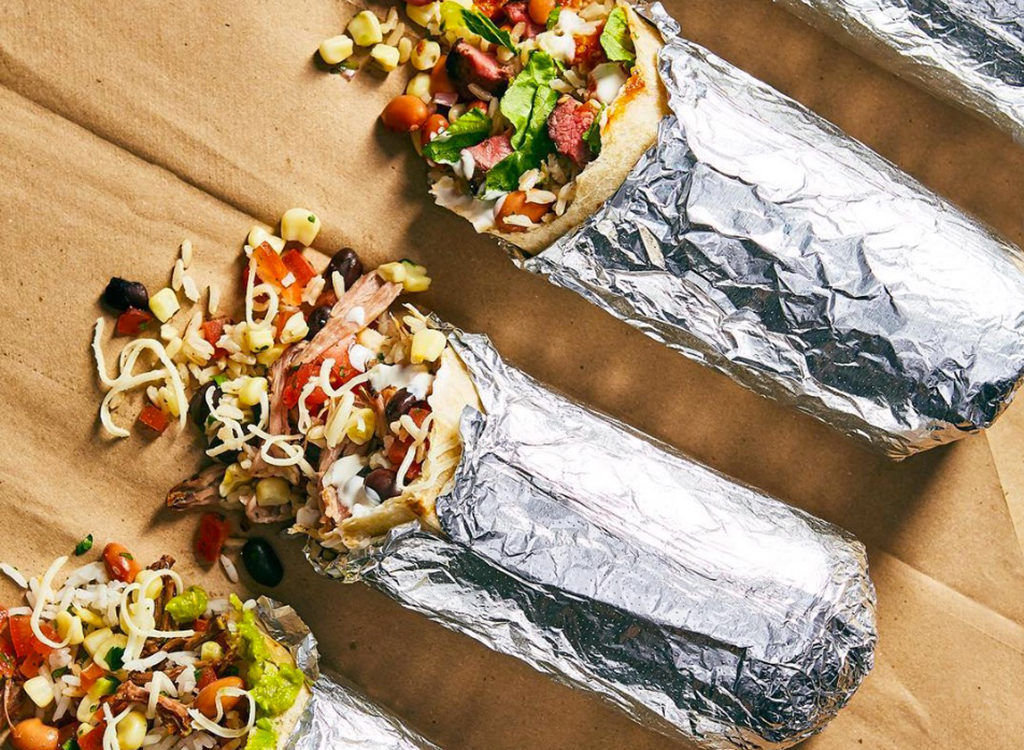 With white rice, black beans, cheese, guac, sour cream, and lettuce
: 1,325 calories, 65.5 g fat (23.5 g saturated fat, 0 g trans fat), 2,200 mg sodium, 124 g carbs (18 g fiber, 5 g sugar), 53 g protein
If you thought things couldn't get any bigger, allow Chipotle to enter the chat. The carnitas burrito has the highest amount of calories out of the other protein options. Plus, it contains a high amount of fat, saturated fat, and, you guessed it, sodium. If you really want to enjoy some carnitas meat, perhaps it's best to eliminate some of the other fillings. (Looking at you white rice, cheese, and sour cream!) The cilantro-lime cauliflower rice is a great substitution for the white rice. Or, you could just get a burrito bowl, which ditches the tortilla and saves you 320 calories and 50 grams of carbs.
A previous version of this article was published in April 2021. It had been updated with new information.
Jennifer Maldonado
Jennifer Maldonado is a senior editor at Eat This, Not That!, specializing in food and health content.
Read more about Jennifer