14 Most Popular New Fast-Food Menu Items of 2020
Chick-Fil-A's kale side dish is a huge win.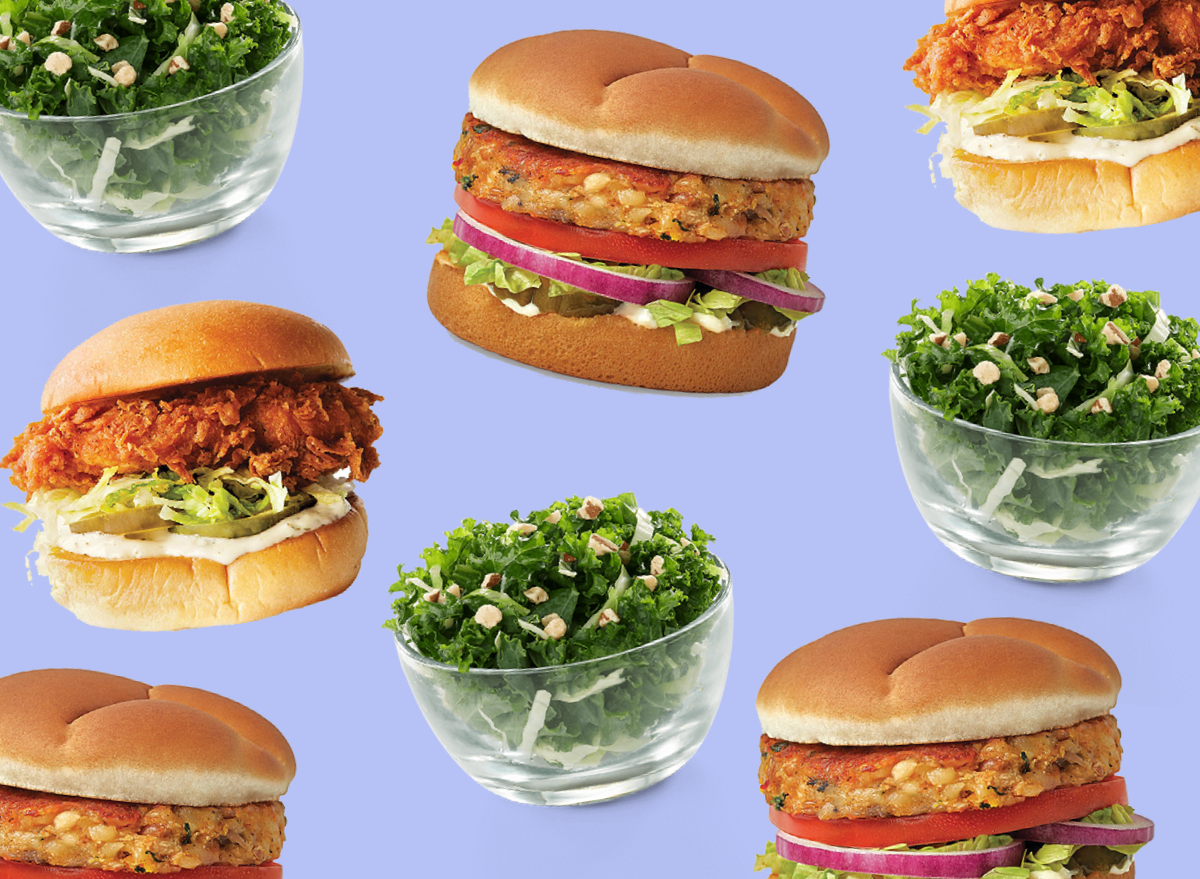 From chicken sandwich wars continuing to take over social media and plant-based items taking over menus, trying something new at a fast-food restaurant was easy this year. While some things were not a success, other items were an instant hit, causing lines to form around buildings for hours at a time in order to people to get their hands on these popular items.
If you've been wondering what new fast-food menu items were big hits in 2020 (even if they were—and still are—total calorie bombs), keep reading.
And for more, don't miss these 15 Classic American Desserts That Deserve a Comeback.
KFC Fried Chicken and Donuts Sandwich
This limited-time KFC menu item was tested in select cities in 2019 and launched nationwide in February 2020. The fried chicken and donut sandwich was available for a limited time and embodied the phrase "finger-lickin' good." The sandwich was made with one piece of golden fried chicken between two glazed donuts for a sweet and savory combo that caused the menu item to go viral.
McDonald's Travis Scott Meal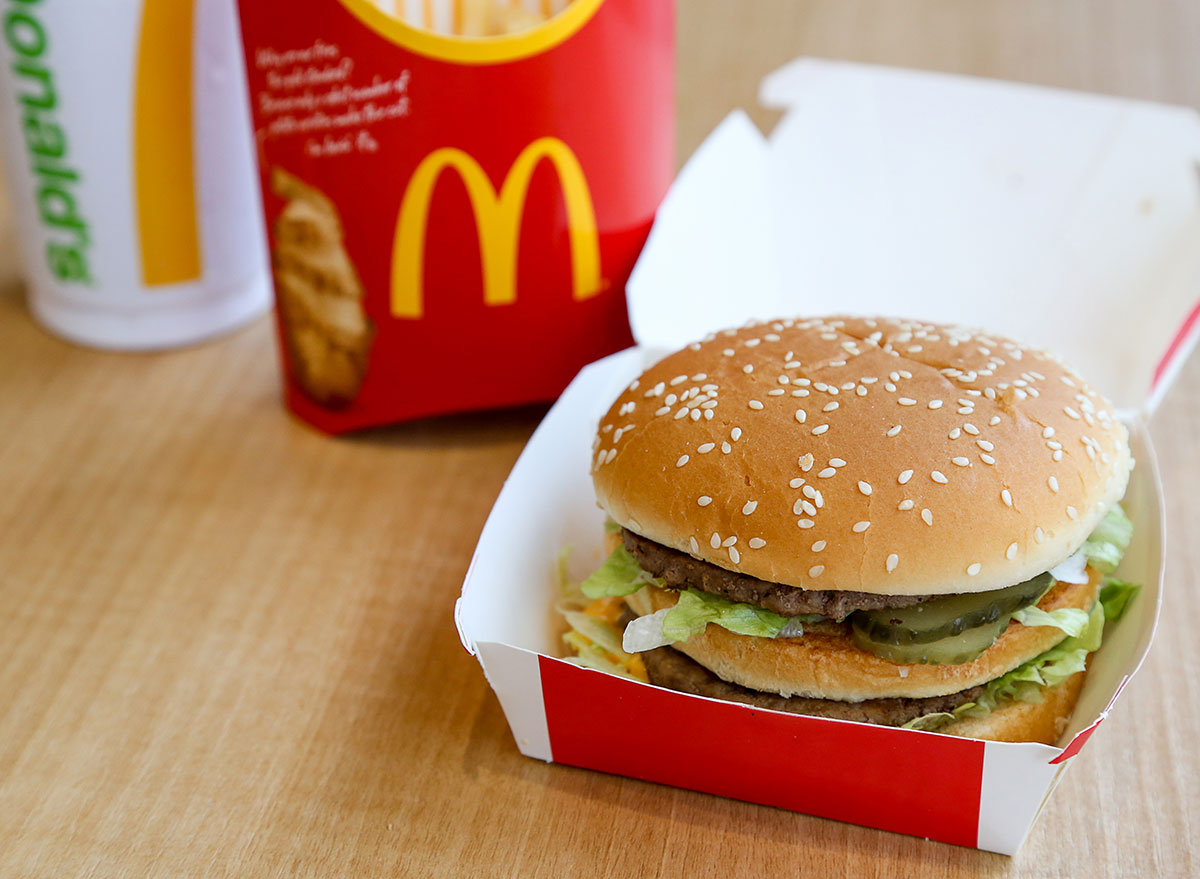 Another limited-time menu item that caused a massive stir was McDonald's Travis Scott meal, which was dubbed the "Cactus Jack" meal. The combination included a Quarter Pounder with cheese, bacon, and lettuce, a medium fry with barbecue sauce, and Sprite with extra ice. All of this was only $6, and fans loved it so much that many McDonald's locations around the country ran out of the ingredients to create the meal.
Shake Shack Hot Chick'n Sandwich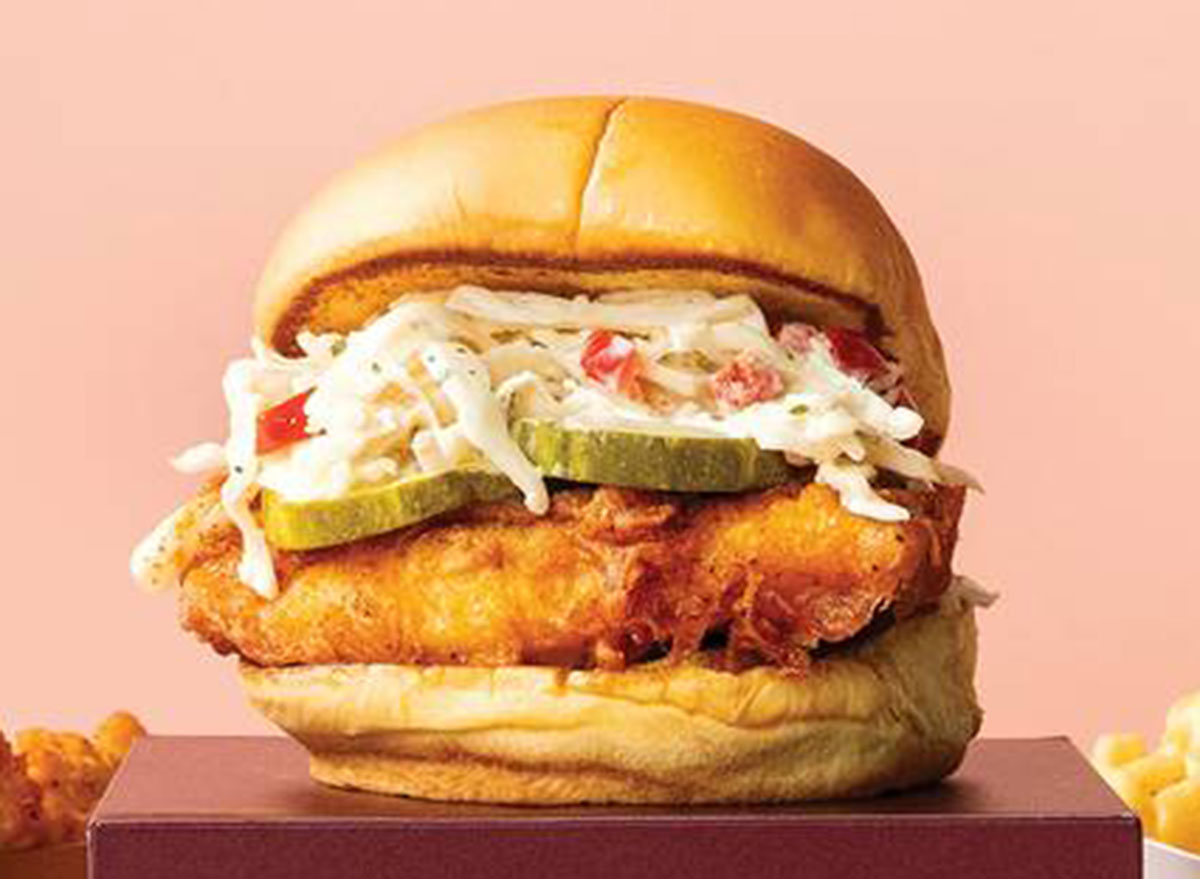 Hot chicken has been a food trend of 2020, so it's no wonder that someone jumped on the bandwagon to create something for a fast-food menu. The Hot Chick'n Sandwich from Shake Shack was brought back to the menu in September and is the perfect combo. The sandwich is built on a potato bun, with hot fried chicken, pickles, and slaw. Shake Shack also added hot chicken bites and hot and spicy cheese fries as part of the menu launch.
Dunkin' Spicy Ghost Pepper Donut
Sweet and spicy flavors come together on this Dunkin' Spicy Ghost Pepper Donut. The traditional fried donut is topped with a sweet and spicy strawberry glaze that uses ghost peppers as the main flavor. Many people who have tried the donut claimed it was the perfect amount of spice.
Arby's Crispy Fish Sandwich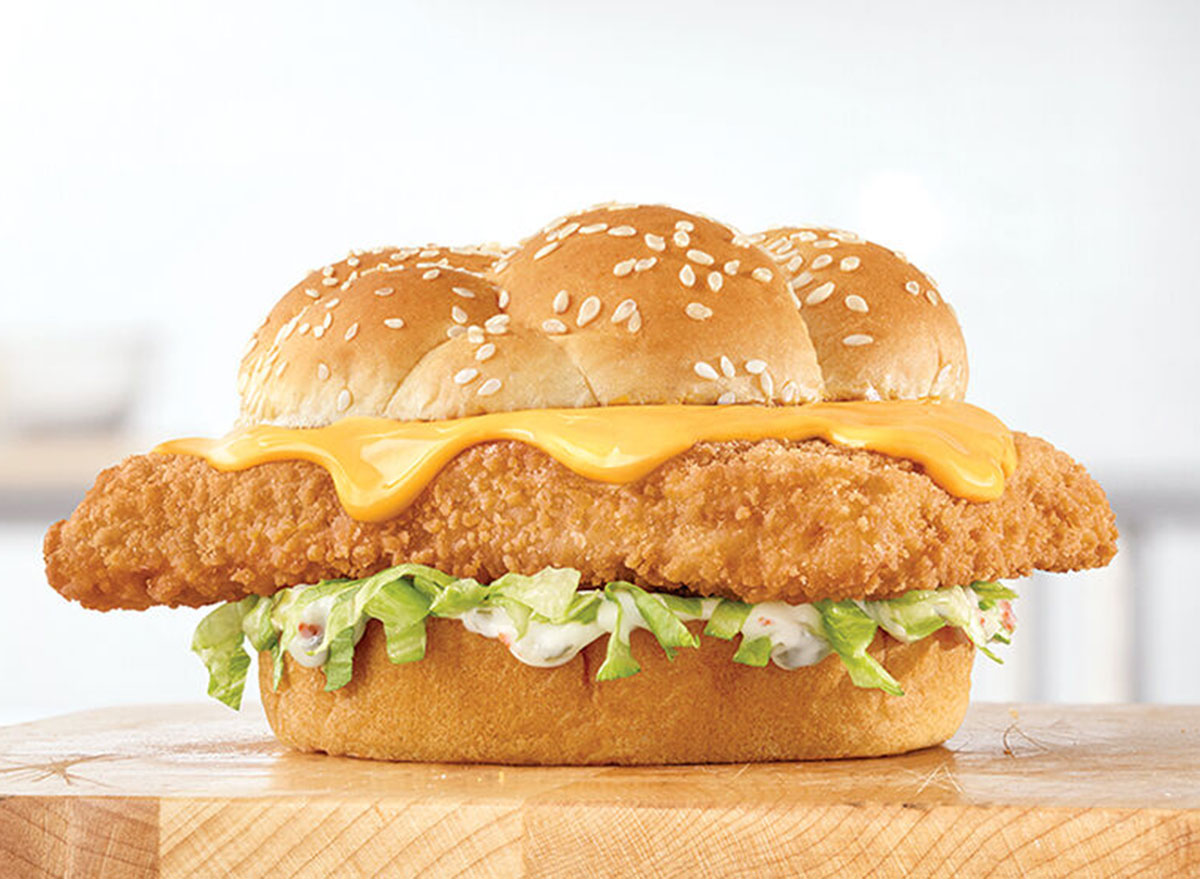 Fish sandwiches are a mainstay on many fast-food menus, at least during the Lenten season, but many of them are boring and not very good. One that received much fanfare this year was the Crispy Fish Sandwich from Arby's, the first fish sandwich on the restaurant's menu. The sandwich starts with a brioche bun, then layers on beer-battered fish, shredded lettuce, tomatoes, pickle slices, and tartar sauce. The menu item was said to be a limited-time offering, but it can still be found on menus across the country.
Chipotle Tony Hawk Burrito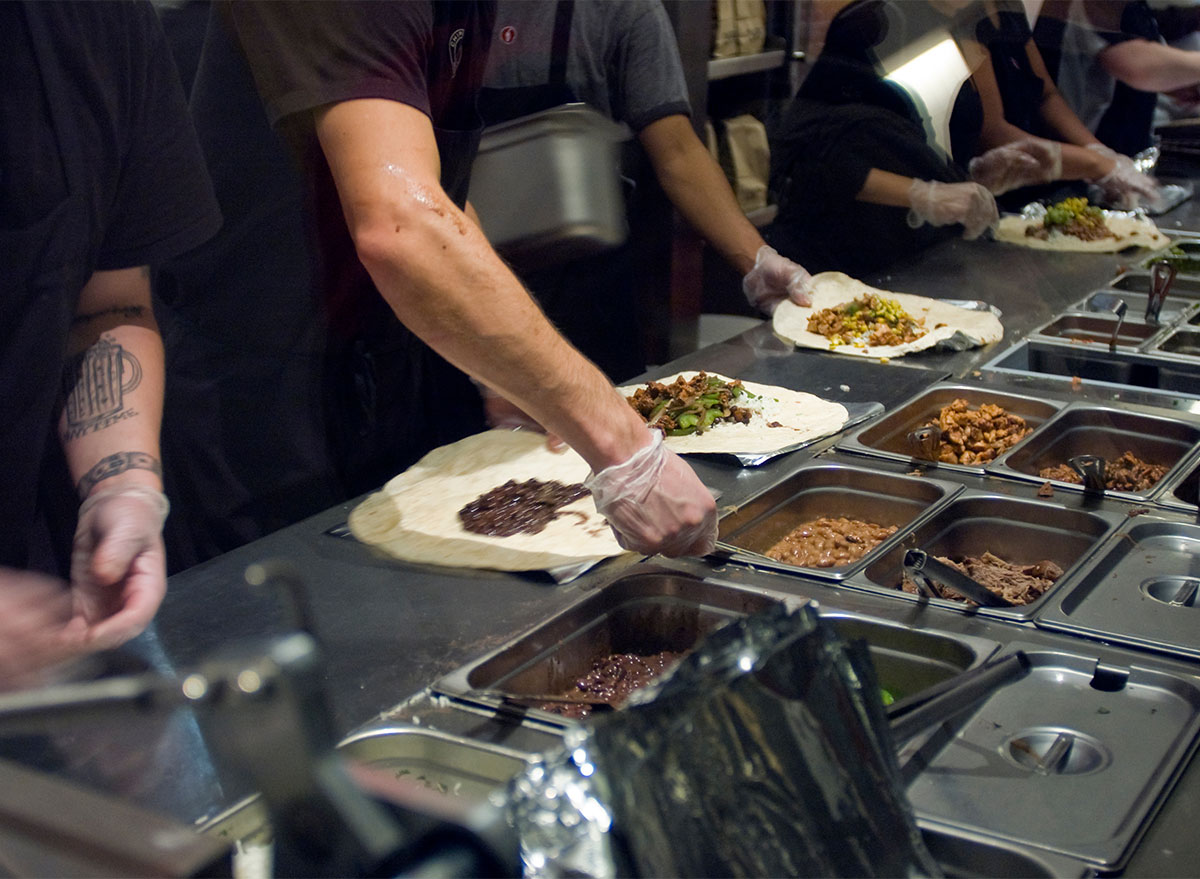 Burritos are always a fast-food favorite, and when Chipotle partnered with skateboard pro Tony Hawk, fans lined up to order the Tony Hawk Burrito. The burrito came loaded with brown rice, black beans, chicken, tomatillo-red chili salsa, and guacamole.6254a4d1642c605c54bf1cab17d50f1e
Chick-fil-A Kale Crunch Side
Swapping out waffle fries for kale might seem boring, but Chick-fil-A's Kale Crunch Side is worth the switch. The side features curly kale, green cabbage, and optional roasted almonds and is dressed with an apple cider and Dijon mustard vinaigrette. The best part about this swap is that there's no upcharge.
Burger King Impossible Croissan'wich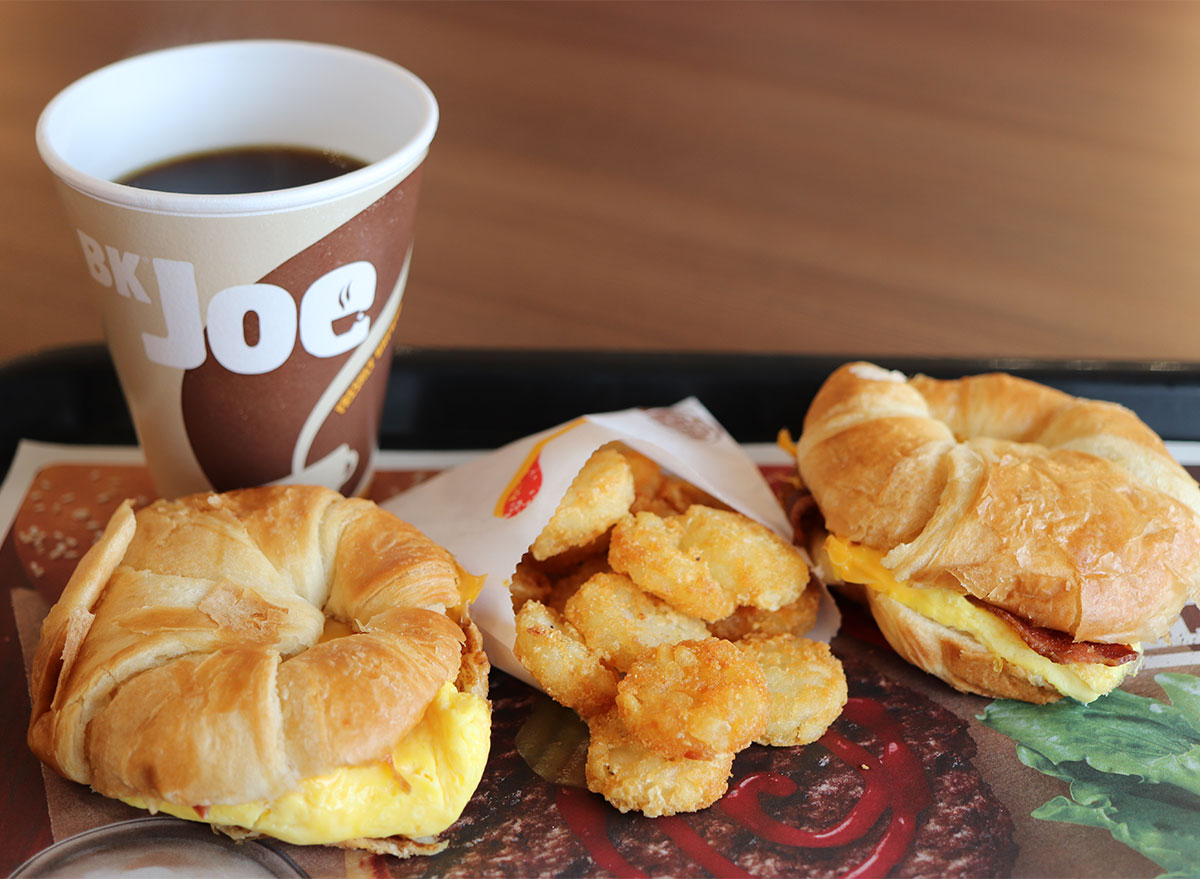 Vegan options flooded fast-food menus in 2020, including at Burger King during breakfast time. The Impossible Croissan'wich is made with a flaky croissant-style bun, eggs, cheese, and an Impossible patty. To make this completely vegan, take away the eggs and cheese and ask for the patty to be heated in the microwave instead of on the grill, where burgers are cooked.
Culver's Harvest Veggie Burger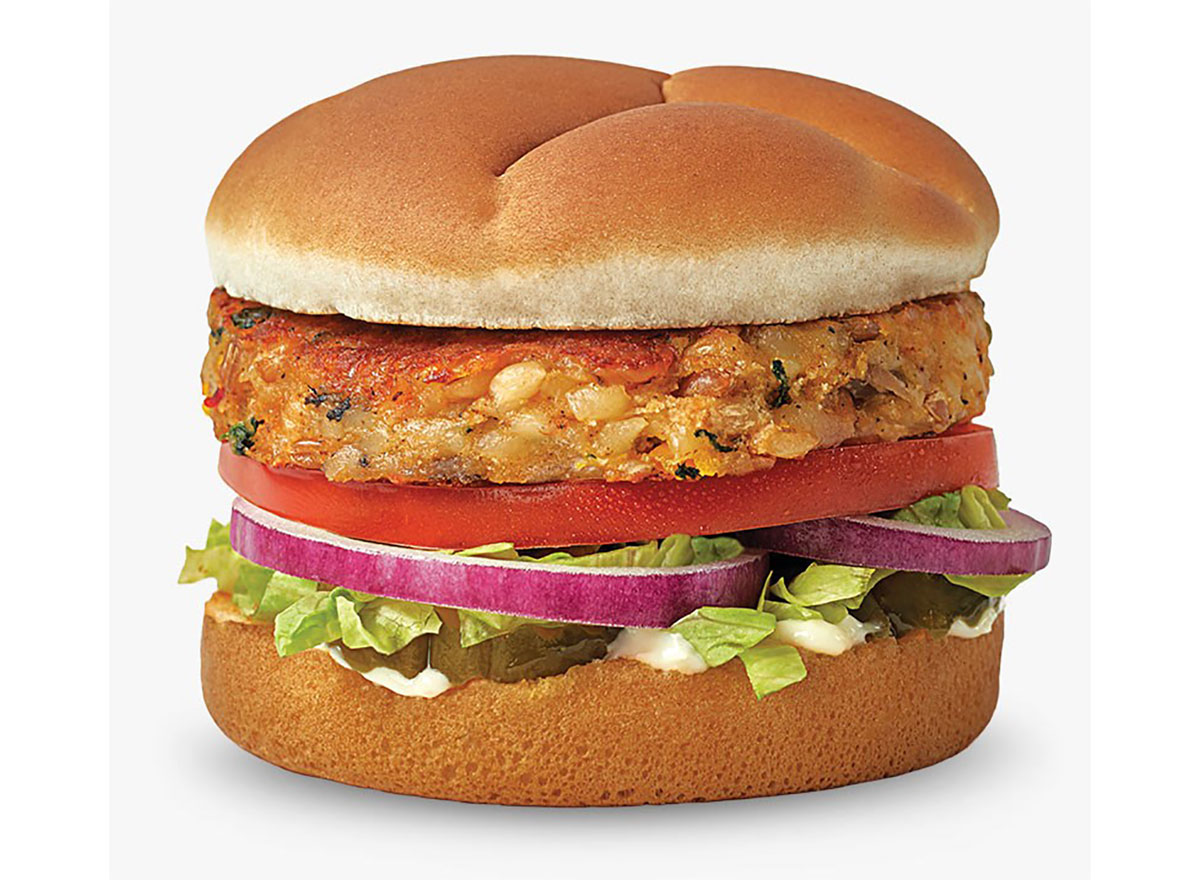 Unlike many other fast-food joints, Culver's has created a made-in-house veggie burger. The new menu item features cheese, grains, corn, mushrooms, bell peppers, spinach, and chickpeas. The burger can be served on a bun with all of the traditional toppings.
Panera Broccoli Cheddar Mac & Cheese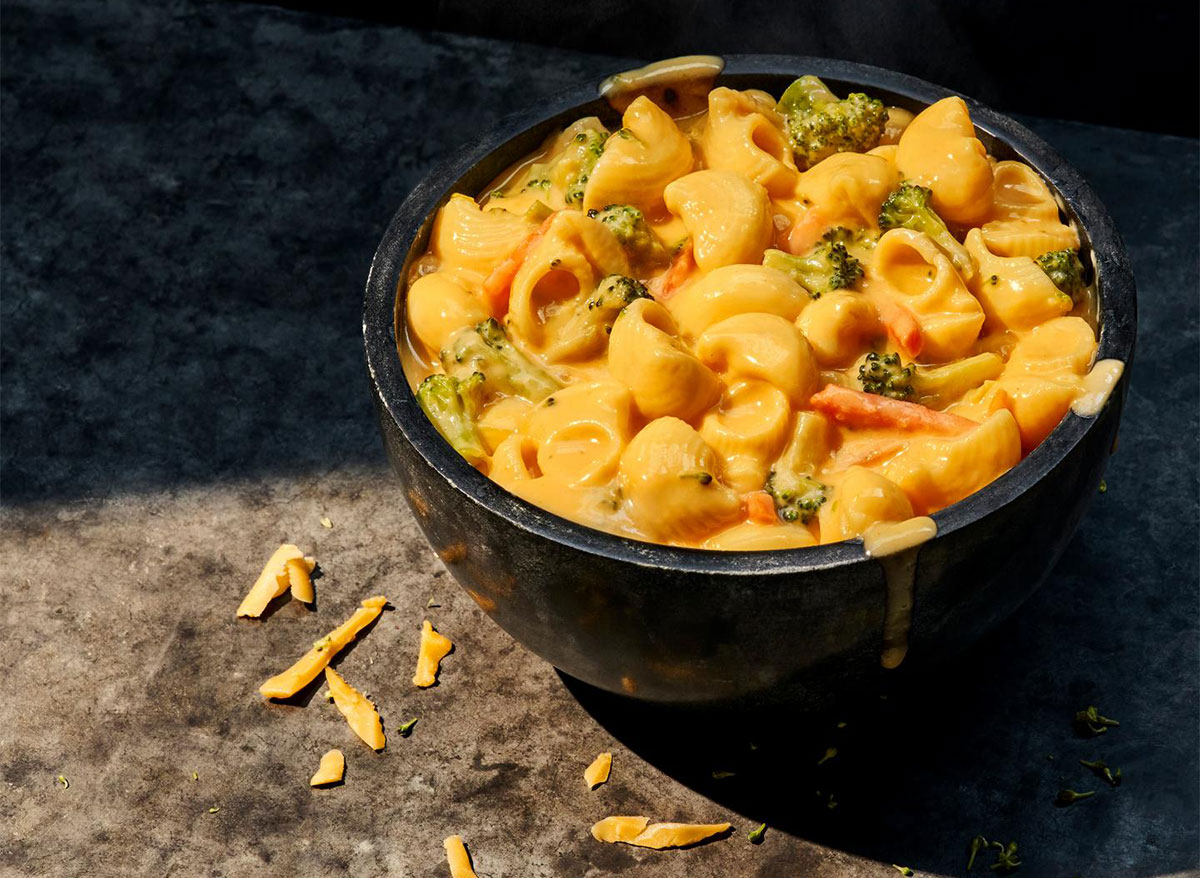 Lunchtime got a lot easier with the combination of Panera's fan-favorite broccoli cheddar soup and macaroni and cheese to make Broccoli Cheddar Mac & Cheese. The new menu item combines both cheese sauces into one perfectly smooth sauce to pour and mix with pasta.
Papa John's Shaq-a-Roni Pizza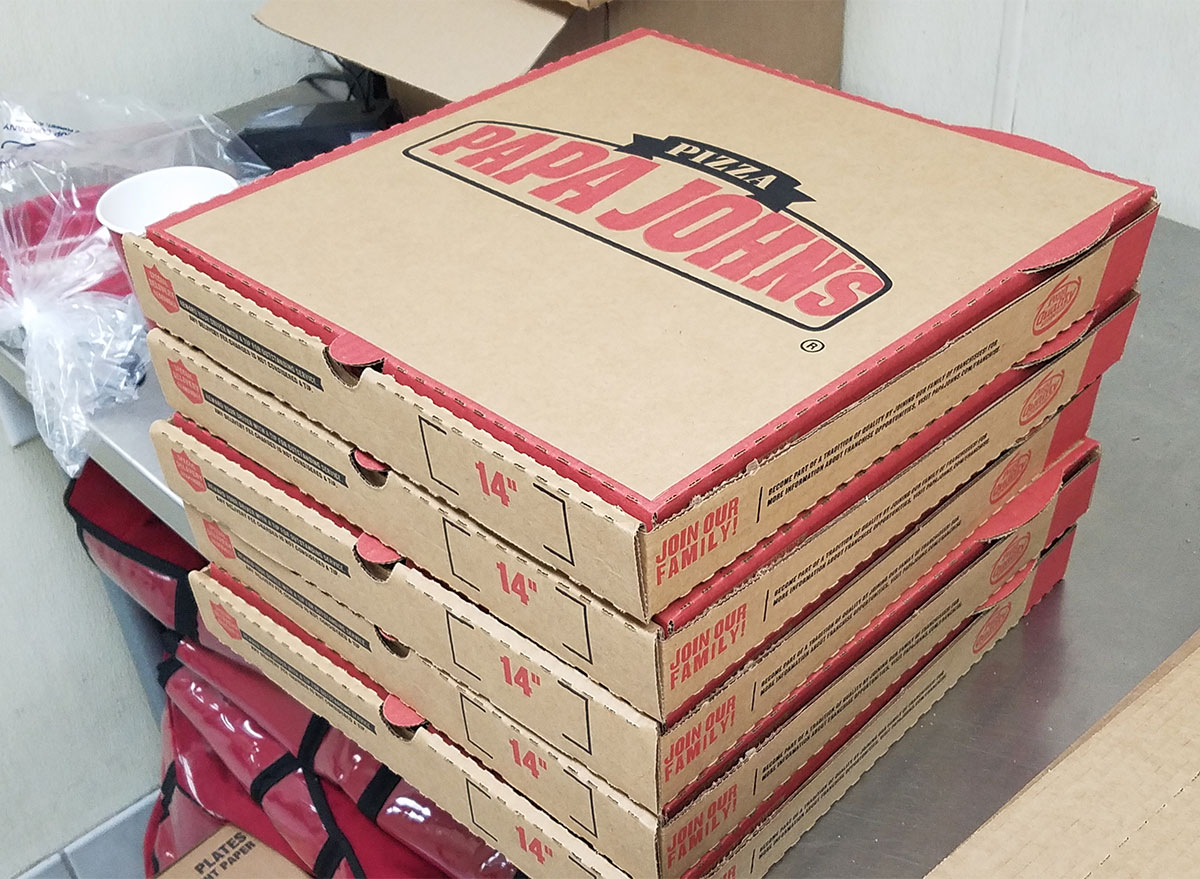 Celebrity curated menu items were all over in 2020, and one that people couldn't get enough of was the Shaq-a-Roni Pizza from Papa John's. The extra-large pizza was topped with extra cheese and extra pepperoni, then cut into the largest slice Papa John's has created. The pizza also came with an exclusive Snapchat AR experience, where people could point their camera at the pizza box to reveal a 3D surprise.
Taco Bell Grilled Cheese Burrito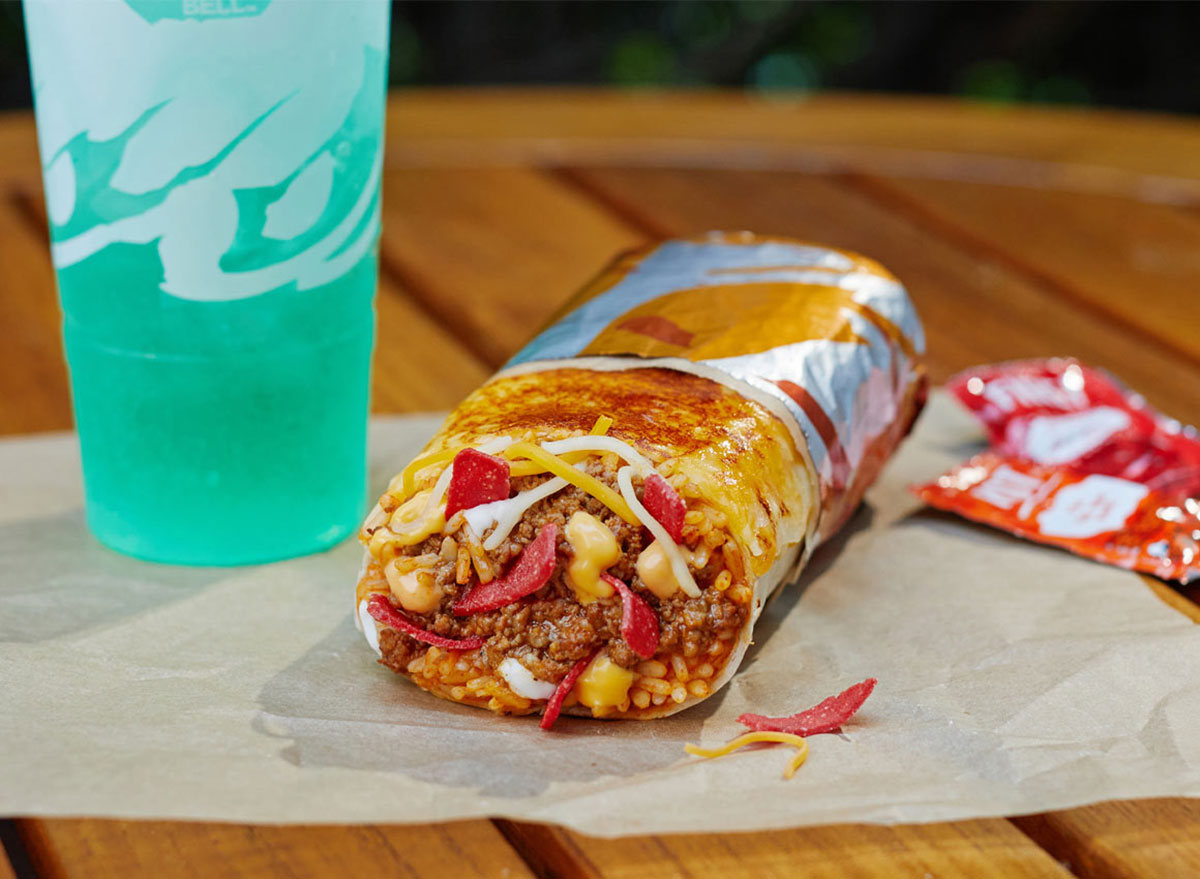 One of the most talked-about fast-food debuts of 2020 was the Taco Bell Grilled Cheese Burrito. The burrito features seasoned beef, seasoned rice, a three-cheese blend, crunchy red tortilla strips, chipotle sauce, and sour cream. The entire thing is then wrapped with a flour tortilla and a layer of warm grilled cheese. The burrito was only available for a limited time and could be purchased alone or as part of a $5 Box.
Whataburger Hatch Green Chile Bacon Burger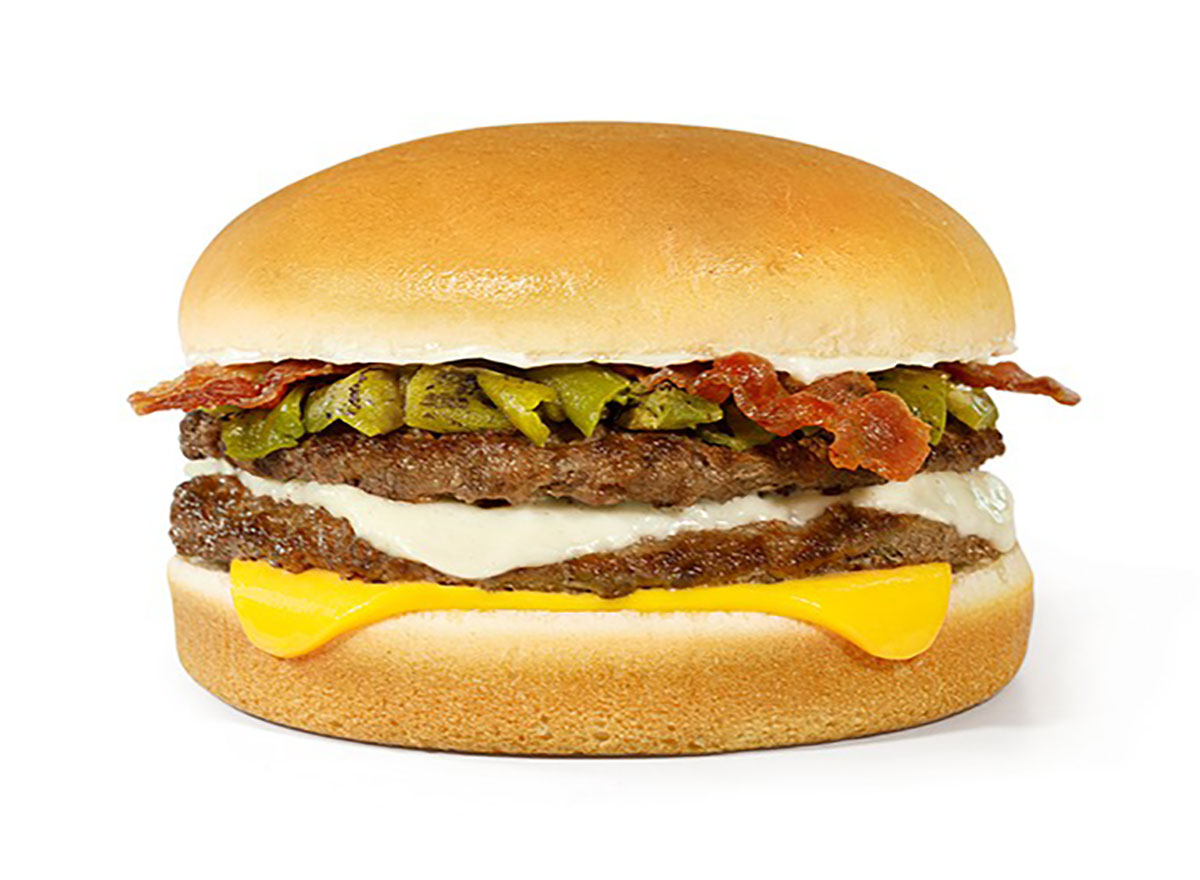 Foodies everywhere wait for the summer months when it's hatch green chile season. This year, Whataburger created a Hatch Green Chile Bacon Burger, which was only available for a limited time. The burger came with two beef patties, melted American and Monterey Jack cheese, hatch chiles, bacon, and mayo, and it was served on a toasted bun.
Blaze Pizza Blazin' Hot Chicken Pizza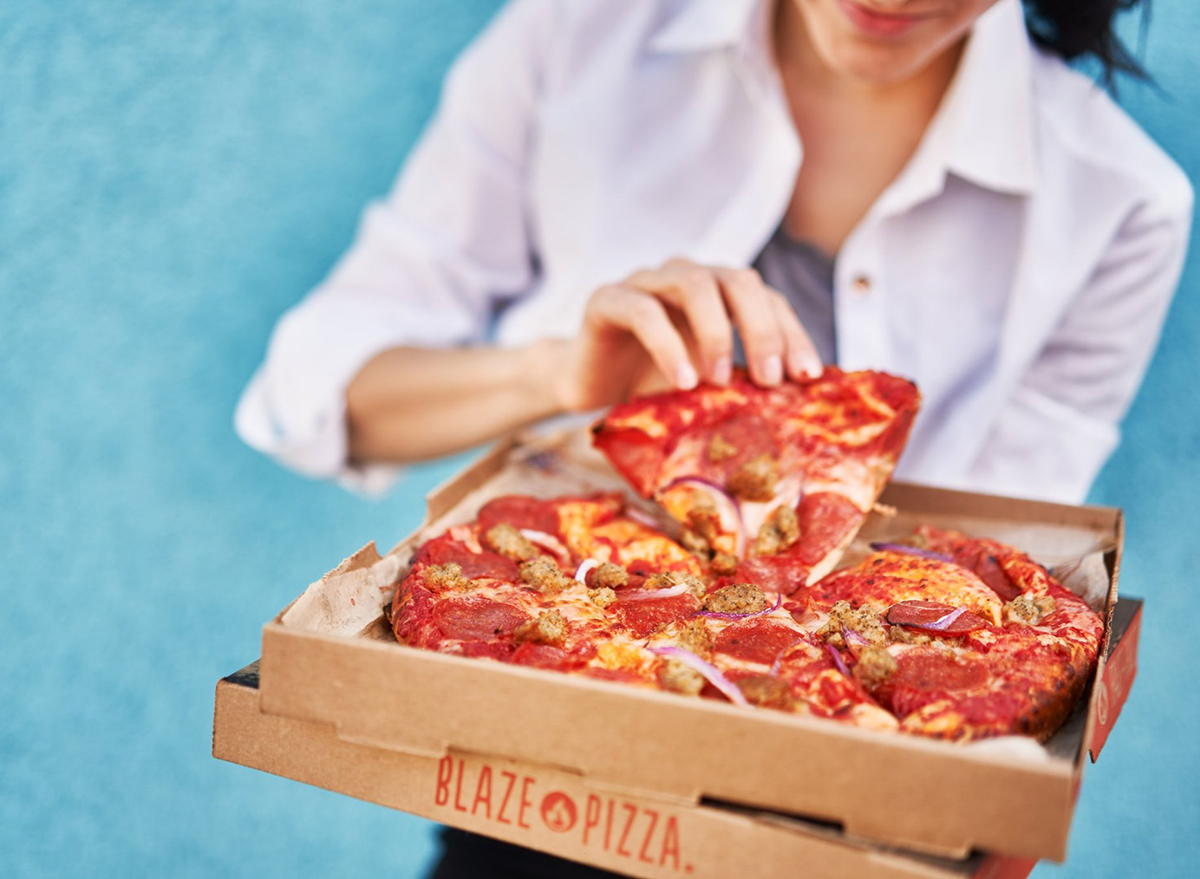 Even pizza places are getting in on the hot chicken trend. At Blaze Pizza, a limited-time offering was the Blazin' Hot Chicken Pizza. The pizza started with red sauce, then was topped with mozzarella cheese, ghost pepper chicken meatballs, scorpion pepper power greens slaw, and a Frank's RedHot Sauce drizzle.
For more, check out these 108 most popular sodas ranked by how toxic they are.
Megan duBois
Megan duBois is a travel and lifestyle journalist with bylines across the internet and in print at Delish, Conde Nast Traveler, Travel + Leisure, Yahoo Lifestyle, and more.
Read more about Megan