The #1 Best Green Tea to Drink, According to Experts
Is there one green tea that's better than the rest? We asked the experts.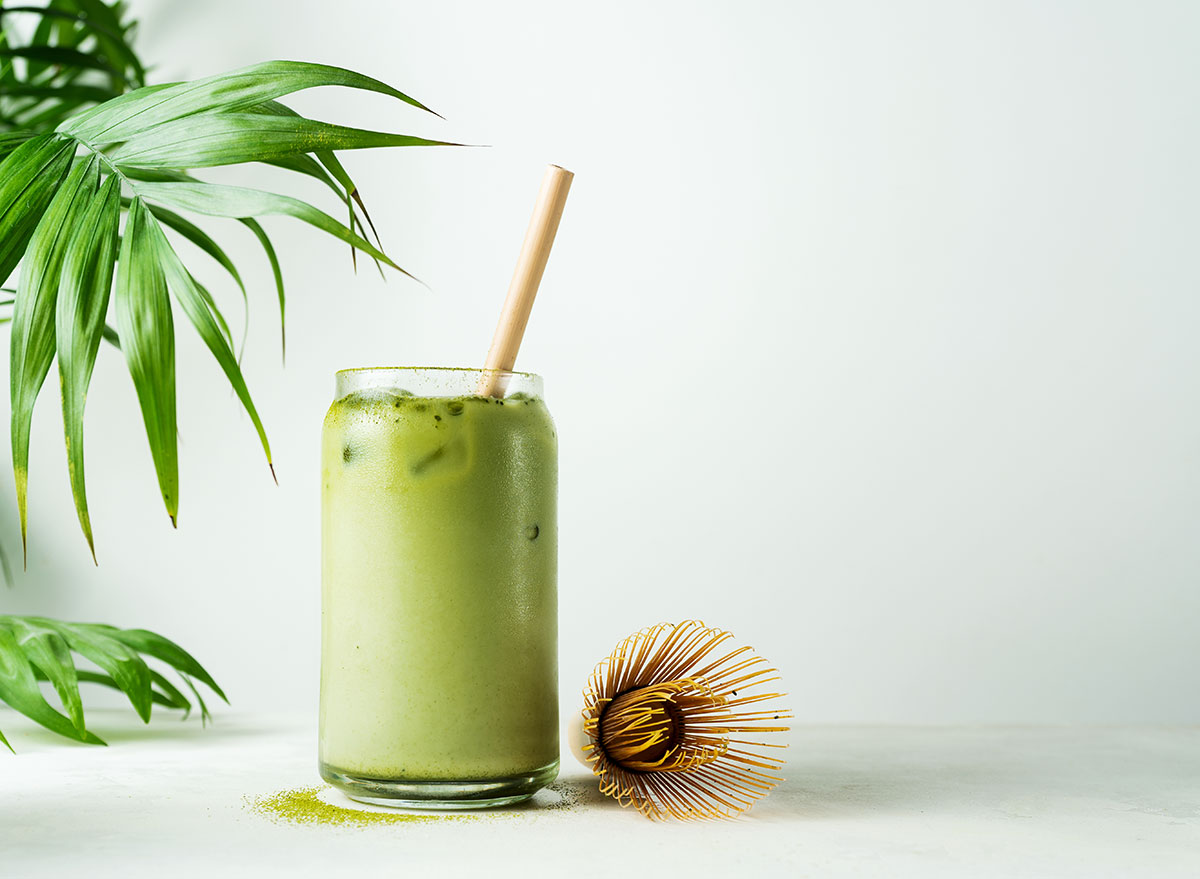 Green tea is by far considered the best tea to drink. Numerous studies and dietitians are willing to back the claim that this soothing beverage is great for your health. Green tea is full of antioxidants called polyphenols, which help ward off chronic diseases and assist with weight loss. And yet, there are many types of green tea to choose from. So what's considered the best one to drink?
"Matcha is often considered one of the healthiest green teas because it has a higher antioxidant level than traditional green tea and is particularly known for its anti-cancer properties," says Lisa Young, PhD, RDN, author of Finally Full, Finally Slim.
If you're not familiar with matcha, it's a type of green tea powder that's usually whisked into hot water to make a frothy tea drink. Unlike tea that you steep, whisking matcha powder into water allows for you to get all of the nutrients from the entire tea leaf. (Related: 108 Most Popular Sodas Ranked by How Toxic They Are)
One of those most prominent nutrients is catechins—a type of antioxidant from plant compounds that stabilizes harmful free radicals that damage your body's cells, which leads to chronic disease. According to the Journal of Chromatography A, the number of catechins in matcha is 137 times greater than what you would find in an average green tea.6254a4d1642c605c54bf1cab17d50f1e
Along with fighting off free radicals, matcha can help your body's brain, heart, and liver health. In some studies, it's even been shown to ward off cancer.
Research also shows that green tea can help enhance and maintain weight loss efforts, according to the International Journal of Obesity. Matcha is a type of green tea, meaning that it will also have the same incredible benefits.
Does this mean you should only drink matcha from now on? Not so fast. While matcha and green tea are great options for your health, having a regular practice of drinking tea can actually be majorly beneficial for your health—regardless of the type you choose.
"There is an abundance of teas to choose from, and it really depends on your personal needs," says Lindsay Kluge, MS, CNS, LDN, a clinical herbalist and licensed nutritionist, and U.S. herbal educator at Pukka Herbs. "Herbs can be a tremendous support for so many of our needs, like chamomile or ginger to support digestion, peppermint for headaches, or nettle for lots of extra nutrients. Take a few moments during the day to ask yourself, 'Where does my body need support today?' And then choose your herbal tea to meet your needs, which will be different every day."
If you're not a fan of the powder matcha drink, you can also reap the benefits of matcha by finding green tea blends that include matcha.
"A great one to try in the morning to set the tone for your day is Supreme Matcha Green, a delicious blend of organic green tea to provide a gentle low-caffeine boost in energy along with antioxidants for general stress support," Kluge says.
And if you're looking to whisk up a cup of matcha after learning about all of these health benefits, we have a list of The 7 Best Matcha Powders on Amazon to shop.