23 Best Healthy Dinners Ideas, Recommended by Dietitians
Need some dinner inspiration? Check out the pros go-to's.
Coming up with simple, quick, and healthy dinner ideas can be a fun challenge for some, and a dreaded task for others. If you fall into the latter category, know that you aren't alone. While many have their go-to healthy dinners that they lean on, eating the same food day in and day out can get old very quickly.
Instead of turning to take-out dinners or heating up a healthy frozen dinner, try out one of these dietitian-recommended healthy meals on for size. Below are 24 healthy dinner ideas, recommended by dietitians—because we can all use a little inspiration in the kitchen these days.
Read on, and for more on healthy eating, don't miss The 100 Healthiest Foods on the Planet.
"I love anything you can pull together in one bowl that's easy, fast, healthy, and delicious. Start with a whole grain like farro or quinoa, add some dark greens like spinach plus at least a cup of veggies (roasted, grilled, or raw), and then your choice of protein (beans, fish, or tofu are our favorite). Finish with a delicious sauce and some fun toppings like avocado, nuts, or dried fruit. It's fun to mix up different flavors and you can use this formula for almost any cuisine!" – Sarah Anzlovar, MS, RDN, LDN, registered dietitian and owner of Sarah Gold Nutrition.
Store-bought Rotisserie Chicken and Veggies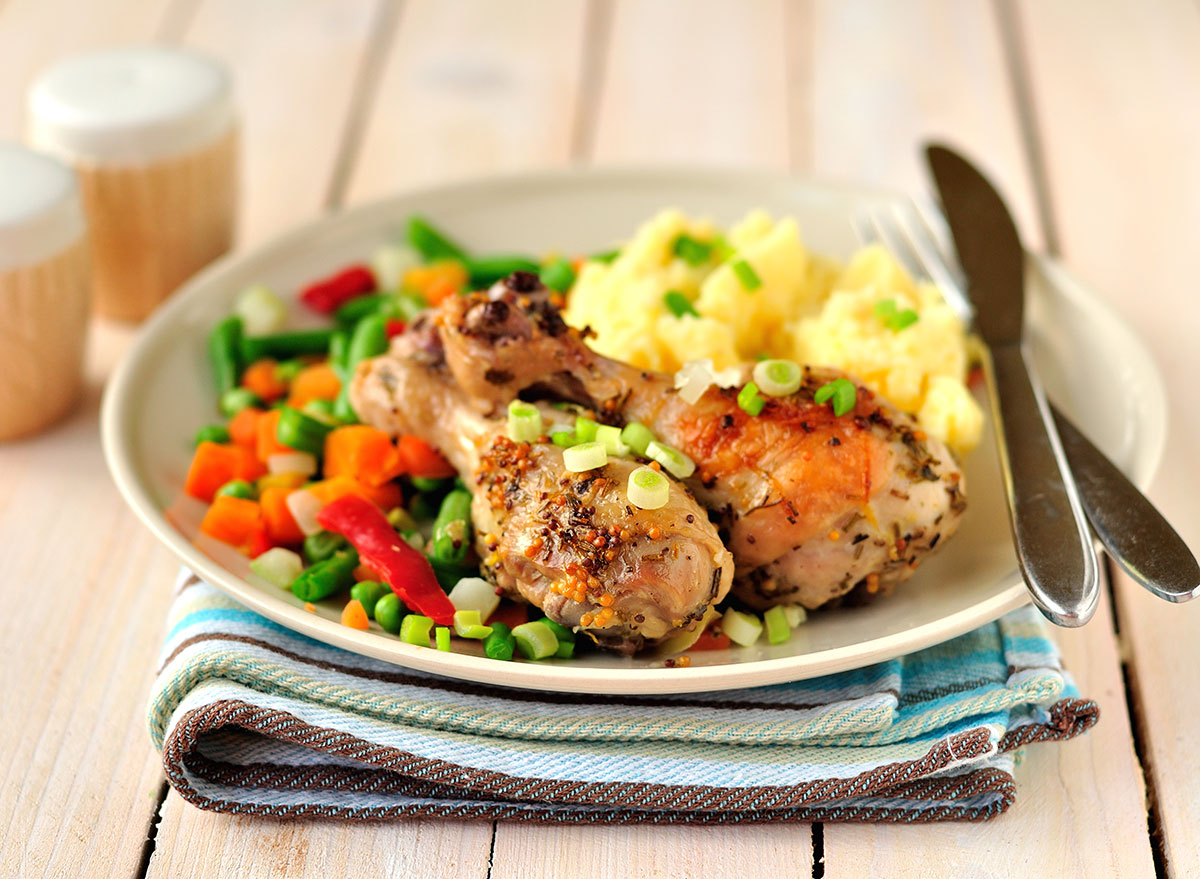 "Buying a store-bought rotisserie chicken is the answer to your prayers when you need to get a healthy dinner on the table in a quick minute! All that is left for you to do when you get home is heat and serve with your favorite vegetable and/or a leafy green salad this nutrient-packed protein main entrée." – Barbara Baron, RDN, a New York-based registered dietitian focused on family meals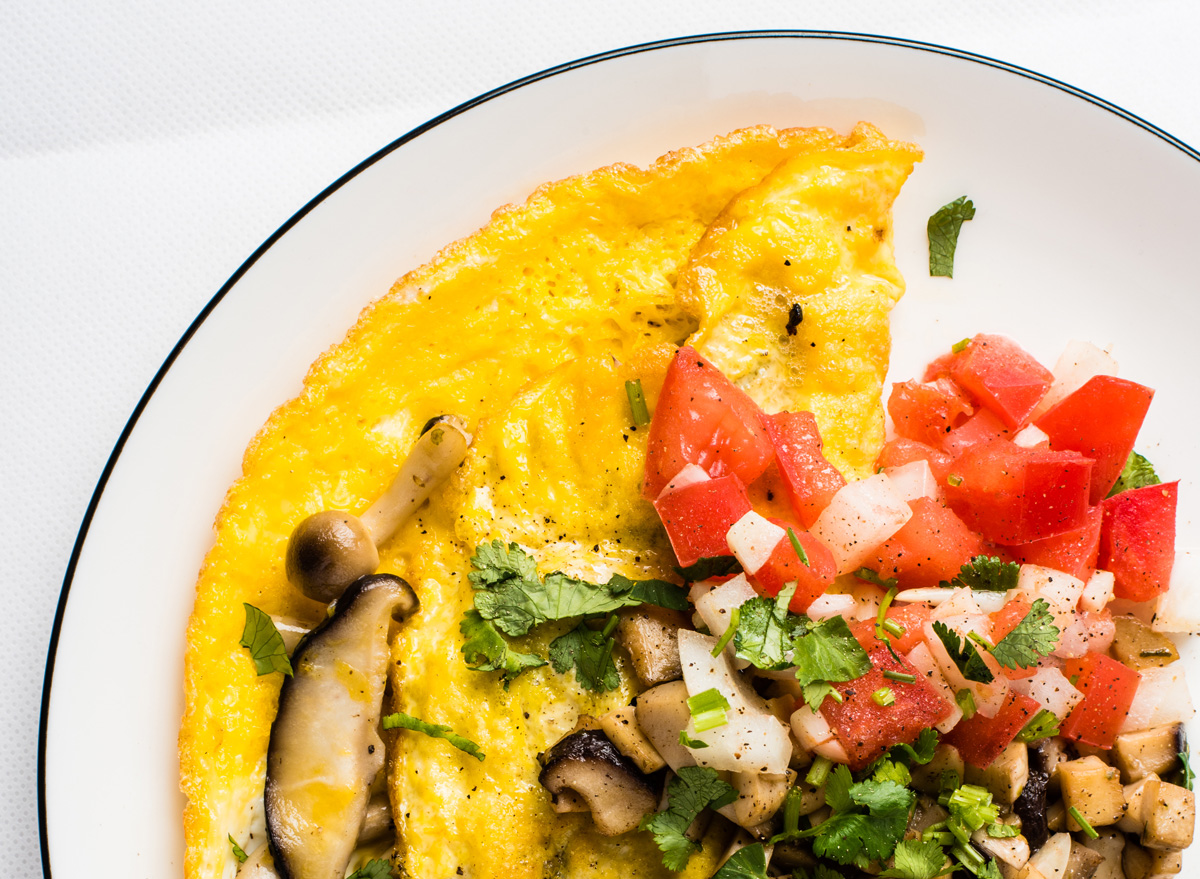 "Make a veggie omelet or simply scramble a few eggs with your favorite vegetables on hand. Serve with a pancake or waffle—a perfectly balanced meal with 3 of the five food groups on your plate!" – Barron
Teriyaki Stir Fry Pasta Night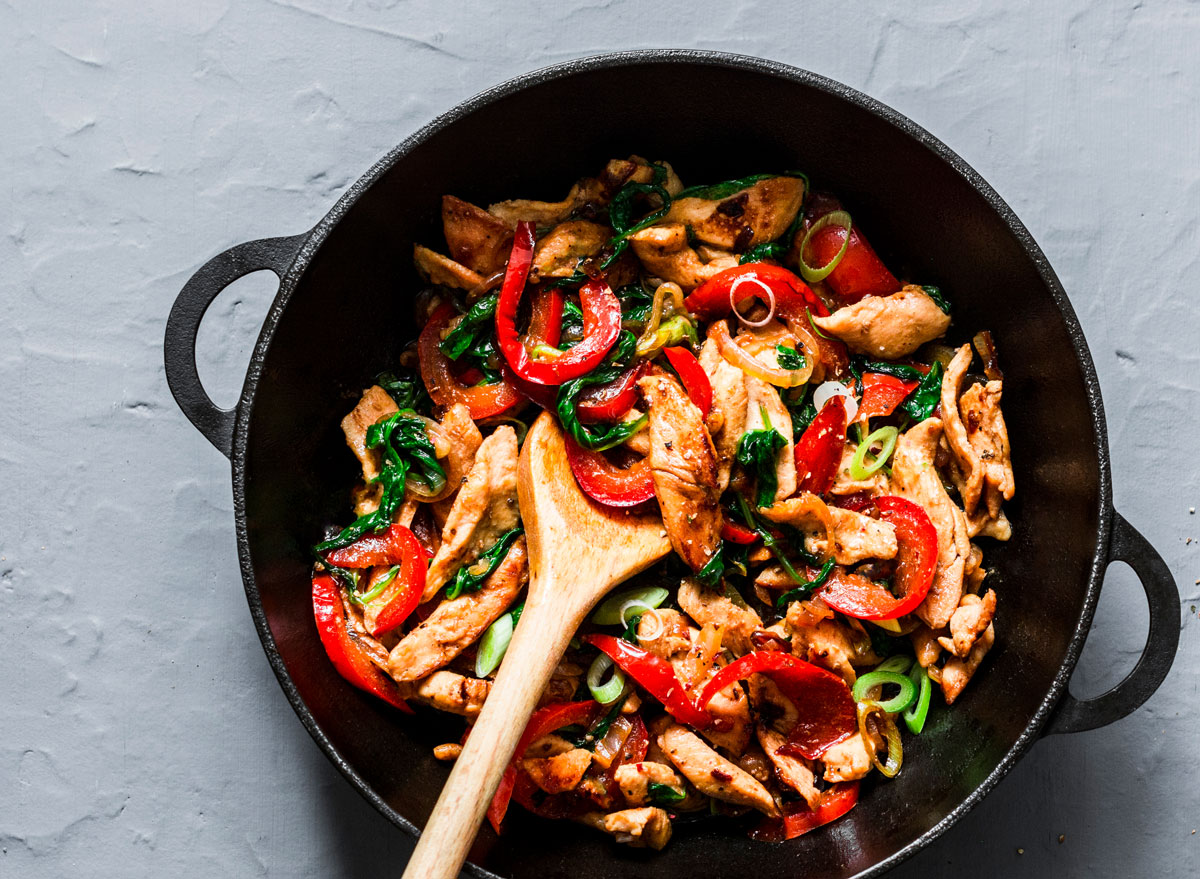 "Bring Asian flavors to pasta night by tossing a box of cooked, whole-grain pasta with your favorite stir-fried protein (chicken, pork tenderloin, lean beef or shrimp), veggies and bottled, lower-sodium teriyaki sauce. You could use a variety of fresh veggies that are cooked in a skillet with the protein, or go with a frozen, steamable stir-fry mix to save time. By using this simple formula and swapping in different proteins, sauces and veggies…you can enjoy a new stir-fry pasta night every week!" – Beth Stark, RDN, LDN, registered dietitian nutritionist, recipe developer and culinary nutrition communications consultant based in PA. Speaking of frozen foods, just make sure you're avoiding these 12 Frozen Dinners to Always Leave on Grocery Store Shelves.
6-Ingredient Lemony Pesto Pasta
"Skip the red sauce for a change and dress up cooked, whole-grain pasta with jarred basil pesto, multi-colored grape tomatoes, a can of drained and rinsed cannellini beans, shaved Parmesan cheese, and a squeeze of fresh lemon juice. Since it's a plant-forward dish, this entire dinner comes together in no time and the most cooking effort you have to put in is boiling the water." – Stark
Vegetarian Tofu Lettuce Wraps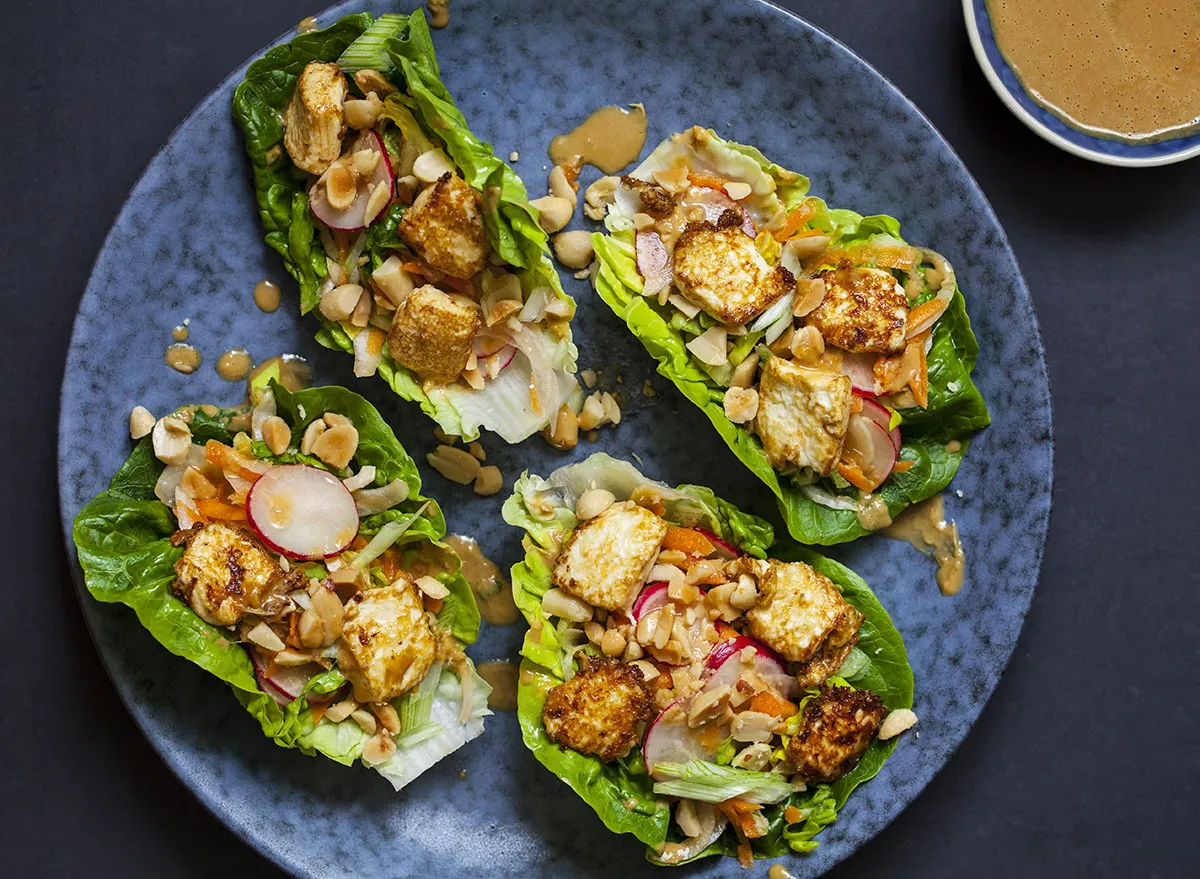 "These are perfect because they are loaded with plant-based protein, fiber, and flavor. On average, Americans only get 50% of their daily fiber intake." (Related: 9 Warning Signs You're Not Eating Enough Fiber)
"Fiber plays a key role in heart health and digestive health. One simple way to bump up the fiber without using a supplement is by using Fiber One cereal as a secret ingredient in my recipe for the crunch factor instead of fried noodles. A ⅔ cup of Fiber one cereal provides 18 grams of fiber.
For the recipe, simply saute onions, ginger, garlic, crumbled tofu with seasonings. Serve it in lettuce along with a generous topping of Fiber one cereal. It's a quick and easy meal that everyone in the family will enjoy. I love serving the tofu mixture in a large bowl with a platter of lettuce leaves, bowls of Fiber one cereal and soy/chili sauce for additional flavor. This way, everyone can fill their wraps as they like and enjoy a family-style meal. To round out the meal you can enjoy it with soup and some fresh fruit for dessert." – Vandana Sheth, RDN, CDCES, FAND, Los Angeles-based registered dietitian and author of My Indian Table: Quick & Tasty Vegetarian Recipes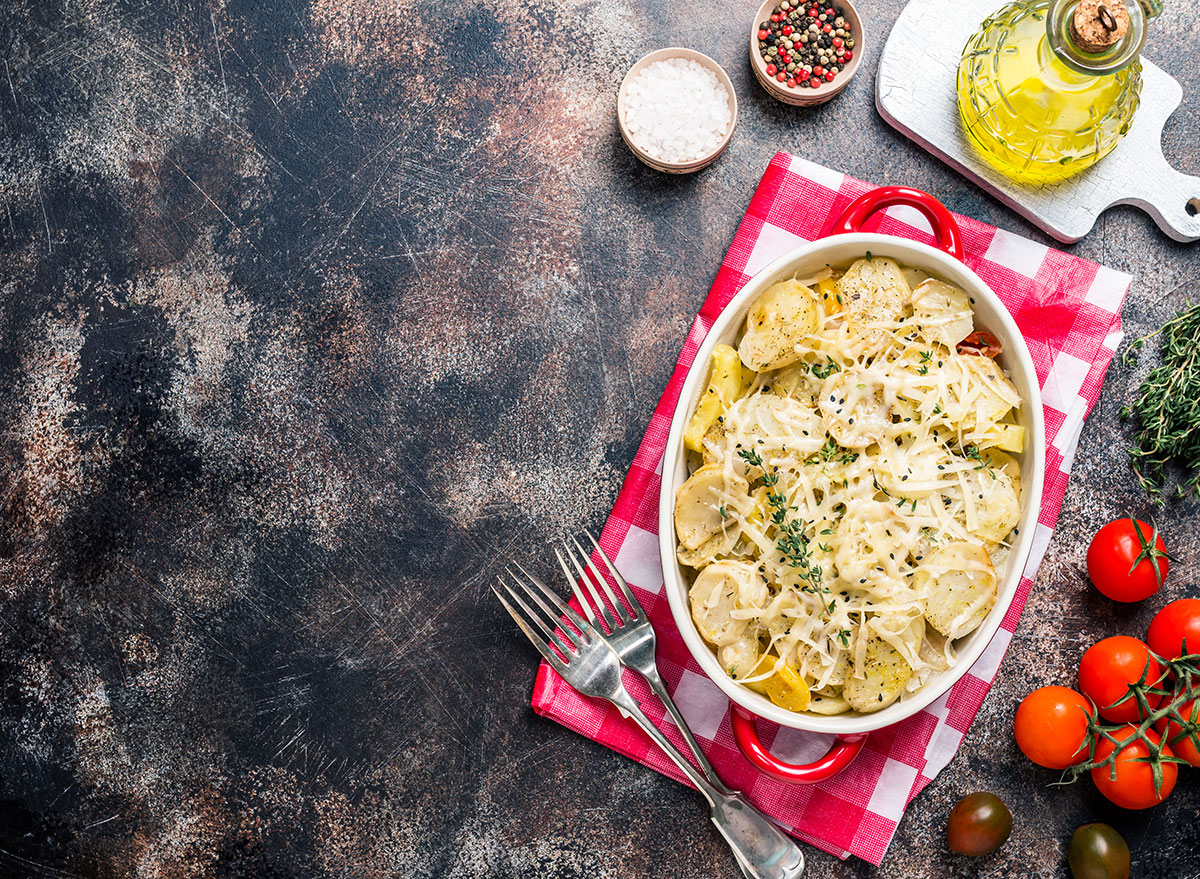 "Although this meal cooks for about 45 minutes, the entire prep takes less than ten. Combine skinless chicken thighs, peeled and diced root vegetables like potatoes, carrots, onions, and parsnips in a casserole dish. (For an even quicker meal, use a bag of frozen veggies instead.) Pour a can of low-sodium cream of mushroom or celery soup on top. Season with ground pepper and stir before baking at 375°F. As an extra gourmet touch, you can garnish with a green herb on top like parsley or green onion once it's pulled out of the oven." – Colleen Wysocki-Woods, MS, RDN, registered dietitian and owner of www.EdibleEdits.com
Grilled cheese and tomato soup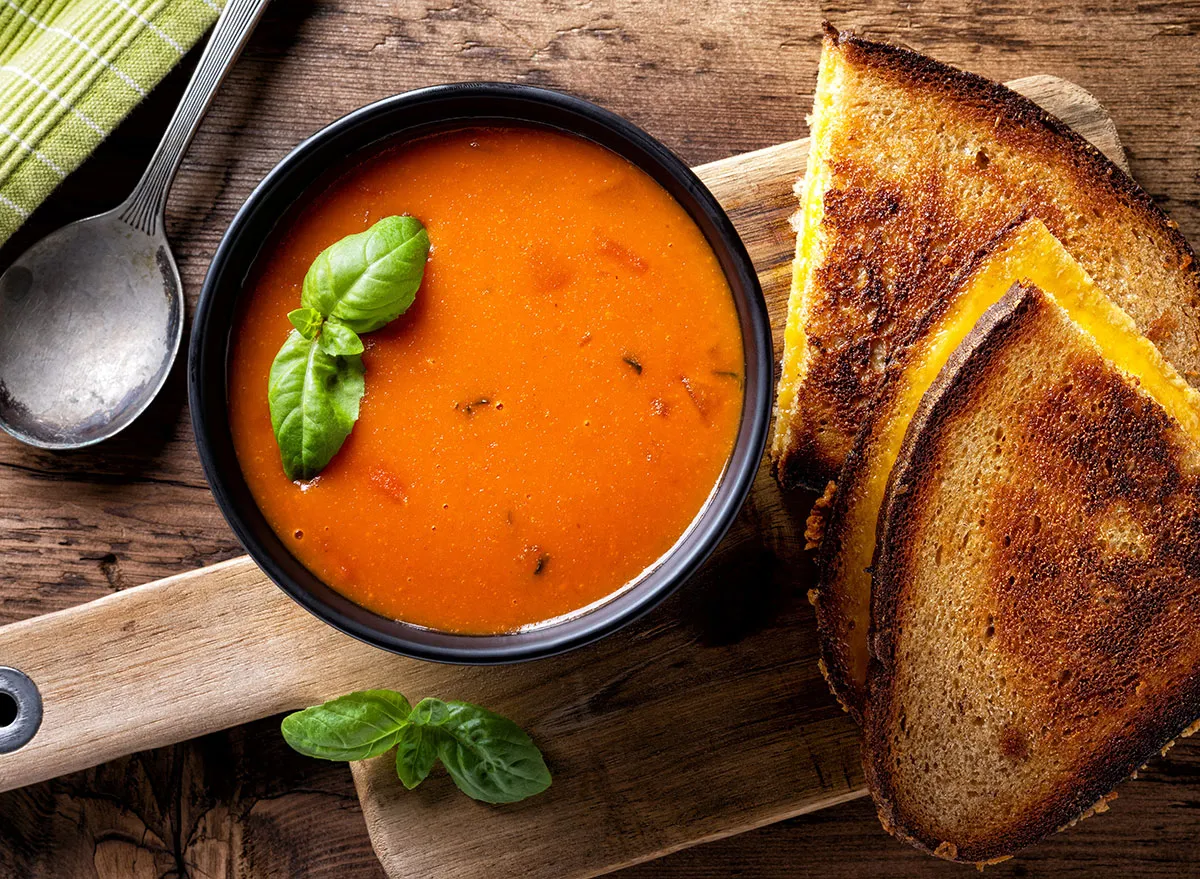 The old classic combo gets a makeover by using whole grain bread and real cheddar cheese instead of the processed slices. I recommend pairing it with some low sodium tomato soup for a nostalgic and simple dinner the whole family will enjoy. To spice up your sandwich, try different combos like swiss cheese and sliced pears or provolone cheese with mango chutney.
Shrimp and Veggie Stir Fry
Keeping peeled and deveined shrimp on-hand in the freezer is key for busy weekdays. When you need a healthy dinner idea, defrost some shrimp and cook them up with some fresh or frozen veggies. Top with some teriyaki sauce and serve over a bed of 90-second brown rice. Serve with orange slices on the side.
If a hamburger is what you crave, sneak in some extra antioxidants and fiber by making a blended burger. Using half ground beef and half chopped mushrooms, a blended burger tastes just like the real thing but with fewer calories and more plant-based nutrition. I recommend serving on a whole grain bun for even more fiber, and air-fried sweet potato fries on the side.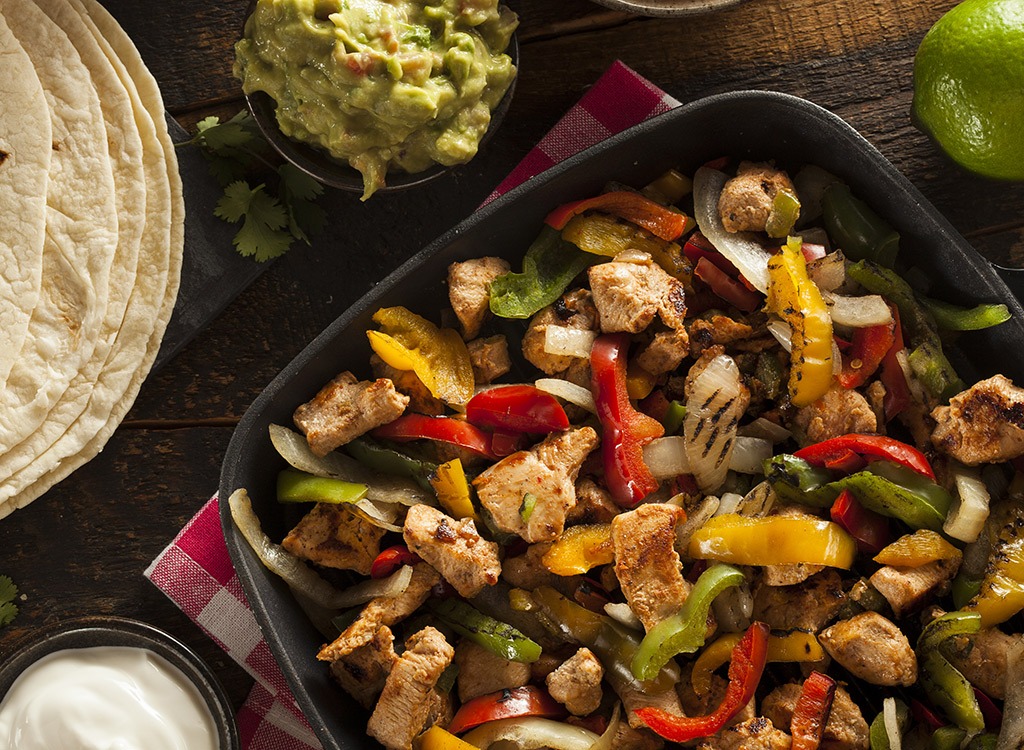 Simply cook some chicken strips or fish with some fresh grapefruit juice, chili powder, and garlic along with sliced onion and bell peppers. Serve with whole-grain tortillas, sliced avocado, and any other fajita topping you love.
Using canned salmon mixed with an egg, parsley, garlic powder, and some breadcrumbs, form into a cake-like shape and pan fry with some olive oil. Serve over a bed of lettuce and other veggies. Need a reason to try this healthy dinner idea? Check out What Happens To Your Body When You Eat Salmon.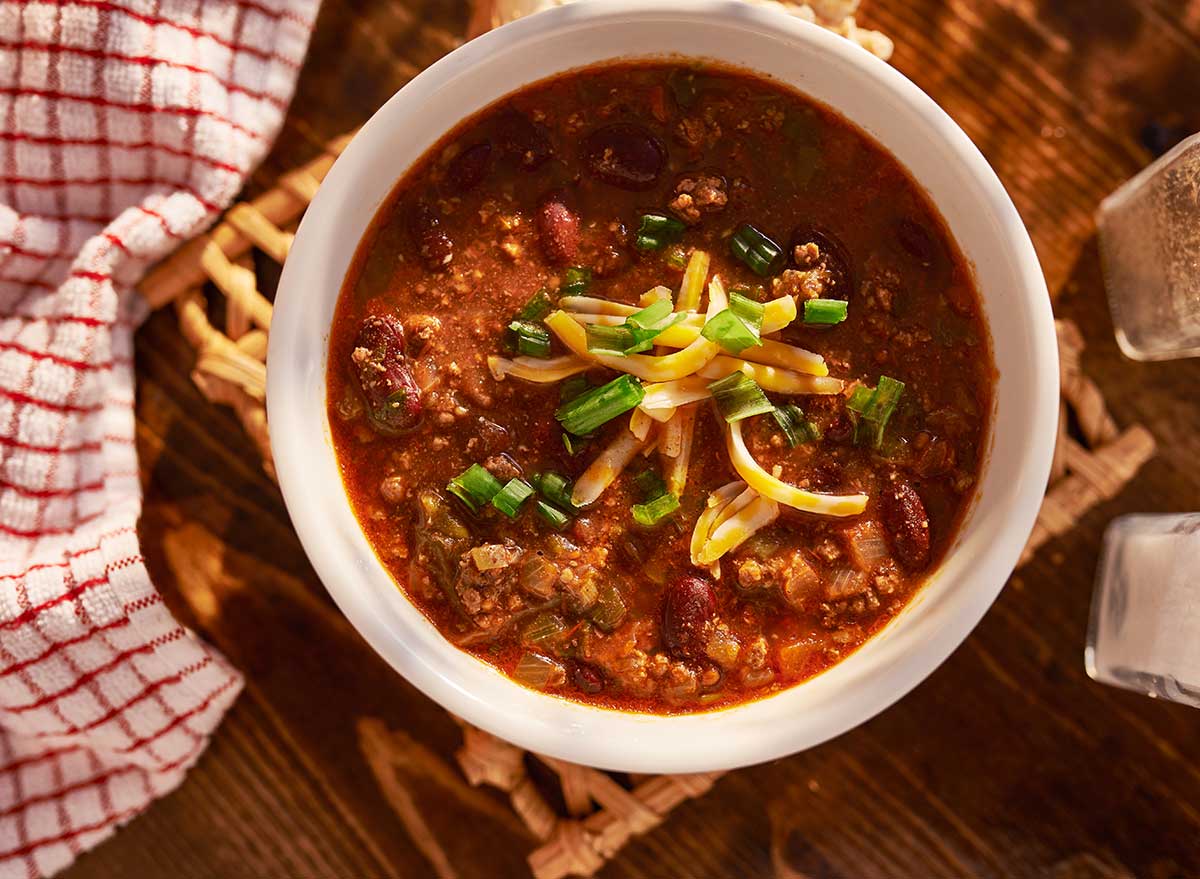 Toss canned beans into a pot with canned tomatoes, chili seasoning, cooked onions, garlic, and a can of beer. Let it cook and simmer until it reaches the desired consistency. Serve with a sprinkle of grated cheese and a dollop of plain Greek yogurt.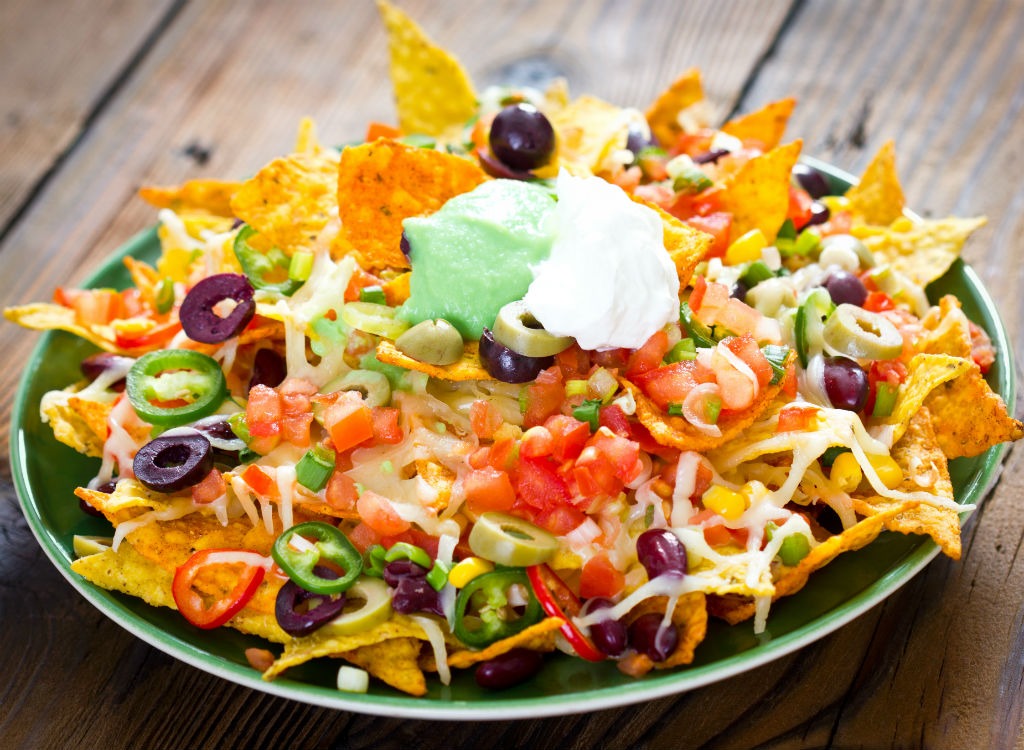 Yes, dietitians eat nachos, too! Just make sure they're loaded. Using baked tortilla chips as a base, top with refried beans, sliced olives, sliced and cooked veggies, and grated cheese. Bake until cheese is melted, and top with guacamole, salsa, and plain Greek yogurt.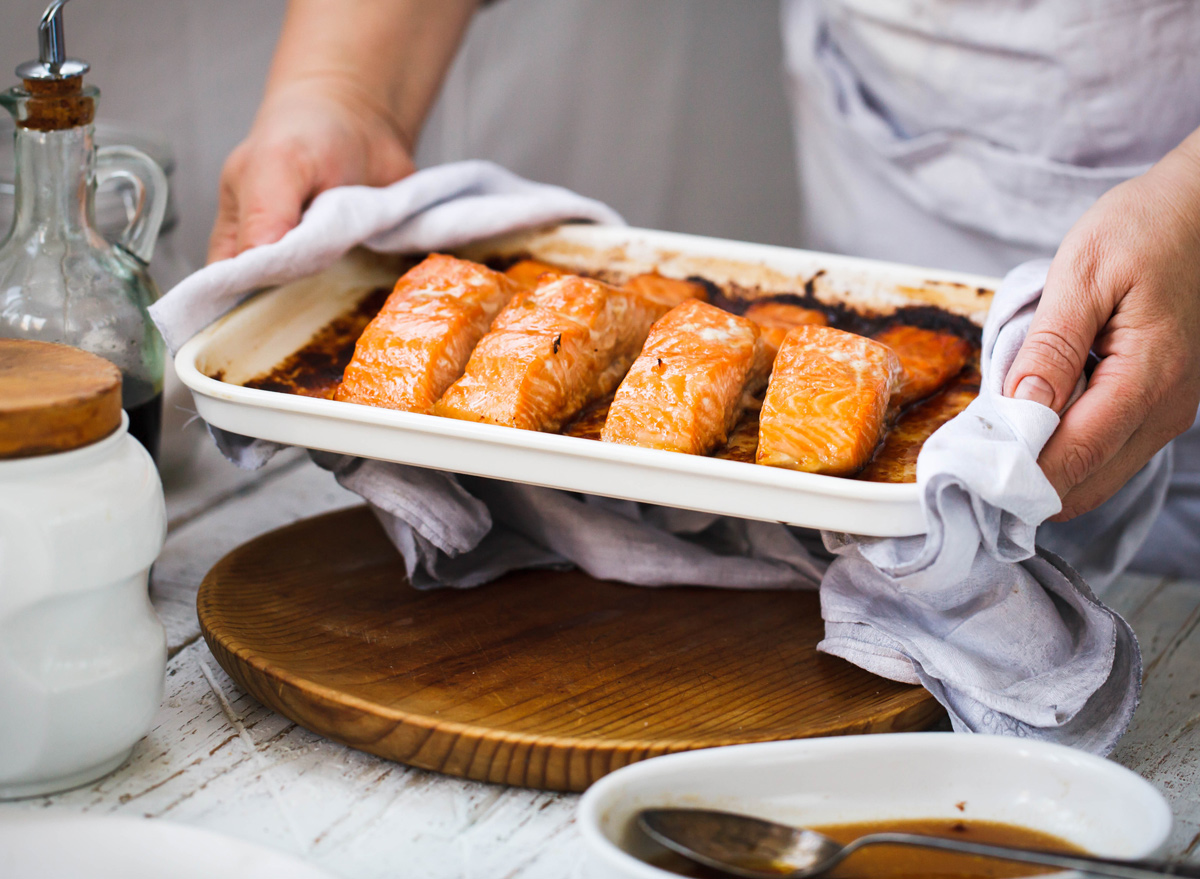 Sheet pan dinners are a wonderful solution because they only require clean-up of one pan! Using salmon filets marinated in honey and Dijon mustard, place on a pan with cleaned and trimmed asparagus. Bake for 15 minutes, and serve with brown rice.
Quick and easy vegan tortilla soup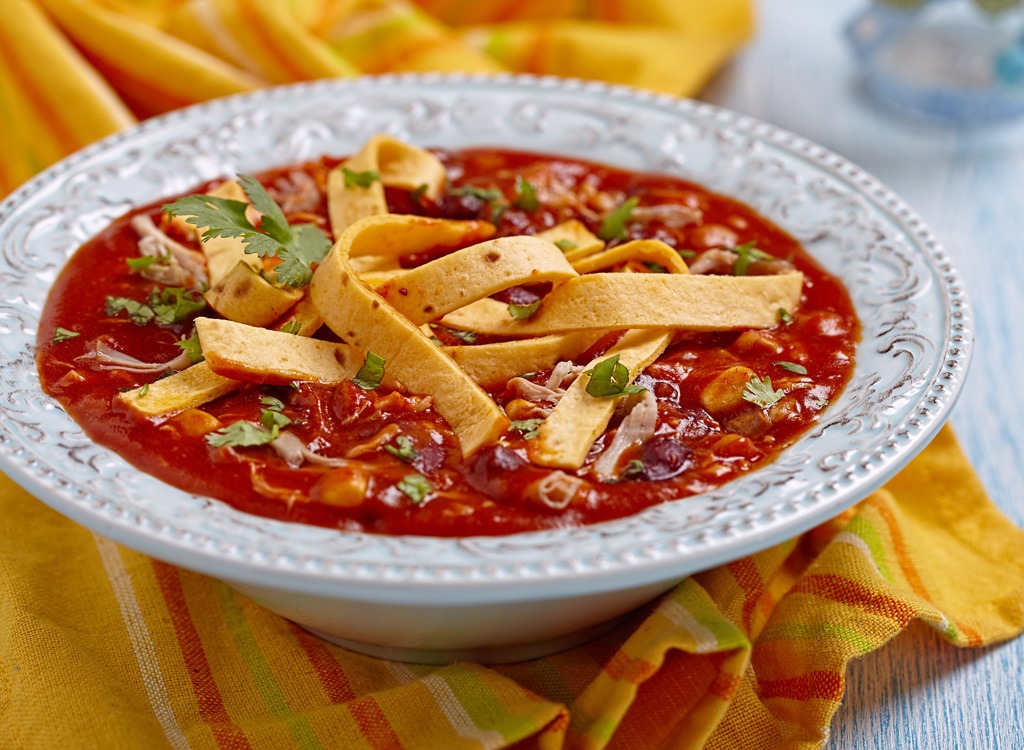 "This tortilla soup can be made in 15 minutes and is naturally gluten free. Using ingredients like vegetable broth, frozen corn, and canned black beans, this soup is an absolute crowd pleaser and gives a boost of important nutrients." – E.A. Stewart, RDN, MBA a San Diego-based registered dietitian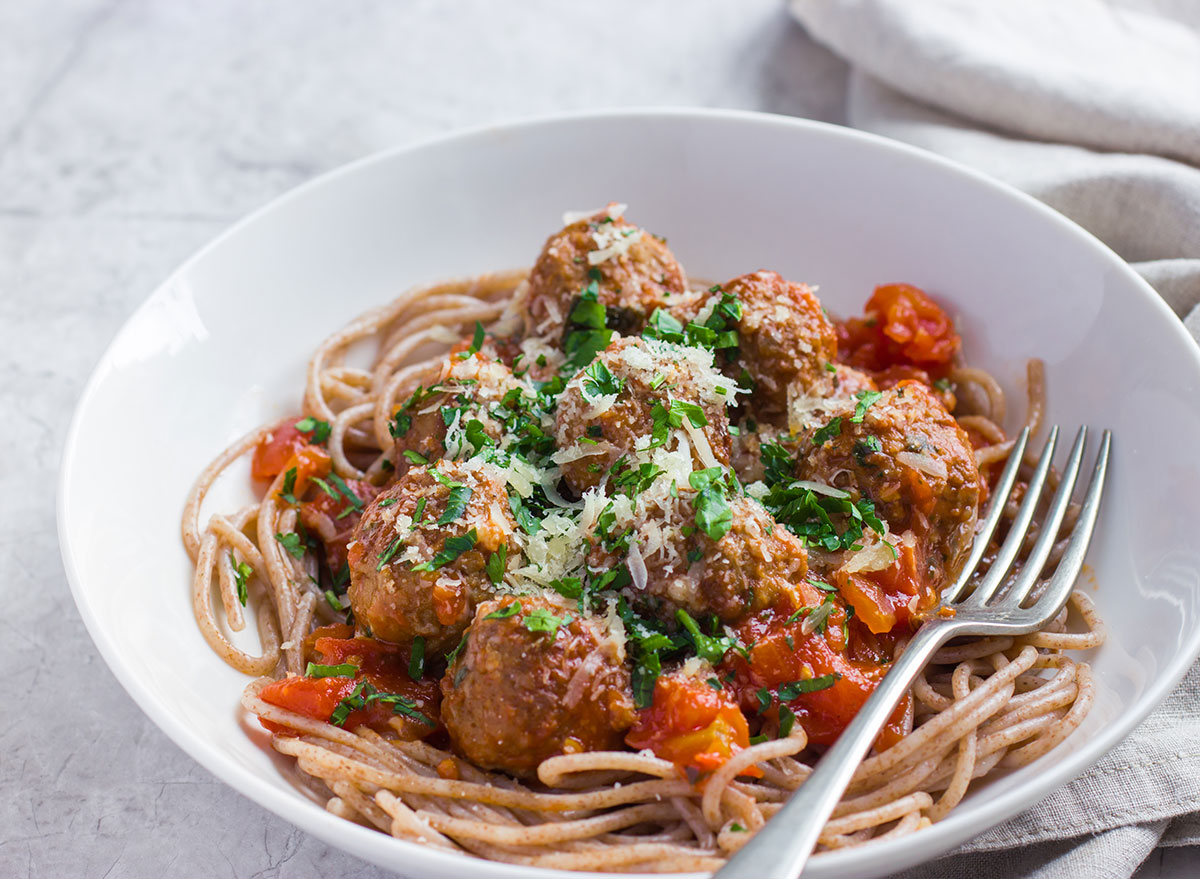 Instead of the classic dish, use chickpea pasta instead of traditional noodles and use lentils in place of beef. You will get a boost of fiber and plant-based proteins while still getting the same satisfaction that you get from the classic recipe. For some pasta options, check out The 10 Best High Protein Pasta Brands at Your Grocery Store.
Air Fried Chicken Drumsticks
Marinate chicken drumsticks in Italian dressing and dip them in a mixture of crushed walnuts and breadcrumbs along with some seasoning. Air fry until cooked through and enjoy a crunchy dish that goes well with a cooked veggie and air fried fries on the side.
Egg salad stuffed tomatoes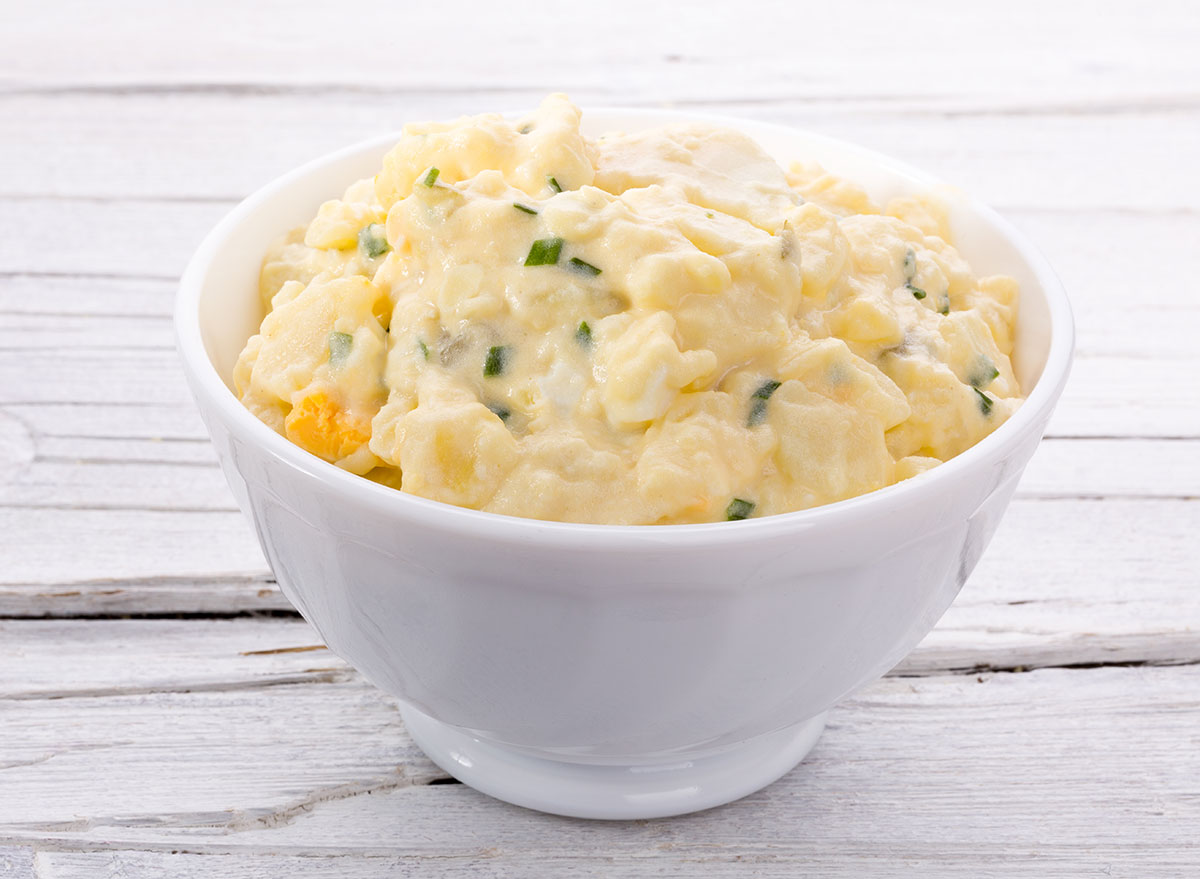 Scoop out the inside of tomatoes and stuff them with a lighter egg salad made with Greek yogurt, mayo made with avocado oil, and chopped celery and radishes for a low-carb and no-fuss dish.6254a4d1642c605c54bf1cab17d50f1e
Pizza with cauliflower crust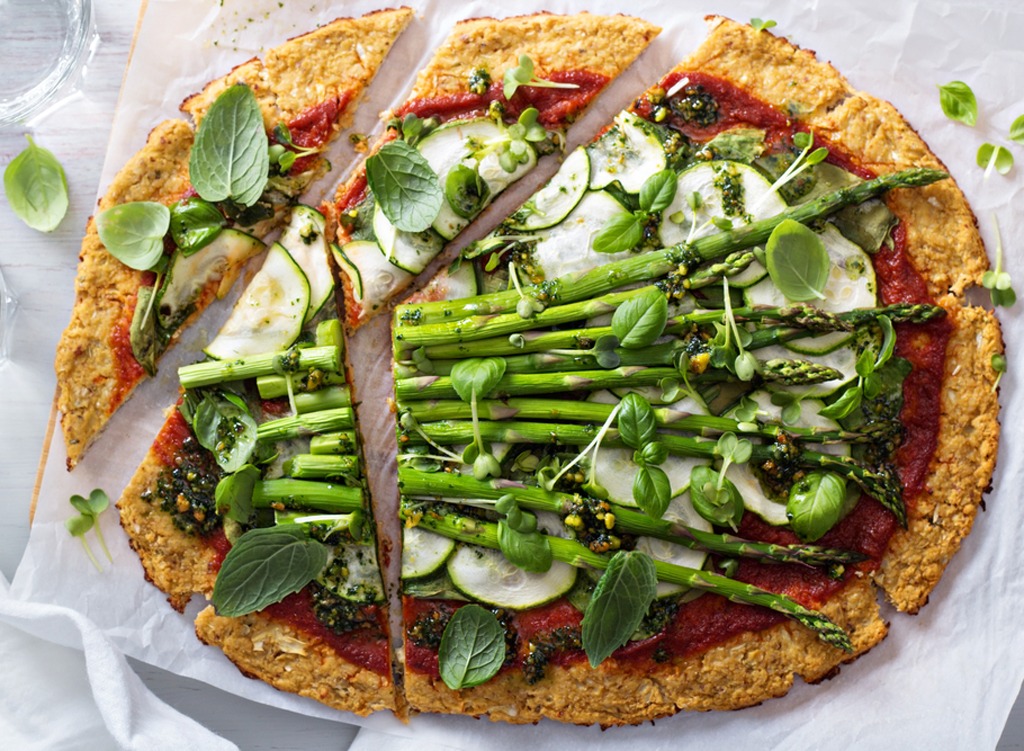 Dietitians love pizza too, and using a store-bought cauliflower crust allows for a healthy base for a homemade option. Top a frozen cauliflower pizza crust with jarred pizza sauce, mozzarella cheese, and a variety of veggies for an easy pizza night that is yummier and healthier than delivery.
Sprouted Grain English Muffin with Smashed Avocado and Tomato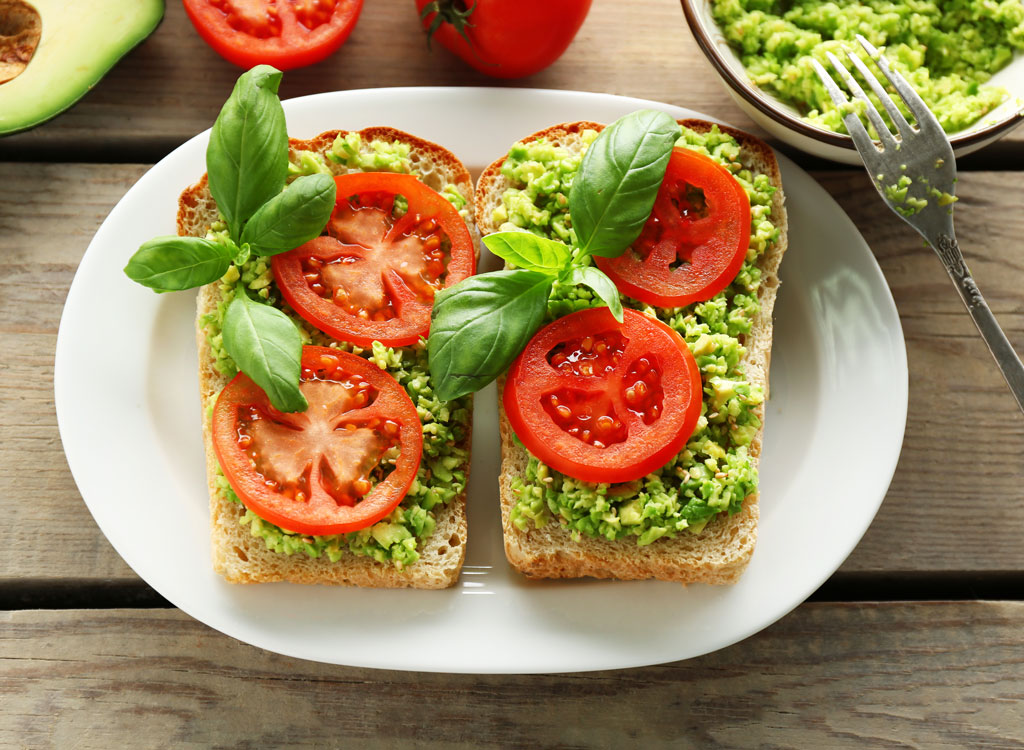 "Sprouting grains can increase antioxidant content including vitamin E and provides a lower glycemic response. Adding the smashed avocado makes this quick meal extra satisfying and filling for hours." – registered dietitian Hailey Crean, MS, RD, CDCES.
"This is often a go-to meal when I didn't plan ahead but need a meal with some staying power. I combine canned salmon, Greek yogurt, diced celery, onion, capers, and dill and top on toast or crackers. Canned salmon is a pantry staple with a long shelf-life and offers a good source of protein, omega 3 fatty acids, and vitamin D." – Crean
Avocado Egg Salad on Toast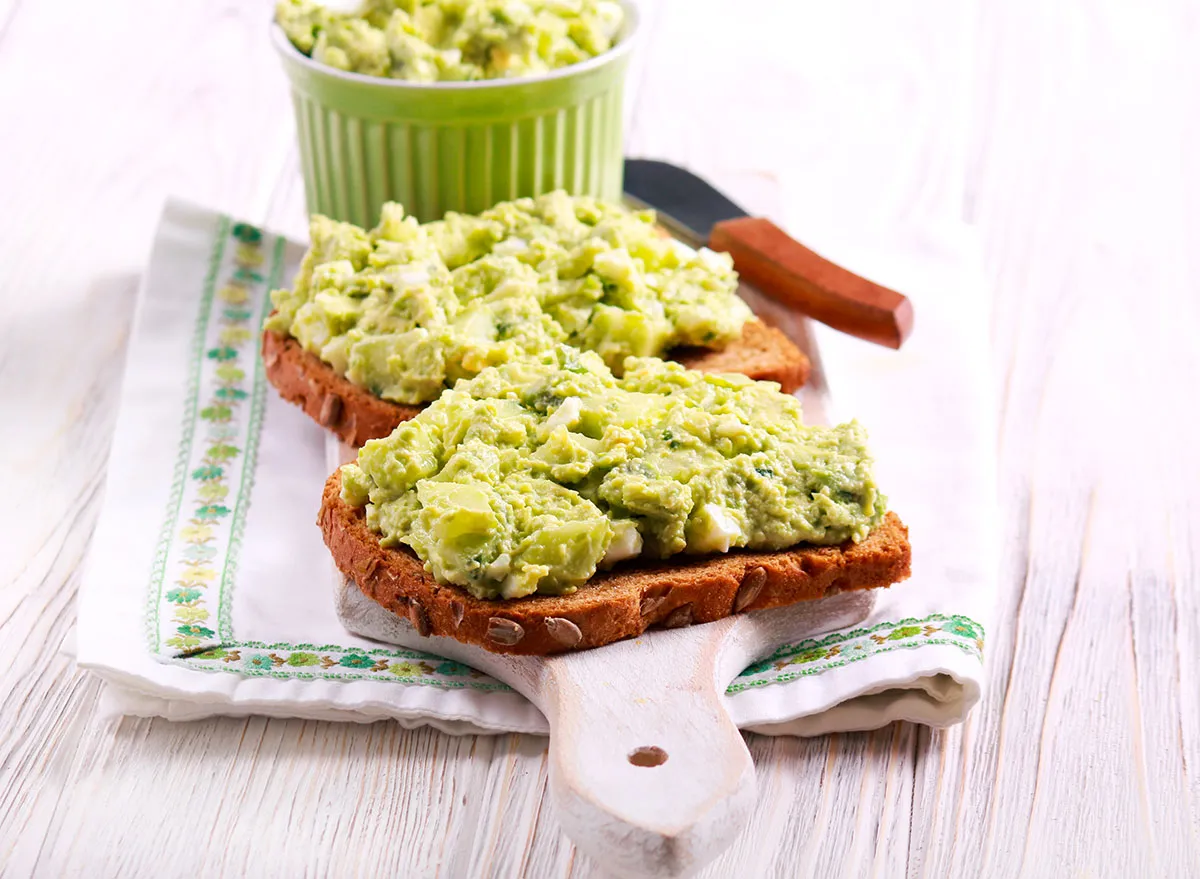 "I make this combo for breakfast or lunch and it's always good. It's just a hard-boiled egg, half a smashed avocado, dill and some salt and pepper seasoning. The fiber, fat, and protein mix is satisfying for hours and it's super quick to throw together, especially if you have the hardboiled eggs on hand." – Crean
Speaking of eggs, do you know the 17 Surprising Side Effects Of Eating Eggs Every Day?
Read more:
73 Healthy Chicken Recipes for Weight Loss
61+ Best Healthy Fish Recipes for Weight Loss
Lauren Manaker MS, RDN, LD, CLEC
Lauren Manaker is an award-winning registered dietitian, book author, and recipe developer who has been in practice for almost 20 years.
Read more about Lauren