35+ Sheet Pan Recipes That Are Beyond Easy to Make
Easy to make, easy to clean up, and an easy way to get a nutritious meal on the table—these sheet pan dinners are your new secret weapon.
Crockpots are cool, skillets are sweet, but baking pans can't be beat! Yes, we are so excited about these sheet pan dinners that we literally just did a cheer for them. And you will, too, when you add these recipes to your kitchen lineup.
The affordable, simple, humble sheet pan makes for an easy foundation for many healthy meals that you can pop into your oven. All of the dinner recipes below are low in calories (most are under 500), lower in sodium, and have nutritional aspects like high protein, superfood veggies, or hunger-taming ingredients. Scope 'em out to see which one you'd want to try tonight!
You really could try any combination that you desire for this sheet pan dinner. Not a fan of broccoli? Try adding some asparagus spears, Brussels sprouts, or green beans. Don't like sweet potato? Roast up some regular potato bits, or even some chickpeas or cauliflower florets! And if you don't want BBQ chicken, try roasting up some steak or salmon instead.
Get our recipe for 5-Ingredient BBQ Chicken.
Sign up for our newsletter to get healthy recipes and food news delivered to your inbox!
Vegan Sausage and Vegetables
When it comes to plant-based sausages, there are lots of options on the market. Just like with any other grocery item, your best bet is to look for a nutrition label with a short ingredient list of recognizable foods. Make sure the sausage contains a decent amount of protein, and if there's some fiber in there, that's an added bonus. Stay away from plant 'meats' that are predominantly made up of carbohydrates.
Get our recipe for Vegan Sausage and Vegetables.
RELATED: These Major Restaurant Chains Are Adding Plant-Based Chicken Nuggets to the Menu
Looking for an easy family dinner to throw together for a quick meal? Well, this chicken fajitas recipe is it! Sheet pan dinners are the real MVPs for busy weeknights. They have the convenience of a dump-and-go like a slow cooker meal, but only take around 30 minutes to cook (instead of waiting four to eight hours for a meal!)
Get our recipe for Chicken Fajitas.
Butter-Baked Salmon and Asparagus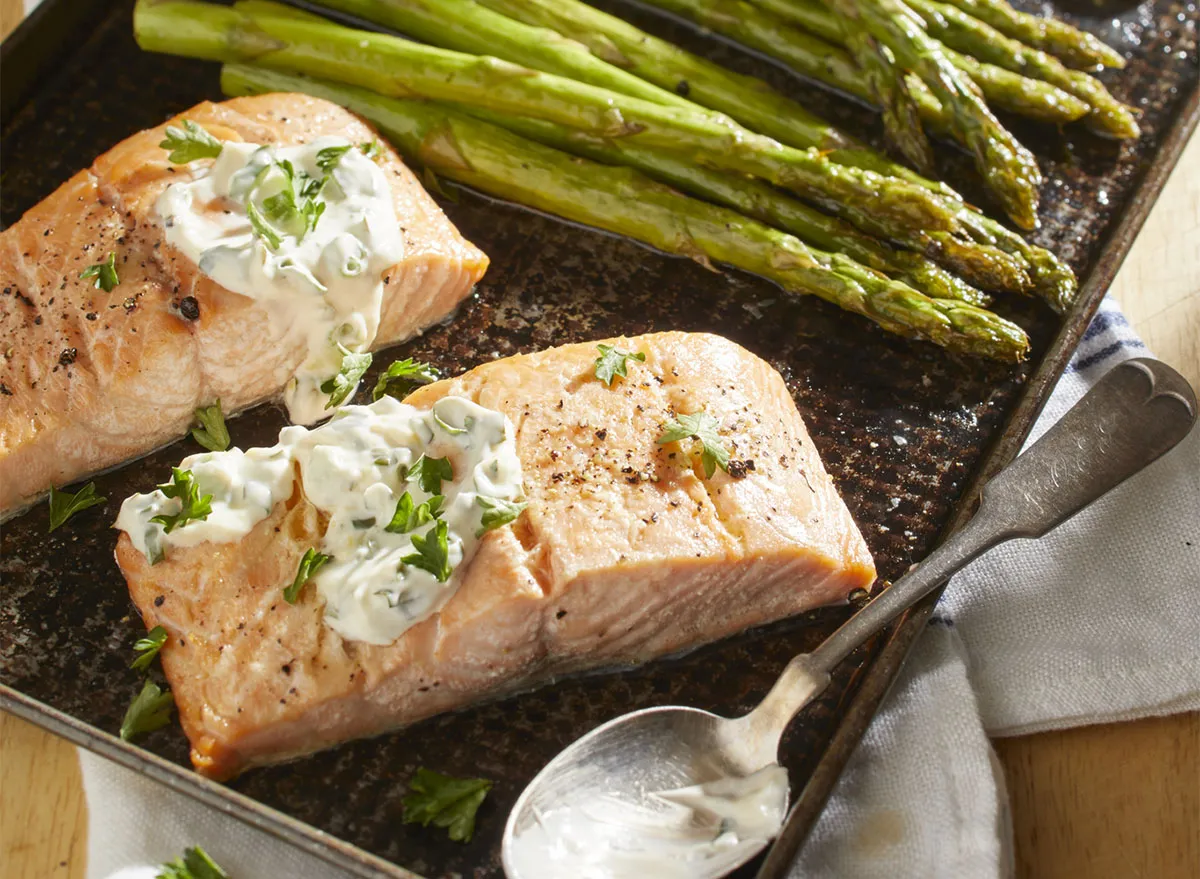 Salmon and asparagus are always great together grilled, but this baked salmon recipe is even more appropriate for keto diet followers because it adds more delicious fat to the omega-3 fatty acids found naturally in salmon. The hint of lemon in the mayo-based topping is delicious on the asparagus, too.
Get our recipe for Butter-Baked Salmon and Asparagus.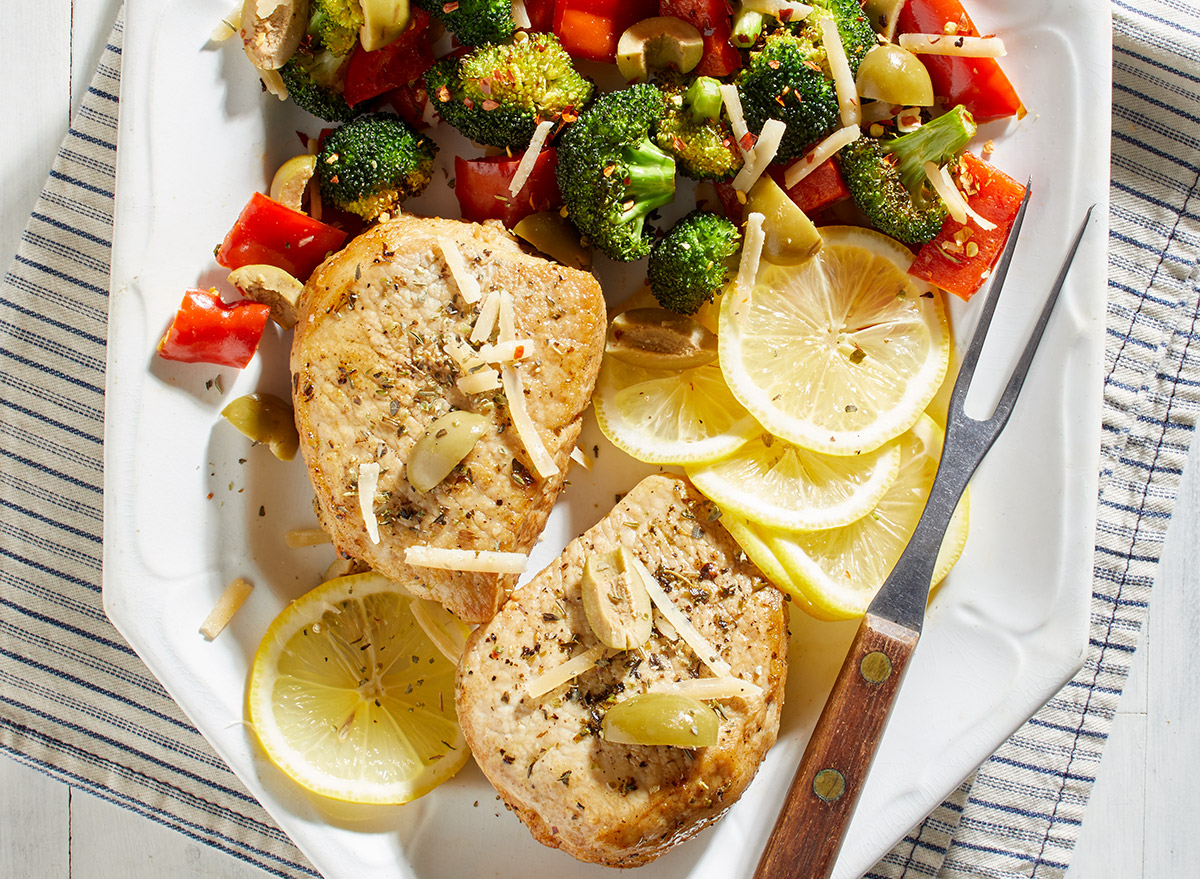 Use bone-in chops when you can for better flavor, but even if you choose boneless, make sure your chops have some fat. As for the vegetables, broccoli and peppers work well, but the beauty of this dish is that you can use any seasonal vegetables (asparagus, carrots, Brussels sprouts). Along with the veggies, dried herbs, salt, and olive oil will impart delicious Italian flavors.
Get our recipe for Italian Pork Chops.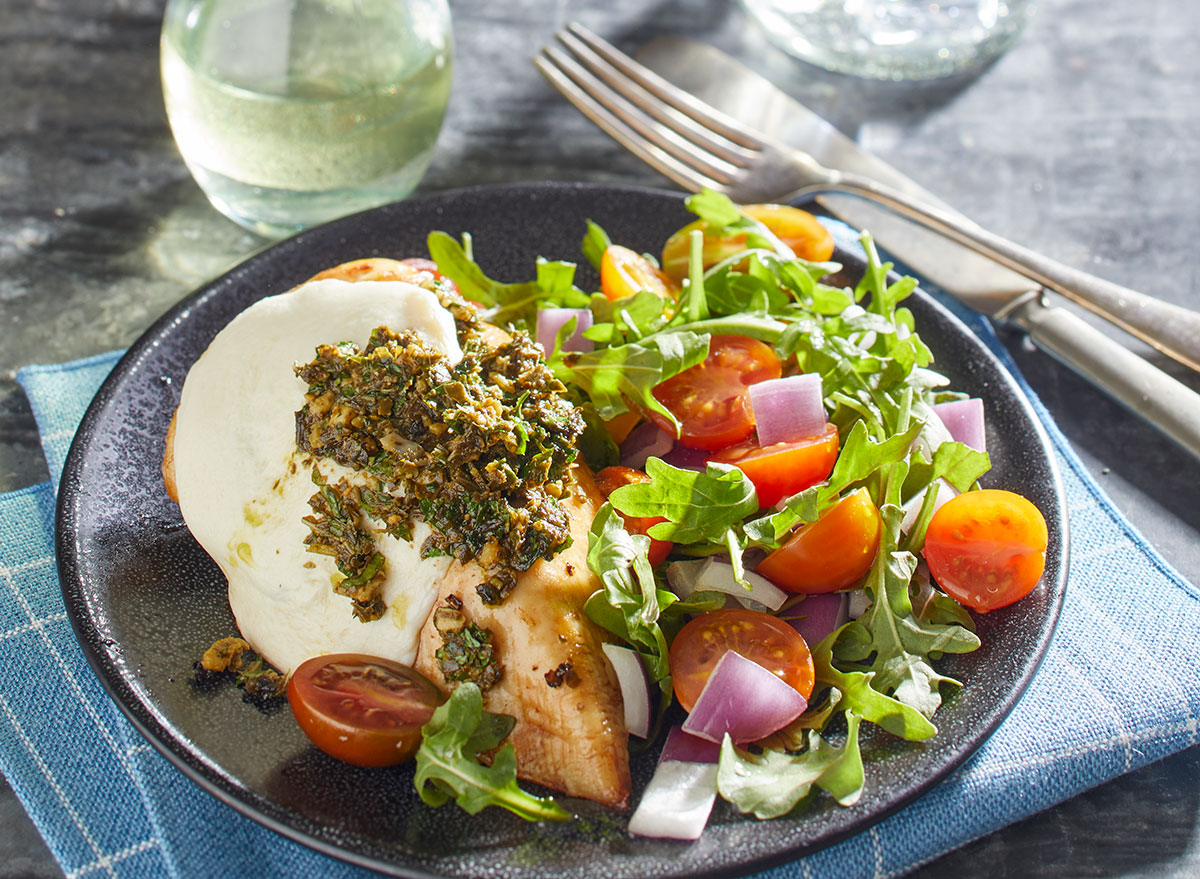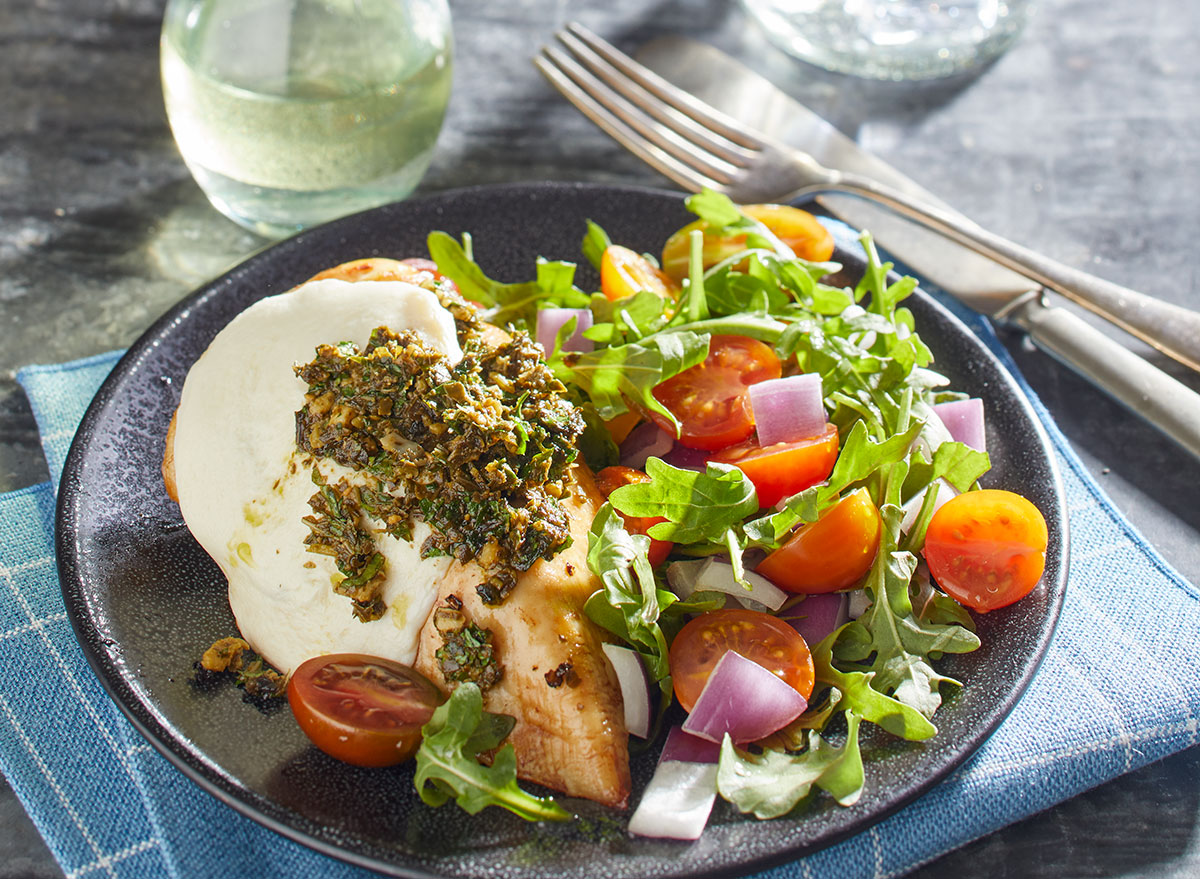 If you're a fan of basil, this pesto chicken recipe might just become one of your weeknight dinner go-to's.
Get our recipe for Pesto Chicken.
Mustard Salmon and Veggies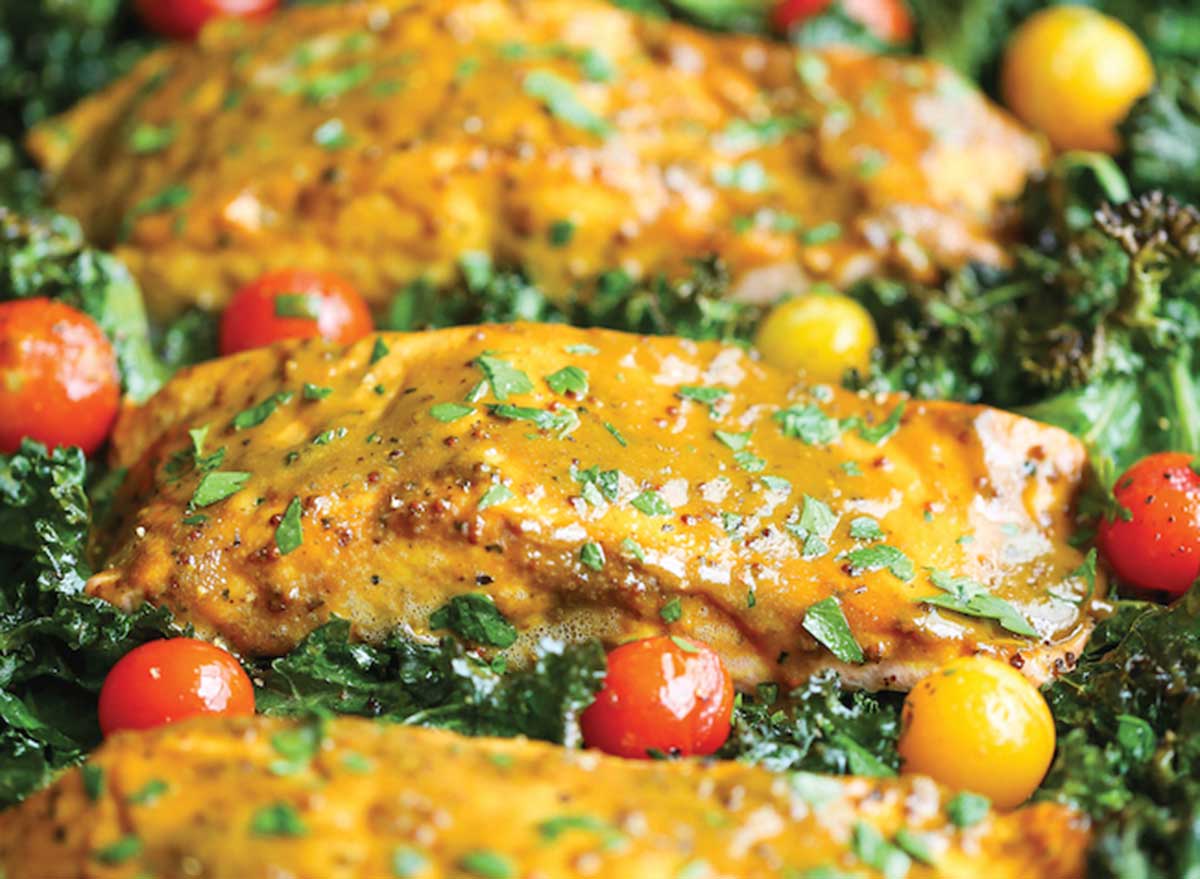 This simple dinner will have you leaving the table feeling light and fresh. Salmon is filled with omega-3's and coated in an oh so flavorful sweet mustard glaze that gives it that extra bit of tang you're looking for. No need for dessert because this sheet pan dinner is killing the savory and sweet cravings!
Get the recipe from Damn Delicious.
Sheet Pan Chicken Parmesan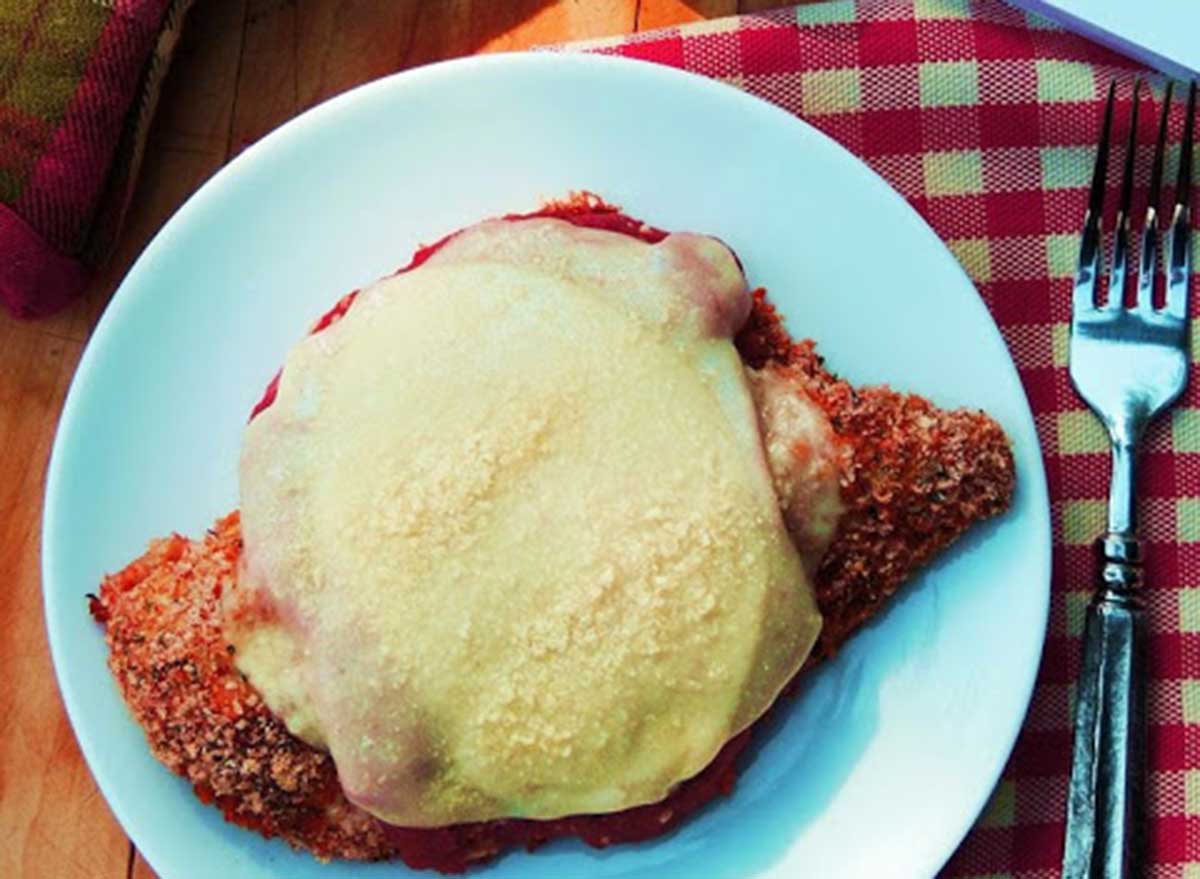 Move over fried chicken parm, oven-baked chicken parm is here and it's better than ever. By choosing to bake a dish in the oven rather than frying it in oil you save almost half the calories. Chicken Parmesan is normally a fried dish covered in salt, but this sheet pan supper reduces the intake of calories, fat, and sodium while keeping the same great flavor. Speaking of flavor, be sure to check out these 35 Healthy Crock Pot Recipes!
Get the recipe from Bobbi's Kozy Kitchen.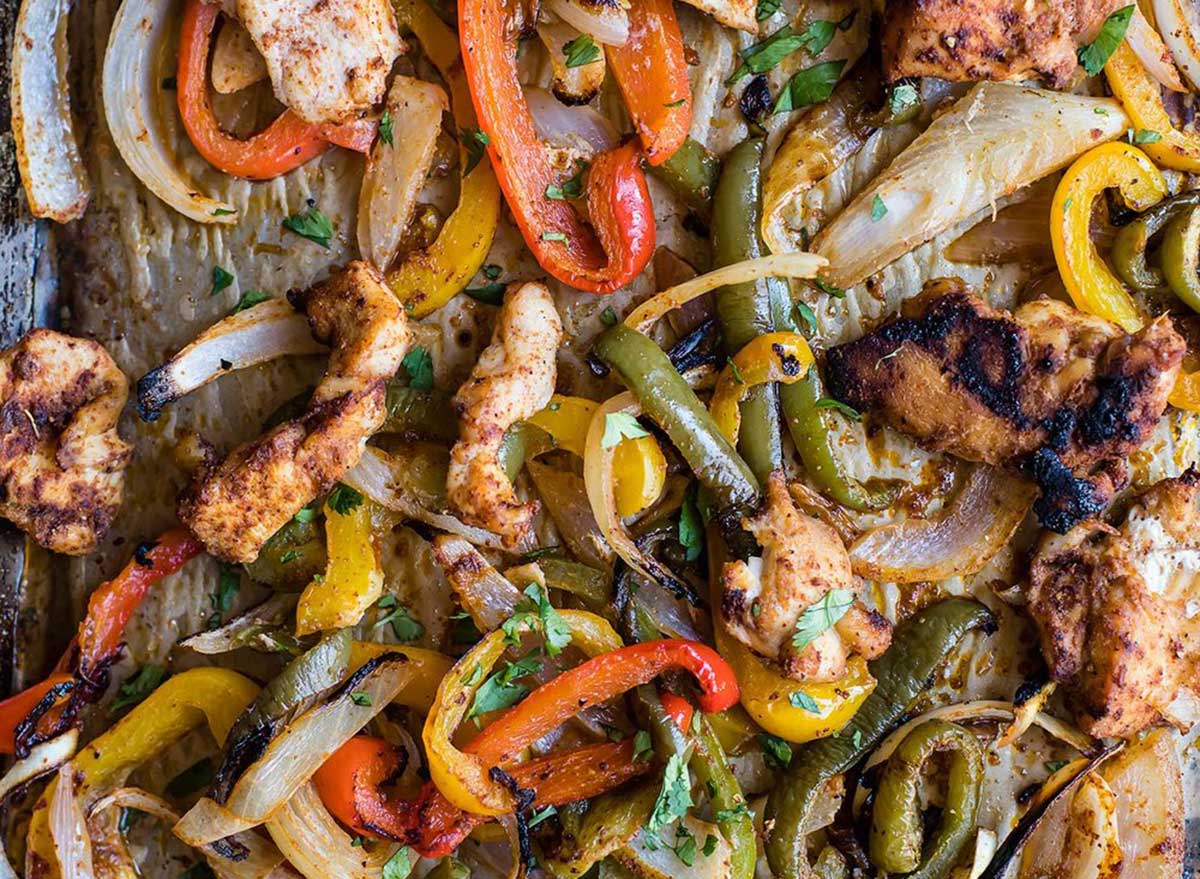 Seasoned to perfection, these quick and easy chicken fajitas are sure to satisfy. They are a Tex-Mex oldie that will have your mouth watering when they're in the oven. Traditionally made with a skirt steak, the chicken lightens them up allowing you to have that extra bite.
Get the recipe from Foraged Dish.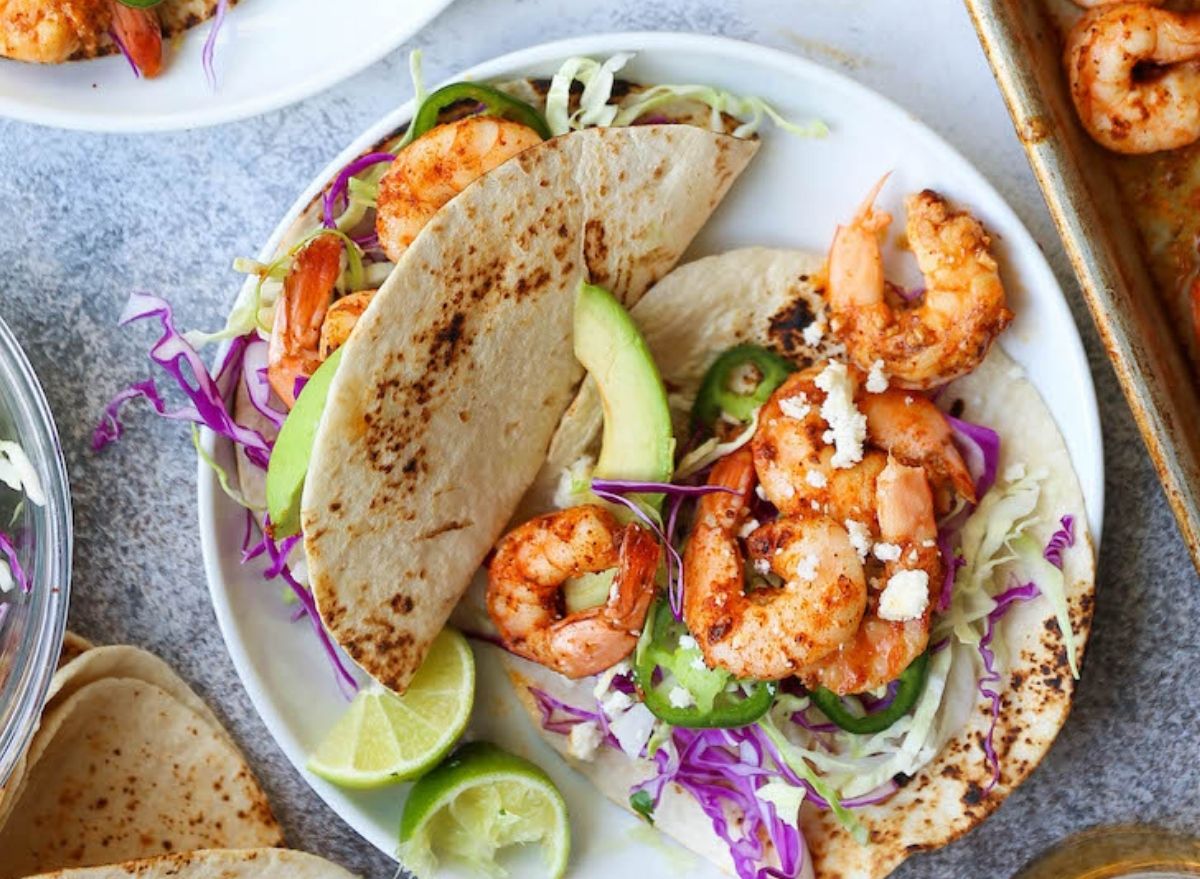 Buy cleaned and deveined shrimp and this sheet pan supper will be ready in less than 30 minutes. A little bit of butter goes a long way in this recipe when it is paired with tart lime, chili powder, cumin, and bright red paprika. Follow the suggested toppings in the recipe or get creative!6254a4d1642c605c54bf1cab17d50f1e
Get the recipe from Damn Delicious.
Smoky Roasted Chicken Breasts with Chickpeas, Tomatoes, and Cilantro
Roasting tomatoes pulls out the juicy sweetness while leaving the perfect bursting bite! Along with the cilantro that promotes detoxification and can help reduce the appearance of cellulite, this meal is one for the books. Intrigued? Then don't miss these 26 Recipes that Reduce Cellulite!
Get the recipe from Taste Food Blog.
Ratatouille with Goat Cheese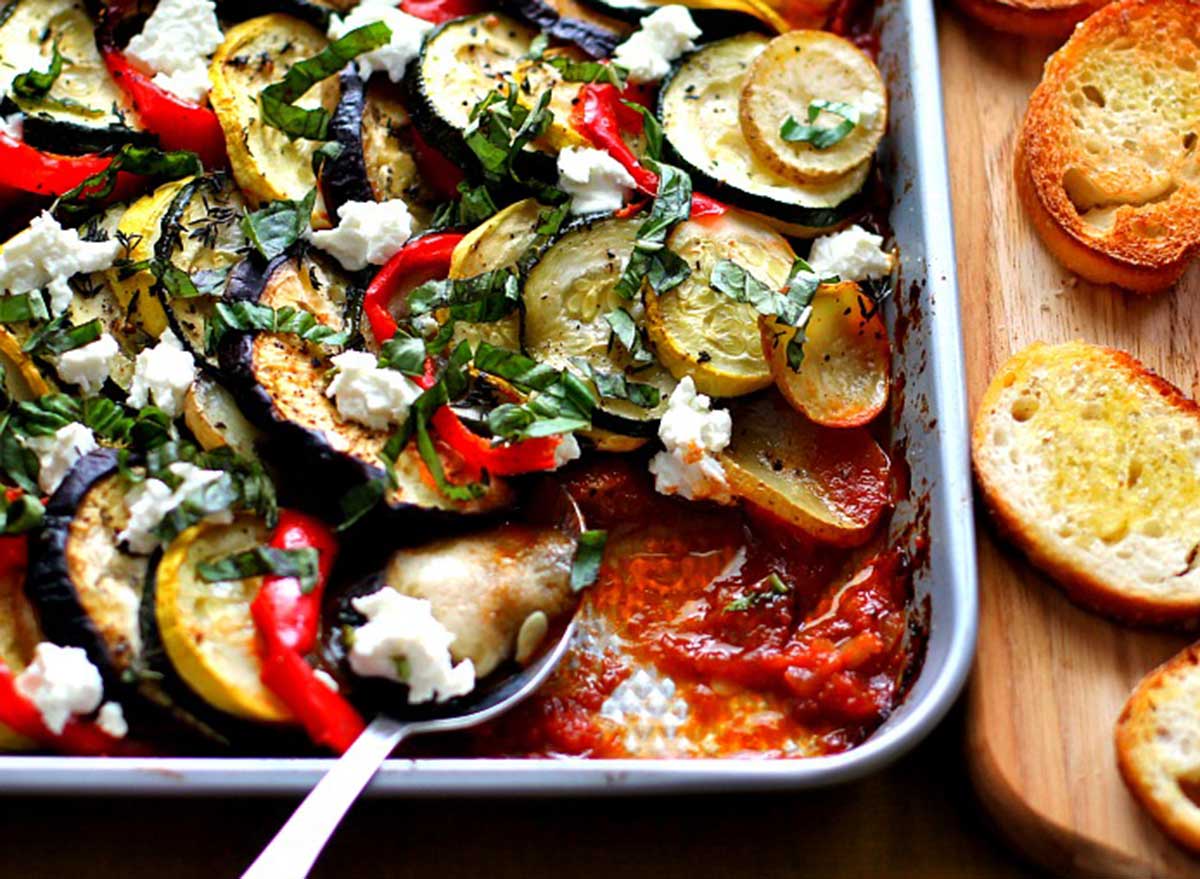 Chop up some veggies, toss them on the pan, sprinkle with cheese, and voila! A vegetarian dinner for four is served. This beautifully colorful dish of veggies is a taste bud pleaser. The goat cheese adds the perfect texture and salty touch. This is a hearty dinner even for you non-vegetarians who are looking to do meatless Monday!
Get the recipe from Sonia's Food.
Parmesan Crusted Salmon with Roasted Broccoli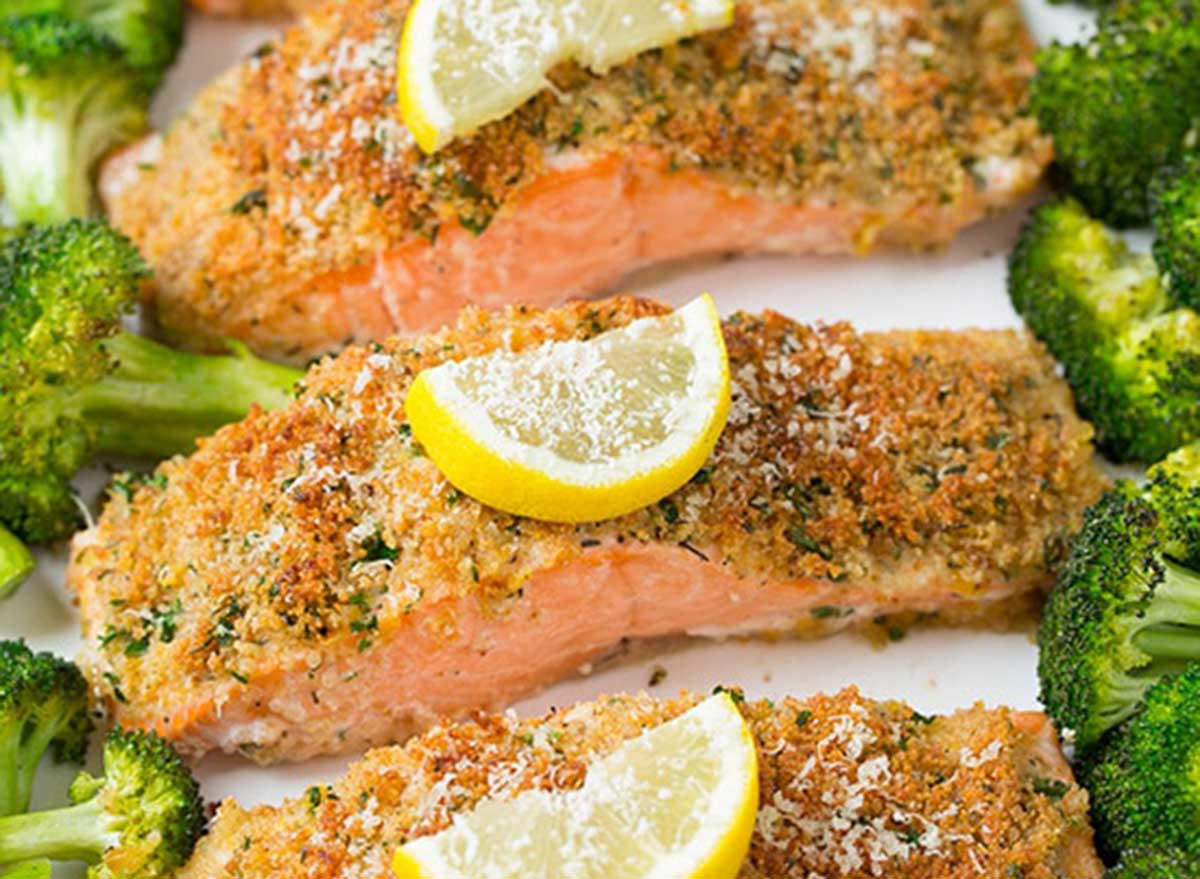 Does that look good or what? This bright dish is not only looking good but it's tasting good too. There's no harm in adding a little cheese as long as you don't go overboard and along with some breadcrumbs, it leaves a great crunch! Swap out the processed mayo and add some greek yogurt to get some healthy fat, you won't be disappointed!
Get the recipe from Cooking Classy.
Potato, Salmon, and Asparagus One Pan Dinner
Salmon and asparagus are a nutrient-packed duo. Asparagus is known to regulate your blood sugar, reduce inflammation and support your digestive system. What more could you ask for in a side? Paired with salmon and potatoes- they make for the ideal dinner that is earthy, light, and super low in fat!
Get the recipe from Let the Baking Begin.
One Pan Chicken Parm and Roasted Zucchini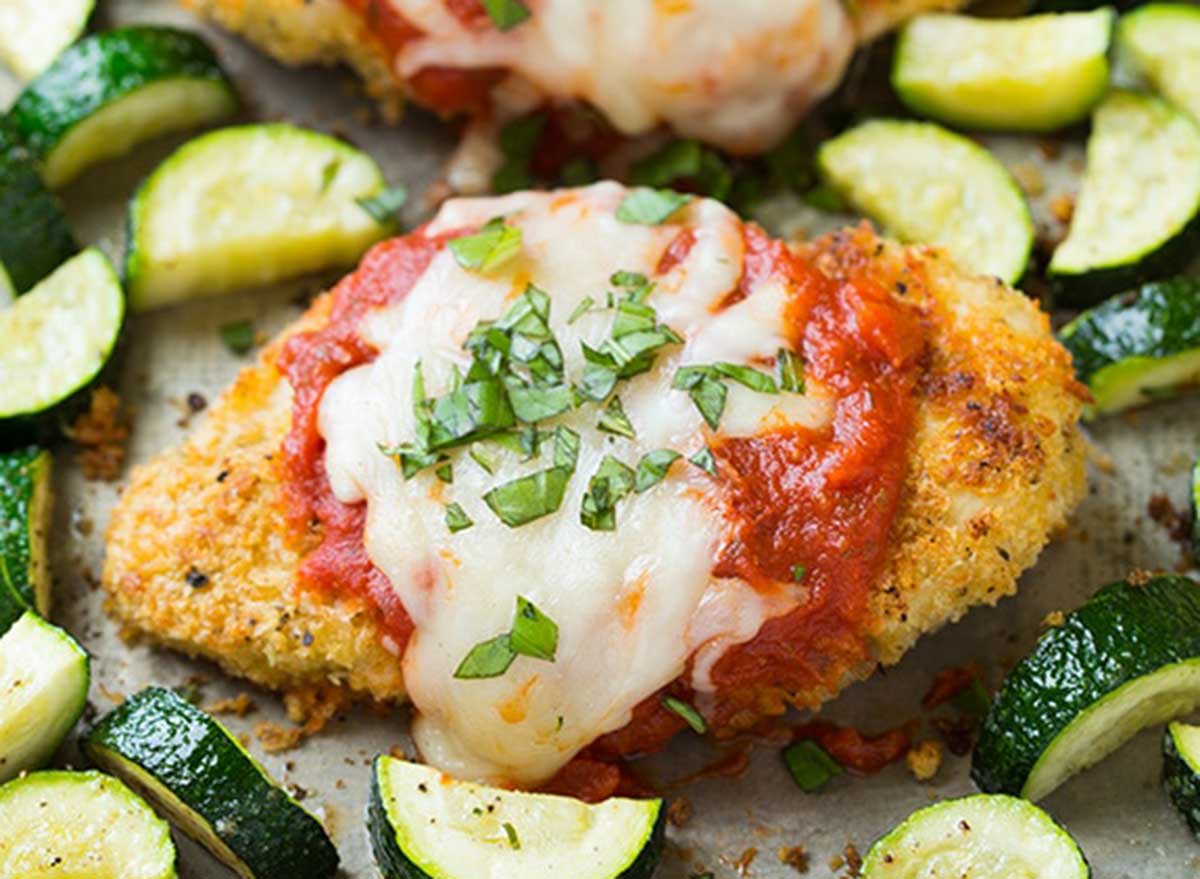 Chicken parm is a go-to meal usually made with a heavy side of pasta. Here's a lighter version of chicken covered in panko bread crumbs and baked with zucchini. A great swap when you're looking to lower the carb intake and up the health benefits! Lightly cover in cheese and marinara to get that same great flavor.
Get the recipe from Cooking Classy.
Roasted Broccoli with Shrimp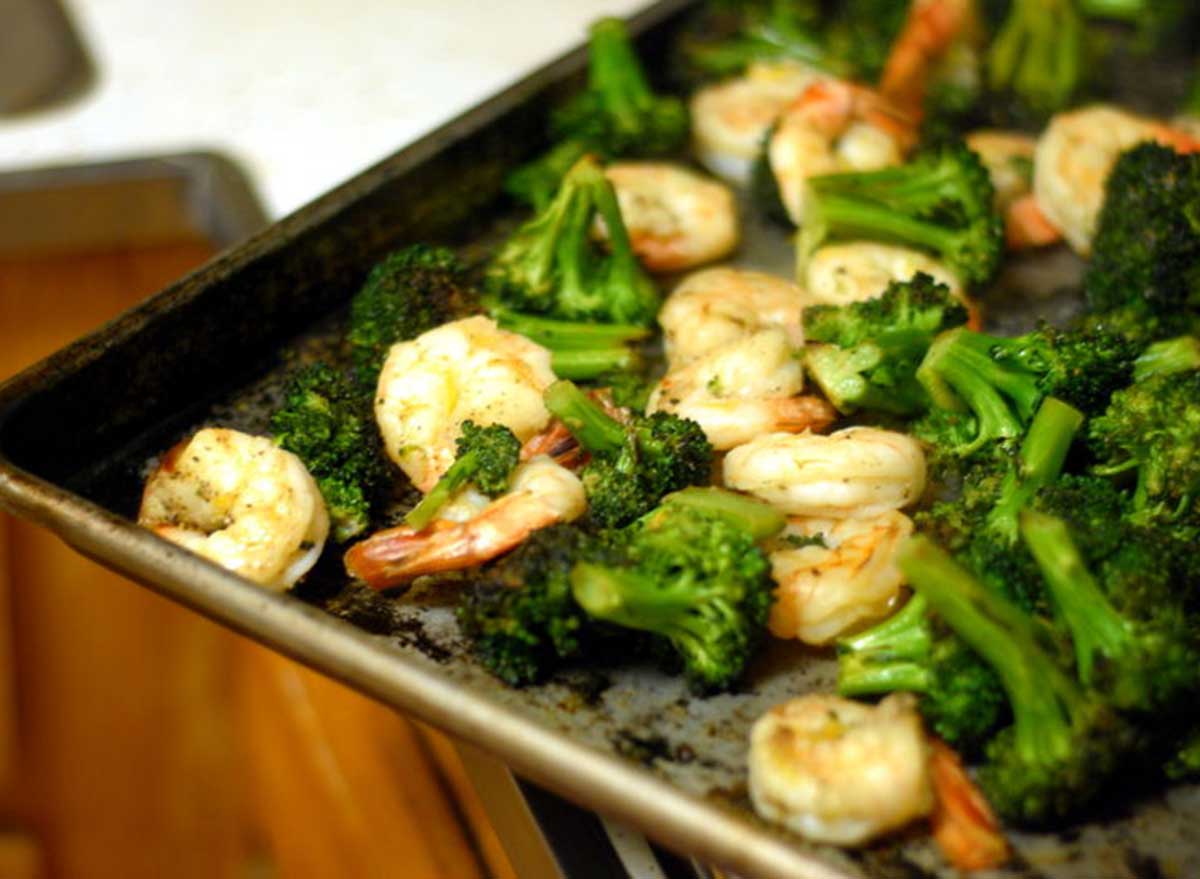 The convenience and simplicity of this meal are what make it so great. The bright green broccoli and meaty shrimp are sure to fill you up without the button-busting feeling. Cut back on the salt and drizzle with lemon for some extra flavors without all the inflammation.
Get the recipe from The Wednesday Chef.
Chimichurri Chicken and Potato Sheet Pan Meal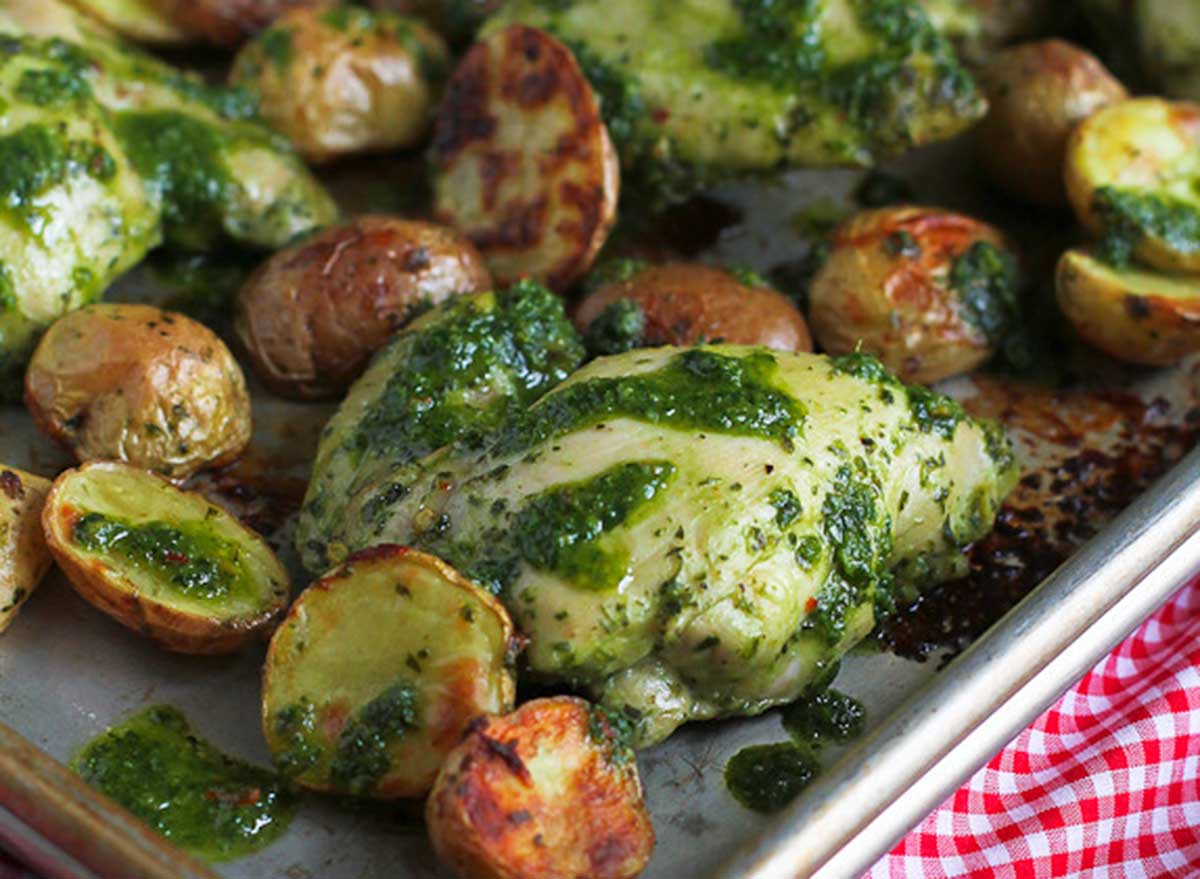 Chimichurri is a bright, fragrant sauce made from a variety of different herbs and spices that is the perfect accompaniment for meats like chicken and vegetables like potatoes that are both mild in flavor. It adds a great kick to the dish without all the guilt of fat and sodium. Get more chicken inspiration with these 35 Best-Ever Chicken Recipes for Weight Loss!
Get the recipe from Cooking in Canuck.
Salmon fajita- who would have thought you would ever see those two words next to each other? Well, as strange as it might sound, this dish is a great way to lighten up a restaurant style meal at your own home. The seasoned salmon and veggies together make for an under-30-minute dish that's healthy and super flavorful.
Get the recipe from Laughing Spatula.
One Pan Honey Roasted Turkey and Vegetables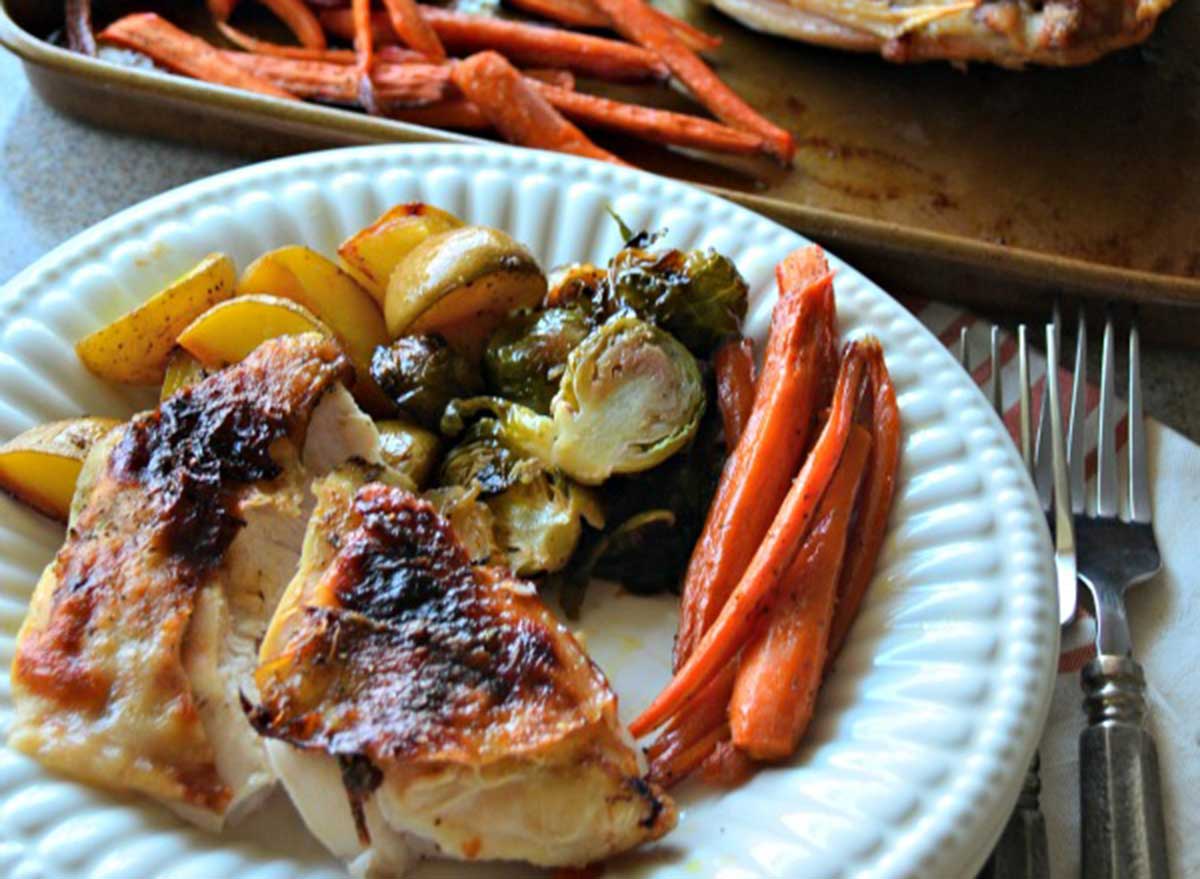 This perfectly cooked turkey is unbelievably juicy and naturally sweet from the honey. Combined with the caramelized carrots, rich potatoes, and crunchy brussels sprouts make for a Thanksgiving feast any day of the year. Brussels sprouts are a veggie that promotes detoxification in the body and provides a healthy dose of vitamins K and C. Try this out, it's a meal you'll definitely be thankful for!
Get the recipe from Katie's Cucina.
Sheet Pan Balsamic Shrimp and Summer Vegetables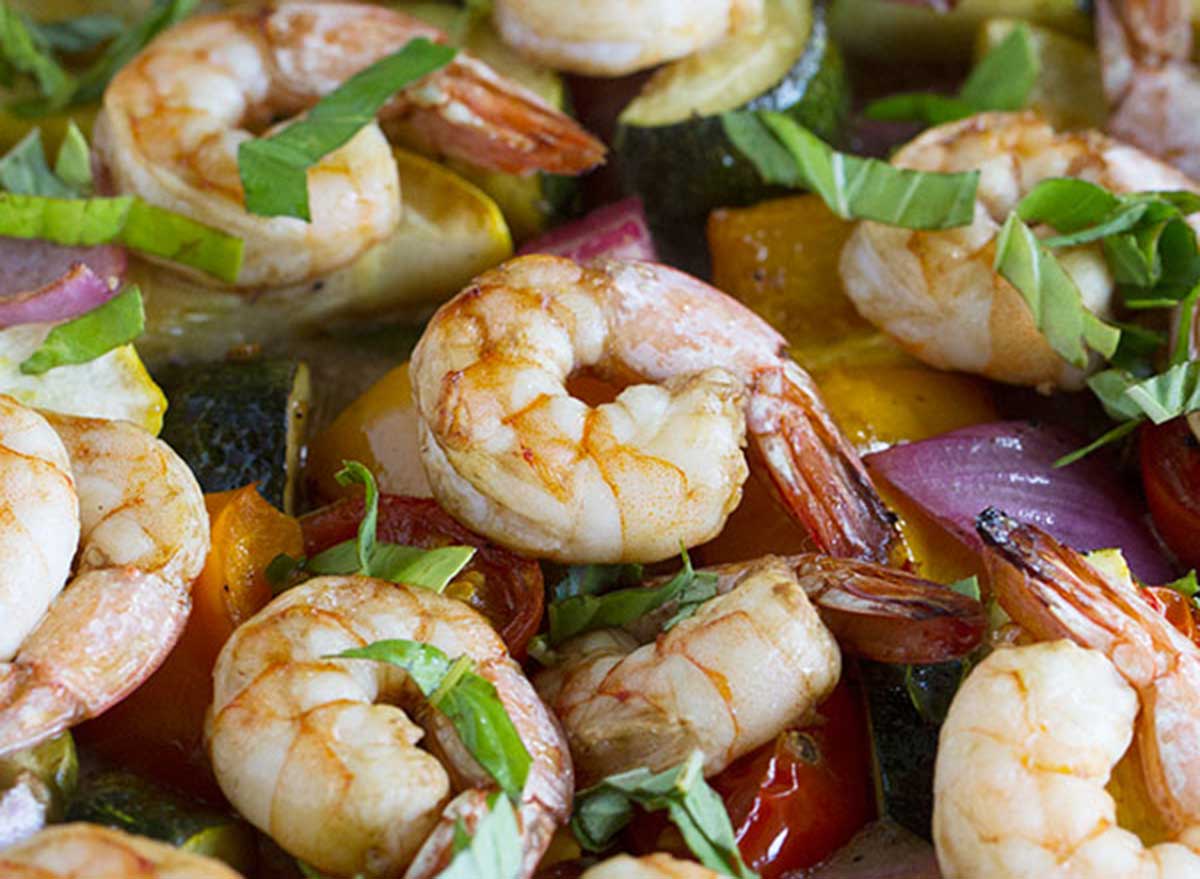 Shrimp on the barbi is a summer favorite, but when the weather gets cold and you don't want to step out your door to grill here's the answer! Change up the veggies throughout the year for some of your fall, spring and winter favorites, it will still be just as tasty. Baked in a light dressing and no hassle, this sheet pan meal will have you feeling like it's 85 and sunny all year round.
Get the recipe from Taste and Tell Blog.
One Pan Parmesan Pork Chops and Veggies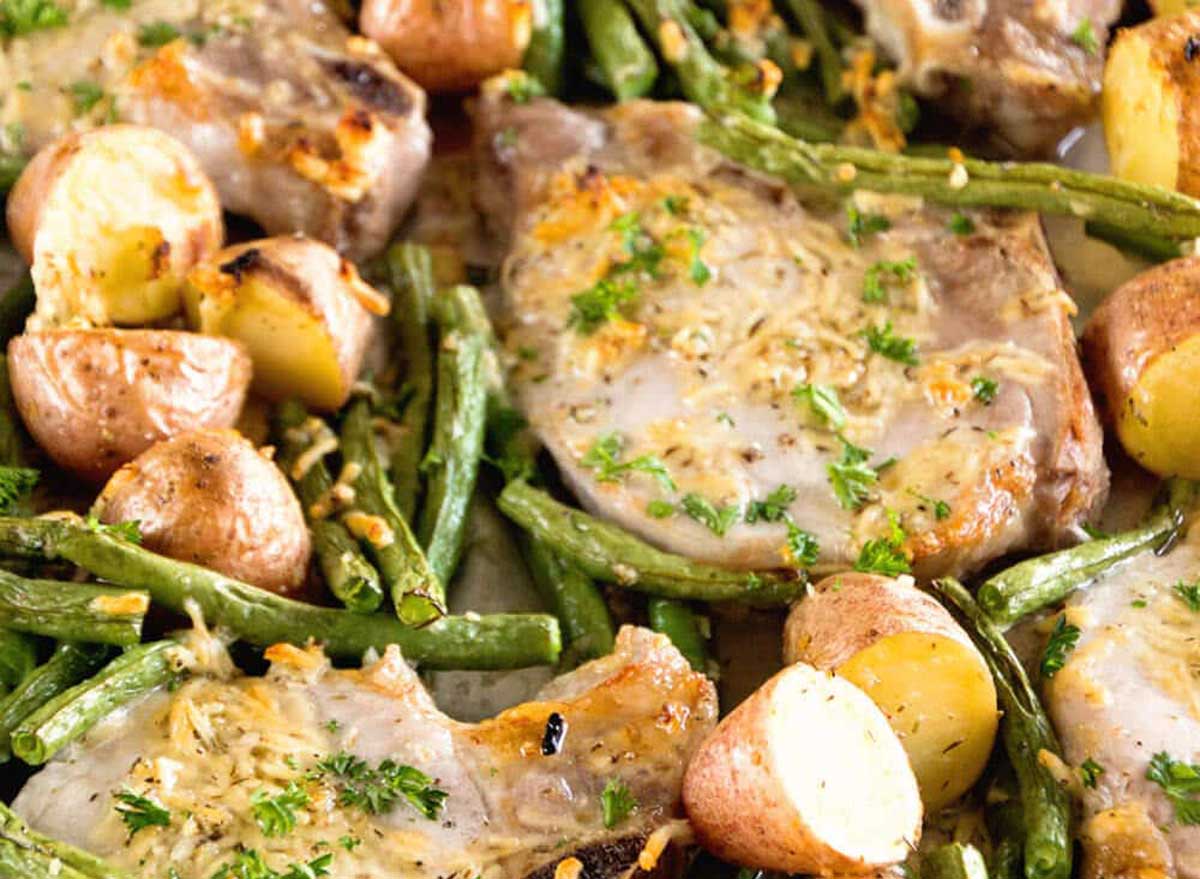 If you're a meat and potatoes kind of guy/gal, here's the meal for you! With this dish, while sticking to the old southern ways of having potatoes with every meal, you're still able to get a healthy amount of protein without being smothered in butter and salt. The lower sugar intake is also a great way to finish off the day before unwinding!
Get the recipe from Julies Eats and Treats.
Easy Chicken Sheet Pan Supper
Chickpeas (also known as garbanzo beans) are an awesome addition to a meal when you're looking to include a hearty texture and some great flavor without having a starchy grain. They have a mild flavor that can be transformed into something amazing by adding just a few herbs and spices. Along with the crunch of the crisp leaks and the juicy chicken, this meal will fill you up and leave your belly happy. The yogurt sauce made with Greek yogurt is a perfect tangy mix but if you're looking to cut back on calories we say just skip it!
Get the recipe from Macheesmo.
Roasted Fall Vegetable & Italian Sausage Sheet Pan Meal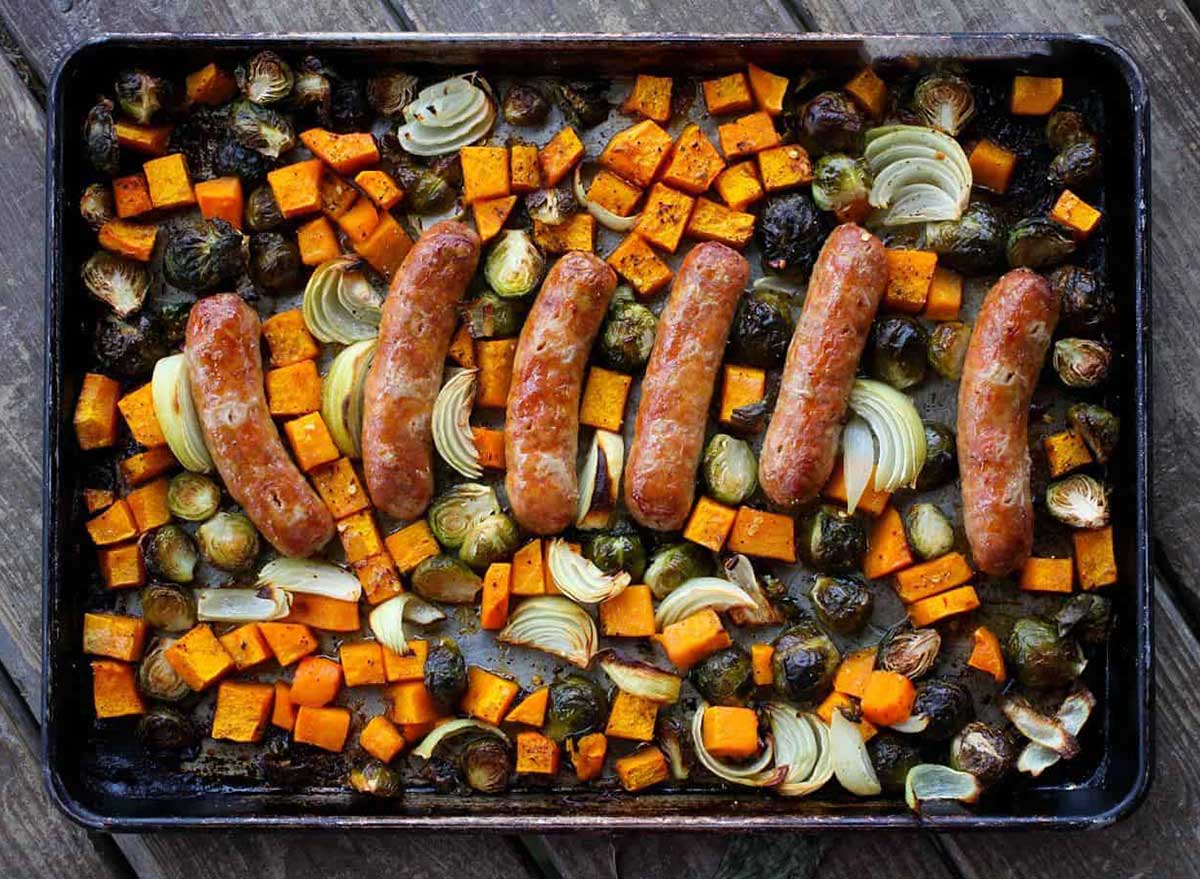 A sweet dish with just the right amount of savory! These Italian sausages are perfect for any meal of the day. The browned vegetables give a nice bite and bring out the natural sugary flavor without any fake sugar additives.
Get the recipe from Foodie with Family.
Bacon and Eggs for Dinner Breakfast Bake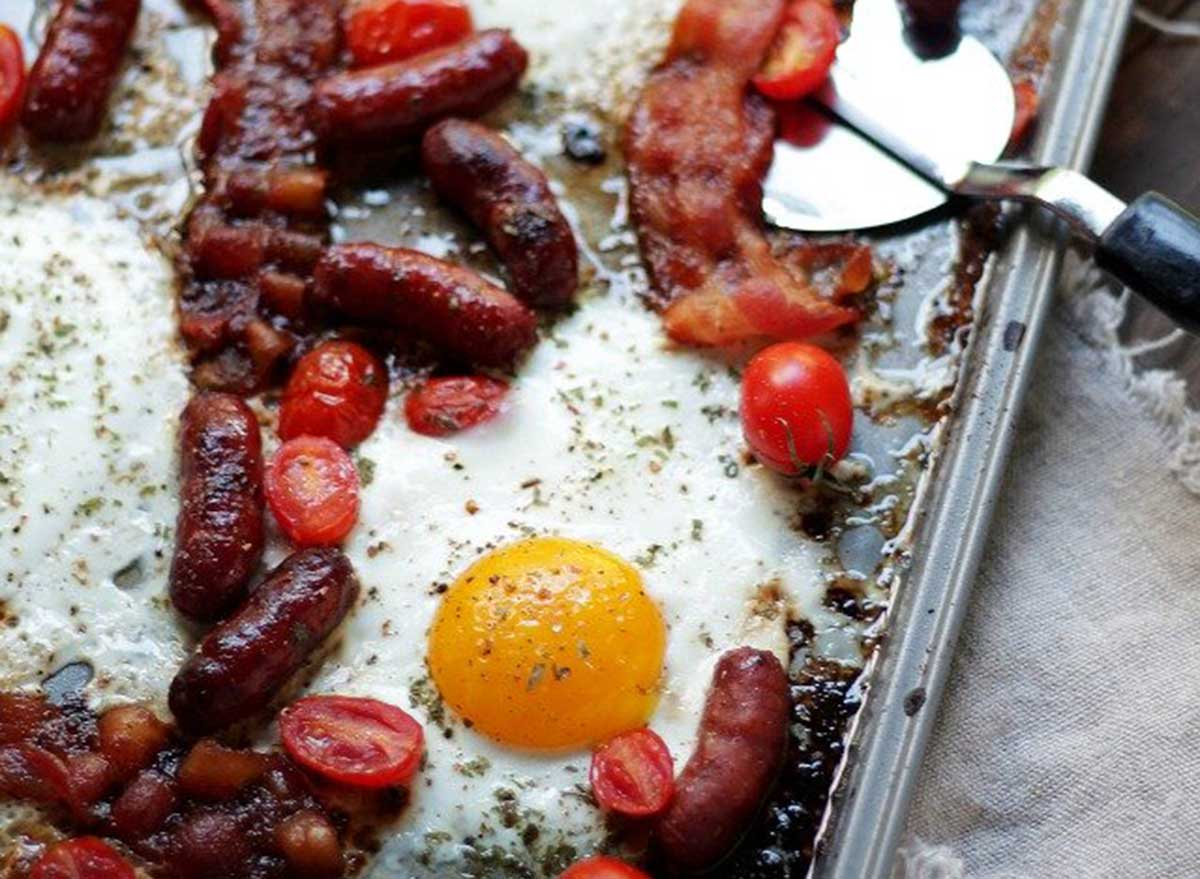 Bacon and eggs are a breakfast classic, but it's a fun dinner at times, too! This easy bake is a one-pan meal filled with protein and a mix of sweet and savory flavors that's perfect for when you want to flip dinner on its head. For when it's actually the a.m., make it extra easy with these 5-ingredient, 5-minute, healthy breakfast ideas.
Get the recipe from Diethood.
Sheet Pan Chicken Legs with Fennel
This one's sure to become a favorite in any household. With only five ingredients plus spices, it's as simple a put together as it is to clean up. Fennel is a versatile vegetable that takes on a ton of flavor. It's also said to have tons of fiber and be a great source of vitamins!
Get the recipe from Food Schmoody.
Balsamic Chicken with Potatoes and Carrots
The chicken in this recipe is coated with balsamic vinegar and honey, while the remaining balsamic sauce is poured over seasoned potatoes and carrots. Yum!
Get the recipe from Le Creme de la Crumb.
Greek Chicken Souvlaki and Potatoes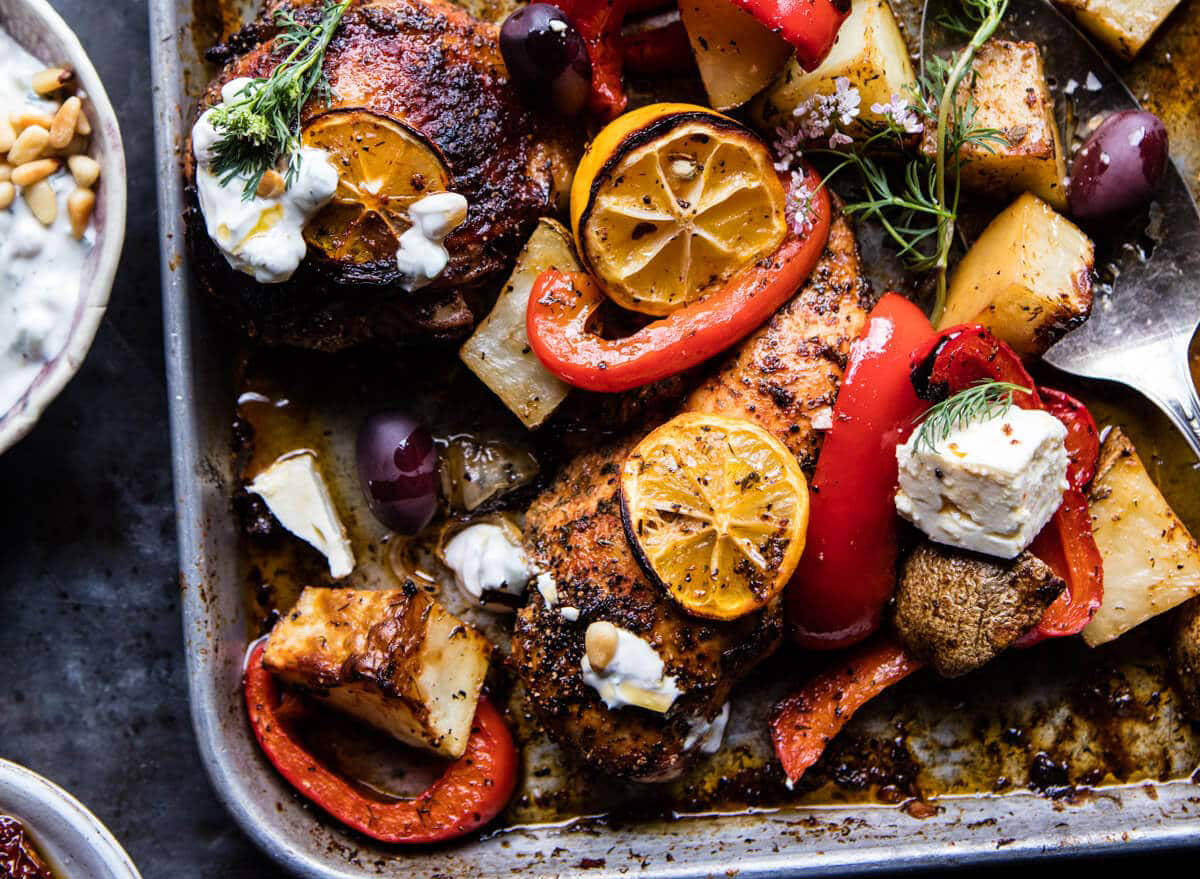 Simple and flavorful, this dish contains many Greek ingredients on one sheet pan. The chicken is tossed in balsamic and bell peppers with feta, all drizzled with tzatziki.
Get the recipe from Half Baked Harvest.
One-Pan Healthy Sausage and Veggies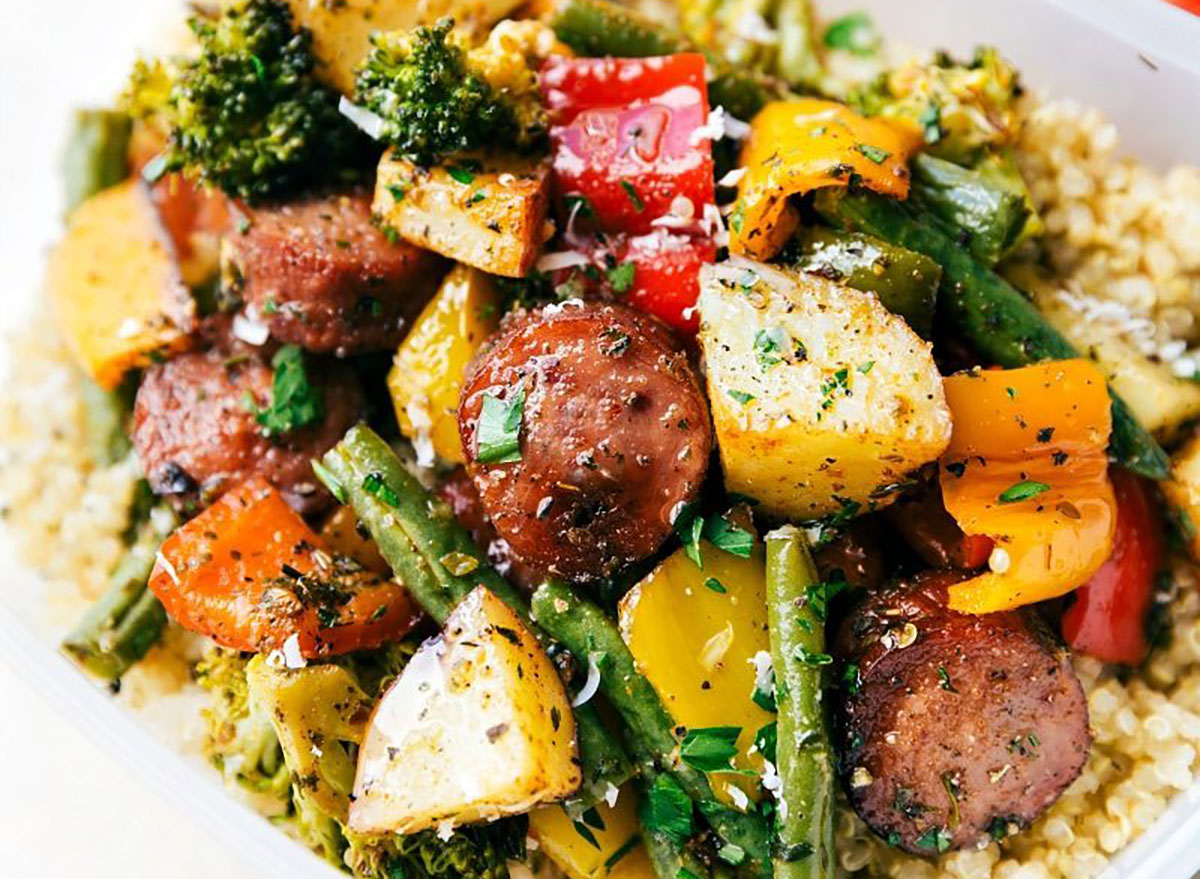 This dish is healthy and quick to make! Mix your veggies and sausage in herbs and olive oil for a quick lunch or dinner.
Get the recipe from Chelsea's Messy Apron.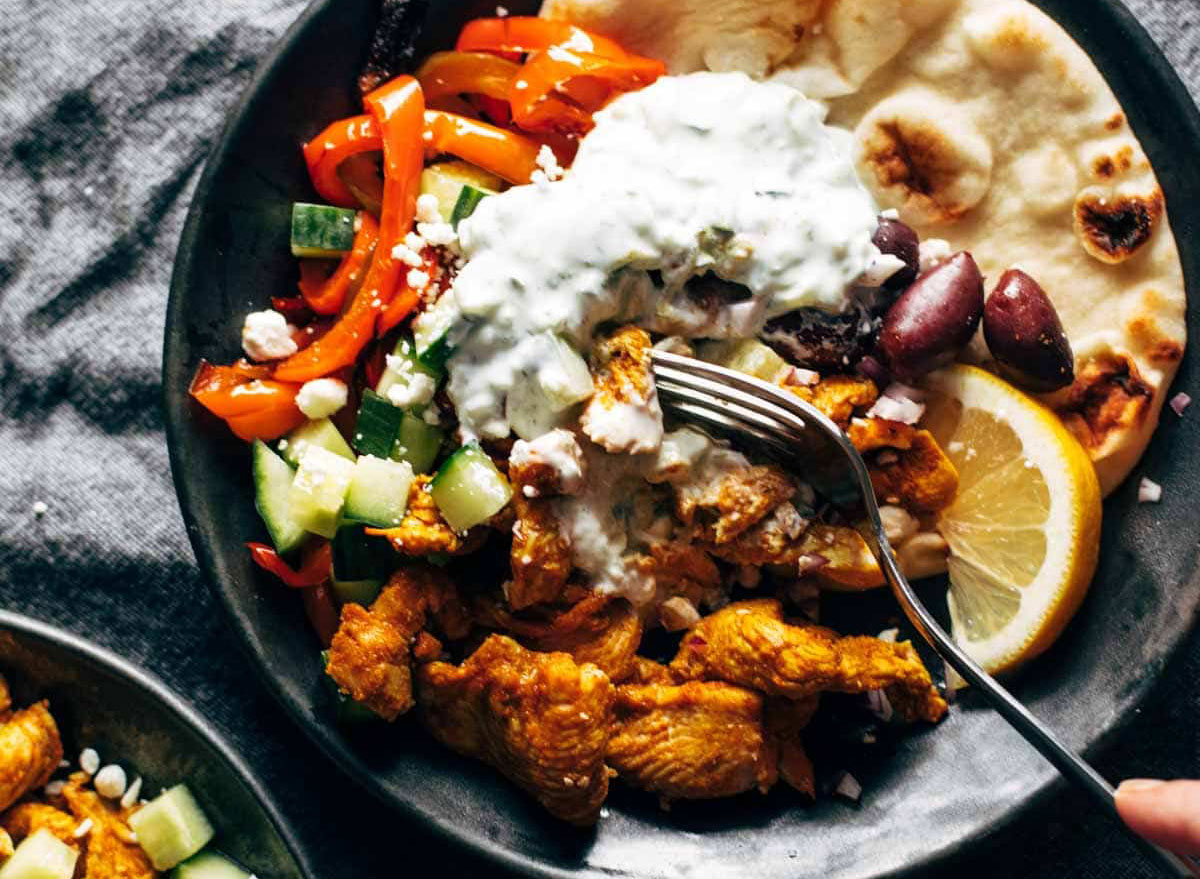 The marinated, spiced chicken with tzatziki sauce and the soft and warm pita give the dish a delicious flavor—and is certainly one of our favorite sheet pan dinners.
Get the recipe from Pinch of Yum.
Roasted Pineapple Meatloaf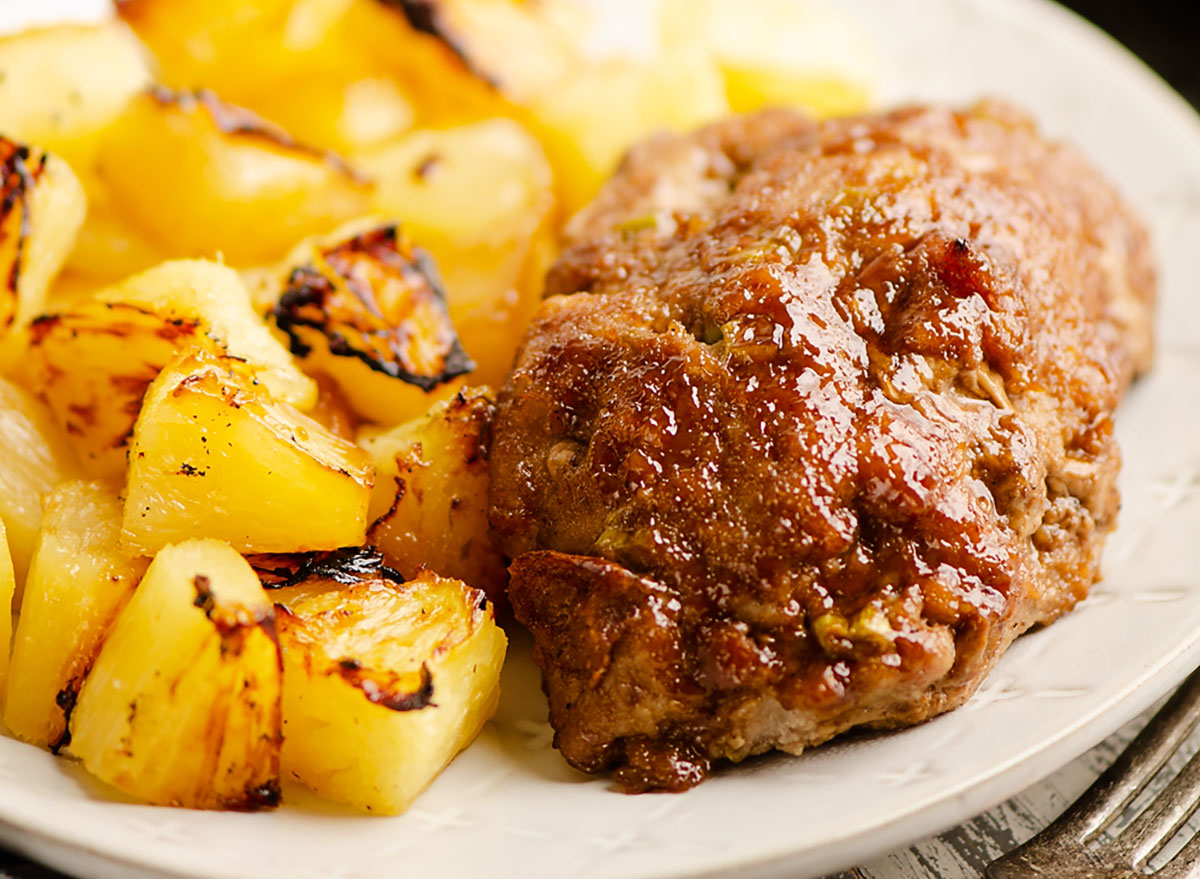 The roasted pineapple in this sheet pan dinner is coated with hoisin sauce and pineapple juice adding sweetness and acidity to the dish because of it's burnt edges. Hoisin sauce is mostly used as a dipping sauce when you have Peking Duck at a Chinese restaurant. It's a sweet brown sauce made mostly of soybeans.
Get the recipe from The Creative Bite.
Chicken and Black Bean Nachos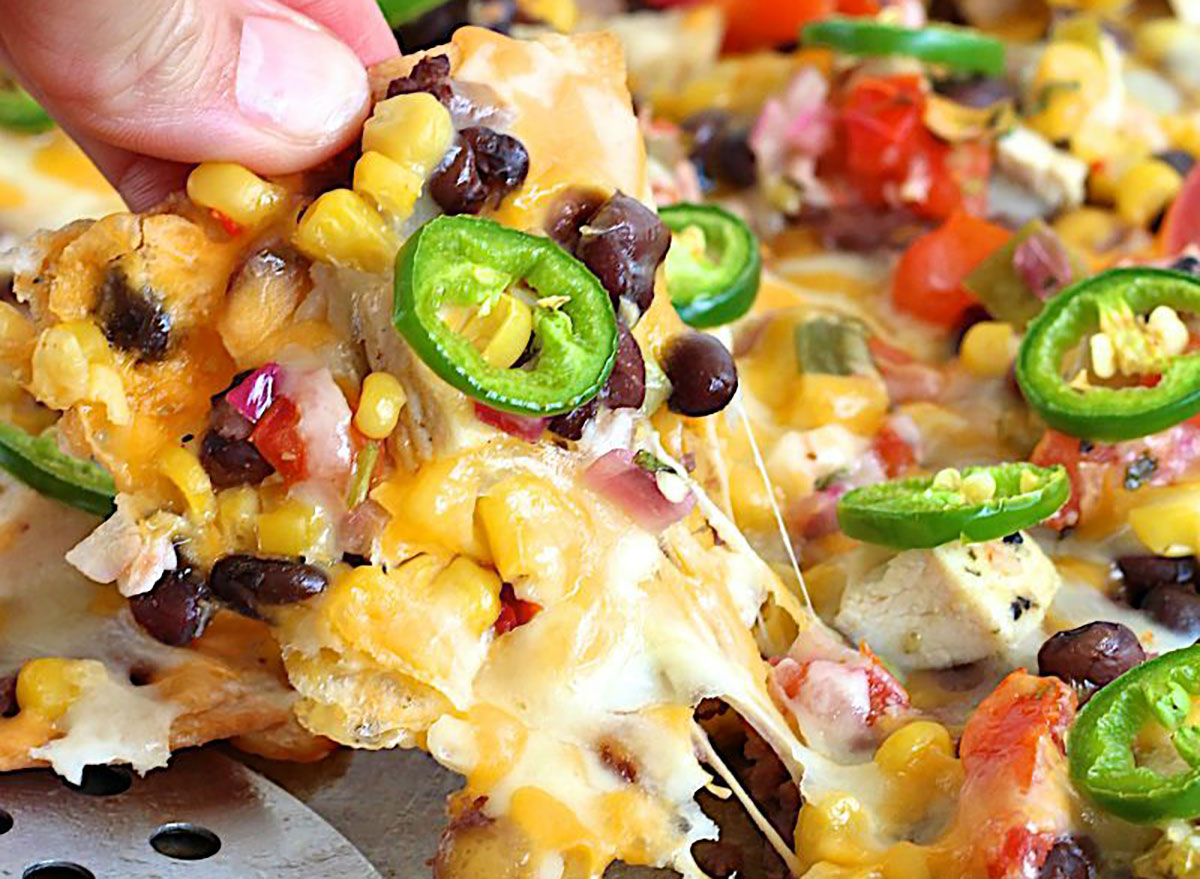 This dish is quick and a simple weeknight meal for the family. Covered with cheese, corn, pico de gallo, and chicken, it can feed anyone. And while it is a huge pan of nachos, you can definitely add to your list of sheet pan dinners.
Get the recipe from The Baker Mama.
Cajun Shrimp and Potatoes
The shrimp in this recipe are coated with honey and cajun seasoning and the baby red potatoes are coated with butter. Giving this dish a spicy and tender flavor.
Get the recipe from Le Creme de la Crumb.
This honey mustard chicken sheet pan dinner comes with baked potatoes, carrots, onions, and Brussels sprouts. It's great if you're looking for a paleo, gluten, grain-free, and dairy-free meal.
Get the recipe from Ambitious Kitchen.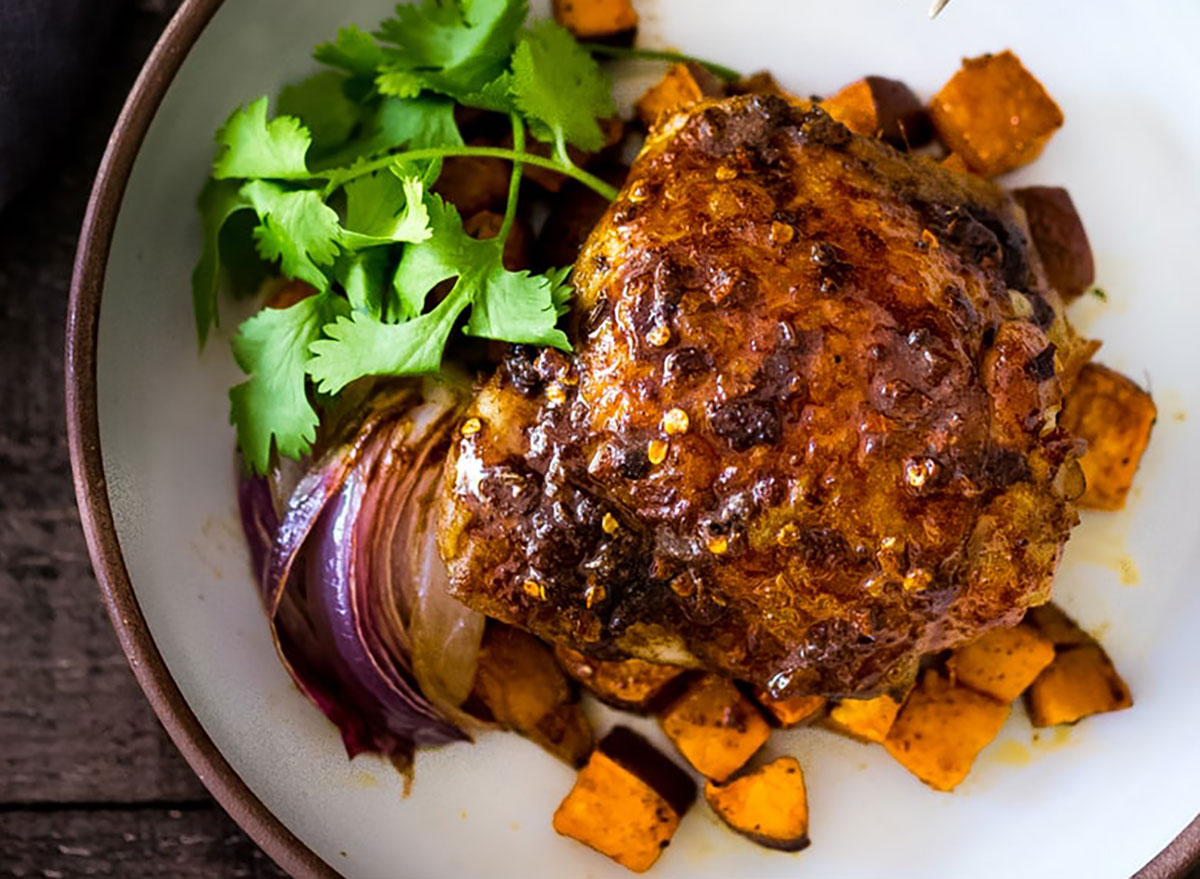 This dish can be made vegan by substituting the chicken with tofu or fish. Harissa is a spicy chili paste used as a marinade for meats and vegetables. Giving the dish an earthy and spicy flavor.
Get the recipe from Feasting at Home.
Sriracha Cauliflower & Chickpea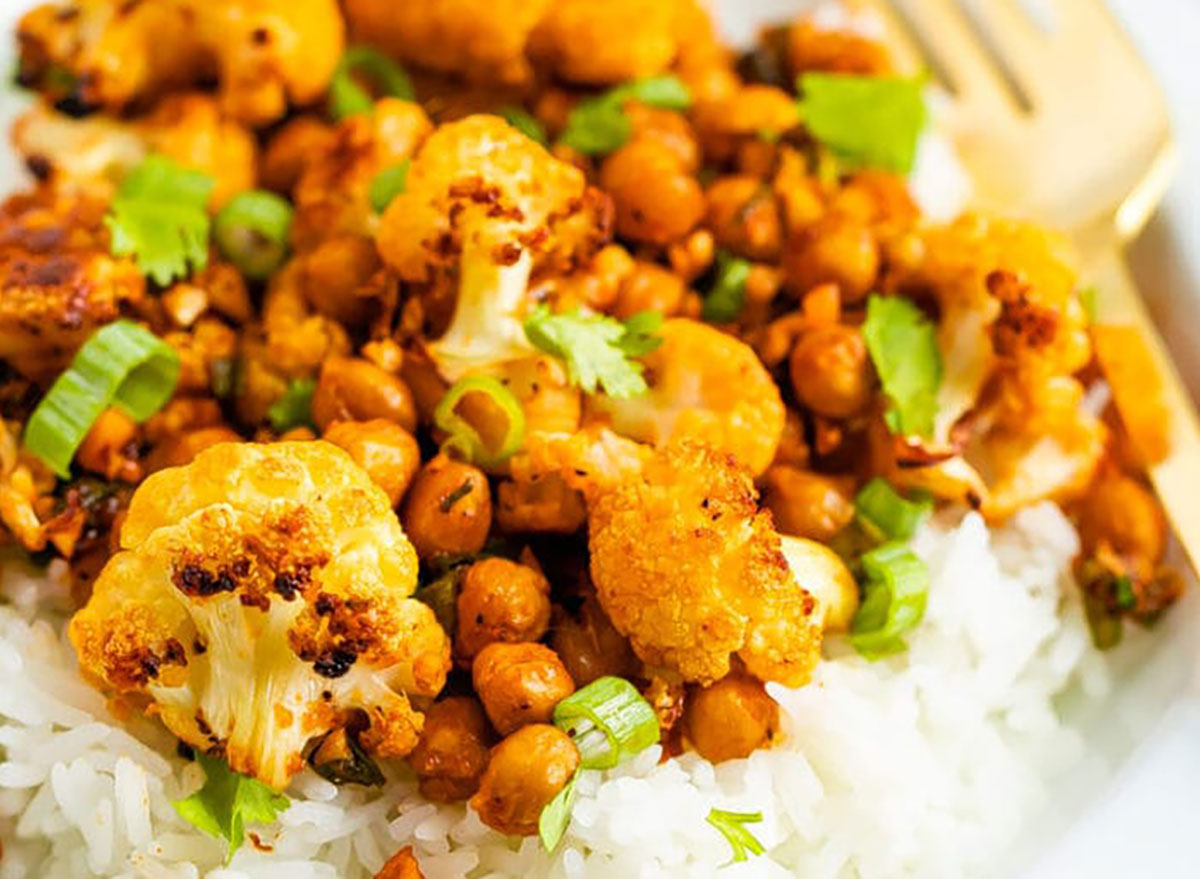 The sriracha sauce gives this dish a Korean-style twist. The cauliflower and chickpeas in this recipe serve as the main, making this one of your favorite gluten and vegan free sheet pan dinners.
Get the recipe from Eating Bird Food.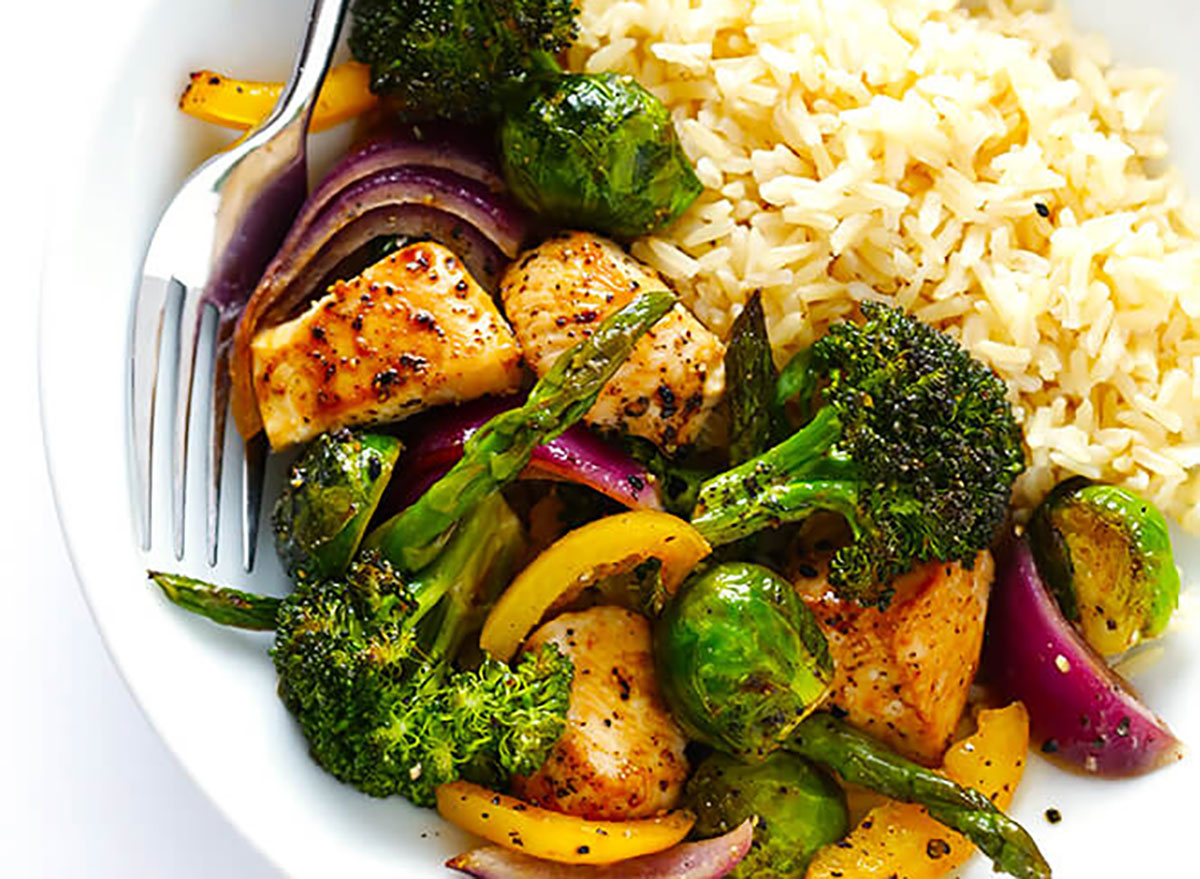 Instead of separating everything, just toss the chicken and veggies into one pan for a quick and easy meal. You can use less oil and get those roasted edges on all your veggies.
Get the recipe from Gimme Some Oven.
The cauliflower in this recipe is drenched in coconut-based curry sauce with some jalapenos to add a kick for a delicious combination of flavors.
Get the recipe from I Breath, I'm Hungry.
Read more:
63 Tasty Fall Recipes That Make Weight Loss So Much Easier
61+ Best Healthy Fish Recipes for Weight Loss