8 Best & Worst Frozen French Fries, According to a Nutritionist
You can enjoy your favorite fast-food side at home with significantly fewer calories and fat—if you know which fry brands to buy.
You can always count on frozen french fries to bring a bit of the restaurant experience into your home kitchen. Crispy and crunchy, these taters are an easy side dish for burgers, chicken, sandwiches, and more. Even better: many frozen fry brands are actually relatively healthy, with short ingredient lists and options for baking or air frying instead of frying in grease. As a nutritionist, I'm not ashamed to admit that I make some brands of frozen fries for my own family from time to time.
On the other hand, certain frozen french fry options are just as high-calorie and high-sodium as the kind you'd get at the drive-thru. Make a health-savvy choice with these best and worst options.
How we chose the healthiest frozen french fries:
Low sodium. Some fry varieties—especially the seasoned ones—are loaded with sodium (up to 20% of your daily value in a single serving). Read nutrition labels to ensure you're choosing fries with lower sodium.
Short ingredient list. All french fries really need to be crispy and delicious is potatoes and a bit of oil. Look for fries without extra additives and preservatives, which indicate a higher degree of processing.
Low fat. Fat in food isn't always a bad thing, but in most frozen french fries, it doesn't come from high-quality sources. Instead, fat in these foods typically comes from frying oils.
The 5 Best Frozen French Fries
Best: Grown in Idaho Thick-Cut Hash Browns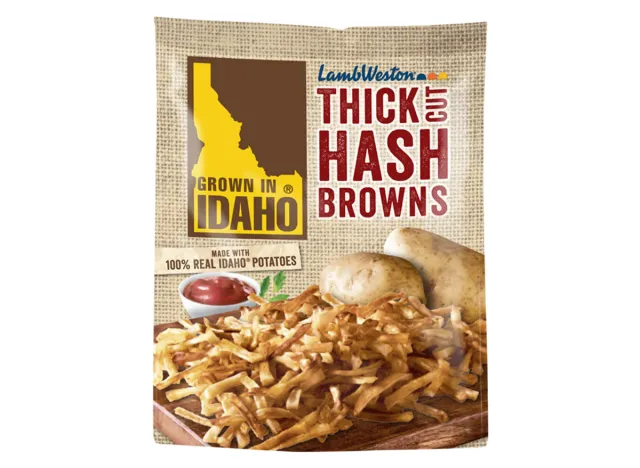 Per serving
: 70 calories, 0 g fat (0 g saturated fat), 30 mg sodium, 15 g carbs (2 g fiber, <1g sugar), 2 g protein
These technically go by the name hash browns, but Grown in Idaho's Thick-Cut Hash Browns are much more like fries than traditional hash browns. Thin and crispy, they bake up golden brown with just 70 calories, 0 grams of fat, and 30 milligrams of sodium per 1-cup serving. And since they're grown in Idaho, where they receive an ideal combination of sunny days, cool nights, and rich soil, you know they're going to be good.
Best: Alexia Organic Sweet Potato Fries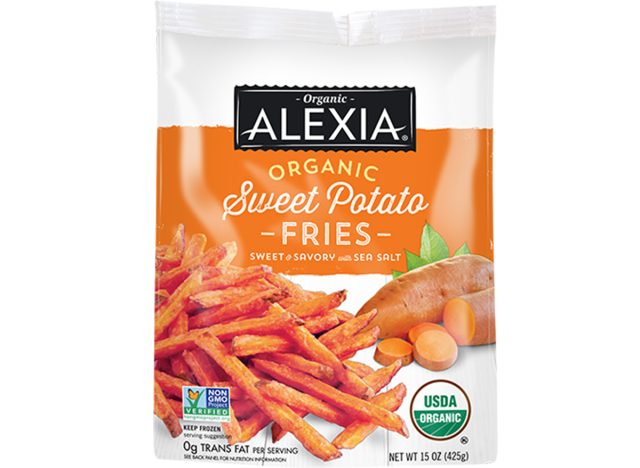 Per serving
: 160 calories, 8 g fat (0.5 g saturated fat), 110 mg sodium, 21 g carbs (2 g fiber, 7 g sugar), 1 g protein
Sweet potato fries tend to be more tender and vitamin-rich than their white counterparts. If you're hankering for the orange-fleshed fries, go for Alexia's organic option. An all-organic starch blend helps these turn nice and crispy in the oven. They don't even need added salt! They're pre-seasoned with sea salt and paprika.6254a4d1642c605c54bf1cab17d50f1e
Best: Cascadian Farm Organic Crinkle Cut Fries
Per serving
: 80 calories, 2.5 g fat (0 g saturated fat), 15 mg sodium, 13 g carbs (<1 g fiber, 0 g sugar), 1 g protein
When you need an all-purpose potato side dish for burgers or wings, make it Cascadian Farms' Organic Crinkle-Cut Fries. Just two wholesome ingredients go into these tasty taters: organic potatoes and organic canola oil. And you can feel free to enjoy a sizable portion! A 21-fry serving comes in at just 80 calories and 2.5 grams of fat, while a mere hint of sodium finishes off their flavor.
Best: Trader Joe's Root Vegetable Fries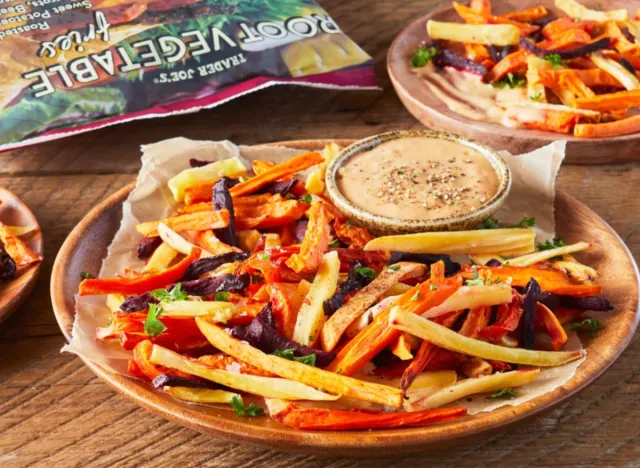 Per serving
: 50 calories, 0 g fat (0 g saturated fat), 70 mg sodium, 13 g carbs (3 g fiber, 8 g sugar), 1 g protein
Who knew beets, carrots, parsnips, and sweet potatoes could make such tasty fries? Trader Joe's root vegetable mix bakes up crispy without any oil or additives, and each serving only contains 50 calories and boasts 3 grams of fiber. Try them for a healthy, higher-antioxidant alternative to the usual french fries.
Best: Sprouts' Organic Crinkle-Cut Friend Fried Potatoes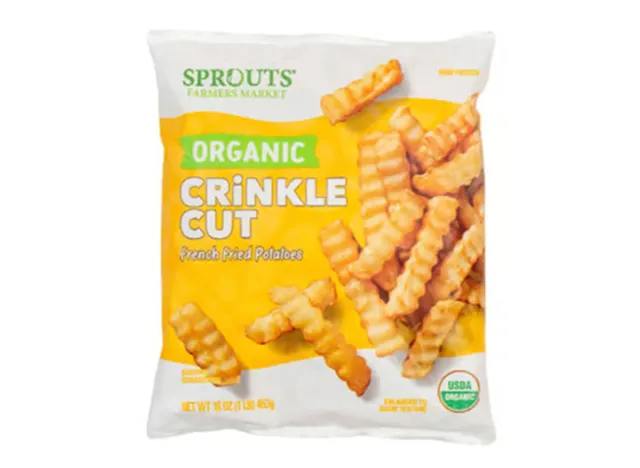 Per serving
: 120 calories, 3 g fat (0 g saturated fat), 15 mg sodium, 21 g carbs (1 g fiber, 0 g sugar), 2 g protein
There's just something extra fun about the squiggly shape of crinkle-cut fries. Sprouts' organic crinkle-cut taters keep their kid-friendly shape without adding anything funky. Potatoes, canola oil, apple juice, and citric acid are the only ingredients here. Plus, super low sodium (15 milligrams per serving) and 8% of your daily potassium means they're a heart-healthy option. Pass the ketchup!
The 3 Unhealthiest Frozen French Fries
Worst: Arby's Frozen Seasoned Curly Fries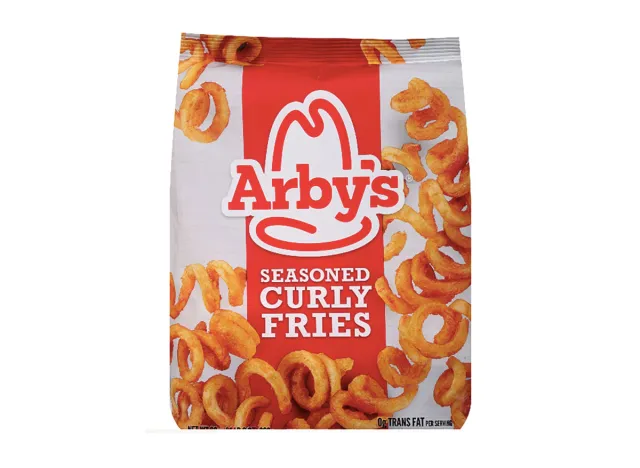 Per serving
: 180 calories, 9 g fat (2.5 g saturated fat), 390 mg sodium, 22 g carbs (2 g fiber, 1 g sugar), 3 g protein
Arby's frozen seasoned curly fries may bring the fast food chain's popular side dish into your kitchen, but they come at a price for your health. Each serving loads you up with 17% of your daily sodium recommendation and 13% of your daily saturated fat. A lengthy ingredient list also isn't a good sign.
Worst: Ore-Ida Golden Crispers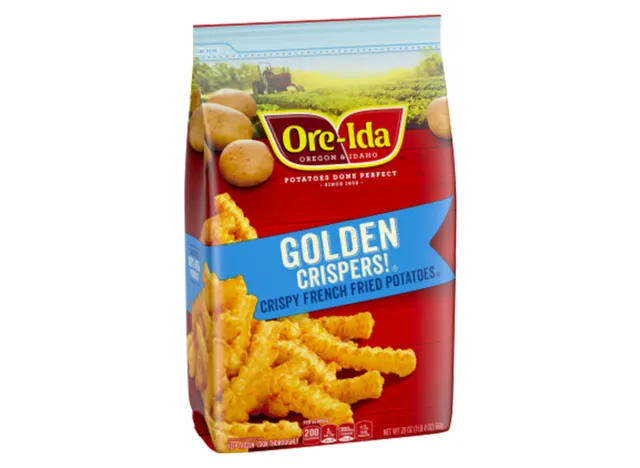 Per serving
: 200 calories, 14 g fat (2 g saturated fat), 340 mg sodium, 15 g carbs (0 g fiber, 2 g sugar), 0 g protein
Healthy diets provide plenty of protein and fiber—but you'll find exactly zero grams of either in Ore-Ida's Golden Crispers. And since these have one of the highest calorie counts of any frozen french fries, we say skip 'em.
Worst: Checkers Famous Seasoned Fries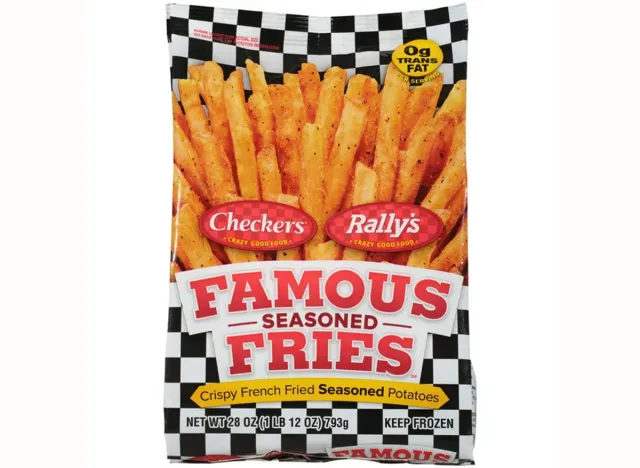 Per serving
: 160 calories, 7 g fat (2 g saturated fat), 390 mg sodium, 21 g carbs (2 g fiber, <1g sugar), 2 g protein
"Infamous" might be a better descriptor than "famous" for Checkers' seasoned fries.
Tasty as they may be, these spice-enhanced potatoes won't do much for your health. Ample sodium, zero fiber, and a higher-than-average fat content make these a less-than-stellar choice.
Sarah Garone, NDTR
Sarah Garone, NDTR, is a registered nutrition and dietetic technician, and a health, nutrition, and food writer.
Read more about Sarah