10 Best & Worst Menu Items at Shake Shack, According to Dietitians
How to order the healthiest burgers, sandwiches, and sides at this popular restaurant chain.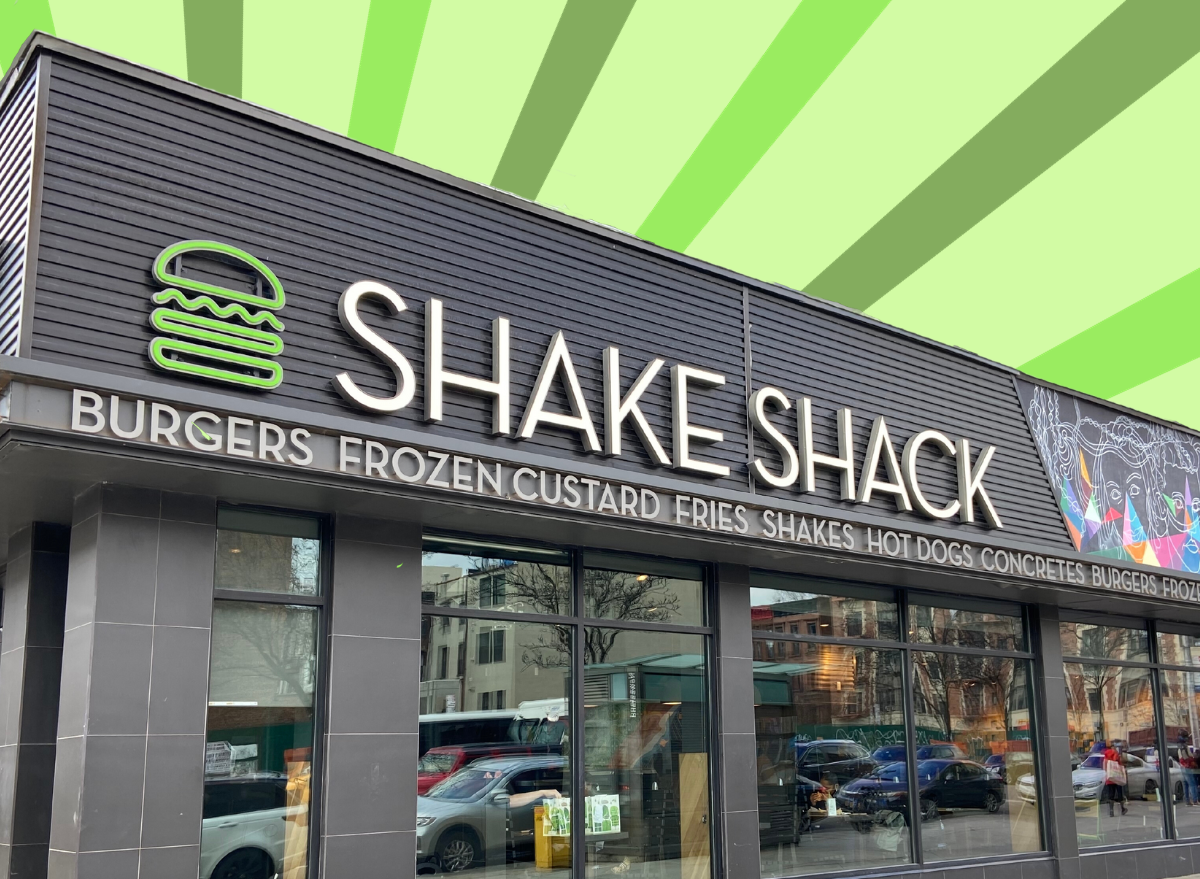 Since the early aughts, New York-based Shake Shack has taken the nation by storm. It's a convenient option for those looking for that classic fast-food burger fix and 1950s-style milkshakes that made soda counters so popular back in the day. Of course, so much has changed since those Mom-and-Pop lunch counter days, including serving sizes, which has in part led to our nation's obesity epidemic with approximately 41% of all American adults considered medically obese according to the National Health Statistics Report (2017-2020).
When it comes to portion sizes, one of the best things we can do for our health and overall weight management is to eat within the nutritional guidelines set out by the U.S. Department of Health and Human Services. However, this isn't always easy to do, especially when 96% of main courses at America's chain restaurants exceed recommended levels of sodium, fats, and saturated fats. Therefore, it's necessary to become a conscious consumer and really look at what you're putting on your plate.
Eating to support your health can be easier said than done, though, especially if you live a healthy lifestyle and you lean on fast food to nourish your body. If you are a Shake Shack lover, for ease, we've gone ahead and rounded up five of the healthiest and five of the unhealthiest options available at Shake Shack so that ordering will be a breeze. Read on, and for more, don't miss 12 Unhealthiest McDonald's Burgers of All Time—Ranked from Bad to Worse.
The 5 Best Menu Items at Shake Shack
Best: Garden Dog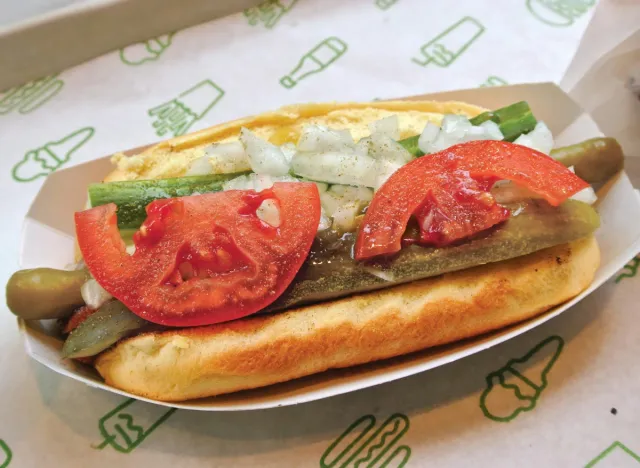 Per order
: 180 calories, 3 g fat (0 g saturated fat), 1,060 mg sodium, 27 g carbs (1 g fiber, 7 g sugar), 8 g protein
This "secret menu item" is a great go-to for vegetarians and non-vegetarians alike. If you're looking to cut down on your processed meats as they are associated with high blood pressure (hypertension) and heart disease (amongst other risks), you can ask for what's known as a "Garden Dog." This dog swaps out your traditional brat with a pickle spear, and you can load up on all your favorite veggies to score a heavier nutritional punch.
Best: Chicken Bites (6 pieces)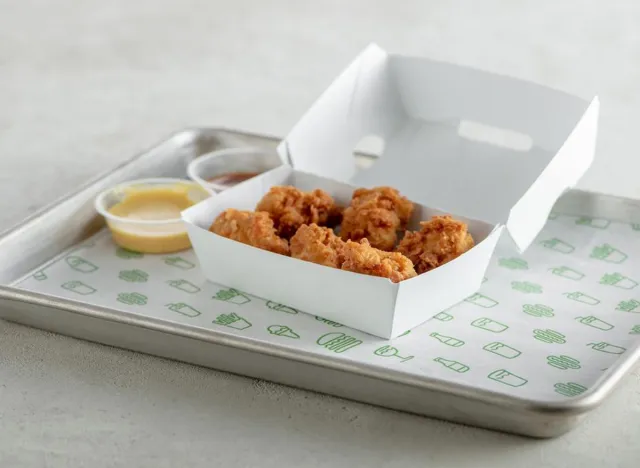 Per order
: 300 calories, 19 g fat (3.5 g saturated fat), 780 mg sodium, 15 g carbs (0 g fiber, 1 g sugar), 17 g protein
Out of all chicken options on the Shake Shack menu, the 6-piece chicken bites have both the lowest fat and sodium content, making it potentially the best option if you're really craving a good nugget. The biggest key here is portion control, as the next size up is the 10-piece, which bumps you up to 550 calories and a whopping 31g of fat. Remember, eating mindfully can be a good solution for short-term weight management and can help regulate binge eating tendencies, so eat slowly and really savor every bite.
Best: Shroom Burger on Lettuce Wrap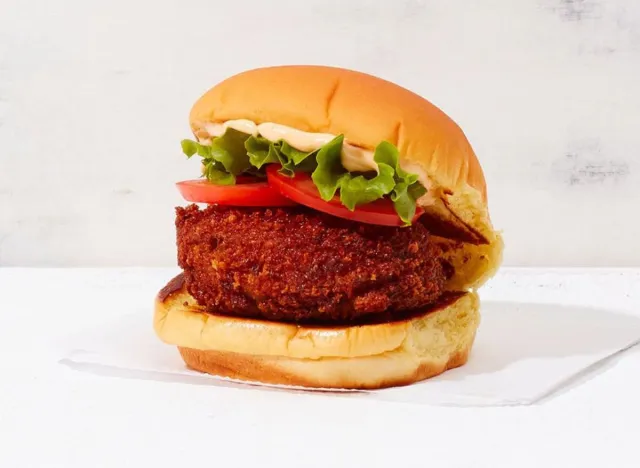 Per burger
: 340 calories, 21 g fat (8.5 g saturated fat), 745 mg sodium, 25 g carbs (6 g fiber, 4 g sugar), 10 g protein
Mushrooms are packed with selenium (aids in antioxidant production), vitamin B6 (benefits red blood cell production), and zinc (helps support a healthy immune system) amongst other vital nutrients. Shake Shack's 'Shroom Burger may be a great option for both vegetarians and non-vegetarians alike, and plant-based diets like the Mediterranean diet have been shown to improve heart health and disease prevention. Additionally, "Pair this shroom burger with a lettuce wrap for a higher fiber and lower calorie meal, reducing the calorie count by over 250 calories compared to a regular burger," says Melissa Mitri, MS, RD, nutrition writer and owner of Melissa Mitri Nutrition.
Best: Single Cheeseburger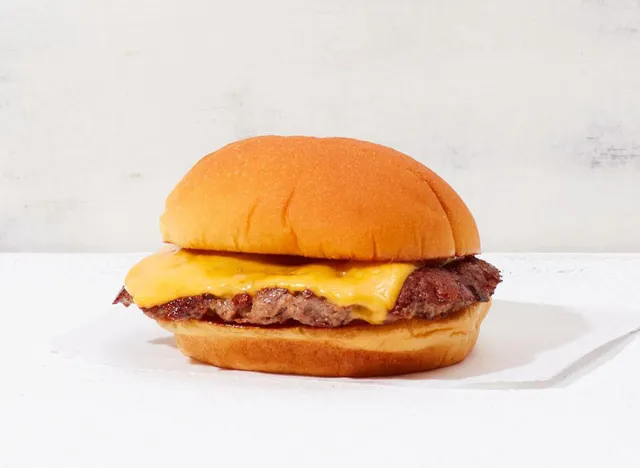 Per burger
: 440 calories, 24 g fat (11 g saturated fat), 1,200 mg sodium, 25 g carbs (0 g fiber, 5 g sugar), 29 g protein
Although we're here for your health, we also know that you're probably not going to Shake Shack with total nutrition in mind. Sometimes we just need that fast-food burger fix, and there's nothing wrong with that in moderation. Therefore, we recommend that, if you're looking to indulge, you order the classic single-patty cheeseburger. This burger provides 29 grams of protein with a low sugar content, and with added cheese, you'll get a small calcium fix. Beef is also a great source of heme iron and proper consumption can prevent iron-deficient anemia.
Best: Avocado Bacon Chicken on Lettuce Wrap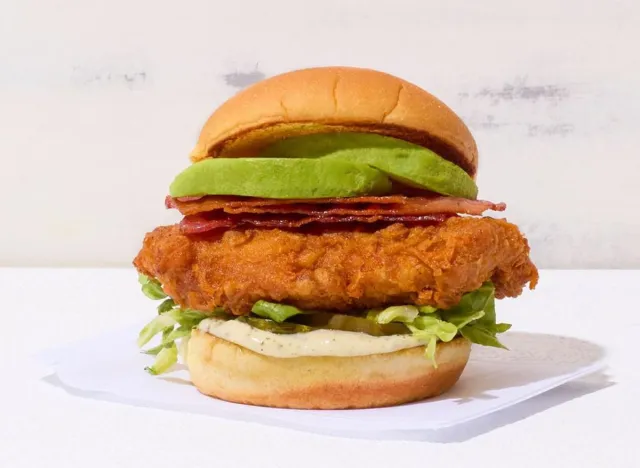 Per sandwich
: 500 calories, 36 g fat (6 g saturated fat), 1,310 mg sodium, 13 g carbs (2 g fiber, 1 g sugar), 33 g protein
"With the healthy fats from the avocado and the protein from the grilled chicken, the Avocado Bacon Chicken sandwich is a healthier and balanced menu item," says Mitri. Also, Shake Shack allows certain modifications that can be beneficial to your health: by swapping out the potato bun for a lettuce wrap, you can reduce your sugar and caloric intake, and asking for the buttermilk mayo on the side can also reduce your overall fat consumption. (Note that the image shown above is the sandwich served on a bun, not a lettuce wrap.)
The 5 Worst Menu Items at Shake Shack
Worst: Oreo Cookie Funnel Cake Shake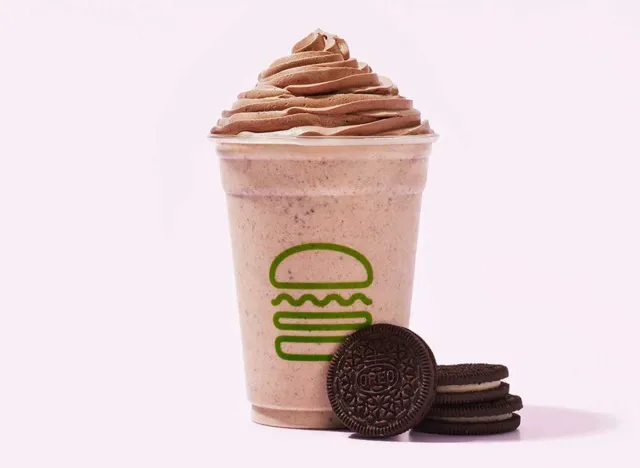 Per shake
: 1,080 calories, 55 g fat (29 g saturated fat), 980 mg sodium, 129 g carbs (2 g fiber, 100 g sugar), 19 g protein
It probably comes as no surprise that one of the unhealthiest—if not the unhealthiest—menu items is Shake Shack's Oreo Cookie Funnel Cake Shake. Of course, no one is eating dessert because they think it'll be healthy for them (we all need a treat every now and then), but it's important to remember that overindulging is a leading factor in improper weight management. Remember that moderation is key, so if you do pick this option, consider sharing.
Worst: Double Veggie Shack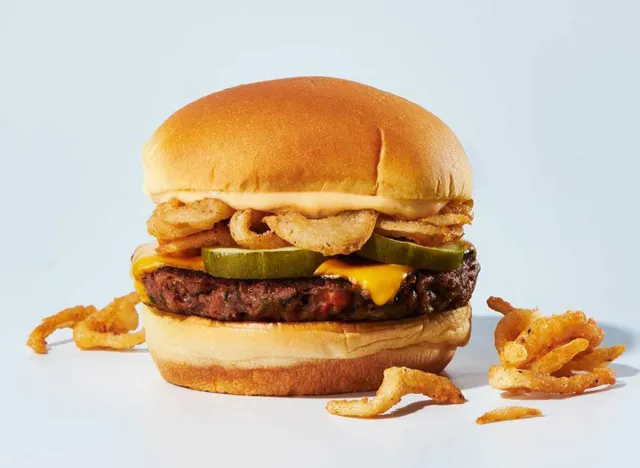 Per burger
: 910 calories, 41 g fat (27 g saturated fat), 2,730 mg sodium, 73 g carbs (3 g fiber, 10 g sugar), 31 g protein
Don't let the "veggie" in the title fool you. This vegetarian burger may be made with mushrooms, sweet potatoes, carrots, farro, and quinoa, but it still provides nearly half of your daily recommended caloric intake, based on an average 2,000-calorie daily benchmark. Too, the sodium provided in this option is way too high for many people's needs. Therefore, if you're a vegetarian looking for a meatless option, we recommend opting for a lettuce wrap over a traditional bun and asking Shake Shack to hold the crispy onions which, although onions are nutrient-packed, are fried with lots of unnecessary fats and oils.
Worst: Spicy Cheese Fries With Ranch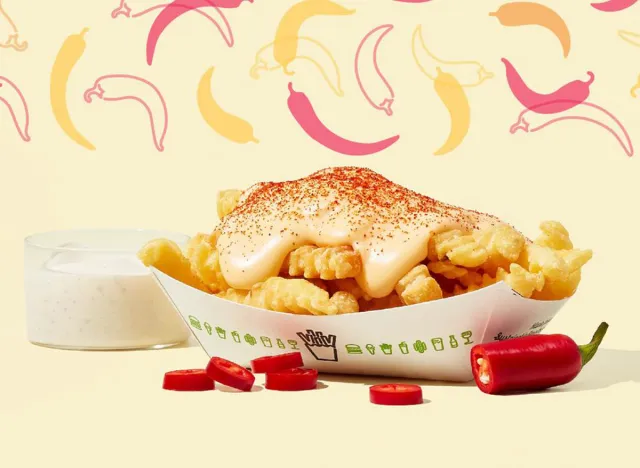 Per order
: 870 calories, 60 g fat (20 g saturated fat), 1,310 mg sodium, 68 g carbs (0 g fiber, 2 g sugar), 13 g protein
Let's face it – fries are delicious. There's nothing wrong with indulging every once in a while. However, here's where portion control really comes into play. If you opt for an order of Bacon Cheese Fries, you are consuming over 800 calories as well as "1,500+ milligrams of sodium, over 60% of your daily sodium needs," says Mitri. Additionally, "the Bacon Cheese Fries also lack nutritional value and quality, with no fresh vegetables on top and a lower amount of protein compared to other menu items." We say go for the small fry to get your tasty kick without making yourself sick.
Worst: Double Smoke Shack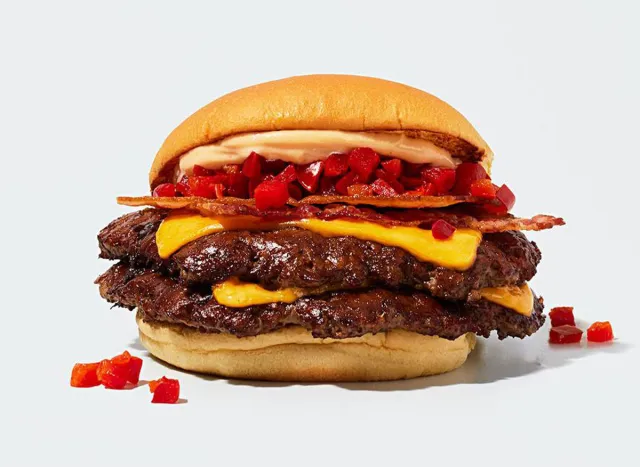 Per burger
: 830 calories, 53 g fat (22 g saturated fat), 3,030 mg sodium, 28 g carbs (0 g fiber, 7 g sugar), 58 g protein
If that sodium count caught your eye, you're not alone. We were pretty astounded at that count of 3,030 milligrams of sodium which, with two beef patties and bacon, "contains more than 125% of your daily sodium needs," according to Mitri. In addition, this burger comes with a whopping 22 grams of saturated fats—aka, fats that solidify at room temperature—which may potentially lead to higher diabetes markers in certain populations.
Worst: Roadside Double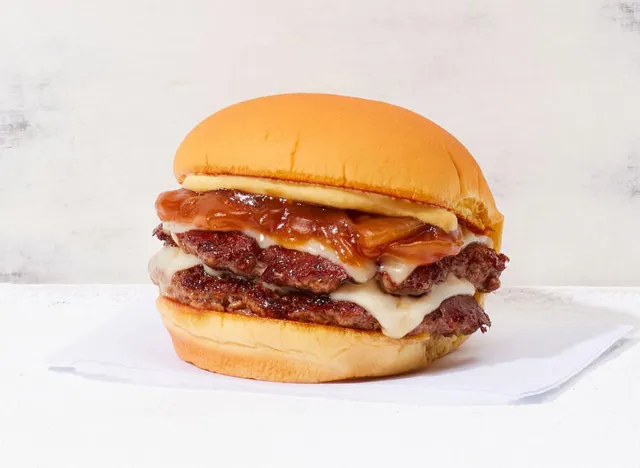 6254a4d1642c605c54bf1cab17d50f1e
Per burger
: 770 calories, 46 g fat (20 g saturated fat), 2,300 mg sodium, 32 g carbs (0 g fiber, 7 g sugar), 53 g protein
When looking at the ingredients list, the Roadside Double burger simply doesn't make the healthy cut. Although beef provides ample iron and protein (this burger alone has 53 grams of protein), eating too much red meat may not be the best option for our health and can potentially lead to heart disease if eaten in excess. And, as this burger is covered in cheese and beer-battered onions, this really isn't a nutrient-dense option. We recommend opting instead for a single-patty burger, and don't forget the lettuce and tomato!
Lauren Manaker MS, RDN, LD, CLEC
Lauren Manaker is an award-winning registered dietitian, book author, and recipe developer who has been in practice for almost 20 years.
Read more about Lauren
Sources referenced in this article