The Best Meal Plan If You're Over 60, Says Dietitian
These meals will help keep your body strong and healthy.
Hopefully, getting older means more of many good things in your life: more opportunities for leisure, more financial security, and more time with friends and family! When it comes to your diet, reaching 60-plus also means more of two important nutrients: protein and fiber.
Because the body's rate of protein turnover slows with age, older adults require more dietary protein than younger adults. In fact, while general protein guidelines recommend 0.8 grams per kilogram of body weight, research suggests older people might be better off bumping up to 1 gram per kilogram each day.
Meanwhile, fiber needs also increase with age. Over time, the digestive system slows down, meaning more roughage is a must for healthy digestion over 60. And, as you may know, keeping off excess weight gets harder with every passing year—so satiating, high-fiber foods can be a beneficial part of your weight loss efforts.
Looking for a meal plan that's just right for your place in life? Try this high-protein, high-fiber meal plan if you're over 60. And then don't miss our lists of high-protein and high-fiber snacks!
You're not alone if you struggle to create a breakfast that's high in both protein and fiber. Many breakfast options seem to have one of these nutrients, but not the other.
Whip up some scrambled eggs with spinach and you've got a morning starter that strikes the perfect balance (and is tasty, to boot). In a non-stick skillet, scramble two eggs until just shy of done, then toss in a large handful of fresh spinach. Continue cooking until spinach has wilted and season with salt and pepper.
Need a non-egg option? Consider a high-protein quinoa porridge—it makes a nice alternative to oatmeal! Heat 2 cups of milk in a saucepan until hot, then add 1 cup of quinoa and bring to a gentle boil. Let simmer until most of the liquid has been absorbed. Remove from the heat and add maple syrup, brown sugar, cinnamon, and/or fresh fruit.
Looking for even more options? Check out these 19 High Protein Breakfasts That Keep You Full.
Rotisserie chicken is an all-star ingredient for tons of easy dinners—and can save the day at lunch, too. DIY your own high-protein, fiber-rich chicken pesto pizza by layering whole-grain naan or other flatbread with a shmear of pesto, followed by diced rotisserie chicken and a sprinkle of mozzarella. Bake at 400 degrees Fahrenheit for about 10 minutes or until cheese is nice and bubbly.
A chickpea wrap will also load you up on fiber and protein at lunchtime (and is especially handy for on-the-go eating). Mash 1/2 cup of chickpeas in a bowl with a dollop of mayo and two tablespoons of diced celery. Season with fresh or dried dill, salt, and pepper, and wrap the whole thing in a whole wheat tortilla. Easy-peasy lunch!
What's for dinner on a high-protein, high-fiber diet? How about a savory steak salad? Grill 1/2 pound skirt steak, seasoned with salt and pepper, as well as 2 cups multicolored mini bell peppers (no need to slice—simply toss them on the grill!). Then assemble a salad with an arugula base, followed by steak slices, peppers, a sprinkle of goat cheese, and a splash of olive oil and balsamic vinegar. Serves two.6254a4d1642c605c54bf1cab17d50f1e
Pasta with tuna and cannellini beans makes another simple dinner rich in those target nutrients protein and fiber. Boil 4 ounces of whole wheat corkscrew pasta until al dente, then drain and add one can of tuna and one can of drained cannellini beans. Season with fresh parsley, lemon zest, olive oil, salt, and pepper. Makes two servings.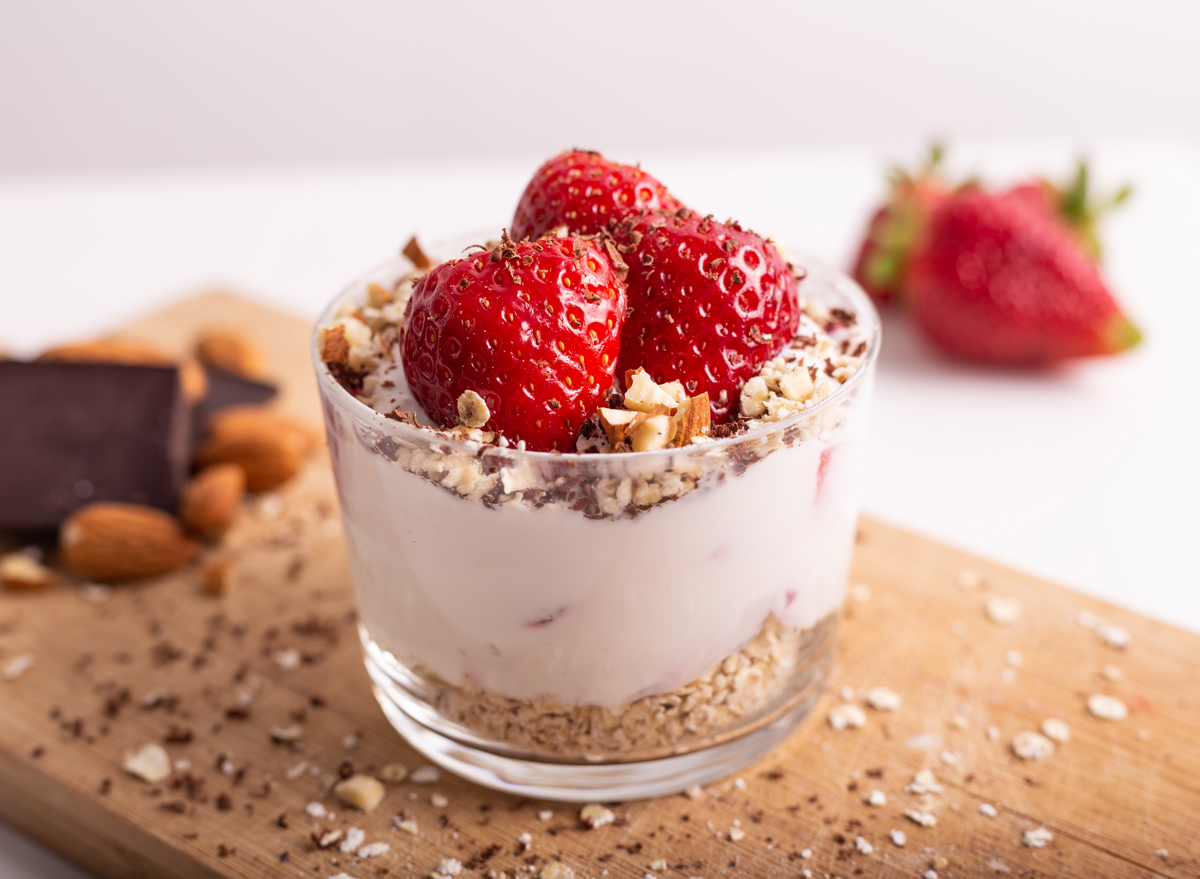 Even for dessert, it's definitely possible to keep your high-protein, high-fiber pattern going strong! Wrap up your meal Mediterranean-style with fresh berries with honeyed yogurt and pistachios. For two servings, stir one tablespoon of honey into 1/2 cup of full-fat plain Greek yogurt. Divide between two bowls and top with sliced strawberries and crushed pistachio pieces.
If you crave a richer dessert, peanut butter oatmeal cookie bites could easily become a new favorite sweet. In a large bowl, mix together 1 1/2 cup rolled oats, 1/2 cup ground flaxseed, 1/2 cup peanut butter, 1/3 cup honey, 1/2 cup mini chocolate chips, and 1 teaspoon vanilla. Roll into bite-sized balls and keep in the fridge or freezer for an anytime treat.
For even more meal plan tips, read these next:
Sarah Garone, NDTR
Sarah Garone, NDTR, is a registered nutrition and dietetic technician, and a health, nutrition, and food writer.
Read more about Sarah