The Best Meal Plan If You're Over 50, Says Dietitian
Over 50? Turn to these easy meals to strengthen your body.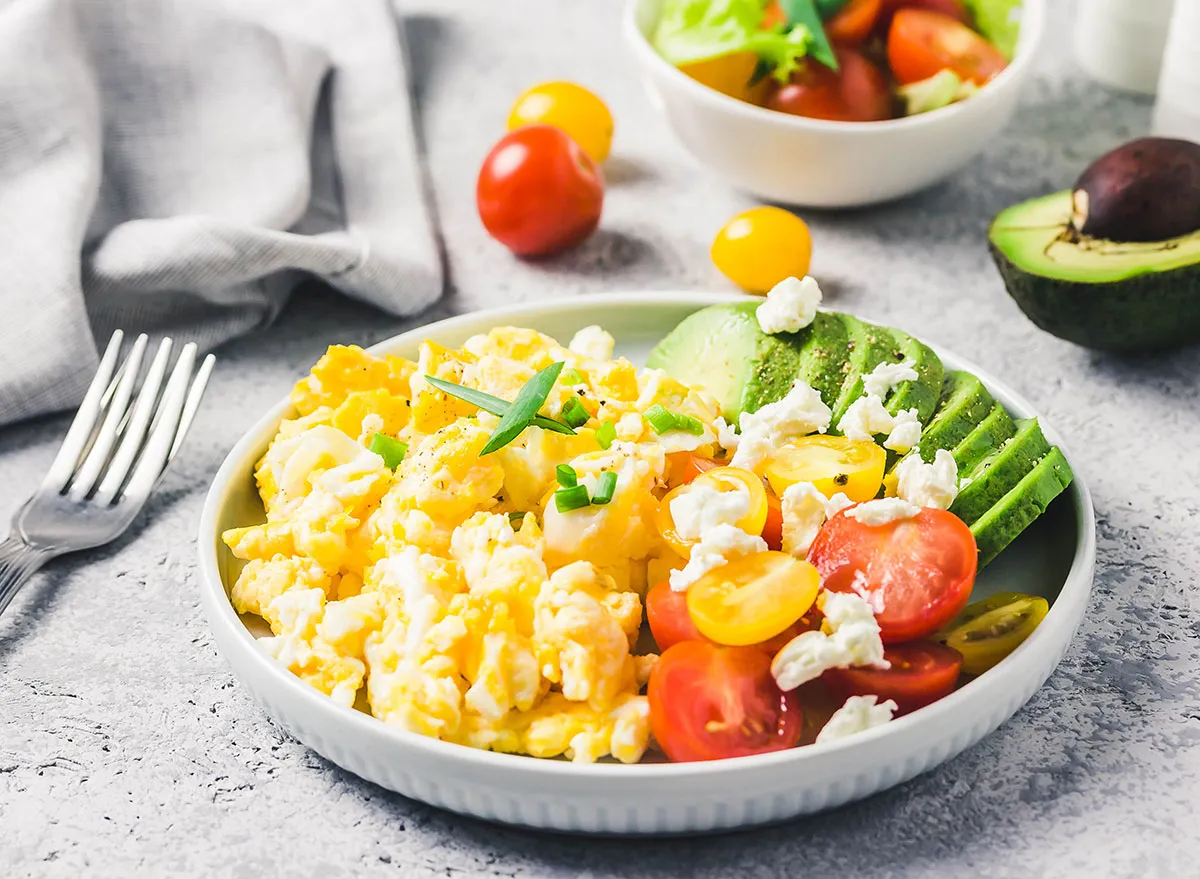 Did you know that your muscle mass will actually decrease 3 to 8% per decade after the age of 30? And that the rate is even higher after 60? This is a very natural part of the aging process called sarcopenia, which causes loss of muscle tissues over time. While this process is natural, it is vital for people as they age to continue to eat a diet that will encourage muscle tissue growth to decrease the risk of falls and injury. Plus, your muscle mass is also linked to your metabolic function, which is why it's important to eat a diet that strengthens your muscles.
"When we're over 50, our metabolism can slow down a bit," says Rachel Paul, PhD, RD from CollegeNutritionist.com. "What's important to focus on, is to focus on strength training exercise, to keep up muscle mass, and to eat enough higher protein foods."
While there are many foods dietitians recommend to eat after 50, it can be difficult to decipher some easy meals to prepare that are both high in protein and delicious to eat. That's why Paul put together a meal plan you can turn to if you need some high-protein meal ideas that will keep you feeling full and satisfied—while also encouraging muscle tissue growth. Here are a few simple meals she recommends for each part of your day, and for even more meal ideas, be sure to check out our list of the 100 Easiest Recipes You Can Make.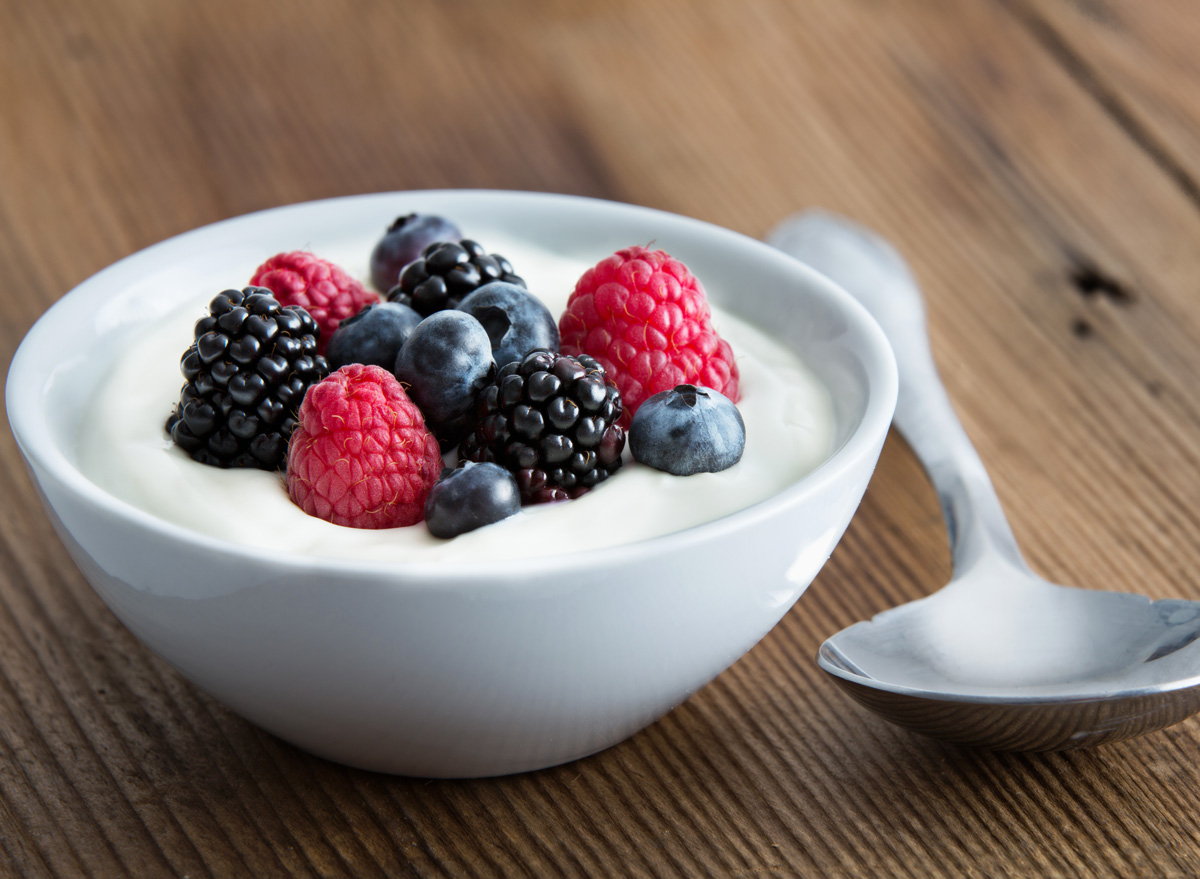 One of the easiest foods to cook up to get a boost of protein in the morning? Eggs! Paul says an easy breakfast to turn to is simply cooking up scrambled eggs with cheese. You can do so by scrambling up two large eggs in a pan (don't forget to try this trick!) and sprinkle in 1/4 cup of your favorite shredded cheese.
Another easy breakfast Paul recommends is a yogurt parfait. Mix together a small container of 2% fat, plain yogurt with 1/4 cup of berries. Paul also says that to keep the berries for longer, you can buy them frozen and simply heat them up for a few minutes over the stove or microwave to let the juices out. "Your yogurt will taste sweet without using added sugar," says Paul.
Or you can turn to one of these 19 High Protein Breakfasts That Keep You Full.
Keep it simple at lunch with tuna salad and veggies! Paul says to mix together 1 can of tuna with 1 tablespoon of mayonnaise, then serve it with a side of celery and carrots to dip in a 1/4 cup ranch.6254a4d1642c605c54bf1cab17d50f1e
Paul also recommends making bell pepper turkey melts if you're more of a toasty sandwich person at lunchtime. You can make these by cutting 1 bell pepper into quarters, then topping each quarter with turkey slices (about 6 oz. total) and 1 slice of pepper jack cheese, cut into quarters. Bake in the oven at 350 degrees for about 8 minutes (adding the cheese during the last 2 minutes), then serve with carrots and guacamole on the side. Make it yourself with our Easiest Guacamole Recipe!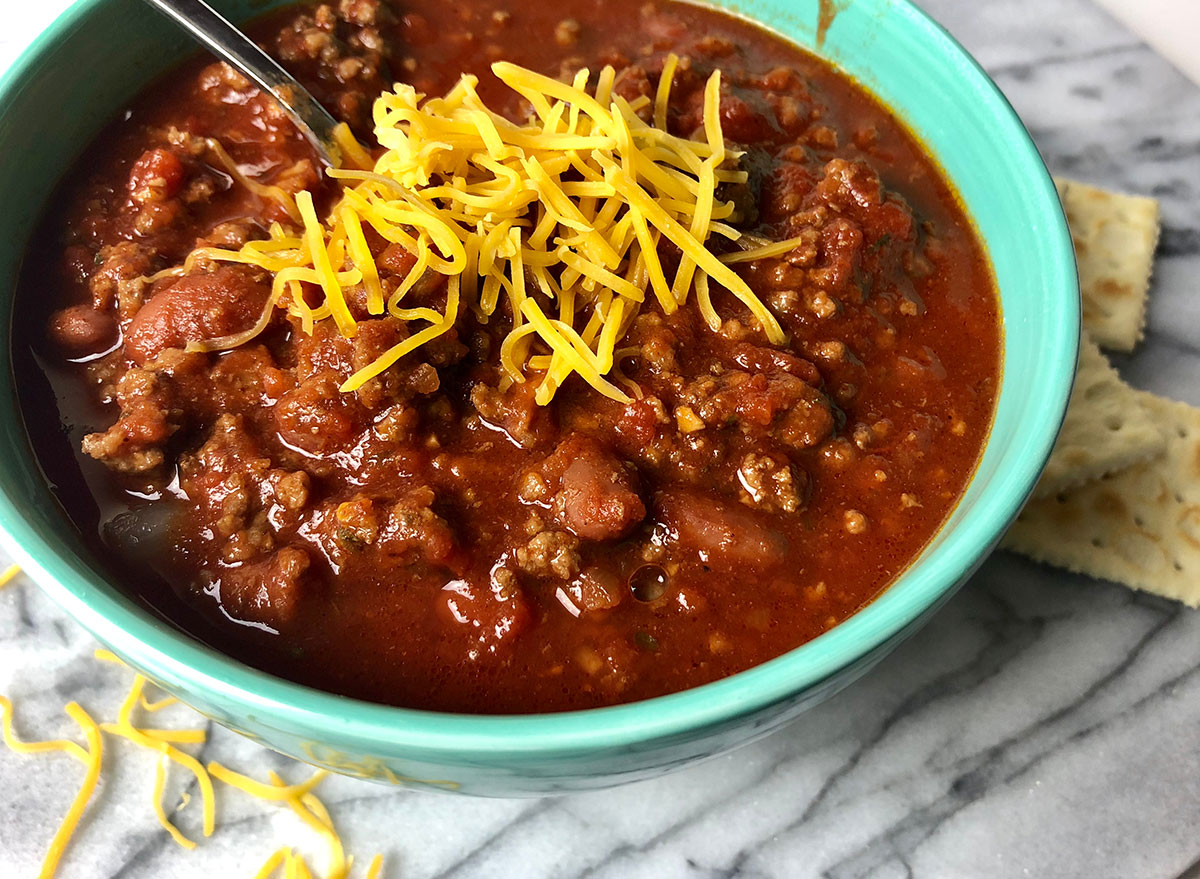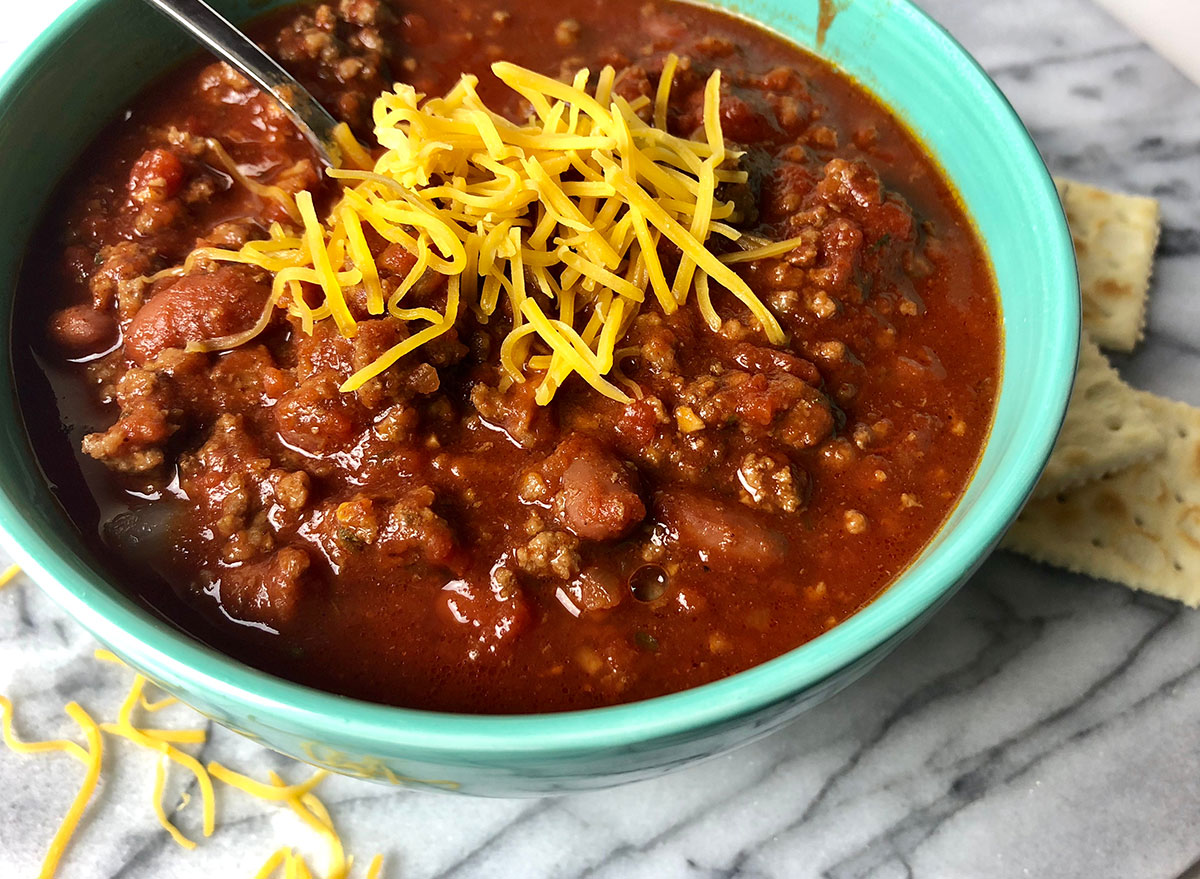 For dinner options, Paul says you can throw together an easy chili with 1 pound of ground turkey or beef, a 32 oz. can of crushed tomatoes, and 1 cup of diced mirepoix (carrots, onions, and celery). To make, stir fry the mirepoix and beef for about 10 minutes until cooked through, then add in the tomatoes and simmer on lowest heat for 10+ minutes. Makes 3 servings.
Another option is an easy stir fry which you can make with 6 oz. of diced chicken, 1 diced red and green bell pepper (each), cooked in a teaspoon of avocado oil for about 8 minutes—or until the chicken is cooked through. Top with 1/4 cup of crushed peanuts for extra protein and crunch, a tablespoon of peanut sauce, and red pepper flakes if you're looking to make it a little spicier. Or try one of these 20 Amazing Stir Fry Recipes!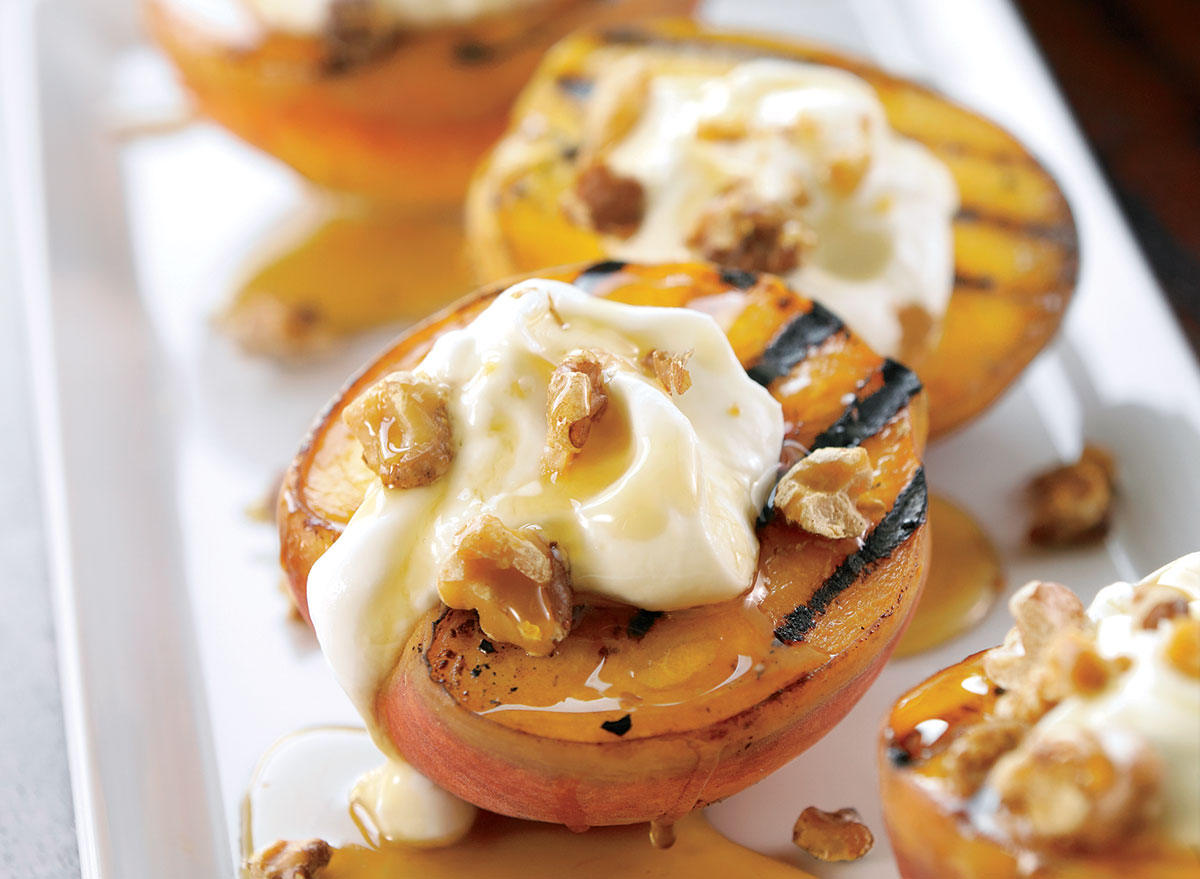 If you're looking for a sweet treat at some point during the week, we recommend finding ways to incorporate protein in fiber even in your dessert as well. An easy way to do this is to find ways to add fruit (for fiber) or yogurt (for protein) into your dessert. Some of our favorites include these Grilled Fruit Kebabs with Yogurt and Honey, this Grilled Strawberry Shortcake with Balsamic, these Grilled Apricots, and this Apple Cranberry Crisp. If you're more of a chocolate person, we also recommend these Poached Pears with Spiced Chocolate Sauce or these Dark Chocolate Dipped Bananas.
Get even more healthy tips straight to your inbox by signing up for our newsletter! After, read these next: