The 15 Best Packaged Products That Prove Plant-Based Diets Can Be Delicious
For the person who follows a vegan or vegetarian diet, or just wants to integrate more plant-based foods into their diet, this guide is for you.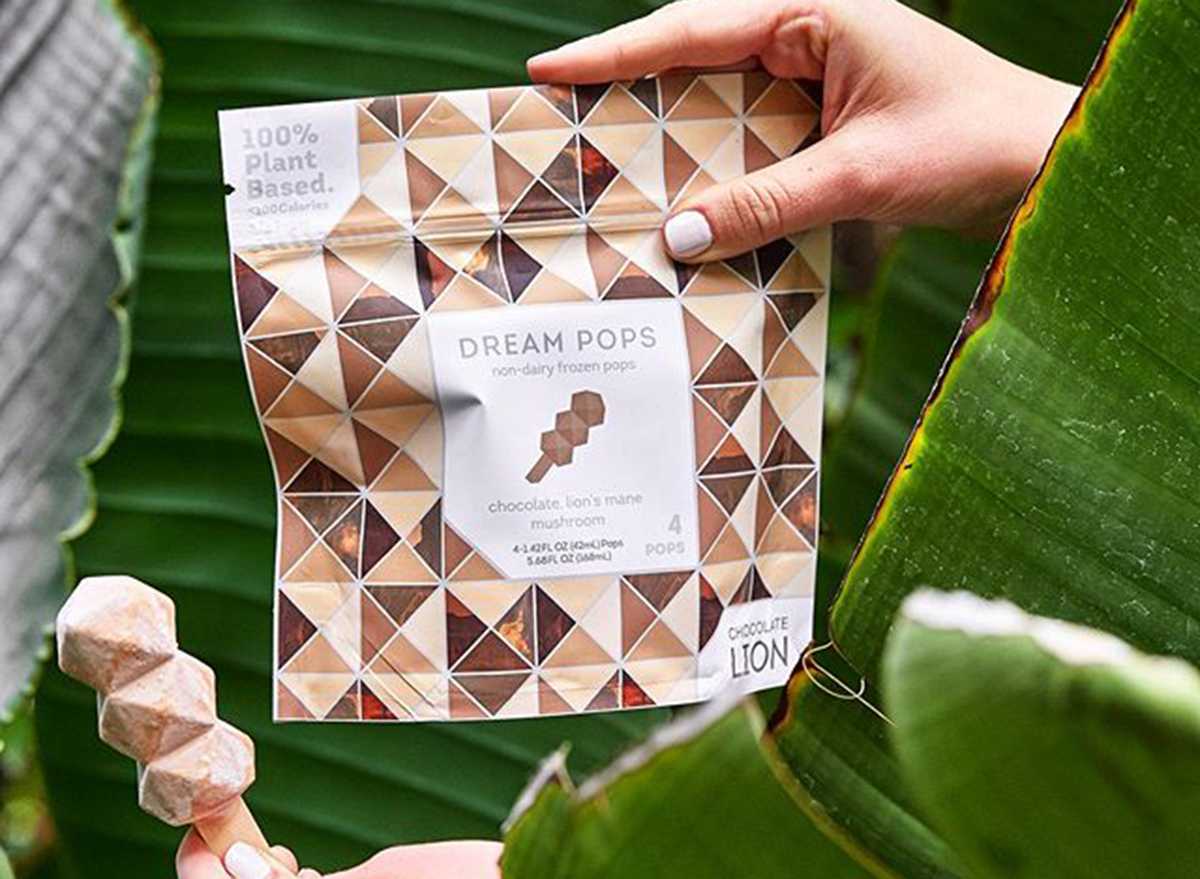 Eating a diet that's predominantly made up of animal protein is neither healthful nor sustainable for our health, and it also poses a threat against the longevity of our planet. In light of this, we wanted to showcase some of our favorite meatless snacks that have hit the market that you may have yet to try. From protein bars to popsicles, we've compiled a list that's chock-full of delicious plant-based goodies. Your snack game is about to be truly transformed.
Check out our list of 15 of the best packaged, plant-based products you'll want to stock up on.
It's Jerky Y'all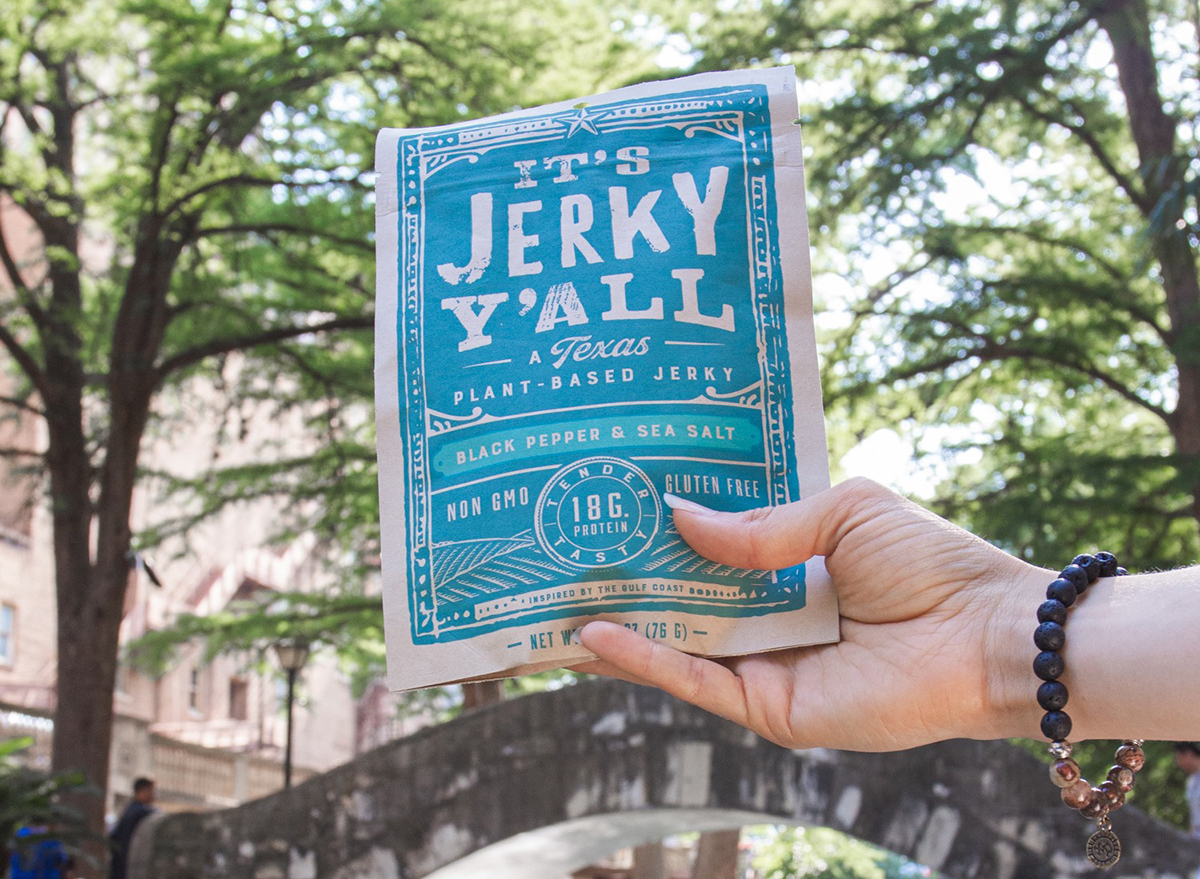 This Texas-based company makes its plant-based jerky out of non-GMO soybeans. Currently, there are three flavors: black pepper & ancient sea salt, prickly pear teriyaki, and prickly pear chipotle. All of It's Jerky Y'all products are vegan, certified Kosher, and gluten-free. A single ounce of this jerky packs 7 grams of protein, which makes for a satisfying midday snack! Not to mention, it also tastes like beef jerky and even has a similar texture, except that it's not nearly as coarse.
Dream Pops Chocolate Lion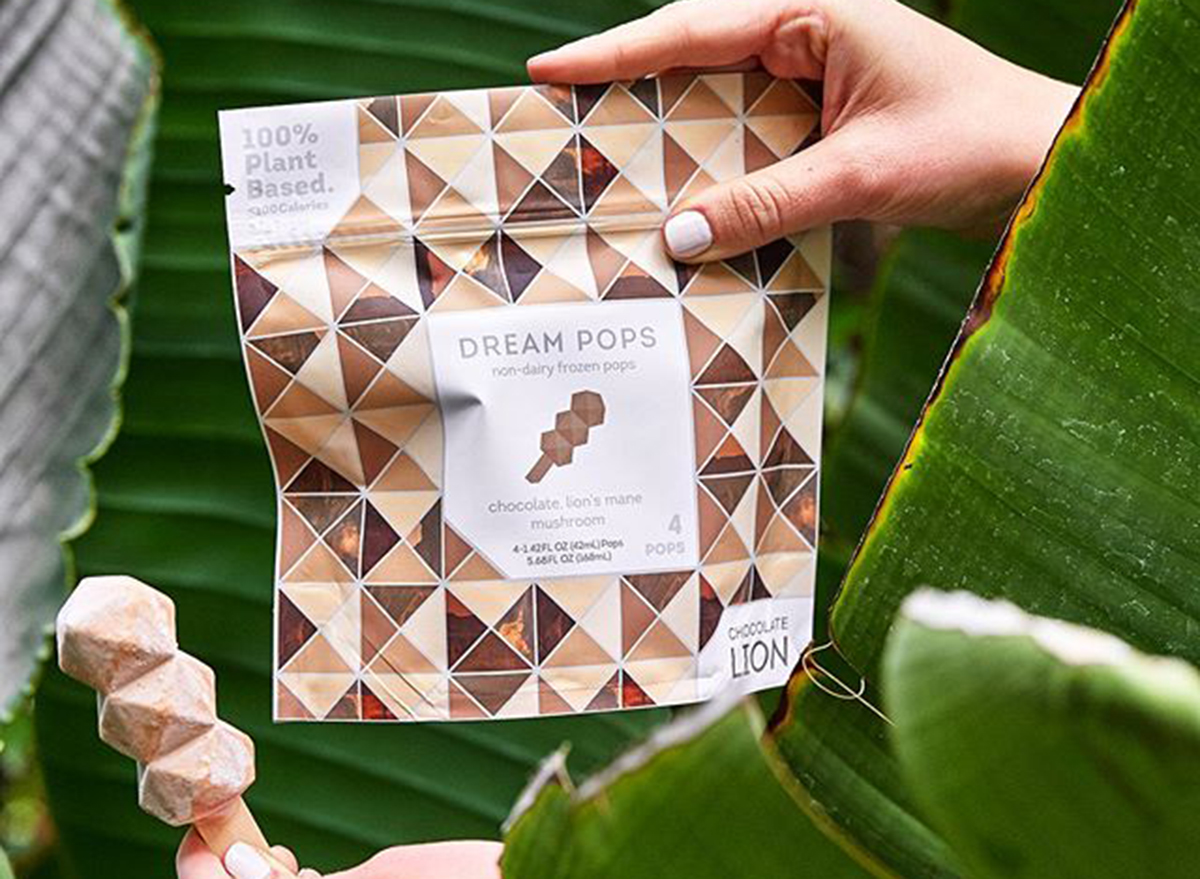 There are plant-based ice creams that you can buy by the pint, and then there's Dream Pops, the first ever plant-based popsicle made in a 3-D printed mold. Talk about aesthetically pleasing, right? We love these popsicles because they are not only low-calorie, but the flavors are derived from real plants—not synthetic syrups. The Chocolate Lion flavor, for example, consists of less than 10 ingredients, only four grams of sugar, and just 90 calories. The main ingredients in this treat are coconut milk, cacao, almonds, and porcini mushroom.
TRUWOMEN Smother-Fudger Peanut Butter Bar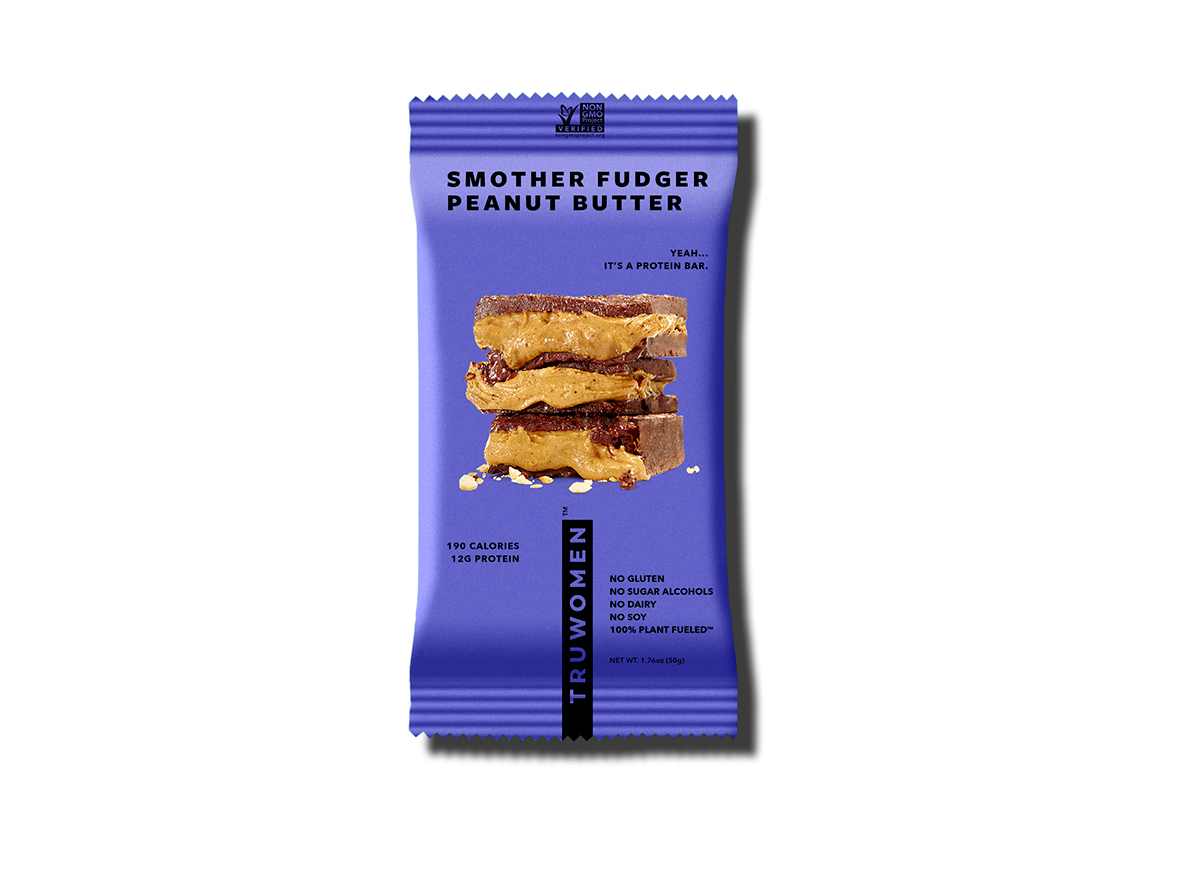 Not only do we adore the name of this plant-based protein bar, but we also love the way it tastes. TRUWOMEN bars are primarily marketed toward parents who want to feed their kids healthier snacks, with dessert-centric flavors such as Daydreaming About Donuts and Oh Oh Cookie Dough. However, we think this company equally tailors to an adult audience with a serious sweet tooth who are also trying to be health-conscious. Each bar packs 12 grams of satiating plant-based protein from sources including brown rice protein concentrate and, for this flavor, peanut butter.
Cappello's Vegan Cookie Dough
Vegan cookie dough? Now we're talking! Cappello's, which is the first brand to debut an almond flour-based pizza dough, also has a line of plant-based cookie dough—yum! What makes this cookie dough top-notch is that it's naturally sweetened with maple syrup. Enjoy one of two flavors of this almond and arrowroot flour-based cookie dough: chocolate chip cookie and double chocolate cookie.
Maika Foods Plant-Based Veggie Steak
It's eerie how well Maika Food's veggie steak tastes exactly—and resembles the texture of—a Salisbury steak. Instead of cattle, though, this product is made predominantly of beets, mushrooms, and peas. Get your veggie fix and steak craving satisfied in one hit!
Longéve Protein Crumbles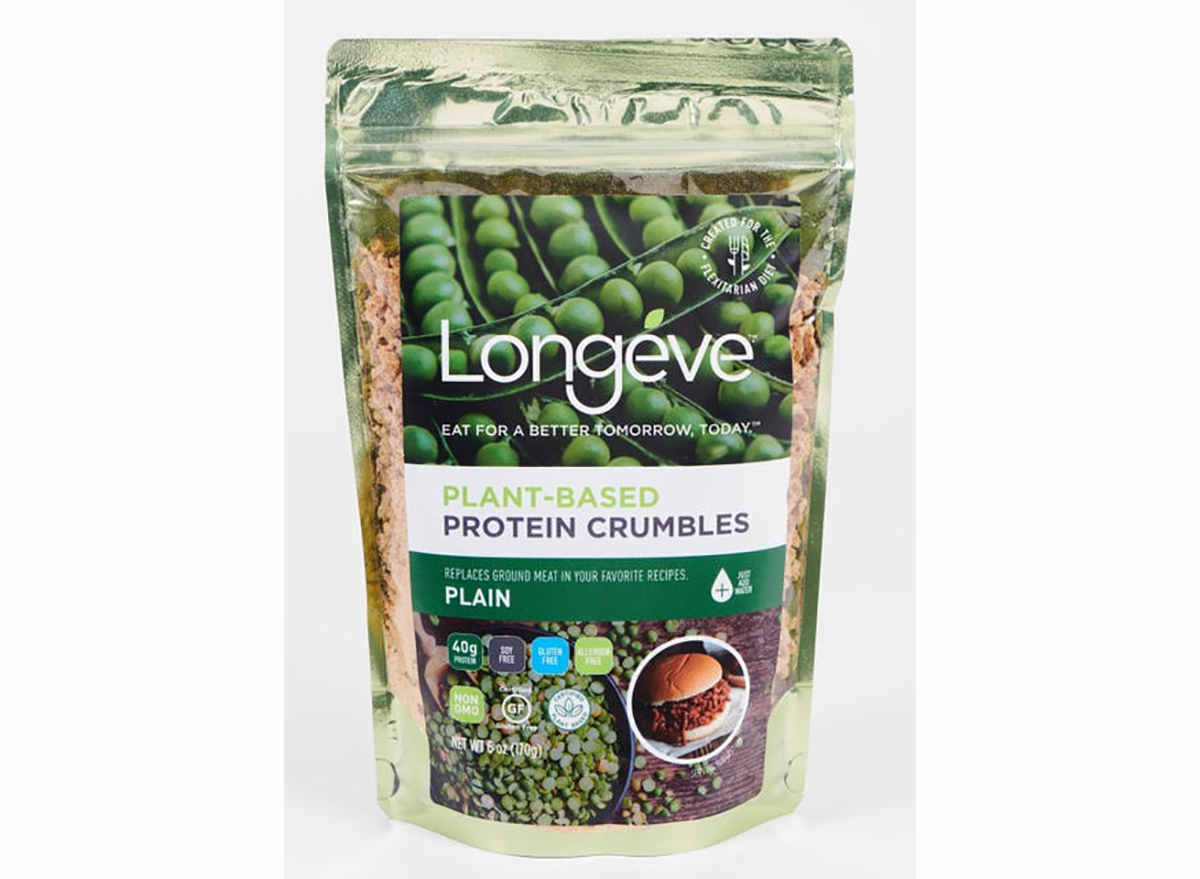 Would you believe us if we said that a 6-ounce bag of this dehydrated texturized pea protein yields three pounds worth of the stuff after it's been mixed with hot water? Longéve is the mastermind behind this brand-new plant-based protein product, which is targeted at the person who follows a flexitarian diet. If you're trying to reduce meat consumption, but miss the texture of meat and its satiating properties, this protein crumble will satisfy both needs. Roughly 1 ounce of the dry stuff, or about 1/2 pound upon hydration, comprises 20 grams of protein, which is nearly equivalent to the amount of protein in 3 ounces of grilled chicken. Say hello to meatless sloppy joe's!
Good Catch Plant Based Tuna
Have you ever seen plant-based seafood products? Good Catch is one of the main companies pioneering faux seafood, primarily fish-free tuna. The tuna is made of what the company calls a 6-plant protein blend consisting of pea protein isolate, chickpea flour, lentil protein, navy bean flour, faba bean protein, and soy protein concentrate. One pouch houses 14 grams of protein and 12 grams of healthful fat. Pair this mock tuna with Mary's Gone Crackers for a filling snack.
Sunflower Family Organic Sunflower Chili Sin Carne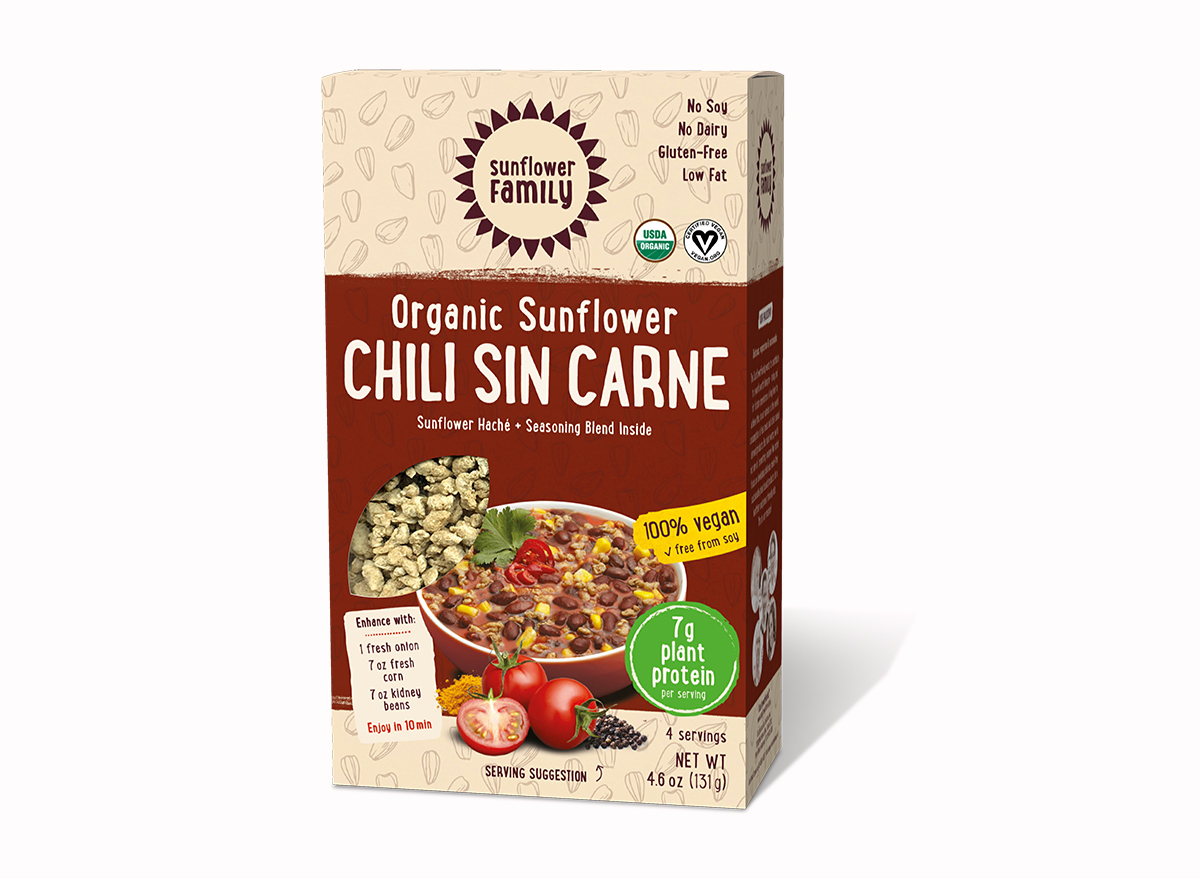 If you love chili but are trying to cut down on red meat consumption, look no further than Sunflower Family's Organic Chili Sin Carne. So what is this mock chili made of? Texturized sunflower protein, also known as organic sunflower haché. What we love most about this flavorful chili though is that it doesn't contain a single gram of added sugar, meaning its sweet flavors are naturally-occurring (aside from a dash of glucose syrup) and are predominantly from tomatoes.
LUHV Black Bean Plantain Poblano Burger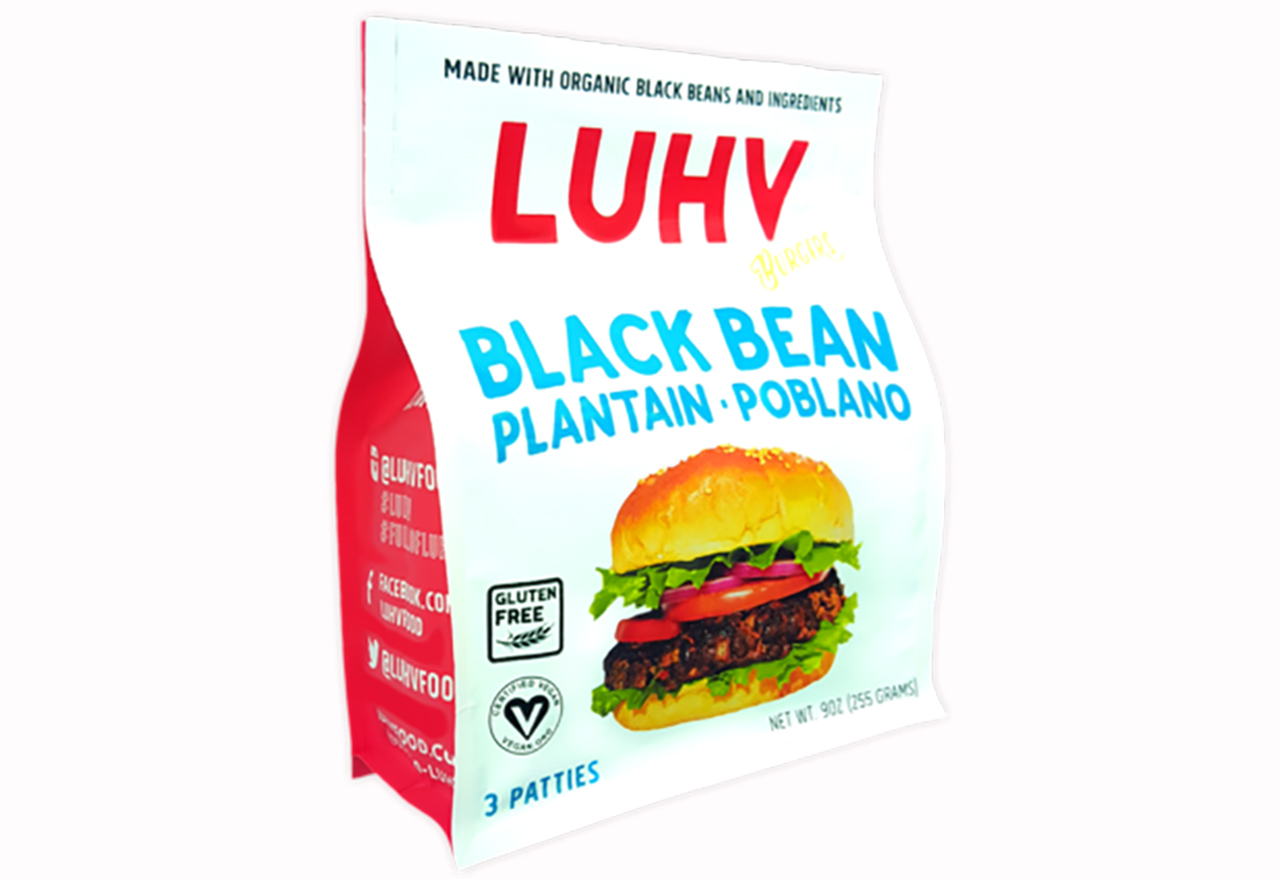 Who doesn't luhv food? We can attest that this black bean plantain poblano veggie burger is very tasty and filling. Drizzle a vegan sriracha aioli on top of this plant-based patty for a boost in flavor.
Lightlife Italian Smart Sausage
We couldn't believe how much Lightlife Italian Smart Sausage tasted like the real thing. One 85-gram link comprises 13 grams of protein, which is equivalent to the amount of protein in a comparable real sausage link.
Abbots Butcher Ground Beef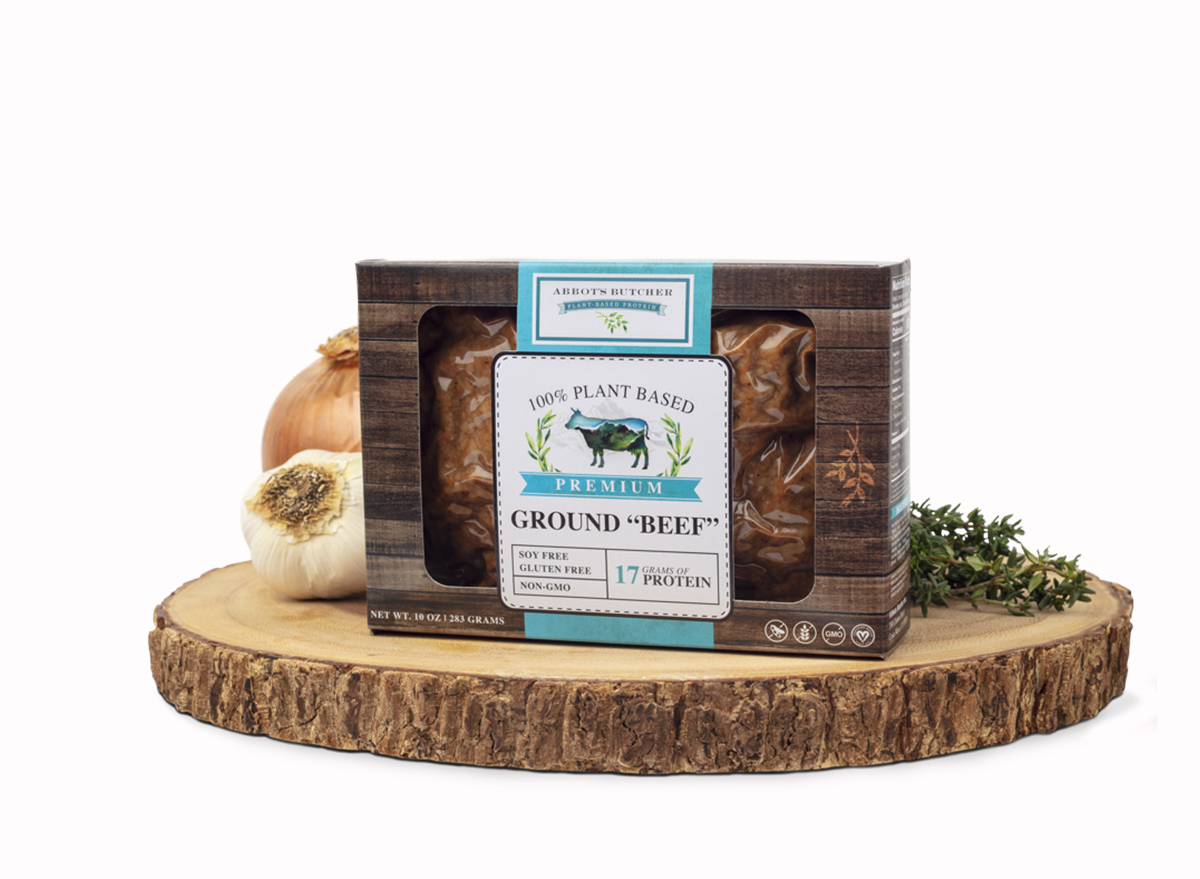 6254a4d1642c605c54bf1cab17d50f1e
Abbots Butcher ground beef is no joke—a half cup contains a whopping 17 grams of protein! You don't have to worry about seasoning this mock meat either because it already comprises savory flavors from garlic, onion, and porcini mushroom.
Foreal Foods Coconut Jerky
Coocoburg is undergoing a brand change—the company is now called Foreal Foods, but the jerky has stayed the same. This coconut meat jerky is low in carbs, yet high in flavor. Enjoy one of the three flavors: original, ginger teriyaki, and chili lime. Stay tuned as more varieties are projected to launch in upcoming months!
Plant Based Pantry Vegan Queso
Chips and queso are a dynamite appetizer, but for the many out there who are lactose-free, they cannot indulge in this cheesy treat. Thankfully, Plant Based Pantry has designed a low calorie, plant-based alternative so that all can enjoy. Primarily made of potatoes, carrots, and diced mild green chiles, we are true fans of this product. Oh, and it tastes pretty close to the real deal—we can attest!
No Evil Foods Chorizo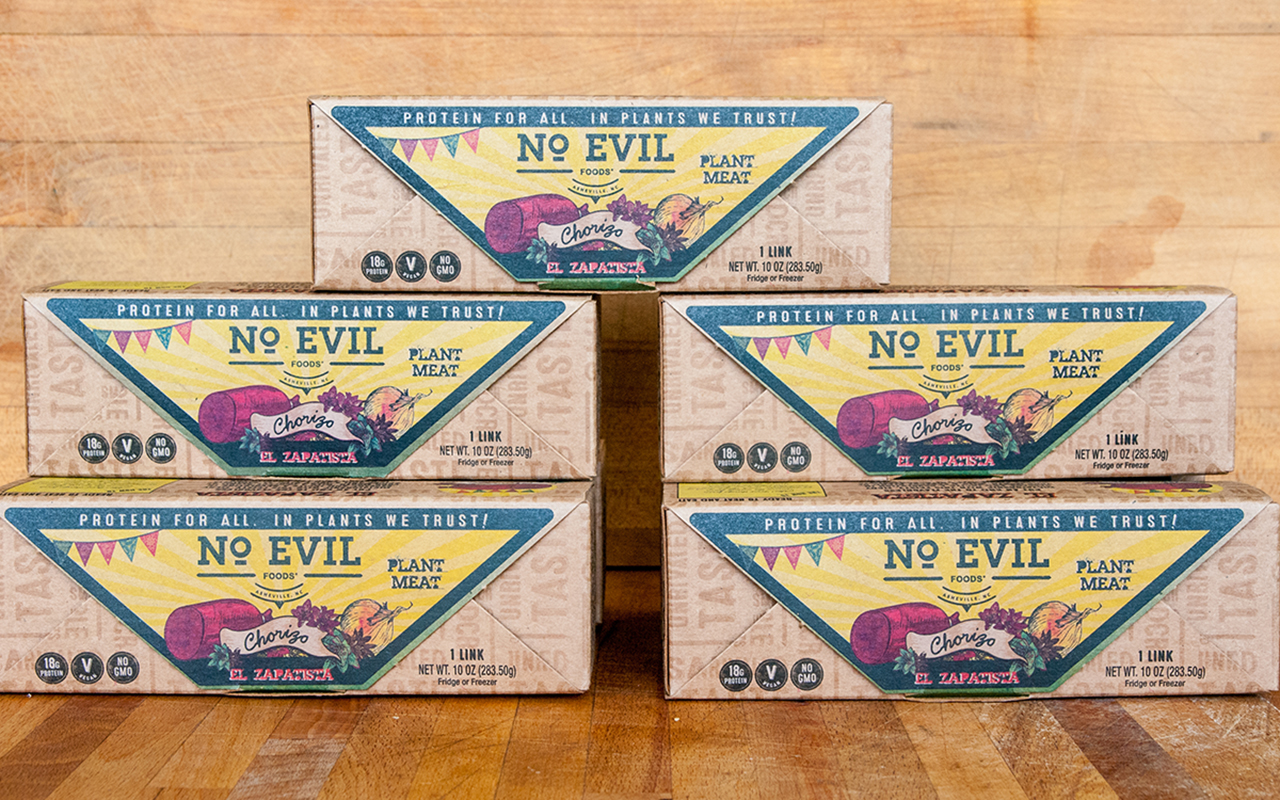 Are you curious as to why this company is named No Evil Foods? Just read their mission statement: "We loudly proclaim 'Do No Evil' as our battle cry in the food revolution." Add their scrumptious chorizo to your next breakfast hash or paella at dinner.
Miyoko's Vegan Mozzarella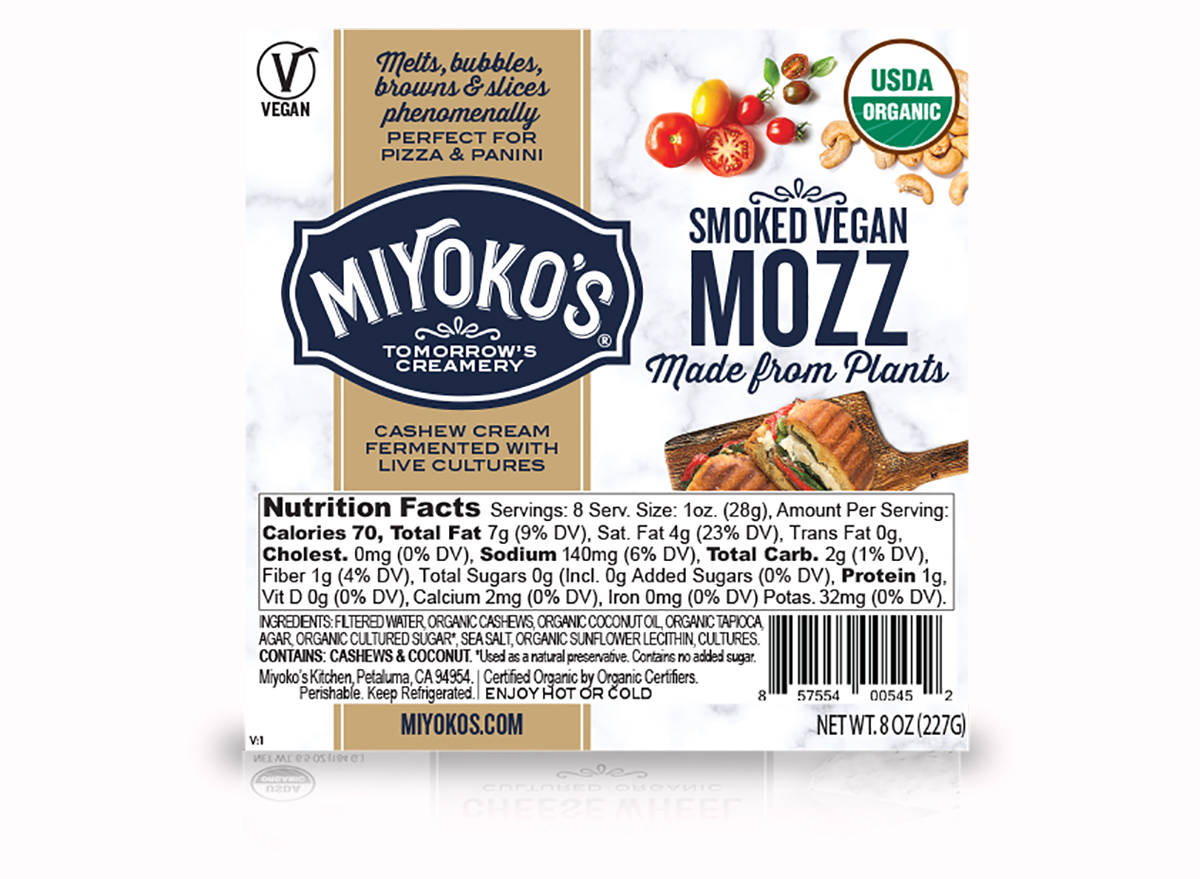 Last but not least is Miyoko's cashew-based smoked vegan mozzarella. Place a slab of this dairy-free cheese onto a tempeh sandwich for a smoky addition.