We Tried 5 Plant-Based Fast Food Sandwiches & This Was the Clear Winner
Some restaurants even offer vegan cheese and condiments, too.
Though fast-food restaurants have offered vegetarian options for years, many are shifting focus to offer meat substitutes to cater to plant-based diners. These meat imposters, which have become increasingly available to prepare at home, are designed to mimic the taste and texture of real meat, sans cow.
Now, fast-food chains are upping their game by offering new menu items featuring vegan meats like Impossible or Beyond Burgers as an option for those who choose to follow a plant-based lifestyle.
But how do all of the plant-based fast-food sandwiches stack up? We put them to the test to see how they tasted.
Dunkin' Beyond Sausage Sandwich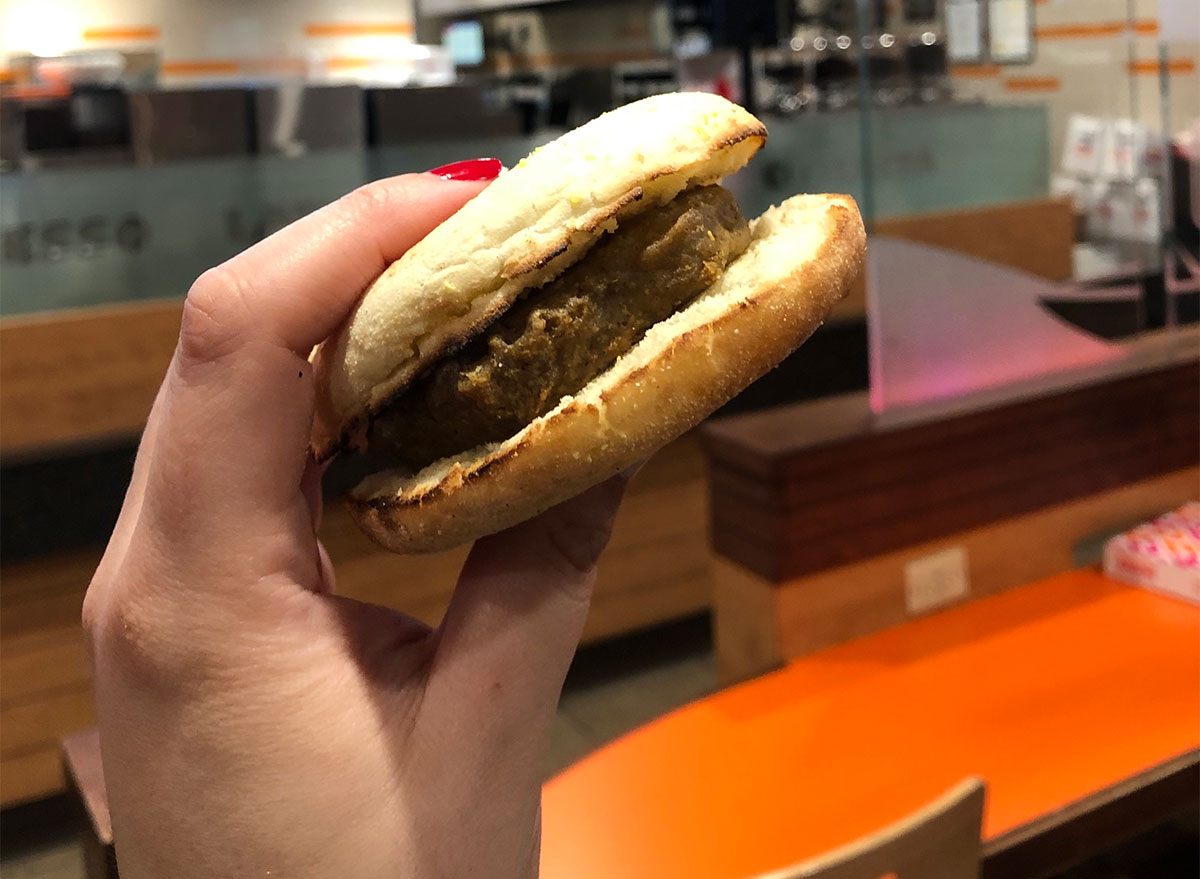 Per sandwich
: 510 calories, 26 g fat (10 g saturated fat, 0 g trans fat), 820 mg sodium, 40 g carbs (2 g fiber, 3 g sugar), 26 g protein
If you already know and love Beyond's burgers, you'll want to give their pork-style sausage a try on this breakfast sandwich at Dunkin'. You'll have to ask for the sandwich without egg and cheese if you want a vegan meal, but it's a great foray into plant-based eating from the classic fast-coffee spot.
The actual sausage is made from the same base as Beyond burgers, but with the addition of spices and seasoning to give it the flavor of pork. When you pick up your breakfast sandwich, try a new oat milk latte, too.
Carl's Jr. Beyond Famous Star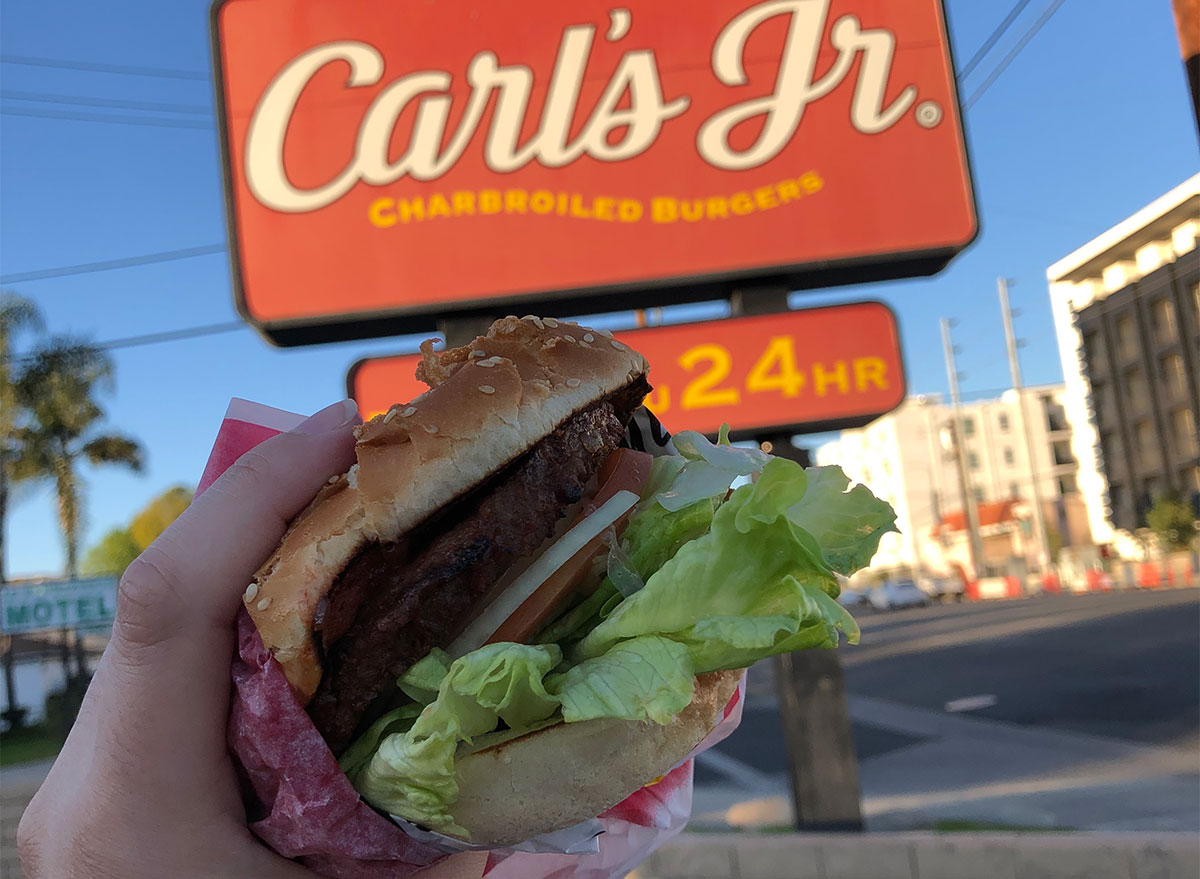 Per burger
: 710 calories, 40 g fat (0 g saturated fat, 0 g trans fat), 1,550 mg sodium, 61 g carbs (5 g fiber, 12 g sugar), 30 g protein
Carl's Jr. offers two plant-based burger options: the Beyond Famous Star burger and the Beyond BBQ burger.6254a4d1642c605c54bf1cab17d50f1e
The Beyond Famous Star burger and had a bit too much lettuce on it for my liking, but the actual "meat" was prepared well. If you're craving a burger but want to kick it up a notch, try the Beyond BBQ Cheeseburger, made with barbecue sauce and onion rings, or give the Beyond sausage breakfast items a try to brighten your mornings.
Carl's Jr. doesn't currently offer any dairy-free cheese, vegan mayonnaise, or egg alternative options to replace the animal-based components of these menu items. So if you're looking for a meal free of animal products, that's something to keep in mind.
Burger King Impossible Whopper
Per 4 burger
: 630 calories, 34 g fat (11 g saturated fat, 0 g trans fat), 1,080 mg sodium, 58 g carbs (4 g fiber, 12 g sugar), 25 g protein
What makes this option so great is the taste and texture of the Impossible burger truly mimic the "mouth feel" of a real burger. However, it falls short in comparison to our top two options because there are no substitutions for mayo, which typically comes on the burger, and dairy-free cheese hasn't made its way to Burger King just yet.
Fatburger Impossible Burger
Per burger
: 480 calories, 21 g fat (4.5 g saturated fat, 0 g trans fat), 1,270 mg sodium, 50 g carbs (3 g fiber, 10 g sugar), 26 g protein
It's close between the Fatburger Impossible Burger and the Impossible Whopper. But this one is a small step above because of the option to add dairy-free Daiya cheese (available at select locations). Plus, some locations offer gluten-free buns by Udi's, so there's something for everyone at this chain.
Plant Power Iconic Burger
Plant Power didn't get back to Eat This, Not That! with nutrition info for their plant-based burger as of press time.
If you didn't already have a reason to visit Southern California, you do now. Plant Power is a fast food restaurant based in SoCal with an all-vegan menu, complete with a wide array of burgers featuring their own "beefy" patty. This burger was a clear winner in my eyes because of the customizations available (such as vegan cheeses, and "special sauce"), which were able to be added onto my order, without any worry of cross-contamination.
An added bonus is that everything on the Plant Power menu is made with no artificial flavors or hydrogenated oils, without compromising on flavor. While you're there, give the restaurant's spin on In-N-Out's animal fries a try.
Hopefully more fast-food restaurants will continue evolving to offer all eaters an array of options at affordable prices. But if you are following a vegan diet, be cautious when ordering these plant-based items—you'll want to remove items like cheese and mayo. And keep in mind that many of these are not 100% certified vegan because they could be exposed to cross-contamination in the kitchen. Still, if you tell a restaurant you're vegan, they should be able to accommodate your dietary needs. And if you're an omnivore just looking to add some plant-based foods to your diet, there are plenty of options to choose from.
Jacqueline Weiss
Jacqueline is a blogger and writer, passionate about making healthy eating and cooking accessible to all.
Read more about Jacqueline