8 Easy, Delicious Ways To Add Protein To Your Salad
For a filling salad that's still nutrient-dense, try any of these protein-rich toppings.
I'm sure we can all relate to this experience: You prepare to chow down on what you believe is a hefty, delicious salad that's able to keep you energized and satisfied until dinner, only to feel and hear your stomach ferociously growl within minutes of finishing your lunch. It's happened to the best of us, but unfortunately, there's now a stigma around this healthy, versatile dish based on its inability to consistently fill people up and keep them full. Finding delicious and nutritious ways to make your salads more filling doesn't have to be such a challenge—it all starts with choosing and tossing in the right proteins.
Protein's effect on your appetite is two-fold. This macronutrient can reduce your levels of ghrelin (aka the "hunger hormone"), while also boosting the peptide YY hormones that enable feelings of fullness. In fact, research indicates that following a high-protein diet may unconsciously lead to eating fewer calories each day, which can ultimately result in weight loss.
To help us determine which tasty, protein-packed salad toppers are best for tossing a filling, delicious salad, we spoke to expert nutritionist Lauren Manaker, MS, RDN, LD, CLEC, author of the First Time Mom's Pregnancy Cookbook, the 7 Ingredient Healthy Pregnancy Cookbook, and Fueling Male Fertility. Read on to learn what foods she suggests that can help up the ante on your salad's protein content—and for more tips on how to boost your protein intake without compromising the deliciousness of your dish, be sure to also check out 5 Easy, Delicious Ways To Add Protein To Your Oatmeal.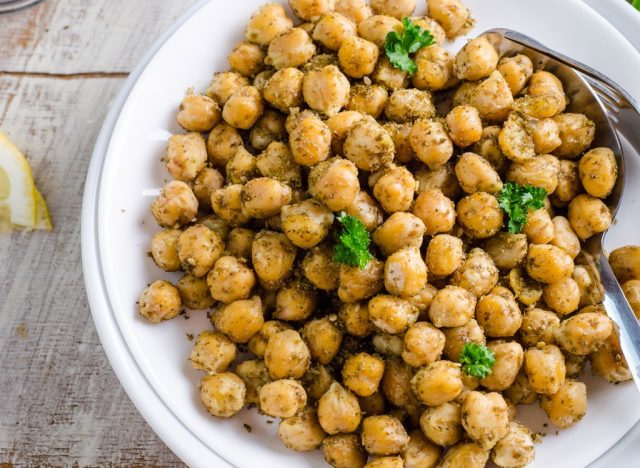 "No matter whether they are roasted or straight out of the can (after they are drained, of course), chickpeas are one of the easiest protein sources to add to salad," Manaker tells Eat This, Not That! In fact, adding a 1/4 cup of chickpeas to your salad can increase its protein content by about 6 grams.
"Packed with plant-based protein, fiber, and antioxidants, these little garbanzos can add some serious satisfaction to your salad," Manaker adds.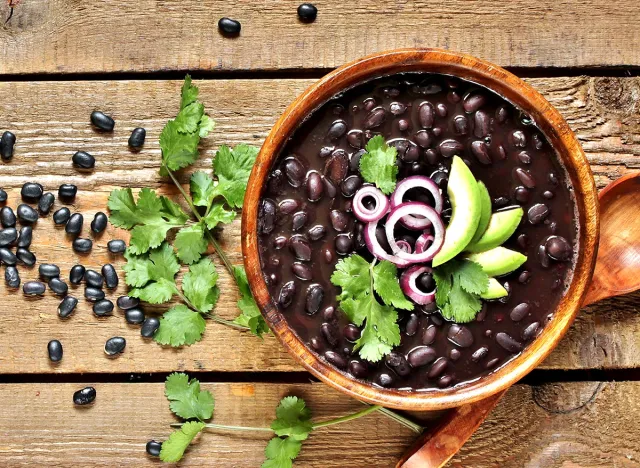 Including only a mere teaspoon of black beans in your salad can transform your light lunch into a filling meal by pumping it up with nearly 6 grams of protein.6254a4d1642c605c54bf1cab17d50f1e
"Black beans are a source of plant-based protein, fiber, and a slew of micronutrients," explains Manaker. "Adding them to your Southwest salad can add some extra flavor and satiating nutrients."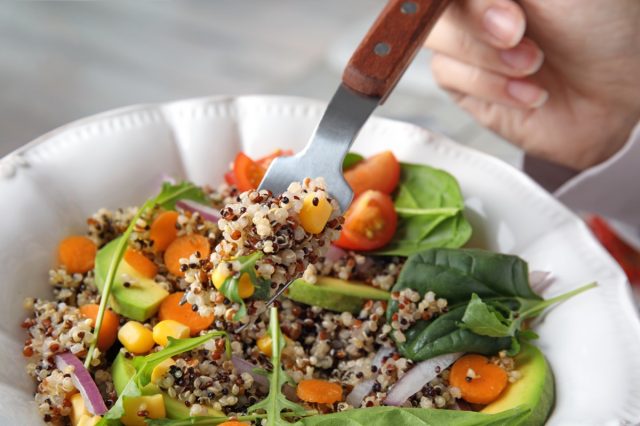 At over 8 grams of protein per cup, the deliciously satiating power of quinoa is undeniable. Additionally, this amount of quinoa contains over 5 grams of dietary fiber, which also supports your digestion health while simultaneously keeping you fuller for longer. That's why, when it comes to this particular superfood, Manaker urges keeping an open mind about the diverse scope of health benefits this carbohydrate can provide.
"Don't think of quinoa as just a carb source," Manaker advises. "While quinoa is typically served as a 'carb,' it has plant-based protein that can help make your salad a bit more likely to stick to your ribs."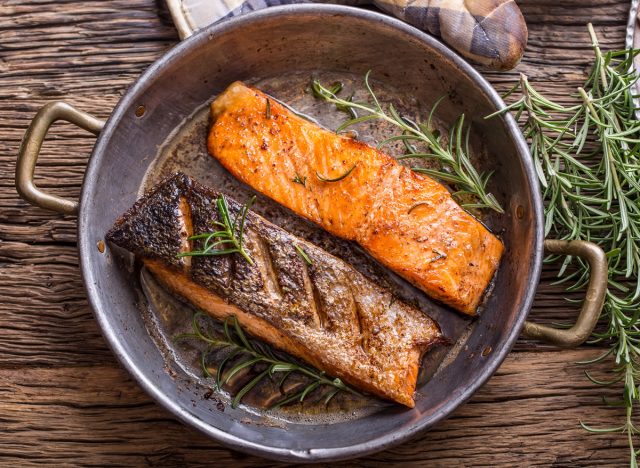 "Instead of serving your salmon with rice and a side veggie, try topping your salad with it, instead!" Manaker suggests.
If you're a meat eater, salmon is the protein to pick. Unlike other popular salad meats like chicken or beef, salmon steps up your plate's protein content with upwards of 37 grams of protein per 5-ounce fillet, yet very little additional saturated fat. According to Manaker, this delectable fish is also rich in micronutrients that research suggests can be beneficial to brain and heart health.
"Salmon is one of the best sources of omega-3 fatty acids, which may help support heart health," says Manaker. "It is also a source of high-quality protein that can benefit any salad."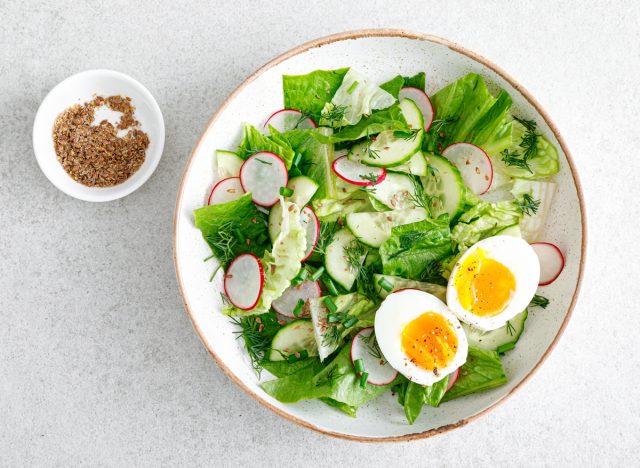 "Hard-boiled eggs add high-quality protein to a salad, as well as a slew of key nutrients like choline, iodine, and vitamin B12," says Manaker.
A superb source of lean protein, one large egg is also only about 77 calories, making it a satiating yet low-calorie salad topping option.
"They can be chopped, sliced, or mixed with a touch of mayo for a classic egg salad—yum!" Manaker suggests.
If you're looking to fill up on a salad that has a little added crunch, skip the croutons and opt for walnuts instead. Just one ounce of walnuts (a standard serving size) contains more than 4 grams of satiating protein. Manaker also points out that these tree nuts can improve the taste and nutritional quality of your salad beyond its high protein content.
"As the only nut that is an excellent source of ALA omega-3 fatty acids, it is easy to see that these nutritional powerhouses are so much more than just plant-based protein," Manaker explains. "The combo of protein, fiber, and healthy fats help promote satiety, and the flavor these nuts offer can elevate any salad in seconds."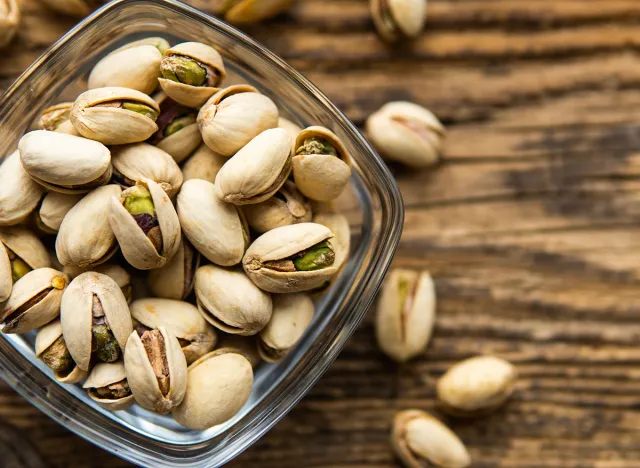 "One serving of pistachios has as much protein as an egg (about 6 grams of protein) and as much fiber as a 1⁄2 cup of broccoli (around 3 grams of fiber)," says Manaker. "[In addition to being a] good source of protein and fiber, [pistachios also contain]  vitamin B6, phosphorus, thiamin, and are an excellent source of copper. Once shelled, they can be sprinkled onto a salad for a boost of antioxidants and nutrients."
"Bonus?" Manaker continues. "Pistachios are a plant-based source of complete protein."
Research from the American Heart Association indicates that incorporating more plant-based foods—proteins included—into your diet can potentially reduce your risk for heart attacks and other cardiovascular-related health issues no matter what age you begin introducing them into your regular eating routine.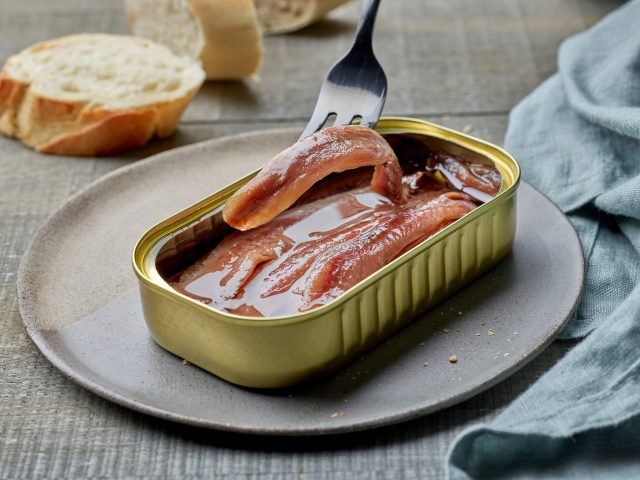 At 13 grams of protein per 2-ounce can—love them or hate them—anchovies are a convenient way to give your salad a healthy protein boost.
"Anchovies are a great protein to add to your salad—especially if you haven't made it to the grocery store and you have some stocked up in your pantry," says Manaker. "Anchovies are a perfect pair for a classic Caesar salad, and they offer some major nutrition points. They are packed with DHA omega-3 fatty acids (hello, heart health support!), vitamin B12, and selenium."
"Bonus? They are already cooked when you get the tinned version, so all you have to do is drain and serve," she adds.
"Lean cuts of beef can be added to salads to add high-quality protein, iron, zinc, and other key nutrients," says Manaker. "Choosing lean cuts and sticking to the recommended 3–4 ounce portion can make for a good-for-you and satisfying salad when combined with veggies and healthy fats."
Sources referenced in this article