7 Restaurant Chains That Serve the Best Bagels
It's all about the fluffy dough and a great spread.
Even an amateur baker can create a lot of great foods at home. During the height of the pandemic, for example, many people found some serious sourdough-making abilities had been dormant within. Cakes and muffins and brownies? Anyone who can follow a recipe can handle those. And even a tasty pizza dough can be quite easy to master if you have a bit of patience. Bagels are another thing.
There's always going to be a place for a bagel chain because it's surprisingly hard to make homemade bagels that are even half as good. Use the wrong flour and you get chewy lumps. Boil the bagels for too long and they're tough, too little and they're mush. Bake them for too little time at too low a temp and you get gooey dough, but overcook a bagel and you get a thick, crusty disc better used as a paperweight than a vehicle for butter, cream cheese, or spread.
The good news is that most of us live within a short drive (or even a walk) from a chain that offers great bagels. So stick with the sourdough and cupcakes and leave the bagels to these seven restaurant chains.
Panera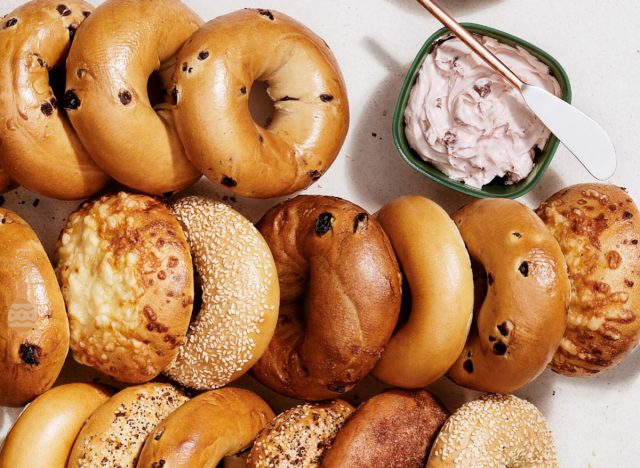 At the time of this writing, there is currently at least one Panera Bread in every state except for Alaska and Hawaii, per data from ScrapeHero. And there are more than a half dozen states with more than 100 Paneras. Long story short, most Americans can find their way to this bread-centric chain with relative ease, and that means most of us can find some reliably good bagels.
Each and every day, bakers at Panera churn out fresh bagels like the chain's signature cheesy Asiago Bagel, the sweet Cinnamon Crunch Bagel, or classics like plain, sesame seed, or everything. While the spread choices at Panera aren't that exciting, the bagels themselves really are quite good.
In a Reddit thread answering the question "Are Panera bagels good" almost everyone replying said yes, such as a poster who wrote: "Yes they are. I always have them when I go there." One slightly more passionate reply read: "The cinnamon crunch bagel with honey walnut cream cheese is soooo good!"
Einstein Bros. Bagels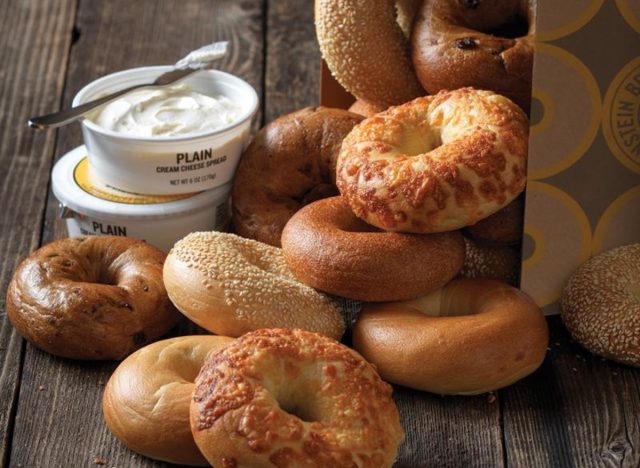 While most heavily concentrated throughout the East Coast and Midwest, Einstein Bros. Bagels locations can be found in most states in this country, with there being 678 total locations operating right now, per ScrapeHero. This chain is a safe bet for anyone looking for classic bagels, like poppy seed or everything, with a spread—or shmear—like Onion and Chive, Jalapeño Salsa, or Honey Almond, to name a few.
Einstein Bros. is also a great place to get some pretty serious breakfast sandwiches, like its Texas Brisket Egg Breakfast Sandwich, which packs in 830 calories, 51 grams of fat, and 36 grams of protein. A slightly wiser choice may be the chain's Garden Avocado Egg Sandwich, with its 500 calories, 20 grams of fat, and 18 grams of protein.
Bruegger's Bagels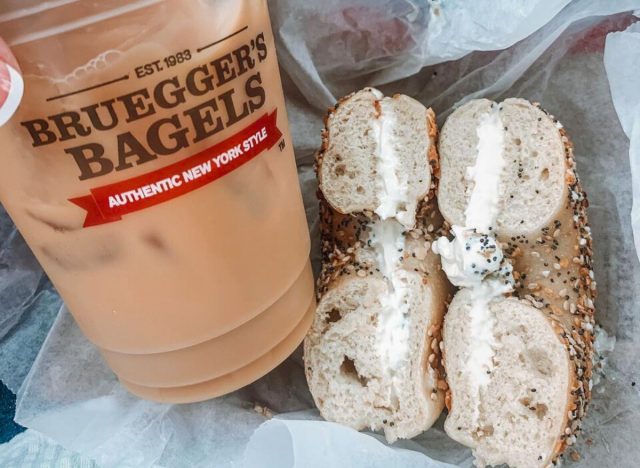 Bruegger's Bagels is a growing concern for other bagel chains, with nearly 200 locations nationwide at the time of this writing per ScapeHero data. What's driving the growth? Why, good bagels, of course.6254a4d1642c605c54bf1cab17d50f1e
Started in the mid-1980s and inspired by traditional New York City bagel preparation methods, Bruegger's offers a true NYC-style bagel available much farther afield than the Five Boroughs.
Those bagels include options like Asiago Parmesan and Rosemary Olive Oil and cream cheese flavors including Bacon Scallion, Smoked Salmon, and Sriracha Honey, to name but a few.
Dunkin
Look, we know the bagels from the fast-food chain formerly known as Dunkin' Donuts aren't going to stand up to artisanal bagels in a side-by-side taste test. In fact, we found some food writers from Forbes who went ahead and conducted such a test—and Dunkin' lost.
The point isn't that Dunkin's bagels are great, it's that they are pretty good, and they are very widely available. According to the chain's own data, there are more than 8,500 Dunkin locations in the United States alone—and 11,300 worldwide—so you are almost always going to be able to find one.
And at a Dunkin, you'll find bagels of which one of the aforementioned food writers said: "In isolation, [the bagels] were quite good, it's only that [the other] bagels were, in comparison, really, really, really good bagels." (They were comparing Dunkin's bagels to those from the Davidovich Bakery, FYI, so that's hardly a fair fight.)
Bergen Bagels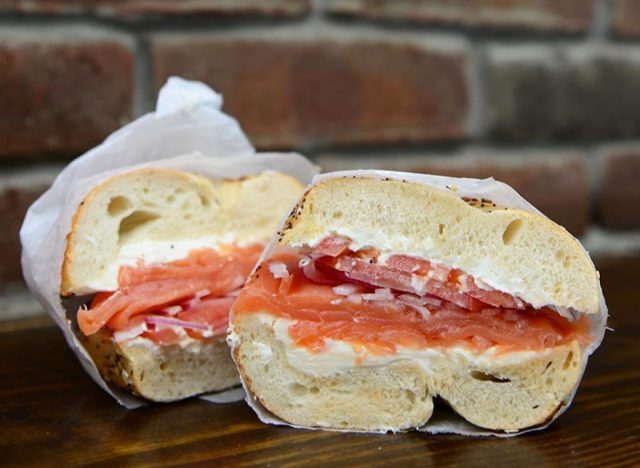 If you want to get a true New York City bagel, you have to come to New York City. But where to go once there? Well, literally hundreds of great places, frankly. But to simplify things for you, why don't you visit one of the three locations of Bergen Bagels?
There, you will find bagels like its popular Salt Bagel, Whole Wheat Pumpernickel Bagel, and 7 Grain Bagel. You'll also find a lot of sandwich options, pastries, and more.
And of said bagels, if you look for comments online, you will find raves like this one from Tripadvisor: "The bagels had everything that makes New York bagels great: size, texture inside and out (chewy and crusty), rich taste."
Call Your Mother Deli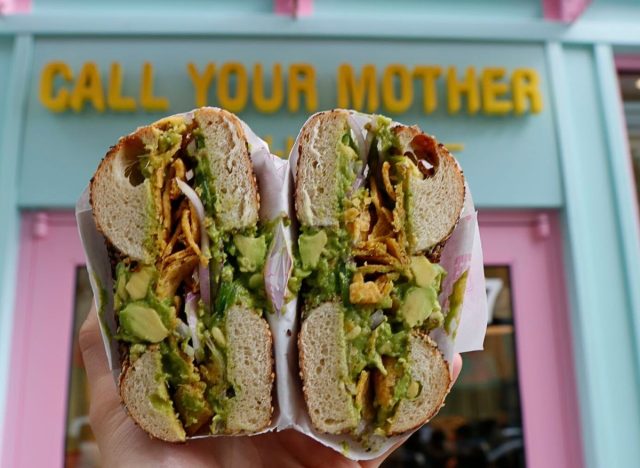 Sure, this little chain has a funny name, but there's nothing funny about the quality of its bagels. You'll have to be in the greater Washington D.C. area or in Colorado to try them, though, as currently, that's the extent of the chain's spread.
Speaking of spread, try the crazy ones like Candied Salmon or Strawberry Mint. Those will go amazingly well on any of the seven types of bagels Call Your Mother offers. Yes, that's a smaller lineup than most places have but when you use the bagels as the basis for a sandwich like The Grandeeza, made with roasted turkey, fresh mozzarella, pesto, and red pepper relish, that hardly matters.
At last check, this chain has an average of 4.5 stars on Tripadvisor and earns comments like: "These bagels are delicious and not to be missed … There is enough variety of bagels and toppings to try for weeks."
Noah's New York Bagels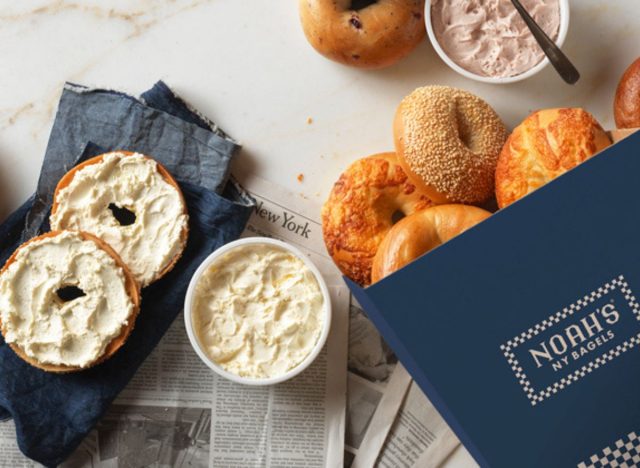 According to the data company SmartScapers, there are currently 56 Noah's locations in the United States, though most are in California.
Noah's offers 15 different kinds of bagels including some unique choices like Cinnamon Sugar and French Toast bagels—there are also a few "gourmet bagels" like Spinach & Swiss and Garden Veggie options—but it's the restaurant's bagel sandwiches that truly deserve the recognition here.
The bagel sandwiches include Signature Egg Sandwiches like the Chorizo Avocado Sunrise and Breakfast BLT, the Deli Lunch Sandwiches like a Hot Pastrami served on an Everything Bagel, and specialty options like the Nova Lox Sandwich.
Steven John
Steven John is a freelancer writer for
Eat This, Not That!
based just outside New York City.
Read more about Steven