7 Cozy Breakfast Boards That Won't Derail Your Weight Loss Goals
Follow these simple guidelines for building the perfect spread.
A breakfast or brunch board can be an amazing way to get everyone into the act of creating their own healthy bites. Whether you're throwing a party for friends or putting out a spread for the family on Sunday morning, there is a breakfast board for every taste.
However, breakfast boards do come with a few puzzles to be solved. The most critical is how to keep the warm foods warm and the cold foods cold. The second is how to style the board without creating an unnavigable mess. You want guests to be able to get into the mix and create without everything ending up on the floor. And, the third, is to edit so that it's not too cluttered and has a focus. You want your guests to immediately see the focus of the board and to understand what they need to do without direction.
Here are seven healthy boards and some indispensable tips that solve these issues. (If you feel like cooking a little bit more, here are 87 Healthy Brunch Recipes You Need to Try.)
Charcuterie Breakfast Board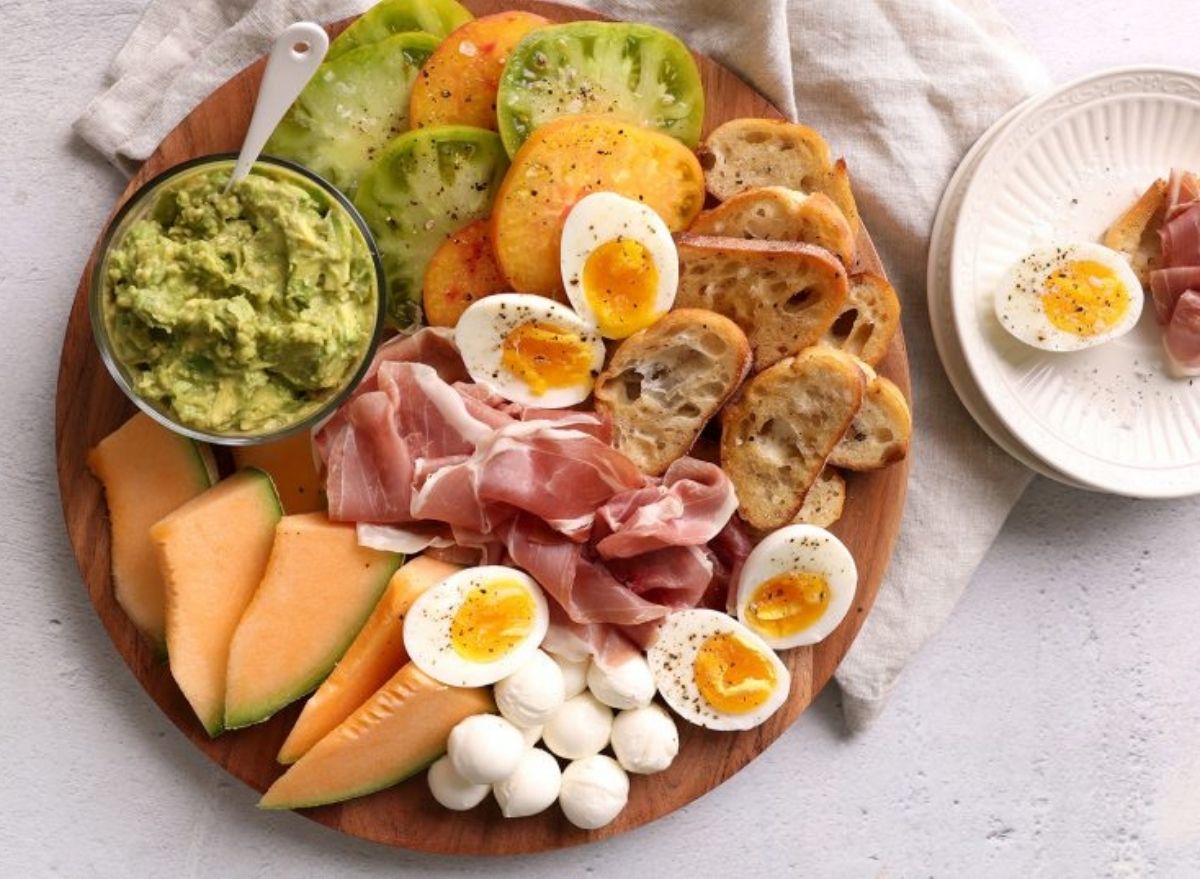 This board keeps things simple and elegant. If you use one premium product in your breakfast board, it elevates the entire spread. Case in point: Instead of using sausage or ham, use Prosciutto di Parma. A little bit of the paper-thin meat from Italy goes a long way. Pair it with fresh mozzarella, slices of ripe cantaloupe, a super-quick guacamole, and fresh sourdough bread. Sliced and hardboiled eggs with a touch of salt and pepper round everything out.
You can serve your favorite brunch drinks with this board, but know that a bellini would work great because the peach nectar will complement the fatty prosciutto.
Get the recipe for Charcuterie Breakfast Board.
Breakfast Cheese Board
If you go the cheeseboard route, you won't have to worry about things that need to stay warm. Hard-boiled eggs can provide the egg portion, and blogger Foxes Loves Lemons also recommends asking for "breakfast cheese" at your local cheese counter. "The cheesemonger won't even blink an eye that you're eating cheese for breakfast, they'll simply point you in the right direction," she writes. This board is also an appetizing mix of sweet and savory, and her homemade apple butter is the secret that ties it all together.
Get the recipe from Foxes Love Lemons.
Pancake Board
The Baker Mama has tons of great ideas for breakfast boards in her new book, Spectacular Spreads: 50 Amazing Food Spreads for any Occasion—seriously, these are works of art. Follow her lead and use mini cast iron pans to serve dishes that need to be warm, like scrambled eggs. She also uses a cute technique of slicing bananas and placing them on top of their peels, which looks great. Little prep bowls hold pesky fruits that tend to roll around, like blueberries and raspberries, and her mini jars of condiments are simply adorable. Also, the way she arranges the perfect pancakes in a diagonal pattern creates a moving focus to the board.6254a4d1642c605c54bf1cab17d50f1e
Get the recipe from The Baker Mama.
Top-Your-Own-Oatmeal Board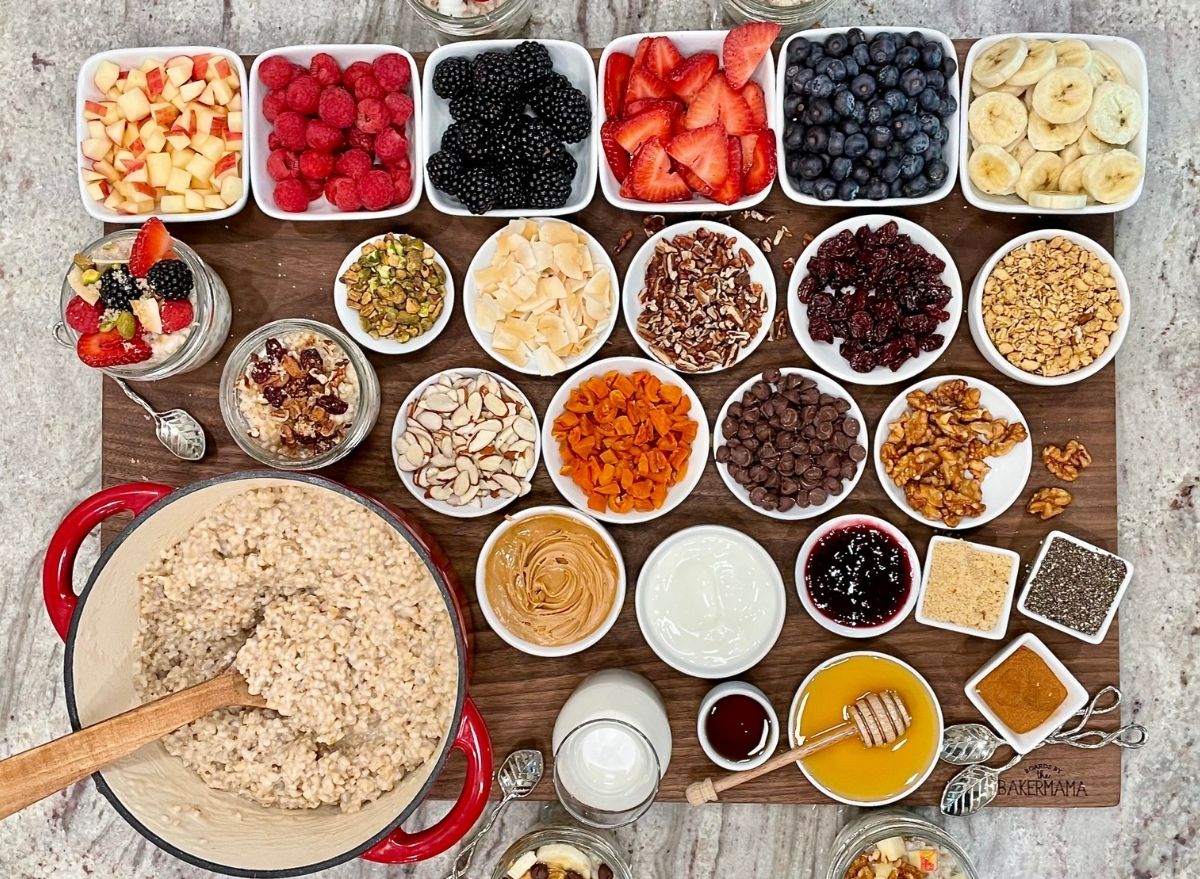 Another Baker Mama masterpiece, this Top-Your-Own-Oatmeal Board is next-level. Sometimes, it can be overwhelming for guests if your board has too many choices, but there are moments like this when abundance is the star. Oatmeal is such a simple thing—it can't compete with the flashiness of waffles or the decadence of French toast—that the sheer number of toppings in this photo makes it more enticing. Plus, her sample versions in little mason jars serve as suggestions for your guests. Who said oatmeal was boring?
Get the recipe from The Baker Mama.
Healthy Charcuterie Board Ideas for Brunch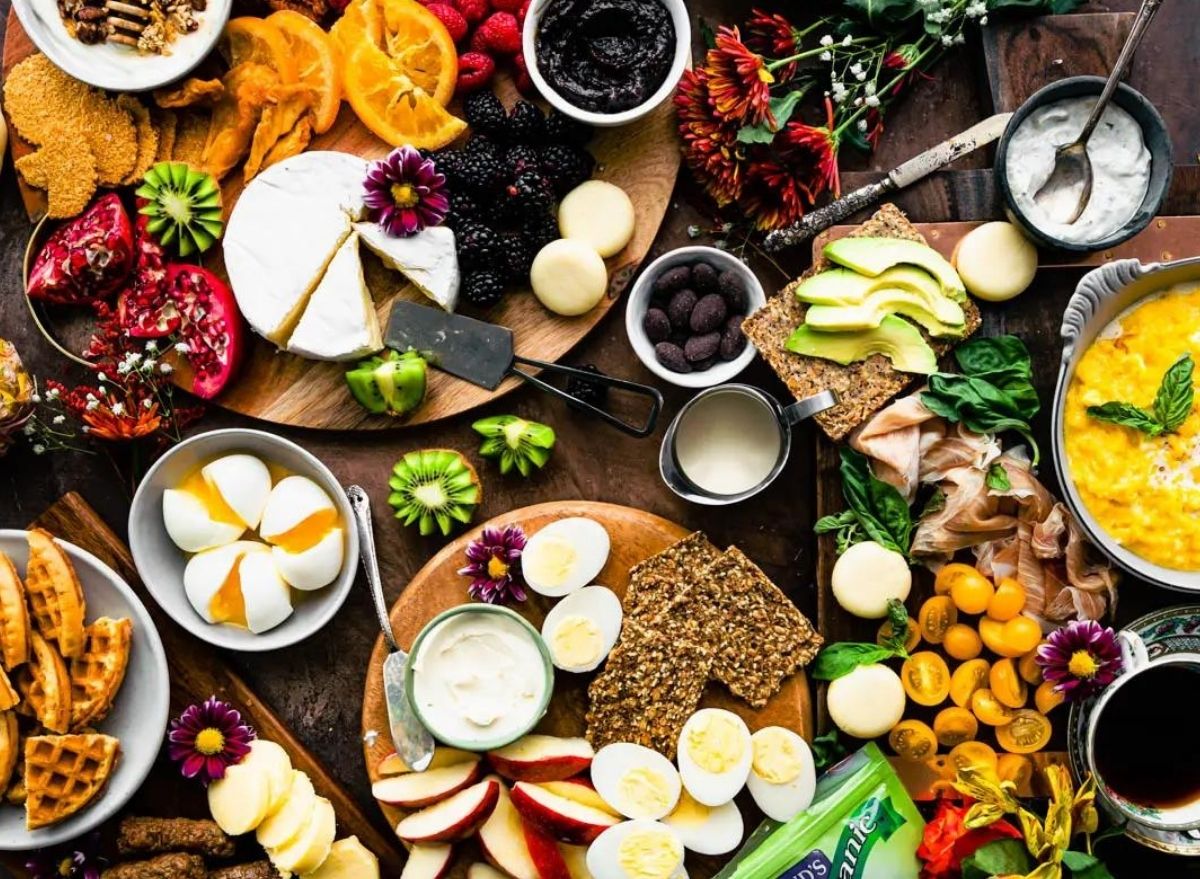 Cotter Crunch's technique for keeping scrambled eggs hot is genius. She scrambles and then bakes the eggs. Her technique is to blend just-cooked scrambled eggs with cream cheese and heavy cream. Then, she bakes the eggs in little mini casserole dishes for 10 minutes before serving. This prevents the eggs from drying out and ensures that you aren't stirring a dozen eggs in a pan right before your guests arrive. Plus, they stay warm in the thick casserole dish.
Get the recipe from Cotter Crunch.
Smoked Salmon Bagel Bar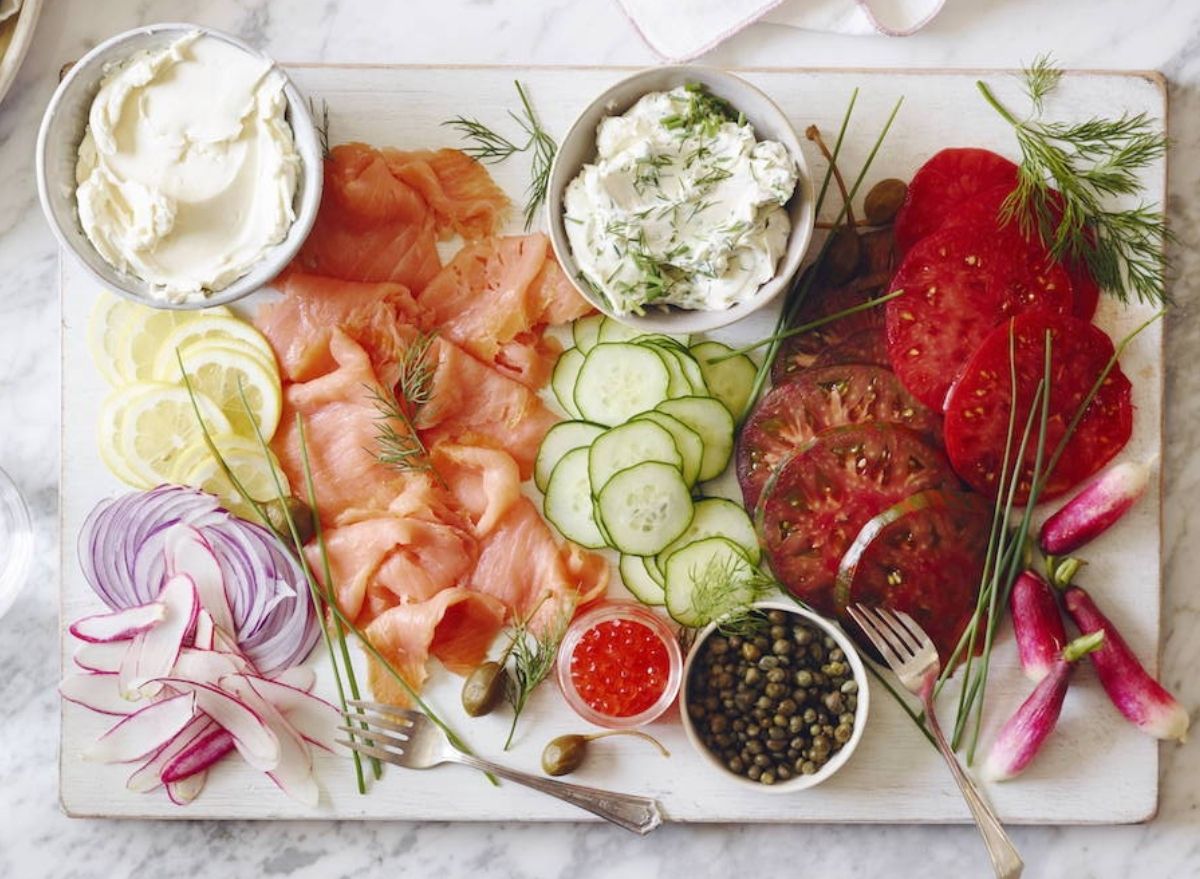 What's Gaby Cooking breaks out the mandoline. Keeping everything paper-thin does a few things: It makes everything look clean, the thin slices lay beautiful, and they don't stack up so they're less likely to fall. Plus, this makes everything easier to bite into and less likely to shoot across the room when slick cream cheese meets chunky cucumber.
Get the recipe from What's Gaby Cooking.
Bruschetta Bar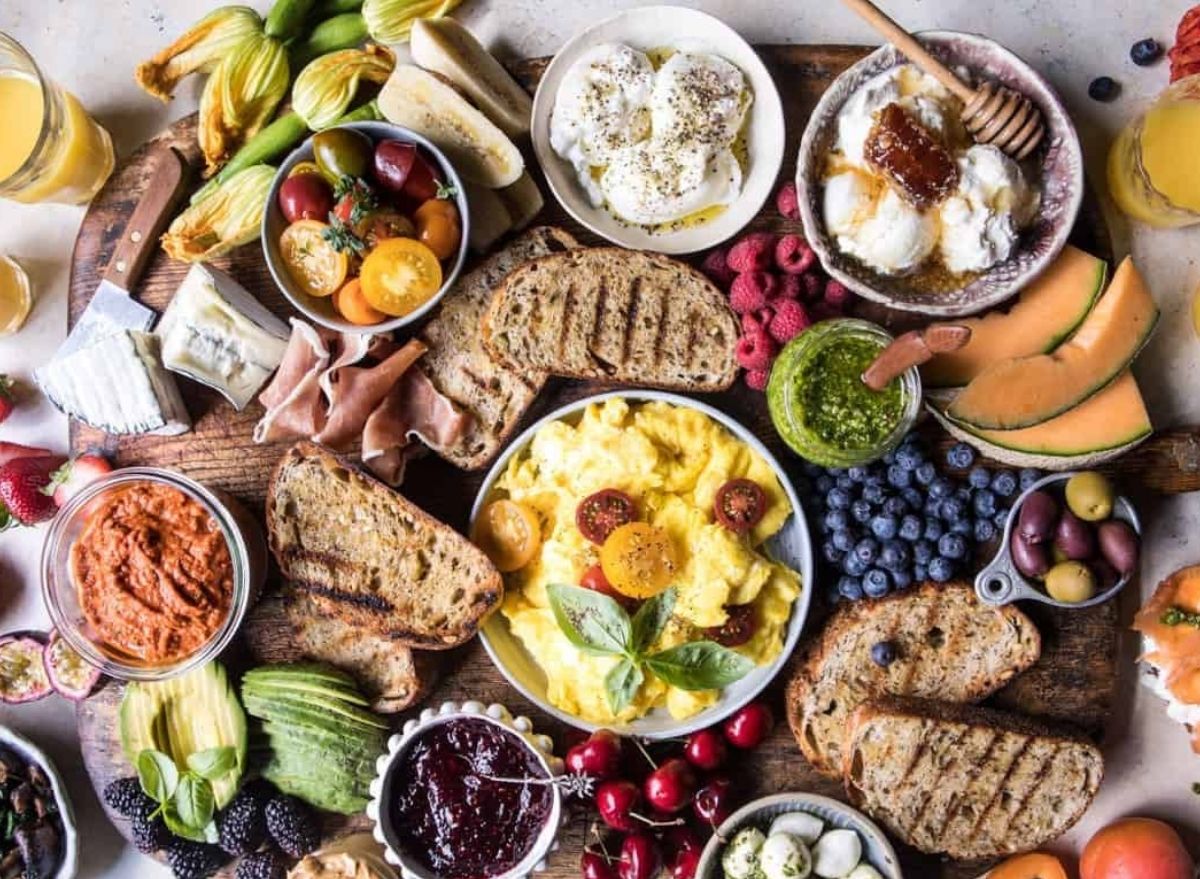 This brunch bar takes the idea of a toast bar and brings it to another level. The key with this board is the bread: It needs to be good. Half Baked Harvest's arranging trick is to fill every space and create a focus. "Arrange the fruits, veggies, and spreads around the eggs, as they are the 'heart' of the bar. I like to fill in almost all of the blank space to create a really pretty, over-the-top spread," Half Baked Harvest writes. Plus, follow her advice to go with what is in season: "For the fall, I'd swap in apples, pomegranates, and roasted pumpkin."
Get the recipe from Half-Baked Harvest.
Read more about building the perfect breakfast:
19 High Protein Breakfasts That Keep You Full
Gordon Ramsay Shares 4 Easy Tips for a Next-Level Weekend Breakfast