Are Smoothies Actually Healthy? Dietitians Discuss the Pros and Cons
Here's how to make sure your smoothie is healthful, not harmful. 
Smoothies are thought of as a superfood among many healthy eaters and athletes. Gyms and natural food stores feature smoothie bars and national smoothie chains like Jamba Juice, Smoothie King and Nektar are everywhere. Supermarkets have end of aisle sections overflowing with bottled smoothie products that have a health and wellness vibe.
These blended fruit beverages are often marketed as nutritional boosters, healthful meal replacements, diet and detox staples, and muscle recovery aid. But despite their health halo, not all smoothies are created equal and some pack in more calories and carbs than a chocolate milkshake, which may make you wonder if smoothies really are healthy.
To find out if smoothies are healthy, here are the main smoothie pros and cons, according to registered dietitian nutritionists. Read on, and for more, don't miss 8 Things You Should Never Add to Your Smoothie.
Are smoothies healthy? The Pros: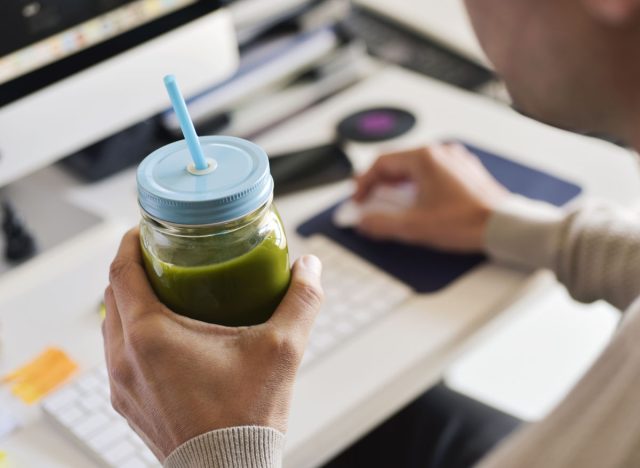 Nutrient-Booster: Good Source of Fruit and Vegetables
Smoothies can be one of the easiest ways to get more veggies and fruit into your diet. The healthiest smoothies are rich in veggies and other plant-based bioactive compounds, like phytonutrients and antioxidants.6254a4d1642c605c54bf1cab17d50f1e
"The best things you can do to up level your smoothie is to add in a serving or more of veggies, explains Patricia Bannan, MS, RDN, author of From Burnout to Balance. "Most of the time you won't even notice them. Adding frozen vegetables like cauliflower, cubed butternut squash, or carrots makes the smoothie creamier. Fresh leafy greens, like baby spinach and kale, can easily blend into just about any smoothie and is a great way for non-salad fans to get their greens," says Bannan.
Research shows that eating just one cup of nitrate-rich vegetables each day like spinach, leafy greens and beets can significantly reduce the risk of heart disease, and a smoothie is an easy way to fit it in, notes Cynthia Sass, RD, CSSD, a plant-based sports and performance nutrition coach. Another easy way to enhance the nutritional benefits of our smoothie is to add in flavorful add-ins, according to Sass. She recommends healthful, antioxidant rich flavor enhancers as add-ins like raw cocoa powder, ginger, turmeric, cinnamon, vanilla bean, or matcha.
Post-Exercise Recovery Aid
Post-exercise smoothies need to provide adequate hydration, calories, carbohydrates, and protein to provide your body with the fluids and nutrients needed to aid muscle mass recovery and rehydrate your body. Here is the advice I provide athletes to help them create smoothies that provide the right ratios of macros to enhance recovery.
15-25 grams protein
0.5 to 0.75 grams of carbohydrates per pound of body weight
For example, a 150-pound athlete should strive to create a smoothie with 25 grams protein and 75 to 112 grams of carbohydrate — which equals 400-550 calorie smoothie. If weight loss is your goal, use the lower amount of carbohydrates without skimping on the protein.
Meal Replacement
Many health-conscious eaters turn to smoothies for a healthy and easy, on-the-go meal to enjoy while commuting or when working through lunch. Smoothies designed to enjoyed in place of a meal replacement should provide the nutrients you'd get in a balanced meal, says Sass. Try to make sure you have at least a serving of veggies and fruit as part of your meal replacement.
Spinach is my go-to healthy green because of its mild flavor, but I'll use cauliflower, beets, sweetpotato, pumpkin, and squash. For the healthiest fruit, I love frozen options, especially unsweetened cherries, berries, and mango. I like using frozen wild blueberries in my DIY smoothies because they're native to North America and they have twice the antioxidant power and 72% more fiber than conventional blueberries. Research shows that these tiny purply berries help prevent chronic diseases like heart disease and type 2 diabetes, while improving brain health and vision. The macros should include wholesome carbs, protein, and healthy fats to help keep you well-nourished and satisfied.
Here are some healthy options for each of the major food groups:
Wholesome carbs: Oats, sweetpotatoes, butternut squash, canned pumpkin puree, dates, prune puree, beets, fresh fruit (berries, banana, apple, citrus) or unsweetened frozen options (wild blueberries, mixed berries, mango, squash)
Lean protein: Nonfat Greek yogurt and milk, dairy-free milk alternatives, kefir, low-fat cottage cheese, tofu, white beans
Healthy, unsaturated fats: Nuts and nut butter, seeds, avocado
Smoothies: The Cons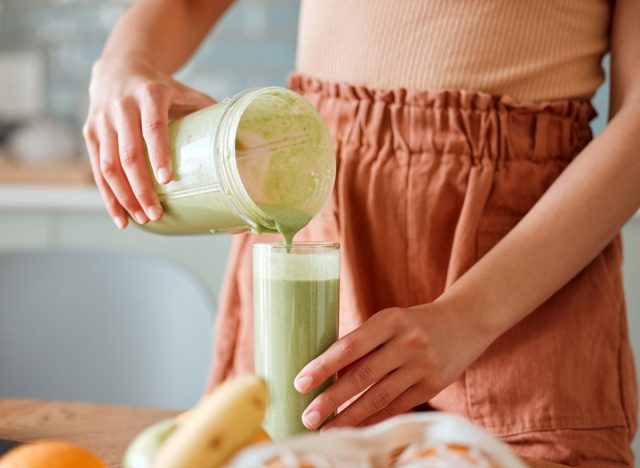 High Sugar and Calorie Counts
Calories and carbs are the core issues with many smoothies. "Smoothies can pack excess amounts of calories and sugar, if you're not mindful of how you make them," advises Sass. "A smoothie can easily be out of balance with your body's needs if you don't make it strategically."
Bannan agrees and adds that "Smoothies can be sugar bombs, loaded with added sugars and not much or any fiber or protein to balance out your blood sugar levels. Ingredients like flavored yogurt, honey, fruit juice, fruit juice concentrate, and sweetened frozen fruit may make your smoothie have as much — or more sugar than a can of soda. A bottle of Naked Juice may contain 50 grams of carbohydrates (nearly 25% of your total daily carbohydrate requirements), thanks to the low-fiber fruit-based ingredients including grape and apple juice from concentrate and fruit purees it contains. There's no reason to add any sweetener to smoothies when you can just add fruit or 100% fruit juice, for a healthier, natural sweetener.
If you're enjoying a smoothie to help with weight loss or to help you tone up, it's important to keep calories in check. For weight loss, try to keep your smoothies to no more than 300 calories. To do this, you need to be mindful of the serving size and high-calorie add-ins. Some of the biggest calorie culprits include avocado, nuts and nut butter, sweetened protein powder, coconut milk, chocolate, cocoa powder, and full-fat milk and yogurt. While these are nutritious ingredients, they need to be limited due to their high fat and calorie counts.
Lack of Filling Fiber
Many smoothies can be lacking in filling fiber that helps to keep your blood sugar and hunger in check. Make your smoothie with veggies and include fiber-rich foods like chia seeds, flax seeds, white beans, or tofu to keep you satisfied for hours. When purchasing store-bought smoothies, check the nutrition facts panel and choose a smoothie that has at least 3 grams fiber per serving.
Are smoothies healthy?
If you know that you're not the best at getting your daily 5-8 servings of produce, smoothies can be a convenient way to pack in more veggies and fruit into your diet. Generally, the healthiest smoothies will be those that you make yourself, because you can include the healthiest ingredients and avoid any added sweeteners.
If you're in a pinch, and need to purchase a prepared smoothie, be sure to review the Nutrition Facts panel on the bottle to find one that fits your daily calorie limit, has real veggies and fruit as main ingredients, and has no added sugars.
Julie Upton, MS, RD, CSSD
Julie Upton is an award-winning registered dietitian and communications specialist who has written thousands of articles for national media outlets, including The New York Times, US News & World Report, and USA Today.
Read more about Julie