10 Best Supplements You Should Be Taking After 40
Registered dietitians review the supplements that help address health issues that arise once you hit the age of 40.
The product recommendations in this post are recommendations by the writer and/or expert(s) interviewed and do not contain affiliate links. Meaning: If you use these links to buy something, we will not earn a commission.
If you have already joined the 40+ club, you may have noticed that your confidence is higher, your eyebrows have (hopefully) grown back in after over-plucking in the 90s, and your gut instincts are likely sharper than ever. But (of course, there is a but), entering your 40s does come with some downsides, specifically when it comes to your health. You may notice that your bones creak a bit more than they used to, and you may have a harder time falling asleep at night. And for females, perimenopause has either started or is right around the corner, bringing on its own set of effects like an increased risk of heart disease and osteoporosis. But fret not. The natural effects of aging aren't going to cramp your 40-year-old lifestyle, especially if you consider taking certain supplements that are best-equipped to address health issues that are common after 40.
Along with including physical activity in your lifestyle, eating a balanced diet rich in fruits, vegetables, seeds, nuts, and lean proteins, and managing stress, some supplements may be worth exploring once you have officially become "over the hill" to help you live your healthiest life. We asked some dietitians for their top-picks, and here are the options that they deemed the best supplements to take after 40. Read on, and for more, don't miss 9 Best Supplements to Slow Signs of Aging After 40.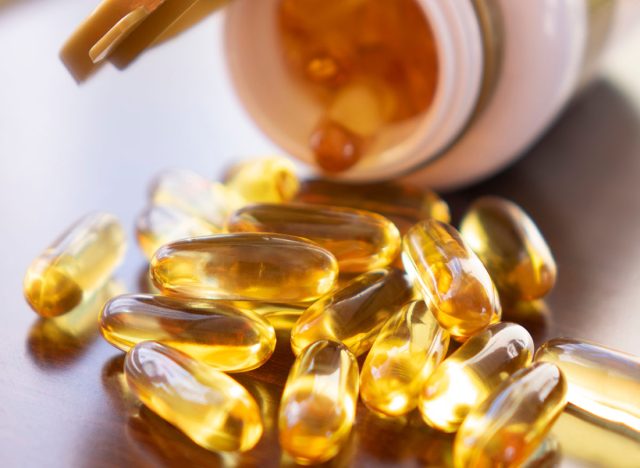 DHA and EPA are omega-3 fatty acids primarily found in marine sources like oily fish. These nutrients "are important for maintaining healthy triglycerides and blood pressure," says Elana Natker, RD, registered dietitian and nutrition communications consultant at Sage Leaf Communications, which makes them great candidates for the best supplements after 40.
She adds that they "also help keep your brain sharp and your eyes in tip-top shape, especially when adjusting to lower-light conditions".
"If you don't like fish, or you don't eat enough fatty fish (think SMASH: Salmon, Mackerel, Anchovies, Sardines and Herring), then definitely take an omega-3 supplement, like fish oil pills. There are vegetarian DHA and EPA that come from marine microalgae – great if you are vegetarian or truly hate any fishy flavor or taste," Natker explains.
For those following a vegan lifestyle or avoiding supplements derived from fish or shellfish, Örlö Nutrition harnesses the power of algae grown in a high-tech, Icelandic vertical farm to make their vegan-friendly DHA. Each serving provides a whopping 335 mg of DHA and 15 g of EPA. And for those who are a-ok with DHA derived from fish, FullWell Fish Oil provides marine-sourced DHA and EPA omega 3s sourced from highest quality fish oil and it is third-party tested for heavy metals, dioxins, and polychlorinated biphenyls (PCBs).
If perimenopause has started, adding Siberian rhubarb root to your regimen may offer some benefits. Some data shows that taking Siberian rhubarb extract may result in a reduction of hot flashes as well as other common symptoms associated with menopause and perimenopause. And another study published in Menopause showed that 60% of those taking Siberian rhubarb extract experienced an improvement in depressed mood symptoms. Finally, there is evidence that suggests Siberian rhubarb is effective in reducing anxiety in perimenopausal women.
Life Extension Menopause 731 is made with a clinically studied extract of Siberian rhubarb root to address many common menopausal discomforts, including hot flashes, night sweats, irritability, and mood swings. For those seeking a soy-free and hormone-free solution during the menopausal transition, this supplement may be a good option.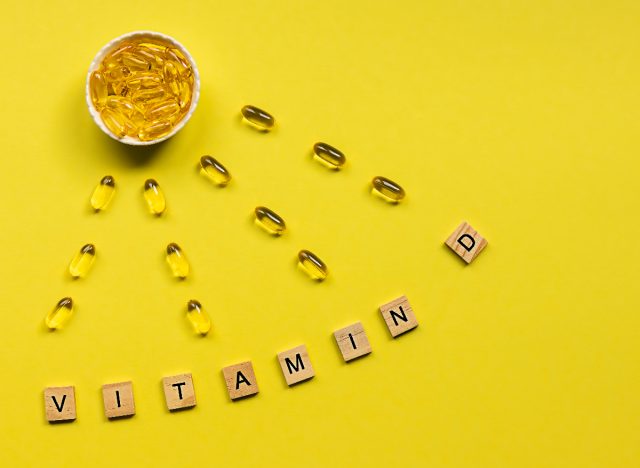 "Bone health is an important consideration for women in their 40s as they head into the perimenopausal (and eventually postmenopausal) years," Sarah Anzlovar, RD, an Intuitive Eating Dietitian for Moms explains. "Vitamin D is an essential nutrient for bone density and many women aren't getting enough" via their diets or from sun exposure (since our bodies can make vitamin D by allowing our skin to be exposed to the sunshine). "Vitamin D has also been tied to reduced risk of cardiovascular disease, another important consideration for women in mid-life," Anzlovar adds.
Nordic Naturals Vitamin D3 is a high-quality option at a reasonable price.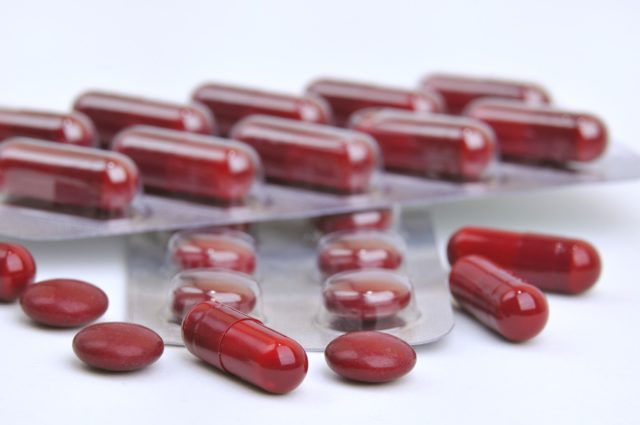 "Iron deficiency either with or without anemia is common for women in the perimenopausal time period, and it's often overlooked," Anzlovar said, adding that this may be because menstrual cycles can be heavier and longer during this stage of life. "Even if you don't have signs of iron deficiency anemia, it's worth having your iron levels checked to make sure both iron and ferritin (the storage form of iron) levels aren't low," Anzlovar advised.
Among the different forms that supplemental iron is supplied, iron bisglycinate tends to be associated with fewer gastrointestinal side-effects. Thorne Iron Bisglycinate provides 25 milligrams of iron in the bisglycinate form, which is over 100% daily value (DV).
"Those creaky knees and joint pain we tend to feel when we get older? That's probably from inflammation that creeps up from overuse and just general aging," Natker explains. Thankfully, she explained that taking supplements such as glucosamine can help after 40.
Natker shared that glucosamine is a sugar found in the fluid around joints and within bones that helps repair cartilage. "Our bodies make glucosamine, but as we get older we tend to make less of it. That's why glucosamine is a popular supplement for joint health," she explains.
Glucosamine in supplement form comes from the hard outer shells of shellfish, but it can also be made synthetically, which is a better choice for people with shellfish allergies.
CVS makes a glucosamine tablet containing chondroitin, which may also help with joint health. CVS requires that all vitamins & supplements that they provide are third-party tested to help ensure they have the listed dietary ingredients.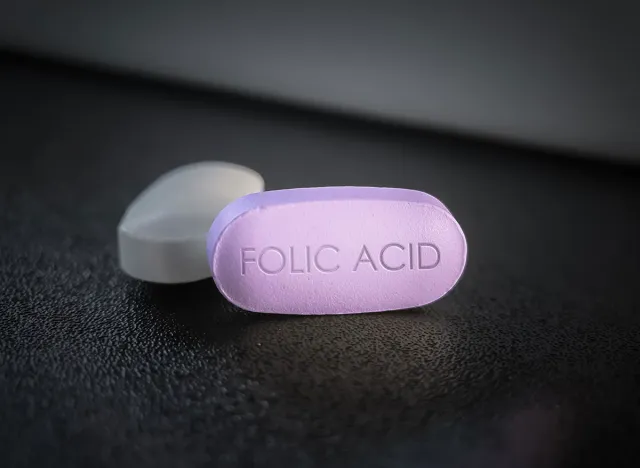 If you are a female and still menstruating (and ovulating), becoming pregnant may be a possibility, even if you are mentally "done" with the baby stage. The Center for Disease Control recommends that every woman who could become pregnant to get 400 micrograms (400 mcg) of folic acid every day to reduce the risk of birth defects. Since nearly 5% of reproductive-age women have an unintended pregnancy each year, it is wise to prepare your body for any potential for carrying a baby until you are officially in menopause.
Whole Foods 365 Brand Women's Multivitamin provides adequate amounts of folic acid, along with many other key nutrients that benefit females over the age of 40. Note that once menstruation stops, an iron-free multi may be more appropriate.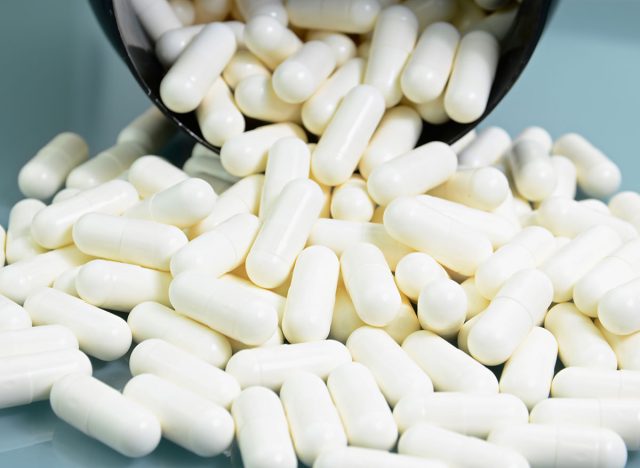 Creatine monohydrate may be thought of as a muscle building-supporting supplement in certain circles. But "evidence continues to emerge supporting creatine usage to support other forms of exercise, muscle maintenance with aging, mental health, and antioxidant functions in the brain to support cognition," Kelly Jones, MS, RD, CSSD, performance dietitian, shares. "Since bone and muscle loss for women may be its highest during perimenopause, supplementing before, during and after this time, along with incorporating a strength training routine, may reduce losses and therefore support increased independence and functionality in older years," she adds.
NOW Foods Creatine Monohydrate is a high-quality option that is free from any additives or preservatives. It is also vegan-friendly, non-GMO, and made without gluten.
Berberine may provide a wealth of metabolic health benefits, including the potential to support heart health and healthy blood sugars. This alkaloid that is naturally found in plants has been a popular herb in traditional herbalism. And once you are over 40 years old, including this supplement in your regimen may help you keep your body's health in check naturally.
Enzymedica's Berberine Phytosome offers 9.6x better absorption than standard berberine extracts, per the manufacturer. It comes as a small, easy-to-swallow capsule, making it incredibly simple to take. It is free from gluten, milk, casein, soy, egg, artificial colors, flavors, or GMOs too.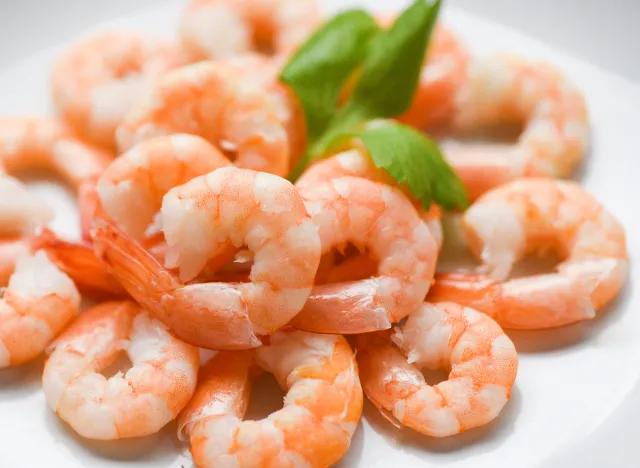 Astaxanthin is a naturally occurring carotenoid that can be found in foods shrimp, salmon, and other marine-sourced foods that are naturally pink in color. This unique compound can play a positive role in free radical protection, immune health, and even a reduction in the development of wrinkles.6254a4d1642c605c54bf1cab17d50f1e
NOW Nutrition Astaxanthin, Extra Strength provides 10 milligrams of astaxanthin per pill, fueling the body with this key carotenoid.
Yes, there is some data that suggests that collagen supplementation may help support healthy skin and reduce signs of skin aging, but this supplement can do more than boost your beauty.
Collagen peptides may increase the organic substance in the bone, ultimately supporting your bone health. Data published in the Journal of Clinical Densitometry showed that adding collagen peptides to a supplement routine that includes calcium and vitamin D may improve measures of bone health to a greater extent than only taking calcium and vitamin D. Since women can lose up to 20% of their bone density within 5 to 7 years following menopause, building your bone density before the menopausal transition starts is highly recommended.
Life Extension Gummy Science, Youthful Collagen (Cherry Vanilla) is a sugar-free collagen supplement that combines bioactive collagen with skin-moisturizing hyaluronic acid to help reduce the appearance of wrinkles. Bonus? One serving of these gummies provides 3 grams of fiber to help support gut health.
Lauren Manaker MS, RDN, LD, CLEC
Lauren Manaker is an award-winning registered dietitian, book author, and recipe developer who has been in practice for almost 20 years.
Read more about Lauren
Sources referenced in this article