We Tasted 7 Barbecue Sauces & This Is the Best
The winning sauce will take you to Flavortown.
Eat This, Not That! is reader-supported and every product we feature is independently vetted by our editors. When you buy through links on our site, we may earn a commission.
If thinking of barbecue sauce conjures up images of baby back ribs and smoked brisket, chicken doused in the stuff, or heavily marinated sausages, you're not wrong. But there's so much more this condiment can do. It's an excellent dipping option for french fries, a savory addition to perfectly cooked burgers, something different to drizzle over nachos, and an equally as tasty substitute for tomato sauce on pizza. Not to be cliche, but the possibilities for barbecue recipes really are endless; you just have to find a barbecue sauce that meets your tastebuds' preferences.
With spring in full swing and summer, aka grilling season, right around the corner, finding the best barbecue sauce is imperative for your outdoor eating spread. Fortunately, there are a ton of bottles to choose from. Unfortunately, like ketchup, even though most BBQ sauces look the same, store-bought sauces are hardly created equally. Ergo, we taste-tested seven barbecue sauces straight out of their bottles to determine, once and for all, which had the best flavor.
Here's how the BBQ sauces ranked, listed from worst to best based on taste. And for more, don't miss these 15 Classic American Desserts That Deserve a Comeback.
Mother Raw Organic Original BBQ Sauce
Per 2 Tbsp (34 g)
: 25 calories, 0 g fat, 220 mg sodium, 7 g carbs (1 g fiber, 5 g sugar), 0 g protein
Mother Raw's Organic BBQ Sauce is a plant-based batch made from organic date paste, tomato purée, unfiltered apple cider vinegar, minced onion, garlic, and a combination of spices like paprika and gray sea salt. I loved the better-for-you angle the brand was going for and can appreciate the spin on a traditional sauce. However, as far as taste goes, if I didn't know better, I would have assumed I was taking a spoonful of ketchup.
Hear me out: The sauce has a gentle tomato flavor profile and a somewhat grainy texture at room temperature. In my opinion, it's a solid healthy alternative to mainstream condiments, but I wouldn't categorize it as a barbecue sauce, and so it landed itself at number seven.
RELATED: Sign up for our newsletter to get daily recipes and food news in your inbox!
Jack Daniel's Original BBQ Sauce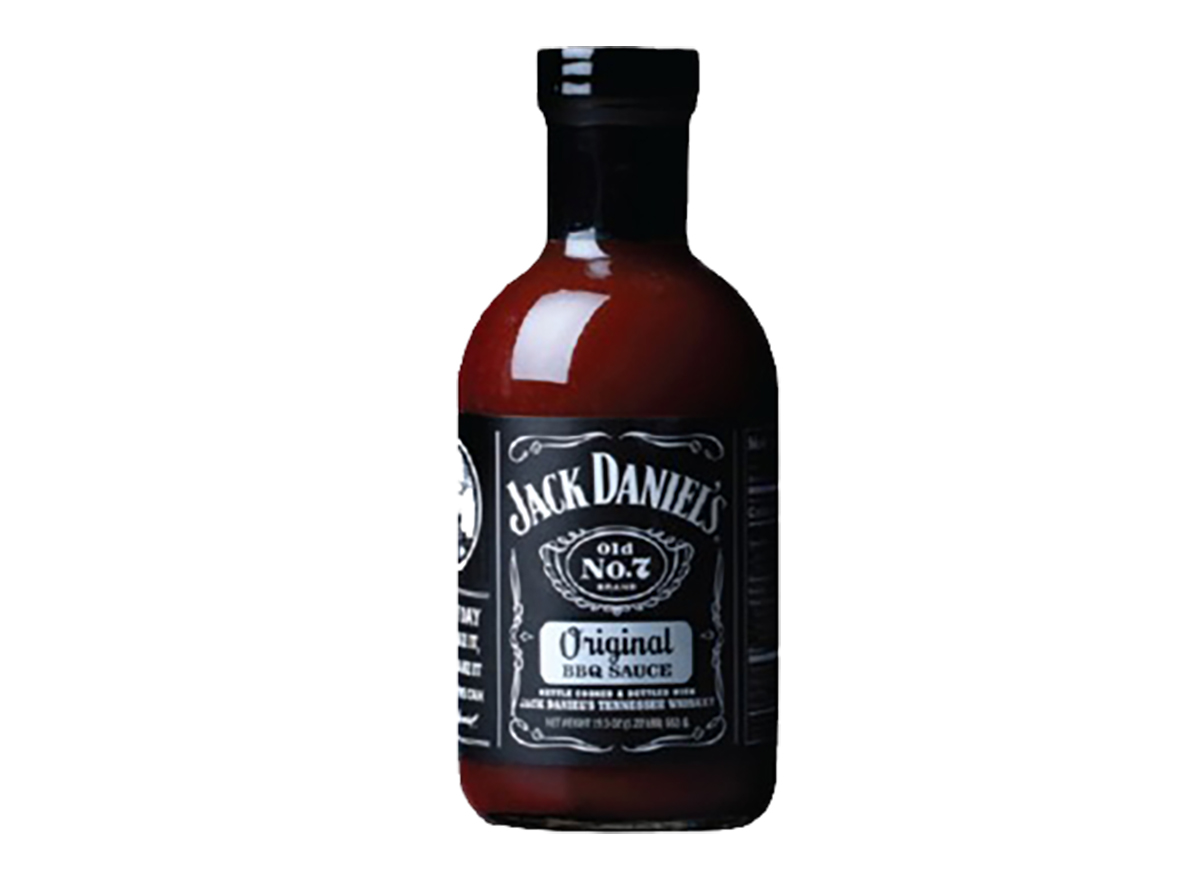 Per 2 Tbsp (37 g)
: 70 calories, 0 g fat, 160 mg sodium, 17 g carbs (0 g fiber, 15 g sugar), 0 g protein
My expectations were so high for Jack Daniel's original barbecue sauce, and, unfortunately, they weren't met. The sauce is super sweet and it's no wonder; brown sugar is the first ingredient on the nutrition label, and it also contains traces of pineapple juice which, I can only imagine, amplify the bottle's aforementioned sweetness. I was hoping for some finger-licking good, southern barbecue sauce, but there isn't a trace of savory in this sauce, and I missed it. Big time.
Hunt's Mesquite Molasses Barbecue Sauce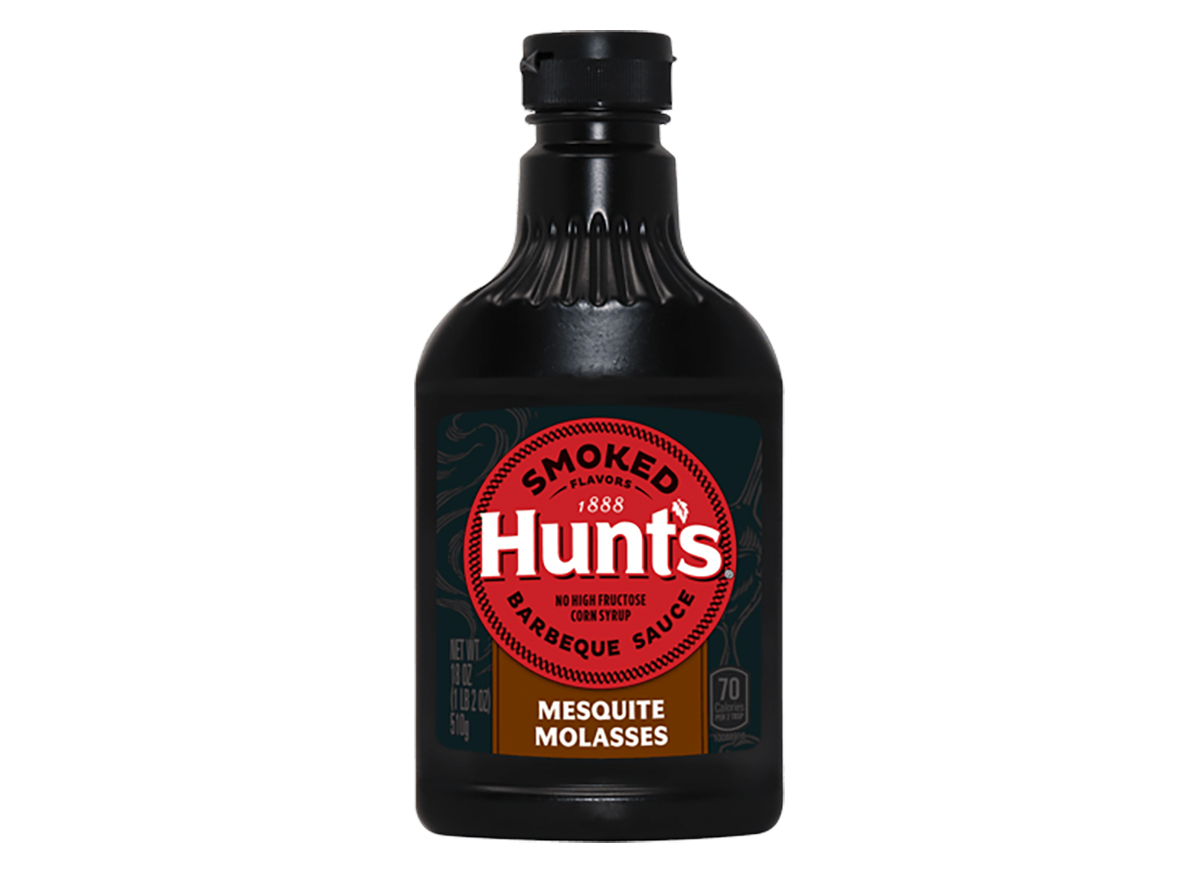 Per 2 Tbsp (36 g)
: 70 calories, 0 g fat, 160 mg sodium, 17 g carbs (1 g fiber, 13 g sugar), <1 g protein
It doesn't get much simpler than Hunt's Mesquite Molasses Barbecue Sauce, and I can appreciate the straightforward flavor. Made from a tomato purée base with cane sugar, molasses, distilled vinegar, mustard, Worchestire, and spices, the sauce is smokey, deep brown in color, and very traditional in taste. It's reliable and simple, the type of BBQ sauce you buy when you don't want any surprises.
RELATED: Your ultimate restaurant and supermarket survival guide is here!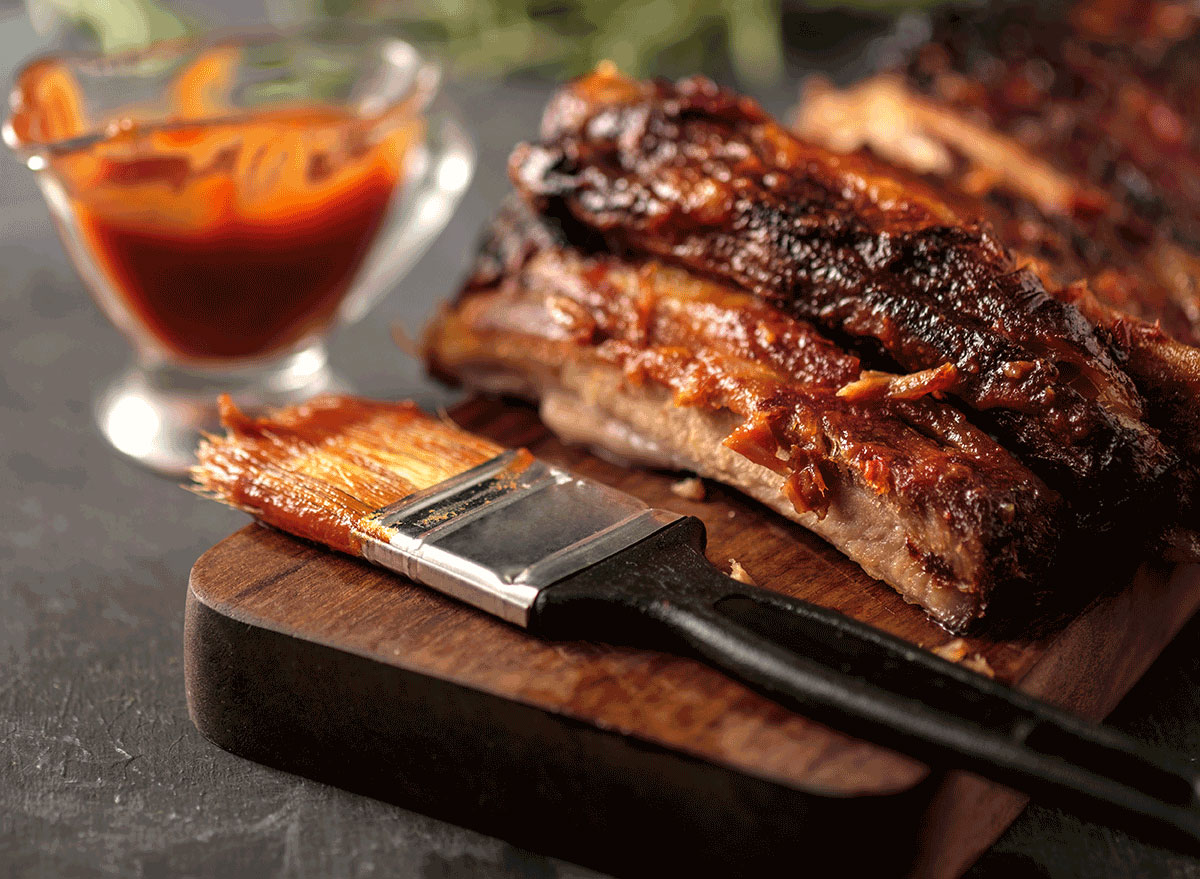 Per 35 g
: 70 calories, 0.5 g fat, 290 mg sodium, 14 g carbs (1 g fiber, 13 g sugar), 1 g protein
I'm a big fan of Simulate's vegan nuggets, so when I heard the brand rolled out a sauce to dip said nuggets in, I didn't hesitate to give it a try. It's described as a honey mustard-meets-BBQ sauce (even though there isn't any honey mentioned on its ingredient list), and I've never encountered a more accurate description of a product. Although it's far from a traditional barbecue sauce with its tangly, almost fruity flavor profile (the inclusion of mustard and mustard seed comes through), it's too good not to make this list's top five.
Open Pit Barbecue Sauce Made with Real Honey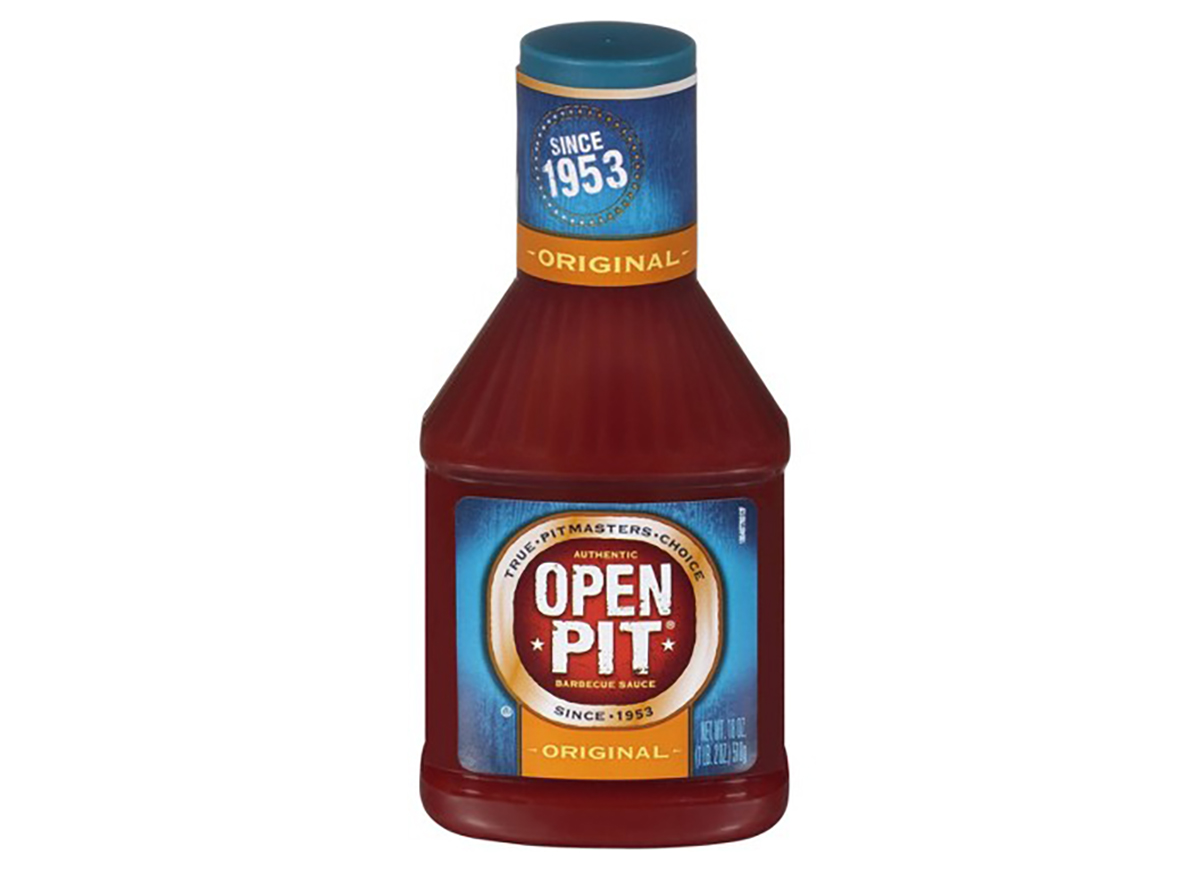 Per 2 Tbsp
: 45 calories, 0 g fat, 510 mg sodium, 10 g carbs (0 g fiber, 9 g sugar), 0 g protein
Open Pit's barbecue sauce is a marinade lover's dream. This condiment is bursting with tangy flavor and has a loose, liquid consistency that makes it perfect for marinating chicken or ribs or for drizzling over a burger. It will be a staple in my kitchen in the warmer months.
Sweet Baby Ray's Sweet 'n Spicy Barbecue Sauce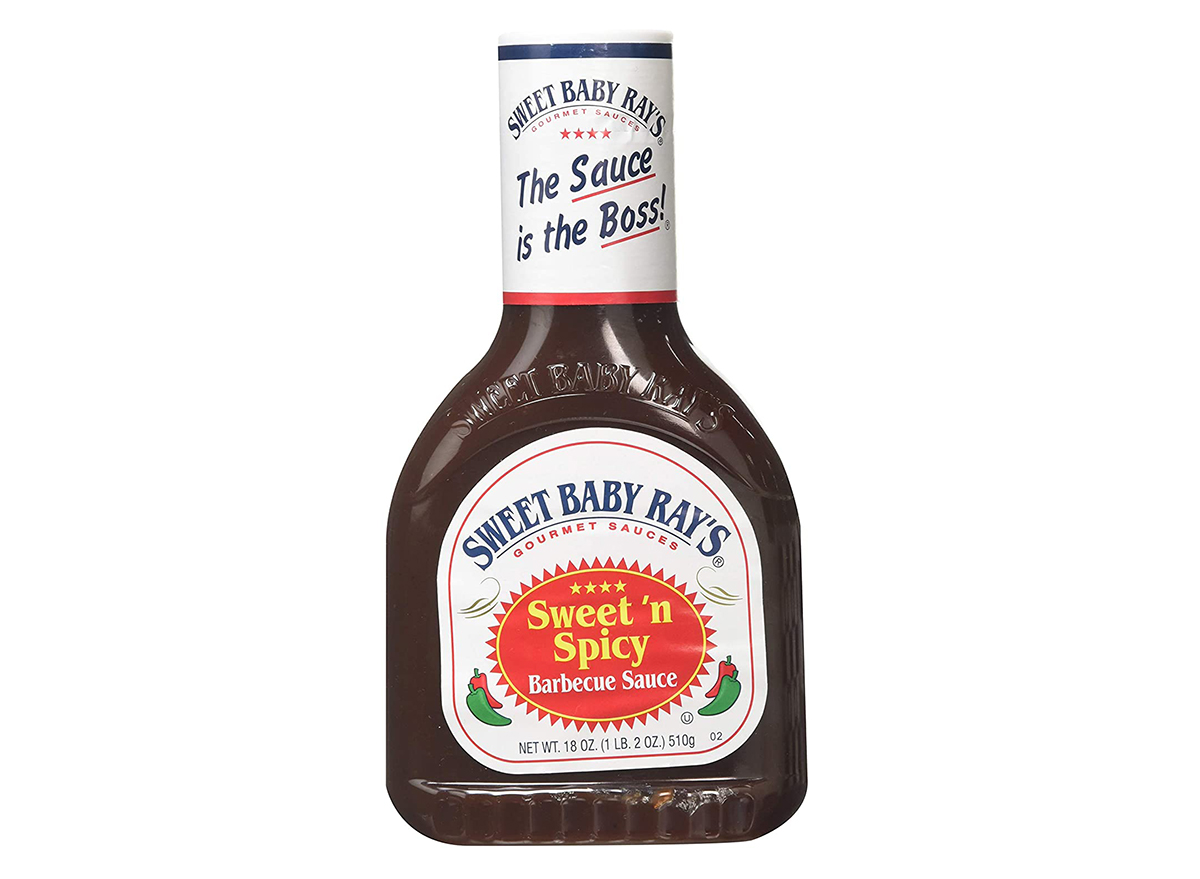 Per 2 Tbsp (36 g)
: 70 calories, 0 g fat, 290 mg sodium, 17 g carbs (0 g fiber, 15 g sugar), 0 g protein
The best adjective to describe Sweet Baby Ray's barbecue sauce is "bold." Fair warning, it does have a kick to it, thanks to the inclusion of jalapeño pepper in its formulation. But while the heat might be a little much for some, it isn't overpowering. Even those with an aversion to spice can enjoy it. The sauce is very thick, perfect for dipping (I paired it with tater tots and it was *chef's kiss*) and dousing your favorite BBQ meats in.
Guy Fieri's Kansas City Smoky & Sweet Barbecue Sauce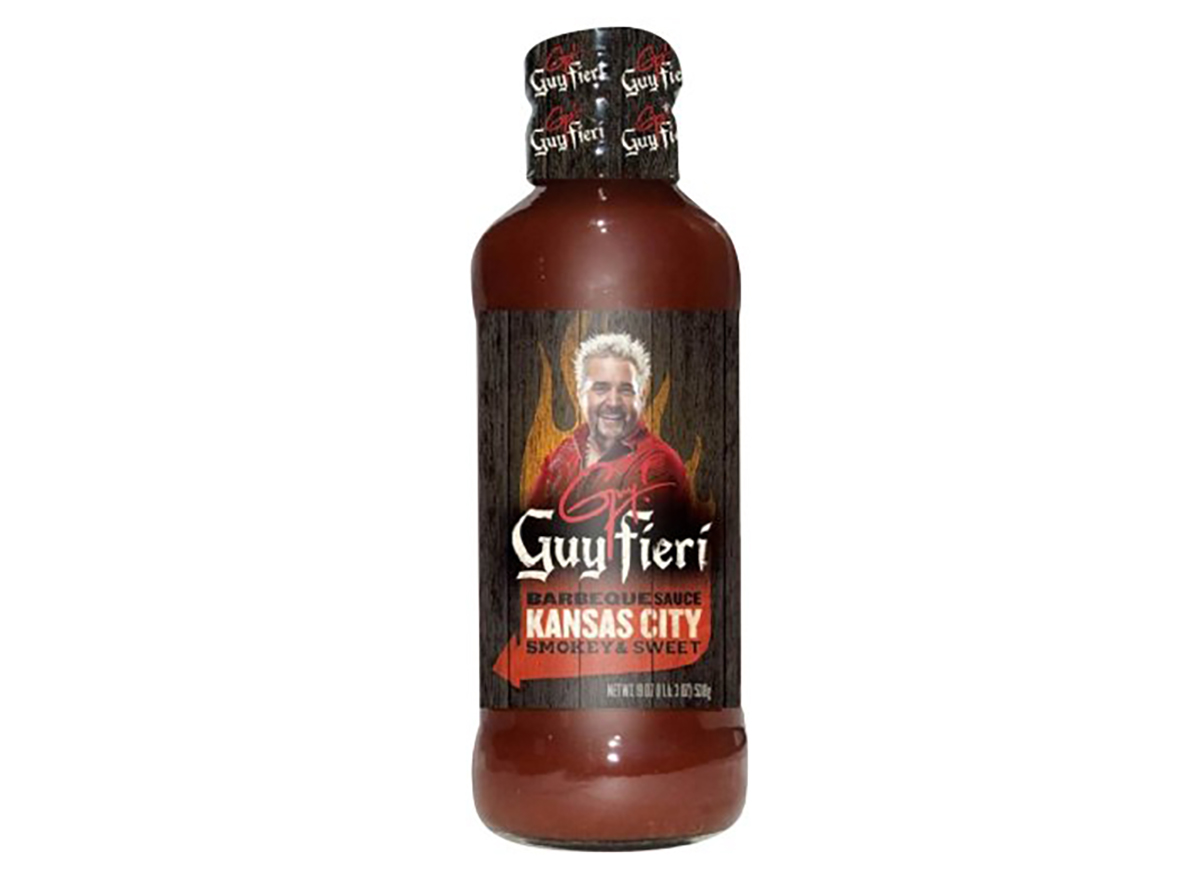 Per 2 Tbsp (28 g)
: 45 calories, 0 g fat, 270 mg sodium, 10 g carbs (0 g fiber, 9 g sugar), 0 g protein
Guy Fieri's Kansas City Smoky & Sweet Barbecue Sauce is your one-way ticket to Flavortown in a bottle. Not only was the Food Network star's sauce the darkest on my plate, but it was also the most flavorful. Somehow the food personality figured out a way to strike the perfect balance of sweet and smoky in a one-stop-sauce you can dip in, marinade with, and drizzle over meats and veggies alike. Buy this one in bulk, folks, because you're going to want to put this shiz on everything.
Julia Guerra is a freelance health and wellness writer.
Read more