We Tasted 9 Store-Bought Guacamoles & This Is The Best
This brand tastes the most like homemade.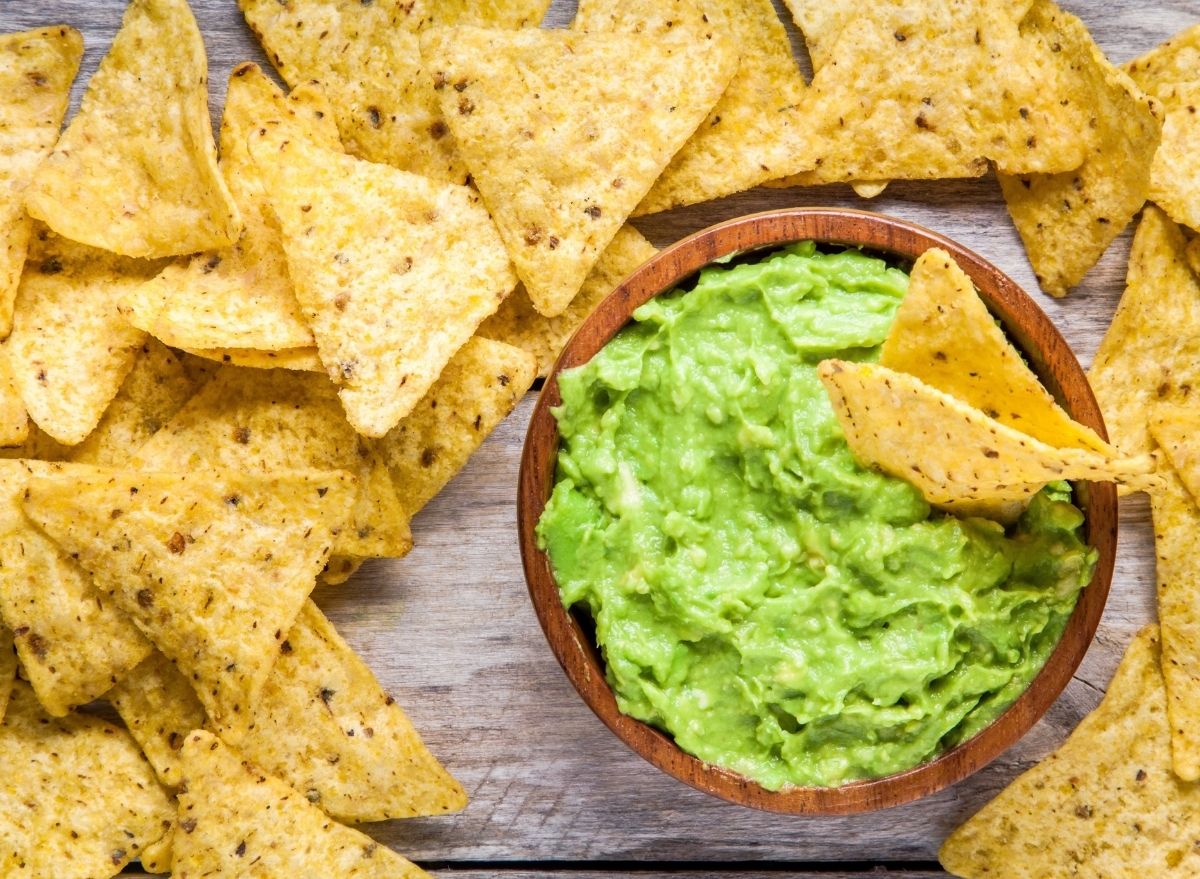 Guacamole is hands-down one of the best and healthiest dips, especially on taco Tuesdays with friends and family. While homemade guac with plenty of lime juice and a hint of salt is always best, sometimes that perfectly ripe avocado eludes you. Is it really okay to pick up a store-bought packaged guacamole?
If you're a guac lover, those tubs of various shades of green found in the deli section near the hummus could be daunting. Worry not, I set out to taste nine different store-bought guacamole brands to discover the best one, and the ones you should definitely skip!
After swiping up all of the tubs, I enlisted my family to help me with the taste test. The store-bought versions of the delectable dips often pale in comparison to the homemade stuff in looks, texture, and taste, but there are some hidden gems. Read on to find out which is the best store-bought guacamole when you have a craving and no ripe avocados.
We tasted:
Cabo Fresh Authentic Guacamole
Good Foods Chunky Traditional Guacamole
Herdez Traditional Guacamole
Sabra Classic with Lime Guacamole
Simple Truth Traditional Guacamole
Unbranded Homestyle Guacamole
Wholly Guacamole
¡Yo Quiero! Original Guacamole
Yucatan Authentic Guacamole
Plus, don't miss 6 Things You'll See at Costco This Year.
Worst: Wholly Guacamole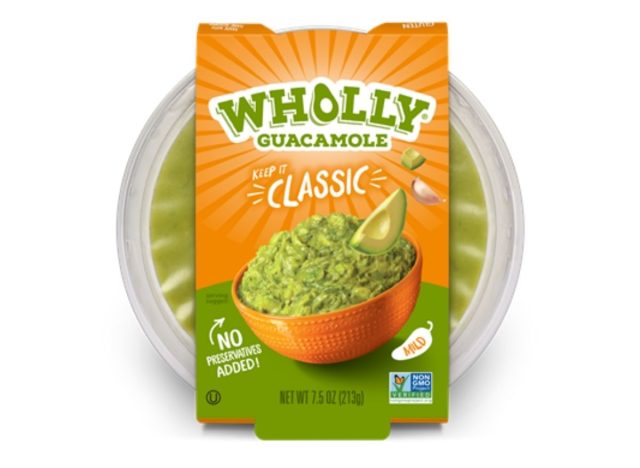 There was nothing good about Wholly Guacamole for my group of taste testers. The color was a little darker than I would have liked as if the avocados were overripe when the dip was made. The texture was too creamy and almost like baby food. When it comes to guacamole, I'm looking for something with a little bite and chew. The overall flavor was very one-note, and that note was garlic. The dip desperately needed a pop of citrus to brighten up the flavor.
¡Yo Quiero! Original Guacamole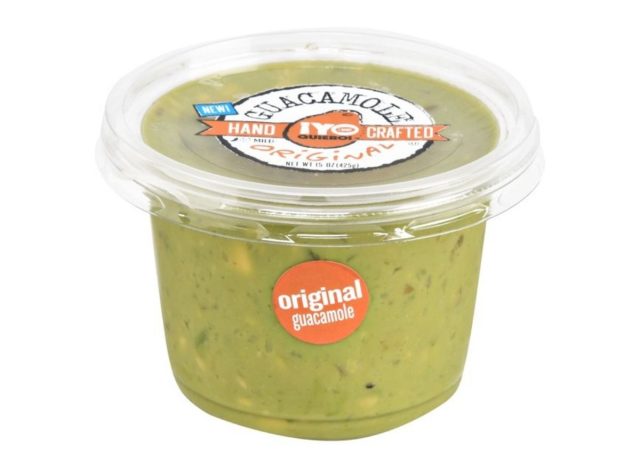 It really was a toss-up of which guacamole was worse, this one or Wholly Guacamole. The ¡Yo Quiero! Original Guacamole narrowly missed the bottom spot just because of the flecks of cilantro that are visible in the mix. Upon first opening the package I noticed that the guacamole looked very processed and was an unappealing shade of green. The flavor was okay with slightly more seasoning than the worst place guac, but overall this wouldn't be a guac I'll be adding to my cart anytime soon.
Cabo Fresh Authentic Guacamole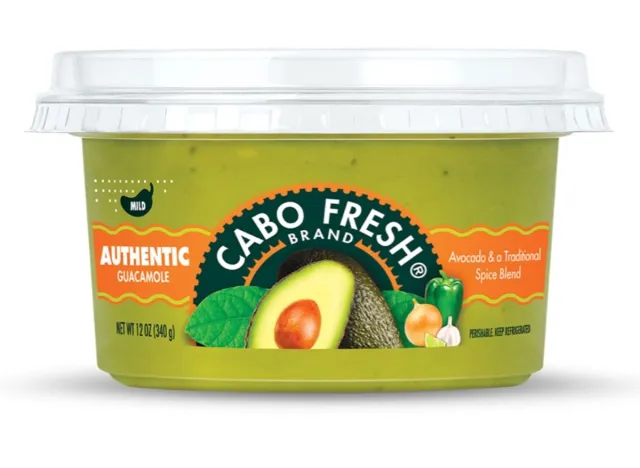 The Cabo Fresh Authentic Guacamole starts the trend of basic guacamoles on the list. There's nothing really special about this brand, but it will do as a layer in a Mexican dip, or as a side dish for taco night. The guac tasted fresh but had a strong red onion taste. Those who don't like onions will want to keep clear of this option. I also thought this needed more seasoning with a dash of salt and pepper.
Simple Truth Traditional Guacamole
This was the first actually surprising guacamole that I tasted. The color was a beautiful bright green that didn't look over-processed like so many of the other options. There were flecks of ingredients like tomato and onion that could be seen throughout the container. The texture was also nice with a bit of chunky avocado mixed into the smoother puree-like texture. This one really just needed a bit of lime to brighten it up, which can easily be added after buying.
Good Foods Chunky Traditional Guacamole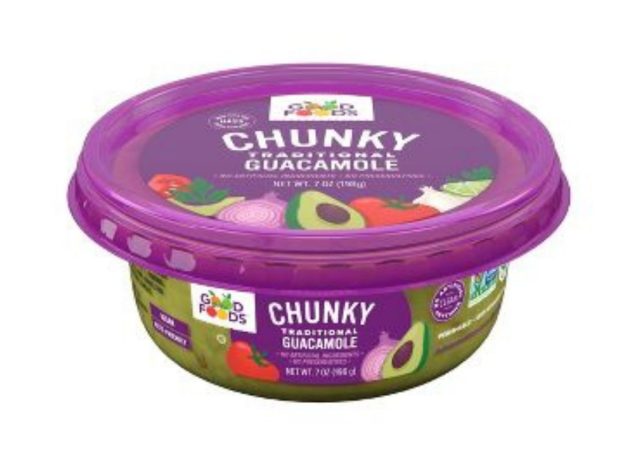 Coming in close to the middle is the Good Foods Chunky Traditional Guacamole. While there weren't as many chunks as I would have liked or anticipated from the brand name, I was pleasantly surprised by the taste. There was a strong cilantro flavor, but it didn't overpower the subtle avocado. The jalapeño and garlic were a nice addition to the mix without being too spicy or aggressive.
Yucatan Authentic Guacamole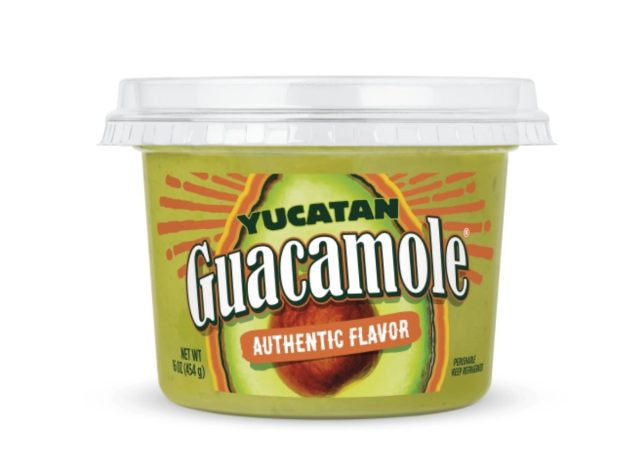 The Yucatan Authentic Guacamole narrowly missed making it into the top three. The guacamole had visible avocado chunks throughout the container, but I couldn't really see any of the other ingredients. There was a slight vinegar taste that brightened the dip up, but I would have rather had citrus to cut through the fattiness of the guacamole.6254a4d1642c605c54bf1cab17d50f1e
Unbranded Homestyle Guacamole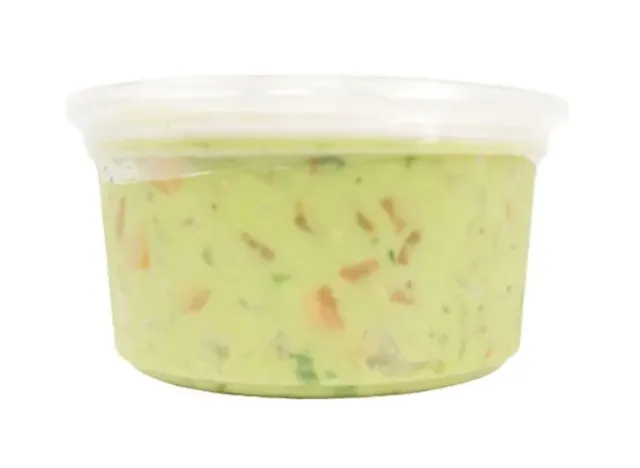 For those who have been shopping at Kroger either in-store or online, the Unbranded Homestyle Guacamole is a home run. The mild spice-level guacamole does have a bit of a kick at the end thanks to jalapeños. There are plenty of chunky bites with big pieces of avocado, tomatoes, and onions mixed in. This one just needs a slight pinch of salt to liven it up before mixing it into anything or adding it to a taco night buffet.
Sabra Classic with Lime Guacamole
Sabra is known for its hummus but it should also be equally as known for its guacamole. The vibrant green dip was the closest to a color that resembled fresh guacamole. The creamy dip wasn't overly processed where all of the distinguishable ingredients were no longer identifiable. There were minced pieces of tomato and cilantro throughout, and the dip had a tangy lime flavor that cut through the savoriness well.
Best: Herdez Traditional Guacamole
The number one choice for store-bought guacamole is the Herdez Traditional Guacamole. The container of dip had big pieces of bell pepper and cilantro running throughout. It was well seasoned and had a slight kick at the end thanks to the addition of spicy serrano peppers. The taste was the most akin to fresh guacamole. This is the option I'll be picking from here on out to use as a side or as a topping for tacos.
Megan duBois
Megan duBois is a travel and lifestyle journalist with bylines across the internet and in print at Delish, Conde Nast Traveler, Travel + Leisure, Yahoo Lifestyle, and more.
Read more about Megan