We Tasted 7 Strawberry Ice Creams & This Is the Best
This shocking brand delivered the most real fruit flavor.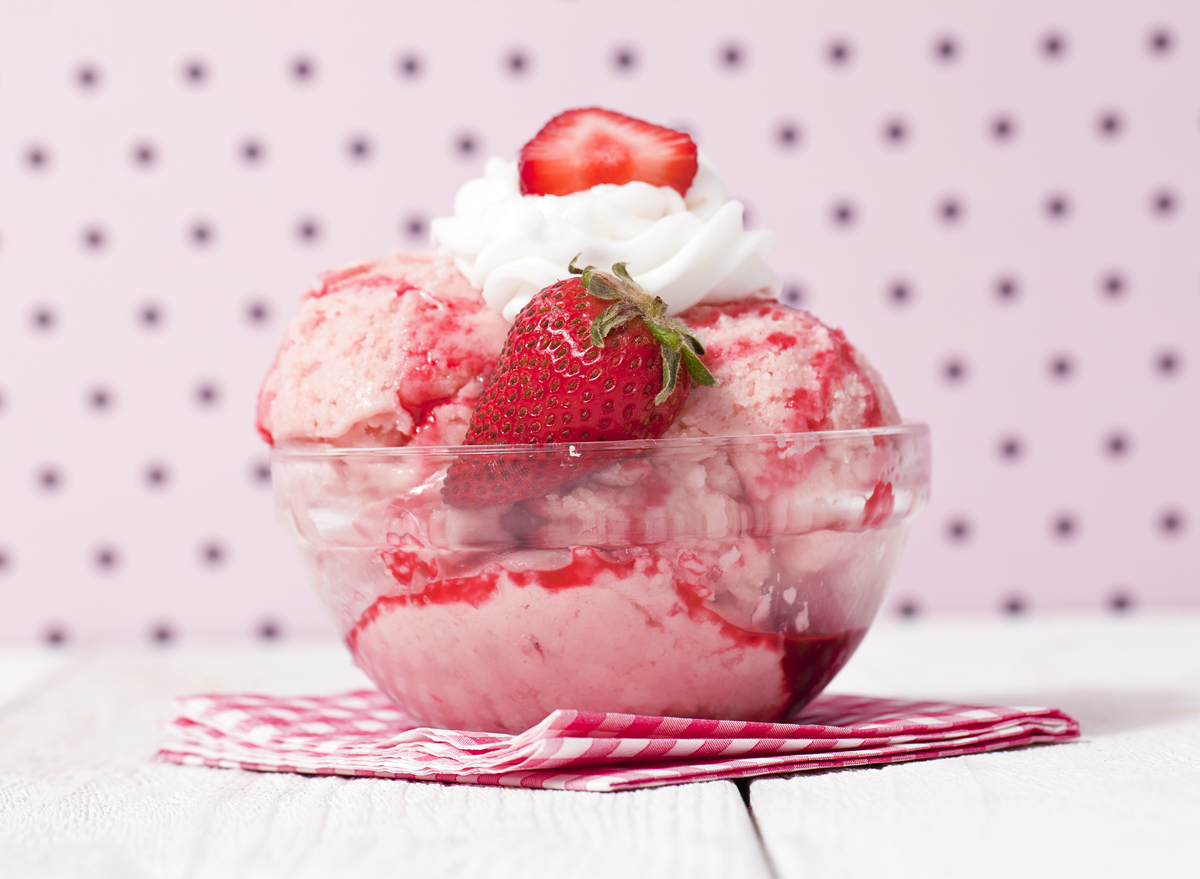 Ice cream is one of my favorite indulgences. The cold treat is refreshing on a hot day, and it always hits the spot after a long day at work. In fact, a survey by Cumberland Farms, admittedly a dairy-producing company, found that 95% of respondents ate ice cream all year long. When it comes to flavors, I love everything from vanilla and chocolate to more elaborate concoctions like those from Jeni's Splendid Ice Creams or Ben and Jerry's.
One type of ice cream that's always in my freezer is strawberry. The humble, but delicious strawberry ice cream is often forgotten when people roam the grocery store ice cream section, but I'm here to say it should be a staple in your house like it is mine. In fact, I'm willing to bet that you haven't had strawberry ice cream in a while and have forgotten how much you actually love it.
To find out which strawberry ice cream is the absolute best, I hit up a few grocery stores in my city to round up all of the brands I could. Then I gather together some tasters and we ranked them from worst to best. Read on to discover the shocking brand that we deemed the best-tasting strawberry ice cream on the grocery store shelves. Also, check out: We Tasted 10 Vanilla Ice Creams & This Is the Best!)
Worst: Rebel Ice Cream, Strawberry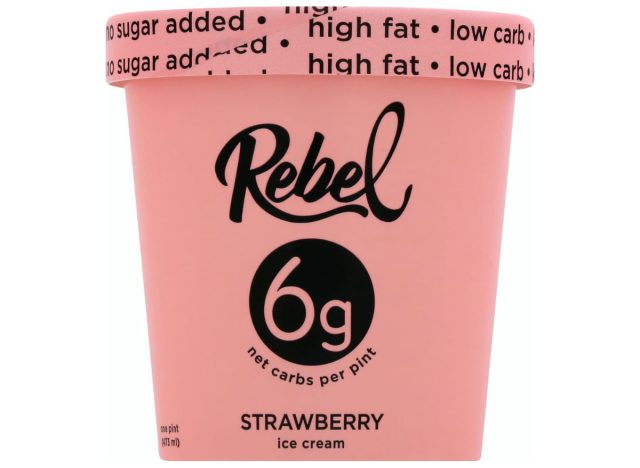 Rebel Ice Cream is known as a keto-friendly ice cream brand with its high-fat, low carb, and no sugar added flavors. It's a great alternative for those who are looking for ice cream to fit a specific diet, but if you're just looking for a standard strawberry ice cream I would pass on this. The ice cream had a light strawberry taste and had a sort of bitter, artificial strawberry flavor compared to the other brands I tried.
Great Value Strawberry Ice Cream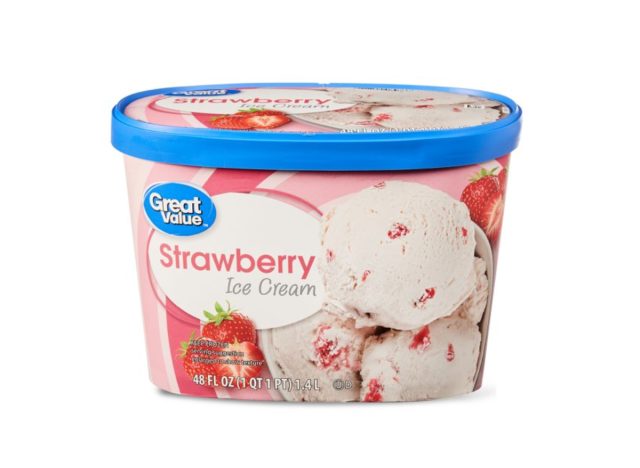 Typically store brands like Great Value from Walmart taste similar to the name-brand products but just not quite as good. That's the case here with the Great Value Strawberry Ice Cream, which had a gritty texture that all of the other ice creams didn't have. There were no distinguishable chunks of strawberry in the ice cream, but it did have a sweet strawberry taste. If you're an avid Walmart shopper on a budget this is just okay, but there are better brands available in the next case over.
Breyers Ice Cream, Natural Strawberry
Natural strawberry is a great way to describe the taste of Breyers ice cream. Typically strawberries don't have a super concentrated flavor, but a more light and fruity flavor and that's exactly what this ice cream was. There were small chunks of fruit throughout the tub of ice cream, but we wish they were slightly bigger to make a stronger flavor impact. Overall, I would buy this again, especially when Breyers Ice Cream is on sale.
Tillamook Oregon Strawberry Ice Cream
This was the ice cream I was most looking forward to after trying another Tillamook flavor a while ago. While we weren't disappointed by the ice cream, I think there are better options. When I opened the container the color was very pale pink, almost like a baby pink. The consistency of the ice cream was incredibly smooth and creamy, which was nice. There were also large pieces of diced strawberries in each bite which was also enjoyable. I did want a stronger strawberry flavor from this ice cream. In the end, I thought this tasted more like a strawberry and cream flavor versus just straight strawberry.
RELATED: What Happens to Your Body When You Eat Strawberries6254a4d1642c605c54bf1cab17d50f1e
Blue Bell Ice Cream, Strawberry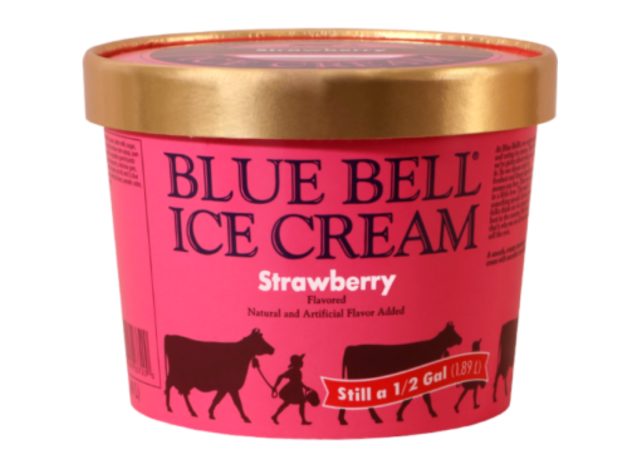 The bright color on the outside of the container was a major indicator of what was to come when we popped the lid open on the Blue Bell strawberry ice cream. The hot pink ice cream was very creamy and had chunks of strawberries in every bite. One thing that knocked this ice cream down a bit was that it melted a little faster than the top two brands. On a hot summer day, the last thing anyone wants to eat is semi-melted ice cream.
Häagen-Dazs Strawberry Ice Cream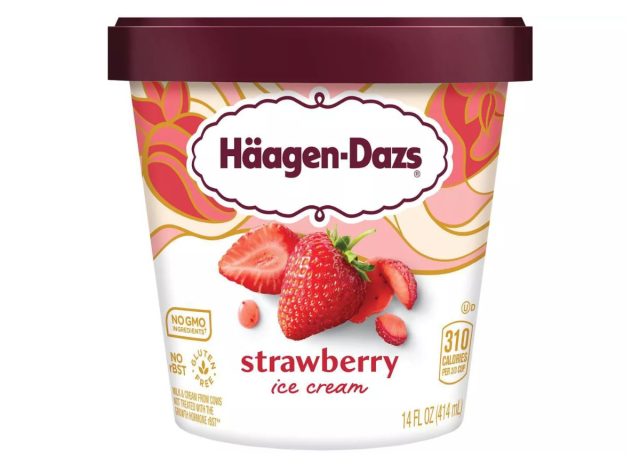 Häagen-Dazs is an iconic ice cream brand that makes classic and creative flavors that are beloved by many. The brand's strawberry flavor is about as authentically strawberry as you can get. The ice cream base was creamy and pale pink. Throughout the pint, there were big and small chunks of real strawberries. When I tasted this for the first time it tasted like I had just bit into a fresh Florida strawberry.
Best: Publix Premium Ice Cream, Classic, Strawberry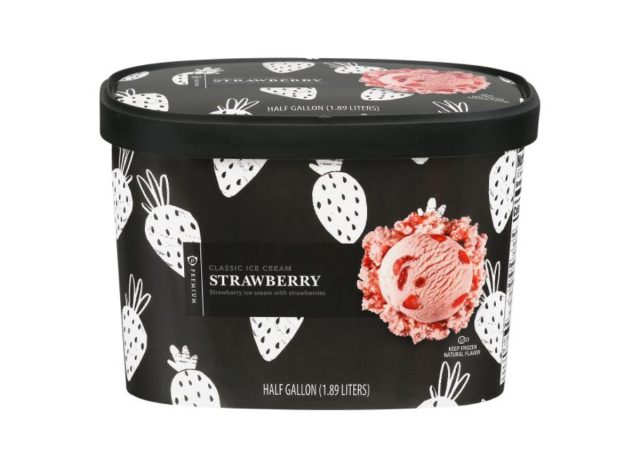 Those who live in the South know how good most Publix grocery store brand foods are, including the scrumptious strawberry ice cream. The pink ice cream is filled with chunks of real strawberries, making for a more intense flavor. The texture is fantastic without a hint of grittiness. The only bad part about this ice cream is that it's not available throughout the country for everyone to try.
Check out some more of our exclusive taste tests:
We Tried Every Girl Scout Cookie & This Is the Best
We Tasted 7 Brownie Mixes & This Is the Best!
Megan duBois
Megan duBois is a travel and lifestyle journalist with bylines across the internet and in print at Delish, Conde Nast Traveler, Travel + Leisure, Yahoo Lifestyle, and more.
Read more about Megan