We Tasted 6 Most Popular Ben & Jerry's Flavors and This Is the Best
Think your favorite pint came out on top?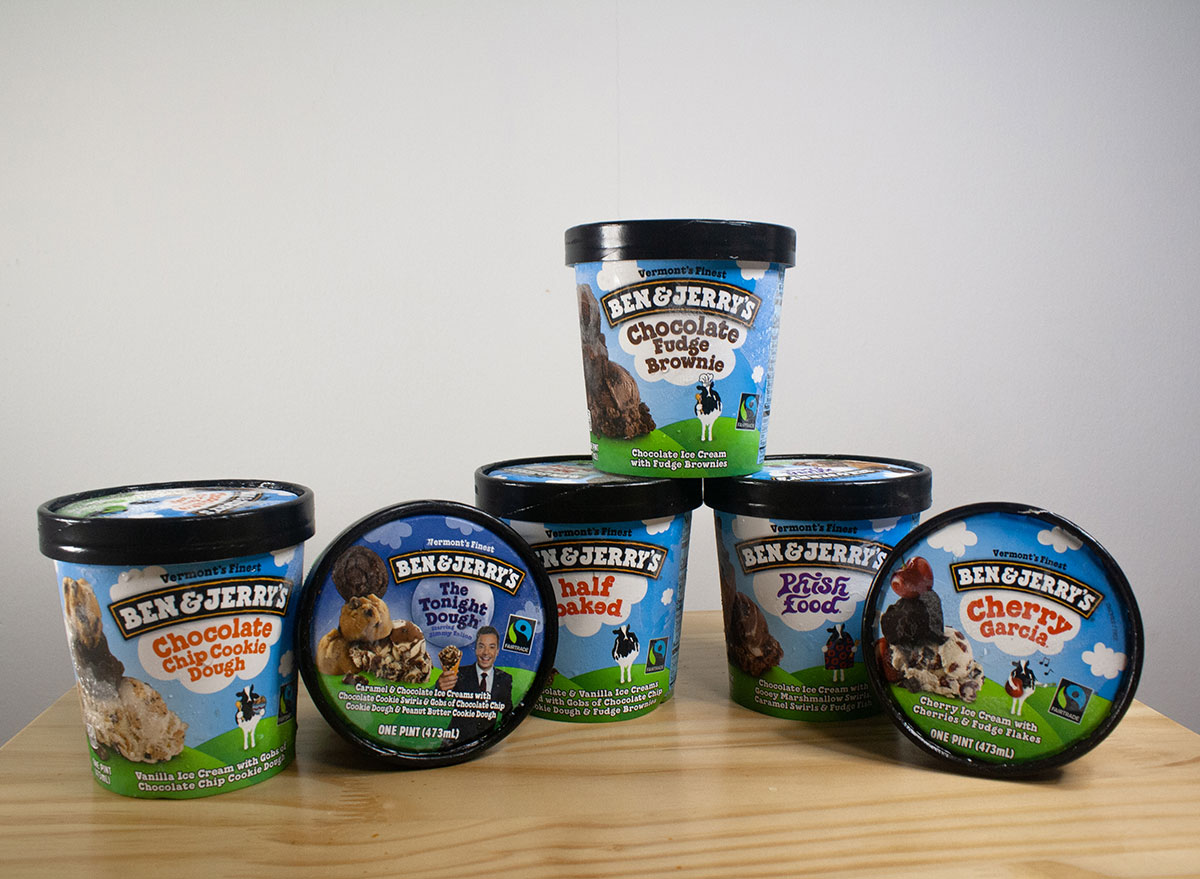 Is there anything that can soothe your soul better than a bowl of ice cream? It's one of life's sweetest pleasures, and if there's one brand you know that never disappoints, it's Ben & Jerry's. There are tons of flavor options and frankly, it's hard to decide exactly which Ben & Jerry's pint you want to take home from the freezer section of the grocery store.
So to best help you narrow down the options, we decided to try some of the most popular flavors. We rounded up the top six most popular Ben & Jerry's flavors, tasted them, and ranked the pints from the not so bad to the absolute best. In alphabetical order, here are the Ben & Jerry's ice cream flavors we tasted:
Cherry Garcia
Chocolate Chip Cookie Dough
Chocolate Fudge Brownie
Half Baked
Phish Food
The Tonight Dough
Warning: It's very easy to eat any of these pints in just one sitting. They're that good. Now, uncover which Ben & Jerry's ice cream flavor is the true star of the brand, and to learn more about beloved sweets, check out which 15 Classic American Desserts That Deserve a Comeback.
Chocolate Fudge Brownie
One scoop of this bad boy, and you're in for a mouthful of chocolate ice cream and fudge brownies. One reviewer said they "could taste the chocolate just by looking at it," as all of our tasters described this flavor as "a chocolate lover's dream."6254a4d1642c605c54bf1cab17d50f1e
"The fudge brownie bits give some nice texture, but I couldn't eat a bowl of this. It's just chocolate overload," one taster said.
The consensus?
You might only be able to handle a few bites if you aren't a huge chocolate fan, but if that's your favorite type of ice cream, then you've hit the jackpot.
Chocolate Chip Cookie Dough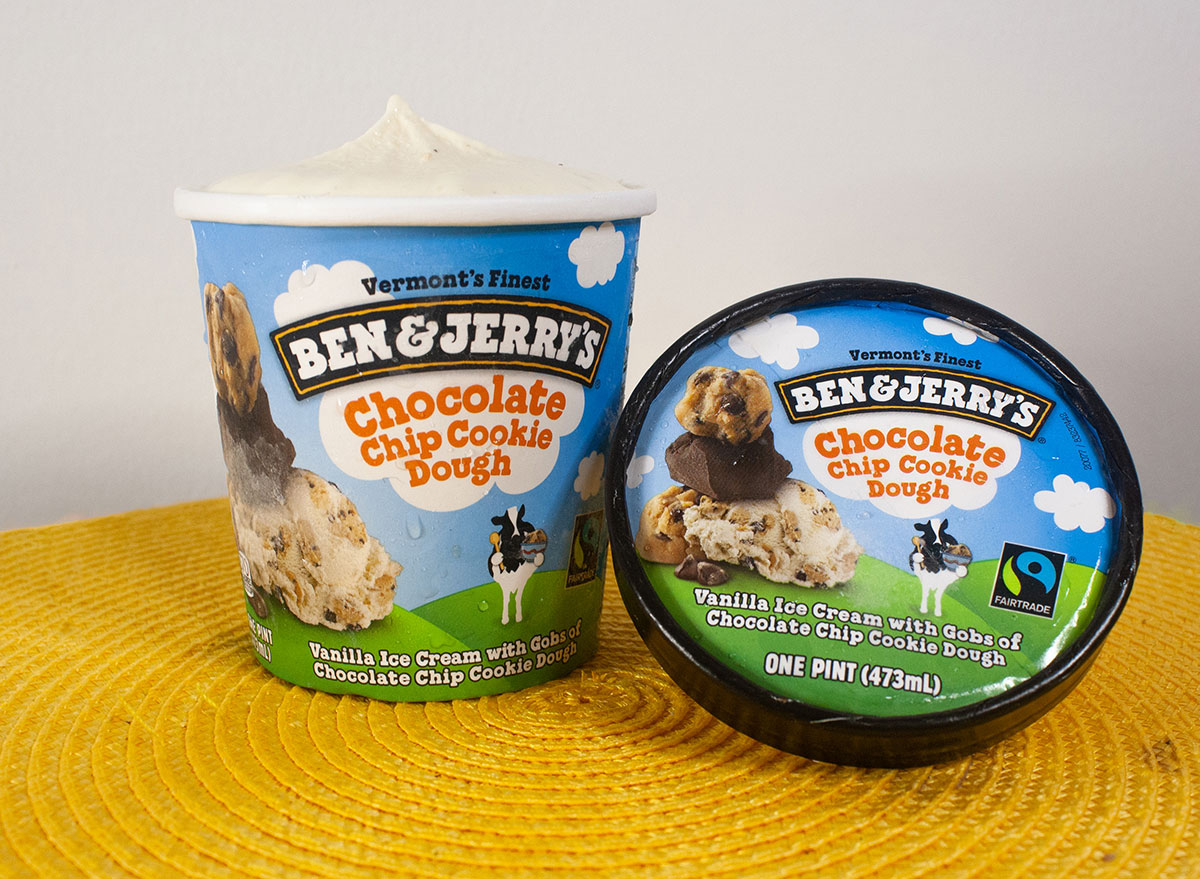 If vanilla is more of your vibe, you'll likely enjoy Chocolate Chip Cookie Dough, as it's vanilla ice cream loaded with gobs of—you guessed it—chocolate chip cookie dough. While most of the tasters agreed this is more of a "basic" flavor choice compared to other, more exciting pints Ben & Jerry's offers, its simplicity was a hit with one taster.
"This was my go-to flavor as a kid, so for me, it's super nostalgic," one taster shared. "It's a truly classic flavor—sweet vanilla with a ton of cookie dough. You can't go wrong with it."
Enough said!
The Tonight Dough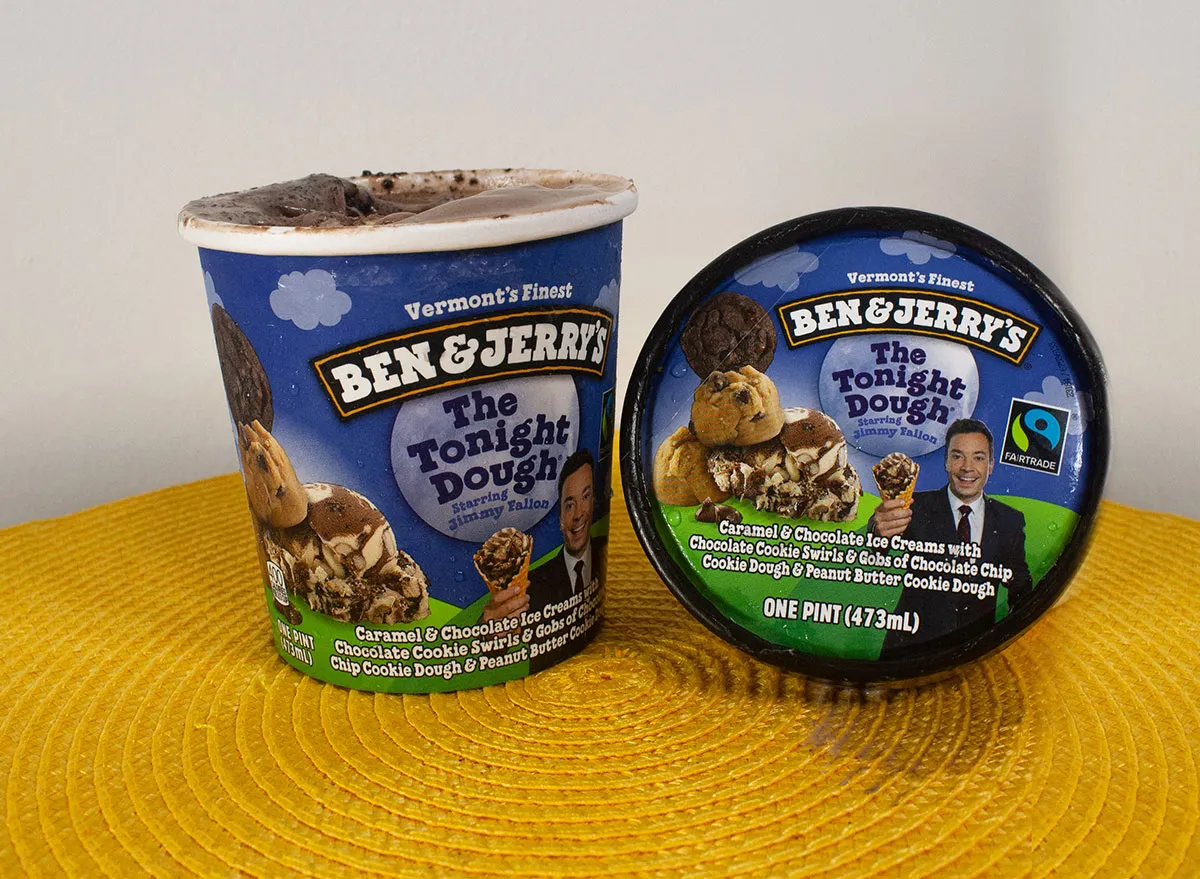 What's unique about this flavor is that it was inspired by The Tonight Show Starring Jimmy Fallon, with host Jimmy Fallon working closely with the Ben & Jerry's team to create this masterpiece flavor.
So what's in a pint?
Well, one scoop is made up of caramel and chocolate ice creams, chocolate cookie swirls, and gobs of both chocolate chip cookie dough and peanut butter cookie dough.
Yes, The Tonight Dough is loaded up, to say the least, and as one taster noted, "there's a lot going on, but somehow, it all works well together."
Another taster was pleasantly surprised with the peanut butter cookie dough, which isn't really a commonly used ice cream fix-in. But it should be, based on this pint!
(Looking for more helpful tips? Your ultimate restaurant and supermarket survival guide is here!)
Half Baked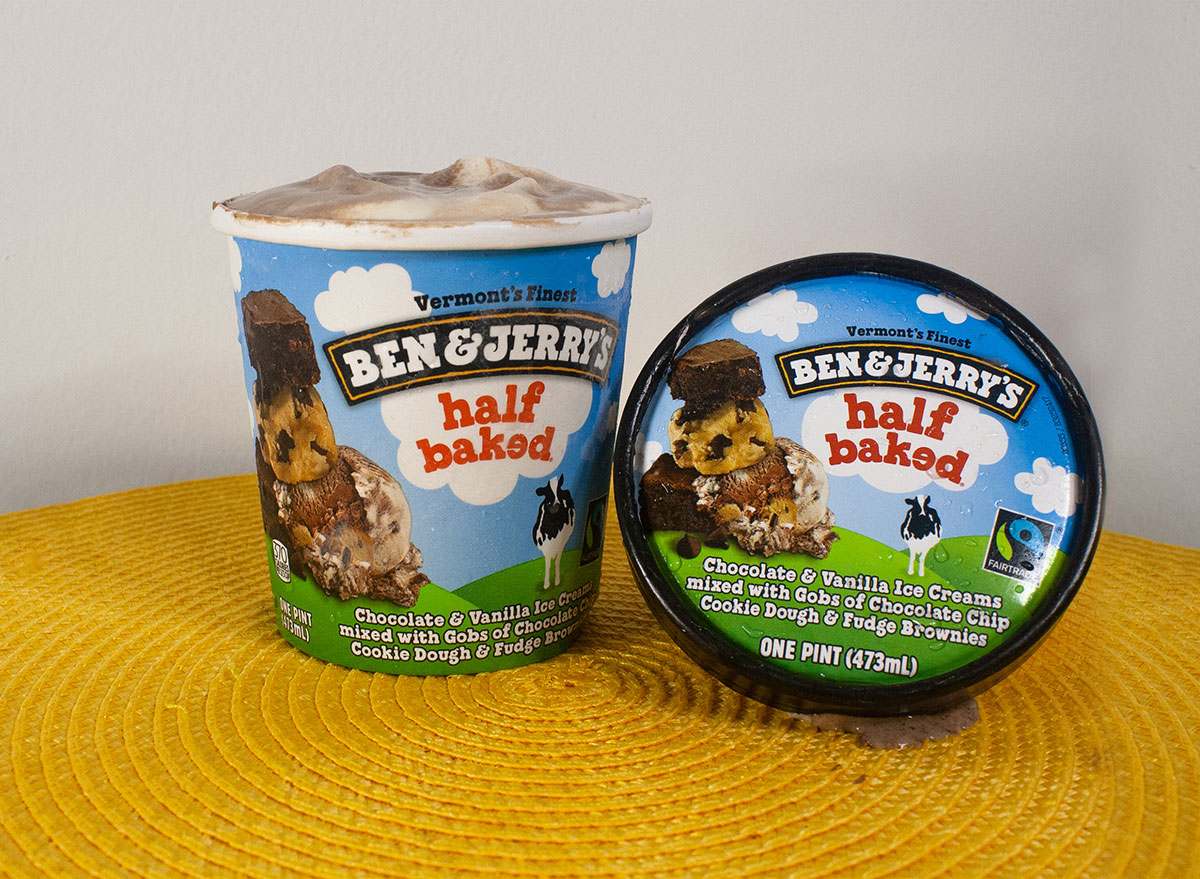 Oh, Half Baked. Does it get any more perfect than this classic flavor? It brings together chocolate and vanilla ice creams, chocolate chip cookie dough, and fudge brownies.
As one taster explained, "this is my all-time favorite flavor," adding that the cookie dough and brownies are "the legendary duo you never knew you needed together until you eat this ice cream."
The other tasters, though, felt the ice cream leaned more toward the chocolatey side and the vanilla isn't as prominently highlighted.
"This ice cream is too chocolatey for me—needs more vanilla to balance it out. The brownie does add a nice bit of texture," another taster said.
Cherry Garcia
Cherry Garcia is the brand's "euphorically edible tribute to guitarist Jerry Garcia and Grateful Dead fans everywhere," and, fun fact, is the first ice cream named for a rock legend. So yeah, it's kind of a big deal.
One taster raved about how the ice cream is "the perfect blend of cherry and chocolate," as it contains actual cherries and fudge flakes, and pointed out how tasty the cherry ice cream itself is.
Another taster seemed to really be rocked by how delicious they found the ice cream to be.
"This tastes just like the chocolate-covered cherry candies I ate growing up. There are chunks of actual cherry I didn't expect," the taster said. "I can't believe I went so long in my life without ever eating this flavor before."
Hey, it's never too late to join the party. Clearly, it's with good reason Cherry Garcia is the brand's most famous of the fan-suggested flavors!
Phish Food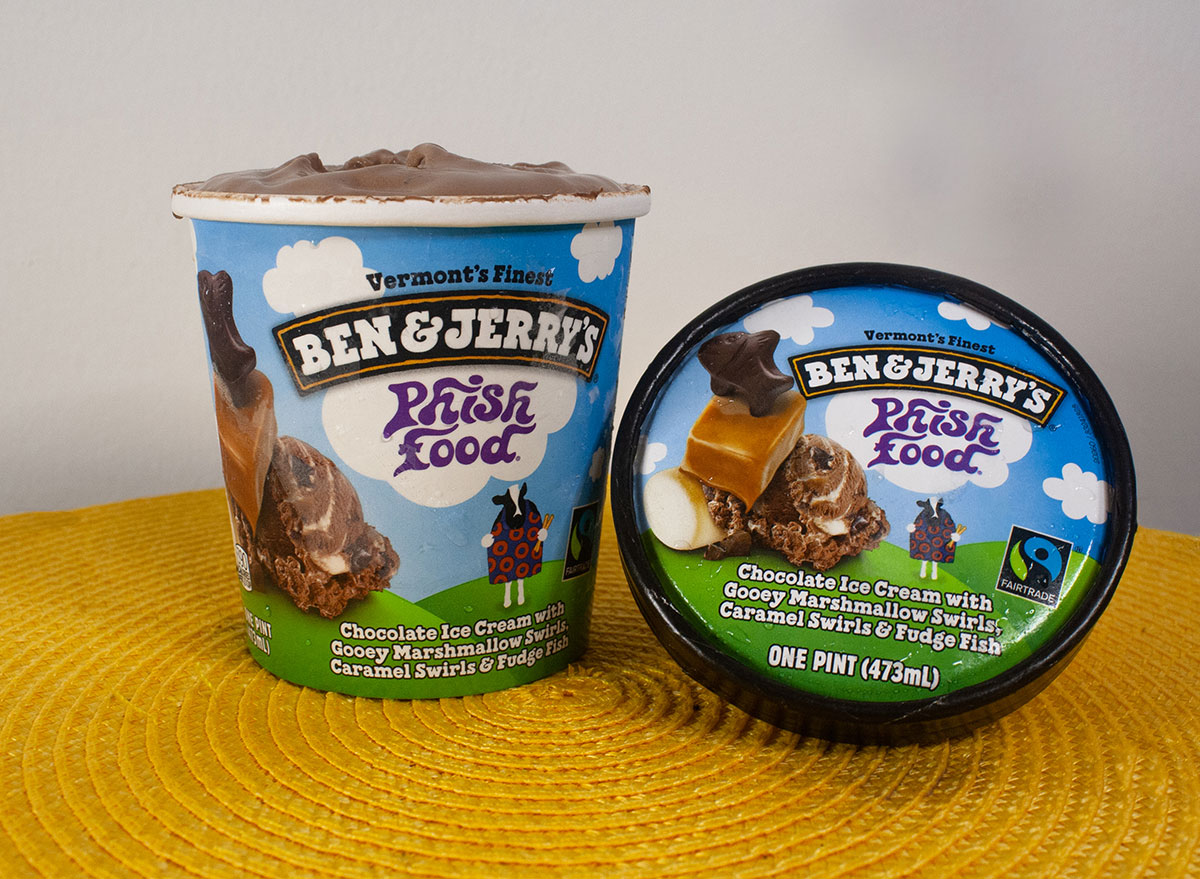 And now we've reached the No. 1 Ben & Jerry's flavor. Of all the most popular options, Phish Food came out on top as the best of the bunch. Here, gooey marshmallow swirls, caramel swirls, and fudge fish are mixed into chocolate ice cream.
One taster said this flavor was their favorite, raving that they are "a big fan of the caramel and marshmallow combination."
Another taster pointed out that the caramel had a nice texture, but as someone who isn't a fan of caramel, felt the swirl to be a bit too overpowering.
Overall, the complexity of tasting caramel and marshmallow together along with the sudden crunch of the little chocolate fish makes for an unforgettable pint. And once you try Phish Food, you'll understand!
Jennifer Maldonado
Jennifer Maldonado is a senior editor at Eat This, Not That!, specializing in food and health content.
Read more about Jennifer