11 Best Trader Joe's Breakfast Items for Weight Loss
Add these weight-loss-friendly items to your Trader Joe's shopping cart.
As you walk through the grocery store navigating food choices that will enable weight loss, it can feel a bit tricky. There are so many options to begin with, and it may not be clear to you what makes a food good for weight loss. If this sounds all too familiar, you're certainly not alone. Especially when it comes to breakfast, pastries, sweetened cereals, and coffee drinks may come to mind as the easiest options. Luckily, Trader Joe's has a great selection of delicious, versatile weight-loss-friendly breakfast items to choose from. So we've rounded up 11 of the best Trader Joe's breakfast foods for weight loss to add to your shopping list pronto.
The below list is a great starting point for your next trips to Trader Joe's, but if you're curious how other items fit into your weight loss diet, we have some tips for you. Your calorie intake is a big factor in promoting weight loss. This means you should look for food items that fit within a reasonable calorie budget and still allow plenty of space for you to enjoy a wide variety of other foods. Next, you'll want to focus your calories on foods with high protein and fiber content. These nutrients increase satiety, helping you feel fuller for longer. Lastly, avoid foods and drinks with empty calories, like added sugar and alcohol. These nutrients can significantly increase calories while providing you little nutritional value in return.
This list is only the beginning of healthy items offered at Trader Joe's. In addition to picking up some of these foods, load up your basket with plenty of fruits, veggies, and lean proteins, and check the frozen section for convenience items that make for low-maintenance meals. Frozen vegetables and fully cooked proteins that can be simply heated and enjoyed are examples of using frozen foods to make meal prep a little easier. Here are the 11 best Trader Joe's breakfast foods for weight loss.
Whole Wheat English Muffin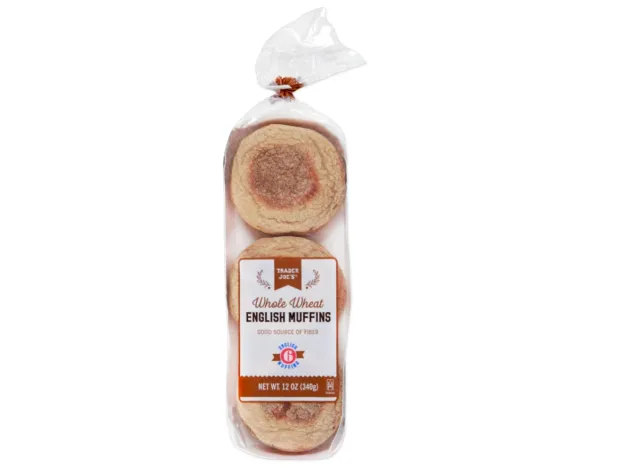 Contrary to what many think, bread can be part of a successful weight loss diet—especially when that bread contains fiber. These Whole Wheat English Muffins from Trader Joe's pack 4 grams of fiber per serving and are only 130 calories. They even provide 5 grams of protein! Smear an English muffin with your favorite nut butter for some healthy fats and a protein boost, or use it to make a homemade breakfast sandwich with eggs, cheese, and arugula.
Greek Nonfat Yogurt, Plain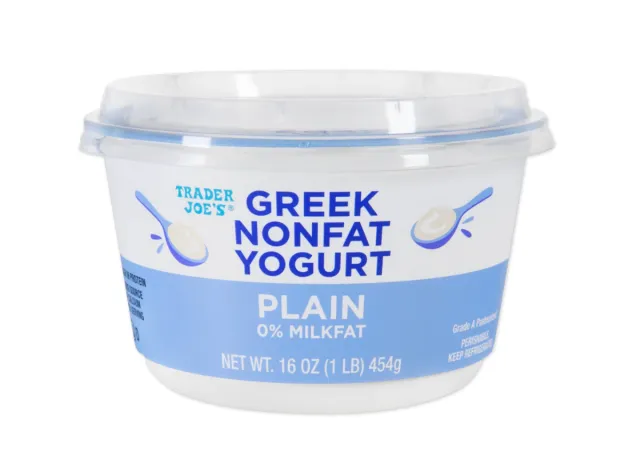 Greek yogurt is an impressive source of protein, and it's so versatile. When buying yogurt, go with plain or low-sugar flavored options. You may be surprised to learn some flavored yogurts can have over 20 grams of sugar per serving! Use this Greek Nonfat Yogurt from Trader Joe's to create a parfait with nuts and fruit, or blend it into a fruit smoothie as a protein source. With minimal prep involved, Greek yogurt makes for an easy way to incorporate protein into breakfast, even when you are short on time.
Peanut Butter Overnight Oats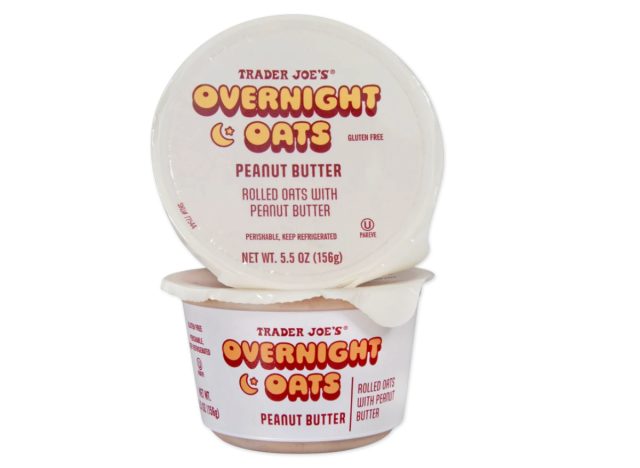 For those days when you need a grab-and-go breakfast, these Peanut Butter Overnight Oats are an excellent option. These tasty oats have a healthy balance of nutrients on their own and are only 270 calories per serving. This may be too low for some, so consider adding a side of fruit or a dollop of Greek yogurt to your oats for an easy and nutritious calorie boost. No added sugar, 6 grams of fiber, and 12 grams of protein make this food a hearty meal base.
Spinach & Feta Egg White Burrito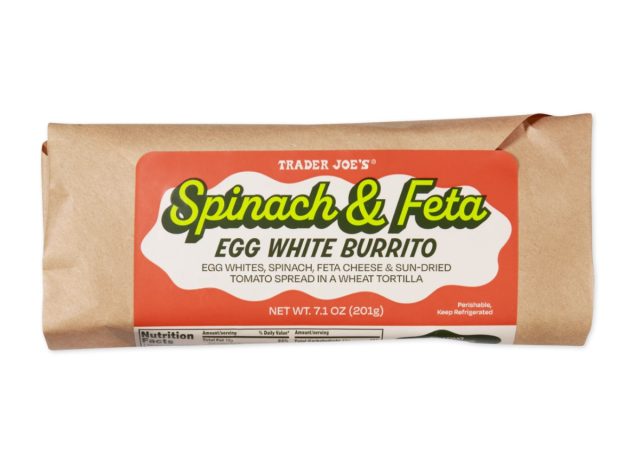 Another no-prep option, this Spinach & Feta Egg White Burrito is a complete meal on its own. Simply enjoy this hearty meal after a quick spin in the microwave. With 19 grams of protein and 5 grams of fiber per serving, this will keep you satisfied until lunch. If you are looking for a flavor boost, try a few dashes of hot sauce on your burrito, or dip your burrito into some salsa or pico de gallo.
Egg Bites, Cheese, Spinach & Kale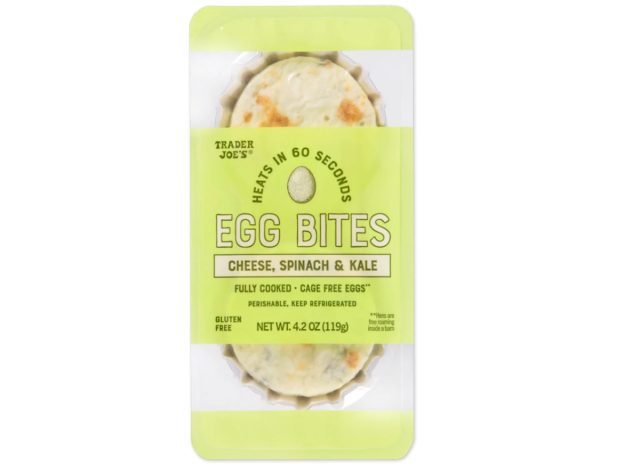 Eggs are a great source of protein, but cooking them at home may take more time than you have some mornings. These Egg Bites come fully cooked and just need to be warmed before enjoying. At only 150 calories per serving (one package), you'll need to pair this with another food to create a balanced meal. Enjoy these bites with a whole wheat English muffin or a side of fruit to incorporate healthy fiber into your breakfast.
Crunchy Almond Butter No Salt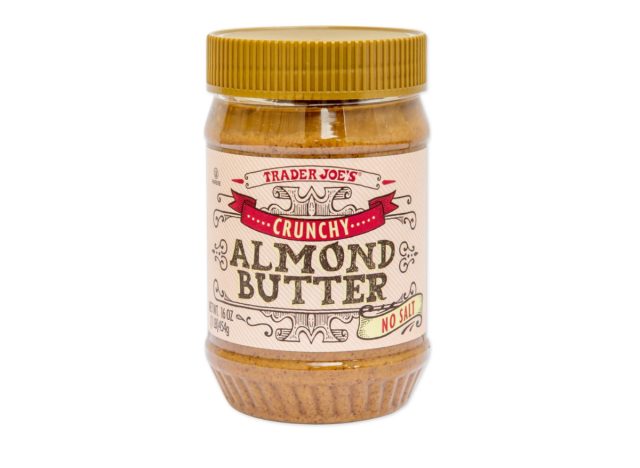 Almond butter is a no-prep source of important nutrients, like healthy fats, fiber, and protein. While it doesn't make for a complete meal on its own, this Crunchy Almond Butter can be incorporated into a wide variety of breakfast recipes. Smear over whole wheat toast with sliced banana, mix it into Greek yogurt, add it to your morning smoothie, or incorporate it into oatmeal. These are just a few ways almond butter can boost flavor and filling nutrients in your breakfast meal—the possibilities truly are endless.6254a4d1642c605c54bf1cab17d50f1e
Joe's O's Cereal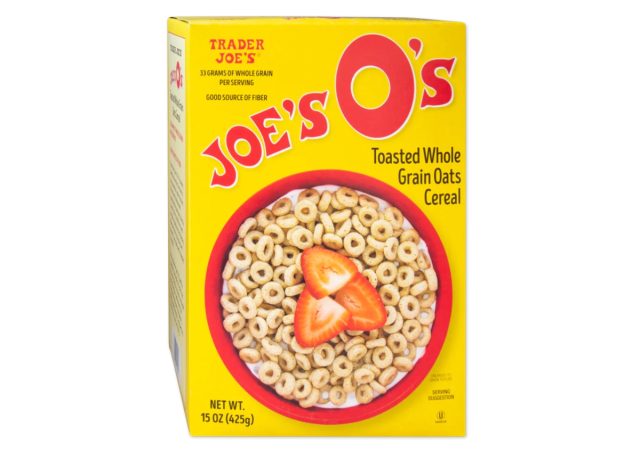 A nostalgic breakfast option, cereal makes for an easy meal. However, not all options are created equally. You'll find plenty of cereal varieties with loads of sugar and no fiber, making them less ideal for weight loss. Joe's O's only have 2 grams of added sugar in a whopping 1 ¾ cup serving! This same serving provides 4 grams of filling fiber and 5 grams of protein. Enjoy your certail with milk and sliced berries, or use it to top your Greek yogurt for a crunchy texture.
Organic Dried & Pitted Deglet Noor Dates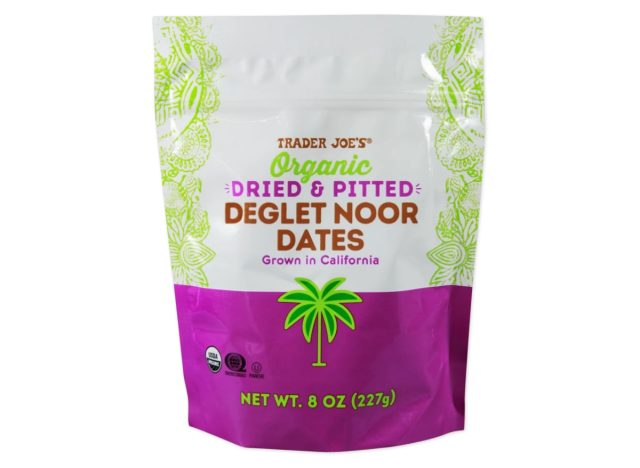 Dates get a bad rap for containing sugar, but the sugar in dates is natural to the fruit. Just like your favorite berries or apples, dates contain natural sugars and are a source of fiber. These Organic Dried & Pitted Deglet Noor Dates can take the place of fresh fruit as an oatmeal topping, be paired with almond butter for a sweet and savory meal, or be blended into a smoothie for added sweetness. Each serving provides 3 grams of fiber and can be a healthy way to satisfy your sweet tooth.
Organic Freeze-Dried Berry Medley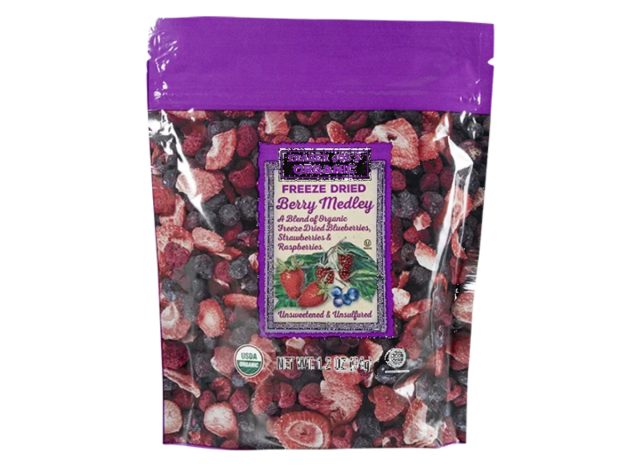 Berries are known for their fiber and antioxidant content, but they are only in season during the summer months. While you can get them fresh during other times of the year, they may not be as delicious. An alternative that provides the same impressive nutrients is this Organic Freeze-Dried Berry Medley. You'll get 9 grams of fiber per serving with no added sugar. Add these berries to your oatmeal or cereal, incorporate them into a parfait, or simply enjoy a handful as a side to eggs and toast.
Uncured Turkey Bacon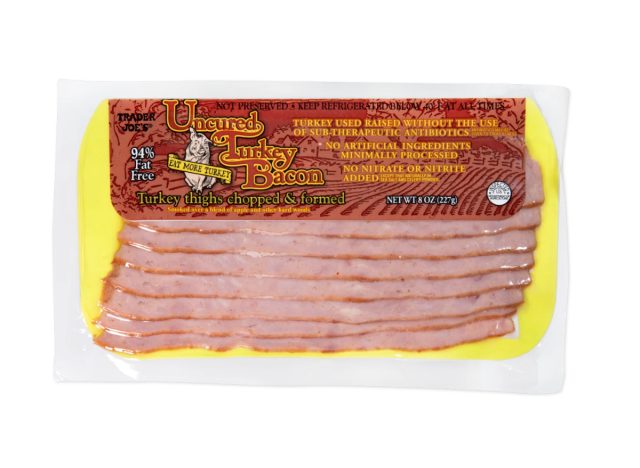 Pork bacon may be flavorful, but it's not known for its protein content. Turkey bacon is a great alternative, and this Uncured Turkey Bacon from Trader Joe's packs 6 grams of protein, and it has only 35 calories and 1 gram of fat! Enjoy it as the main protein at your breakfast, or layer it onto your breakfast sandwich for a protein and flavor boost.
Holiday Vegetable Hash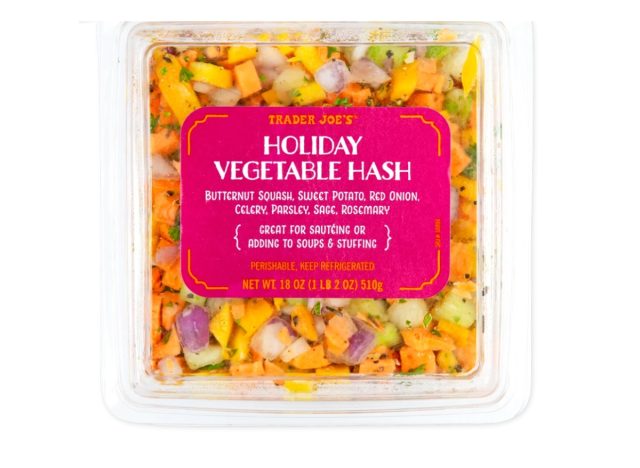 A vegetable hash may not sound very breakfast-y, but it's a great way to boost produce in your meal. This Holiday Vegetable Hash combination of butternut squash, sweet potato, celery, red onion, and herbs is flavorful and low in calories. At 45 calories per 1/2 cup, you could scramble this hash with eggs for a well-balanced breakfast, or combine it with cooked chicken sausage. These veggies provide fiber and bulk up your meal for not many additional calories but should be paired with a protein and fat source to round out your dish.
Melissa Rifkin, MS, RDN, CDN
Melissa is a Connecticut-based registered dietitian with over 15 years of experience, including clinical and outpatient settings, and runs the popular nutrition education Instagram account, Confessionofadietitian.
Read more about Melissa