9 Best & Worst Frozen Foods at Trader Joe's, According to Dietitians
Dietitians share which Trader Joe's frozen foods you should try—and which ones to skip.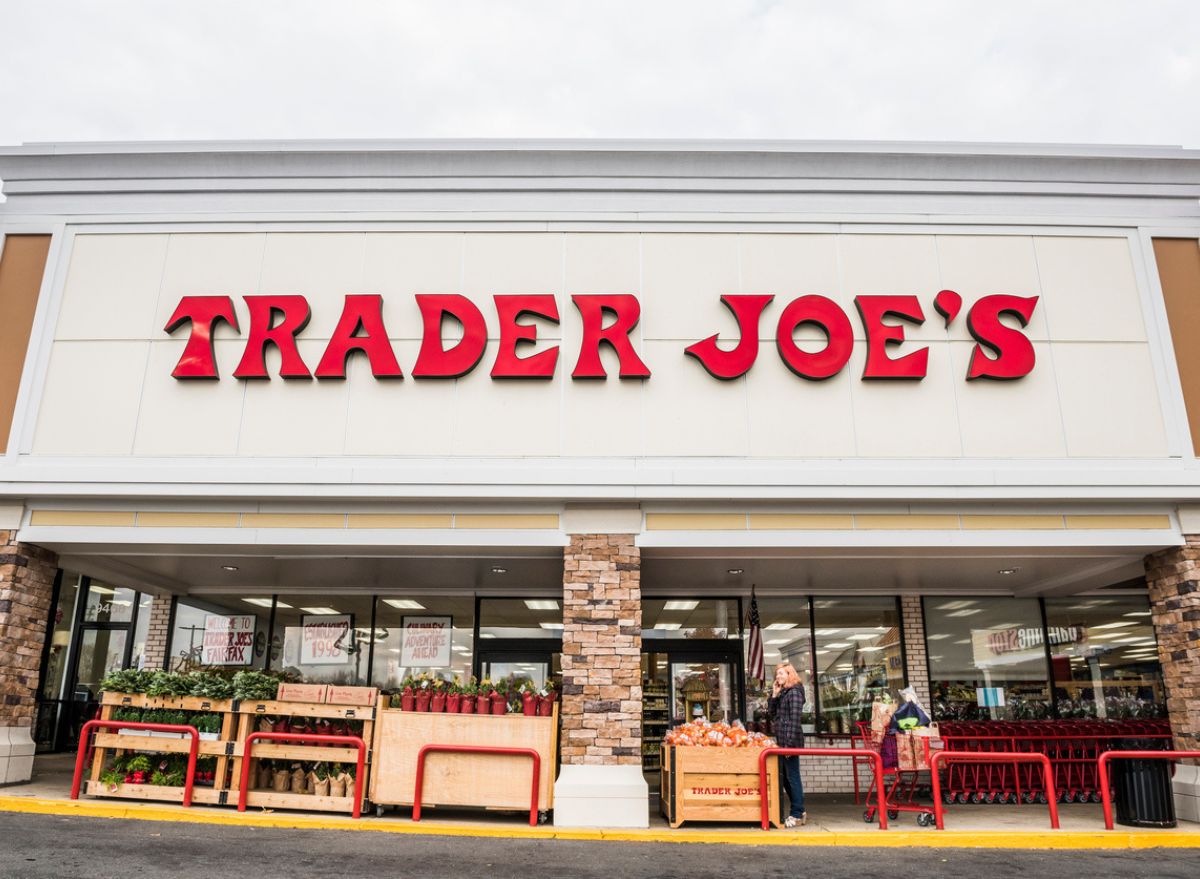 The product recommendations in this post are recommendations by the writer and/or expert(s) interviewed and do not contain affiliate links. Meaning: If you use these links to buy something, we will not earn a commission.
Let the nutrition pros help you find the healthiest frozen food at Trader Joe's, as well as those that you should steer clear of if you want to keep your eating on track. Trader Joe's is known for selling a wide variety of unique frozen foods, including cuisine inspired by Japan, China, the Caribbean, along with numerous vegetarian choices. Their fresh take on frozen foods makes Trader Joe's a go-to for shoppers looking for quick fixes to get dinner on the table during harried weekdays.
These days, even health-conscious shoppers will have plenty of options when browsing through the Trader Joe's frozen food sections. Over the past decade, many food manufacturers have made humongous strides to create better frozen options that have less sodium and saturated fat, and provide more vegetables, whole grains, and essential nutrients like vitamins, minerals, and fiber.
However, not all Trader Joe's frozen foods are created equal. Some can be loaded with sodium, added sugar, and often lack veggies, fiber, and lean proteins. Here, we highlight the best and worst frozen meal options available at Trader Joe's right now.
A guide to choosing the best frozen food
Trader Joe's offers a range of nutritious frozen meals that can be a convenient and balanced part of your diet. The popular supermarket chain has numerous vegetarian frozen options, veggie-rich dishes, and lean protein-rich choices that provide both great taste and high nutritional value. I always recommend looking for meals that contain whole food ingredients, lean proteins, fiber, and limited amounts of sodium and added sugars.
"It's important to read through the ingredient list first, advises Cynthia Sass, MPH, MA, RD, CSSD, a Los Angeles-based sports dietitian and author. "The ingredient list on a healthy pre-made frozen meal should read like a recipe you could have made yourself. In addition to simple, recognizable ingredients, assess the ingredient quality, meaning if it is made with whole grains over refined grains and what type of oil it contains. Ingredients are listed in order by weight, so ingredients higher on the list make up more of each bite," adds Sass.
Registered dietitian Patricia Bannan, M.S., R.D., author of From Burnout to Balance recommends that shoppers choose frozen foods that meet these nutrient targets:
More than 15 grams of protein. Protein should be a highlight of a balanced meal, and will help promote feelings of fullness.
Less than 600 milligrams of sodium. Sodium is often used in high amounts in frozen meals. Monitoring sodium intake is important for heart health and blood pressure regulation. The recommended daily limit is 2,300 mg per day. If your frozen meal packs in more than 600 mg, that doesn't leave you much wiggle room to stay within your daily sodium budget.
Below are the recommended options for healthier frozen meals from registered dietitians, as well as some options to skip. Only some of these items are listed on the Trader Joe's website, but all of them can be found in most TJ stores. And for more helpful shopping tips, check out 9 Healthier Ice Creams That Actually Taste Good, Say Dietitians.
The best Trader Joe's frozen food items
Trader Joe's Raw Shrimp, Peeled & Deveined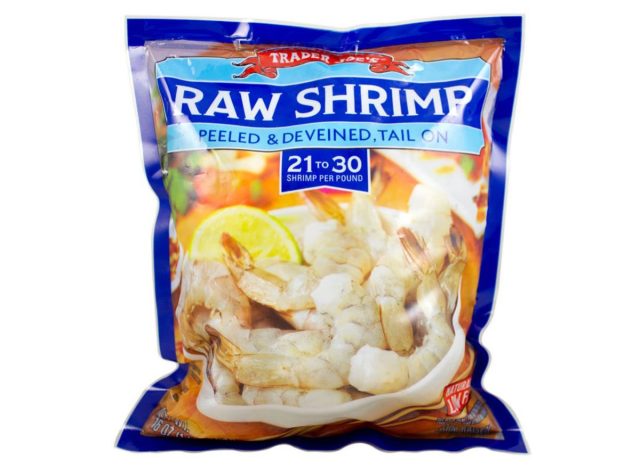 Trader Joe's has a variety of frozen shrimp options, but this one contains two ingredients: shrimp and salt. Frozen shrimp is one of the best ways to add delicious lean protein to meals in a snap, and seafood in general is one of the best ways to get high-quality protein for fewer calories. What's more, frozen shrimp is versatile, so you can enjoy them in endless ways like stir-fries, tacos, as part of pasta dishes, and hearty salads.
Trader Joe's Cauliflower Gnocchi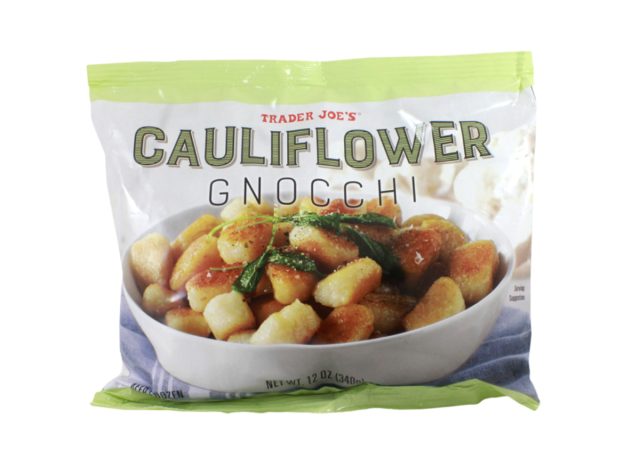 This frosty fan favorite is an Instagram sensation that fans constantly gush about and share their stories on how to make wholesome meals with thes cauliflower-based treats. The Cauliflower Gnocchi is made with just 5 ingredients and is a nutritional all-star, thanks to the cauliflower base. In addition to being lower in calories and fat, the gnocchi are high in fiber and naturally gluten-free. I love them when they are air-fried, but you can also pan fry, boil, microwave, or bake them for a delicious and healthy meal.
Trader Joe's Mahi Mahi Burgers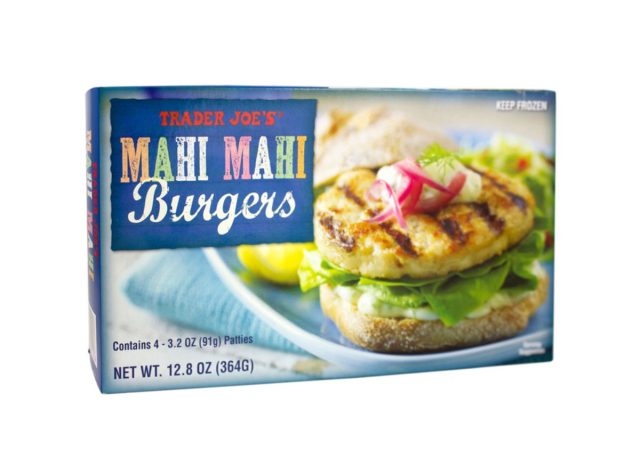 Instead of a saturated fat-rich beef burger, how about a mahi mahi burger for your next cookout? The TJ's Mahi Mahi Burgers are another best pick from the Trader Joe's frozen foods aisle. Mahi Mahi is rich in omega -3s, B-vitamins, magnesium, potassium, and selenium. You can enjoy these burgers prepared on the grill, in an oven, or pan-fried. Serve on a whole wheat bun and with your favorite veggie condiments for a healthy meal.
Trader Joe's Shitake Mushroom Chicken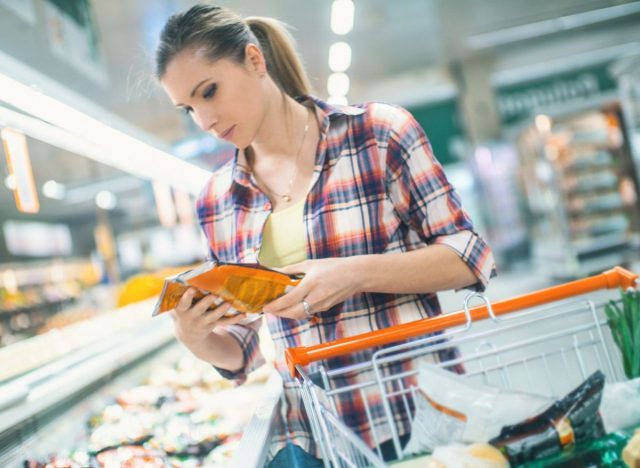 Trader Joe's fans say that this Asian-inspired meal knocks it out of the park. It has delicious, lean chicken and lots of vegetables, including shitakes, green beans, and edamame. Nutritionally, it's relatively low in calories, saturated fat, and added sugar, yet it packs in 20 grams protein per serving. Serve with ½-cup cooked brown rice and you'll have a satisfying meal that beats ordering out.
RELATED: 25 Best Healthy Frozen Pizza Pies, According to Dietitians

The worst Trader Joe's frozen food items
Trader Joe's Tempura Shrimp with Soy Dipping Sauce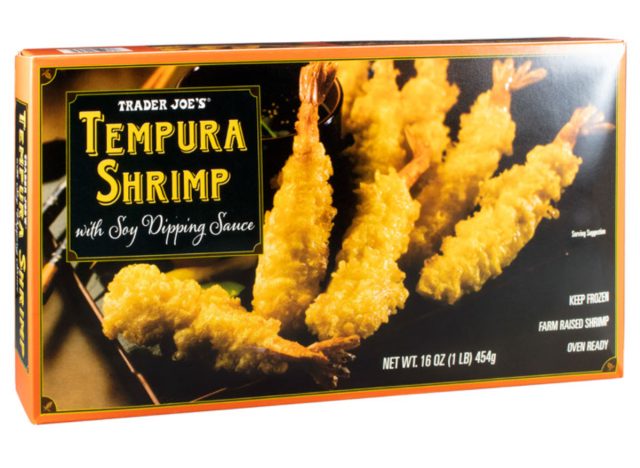 This TJ shrimp dinner gets great reviews for its delicious taste online, but it's not a nutritional all-star. Tempura shrimp are always a crowd-pleaser, but Trader Joe's Tempura Shrimp come with a sweetened soy dipping sauce that has 2 teaspoons sugar and the sodium counts are sky-high. The calories in the serving size are modest, but that's mostly due to the puny serving size of just 3 ounces of shrimp—or 3 and 1/3 shrimp.
Trader Joe's Steak and Stout Pies
These savory meat pies are one of the unhealthiest options we could find in the frozen aisle at Trader Joe's. They are a healthy eater's worst nightmare. You'll get 50% of your total daily sodium intake with one serving and more saturated fat than you should have in an entire day!
Even eating half a pie would derail your healthy eating goals. The bulk of the calories, fat, saturated fat, and low-quality carbs come from the buttery crust. Plenty of online reviewers also complain about the pies being all crust and having little meat.
Trader Joe's Vegetarian Meatless Cheese Burger Pizza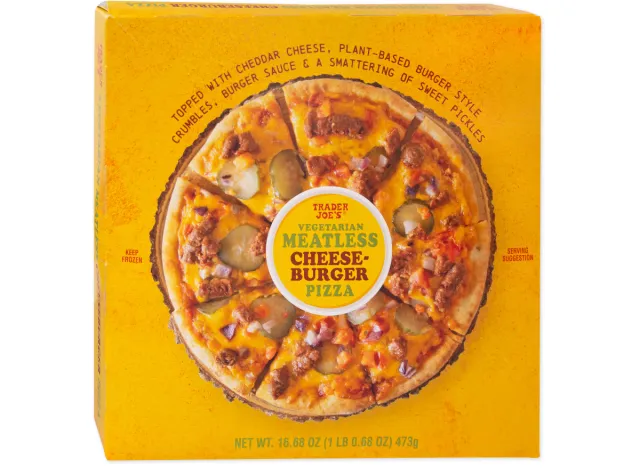 Even though the Meatless Cheeseburger Pizza is considered a vegetarian choice, a "cheese burger" pizza is likely a good cue that this is not the best option. The problem with this pizza is that a 1/3-pie serving size contributes 25% of all the saturated fat and more than 1/3 of the sodium that you should have in an entire day. The saturated fat comes from the cheese and faux, plant-based ground beef crumbles made from pea protein. The ingredient list of this pizza also reads like a novel.
Trader Joe's Uncured Turkey Corn Dogs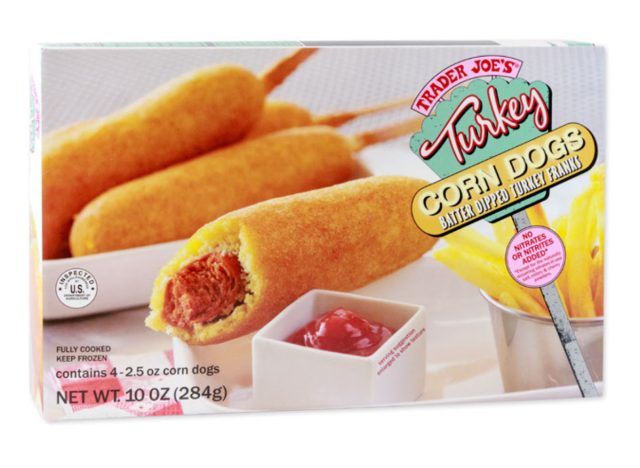 The package boasts that these corn dogs are uncured and have no nitrates or nitrites, but the nutrition label shows just how unhealthy these dogs are for you.6254a4d1642c605c54bf1cab17d50f1e
These dogs are considered an ultra-processed food with more than 30 ingredients and several sources of added sugars, including sugar, molasses, maltodextrin, and honey. They are also shockingly high in sodium, with two corn dogs contributing nearly 40% of the sodium you should have in a day. Steer clear of these carby, salty dogs.
Trader Joe's Jamaican Style Beef Patties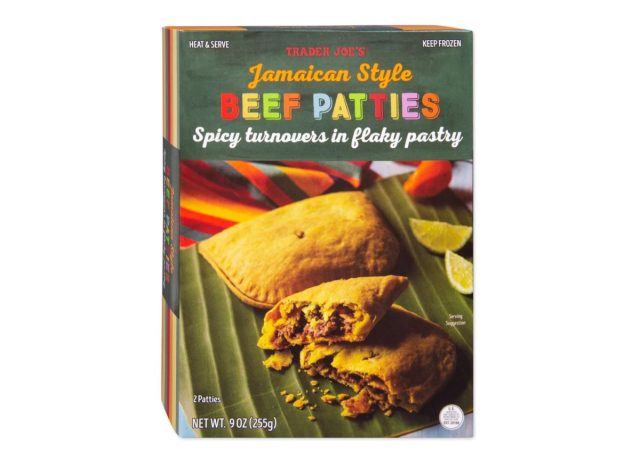 A Jamaican patty is beef and vegetables in a pastry, making a deliciously seasoned ground beef pie. Nutritionally, these made our worst picks because of the high total fat, saturated fat, sodium, and low-quality carbohydrates. One patty packs in 440 calories, 50% of the saturated fat and 25% of the sodium that you need in a day. The soaring saturated fat and sodium counts make these patties a risky choice when it comes to your heart's health. Like the Trader Joe's Steak and Stout Pies, online reviews of these patties also complain that the patties are light on beef.
Julie Upton, MS, RD, CSSD
Julie Upton is an award-winning registered dietitian and communications specialist who has written thousands of articles for national media outlets, including The New York Times, US News & World Report, and USA Today.
Read more about Julie