The Best Waffles in Every State
When in doubt, you should always get the waffles. Especially when you're dining at any of these restaurants!
Waffles are the light and crispy cousin of pancakes. Whether you eat a stack for breakfast or dinner, they truly make for a lovely treat. Especially if you have chicken and waffles, which are forever a genius combination.
When someone mentions grabbing waffles, we typically think of this quote from Leslie Knope herself:
"We need to remember what's important in life: friends, waffles, work. Or waffles, friends, work. Doesn't matter, but work is third."
When the urge to eat a waffle arises, you're going to want to enjoy the best of the best. So how about one of these waffle hot spots?
Keep reading to find out where the best waffles are in your state—you're welcome in advance! And while you're planning your next waffle experience, be sure to balance everything out with these 22 Meals to Melt Belly Fat in 2022.
ALABAMA: Yo' Mama's in Birmingham
Yo' Mama's is known for southern comfort food dishes—and that includes chicken and waffles. The plate starts out with a golden Belgian waffle, which gets topped with six fried chicken wings. Top it off with some syrup or hot sauce, and you have the most perfect, mouth-watering meal.
ALASKA: Waffles and Whatnot in Anchorage
Waffles and Whatnot is a local hangout that offers Brussels-style waffles, which have pearled sugar mixed in for extra crunch. Anything you order here is going to be a breakfast win.
ARIZONA: Zuzu in Phoenix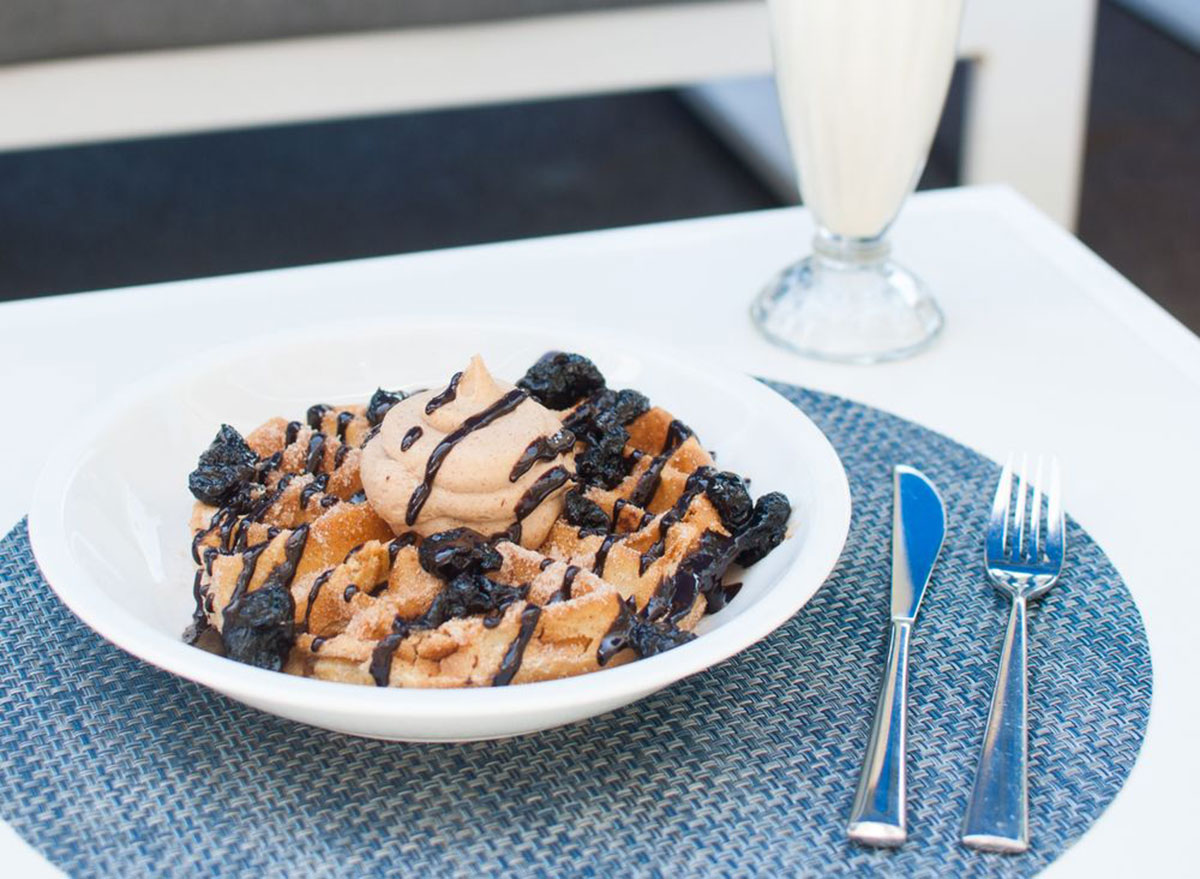 Don't be deterred that Zuzu is located inside a hotel—this is still the best spot to chow down on some waffles in Arizona. The current menu has a fried chicken and peach cobbler waffle with candied pecans and cayenne spiced milk crumb. Talk about indulgence!
ARKANSAS: The Colonial Pancake and Waffle House in Hot Springs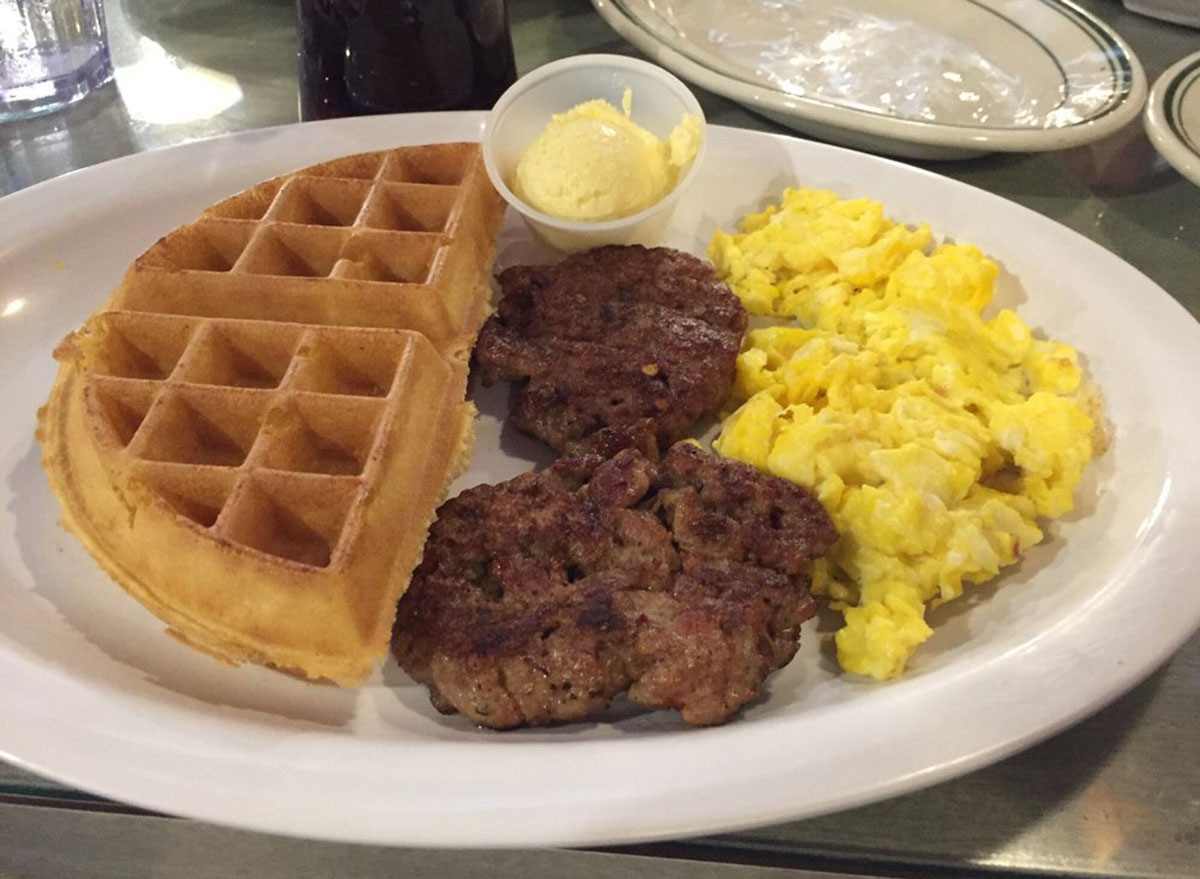 The Colonial Pancake and Waffle House makes each batch of waffle batter with malted flour and a whole pound of butter. As if that wasn't enough to make this the best waffle, you can also get it topped with six different toppings like apples, peaches, and pecans.
CALIFORNIA: & Waffles in North Hollywood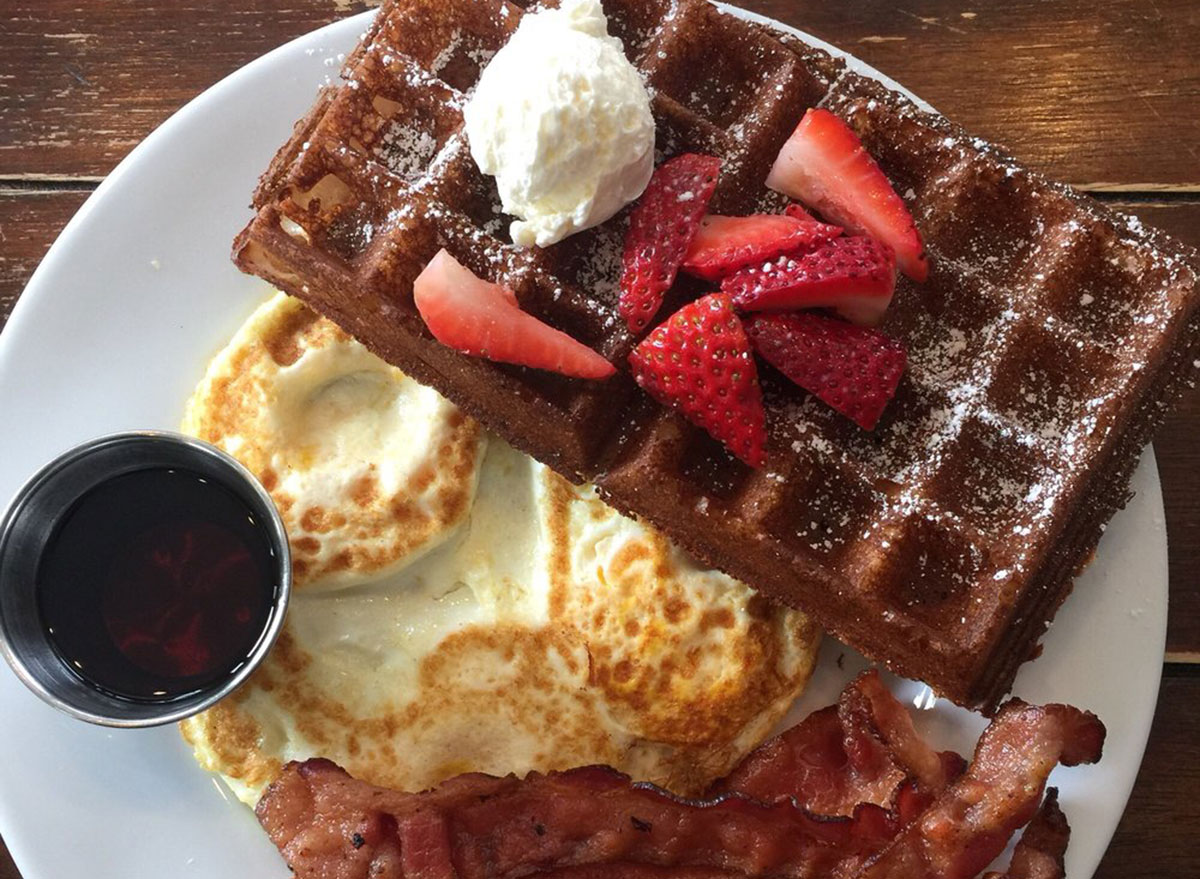 Sometimes just waffles alone don't really cut it, so & Waffles has created a breakfast sandwich with waffles as the bun. This sandwich comes loaded with grilled ham and eggs between two warm waffles, and it's served with syrup and powdered sugar.
Looking for more helpful tips? Your ultimate restaurant and supermarket survival guide is here!
COLORADO: Waffle Brothers in Denver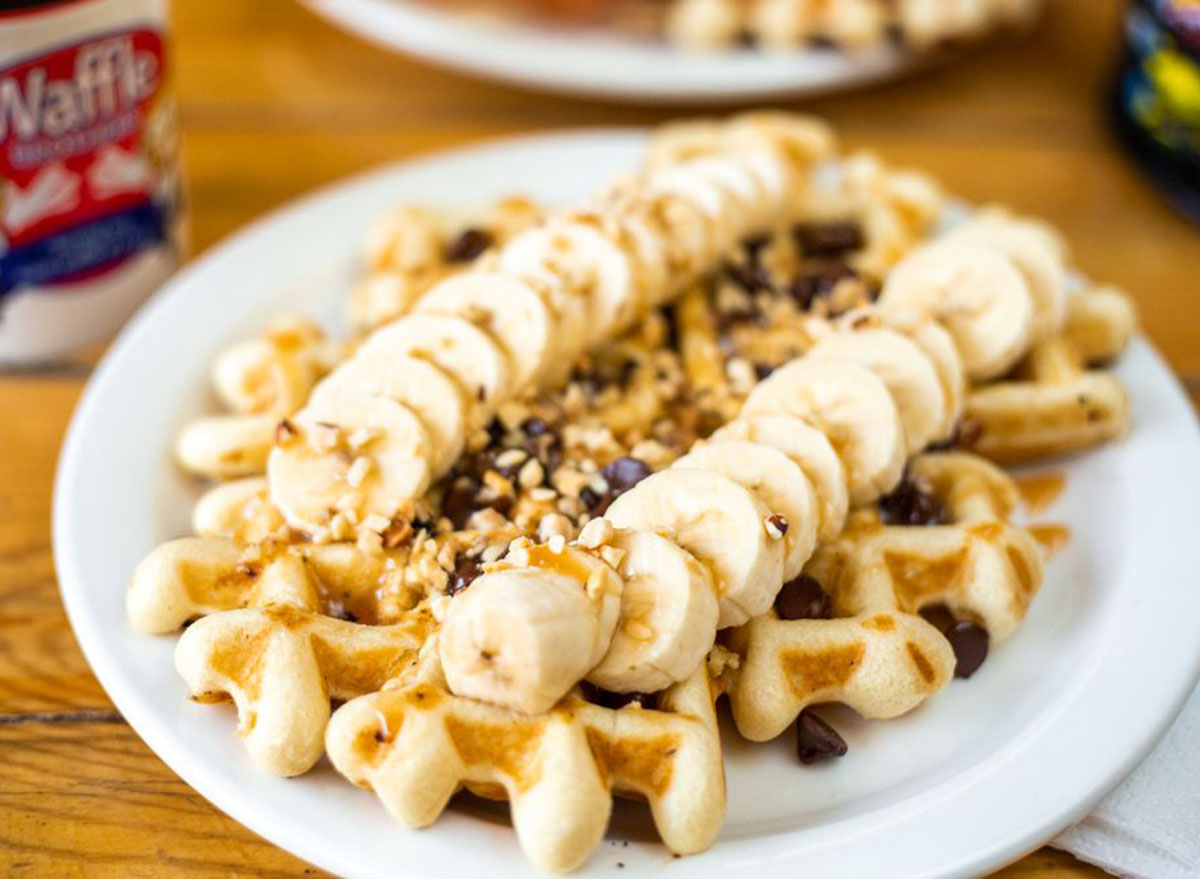 Loaded waffles are plentiful on the menu at Waffle Brothers. There are more than a dozen combinations to choose from, but the one that sounds the best is the Tiramisu Waffles. These are topped with tiramisu, Nutella, and chocolate chips. Talk about decadent!
CONNECTICUT: The Sloppy Waffle in Newington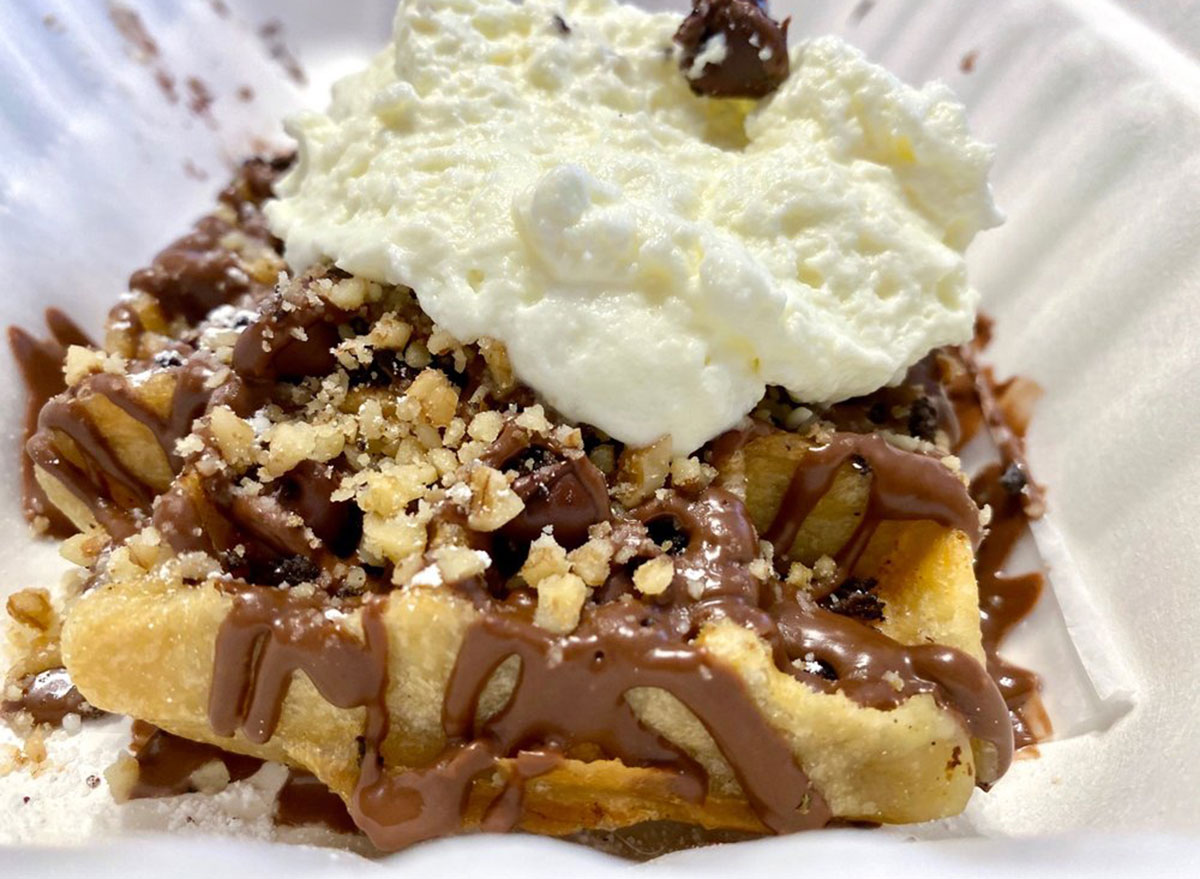 The Sloppy Waffle is known for over-the-top waffle creations, including one that shares the restaurant's name. The Sloppy Waffle is a liege waffle that's topped with two eggs, bacon, sausage, melted cheese, and syrup. Oh, and it's all served with home fries.
DELAWARE: Metro Diner in Wilmington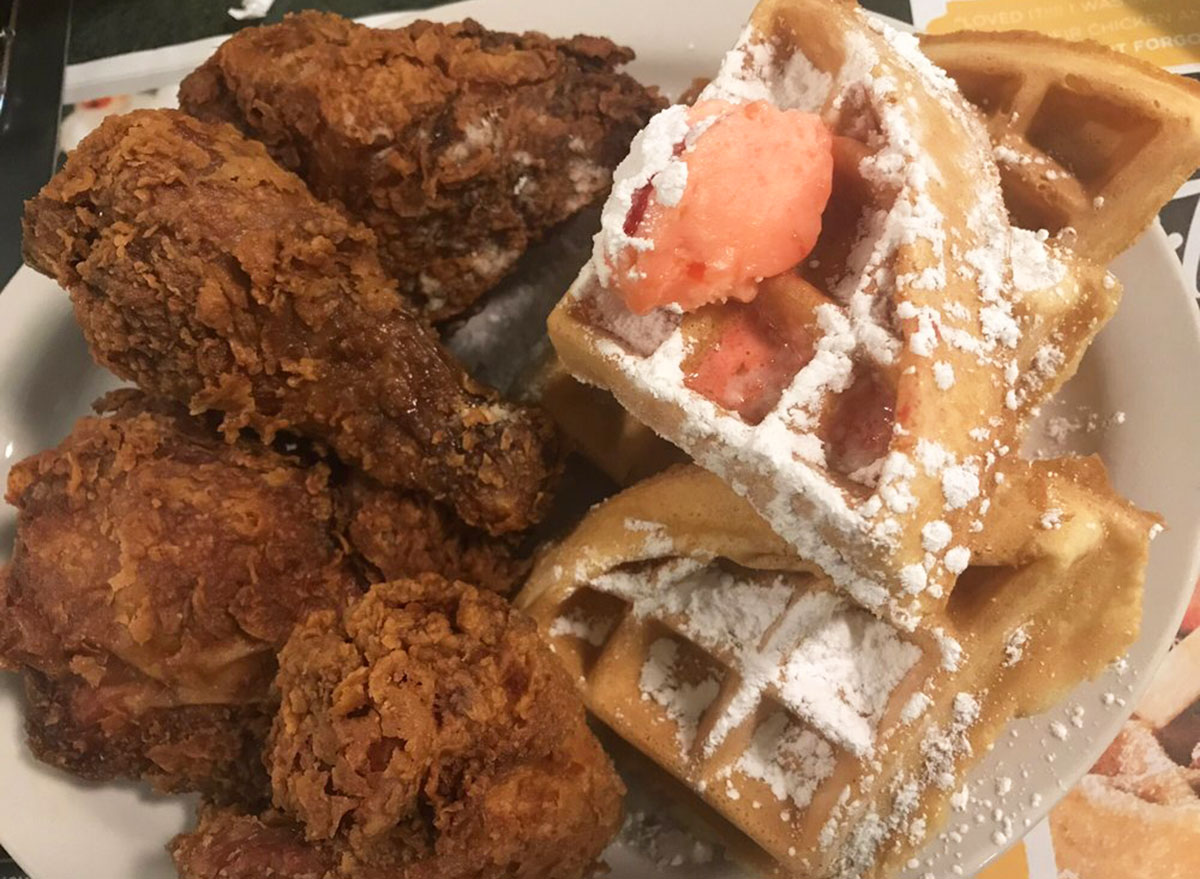 This local favorite serves up some of the best chicken & waffles in the Northeast. Not only do they have that classic taste, but they're topped with a Strawberry Butter, which really adds something extra—making this Metro Diner the best waffle spot in Delaware.
FLORIDA: The Blue Fish in Jacksonville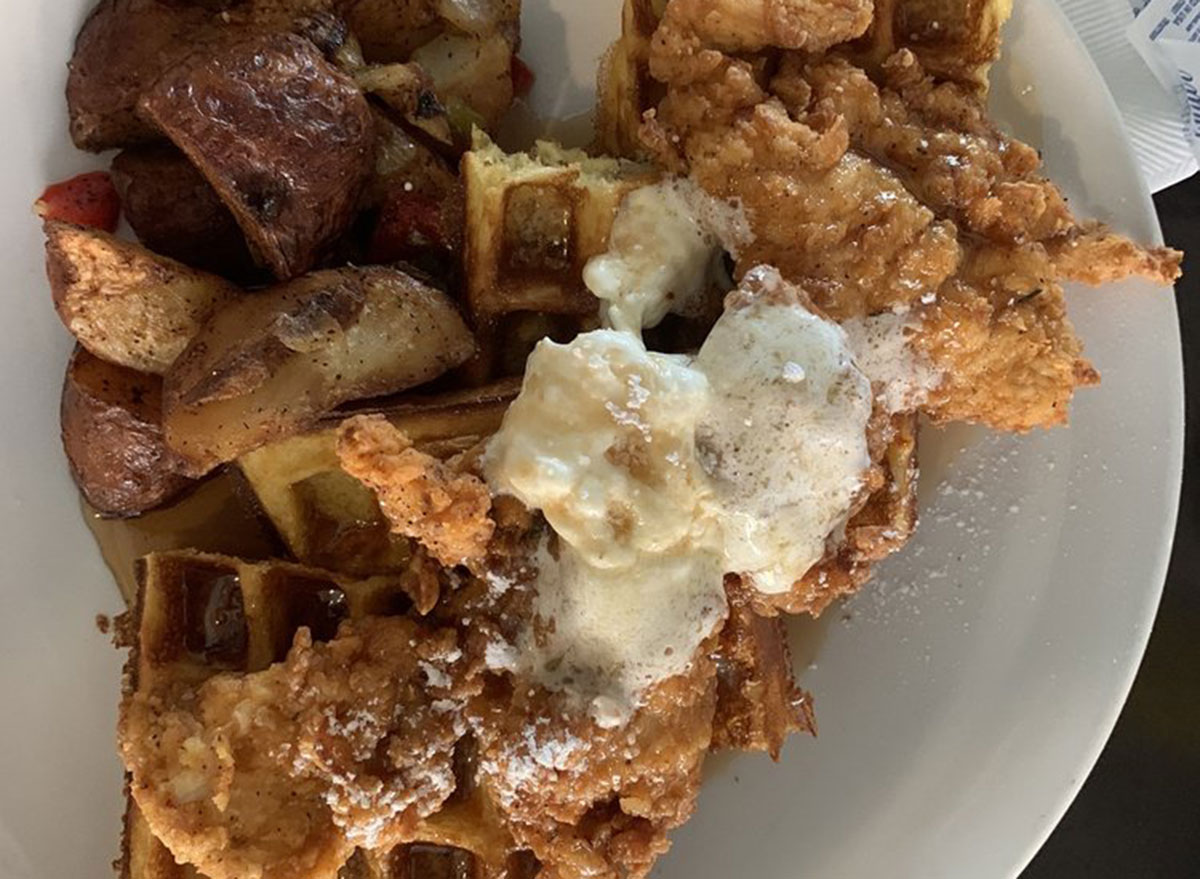 You can only find the best waffle in Florida on the weekends at The Blue Fish brunch as part of the Blue Fish Breakfast. The waffle is double dipped in French toast batter, then deep-fried to crispy perfection. Be sure to ask for the syrup on the side so you can take leftovers home without it getting soggy!
GEORGIA: Atlanta Breakfast Club in Atlanta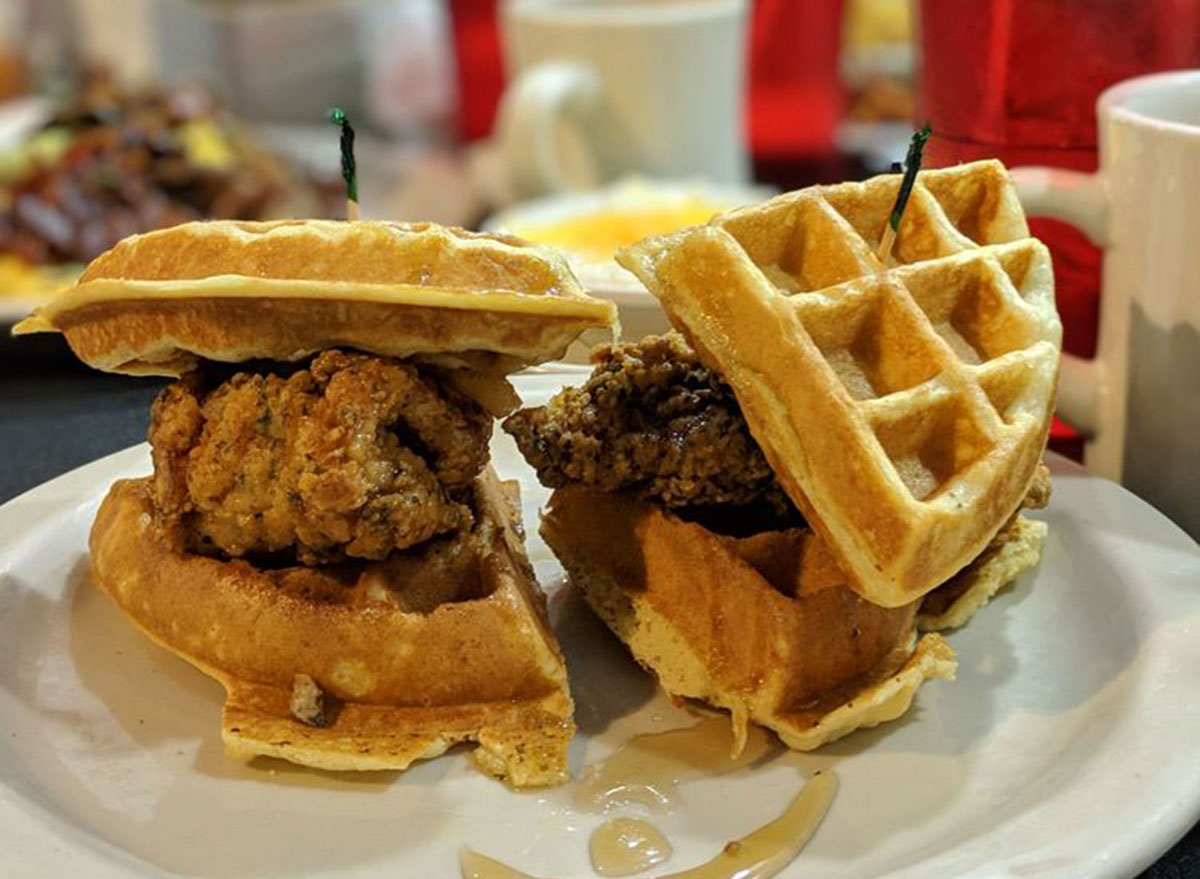 Atlanta has become a foodie hot spot, and one place that's not to be missed is the Atlanta Breakfast Club. This eatery serves up some of the best chicken and waffles in the South, so be sure to swing by the next time that you're in the Peach State.
HAWAII: Pancakes & Waffles BLD in Honolulu
If there's one thing we love more than waffles, it's churros. At Pancakes & Waffles BLD, you can have the best of both worlds because there's a churro waffle on the menu. This is the signature waffle at the restaurant, and it's worth the sugar rush!
IDAHO: Waffle Me Up in Boise
Savory waffles are on the menu again at Waffle Me Up. One item on the menu that we can't get out of our minds is the Justa Bob. Here, bacon, basil, and syrup are all topped on a waffle for a unique flavor combination.
ILLINOIS: Chicago Waffles, Multiple Locations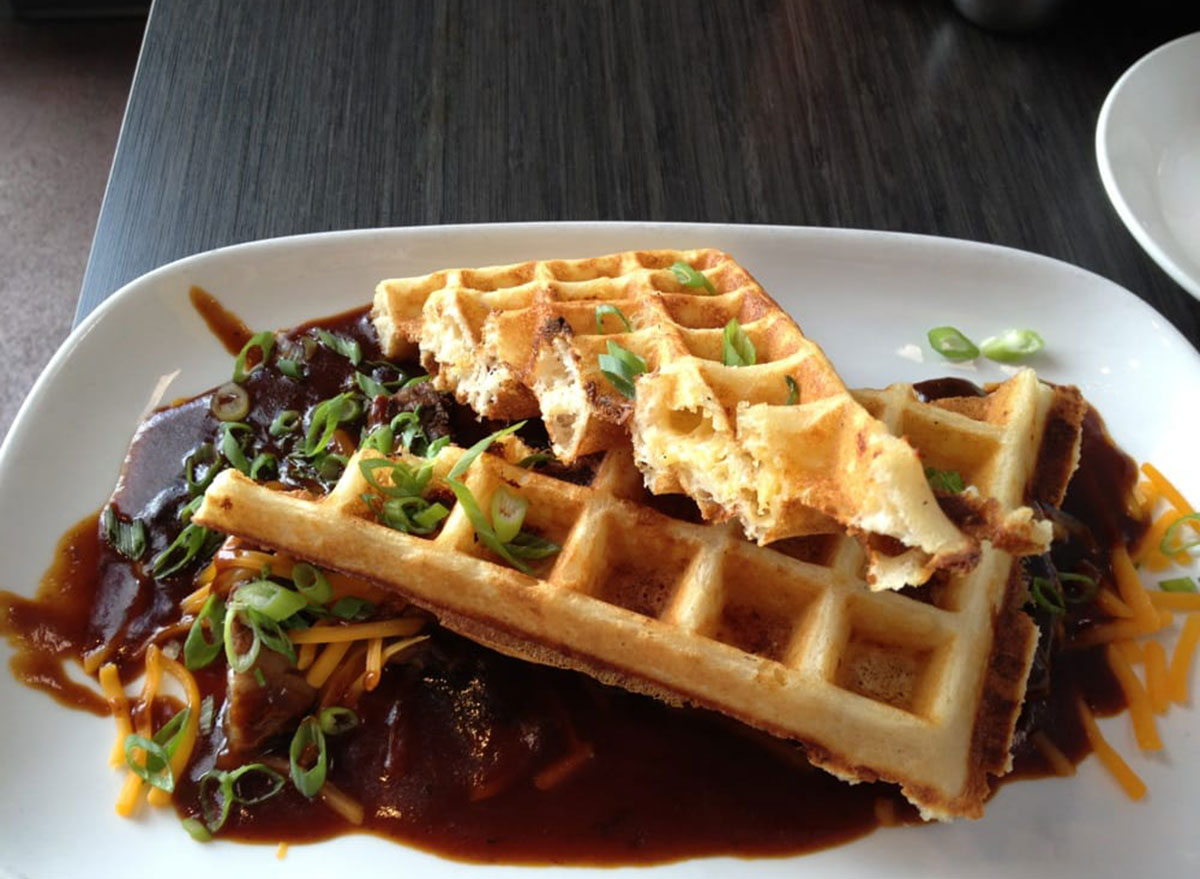 Chicago Waffles have a full page on the menu dedicated to waffles of all flavors. One interesting option is the green tea waffle, which is made with matcha green tea and topped with whipped cream, crystallized ginger, and ground pistachios.
INDIANA: Milktooth in Indianapolis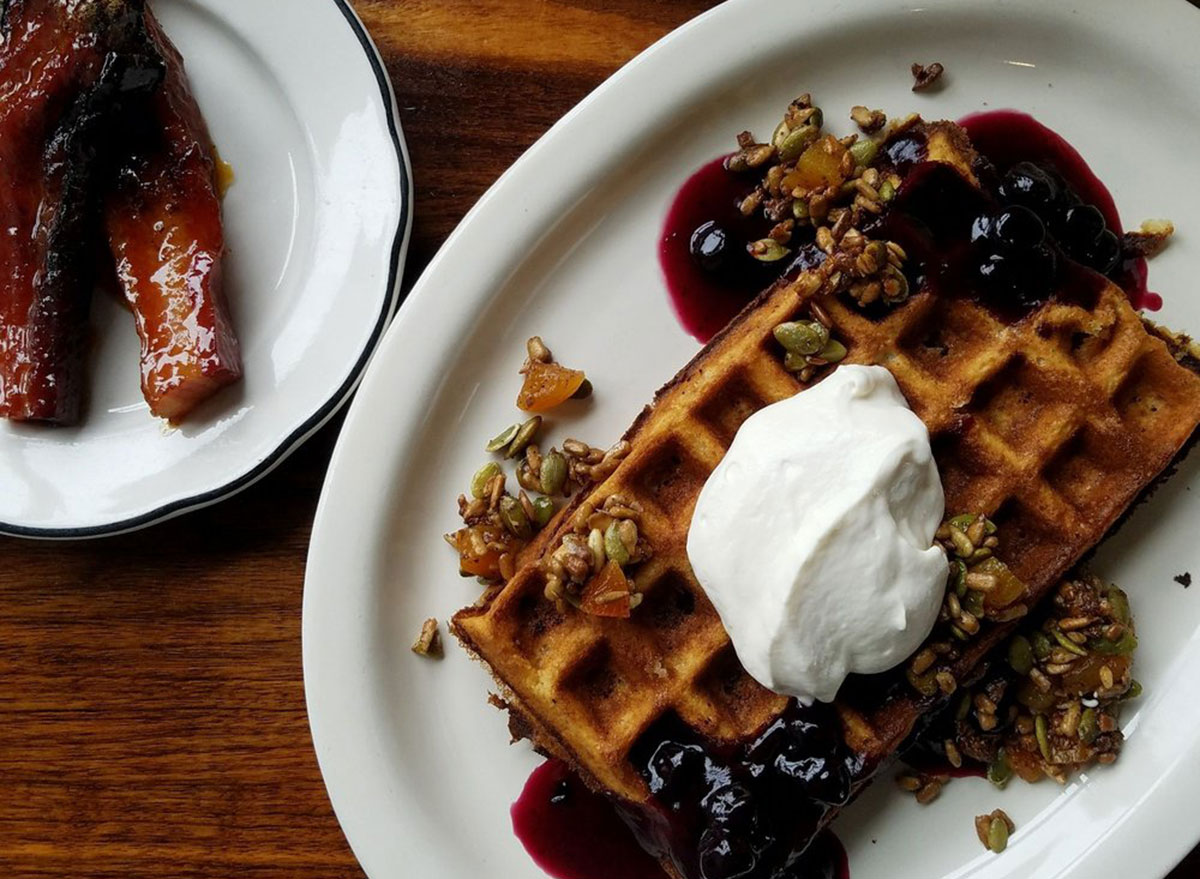 Milktooth serves up a fresh take on pearl sugar waffles by making them with sourdough. When the waffles are done, they're topped with salted butter, maple syrup, and local nectarines.
IOWA: Mullets Restaurant in Des Moines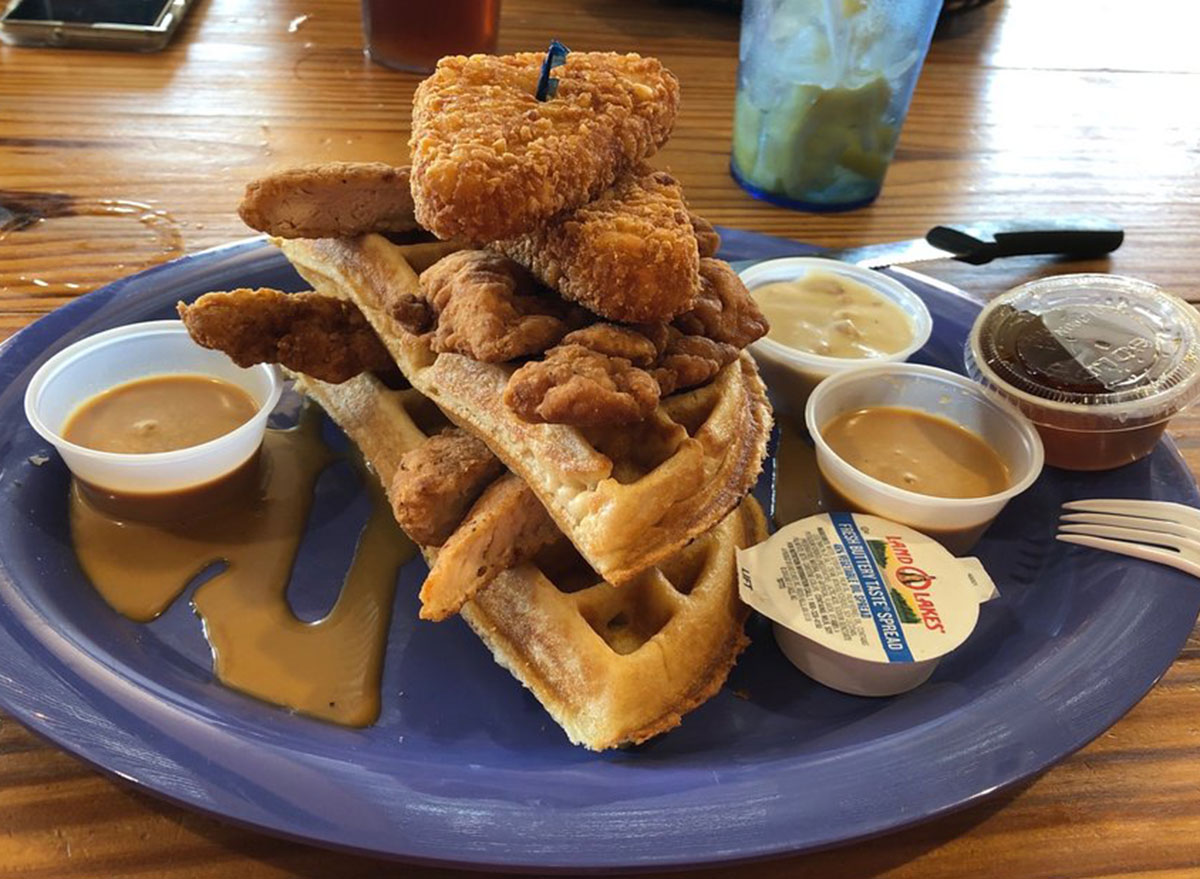 Simply put: Don't skip the chicken and waffles at Mullets Restaurant. A massive waffle is topped with perfectly golden fried chicken and house-made bourbon maple glaze. You can't beat that!
KANSAS: Dempsey's Biscuit Company in Wichita
Traditional waffles are a treat to find, and the ones at Dempsey's Biscuit Company are simple but delicious. The Belgian waffles are served with a side of berry compote, whipped cream, bourbon maple syrup, and your choice of bacon or sausage.
KENTUCKY: Wild Eggs in Louisville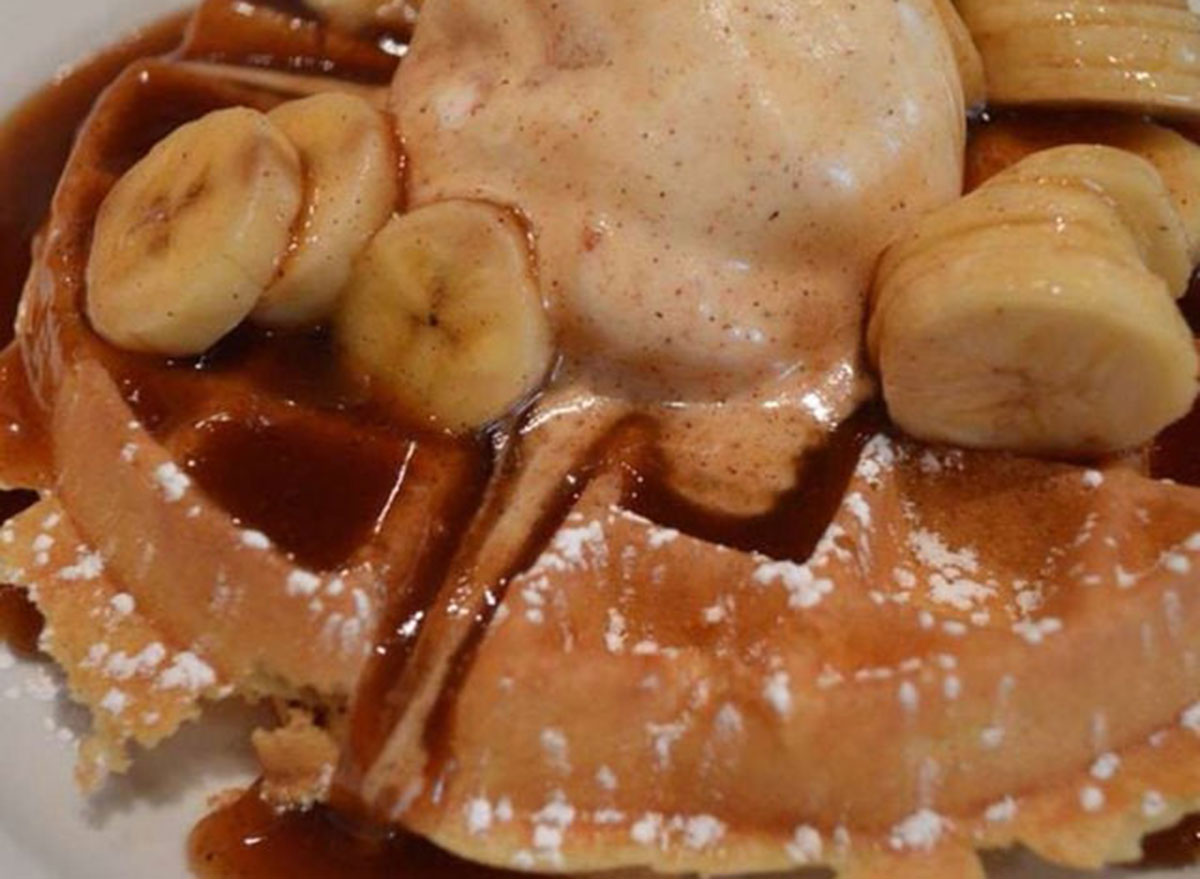 The chicken and waffles dish at Wild Eggs is worth the trip to Kentucky. A perfectly crispy waffle is topped with a Nashville hot chicken breast, chopped bacon, and homemade buttermilk maple syrup.
LOUISIANA: Toast in New Orleans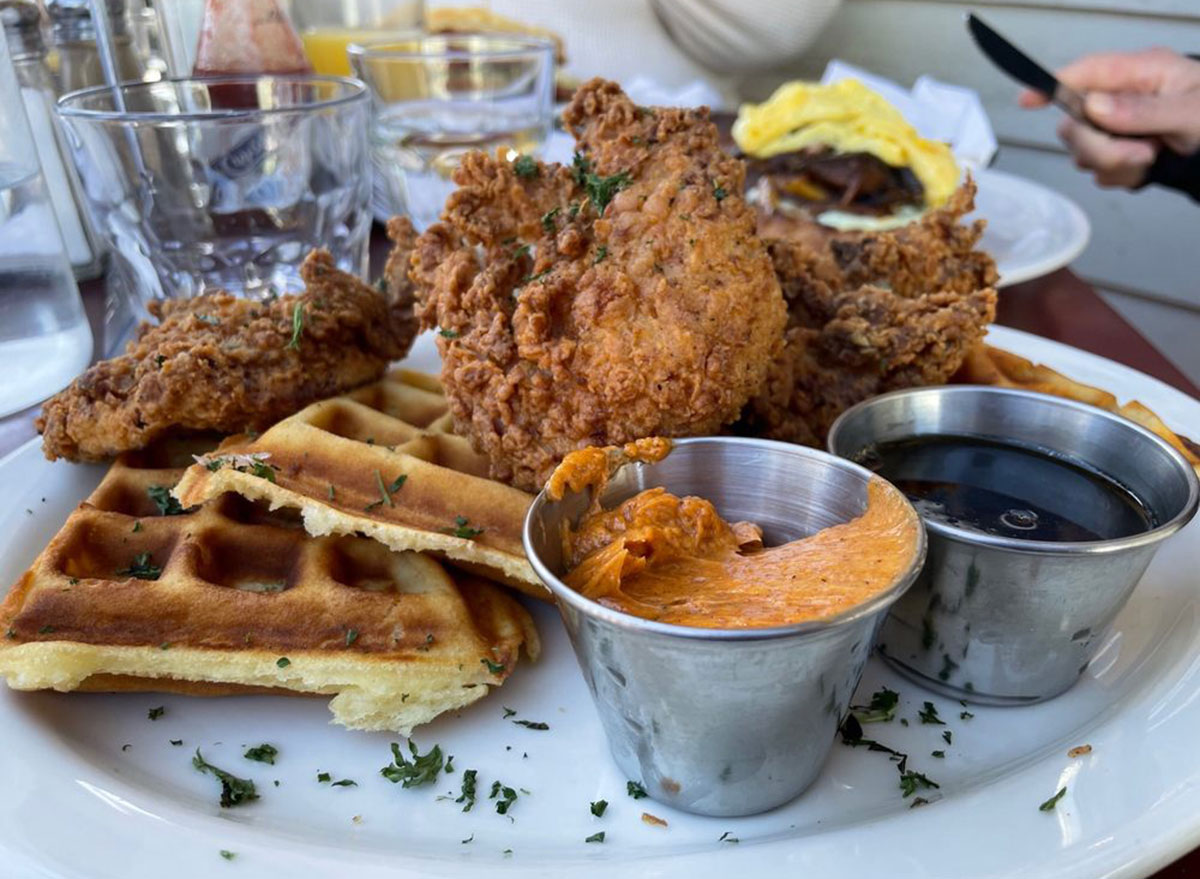 Culinary dreams are made in New Orleans, and one dream come true is the waffle sandwich from Toast! This sandwich combines ham, eggs, tomato, avocado, and pimento cheese into one perfect bite.
MAINE: The Sinful Kitchen in Portland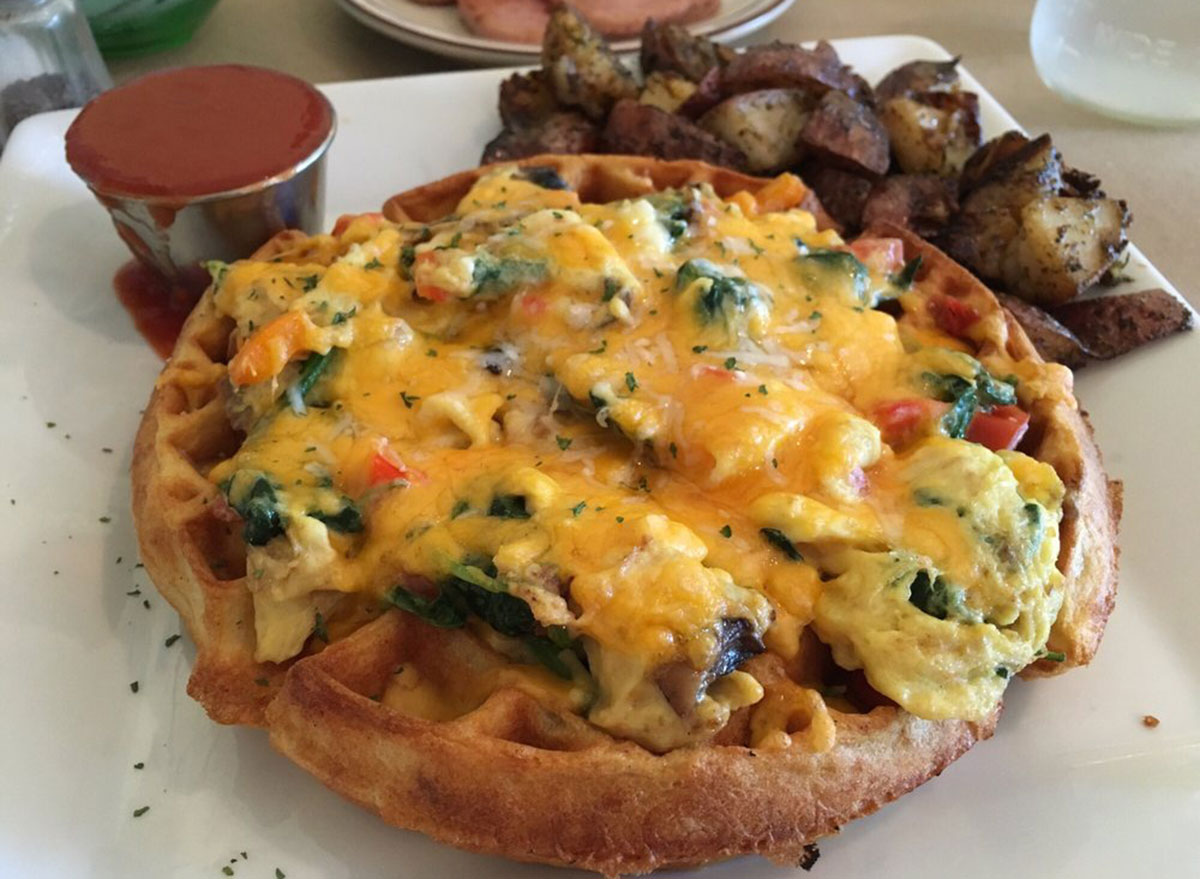 The Sinful Kitchen lives up to its name with the cinnamon roll waffle that you'll find on the menu. This waffle is topped with cream cheese icing, whipped cream, and cinnamon sugar butter.
MARYLAND: Waffie in Baltimore
Waffie was recently named one of the top 100 places to eat in the country, and we can understand why! The waffle and ice cream boxes are a match made in sugar heaven. If you're not sure what to order, one menu standout is the Fruity Pebbles Lovers Waffle, which features Fruity Pebbles cereal, marshmallow fluff, and powdered sugar.
MASSACHUSETTS: Zinneken's Waffles in Cambridge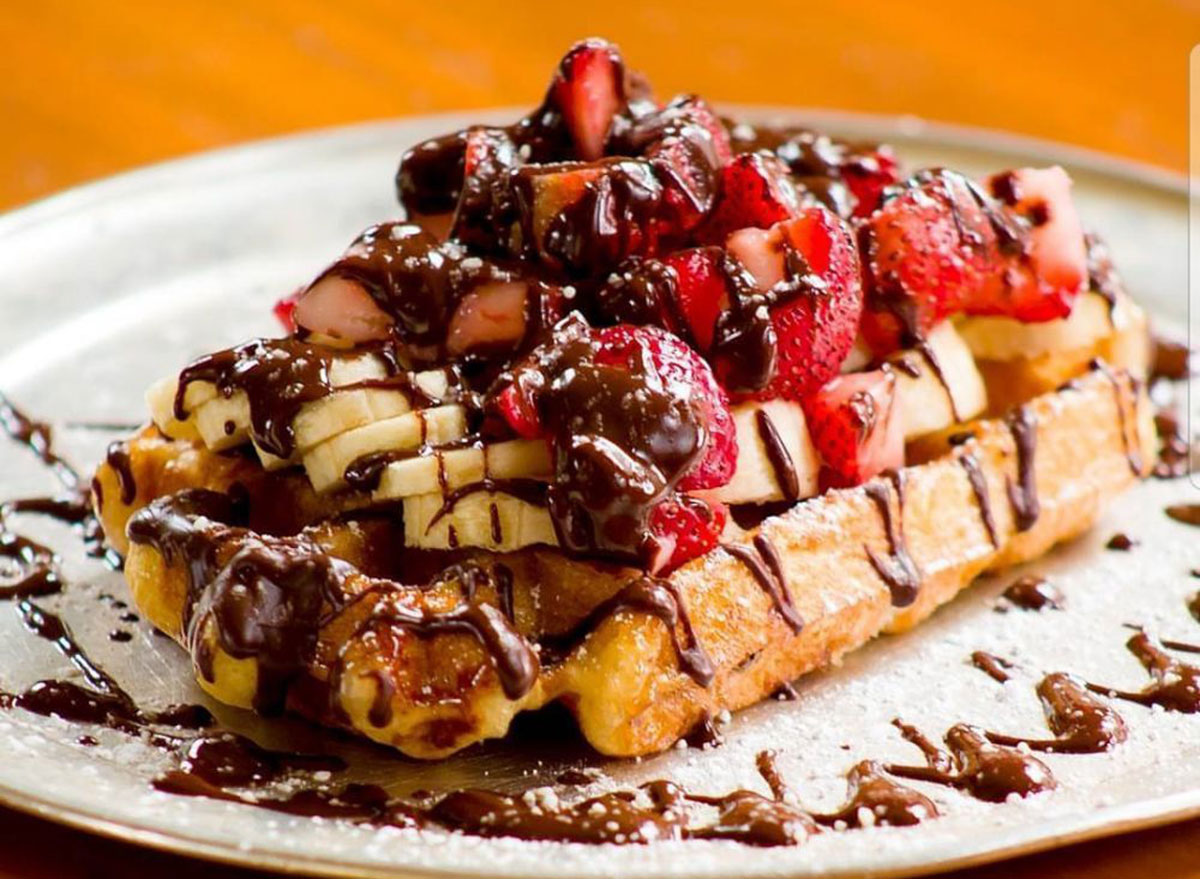 Zinneken's Waffles are pearl sugar waffles made from a dough-like batter. One of the top sellers at the restaurant is the Zinneken Waffle, which is topped with homemade whipped cream chocolate and Speculoos cookie butter spread.
MICHIGAN: Omelette and Waffle Cafe, Multiple Locations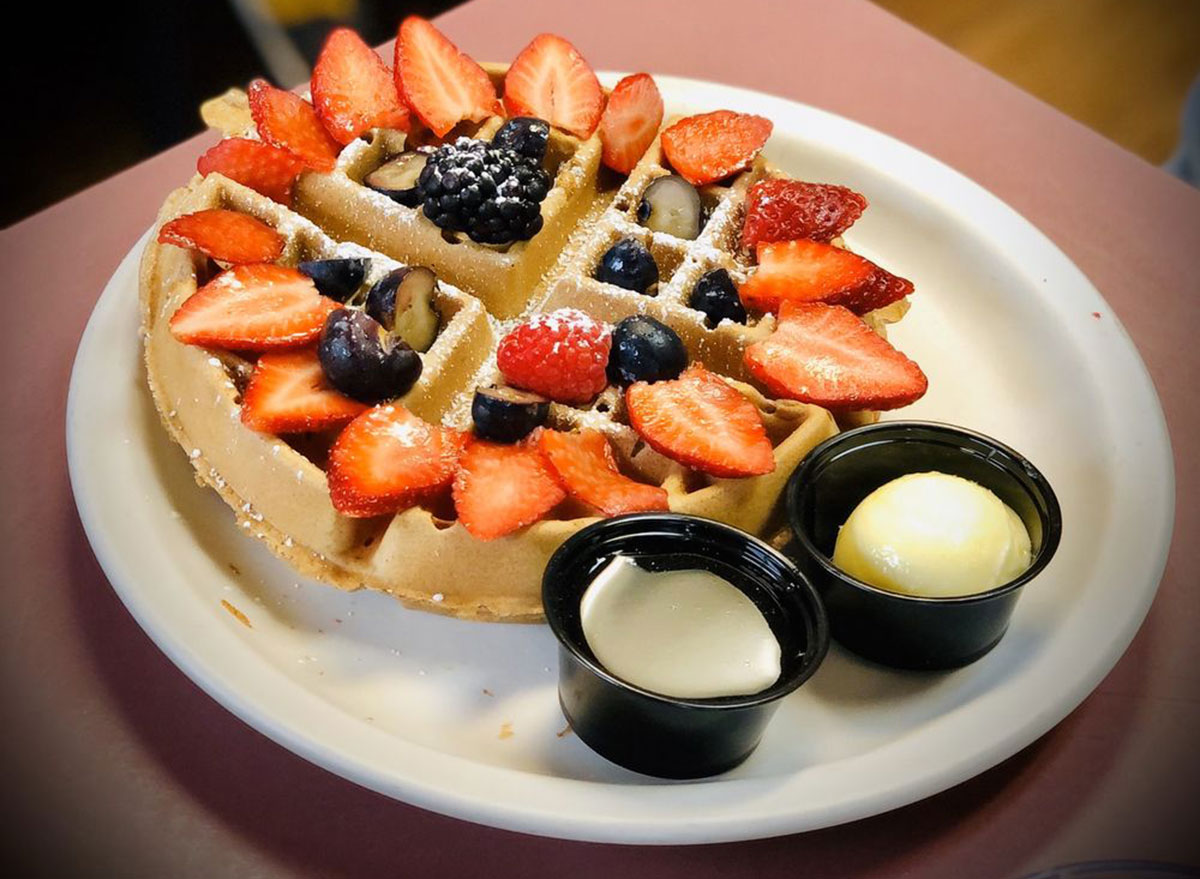 Stuffed waffles aren't just a TikTok trend—you can actually get them at Omelette and Waffle Cafe. The banana and strawberry stuffed waffle comes with a ton of fruit, chocolate drizzle, and warm syrup.
MINNESOTA: Hot Plate in Minneapolis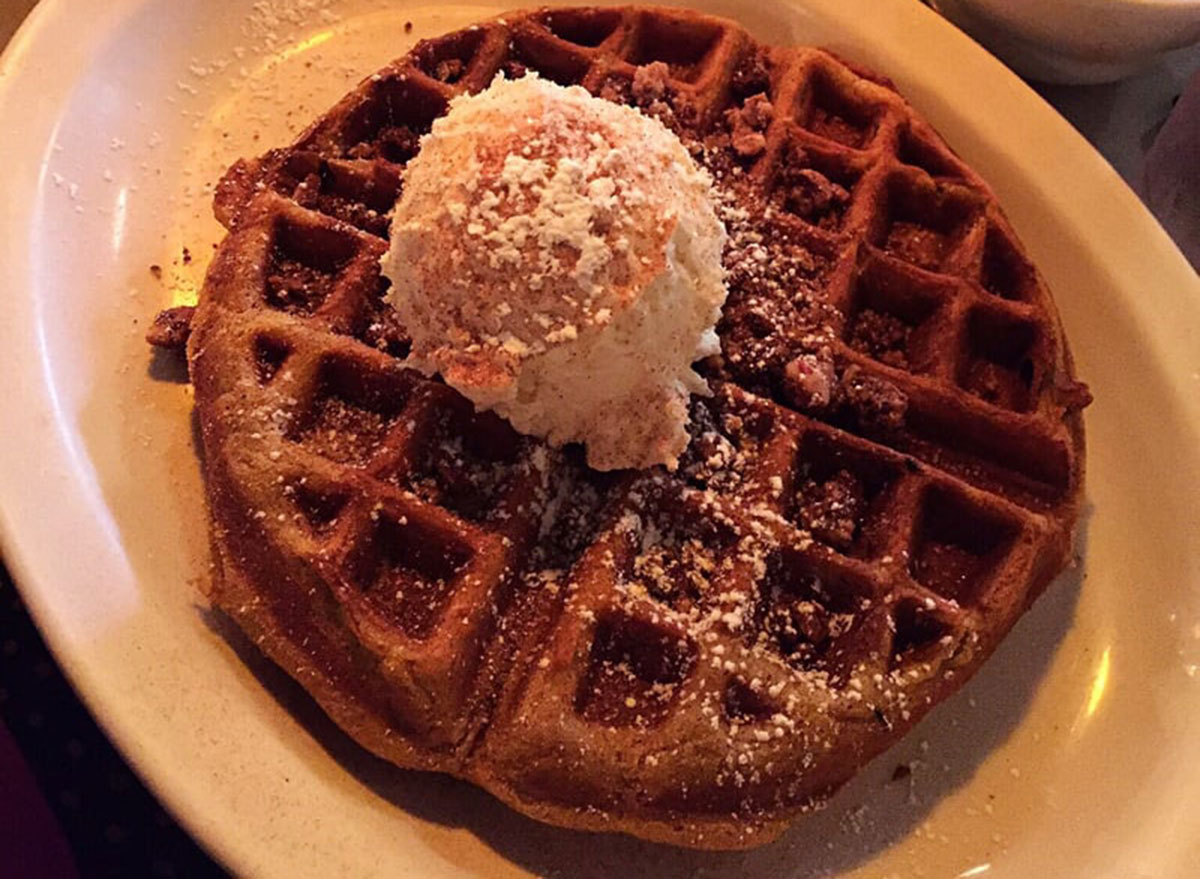 This local hangout serves up an amazing take on waffles with its pumpkin buckwheat dish. These waffles are finished off with both pecans and whipped cream.
MISSISSIPPI: Fill-Up with Billups in Biloxi
The tomato and avocado waffle at Fill-Up with Billups is a fun take on avocado toast. This waffle is loaded with smashed avocado, fresh sliced tomato, salt and pepper, and finished off with olive oil.
MISSOURI: The Boardwalk Waffles and Ice Cream in Maplewood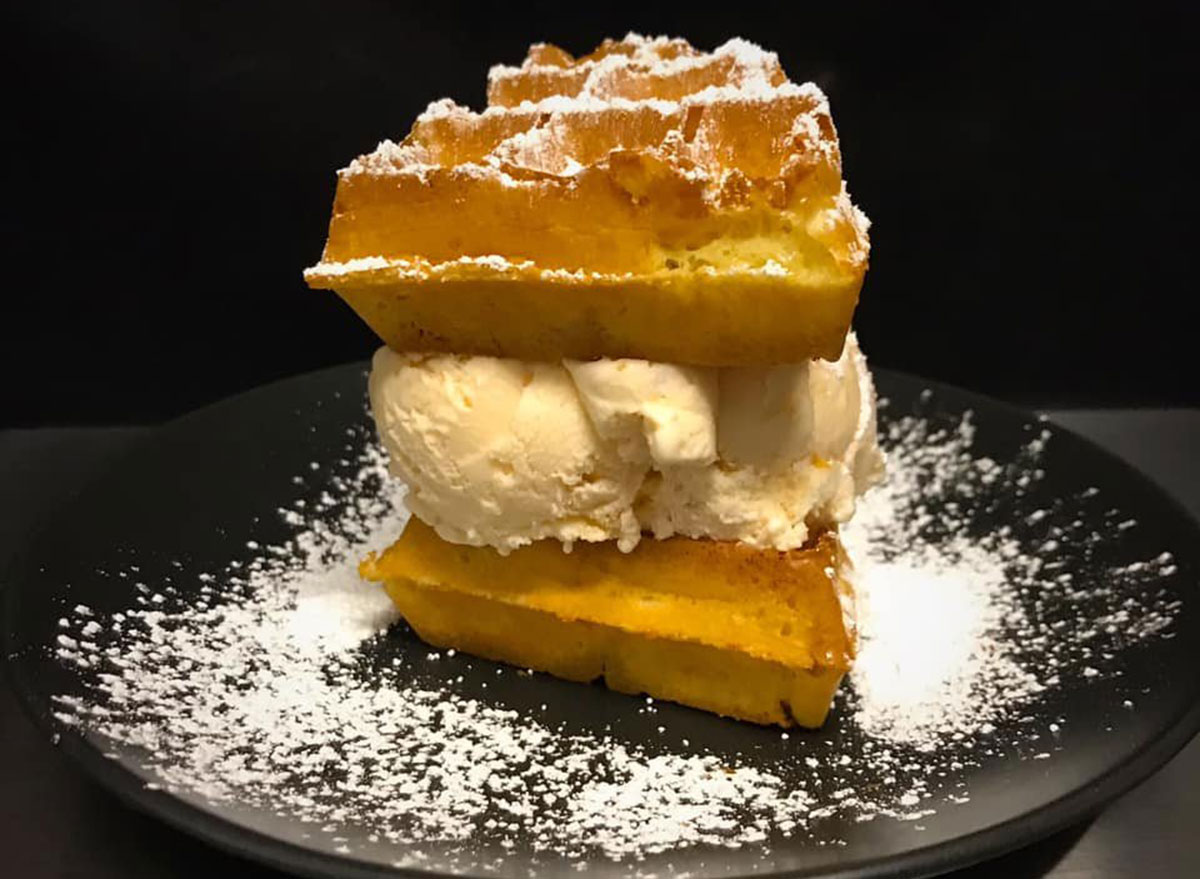 The only thing you need to know about this place is that a jalapeño cornbread waffle exists! This waffle is topped with cheddar cheese, chorizo, cilantro, and both maple and spicy syrup.
MONTANA: Stuffed Crepes & Waffles in Bozeman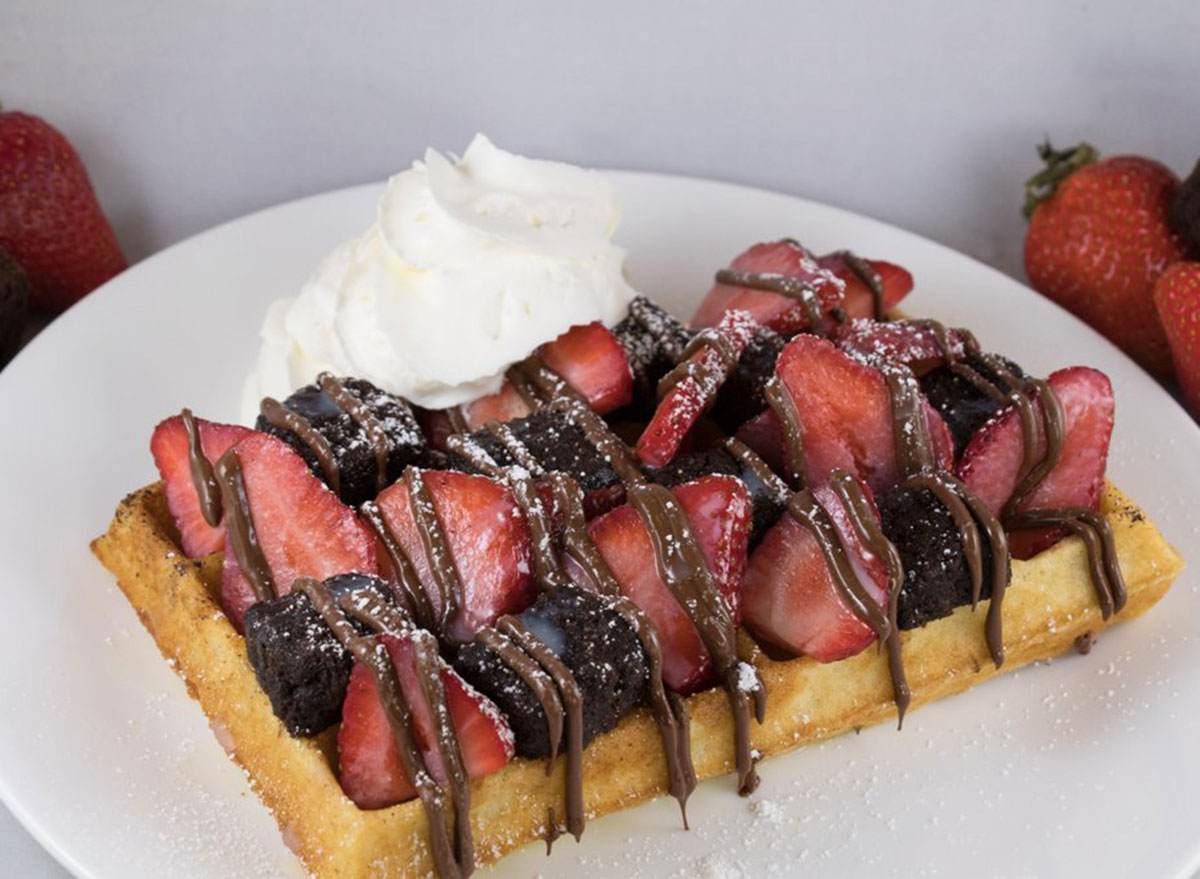 At Stuffed Crepes and Waffles, you're going to want to get the Georgia waffle. This waffle is topped with caramelized peaches, cinnamon sugar, walnuts, caramel sauce, and homemade whipped cream.
NEBRASKA: Reactor in Lincoln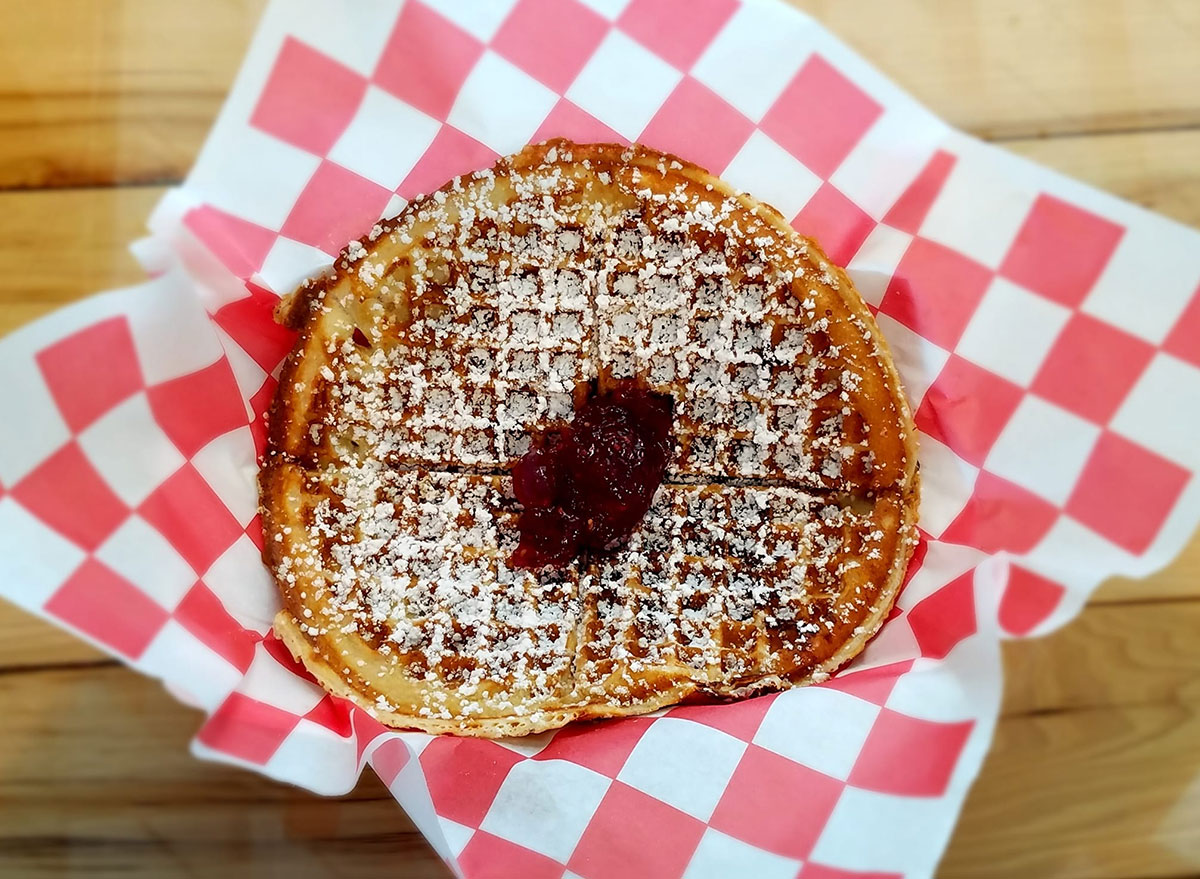 Reactor was known in the past for their decadent savor waffles. Looks like no they serve delicious sweet waffles with their amazing coffee drinks.
NEVADA: TIABI Coffee & Waffle in Las Vegas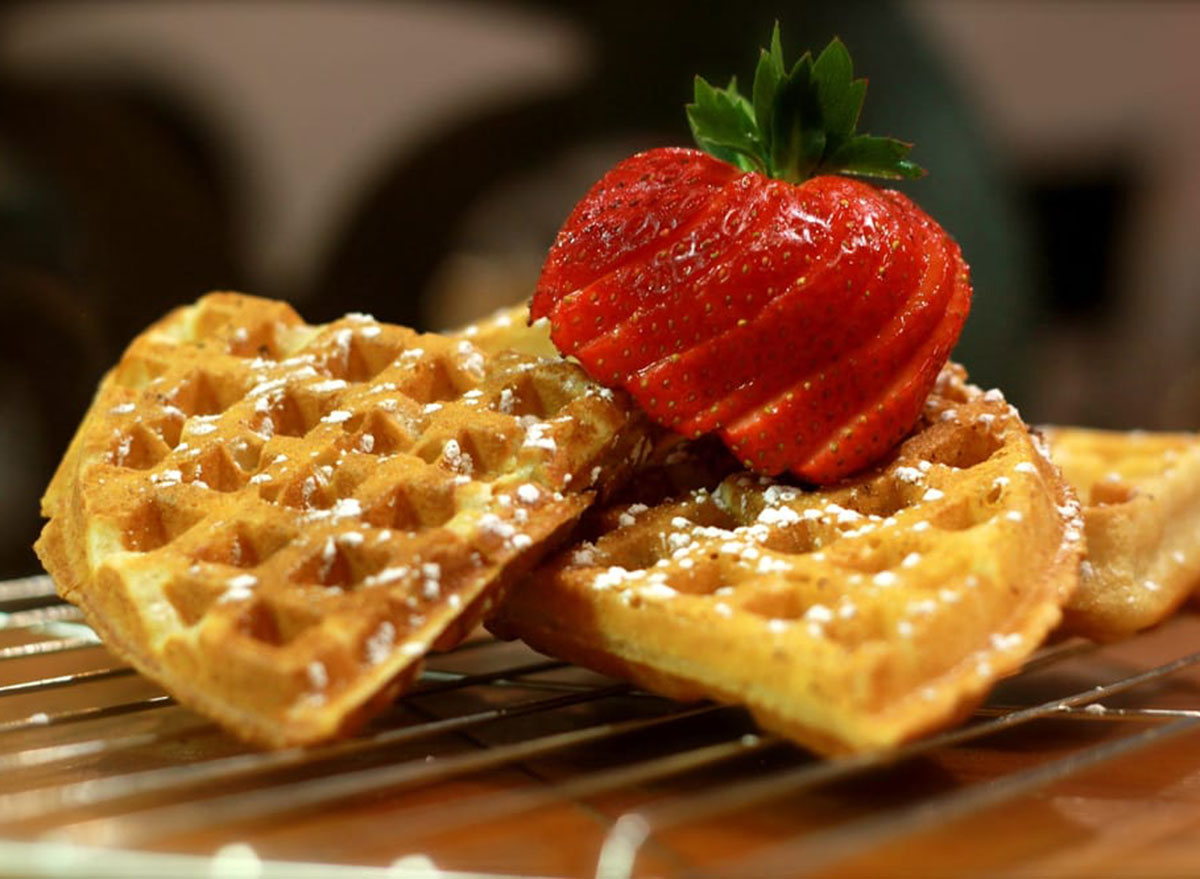 At TIABI Coffee and Waffle, things get super creative, thanks to the waffle sandwiches. One option that looks perfect for your Instagram feed—and also sounds delicious—is the Avocado Grilled Cheese. This waffle features loads of cheese and avocado griddled together until the cheese melts.
NEW HAMPSHIRE: The Friendly Toast, Multiple Locations
The Friendly Toast is serving Belgian waffles made from a yummy homemade mix. Each waffle is topped with whipped cream and powdered sugar. You can add on fresh berries for an even heartier breakfast, too.
NEW JERSEY: Brownstone Pancake Factory in Englewood Cliffs
This may be called Brownstone Pancake Factory but it also makes some over-the-top waffles, Diners, Drives and Dives-approved. You can go traditional Belgian waffle or go wild for on of their insane creations like the Ultimate Unicorn Waffle Tower. Plus, stop in or follow them on Instagram for the latest creations.
NEW MEXICO: Tia B's La Waffleria in Albuquerque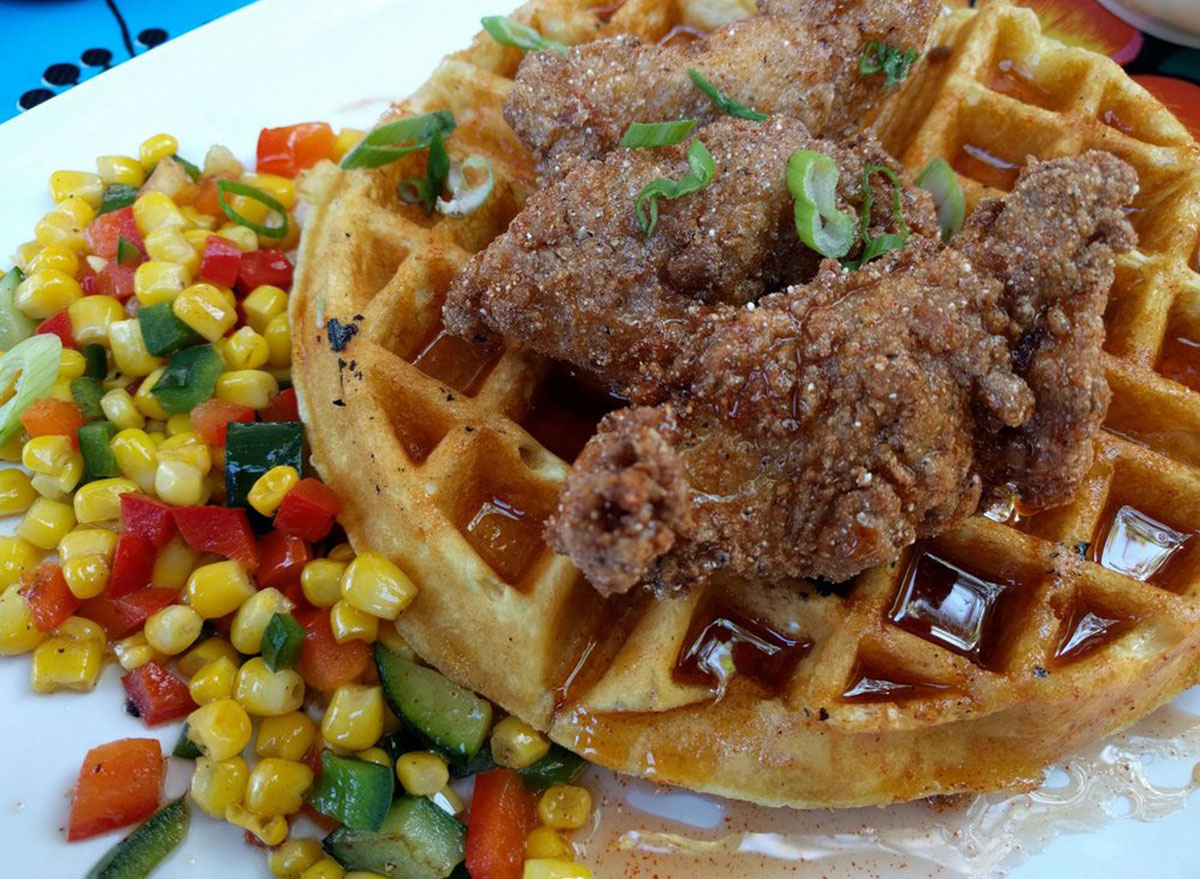 Sweet and savory waffles are on the menu at this local favorite. One unique spin on waffles is the blue lavender option, which features a blue corn waffle that's topped with a blueberry sauce, fresh blueberries, and lavender whipped cream.
NEW YORK: Wafels & Dinges, Multiple Locations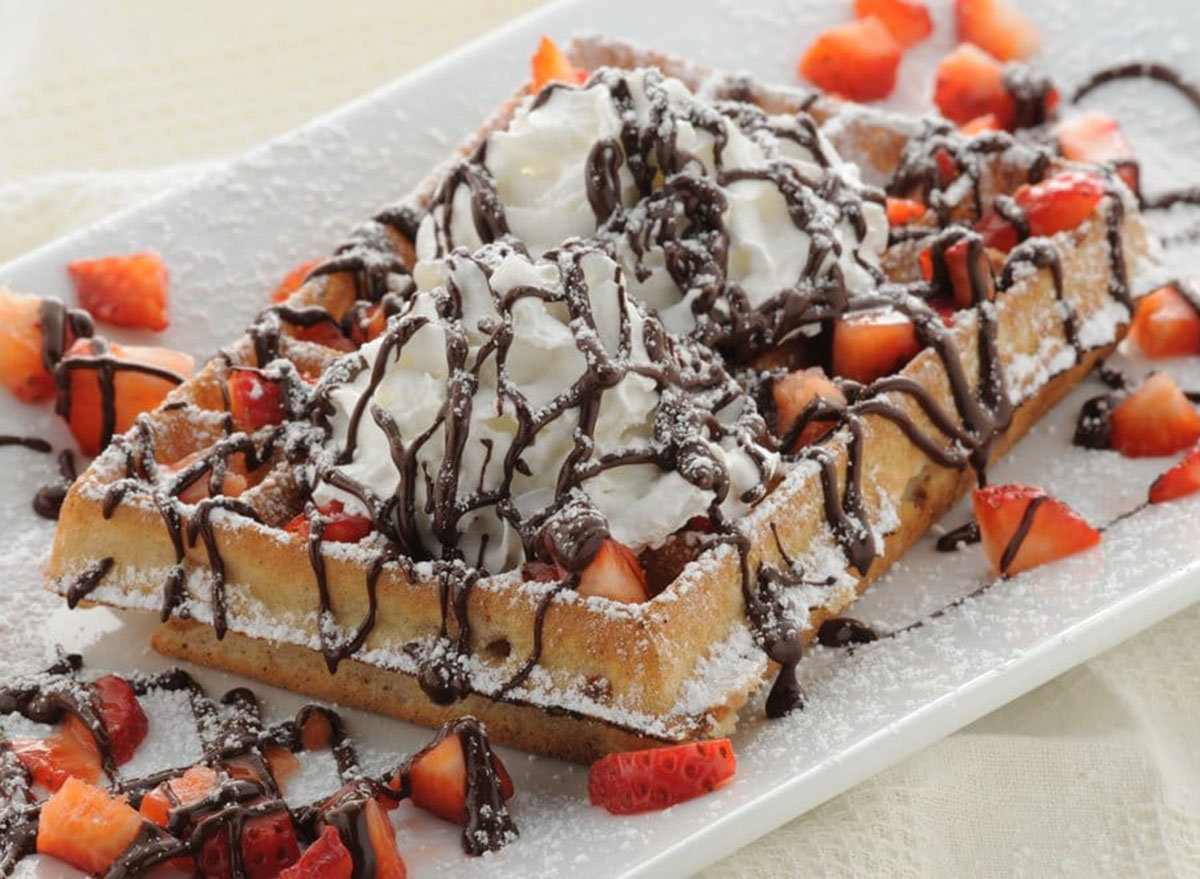 Fun fact: Wafels and Dinges has been featured on the Food Network's Best Things I Ever Ate—so you know it's good! The waffles are pearl sugar waffles that come with just about any topping you can imagine. One that stands out is the Baconana, which has bacon, bananas, and chocolate fudge loaded on top of the waffles.
NORTH CAROLINA: Cast Iron Waffles in Charlotte
The Deluxe at Cast Iron Waffles starts out as a brioche dough liege waffle. Once the waffle is done cooking, it's topped with Nutella, fresh strawberries, bananas, and whipped cream.
NORTH DAKOTA: Black Coffee and Waffle Bar in Fargo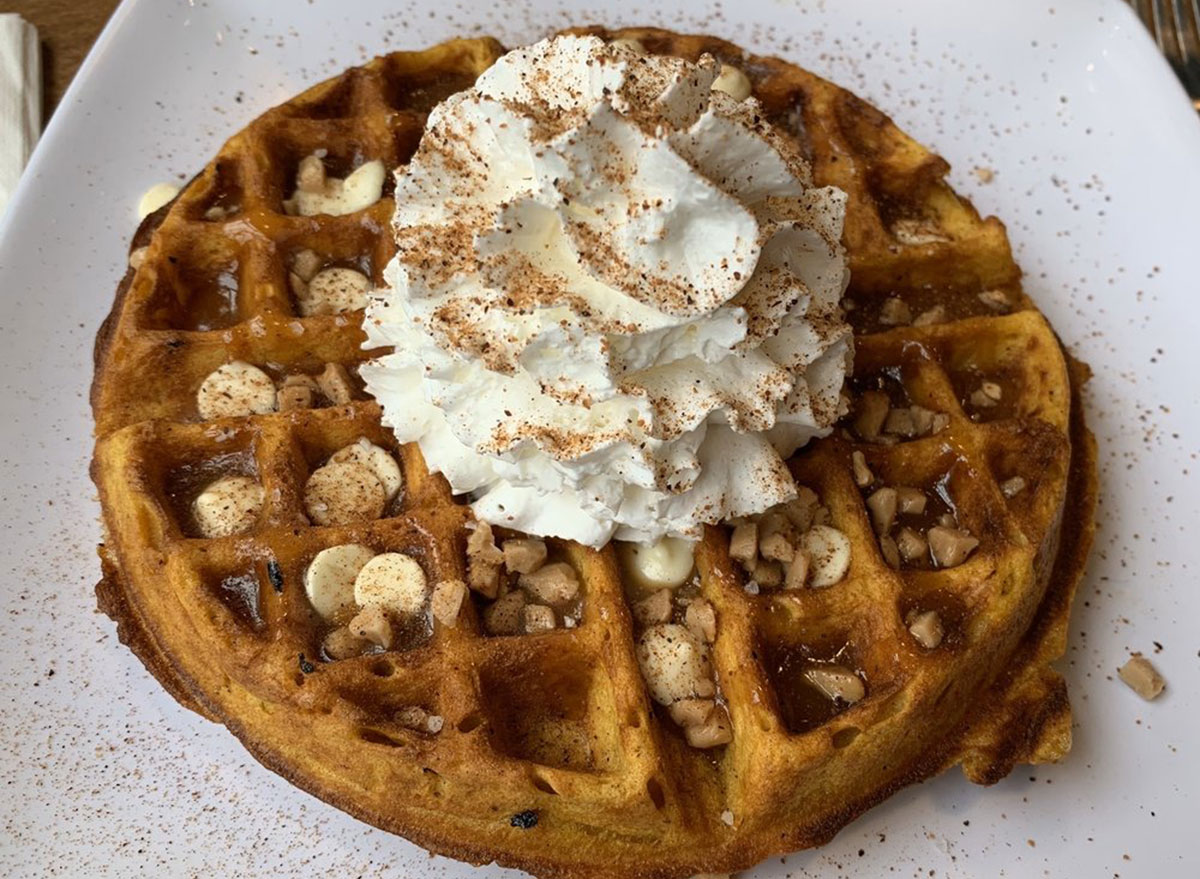 Hashbrown waffles are on the menu at Black Coffee and Waffle Bar. These loaded potato waffles are made of the restaurant's signature hash brown batter, which is mixed with peppers and onions. When everything is cooked, the waffles are topped with cheddar cheese, bacon bits, sour cream, and dried chives.
OHIO: Wally Waffle in Akron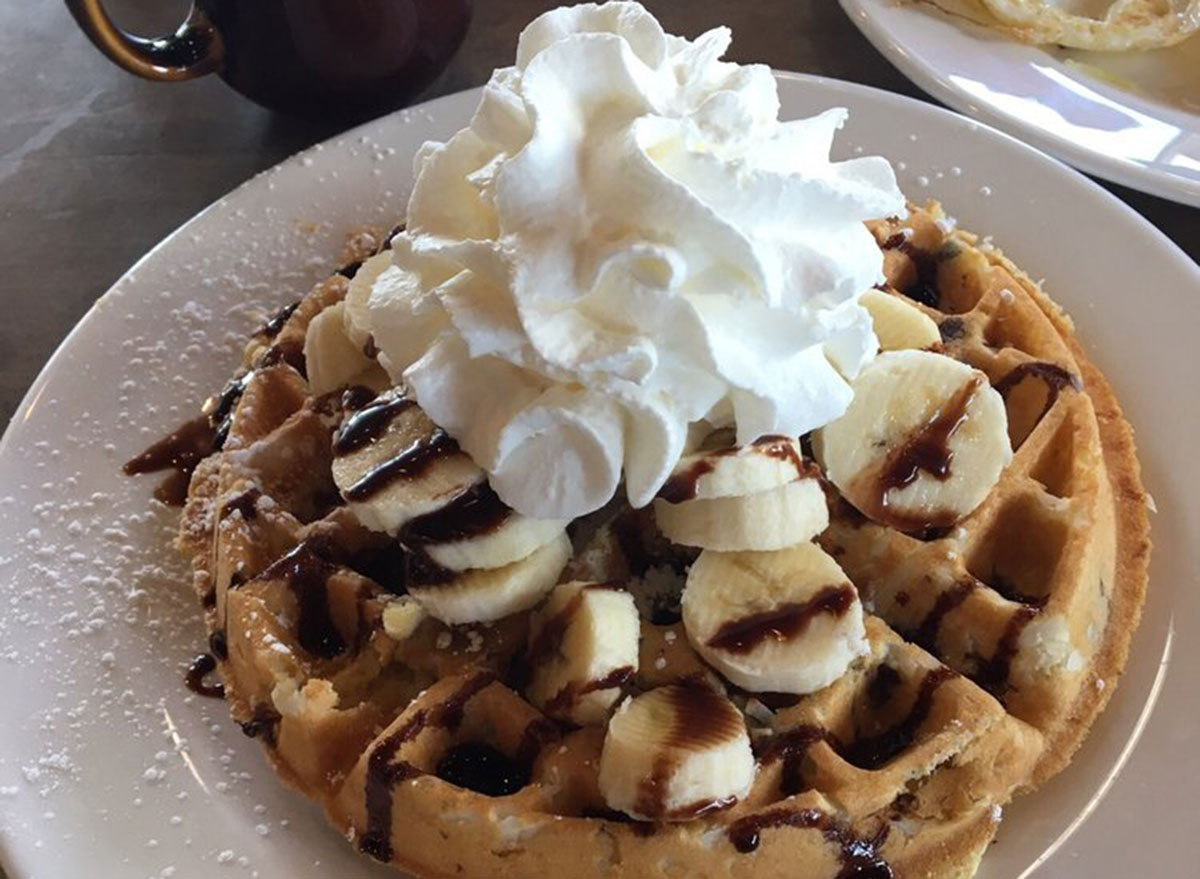 Wally Waffle makes some of the restaurant's tasty creations with oat bran batter, which gives a nutty taste to its waffles. One variety to try is the Better Day, which starts with their oat bran batter that's loaded with apples, raisins, pecans, coconut, pineapple, and carrots. When the waffle is ready, it's topped with sliced banana.
OKLAHOMA: Waffle Champion in Oklahoma City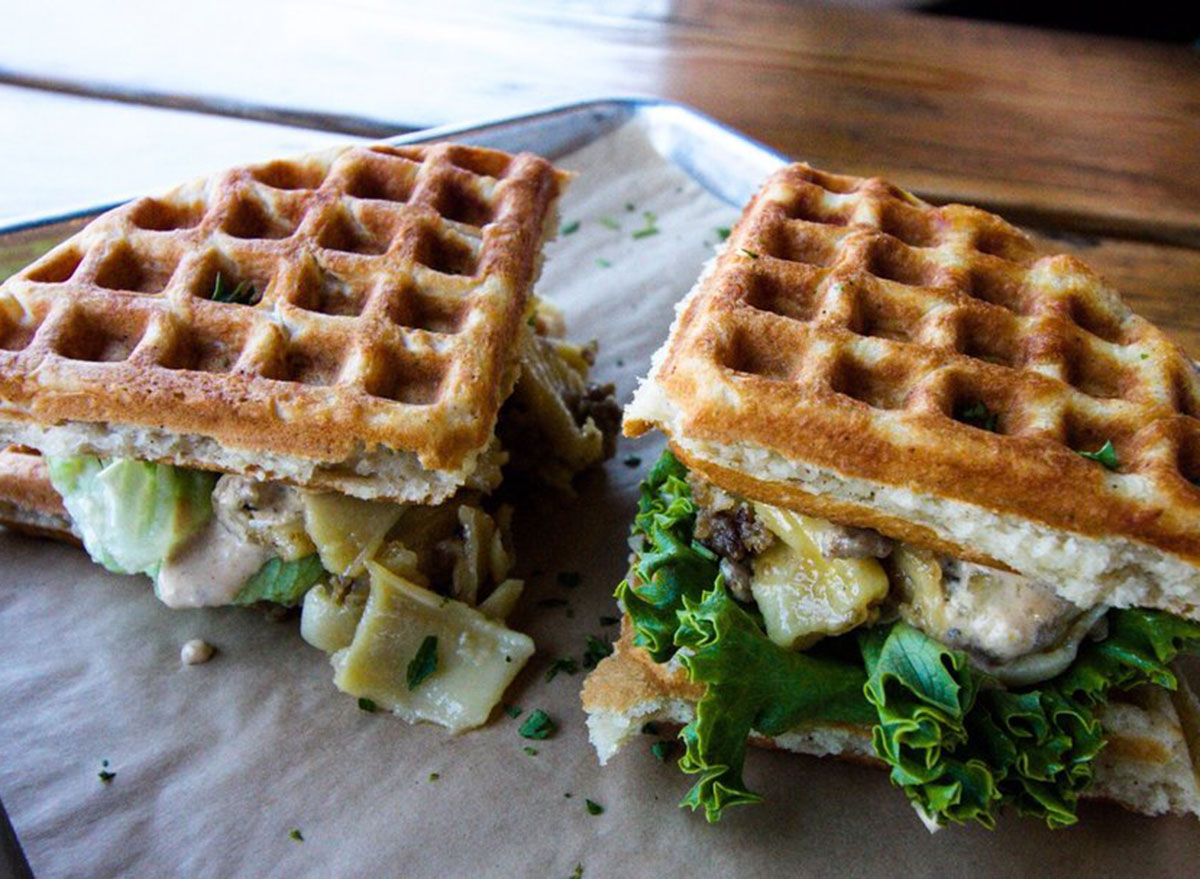 Building a custom plate of waffles is what it's all about at Waffle Champion. No matter if you go sweet or savory with your toppings, your dish is bound to be good. Something to try when you pay this spot a visit are the sweet waffles with banana cream pie toppings. Just be sure to watch out for Fozzy Bear while you eat these!
OREGON: The Waffle Window in Hawthorne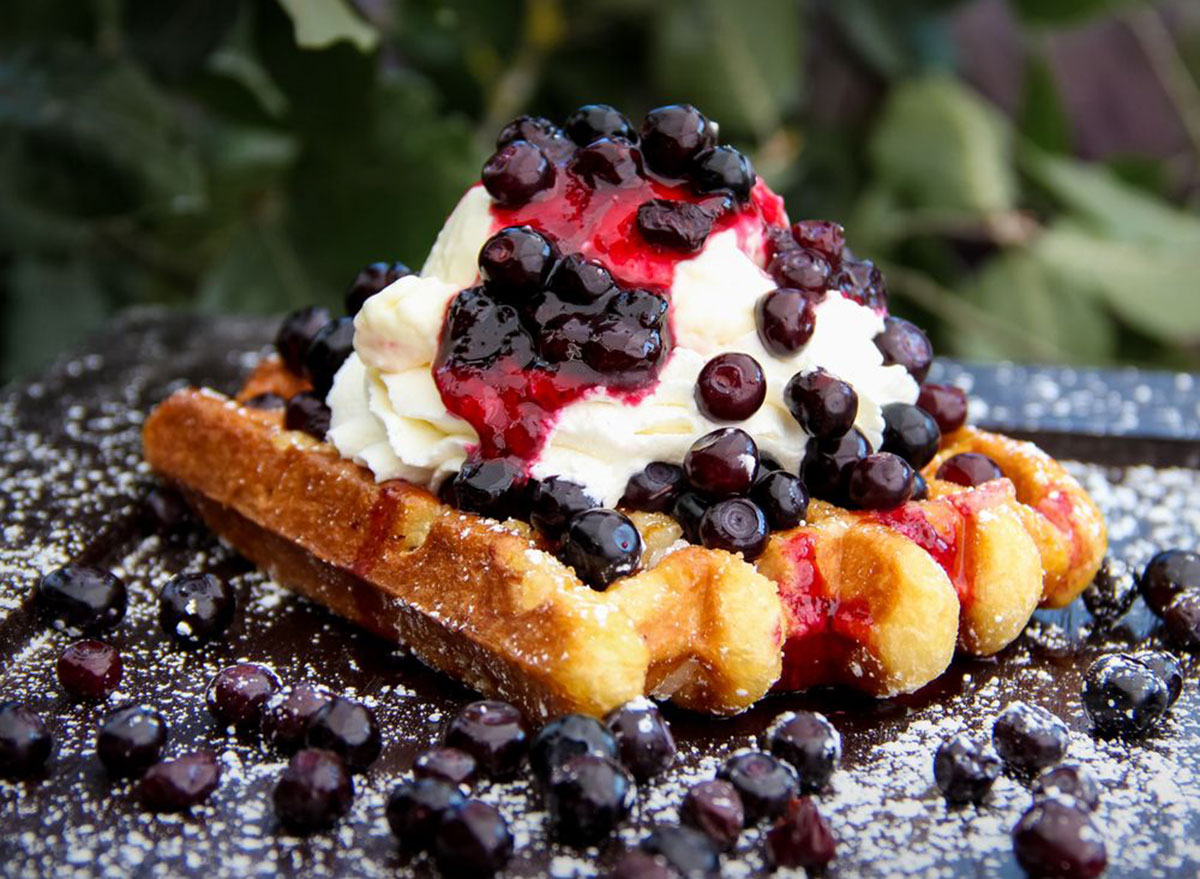 This grab-and-go window is serving up waffles with seasonal ingredients. One combination that's a must is the Three B's, which is a waffle base topped with pepper bacon, brie cheese, and fresh basil. This super savory dish is served with peach jam for a little something sweet.
PENNSYLVANIA: Waffles Incaffinated, Multiple Locations/slidetitle]

Francesco R./ Yelp

The best of two breakfast worlds are combined at Waffles Incaffinated, where you can order a unique eggs benedict. The English muffin gets swapped out for—you guessed it!—a waffle.

[slidetitle num=""]RHODE ISLAND: Rhody Hen Cafe in Pawtucket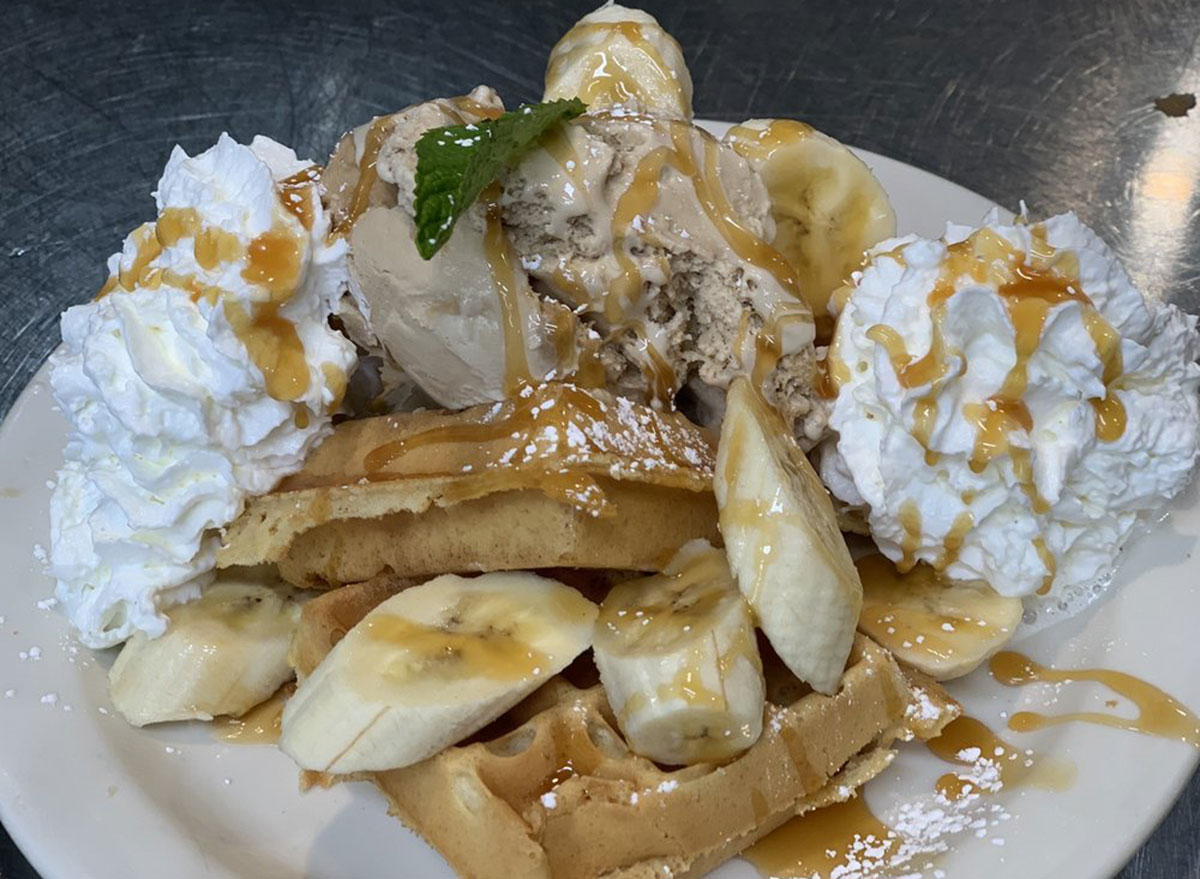 Don't let this basic waffle stop fool you—the offerings are oh so delicious! One menu highlight at Rhody Hen Cafe is the Belgian waffle. Light, crispy, and cooked to golden brown perfection, it's served with butter and syrup as an all-American breakfast.
SOUTH CAROLINA: Sweet Belgium—King Street in Charleston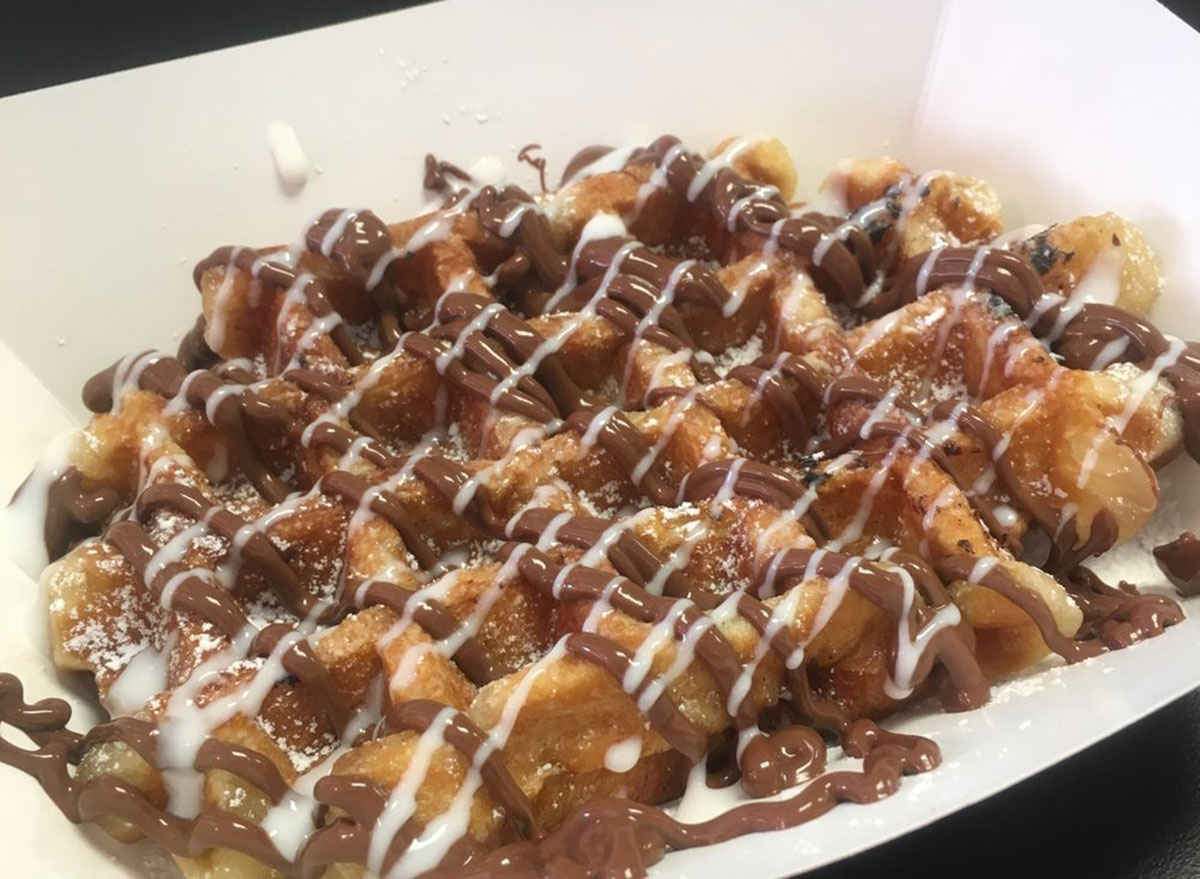 Sweet Belgium serves up waffles by the dozen and half dozen—just like a donut shop! You can pick from a variety of flavors, including coconut glazed, dark chocolate rainbow, and lemon-lime. If a dozen waffles does sound like a bit too much, you can order a single waffle . . . with all of the toppings you could possibly imagine.
SOUTH DAKOTA: Phillips Avenue Diner in Sioux Falls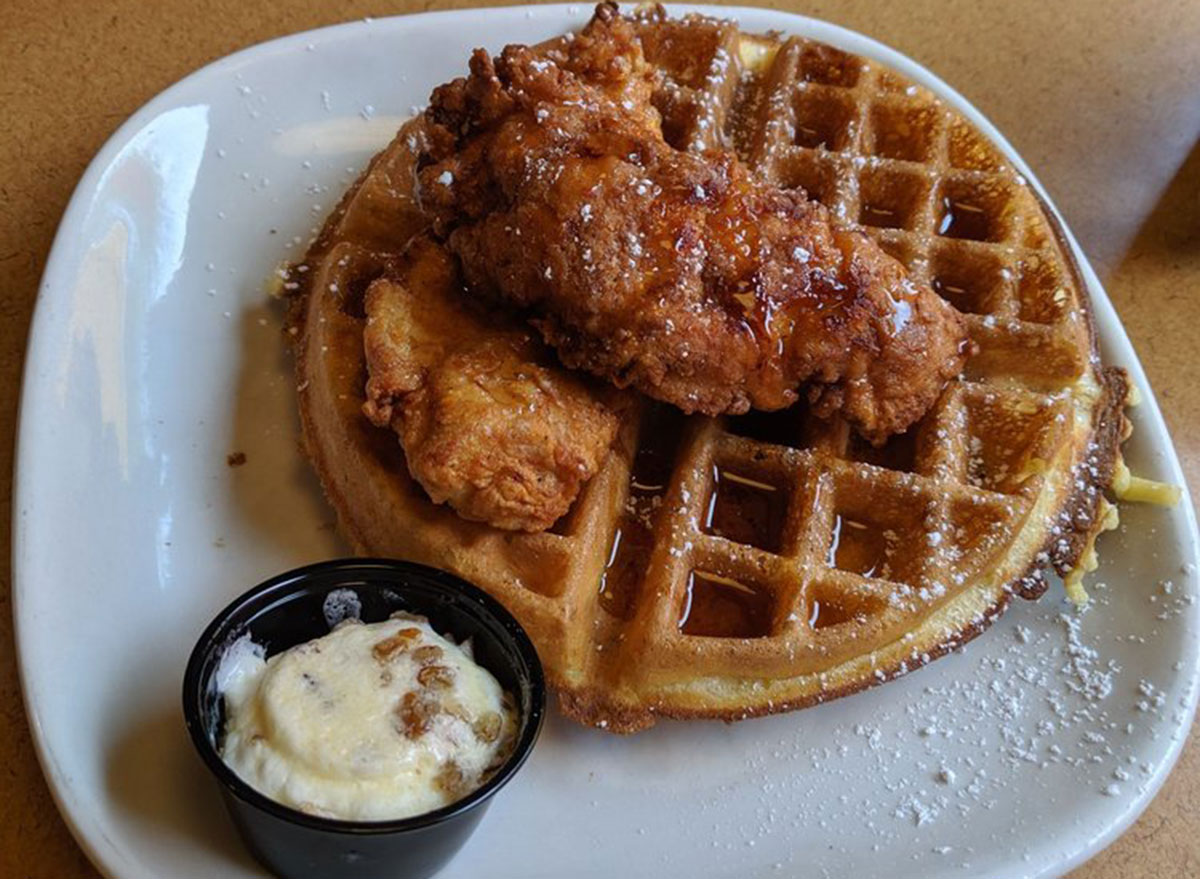 Phillips Avenue Diner puts a fun twist on the breakfast staple with its Elvis waffle. This waffle is topped with peanut butter fluff, bananas, chopped pecans, and powdered sugar. This would truly make Mr. Presley happy!
TENNESSEE: The Loveless Cafe in Nashville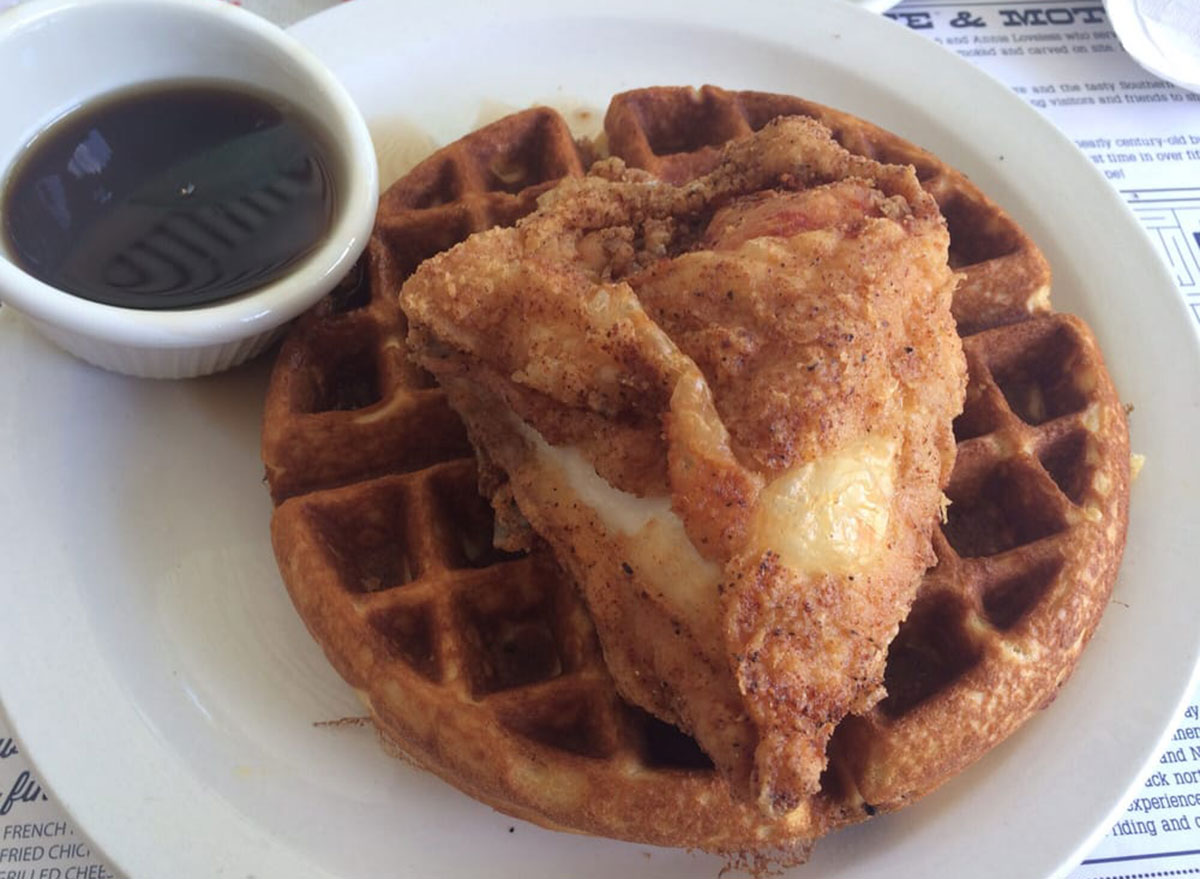 The Loveless Cafe is known for its chicken and waffles, so go ahead and order some when you're eating here. A fluffy waffle is topped with perfectly fried chicken breast and served alongside a biscuit and homemade preserves.
TEXAS: Sweet Paris in Houston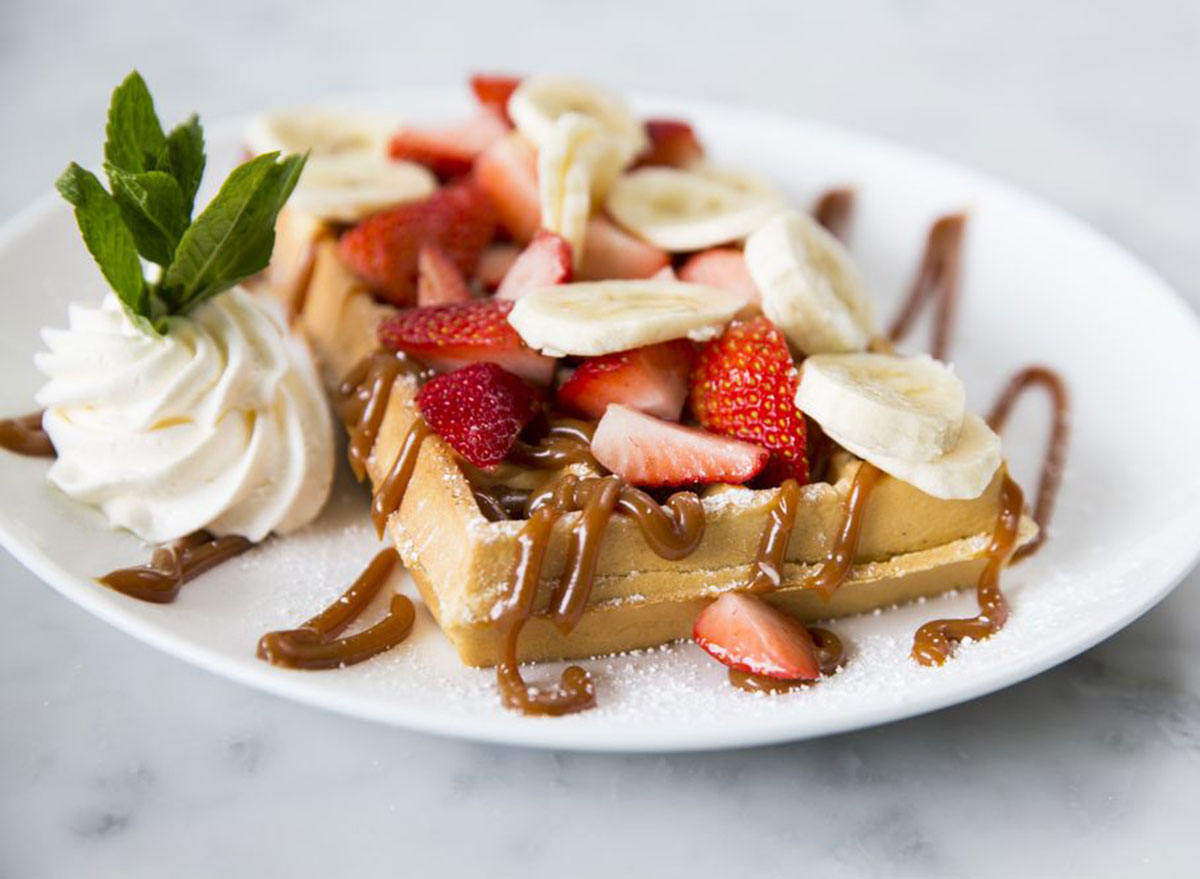 While you might think any restaurant with Paris in its name serves crepes, think again! Sweet Paris is home to some of the best waffles in Houston, especially when it comes to the apple cinnamon creme brûlée waffles. Your sweet tooth will thank you.
UTAH: Bruges Waffles & Frites, Multiple Locations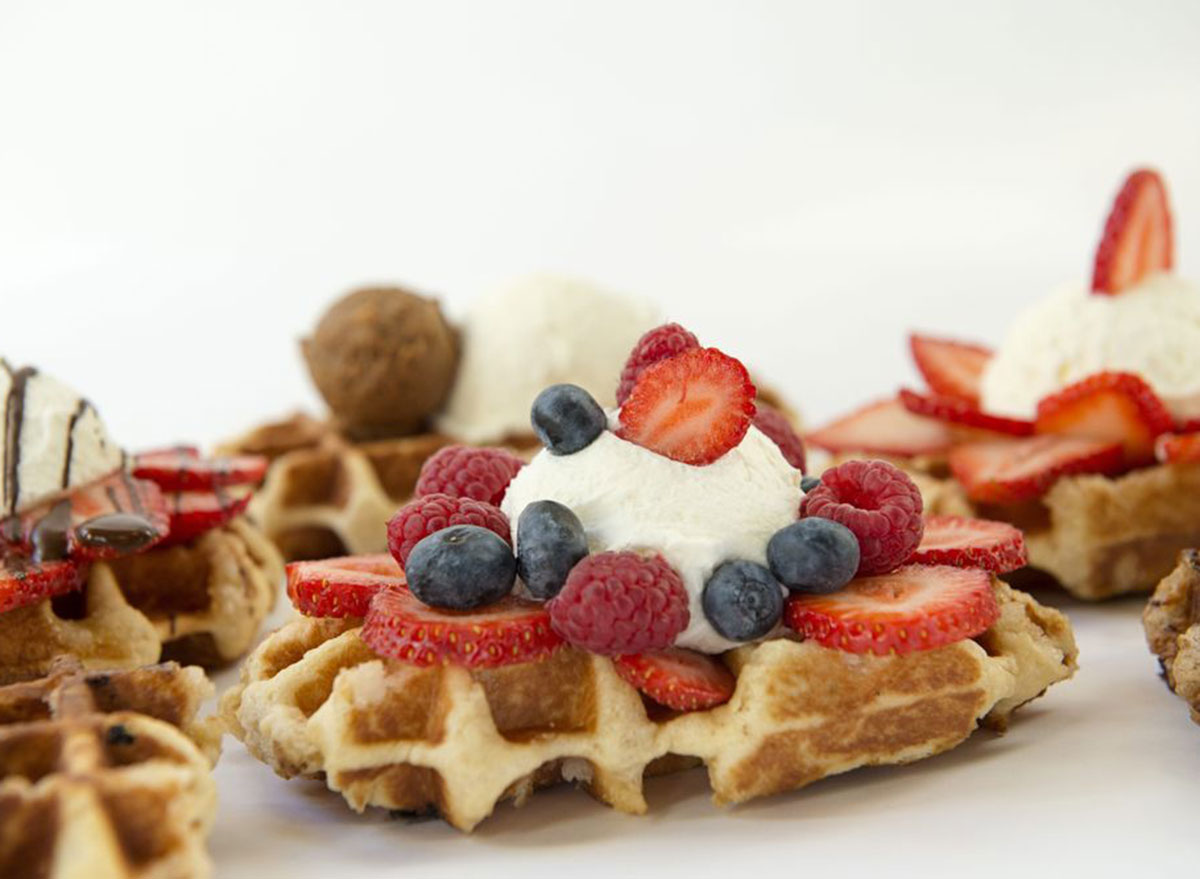 Chicken and waffles really have taken over! At Bruges Waffles & Frites, your order of the iconic dish comes out looking like a chicken. We kid you not! The waffles are topped with creme fraiche, chicken strips, and maple syrup . . . and they happen to be creatively arranged to look like a bird.6254a4d1642c605c54bf1cab17d50f1e
VERMONT: Mary's Cafe in West Rutland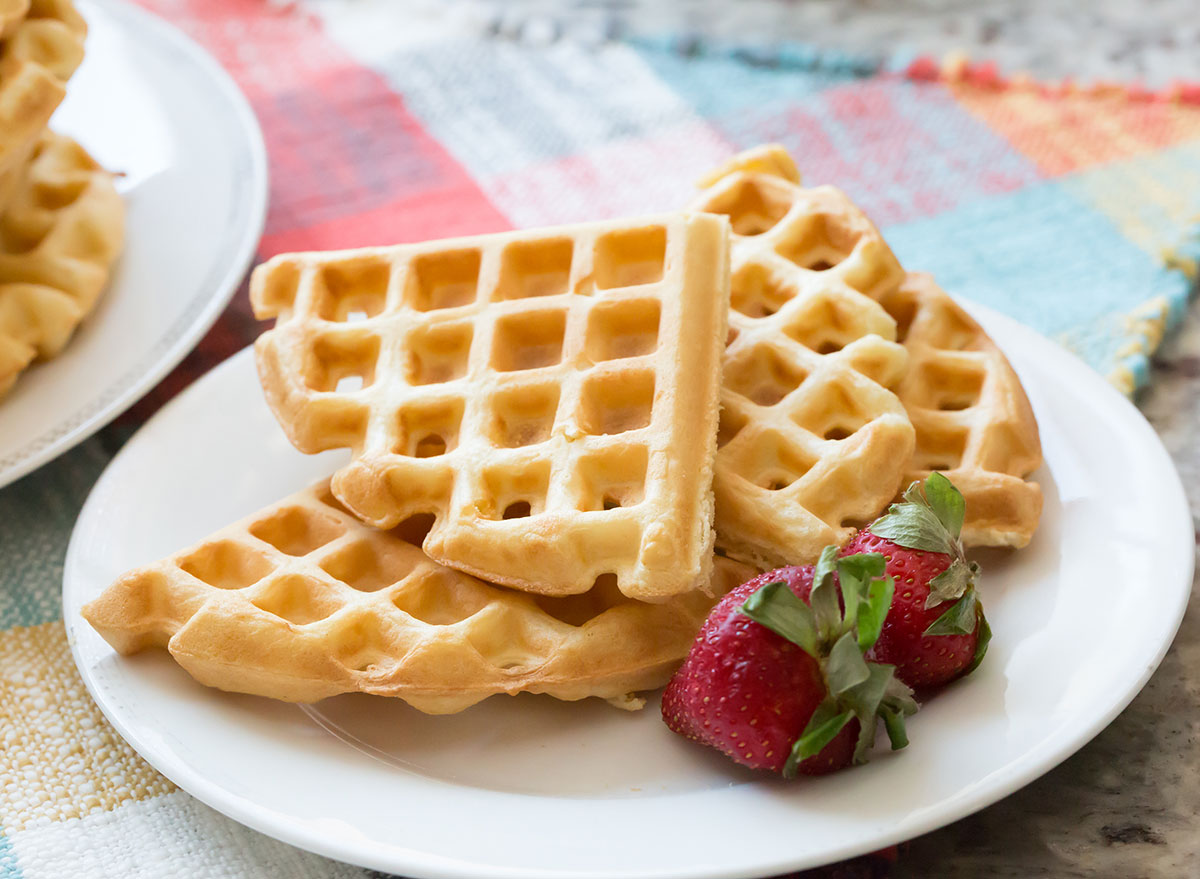 This down-home café only serves waffles on the weekends, so be sure to plan accordingly. The waffles are served either plain or topped with fruit. Either way you choose to enjoy them, all you have to know is they're delicious.
VIRGINIA: Sunnyside Cafe and Restaurant in Virginia Beach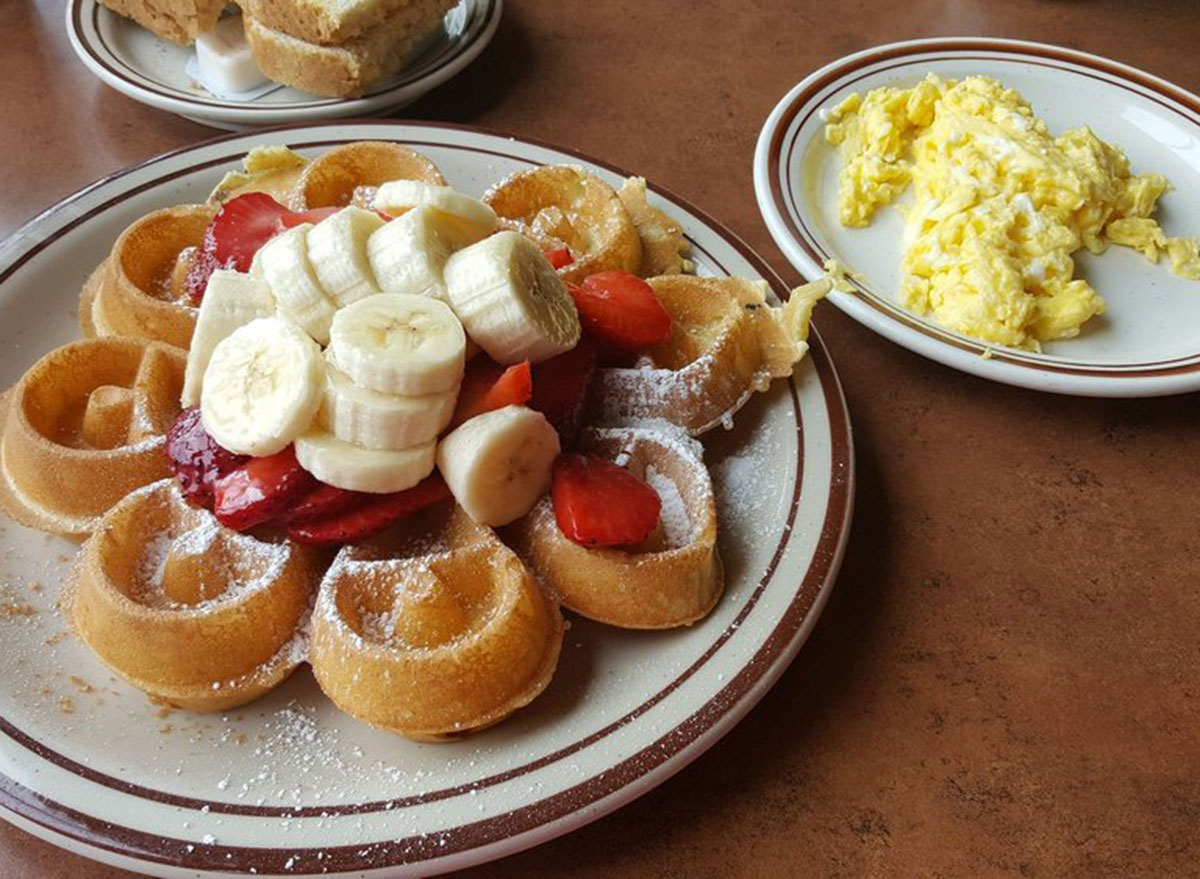 The only thing you need to know about Sunnyside Cafe is to order the pecan waffle. This waffle is loaded with pecans and topped with pecans coated in syrup, cinnamon, and whipped cream.
WASHINGTON: BeBop Waffle Shop in Seattle
"We Get Waffles. You Should Too," says the homepage of this creative breakfast spot in Seattle. Go classic Belgium or get your nostalgia on with a Fruit-Pebbles dotted waffle with bananas and whipped cream dubbed Rainbow Madness. You can also build your own, even make it vegan or gluten-free if desired.
WEST VIRGINIA: Waffle Hut in Sutton
Waffle Hut is a cozy little spot to grab breakfast. There are quite a few waffle options here, and while many are more on the simple and basic side, they are just delicious. Pick your favorite topping, and enjoy it before heading out to explore the area more.
WISCONSIN: Mad Rooster in Milwaukee
The Mad Rooster will definitely not leave you mad if you try its waffles. The Mad Healthy Start is a solid option on the menu, in which a waffle is topped with house-made granola and drizzled with honey. The waffle is served with Greek yogurt and fresh fruit, too.
WYOMING: Corbet's Cabin Top of the World Waffles in Teton Village
This seasonal waffle spot is at the top of a mountain and serves as a fun hangout for skiers and winter sports aficionados. While all of the waffles served here sound delicious, the bacon and peanut butter combo is definitely the one to get.
Plus, don't miss The Best Croissant In Every State.
Megan duBois
Megan duBois is a travel and lifestyle journalist with bylines across the internet and in print at Delish, Conde Nast Traveler, Travel + Leisure, Yahoo Lifestyle, and more.
Read more about Megan